How Much Are Bifold Doors?
To provide accurate pricing information we have contacted numerous local and national trades, and we have utilised various online quotation tools. The figures provided should give a homeowner a rough idea of the costs involved if you are thinking of having bi-fold doors fitted, but of course you will need to gather detailed quotes from relevant tradesmen to get an exact price for your jobs' specifications.
The average material cost to install bi-fold doors in your property will depend on the size and the quality of the door you choose. The doors price can vary significantly starting from £700 up to £2500 per door depending on size and quality.
In terms of the price of the bifold doors themselves, this will mostly depend on the material and quality of the doors. The most common material that people tend to choose for bifold doors is aluminium with the price per metre width of door being around the £1000 mark.
The fitting cost can vary greatly depending on the the prep work required. Many homeowners will be having bifolds installed for the first time and thus will need the space for the doors cut out. This can be time-consuming and could take one builder a full day to make the space.
So, in short, you're looking at around 1-2 days work on average for two builders, so roughly £600 to £1000 in labour, plus the cost of the doors themselves. Let's say you opt for 3 panes at 1 metre width each, so £3000 in material costs, bringing the total cost of supplying and installing 3m bifold doors to around £3500 to £4000.
The average specialist will usually charge around £150-£200 per day. Bi-fold door specialists will often work in pairs to ensure the doors are fitted correctly and the job is done safely, as you can imagine the doors are very heavy.
The total labour cost will be factored into the overall price quoted by the trade, which can vary depending on location and the overall time working on the project. The price and duration of the project will be considerably increased if you require a wall to be knocked through to make space for the bi-fold doors, when compared against a simple replacement job.
Bifold Doors Prices
Below are some estimated costs of hiring a specialist to install bi-fold doors:
| Job Description | Avg. Cost | Duration |
| --- | --- | --- |
| Standard 2m Bi-fold Doors | £2500-£3500 | 1-2 days |
| Standard 3m Bi-fold Doors | £3500-£4500 | 1-2 days |
| Standard 4m Bi-fold Doors | £5000-£6000 | 2-3 days |
Cost Breakdown Calculator
Individual costs to install a 2m Bi-fold Door - Total Cost: £3,000
What Installing Bi-fold Doors Entails
Bi-fold, French and sliding doors offer a fantastic view of the garden when compared to windows so they are very popular home improvement projects in the UK. Bi-fold doors are the most desirable of all as they can replace an entire wall offering unprecedented views by opening up the whole back of the house.
Although they offer a similar view to sliding doors when closed, they offer by far the best view when they are open to make the most of the good weather.
The trend toward glass bi-fold doors in new homes continues to build which means more and more homeowners are considering these doors as a home improvement for their existing homes. However, bi-fold doors are also the most expensive option and do not suit all property types. In addition, they are perhaps the most difficult to install and generally are not suitable for a DIY project.
The first step is to make sure the structure you're attaching the top track to is capable of supporting the weight. Then you'll need to prepare the sill for assembly and assemble the frame which can be fitted into the opening. Once square and level, packing is used until it's nice and tight, then the holes can be drilled into the structure on either side of the frame for the fixing bolts.
Next, the sill and head are fixed to ensure that the jams are vertical and the sill is level.
Once all the fixings are in place for the frame, you can attach the hinges as per the manufacturer's instructions and install the multipoint lock before finally hanging the doors. Once the hinges and locks have been installed, the hard work is done and all that needs doing is to adjust the top and bottom pivot hinges as required to ensure the doors are vertical when fitted.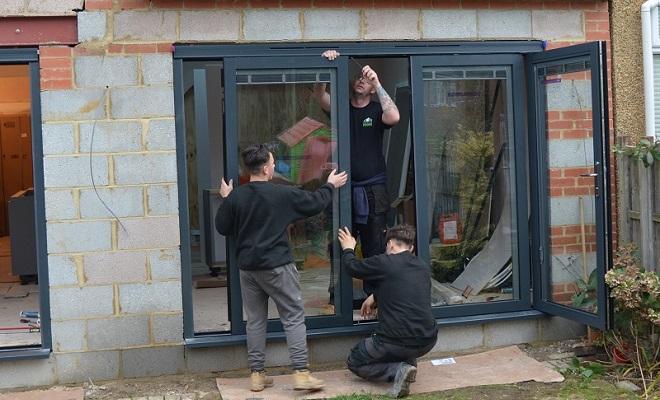 Bi-folding doors do a great job of merging the outdoor and indoor space, but this may not be the best idea if you do not have a beautiful garden! In addition, most prefer some sort of patio or hard landscaping outside the new doors to avoid traipsing mud throughout the house when people use the doors as access from the garden.
So if you are investing in bi-fold doors, it is a good idea to make sure your garden is also up to scratch. As a minimum, consider adding a patio if one is not already in place and adding steps if the rear garden is sloping. If budget allows, upgrading the garden to make the most of the new doors will make a huge difference.
Is Planning Permission Required?
One of the first things you need to consider before fitting bi-fold doors is whether or not you need planning permission. Adding doors to your home is often a permitted development, so in most cases, you probably won't need it, but in unusual cases, it may be required, so always check with the local authority just in case.
Next, you'll need to make sure that the lintels over the opening are suitable for the bi-folding doors. If the existing aperture is not the same width and height as required for your new door then you'll probably need to hire a structural engineer to change the size of the opening and ensure the correct lintel is fitted.
Are Bi-fold Doors Secure?
Bi-fold doors have become incredibly popular in recent years, especially as conservatory doors or at least doors leading from your home into the garden. This is because they are renowned for "bringing the outside inside", the light and access they offer can transform a room and they are energy efficient too while not requiring much space.
However, many assume that they are magnets for thieves like old Patio doors, but this is not true and bi-fold doors are often harder to break into than traditional french doors or sliding doors.
Most modern bi-fold doors come with multi-point locking and a hidden tracking system which makes it almost impossible for an intruder to simply lift your doors out of their tracks. Bi-fold doors are attached to a gear within the bottom track which is fixed by steel lock pins formed from hardened steel.
So unless the would be burglars are packing some serious industrial power tools, they will not be gaining easy access through the bi-fold doors.
The glass panels also have internally beaded frames overlapping the glass panel, so despite what some may say, bi-fold doors are really secure by design!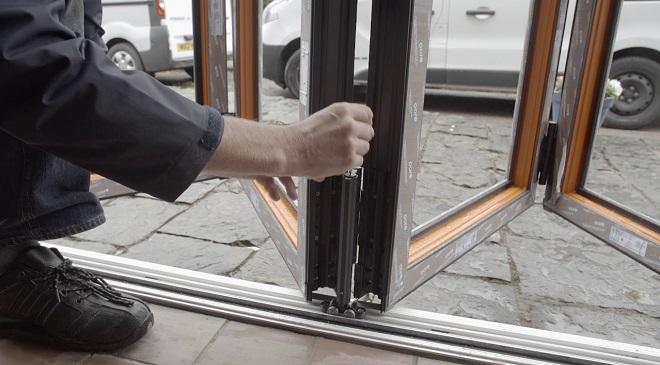 But the doors themselves are not secure on their own, you will also need a decent lock. Adding security locks will increase the cost, but the added security will definitely make them a worthwhile investment for peace of mind. Most lock systems for these doors are the multi-point systems with twin point deadbolts, allowing you to use the handle in the centre of your bi-fold doors to operate bolts on both the top and bottom of the door.
Will Bi-fold Doors Add Value to My House?
Most forms of home improvement will add some value to a property, and the installation of bi-folding doors is definitely an improvement to most homes. Experts estimate that adding high-end bi-folding doors can potentially add around 5% to the resale valuation of a property as well as making it more desirable to buyers.
The reason bi-fold doors offer much more in terms of increased value when compared to French or patio doors, is that bi-folding doors can span several metres opening up a property into the garden and creating a sensational effect. They also offer exceptionally low U-values and good security.
Aluminium Bi-fold Doors vs uPVC vs Timber
When thinking about installing bi-fold doors the size isn't the only consideration. The performance, longevity and aesthetics of the doors will depend greatly on the materials used in the construction.
Bi-folding doors are usually be made from either wood, aluminium or uPVC. Wooden doors have a distinctive and traditional look and can be sanded and painted as required. But the downside of wood is that it will warp over time and will require more maintenance than other materials.
Aluminium is probably the most popular material for external bi-fold doors as it's stronger than wood or uPVC so you can have thinner frames and more glazing, which means more light. Aluminium doors will also resist warping a great deal more effectively than timber and require virtually no maintenance.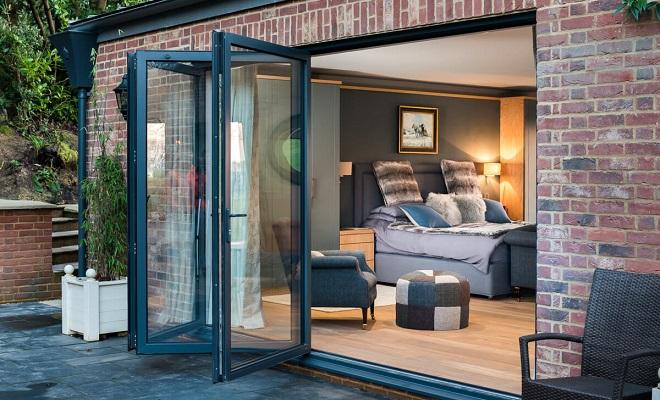 uPVC doors are weaker than aluminium or hardwood so require thicker frames, but they are much cheaper.
Though uPVC doors might appear better value at first glance, they can work out more expensive in the long-term, as they'll probably not last as long as aluminium or even well-maintained timber, plus they are not as popular so will not add as much value to the property.
Timber tends to be the most thermal efficient material whereas aluminium is the least, however, most quality aluminium bi-fold doors will use a layer of non-conductive material as a thermal break to get around this shortfall.
Aluminium Bi-fold Doors
✔ Aluminium is the strongest so you can have more glass and thinner frames
✔ Most aluminium bi-fold doors include a thermal break for thermal efficiency
✔ Aluminium doors can be environmentally friendly with up to 100% recycling of material
✔ Aluminium is very low-maintenance.
✔ Aluminium is usually powder coated so available in a range of colours and wood-effect finishes
✖ Cost around £3,000 just for a four door frame and runner set (not including glass or installation)
Timber Bi-fold Doors
✔ Engineered timber is much stronger than solid timber
✔ Timber is a naturally beautiful material which is more traditional than aluminium or uPVC
✖ Solid timber bi-fold doors start from around £3,000 for the frames, rising to £5,000 for composite timber
✖ Engineered timber can warp if overexposed to sunlight or moisture
✖ Timber is less conductive than metal but timber doors are prone to contracting in cold weather reducing their thermal efficiency
✖ Timber bi-fold doors will require the most maintenance
uPVC Bi-fold Doors
✔ uPVC doors are as strong as timber but more durable
✔ uPVC bi-fold doors are much cheaper than other types and start from around £1500 for frames only
✔ uPVC just needs cleaning every year so low maintenance
✖ uPVC has the lowest level of thermal efficiency and is the least environmentally friendly material
✖ PVC can look cheap and is particularly unflattering on period properties
✖ uPVC frames are much wider than aluminium or timber
FAQs