How Much to Install a Cat Flap?
Here, we'll look at the average cost of pet flap installations based on the type of pet flap and door/wall type.
What else will be covered?
We'll also discuss the cost factors that shape how much you'd pay for such an installation.
The installation cost will vary depending on the type/brand of the pet flap, ease of access to the work area, the state of the installation area, the type of door, and the property location.
As for the last point, where you are based is relevant given that labour prices vary across the UK.
Pet Flap Installation Prices
Type
Door/Wall Type
Labour Costs
Supply Costs
Total Cost
Classic
Glass French Door
£80 to £160
£80 to £100
£160 to £260
Wooden Door
£40 to £70
£40 to £70
£80 to £140
Composite Door
£50 to £100
£80 to £100
£130 to £200
uPVC Door Panel
£40 to £70
£40 to £70
£80 to £140
External Wall
£120 to £250
£130 to £190
£250 to £440
Lockable
Glass French Door
£80 to £160
£70 to £110
£150 to £270
Wooden Door
£40 to £70
£40 to £70
£80 to £140
Composite Door
£50 to £100
£70 to £100
£120 to £200
uPVC Door Panel
£40 to £70
£40 to £70
£80 to £140
External Wall
£120 to £250
£120 to £210
£240 to £450
Magnetic
Glass French Door
£80 to £160
£80 to £160
£160 to £320
Wooden Door
£40 to £70
£50 to £120
£90 to £190
Composite Door
£50 to £100
£90 to £150
£140 to £250
uPVC Door Panel
£40 to £70
£50 to £120
£90 to £190
External Wall
£120 to £250
£130 to £260
£250 to £510
Infrared
Glass French Door
£80 to £160
£110 to £180
£190 to £340
Wooden Door
£40 to £70
£80 to £140
£120 to £210
Composite Door
£50 to £100
£110 to £180
£160 to £280
uPVC Door Panel
£40 to £70
£80 to £130
£120 to £200
External Wall
£120 to £250
£170 to £260
£290 to £510
Microchip
Glass French Door
£80 to £160
£110 to £180
£190 to £340
Wooden Door
£40 to £70
£80 to £140
£120 to £210
Composite Door
£50 to £100
£110 to £180
£160 to £280
uPVC Door Panel
£40 to £70
£80 to £140
£120 to £210
External Wall
£120 to £250
£170 to £260
£290 to £510
Supply Costs
How much do the pet flaps cost on their own? Say you want to buy the pet flap and install it DIY. In this case, you'd be concerned only with the supply cost of installing a pet flap.
| Type of Pet Flap | Supply Costs |
| --- | --- |
| Classic pet flap | £80 to £190 |
| Lockable pet flap | £70 to £210 |
| Magnetic pet flap | £50 to £260 |
| Infrared pet flap | £80 to £260 |
| Microchip pet flap | £80 to £260 |
Additional Costs
What else might I pay for? In this section, we'll break down some common additional jobs that homeowners may choose to have undertaken, along with the installation of a pet flap.
Door Lock Replacement
You may wish to replace a door lock for increased security or because your current lock has worn down beyond repair. There are various door lock replacements that may interest you.
Cost of New Front Door
The entrance door of a property is the first standout feature of a property people see when visiting a home. And, as with the cost of replacing a door lock, the prices of fitting a new front door can vary greatly.
Cost Breakdown Calculator
Individual cost to supply & fit a classic pet flap to a wooden door – Total Cost: £110
Labour Costs and Time Frames
Let's now discuss the labour costs of each pet installation job. In this section, we'll also look at factors that shape the labour price and timeframes.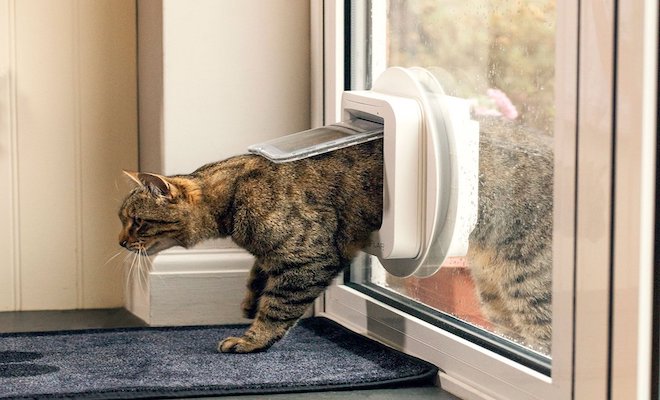 Here's another thing...
On average, a tradesperson will charge around £40 to £50 per hour to install a pet flap. This, along with the supply costs, will add up to the total cost of a pet flap.
Breakdown of time frames:
Installing a small pet flap - 1 to 2 hours
Installing a medium pet flap - 1 to 3 hours
Installing a large pet flap - 2 to 4 hours
Labour Cost and time frame factors:
Size and type of pet flap
Type of door/wall
Ease of access
State of the work area
Cost Affecting Factors of Installing a Pet Flap
We'll now take a closer look at the factors that shape the cost of paying a professional to fit a pet flap. Let's explore various cost factors, such as the type of door and ease of access.
Size of Pet Flap
Of course, the larger the pet flap, the more it will cost to buy. In addition, a larger pet flap would probably cost more to install, given that the labour times are likely to be extended as a result.
Type of Door
It can sometimes prove easier to fit a cat flap or dog flap to some types of doors over others. However, the material itself is usually not very relevant, compared to the quality and style of the door.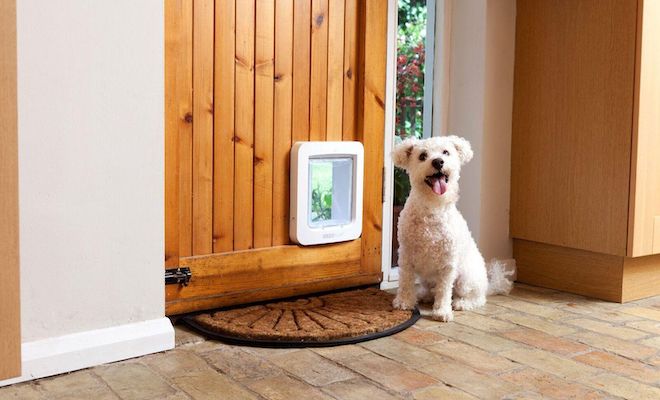 Size of Installation Area
The larger the area in which you wish to have a pet flap installed will generally correspond to a longer installation and, therefore, possibly a higher labour cost.
Location of Property
Labour prices will differ depending on where you live, however. For example, labourers are likely to charge less in the north of England, Scotland, and Northern Ireland but more in regions like the southeast of England.
Ease of Access
The more accessible the area of work is, the quicker the job is likely to be. In turn, the sooner a contractor fits a pet flap, the lower the labour cost will probably come to. The opposite is, of course, also true.
What Does Installing a Pet Flap Entail?
Now, let's break down the steps involved in fitting a new pet flap. The exact method needed to install a pet flap will vary based on the type of pet flap and door.
A pet flap for glass door installation or a pet flap for wood door installation will be a different process.
1. Hiring a Contractor
You may wish to fit a pet flap DIY. However, if you'd prefer to hire a professional, you should acquire a minimum of three quotes from various tradespeople/companies, as well as references, before coming to a decision. This will give you better odds of hiring an above-average contractor and finding a better deal.
2. Cutting the Circle For a Pet Flap
The first step involves making the necessary measurements to know where the pet flap should be fitted exactly and where the hole will be cut out to fit the pet flap (plus its dimensions). At this stage, the labourer will outline the pet flap on the door.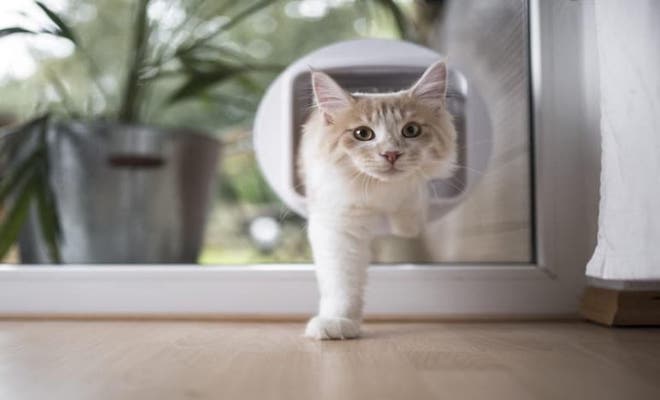 Next, they will drill holes on the circle's outline before employing a jigsaw blade to cut out the circle needed for the installation. It's important to ensure that your pet is not behind the door when the hole is being cut!
Different tools and equipment will be needed depending on the door material. For instance, an electric jigsaw blade would be used to cut out a circle in a uPVC door.
3. Installing the Pet Flap
Next, in the case of a wooden door, sandpaper may be used to tidy up the door hole. It's important that the pet flap is checked to ensure that the flap swings as it should.
Then, it's time to drill the fixing hole before fitting the pet flap, per the manufacturer's instructions. Finally, the pet flap should be checked one more time to make certain that it's working correctly.
DIY Pet Flap Installation
You may fit a pet flap DIY if you wish. It's a relatively simple job, and the manufacturer will provide instructions that should be easy to follow.
Of course, with any DIY job, there are risks involved. For one, it's always important to take caution when using tools like drills or jigsaw blades.
In addition, if you want to fit a pet flap to a wall, a cable detector is necessary to pick up on gas, waste, or waste pipes, and electric cable before cutting through. Also, it's essential not to cut through a structural timber or RSJ.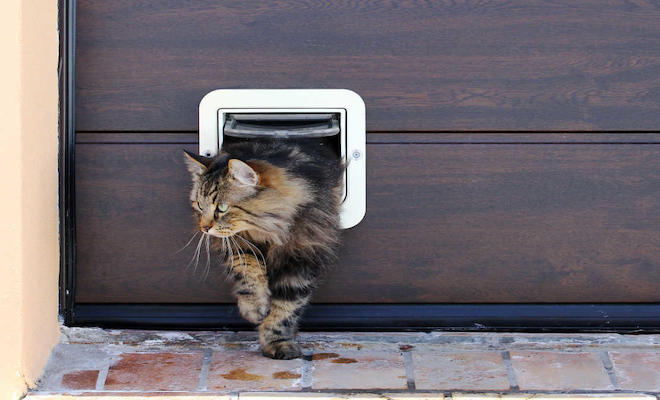 If you doubt what is behind a wall, you should hire a professional to fit a pet flap to said wall.
A less serious but notable risk is that you could perform the job incorrectly. For that reason, only fit a pet flap DIY if you feel sure that you'll be able to undertake the installation right. You'd possibly save somewhere in the range of £80 to £260 if you fit a pet flap DIY.
The Tools/Equipment to Fit a Pet Flap to a Wooden Door:
Measuring Tape
Drill and Drill Bits
Jigsaw Blade
Screws
In the case of a uPVC door, you'll need an electric jigsaw blade. A drill must be used to cut through a wall. Other materials will be needed for fitting pet flaps to different types of surfaces.
In any case, the manufacturer will provide you with details and hopefully some, if not all, of the materials needed (e.g., an adhesive). You will not need a professional sign off once the pet flap is installed.
Types of Pet Flaps
In this section, we'll discuss the features of each design of pet flap, their costs, and pros & cons, among other details.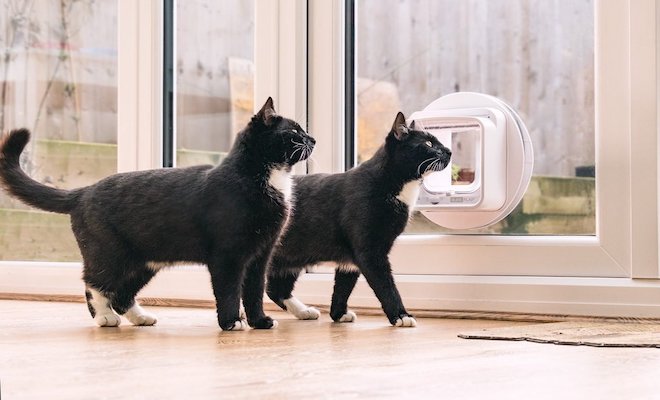 Classic Pet Flap Cost
Also known as a conventional pet flap, this choice is as simple as it gets; it is a pet flap door that opens and closes manually. Classic pet flaps are cheap and simple.
On the other hand, they do not provide much security since pets from throughout the neighbouring, and possibly wild animals could enter your home with ease. Classic pet flaps cost about £10 to £25 per unit.
Pros:
Cons:
✖ Will not protect against bad weather
✖ Lack of security
Lockable Pet Flap Cost
You may or may not need to pay a little more for some security in the form of a lockable pet flap. The average cost of such a pet flap is £10 to £30.
The manual lock feature on these pet flaps allows you to keep them shut through the night to prevent unwelcome pets or wildlife from sneaking in. It also makes your home less vulnerable to break-ins.
Pros:
✔ Not too expensive either
✔ Added security
Cons:
✖ Danger of jamming
✖ Risk of various mechanical faults
✖ Not secure when unlocked
Magnetic Pet Flap Cost
These flaps work by responding to a collar or tag with a suitable magnet designed to trigger a locking system so that the pet flap may be used.
This collar or tag can be attached to your pet. However, if a neighbour's dog or cat has the same version of collar/tag, they will also gain access.
It will keep out other neighbourhood pets and wildlife who do not have a suitable magnetic collar/tag. Magnetic pet flaps generally cost between £20 and £80.
Pros:
✔ Not as costly as microchip or infrared pet flaps
✔ Relatively secure
Cons:
✖ Unlocking may not work right away
✖ Neighbourhood animals may still be able to enter your home
Infrared Pet Flap Cost
You'd need to pay a little more for an infrared pet flap, but these pet flaps are significantly more scientific and highly secure.
An infrared key that comes with the product can be attached to your pet's collar. This specific infrared key will unlock the pet flap but will not open for other pets, including those with different infrared keys if, by chance, they also have such a key on their collar.
You can also buy infrared keys for several pets if you live in a multi-pet household. Infrared pet flaps have an average cost of £50 to £100.
Pros:
✔ Very secure
✔ You may buy several keys
Cons:
Microchip Pet Flap Cost
This choice is similar to infrared pet flaps. However, it functions by detecting the specific microchip inside your dog/cat.
Since every pet microchip has unique coding, these pet flaps are, like infrared pet flaps, only accessible to specific animals.
Once more, you may provide access to several pets. Microchip pet flaps cost roughly £50 to £100.
Pros:
✔ Microchip cat flap/microchip dog flag is extremely reliable
✔ Several pets may be granted access
✔ More reliability than infrared pet flaps
Cons:
Pet Flap Repairs and Maintenance
One appropriate way to maintain a pet flap is to clean it as often as possible. This can be done with a cloth and warm, soapy water. You may need to fix or flatten a part of a pet flap if it becomes damaged or warped over time.
A handy DIY approach to repairing a small piece of damage is to simply attach a fresh piece of plastic using adhesive.
Of course, it's essential to ensure that the glue is not toxic to animals. If a pet flap consists of metal strips, you could replace such strips if it appears necessary.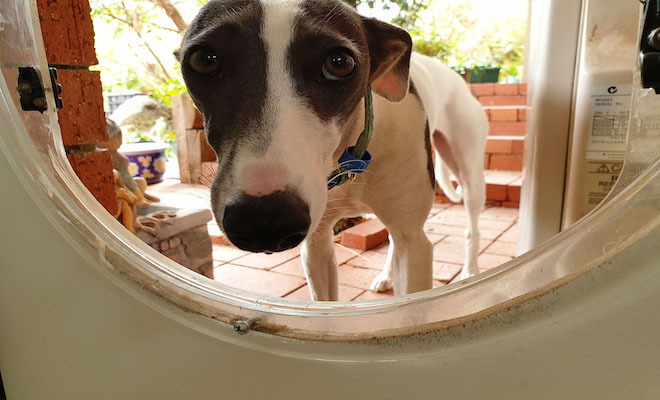 To winterise a pet flap, you should build a tunnel around it, either outside or inside, with the use of a second flap.
You can do so by removing parts of a wooden box and then attaching the box to the door. It is advisable to hang a piece of heavy carpet on the other side of the box.
This way, your cat or dog can still enter through the pet flap without the elements becoming a nuisance, whether through heavy wind, sideways rain, or simply the cold.
Removing a Pet Flap Cost
What if I later decide to remove a pet flap? Homeowners may choose to remove pet flaps if they'd like to upgrade to another type of pet flap, such as an infrared or magnetic pet flap.
A replacement pet door flap is likely to cost the same as fitting a new pet flap unless waste disposal costs are included.
Alternatively, homeowners may decide that a pet flap is not worth the hassle or their pet has no interest.
On average, it costs under £100 to have a pet flap removed and disposed of. You may remove a pet flap by yourself if you'd like.
FAQs
How to Find & Hire a Pet Flap Installer
You may choose to hire a contractor if you feel unsure about the installation process or do not feel certain you would undertake the installation correctly.
On average, tradespeople charge between £40 and £50 an hour for this sort of work.
Here are some points worth considering when hiring:
Do they have qualifications?
What about their references?
What experience do they have?
What is their accreditation?
Do they have insurance?
A pet flap installer may have qualifications related to their trade. However, qualifications are not necessary.
Ultimately, their experience and references are the most important points you should take into account.
If, however, you'd like to check their qualifications and certifications, you can always ask the contractor or their employer.
Sources
https://www.money.co.uk/guides/10-things-that-could-invalidate-home-insurance
http://www.fourpawsdoors.co.uk/diy-fitting.html
https://www.theglazingpeople.co.uk/dog-cat-flaps-double-glazing-glass-upvc-patio-doors/