How Much to Hang a Door?
The cost to fit internal doors will vary depending on factors such as the type of door being fitted, the size of the doors, the finish required, the number of doors fitted and whether any internal adjustments need to be made to your home to accommodate for the door.
So, how much on average will you pay?
As a rough guide, you can expect a single 4 panel, unfinished oak veneer door with new hinges and handles to be hung for £235 including materials and labour, assuming no changes are being made to the location of the doors.
It's worth noting the costs factors involved, depending on type, style and material.
Door Hanging Prices
The type of door you choose to install will have a big impact on both your home aesthetic and your budget. You should budget labour costs at roughly £50 per door.
Outlined below are some door styles to consider and their average cost of purchase per unit, not including labour fees for installation:
| Door type | Average cost per unit |
| --- | --- |
| Flush | £30 - £250 |
| Hardwood | £150 - £400 |
| Moulded | £90 - £400 |
| French | £250 - £550 |
| Panelled | £45 - £160 |
| Bi-fold | £60 - £165 |
| Sliding | £35 - £170 |
Unfortunately, having an estimate for the style of door is not the only influencing factor on the price; the material you choose will also change the cost of purchase.
The below prices are to be used as a guide and are based on a single door:
| Material used | Average cost |
| --- | --- |
| Oak | £80 - £250 |
| Pine | £60 - £200 |
| Veneer | £20 - £400 |
| Aluminium | £125 - £600 |
| Fire | £50 - £200 |
| Glazed | £125 - £500 |
You can also have internal doors specially made to measure and to your own specifications; however, as these will be bespoke items, they will cost considerably more than an off-the-shelf item.
Additional Costs
As well as the cost of the door and labour, you may also have to consider other costs involved in hanging new doors in a property. Outlined below are some rough estimates of additional costs associated with hanging doors.
| Item | Average cost |
| --- | --- |
| Hinges | £1.80 - £6 each |
| Handles | £2 - £80 per pair |
| Doorknobs | £9 - £60 per pair |
| Linings (internal doors) | £18 - £60 per door |
| Frames (external doors) | £50 - £95 each |
| Locks | £5 - £60 each |
As you can see from the price breakdown, the desired quality and finish of the door and related furnishings can have a huge impact on the overall cost of the door fitting, so it's a good idea to shop around for the best prices to suit you.
Cost Breakdown Calculator
Individual costs of hanging a single new door including new hinges and handles – Total cost £240
Labour Costs and Time Frames
On average you can expect a tradesperson to charge between £100 - £150 a day in labour, and be able to hang 3 doors per day (allowing for up to 3 hours per door).
The exact time it takes will vary depending on the number of doors in total being fitted, as well as the size and weight of them, with heavier doors taking considerably longer to hang than their lightweight counterparts.
You will also need to factor in additional costs if you are having doors relocated in your property, as this will involve more time, materials and labour costs and could involve multiple trades such as plastering, decorating and electricians.
What Does Hanging a Door Entail?
Firstly, a decision needs to be made as to whether just the door is being replaced or whether new door linings are being installed, as well as the positioning of the new door – whether it is being kept in its original location or if you wish to move them to a different area of the wall.
If you're keeping the original lining, you will need to accurately measure the size of the frame to be able to purchase the correct door size. You may find that an off-the-shelf door isn't available in the right size, in which case, it's best to purchase the closest size, scaling up, and trimming it down to the appropriate dimensions.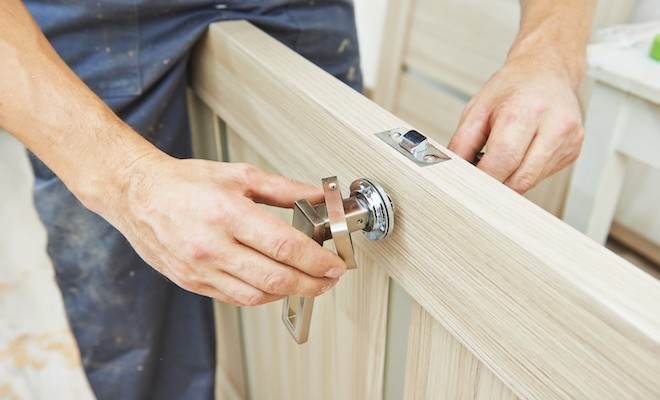 If new linings are required, you should purchase these to the closest size available, upscaling as well. These can also be adjusted to size, or minor work can be done to the walls in order for them to fit.
In the event that you are repositioning doors, the desired dimensions will need to be taken into consideration as it will dictate the amount of work involved in knocking through the wall, covering the existing doorway and redecorating.
Assuming that the existing linings will be used, you will need to measure the door height and place hinges at equal distance along the door and lining. You may find that the hinge from the existing door is appropriate to reuse.
Once the hinges are in place, the door will be positioned in the hole and the hinges connected with the hinge pin.
DIY Door Hanging
Although considered a tricky job, door hanging is a perfectly suitable DIY job for anyone with the required knowledge and physical capability of doing so.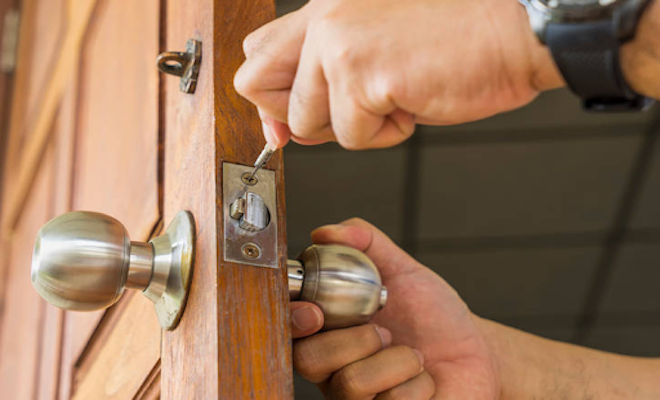 Provided is a step-by-step guide in hanging doors, though you should be aware that in some instances you will need to hire professional help to aid you, particularly where electricals and load-bearing walls are concerned, and that a professional will be able to carry out the work quicker than doing it yourself.
1 - Planning
As with all projects, planning is the place to start. Decide on your budget and how your new doors will affect the aesthetic of your home; traditional, solid doors are great for privacy for rooms such as bedrooms and bathrooms, but you may want to consider glazed or partially glazed doors downstairs to allow natural light through the building or consider installing folding doors to create more open living areas.
At this point, you should also decide if you are going to have doors fitted in existing linings where possible, if you wish to have new linings installed in their place or if new doorways need to be created. You should also decide which way you want your doors to open, keeping in mind how often you will be using the doors and the affect it will have on the layout and access of your property.
2 - Measurement
Assuming you are replacing existing doors, measure the width and height of the current door if available, or the door lining. Take the measurements from three different points to ensure that the frame is straight – If not, the door may need to be trimmed to size.
When selecting your new doors, they should be as close in size as possible to the door lining rounding up to the appropriate size, not down; material can be cut away, but it can't be added.
3 - Purchasing
Now you know the size of the door you need and the look you want to achieve, you can purchase your doors. Whilst shopping online might be the easiest option; it's advised that you go to a reputable retailer and look at the doors in person – this will give a much better indication of quality and finish than photographs that can be found online.
If you can't visit a store and do purchase from the internet, check them as soon as they arrive to make sure they are up to your standards; You don't want to pay for new doors that you won't be happy with.
4 - Removing the Existing Door
Close the door, ensuring it is on the latch. You can then use a hinge-pin removal tool, or nail and hammer, to knock the underside of the hinge pins upwards about an inch, or until the pins are loose enough to pull out.
Once all the hinge-pins have been removed place one hand on the door handle and one ear the hinges and gently lift the door upwards. If you're struggling due to the weight of the door, you can place a wedge or pry bar beneath it to help with elevation.
If you are replacing all of the hinges, remove them from the door lining, or remove the door lining if you are installing a new one.
5 - Installing a new frame and lining
In the event that you wish to replace the door and lining as a whole, either because you have purchased door and frame sets or because you want to reposition the doorways within your home, there are a few things you need to be aware of.
You should be aware of the structural changes that come with repositioning a doorway, such as removal of suitable walls to make space for the new door, filling the existing doorway and being aware of any wiring or electrical outlets that may be running through the new door position.
You may need to hire a trained electrician to rewire the wall and may need a plasterer and decorator once the wall has been re-covered if you are not able to do the work yourself. These tasks will, of course, come at an additional cost for labour and materials.
Whilst doorways can be placed in load-bearing walls; it is a tricky and dangerous job to complete; load-bearing walls offer structural integrity and if incorrectly handled can cause a lot of damage to your property – You should hire a professional to complete the work if you must have a new doorway placed in a load-bearing wall.
6 - Fitting the new door
Measure where you want your new hinges to be in the lining and on the door; as a general rule the number of hinges needed to secure the door is based on the door height; allow one hinge for every 30 inches or increment of, spaced evenly to distribute weight.
If the new door needs to be trimmed to fit, use a planer, making sure the door is secured properly with a vice. You should trim equal amounts from the top and bottom and along the edges to ensure that any panelling remains central to the door.
At this point, you should decorate your unfinished or primed door, after it has been adjusted to size but before it is hung.
If/when the new door is a good fit to the existing frame, stand the new door upright near the frame and tilt the upper section towards the lining, resting the top-most hinges of the door into the corresponding lining hinges. You should then be able to manoeuvre the rest of the door hinges into place. Secure with hinge bolts.
You should note that hanging doors can be physically exhausting, particularly if large or heavy doors are being installed. Consider asking for help from a friend to make it easier, or hire a trusted professional to complete the work for you. Whilst it may cost you more in labour, it will save you the physical strain where a professional can complete the work quicker than you may be able to yourself.
Choosing Internal Doors
Choosing the right internal doors can make a huge difference in the feel of your property. Your doors should look like they belong in the property and be in-keeping with the décor, as well as being suitable for use.
Rooms that require privacy are unlikely to benefit from a glazed door, such as bedrooms and bathrooms, in the same way as social areas can – such as living rooms and kitchens, which would allow light and line-of-sight to pass through the house, making it feel larger, but with the added bonus of separation and privacy when desired.
Similarly, you may wish to consider using sliding or folding doors in your living areas as they will help to create an open-plan feel, without compromising on floor-space– This is particularly useful for smaller rooms within the home.
Door Sizing
Doors and their frames come in a number of standard sizes to suit most homes:
1981mm x 457 / 533 / 610 / 686 / 711 / 762 / 838 / 915 / 1067 / 1168 / 1220 / 1372 / 1524mm
2034 x 813mm
2134 x 915mm
2040 x 526 / 626 / 726 / 826 / 926mm
The average height and width of a UK door is 1981mm x 762mm and has, on average, a depth of 40mm.
In some cases, you may find that a pre-made door will need to be trimmed to fit the doorways within your home. An alternative to doing this is to commission custom-built doors, which will allow you to customise the style and finish to match your home aesthetic – but be aware, they come with a much heavier price-tag than off-the-shelf doors as they will be bespoke items for your home.
How to Measure for a New Internal Door
To ensure you select the right size door for the frame, it's important you measure the space properly.
You should take a minimum of 6 measurements; 3 across the width at the top, middle and bottom of the frame, and 3 across the height at the left, centre and right.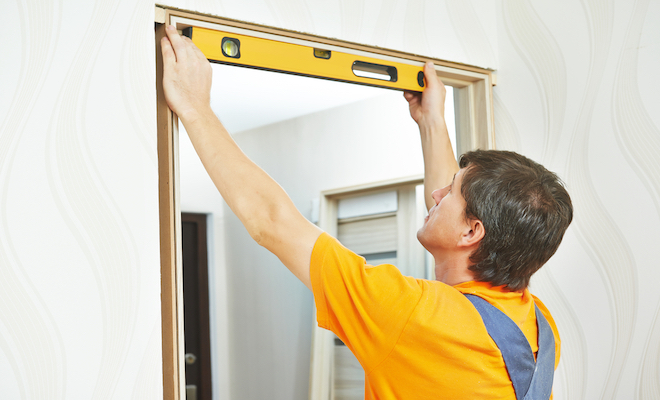 It may seem excessive to take so many measurements, but it's for a good reason; often door frames and linings warp, particularly in older houses, or the frame may not have been set straight. You should take the largest of the height and width readings and base your door size on that. You can trim a door down to size if necessary, but you'll struggle to add to it if it's too small.
How to Trim an Internal Door
Sometimes it is necessary to trim a door, either because the frame is warped or because you have had a change in flooring to name a couple of examples. Before you cut away, make sure you have accurately measured how much material must be taken off your door and marked it appropriately.
It's also recommended that equal amounts are taken from each affected dimension; this is so the symmetry of the door stays intact and is less likely to damage the structural integrity of hollow doors.
There are multiple ways that you can trim a door down to size.
Circular Saw
Using a fine-tooth circular saw can make quick and easy work of removing excess materials from a door. Using a straight edge to guide the saw, cut below the waistline you have marked on the door.
Once the appropriate cuts have been made, you can neaten the area up by planning the excess material, if needed, and sand the cut edge to avoid splintering and potential snagging. You can buy circular saws for £50 - £150 each, or replacement blades for as little as £8.
Hand Saw
If a circular saw is not available to you, then you could always use a hand saw to cut away the bulk of the wood using the same method as above. You will need to smooth off any edges once the sawing is complete, and may also require the use of a planning tool to help achieve a flat finish.
Handsaws range in price from £5 to around £20. Be aware that this can be a very labour-intensive method, particularly if you are adjusting multiple doors.
Wood planer
If only a small amount of material needs to be trimmed from the door you could use a wood planer, available to buy from as little as £35 for an electrical one, or a manual plane from £10.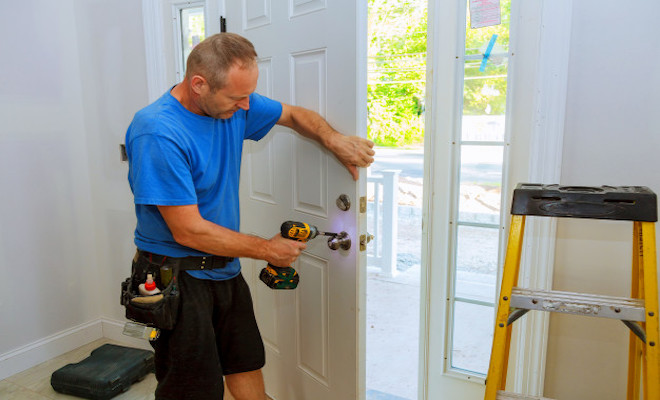 A professional carpenter charges around £100 - £150 a day in labour, usually with a minimum call-out charge of £50, so if you're considering hiring one to trim the doors, it's the best value for you to have them all completed at once.
If you're hiring someone to hang the doors for you as well, they will likely include this work in their quote.
Always make sure your door is secured properly, and that adequate protection is worn before starting to trim the door. A sawhorse is the recommended platform to lay the door on, secured with adequate clamps.
Failing to take safety precaution could result in a serious injury to yourself and your property.
Internal Door Finishing
Doors come in three conditions:
Finished – The door is ready painted and decorated.
Primed – The door has been primed and is ready to be decorated.
Unfinished – The door required sanding, priming and decorating.
As the names suggest, unfinished and primed need more work to complete them compared to finished doors. The benefit of these two types is the customisation options that are available; you can paint the door to suit your home and design needs.
You could even opt for an unfinished, plain door which is cheap to purchase and add your own beading (starting from around £2 per 2.5m) before painting to enhance the aesthetic.
Most doors undergo a lot of use, particularly in communal areas such as bathrooms, kitchens and living rooms – so it's important that you decorate them with appropriate materials. Gloss or oil are generally recommended as they are easy to clean after use without damaging the finish.
You can purchase door oil for wooden doors from a variety of shops starting from around £15 per 750ml, gloss from £10 per 750ml or opt for durable paint for the same price.
Choosing the right door handles or knobs will set the tone of the door as well, so consider your options and budget carefully when choosing.
Handles and knobs range from as little as £2 a pair to upwards of £80 depending on the design but ultimately will affect the overall aesthetic; so if you've chosen doors that truly compliment your home design, it's best to acquire handles or knobs that also compliment it, rather than contrast it.
Should My Internal Door be a Fire Door
A fire door, in contrast to a standard door, is specifically designed and manufactured to act as a barrier within a building in the event that a fire was to break out. Fire doors typically come in two categories, FD30 and FD60, meaning they are built to withstand fire for a duration of 30 or 60 minutes respectively.
The type needed will depend on how much time is deemed adequate for home occupants to evacuate the site safely.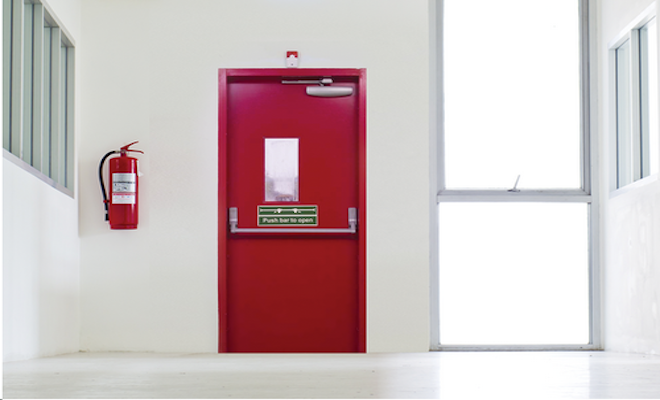 Fire doors are becoming increasingly popular due to the added safety and peace of mind that they bring to residential properties.
In some instance are a legal requirement. According to Building Regulations, Part B – Fire safety, fire doors is required when:
The building is a house of multiple occupations, such as flats.
In homes that are more than two-storeys high – For example, with a loft conversion.
Between a house and an integral garage.
As a general rule, fire door costs range from £50 - £200 to purchase, but do come under stricter guidance in regards to trimming than standard internal doors. For more information on fire doors, you can read our fire door guide here.
Internal Door Repair and Maintenance
From time to time, it may be necessary to carry out maintenance and repair work on your internal doors to ensure they work correctly and continue to look presentable. Common work includes:
How to Paint and Oil a Door
After a while, your doors may begin to look shabby. By repainting or oiling your doors, you keep them looking presentable and help to protect them becoming dry and brittle, which can lead to damage. Door oil can cost as little as £15 for 750ml, with durable paint or gloss from £10 per 750ml.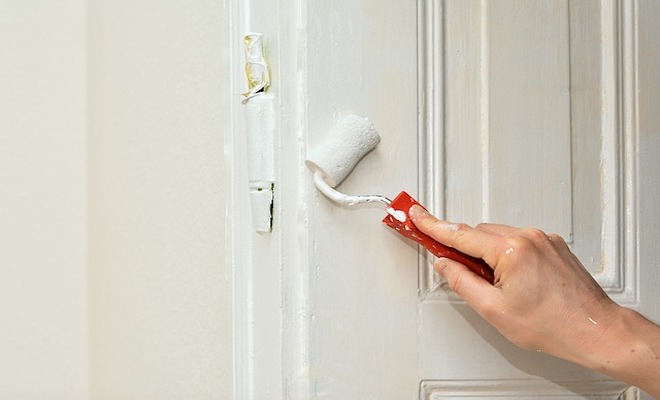 How to Fix Latch Issues
You may find that your door latches begin to stick or that your doors no longer close properly. More often than not, this is because the door itself has shifted and the latch and strike plate are no longer properly aligned.
You may be able to fix this by tightening the door hinges or adjusting the strike plate positioning. Alternatively, you may wish to purchase a new latch for the door, which can cost as little as £1 from large DIY stores.
How to Fix Door Alignment Issues
Over time, you may find that your door has shifted position within the frame. Ideally, you want to manoeuvre the door and tighten the hinges to fix the problem. However, it may be necessary to replace the hinge joints altogether.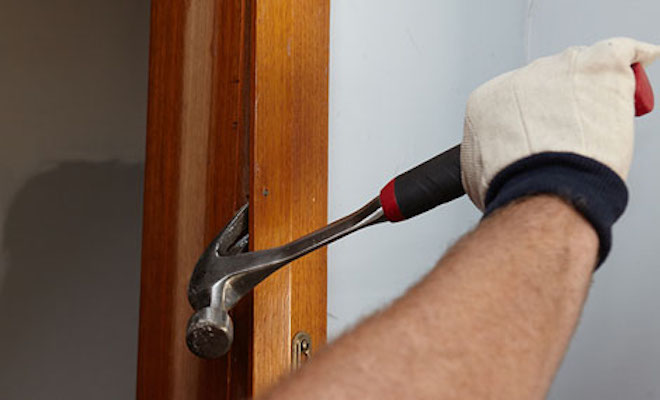 This is particularly true in cases where insufficient hinges have been used to support the door, or the positioning of the hinges is incorrect. You can purchase hinges yourself on average at £3 each, but depending on the door you may want to hire a professional to refit it, in which case, you should budget a minimum of £50 for labour.
How to Fix a Door from Sticking
Changes in temperature and moisture can cause doors and their frames to warp and expand, which may result in doors sticking and becoming difficult to move.
In the case of minor sticking, you may be able to carefully plane some of the materials from the edge of doors whilst still attached to the frame, but if the issue is on the bottom or top of the door, or it is a large issue, you will need to remove it to complete the work. Wood planes cost around £20 to purchase.
In some instances, it may not be suitable to carry out maintenance and repair work yourself, particularly if you are not physically able or confident in your ability to do the work yourself.
Carpenters and handymen typically charge a day-rate of between £100 - £150 a day, so for a relatively quick project relating to door work you should budget £50 for their time and labour – though always check with them first before the work begins.
Internal Doors vs Open-plan
Open-plan living has become increasingly popular over recent years, offering large multifunctioning spaces compared to compartmentalised living.
Before fitting internal doors, consider some of the pros and cons to open living and whether it would suit your needs better than traditional, separate living spaces.
Pros
✔ Your living space will have more natural light, making the space feel airier and potentially reducing the need for artificial light.
✔ Open living space makes entertaining guests and family easier to achieve, with more space to utilise than conventional layouts.
✔ Open living is sought after and by integrating open-plan to your home, you may see your property value rise – open living allows potential buyers to easily visualise the space and its potential with a contemporary space.
Cons
✖ Noise can be an issue in open-living areas as there are fewer walls to act as sound buffers.
✖ Mess and clutter can be a big issue for open plan living – what was once a messy kitchen may now appear as a messy home.
✖ Multifunction rooms inherently offer less privacy than their traditional counterparts
✖ It's very likely you will see an increase in your heating bills – Rather than being able to heat spaces that are being used independently, you will now have to heat a much larger space to achieve the same level of comfort.
Whilst there are many pros and cons of open living, it's important to keep in mind the financial implications of such a choice; whilst your decorating costs may be reduced (less walls = less painting if redecorating), you will find that other costs are increased – like heating, and potential refurbishment costs to achieve the desired aesthetic.
Installing a new kitchen can cost £8,000 but might be a necessary purchase to achieve a look in keeping with the feel of your home – Especially as it would be on display in an open-plan layout.
Cost of Removing Internal Doors
Internal doors are relatively cheap in themselves to have removed by a professional; typically speaking a professional will charge roughly £10 per door in waste removal, plus the cost of labour to unhinge them – which is considerably cheaper than having them installed as it is less time-consuming.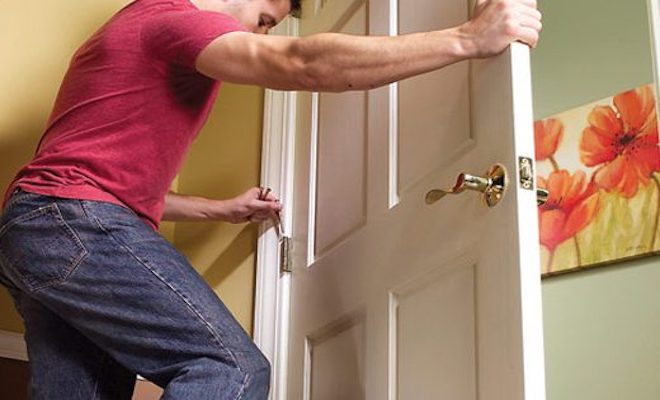 Expect a professional to charge £100 - £150 a day for their labour, with a door taking on average 30 minutes to remove assuming there are no major issues.
In the event that you want the door removing and the hole repaired, you can expect to pay around £150 depending on the size of the hole for materials and take roughly 1 – 3 days including filling the wall-space, plastering and redecorating.
FAQs
How to Find & Hire a Door Fitter
When choosing a carpenter or tradesperson to complete work in your home consider their qualifications, accreditations and experience to ensure that you are getting the best worker possible to complete the task.
If having internal fire doors installed, the installer should hold some sort of qualification in relation; the Fire Door Inspection Scheme offer online training and education on the matter, or they may be FIRAS certified. Your qualified carpenter should also hold public liability insurance.
The best way to find a suitable carpenter to fit new internal doors is through trusted sources; ask your family and friends if they've had similar work done and if they would recommend their professional to you, or use our tool to find trusted and reliable tradespeople in your area.
Sources
https://www.planningportal.co.uk/info/200135/approved_documents
https://www.gov.uk/government/publications/fire-safety-approved-document-b