How Much Are Fire Doors?
There are two instances where installing a fire door in a domestic house is required by legislation.
The first is where a door connects the dwelling with an integral garage and the second circumstance is in a property with three or more storeys including loft conversions, where fire doors to every habitable room off the stairwell are mandatory.
These requirements are enforceable under Building Regulations. Whether you fit an internal fire door because your property requires it or because you want to provide additional fire precautions in the home you will want to know the cost of fire door installation.
Fire doors are generally more expensive than standard internal doors as they are either constructed from solid timber or contain fire-retardant materials such as steel. The fire door cost will depend on the size and style of door chosen.
The average size internal door in a domestic property is 1981mm x mm x 35mm. In imperial measurements, it is referred to as a 2'6" door. For an internal fire door of this size, the price range can be between £90-£400 with an average price of £245. This is for a solid unglazed door.
For an internal fire door with a glazing panel, which must also be fire-resistant, the price range is £100-£785 with an average cost of £450. These doors all provide 30 minutes of fire protection and are commonly referred to as FD30s.
Doors which provide up to 60 minutes of fire protection are typically found in commercial premises and are referred to as FD60s. The average cost of a 60 minute fire door is £475.
As there is such a wide selection of types and styles of internal fire door available, the price you pay will be determined by the door you choose. For a domestic property, a 30 minute fire door is sufficient, but the design and whether it is glazed will affect the overall cost.
All fire doors must be hung with at least three fire resistant hinges which can withstand heat up to 800 degrees centigrade. The cost will depend on size and brand but on average it will cost around £10-£15.
Fire door installation requires skill and knowledge in order to fit the doors correctly so that they properly fulfil their function, and the fire door installation price will reflect this.
A qualified carpenter will cost in the region of £150-£200 per day. It is worth noting that fire doors are heavier than normal internal doors and the carpenter may have an apprentice or labourer to assist.
You should budget an extra £80-£100 if this is the case.
However, many professional carpenters will price their work according to what you require rather than charging an hourly or day rate, so if you only need one fire door installed, the labour cost could be less.
Labour costs vary depending on where in the UK you live with prices in the south east, and London is among the highest. The fire door price will probably vary too depending on location.
Fire Door Installation Prices
The below table gives the average cost for the supply and fit of a range of different fire doors and includes the cost of the door and the price of labour for a day.
TIMBER FIRE DOOR
SUPPLY COST
LABOUR Cost
TOTAL COST
1981mm x 686mm
£200
£150-£200
£350-£400
1981mm x 762mm
£240
£150-£200
£400-£450
1981mm x 838mm
£240
£150-£200
£400-£450
Glazed Fire Doors
1981mm x 686mm
£550
£150-£200
£700-£750
1981mm x 762mm
£500
£150-£200
£650-£700
1981mm x 838mm
£485
£150-£200
£625-£675
FD60 54mm
£475
£150-£200
£625-£675
The addition of door ironmongery will vary depending on requirements and dimensions of the door, but these too must be fire rated.
Supply Costs
The table below represents the average fire door cost for various doors, both glazed and non-glazed, without fitting or labour costs
| FD30 44MM Timber Fire Doors | AVERAGE SUPPLY COST |
| --- | --- |
| 1981mm x 686mm | £215 |
| 1981mm x 762mm | £240 |
| 1981mm x 838mm | £240 |
| FD30 44MM Glazed fire doors | AVERAGE SUPPLY COST |
| --- | --- |
| 1981mm x 686mm | £550 |
| 1981mm x 762mm | £500 |
| 1981mm x 838mm | £485/td> |
Additional Costs
When you install your new fire door there may be other work that you wish to have done at the same time or the fire door fitting may have been prompted by other work that you are carrying out.
As well as the fire door fitting cost, you may want to add some additional work into your budget. As previously mentioned, there are a couple of instances where the installation of a fire door will be required under Building Regulations.
The first of these is where an integral garage leads into the home, and a fire door installed between them should have a self-closing mechanism fitted.
If you are considering building a garage that is attached to your house, then you will need to have a fire door fitted between the two. The average cost to build a garage is between £10,000-£30,000.
The second circumstance that would require the fitting of an internal fire door is when a loft conversion has been done.
In this case, all habitable rooms off the stairwell will need to be fitted with fire doors. This is something to bear in mind when budgeting for your loft conversion, which by itself will cost on average £15,000-£30,000.
Another vulnerable place in the home when it comes to fire safety is the kitchen, and it is advisable to fit a fire door to your kitchen just as a precaution.
If you are installing a new kitchen, then you could easily add a new fire door to your plans especially as you will already have contractors on site. The average price range to install a new kitchen suite is between £8,000-£15,000 depending on specification and size.
Perhaps you have decided to change all the doors in your property, including replacing your front door. With a price range of £350-£1000, it is clear that there is a large variety of possibilities when it comes to a front door replacement.
If you are updating all your doors a cheaper alternative to installing a new front door is to paint your existing one. If you have a back door, you may decide to do them both at the same time. The cost to paint a front or back door is approximately £150-£250.
It is sometimes necessary or just desirable after installing a new door or window to give the room a fresh coat of paint. Improving one element of the home has an often justified effect of showing up something else in need of updating or refreshing.
Painting interior walls will give the room or hallway a lift and set off your new fire door nicely and will cost around £250-£500.
Cost Breakdown Calculator
Individual cost of installation of a 1981mm x 686mm internal fire door - Total Cost: £350
Labour Costs and Time Frames
Depending on how many fire doors you want fitting, a carpenter could do the work in a couple of hours or in a day or two. Therefore, the fire door fitting cost will largely be determined by the number of doors installed.
The average day rate for a carpenter is between £150-£200, and some may have a labourer or apprentice working with them which will add another £80-£100 per day.
The hourly rate for a professional carpenter will be in the region of £20-£30, and again you may need to factor in the price of additional labour costs if they have someone else working with them. An hourly rate for an apprentice is a minimum of £4.50-£8 depending on their age.
If you hire someone to supply and fit a single, or several, fire doors, then the fire door fitting cost should be included in their price. You can source the door yourself, but a professional tradesman will be able to purchase materials at trade prices.
Of course, you will choose the style and type of door yourself, but it is always good to have some input from a professional regarding quality and suitability.
If a fire door is replacing a standard internal door, then a new compatible frame will need to be installed as well. This will add to the labour cost and should be factored into your budget.
Timeframe to Hang a Fire Door
As fitting a fire, door is a more precise and technical process than a normal internal door enough time should be allowed to do the job correctly.
If the door is replacing an existing fire door of the same specification and the frame is in good condition, then it should take no more than a couple of hours. This includes fitting all the ironmongery to the door as well.
However, if you are replacing a standard 35mm internal door with a fire door, then the frame will need to be changed as 30 minute fire doors are 44mm thick. Taking out and replacing a door and frame will take considerably longer than just swapping like for like fire doors.
What is a Fire Door?
Fire doors act as part of a fire compartmentation system along with walls, floors, and ceilings delaying the spread of fire and smoke to the rest of the building.
They are normally of solid timber construction or with steel cores, and some are made from composite materials.
Glazing or vision panels can be incorporated into fire doors, and this glass must also be fire-resistant, and the aperture fitted with an intumescent strip.
What is the Intumescent Strip?
Intumescent strip is a vital component in a fire door installation, and without it, the fire rating of a door will be reduced by around 50%.
A fire door must be fitted with a 3mm gap around the perimeter between the door and the frame to allow the door to swing freely.
When heat above 200 degrees centigrade, normally after 10-15 minutes, reaches the intumescent strip, it expands to fill this gap.
The strip then restricts fire and smoke for up to thirty minutes on an FD30 and sixty minutes on an FD60 door from reaching other parts of the building.
Some strips are surface mounted, and there are also smoke seals which work to better prevent smoke getting beyond the door as well.
Fire Door Frames
A fire door is not just another door, it is an engineered safety device, and the frame must be compatible with the fire door being hung.
The frames may have grooves in them to take the intumescent strip, or this may be incorporated into the door.
If a fire door is sold pre-assembled within a compatible and certified frame, it is called a door set.
Trimming a Fire Door
Timber fire doors will have a trim allowance on the sides to allow precise fitting, but this is normally only around 1-4mm on each side.
However, this will depend on individual door styles, and manufacturer's instructions should always be followed.
The top of a fire door should not be trimmed as it carries the certification number which should be retained.
Hinges and Ironmongery
A fire door is significantly heavier than a standard internal door and requires at least three hinges to hang it safely and prevent warping of the door.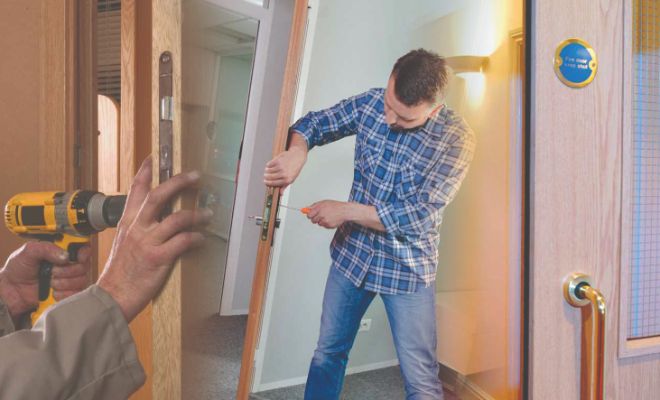 Hinges must be fire rated to have a melting point above 800 degrees centigrade and conform to BS EN 1935 38.
All self-closers, locks and latches should all be compatible with the fire door being installed.
Letterboxes and Viewers
Fitting letterboxes and viewers to a fire door without following manufacturer's instructions exactly can have serious consequences.
The letterbox can fail, allowing flames and smoke to exit through the aperture and feed the fire with oxygen from outside.
The burning letterbox can also set fire to the external area such as a corridor or hallway, preventing escape by other occupants and impeding the efforts of the fire brigade.
Legal Requirements
In a block of flats, a fire door must be installed as the front door with any viewers or letterboxes installed to comply with the door's fire rating.
In a house, the only legal requirement for fire doors are access to an integral garage or for rooms off a stairwell in a house with three or more storeys.
Fire doors which lead to an integral garage should be fitted with a self-closing mechanism.
Purpose of a Fire Door
Fire doors are part of a building's passive fire protection system and as such are, a vital element in saving lives and protecting property.
The correct installation and maintenance of fire door are essential to ensure it serves its purpose and functions at its optimum.
Cost Affecting Factors of Installing a Fire Door
Below are example of cost factors that can contribute to the overall cost of a fire door:
Type of Material
The type of material that the fire door is made from may have an effect on the cost.
However, the majority of fire doors are constructed from timber or a combination of timber and steel, aluminium or gypsum, so there is not a wide choice of materials to choose from.
Although there are composite fire doors on the market, they are not widely recommended, and some fire door suppliers have withdrawn their composite fire doors from the market albeit temporarily.
Type of Door
The fire door price will depend largely on whether you choose a glazed or unglazed version and the style of the door.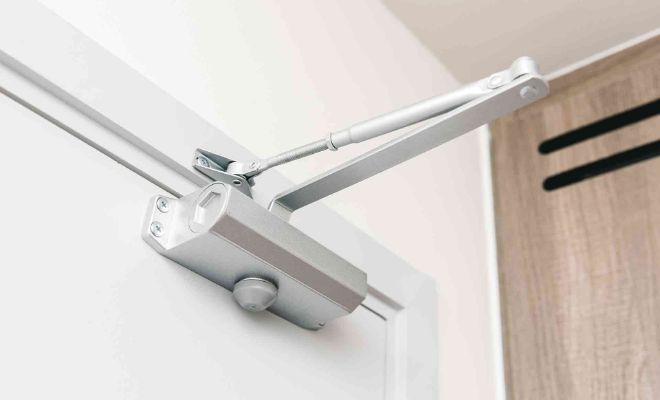 Glazed doors are more expensive due to the inclusion of fire-resistant glass and the necessary intumescent lining of the glass panel.
A typical unglazed 1981mm x 762mm fire door will cost on average £200-£250 whereas a glazed version will be more like £400-£500.
Size of Doors
When fitting a timber fire door, it is imperative that is not trimmed too much as the fire rating will be compromised.
Therefore, choosing the correct size is very important. Of course, the size will affect the price you pay, but the differences are not that much.
For example, a 1981mm x 686mm unglazed fire door will cost around £200-£225 while a 1981mm x 762mm will cost approximately £240-£260.
Location of Property
The price of fire door fitting can vary depending on the location of your property.
Home improvement costs are higher in the southeast of the UK and of course, in London due to the higher cost of living, business premises, rental and insurance.
Some other major cities in the UK can be comparatively expensive with Edinburgh and Bath ranking high in the cost of living table.
Some parts of the Midlands and Wales are less costly but of course, if your property is remote or very rural, then you may find yourself paying more for work on your home due to travel times.
Ease of Access
If the location of the fire door to be installed is in an awkward location, then the labour involved in fitting it may be a bit more costly.
However, most professional carpenters are very adaptable and will be able to find a way around such difficulties, although it may cost you a little more.
It is worth discussing these things with the carpenter before they begin work, so you are not paying an unexpected premium due to problems with access.
What Does Installing a Fire Door Entail?
Fire doors should only be installed by a competent person and in accordance with the fire door manufacturer's instructions.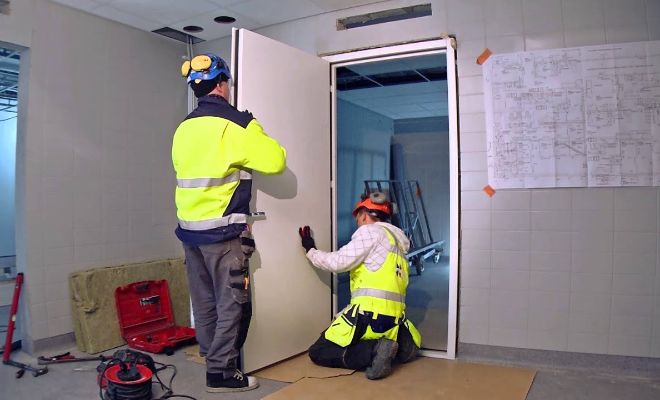 If an existing fire door is being replaced like for like then ensure that the frame is undamaged and is compatible with the door being fitted. When replacing a standard internal door with a fire door, this usually comes as a door set which includes the door and the frame, both of which will be fire rated and certified.
The frame is screwed into the wall and not nailed in place.
Any gaps between the frame and the wall are filled with fire-resistant material such as mineral fibre or intumescent paste.
It is recommended that the intumescent strip is fitted into the frame and there is normally a rebated groove within the frame specifically for this purpose.
The intumescent strip should be fitted as a continuous piece around the door or the frame and should not be cut to fit the sides, and head of the door as this will compromise the effectiveness of the strip.
Surface mounted intumescent strips or fire, and smoke seals can also be used. Smoke seals slow down the spread of cold smoke and toxic fumes.
Fire rated hinges that have a melting point above 800 degrees centigrade are fitted to hang the door.
A minimum of three certified and compatible hinges should be used.
A gap of 3mm should be allowed around the sides and top of the door to allow it to swing freely.
This is also the gap that is sealed when the intumescent strip expands under heat so the gap must be no wider than 3mm.
If the door needs to be trimmed there is normally a 1mm-4mm allowance on either side, and an equal amount should be taken from each side if required.
The height of the door should only be trimmed from the bottom as the top of the door carries the fire door certification, which should never be removed.
The gap at the bottom of the door can be between 3mm-8mm but depends on the door and manufacturer's recommendations.
Compatible and certified ironmongery such as locks, latches and handles can then be fitted to the door.
Apertures should never be cut into a fire door on-site, and any such holes in the door should only be cut by the manufacturer.
If done on-site, this can make the fire rating and certification of the door invalid.
Decoration of the door should be done prior to hanging, and the intumescent strip should not be painted or varnished over.
Each fire door installation will be different and small details may change according to the siting of the door, the style and design or the specific manufacturer's recommendations. The only component that should remain the same is that the fire door is properly certified and is fitted by a competent person who understands the importance of correct installation.
DIY Installing a Fire Door
It is not recommended that people install fire doors as a DIY project as if they are fitted incorrectly, they could fail during a fire.
Inadequate installation may reduce the performance of the door and undermine its effectiveness at slowing down the spread of fire and smoke, potentially putting lives and property at risk.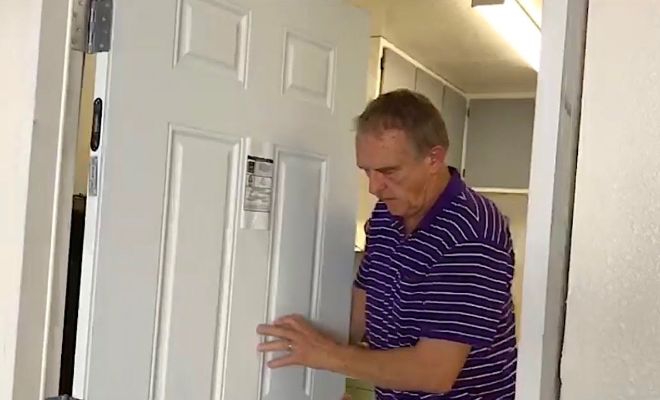 Therefore, it is advisable that whoever fits a fire door has the necessary level of knowledge and skill to ensure that the installation is done correctly, and the fire resistance of the door has not been compromised.
It is also not advisable to simply replace an existing door with a fire door unless you replace the whole door set, that is the door and the frame.
If you are replacing a standard internal door with a fire door, then you could remove the existing door and frame yourself to save on labour costs.
This should be done with care to avoid damage to the walls that the new frame will be fixed to.
Tools & Safety Equipment Required
The tools you would need to remove an existing door and frame are:
Manual screwdriver or drill with screwdriver head attachments
Nail bar
Hand saw
The safety equipment you should use to remove an existing door and frame are:
Gloves
Safety goggles
Safety boots
How to Remove an Internal Door and Frame
To remove the door from the frame, take out all but one screw from each of the hinges beginning with the middle hinge.
Starting from the bottom remove the last screw from each hinge and remove the door.
Be careful as you remove the last screw from the top hinge that the door does not drop on your feet.
To remove the frame, make a cut with a hand saw halfway up each side of the frame and then using the nail bar pry the frame from the wall.
By cutting the frame, it relieves the overall pressure of the frame and makes removal much easier.
Although you will still need to pay the price of a fire door installation, you could potentially save £50-£70 of labour charges by removing the existing door and frame yourself.
Building Regulations state that homes which have an integral garage must have a fire door fitted between the dwelling and the garage and any home with three or more storeys must have fire doors off the stairwell.
These regulations are intended to save lives and protect property, but this can only happen if the fire doors are fitted correctly, and the manufacturer's instructions are followed.
This is why it is recommended that the job should be done by a qualified and competent person as the fire door will only be as good as the installation.
Choosing a Fire Door
The majority of fire doors are constructed with a solid timber core, although they can be a combination of materials such as steel, gypsum, or aluminium.
Composite fire doors are available although they are not rated as highly as timber doors and in a 2019 government panel, an issue was raised with the performance of GRP (glass re-enforced plastic) composite fire doors.
Timber Fire Door Costs
Timber doors come in a flush or a panel design with a variety of finishes and colours available.
Flush design means the surface of the door is smooth, and even while a panel door has raised sections.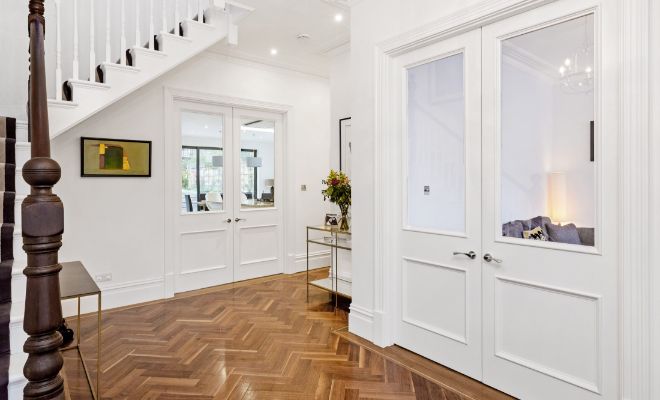 Timber fire doors have a reassuring heaviness to them that reflects their solid construction and fire resistance.
These doors are not difficult to fit for a professional contractor who is qualified and experienced in their installation.
Pros of timber fire doors:
✔ Solid and reliable doors which have been certified and tested
✔ Available in various styles, designs, and finishes
✔ As well as being fire resistant, these doors offer good sound insulation
Cons of timber fire doors:
✖ Can be heavy to open for the young, elderly or those with limited strength or mobility
✖ Should never be locked for safety reasons
✖ May be difficult to match with other doors in the house if only installing one
Glass Fire Doors
Glass fire doors look modern and can even come framless to give a seamless apperance. They are made from fire-rated glass and many have electromagnetic hold open spring so that they close automatically in the event of a fire.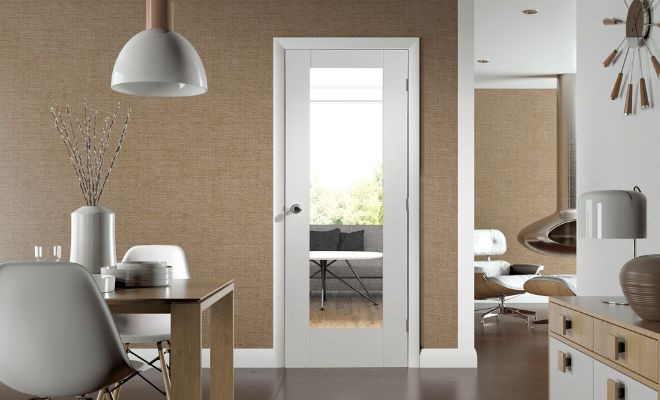 They can be more expensive then their timber versions, but there are some pros to having a glass fire door.
Pros of glass fire doors:
✔ Allows light into the room without compromising safety
✔ Ability to see through the door without the need to open it
✔ Many styles and designs available to choose from
Cons of glass fire doors:
✖ More expensive than non-glazed fire doors
✖ Some styles can look utilitarian in a domestic setting
✖ Heavier than standard internal glazed doors
Those fire doors which are constructed of timber are certified by organisations such as the British Woodworking Federation under the Certifire scheme.
Fire Door Sizes
The common height of a fire door is 1981mm, but they are also available in a slightly bigger size of 2040mm.
They come in a range of widths from 457mm to 926mm and two different depths, 44mm and 54mm.
Thirty minute fire doors are typically 44mm in depth while sixty minute fire doors are 54mm. For most domestic applications, thirty minute fire doors are sufficient.
Below are sizes and price ranges for a variety of 30 minute fire doors which include an array of styles and designs including glazed and non-glazed.
| FD30 44MM | PRICE RANGE | AVERAGE COST |
| --- | --- | --- |
| 1981mm x 457mm | £40-£200 | £100 |
| 1981mm x 533mm | £60-£200 | £130 |
| 1981mm x 610mm | £65-£680 | £280 |
| 1981mm x 686mm | £60-£700 | £365 |
| 1981mm x 762mm | £60-£785 | £380 |
| 1981mm x 838mm | £60-£785 | £380 |
| 2040mm x 526mm | £60-£200 | £115 |
| 2040mm x 626mm | £60-£300 | £150 |
| 2040mm x 726mm | £60-£650 | £275 |
| 2040mm x 826mm | £60-£650 | £275 |
| 2040mm x 926mm | £60-£340 | £160 |
Below are sizes and price ranges for a variety of 60 minute fire doors which include an array of styles and designs including glazed and non-glazed.
These doors are normally fitted in commercial and public buildings and are not commonly found in residential settings.
This is due to higher average number of occupants in these buildings, which means longer evacuation times are needed.
| FD60 54MM | PRICE RANGE | AVERAGE COST |
| --- | --- | --- |
| 1981mm x 686mm | £270-£380 | £325.00 |
| 1981mm x 762mm | £190-£480 | £300.00 |
| 1981mm x 838mm | £190-£480 | £300.00 |
| 2040mm x 726mm | £190-£380 | £285.00 |
| 2040mm x 826mm | £190-£380 | £285.00 |
| 2040mm x 926mm | £190-£380 | £290.00 |
Fire Door Classification
There are two main types of fire door classification: 30 minute fire doors and 60 minute fire doors. These fire doors must meet the standard of BS 476 Part 22 or EN1634-1:2000.
A 30 minute fire door will hold back flames and smoke for in excess of half an hour giving life saving time for a building's evacuation and protection for attending fire fighters.
60 minute fire doors are normally found in commercial, public, or industrial settings and are able to resist fire for more than an hour.
In a domestic property, 30 minute fire doors are typically used, and while 60 minute fire doors can be used, they are much thicker at 54mm as opposed to 44mm and may not be practical in a private dwelling. The designation FD30 is normally applied to a thirty minute fire door and FD60 to a sixty minute fire door.
If an 'S' follows the designation, this means that there are smoke seals fitted to the fire door which delay the spread of cold smoke. These smoke seals are used in conjunction with the intumescent strip and are either a rubber strip or nylon pile.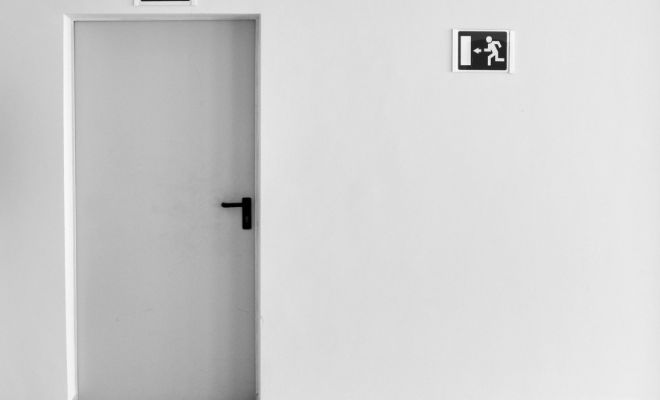 All fire doors must have a label which gives details of its certification; these are usually found on the top edge of the door, which is why this part of the door should never be trimmed. The label for a fire door set may be found on the frame.
The unique numbers on the label give access to the certification of the fire door, including specifications and details of the manufacturer and production.
For the purposes of a domestic installation, a 30 minute fire door is sufficient to provide the necessary fire safety and is the most practical solution where legislation requires a fire door in a private home.
The classification of a fire door can be done in three ways:
Self-declaration by the manufacturer, which means that the door is claimed to conform to the necessary standards.
Test certificate which states that the manufacturer's products have been tested.
Third party testing, which means that a body independent of the manufacturer has carried out tests on the doors and evaluated the production process.
Previously obtainable FD20 doors which provided 20 minutes of fire and smoke protection are no longer widely available.
Benefits of a Fire Door
Fire doors are an integral part of a building's passive fire protection and play a vital part in the safety of the occupants and the protection of property.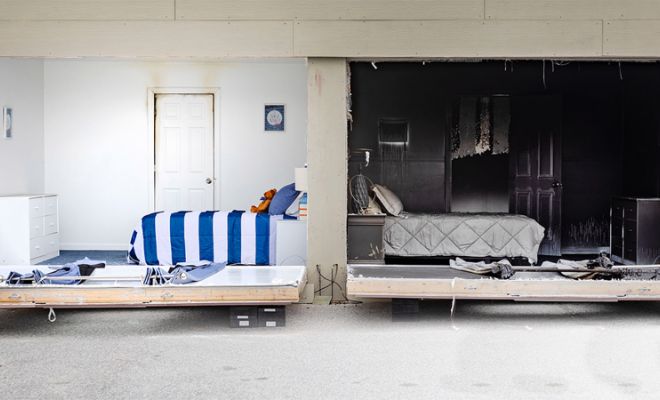 The cost of a fire door fitted properly will be outweighed by the peace of mind it provides.
A fire door can help reduce the damage and injury caused by fire in several ways.
Properly fitted fire doors can slow the outbreak of fire by reducing the amount of oxygen that reaches the fire.
A fire needs three things to ignite and continue to burn: heat, oxygen, and fuel.
Once a fire has started the rate at which it spreads and continues to burn will depend on the supply of oxygen and fuel.
By suppressing the amount of oxygen, the rate of burn will be slowed, thereby providing time for firefighting efforts and evacuation.
This is why a fire door should always be kept closed and never propped open.
By restricting the spread of a fire, a fire door provides a window of opportunity to alert people to the fire and allow them to leave the building safely.
Not only does this save lives, but it also reduces the amount of potential property damage.
A fire door provides enough time for firefighting efforts such as sprinklers and the fire brigade to be activated.
These are termed active fire protection measures and work with passive measures such as fire doors and fire retardant building materials to reduce the worst effects of fire.
Fire doors provide protection for escape routes out of the building.
When a fire has started, those inside need to have a 'corridor of safety' to evacuate the building.
Fire doors hold back the fire and provide time for occupants to get out without risk of injury on the way.
There is also the benefit of providing fire fighters with some protection while they try to extinguish the fire.
With a response time of under eight minutes on average in the UK fire fighters will then have around twenty minutes of protection as they work to contain and put out the fire.
Having fire doors in place will go a long way towards preventing or restricting the spread of fire within the home, thus protecting property and possessions.
It will also restrict the spread of fire to neighbouring property.
Fire Door Regulations
Building Regulations state that a fire door with a self-closing mechanism must be installed between a dwelling and its integral garage.
A self-closer is a device which is capable of closing the door securely into the frame regardless of what angle it has been opened to.
There should be no resistance from latches or seals to the closure of the door by the automatic device.
Building Regulations also state that properties of three storeys and more must have fire doors from all habitable rooms that open onto a stairwell.
This includes loft conversions. These fire doors need to be properly certified but do not need to be fitted with self-closers.
A fire door should be third party certificated by an independent test organisation in accordance with British or European Standards, and traceable back to the original manufacturer and fire door certificate.
The British Standard that a fire door is tested to is BS 476:22, and the European Standard is EN 1634:1.
Fire doors which are tested to European Standards have the prefix 'E' as opposed to the British Standard 'BS'.
Those door sets which are fitted with smoke seals have an 'S' after their designation.
The hinges which are used to hang fire doors have to meet British and European Standards BS EN 1935 38 and should have a melting point above 800 degrees centigrade.
Any apertures for glazing, letter boxes or viewers should be cut by the manufacturer as part of the fire door design and never done on-site.
Cutting holes for glass or door furniture which is done after the fire door has left the production facility will invalidate the certification and fire rating.
You should only ever install fire door assemblies or fire door sets that are fully third party certificated, have product identification and traceability, and are fitted with all their compatible components.
Information on Building Regulations relating to the fitting of fire doors in residential properties can be found online in Approved Document B.
Local authorities have a duty to enforce Building Regulations and will primarily try to do so by informal means; however, failure to follow Building Regulations can result in prosecution in a Magistrate Court and an unlimited fine.
How to Identify a Fire Door
There are several ways to identify a fire door and differentiate it from a normal internal door.
Fire Door Labels
The most important means of identifying a fire door is the label which is put on the top edge of the door.
This label should have the manufacturer's name and a unique registration number which allows the door to be traced and the original certification and specification checked. It is very important that this label is not removed, painted over, or cut off as this nullifies the certification and fire rating.
The label will also show the designation of that fire door, for example, FD30 for thirty minute fire doors and FD60 for sixty minute fire doors.
If the designation is followed by an 'S' then this means that as well as intumescent strip the fire door or door set also has a smoke seal fitted.
Standard doors do not carry an identification label as they do not have to conform to any specific regulations or have certain specifications.
Fire Door Plugs
Some manufacturers use plugs instead of labels.
The BM Trada Q Mark scheme is used by some fire door makers to certify that their fire doors are compliant.
The different coloured plugs signify the rating of the different doors and door sets as well as identifying those which are already fitted with intumescent strip.
Intumescent Strip
All fire doors must have intumescent strip fitted either into the frame or the door although sometimes it can be surface mounted.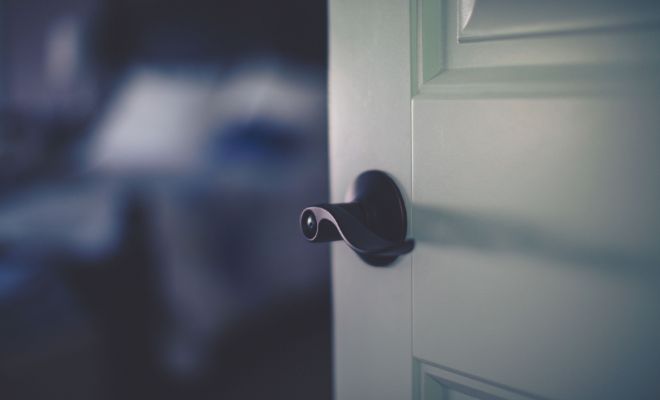 Whichever configuration of intumescent strip is present it is a strong indication that the door is a fire rated door.
Standard doors do not have intumescent strip fitted to them.
Weight of the Door
Appearance alone will not tell you whether a door is fire rated, but the weight of the door will.
There is a distinct and obvious difference when you open and close a fire door as opposed to a normal internal door even if that door is solid timber.
For a start, the door is noticeably heavier to operate and also gives a more reassuring solid sound when it is closed.
A lot of internal doors, particularly some flush doors are constructed with so called egg box interiors.
They are very light and not very robust.
Number of Hinges
Although other doors may have three or more hinges standard internal doors usually only require two.
Due to the weight of a fire door, three is the minimum recommended, and there are often more.
The number of hinges is not proof that a door is a fire door, but if you look at other factors such as the weight and the presence of intumescent strip, then you should be able to tell.
Fire Door Inspection
The simple act of fitting fire doors in the home will not guarantee that they will be effective in a fire if they are not fitted and maintained properly.
It is important to regularly check that the fire doors in your home are in good condition and will perform as expected if needed.
In a commercial building or a block of flats, there will be a responsible person who can carry out fire door inspections on a three or six monthly basis to assess the condition of the doors and frames.
In a private dwelling, this responsibility falls to the homeowner, and it is in theirs and their family's best interest.
Building owners can hire a registered Fire Door Inspection Scheme (FDIS) inspector to check the fire doors in a building, and the fire door inspection cost will fall to them.
A fire door inspection price of around £15-£25 per door is an average but may depend on the number of doors and the location of the building.
The things that need to be checked on a fire door are as follows:
Signs of Damage
Signs of damage either to the door leaf, the frame, hinges, or other ironmongery fitted to the door.
A damaged door should be replaced immediately, and repairs will not be sufficient to maintain its fire rating.
Damaged ironmongery such as a self-closer, latches or hinges should also be replaced immediately with compatible fittings.
Automatic Closers
For doors with automatic closers such as between the house and an integral garage check that the self-closer will close the door regardless of which position the door is opened to and that the door closes firmly and without obstruction into the frame. T
he self-closer on the fire door should be undamaged and working correctly.
Fire doors without self-closers must also close firmly into the frame and should not stick at any point.
Gap Around the Door
The gap between the door leaf and the frame should be no more than 4mm, and no less than 3mm so check it by using a pound coin which is approximately 3mm thick.
If it is more than 4mm the intumescent strip may not completely block the gap when it expands under heat. If the gap is less than 3mm then the door may not swing freely and may stick in the frame.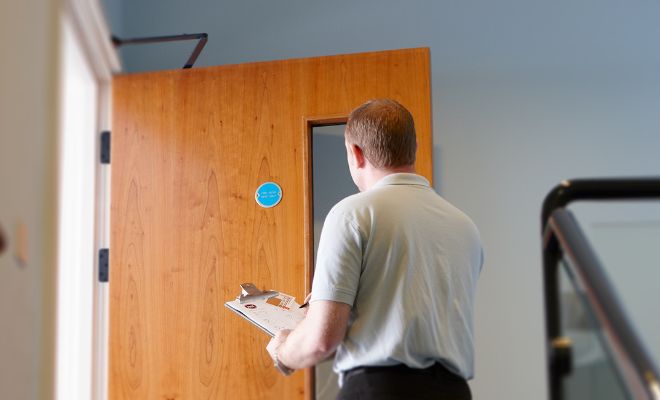 The space between the bottom of the door and floor should be no more than 10mm. An experienced and qualified person should adjust your fire door if you find it is misaligned.
Intumescent Seal
The intumescent seals on the door or frame should be checked to ensure that they are intact and there are no breaks.
Painting over intumescent strips negates their effectiveness.
Glazed Doors
If there is glass in the fire door then this should be free from any cracks or damage, the same is true for the intumescent seal around the glazed area.
Ironmongery
All latches, locks and handles should be in good condition and fitted properly without any loose components. The latch should hold the door securely in the frame without any movement.
Hinges should be checked to make sure there are no loose or missing screws, and they are holding the door correctly in the frame.
Obstructions
Fire doors should never be wedged or propped open, and no obstruction should be left in the way of a safe and rapid exit.
Cost of Removing a Fire Door
Removing a fire door from a position where it is required under Building Regulations should only be done if it is being replaced with an equally compliant fire door. Of course, if a fire door is damaged, it will need to be removed and replaced with another, and this should be done immediately by a qualified and competent person.
If you decide to convert an integral garage and repurpose it, then the fire door can be removed and replaced with a standard internal door if required.
The cost of labour to remove a fire door will be around £20-£30 per hour for a professional carpenter. If they employ an apprentice, then expect to pay an extra £4.50-£8 per hour depending on their age.
However, most tradesmen will give a fixed price for a job such as removing a fire door. If you intend to convert your integral garage and repurpose it as living accommodation, then you could remove the fire door yourself.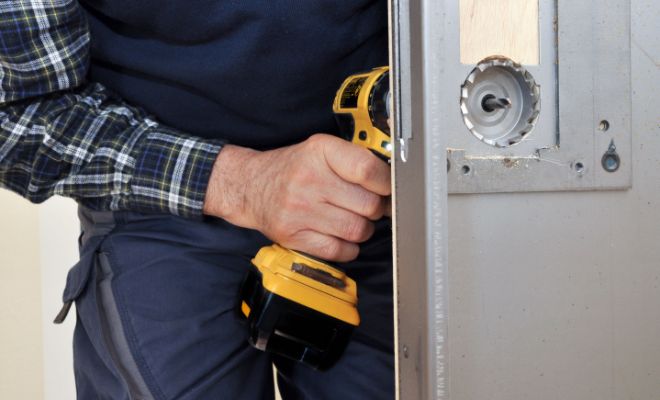 In this instance, damage to the frame will not be an issue as the frame will need to be replaced as well. This is because standard internal doors are 35mm thick, whereas thirty minute fire doors are 44mm thick.
Removing the door and frame as a DIY project could save you £50-£70 in labour costs. Disposing of your fire door may not be as straightforward as other home improvement waste.
Some local recycling centres will accept fire doors, and some will not so it is best to check before you turn up. Others will only accept up to two doors.
There are companies which offer door recycling services, but you would need to check availability locally and ask for a quote.
FAQs
How to Find & Hire a Fire Door Installer
As it is not advisable to install a fire door as a DIY project due to the level of expertise required to do the job correctly, you will need to find and hire a fire door installer.
Often when you are considering a home improvement project, and you need to find a competent tradesperson, the best way is to do so is through personal recommendation.
While this is still partially valid in the search for a fire door installer, there are more important considerations.
The first is whether the carpenter is part of an accredited fire door installers scheme. There are several of these including the Q Mark and the FIRAS schemes.
These schemes are assessed by United Kingdom Accreditation Service (UKAS) which evaluates the competence of those responsible for testing, inspection, calibration and certification services. By checking with these and similar schemes, you can access a list of accredited installers in your area.
Members of accredited installer schemes will have the necessary qualifications and experience necessary to provide a good quality service which has the backing of a recognised service.
Hiring a fire door installer will cost between £150-£200 per day with the added labour cost of a labourer or apprentice adding £80-£100.
Some carpenters will give a fixed price for the job, and this should be agreed in advance. All tradesmen working in your home should have adequate insurance and be able to provide evidence of this.
The most common types of insurance cover that a carpenter would have are public liability insurance which protects against loss or injury and professional indemnity insurance which covers disputes related to the quality of work.
Sources
https://www.gov.uk/government/publications/fire-safety-approved-document-b
https://www.planningportal.co.uk/info/200135/approved_documents/63/part_b_-_fire_safety