How Much Does It Cost to Build a Garage?
Building a garage is a popular home improvement project, especially in the UK where car crime is prevalent and insurance companies will reward you with lower premiums if vehicles are garaged overnight.
Garages are great for your car too, even in the UK the sun will dull paintwork over time, and parking your car outside means more bird droppings, rain, sleet and snow - all of which can cause havoc with the paintwork!
So, garages protect your car and contents, from both criminals and the terrible UK weather, it's no wonder they are so popular as a home improvement project.
How can this guide help?
This article will help you to understand what is actually involved in building a garage, while offering typical costs both for a self-build garage and when hiring a builder, so if you are considering perhaps adding a garage, you can understand at a glance exactly what this will entail.
The figures provided should give a good rough idea of the costs involved if you are considering adding a garage, but of course, you will need to gather detailed quotes from tradespeople to get an exact price for your requirements.
So, what are the average costs?
The average cost of building a garage can range from £3400 for an attached single wood garage measuring 18 square metres, although cost can reach up to £20,000 for a detached brick triple garage which is around 54 square metres. Other materials include concrete, which can range from £4500 to £20,000 to install, depending on the size.
The cost will also vary, depending on whether you choose an attached garage, which is typically priced at £70 to £90 per m² or a detached garage which normally costs around £80 to £100 per m2.
The type of roof you choose will also determine the price, with flat roofs costing around £30 to £50 per square metre, while pitched roofs can cost £50 to £70 or more per square metre.
Garage Prices
Below are some estimates of garage extension costs including materials and professional installation.
| Job Description | Material | Avg. Cost |
| --- | --- | --- |
| Detached single garage (18m2) | Brick | £5400 - £7400 |
| | Concrete | £4600 - £7000 |
| | Wood | £3600 - £5200 |
| Detached double garage (36m2) | Brick | £9600 - £13,600 |
| | Concrete | £8500 - £13,200 |
| | Wood | £6300 - £9600 |
| Detached triple garage (54m2) | Brick | £14,300 - £20,200 |
| | Concrete | £12,500 - £19,500 |
| | Wood | £9300 - £14,100 |
| Attached single garage (18m2) | Brick | £4600 - £5400 |
| | Concrete | £4500 - £6800 |
| | Wood | £3400 - £5000 |
| Attached double garage (36m2) | Brick | £8500 - £12,400 |
| | Concrete | £8100 - £12,800 |
| | Wood | £6000 - £9200 |
| Attached triple garage (54m2) | Brick | £12,500 - £18,500 |
| | Concrete | £12,000 - £19,000 |
| | Wood | £8700 - £13,600 |
Supply Costs
If you decide to build your own garage, you need to consider the following supply costs:
Type of Garage Cost
| Garage Type | Avg. Cost per m2 |
| --- | --- |
| Attached | £70 - £90 |
| Detached | £80 - £100 |
Materials Cost
| Material Type | Avg. Cost per m2 |
| --- | --- |
| Brick | £80 - £130 |
| Concrete | £70 - £140 |
| Wood | £10 - £40 |
Type of Roof Cost
| Description | Avg. Cost |
| --- | --- |
| Flat Roof | £30 - £50 |
| Pitched Roof | £50 - £70 |
Additional Costs
There are various other costs you need to consider when building a garage including:
| Description | Avg. Cost |
| --- | --- |
| Security system installation | £150 to £1500 |
| Block paving installation | £1800 to £11,000 |
| Resin driveway installation | £1300 to £6000 |
| Tarmac Driveway installation | £50 to £70 per m2 |
| House rendering | £40 to £60 per m2 |
Cost Breakdown Calculator
Individual costs to build a 3m2 detached single brick-built garage - Total Cost: £5400
Labour Costs and Time Frames
The average garage specialist will usually charge around £100 to £200 per day. Builders will often work in a group of 2 to 4 to complete the job and ensure the job is done as smoothly as possible. The overall labour price will usually be factored into the overall price quoted by the trade company.
The size of the garage will also affect the time frame, as a detached single garage normally takes around 1 week, while a double garage usually takes around 2 weeks to complete, and a triple garage can last up to 20 days.
The material used will also determine the time frame, as a single brick garage should take around 10 days to complete, while a single concrete or wood garage will usually take up to 1 week.
The roof installation will also determine the time spent on the job, as a flat roof usually takes around 2 to 3 days to install, while a pitched roof can take up to a week to finish.
What is a Garage?
A garage is an extension building which is typically used to keep and protect vehicles. The garage door has been popular even since its invention in 1921 by C.G Jonson who went onto invent the electrical garage door five years' later.
They are mostly used to protect cars from theft and damage, especially when it is equipped with a lock. They are also commonly used to store items that may not fit in the house.
Cost Affecting Factors of Building a Garage
There are various factors you need to consider when building a garage, the first being whether you choose an attached or detached garage, as there are some differences in price. For instance, attached garages costs around £70 to £90 per square metre, while a free-standing or detached garage can cost up to £100 per square metre.
The reason for the slight difference is that a free-standing garage will require more preparation, as foundations and installation will need to be installed, while an attached garage already has a wall to attach to.
The price to build garages will depend on the material you choose, with the cheapest option being wood which ranges from £10 to £40 per m2. Brick tends to cost around £80 to £130 per square metre, while concrete ranges from £70 to £140 per m2.
Size is also something you need to consider, as a small 18m² garage is normally priced at £3400 to £7400, while a large 54m² can be quoted up to £20,000 or more.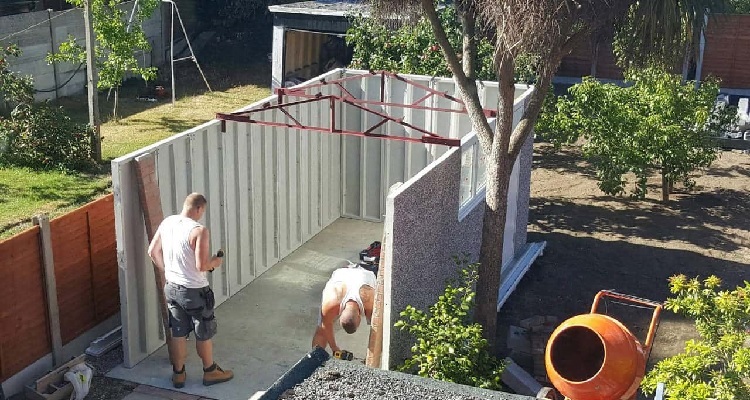 Another important part of a garage build cost is the roof you choose, as flat roofs are more affordable at £30 to £50 per square metre, as they are easy to construct and install. However, if you want something more durable you are best opting for a pitched roof which costs around £50 to £70 per m2.
The type of door you opt for will also increase and lower the price, with the cheapest option being a roll-up door which starts from around £200, while the average cost of an electric garage door can cost up to £10,000.
What Does Building a Garage Entail?
There are a number of steps involved in building a garage, including:
Planning your garage

The planning stage involves deciding on the size of your garage and making sure that is compliant with planning permission and building regulations. This will also include choosing your roof type, along with windows and doors, while also deciding whether your garage will be attached or detached, and where it will be located.

Preparing the ground

Before a garage can be installed, a professional will install foundations to ensure that the garage is sustainable. This may involve some excavation and levelling, while also making sure that any drain work or wiring is safe and secure.

A concrete slab will then be installed as the primary foundation layer, which will involve removing some topsoil. Sand will then be placed on top of the sand to keep it in place, along with a damp-proof membrane.

Building the garage

Once the foundation is in place, the garage can then be constructed. This involves building up the walls with joists and rafters, followed by installing the roof.

The electricity and lighting should then be wired up and fitted into the floor or walls, along with any insulation. Drywall will then be applied, before the walls are decorated.

Once the décor is complete, the garage door can be installed, which can be fitted with a manual or automated function.
DIY Garage Build
A garage installation can be quite a complex job, so it may be best to hire a professional. While it may seem expensive, you shouldn't be tempted to skimp on costs with outbuildings, as any building which is expected to last in the awful UK weather for any length of time, will need to be sturdy with a proper concrete foundation.
There are also various complications when building a garage yourself, as you must be careful to avoid pipework and cables, as a small single garage project could easily turn into an expensive (and dangerous) nightmare if you cut through a power cable or rupture a gas or water pipe.
To save costs, you could consider installing a prefabricated garage door yourself. To do this, you will need the help of a family member or friend who can help you lift and install the garage door, making sure that it fits properly in the garage door frame. To install it properly, you will need the following tools:
4-in 1 screwdriver (£3 to £5)
Wrench (£6 to £100)
Cordless drill (£35 to £600)
Pliers (£1 to £100)
Stepladder (£30 to £300)
Socket set (£10 to £600)
Sawhorses (£20 to £130)
Benefits of a Garage
There are various benefits to consider when installing a new garage, such as:
Vehicle safety
One of the most obvious benefits of installing a garage is that it provides a safe and secure space to store your vehicles. A garage will not only protect it from theft but will also prevent damage from vandalism or bad weather.
Adds value to property
Installing a garage can instantly add value of your property, as it provides a space for people to park their car. It also increases in price, as some buyers may wish to utilise the garage space for another purpose and build an extension.
Increased storage space
Adding a garage to your property can increase storage space for cars or anything else. This will help to prevent clutter in your home, as you can store items such as toolboxes, gym equipment and more.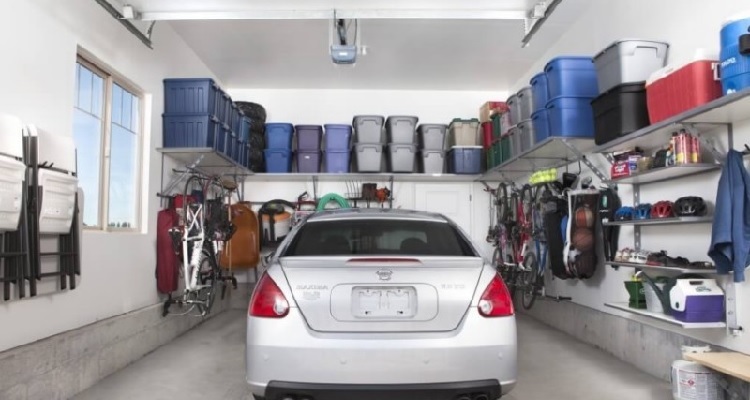 Convenient parking
Installing a garage will solve your parking problems especially if you have more than one car that will not fit on your driveway. This is especially beneficial if it installed right next to your home, as it will prevent you from having to carry heavy shopping bags from a car parking space further away.
Does a Garage Add Value to a Home?
Building a garage next to your property can actually have a rather good return on investment. To ensure that you enhance the value, you should ensure that your new garage is high-quality and also aesthetically-pleasing as this will also boost kerb appeal.
Choosing the Right Garage
There are various types of garage to choose from including:
Attached Garage Cost
An attached garage is a new construction which is attached to your existing property, and is used to store cars, gym equipment, tools and more. Attached garages tend to cost around £70 to £90 per m².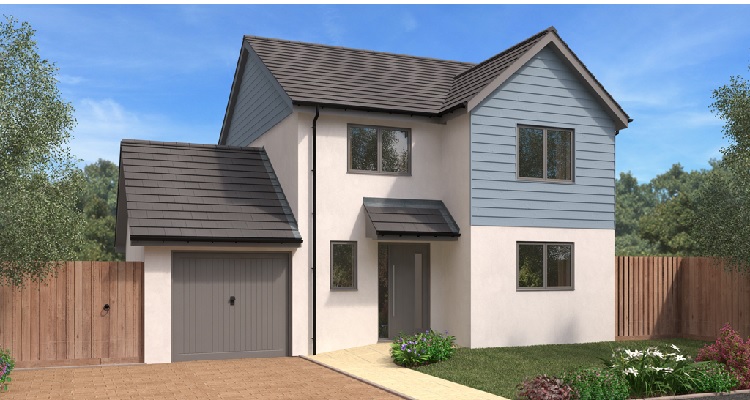 One of the main benefits of an attached garage is that it is much more affordable than a detached garage, as it will take less time to build, as there is already one wall in place. It will also provide you with more convenient access, as it will be installed right next to your home, so there is no need to get wet during heavy rainfall.
An issue with attached garages is that there is more of a safety risk, say for example, a fire breaks out in your garage, this can spread into your home instantly. It may also decrease the aesthetic of your property, as you may not be able to get hold of the same materials used for your home, so the garage will look mismatched.
Detached Garage Cost
A detached garage is a separate building which is constructed to store vehicles and any other items owned by the homeowner. The cost of an attached garage is around £80 to £100 per m2.
An advantage of choosing a detached garage is that it offers more space, as it is a free-standing building which does not have as many restrictions as an attached garage. They are also known to be a much safer option, as the fumes released during construction will not enter the house, unlike an attached installation.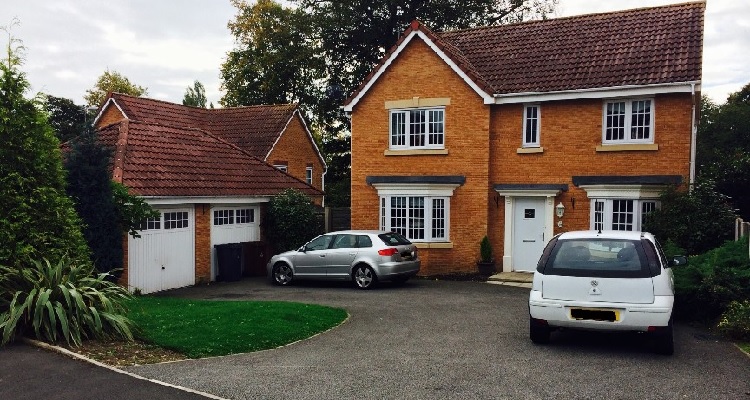 Some downsides of a detached garage include the fact that this type of garage is less convenient as it will be located further away from your property. It may also take garden space, so you may not be able to expand your exterior.
There are also different materials to build your garage, such as:
Brick Garage Cost
Brick garages are made entirely of brick, and the building process will be similar to that of a traditional property. The average brick garage cost is around £80 to £130 per m2.
The benefits of a brick garage include its simple construction, in comparison to materials such as concrete. They are also easy to install and maintain, as they are robust and well-insulated.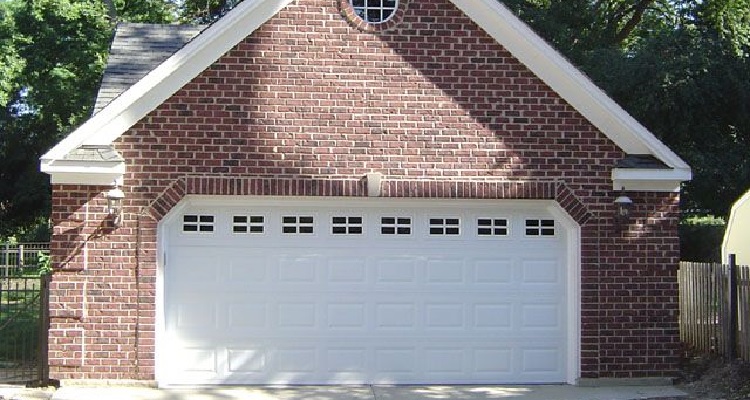 Some complications that may occur when choosing a brick garage is costly repairs, as brick can be hard to repair and replace. It is also difficult to modify so if you are unhappy with the final construction, then it will need to be removed and rebuilt.
Concrete Garage Cost
A concrete garage is a modern installation which is made up of aggregate, water and cement. Concrete garages are typically priced at £70 to £140 per m2.
One of the main advantages of choosing a concrete garage is that it is energy efficient, as the material will allow you garage to maintain a consistent temperature. The actual construction itself can also be easily modified, unlike brick which is more rigid.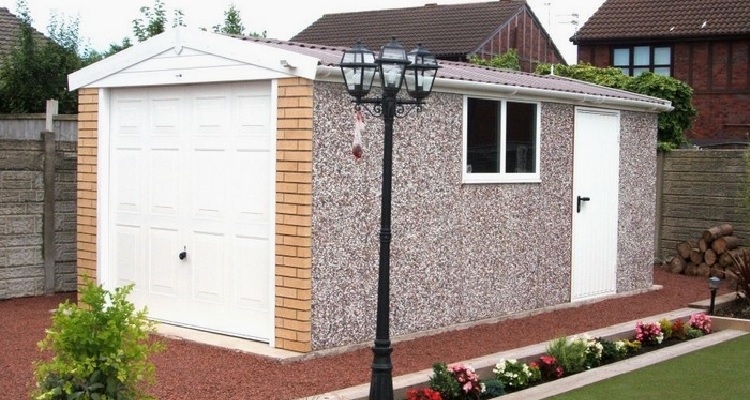 Concrete garages have a number of disadvantages, including the fact that they require a lot more maintenance, and they are also susceptible to cracking.
Wood Garage Cost
A wooden garage is made up of different types of timber. The cost of a wood garage is normally priced at £10 to £40 per m2.
If choosing a high-quality timber that has been thoroughly treated before installation, then you can benefit from a robust garage which is weather-resistant. It is also one of the most durable and sturdy structures which provides the perfect space to store your vehicles.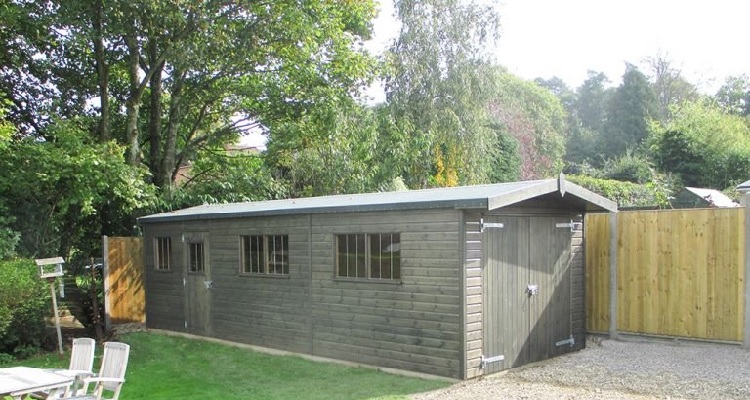 A downside of choosing a wood garage is that it requires regular maintenance to prevent rot and damp forming which can enter your home if installing an attached garage. This will prevent you from paying out for a new wooden garage.
Types of Garage Door
There are several types of garage doors to choose from, including:
Sectional Garage Door Cost
A sectional garage door is a traditional type which opens vertically and slides up to the top of the garage. The price of a sectional garage door is around £700 to £3200.
There are numerous benefits for installation a sectional garage door includes its extensive insulation and security. It is also the perfect choice for anyone looking to build a small garage, as it is ideal for limited space.
The design of a sectional garage door can be quite limited, due to the lack of space, as you can only choose from square or horizontally ribbed panels which take up a significant amount of space in your garage roof.
Roll-up Garage Door Cost
A roll-up garage door is usually made of metal or wood and slides downwards to close and upwards to open. The price to install a roll-up garage door is typically around £200 to £1400, which is the perfect choice for those with a low budget.
The great thing about roll-up garage doors is that there is so much design versatility which can be used to enhance your home and make it stand out. It is also one of the most robust options, especially if you choose steel or aluminium for your garage door.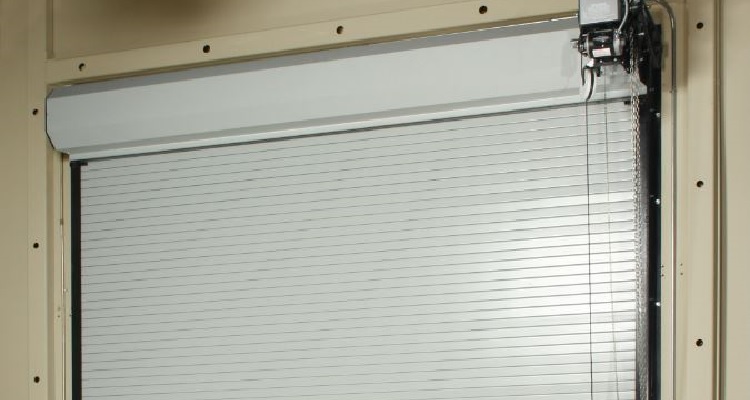 One of the main disadvantages of a roll-up door is that installation can be hard, as this type of garage door is heavy. You will also need to be careful when choosing a wooden roll-up door, as they are prone to warping and cracking.
Side-Hinged Garage Door Cost
Side hinged garage doors open the same as double doors and tend to cost around £900 to £2500.
One of the main advantages of choosing side-hinged garage doors is that they offer a traditional look that works perfectly with traditional-style homes. It also offers easier access, which is ideal if you use your garage a lot.
If installing side-hinged doors, you need to be aware that they are expensive, and you may also be limited with the width size.
Up and Over Garage Door Cost
This type of garage door is one of the most popular options, including both canopy and retractable variations. These consist of one door panel which lifts up and tilts flat when it reaches the top.
The main difference between a canopy and retractable garage door is that the canopy style runs vertically on the tracks, while a retractable door opens horizontally. The cost of an up and over canopy garage door is also cheap with costs ranging from £700 to £900, while a retractable version costs up to £1200.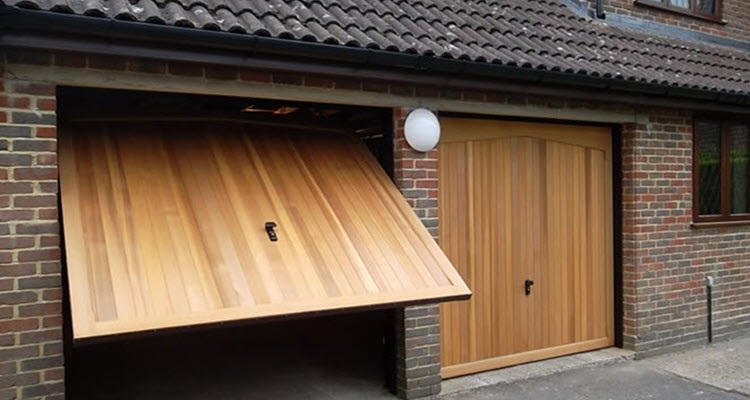 A canopy garage door offers more versatile designs and also provides much more space, however, there is a limited width space, so you may need to make your garage longer rather than wider.
A retractable garage door is much more robust than a canopy garage door, as they are usually made from steel and can usually handle heavier loads. This type of garage door is usually converted to an automated door to improve efficiency. Although, this type of garage door does tend to take up a significant amount of space. The installation is also complex which means things may go wrong easily and compares may be complicated.
Electric Garage Door Cost
The majority of garage doors can also have an electrical feature which will automate the door system. These tend to cost around £1200 to £10,000.
The main advantage of choosing an electric garage door is that it offers extensive safety which will protect your car and other valuables. It is also much more convenient, as all you have to do is press a button and the door will open.
The main drawbacks of an electric garage door are that both installation and maintenance are complex, which means it will cost a lot more to assemble and look after.
Prefab Garage
If you require less disruption, then you may be best choosing a prefab garage which is normally constructed off-site and then installed in one piece. This is normally constructed and fitted by professional prefab manufacturers who can help you with everything from the design process and the fitting.
Prefab garage kits prices range from £1700 to £4200 for both supply costs and installation. This will, of course, vary depending on the design you choose, along with the materials and size of the prefab garage.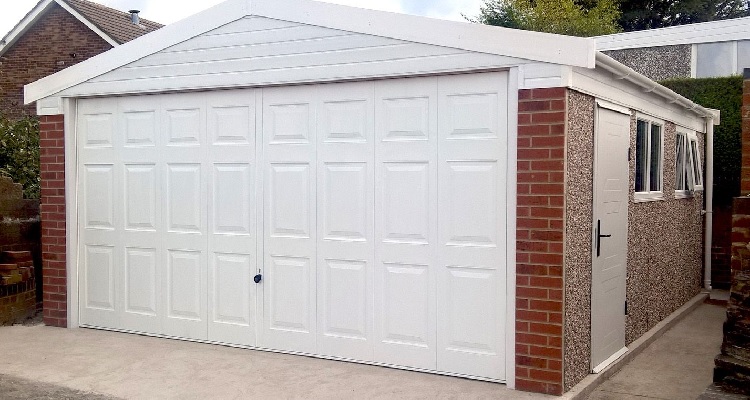 One of the main advantages of choosing a prefab garage is that it lessens the time frame of installation, which means there will be less disturbance. It is also very easy to install, however, it should not be completed by professionals rather than on a DIY basis, as this will require heavy machinery and scaffolding.
A downside of choosing a prefab extension is that there is little room for modifications, as the prefab garage will be installed off-site, so no changes can be made onsite. They can also be very expensive if you choose high-quality materials, which can take up to 10 weeks to construct.
Garage Roof Designs
To finish off your garage, you will need to install a garage roof. There are several garage roof designs to choose from including:
Flat Roof Cost
A flat roof is one of the most common roof types for garages and are normally priced at around £30 to £50 per m².
One of the most obvious benefits for installing a garage flat roof is that they are the most affordable option which are also easy to install due to easier access.
The main disadvantage of a flat roof is that it requires a significant amount of maintenance, as it does not have great drainage abilities in comparison to pitched roofs. A flat roof is also not as long-lasting, especially if any damage occurs.
Pitched Roof Cost
A pitched roof usually sloped downwards in two separate sections. A garage with a pitched roof will require less maintenance than other roof types, as pitched roofs tend to have high-quality drainage that prevents blockage and debris build up.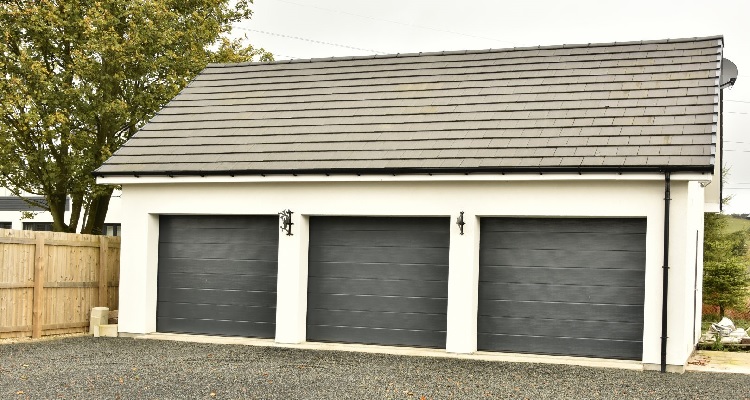 A pitched roof can be expensive in comparison to a flat roof, especially if the pitch is significantly high, as this will involve a complex installation.
There are two main types of pitched roof including:
Gable Roof Cost
A gable design is a type of pitched roof which has two sections which slope in opposite directions from a central ridge. Garage gable roofs tend to cost around £50 per square metre.
One of the biggest benefits of a gable roof is that it is an inexpensive option compared to other roof types. It also provides additional space for your garage ceiling which will make room for more storage.
A disadvantage of choosing a gable roof for your garage is that they are susceptible to wind damage, especially if you opt for an overhang as strong winds can lift it up.
Hip Roof Cost
The cost to install a hip roof on a garage is around £70 or more per square metre. A hip roof typically has four sides which are all equal length and slope downwards towards the building walls.
The greatest benefit of installing a hip roof is that it is highly weather-resistant due to its durable structure. It also has an effective drainage system which is created from the angle of the slopes, which prevents water pooling and leaks.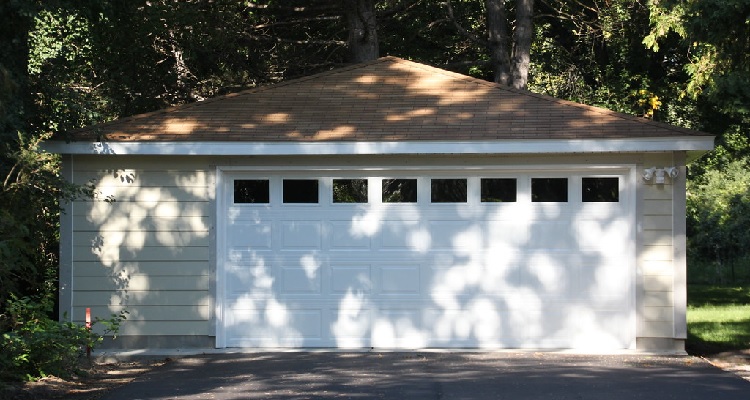 Hip roofs may require more maintenance than other pitched roofs in order to prevent leaks. This is due to the number of seams that are needed to construct a hip roof, as water is more likely to enter if gaps start to form.
Building Regulations for Building a Garage
There are regulations governing the building of garden outbuildings which apply to sheds, greenhouses and garages as well as other garden structures including sauna cabins, kennels, summer houses and many other kinds of building which are considered incidental to the enjoyment of the main dwelling-house.
However, most outbuildings are considered to be permitted development, so building a garage planning permission is not required, subject to certain conditions.
Single storey outbuildings that do not include balconies, verandas or raised platforms, which occupy no more than half the area of land around the original house, are less than 2.5m high are not within the curtilage of listed buildings; will generally not require planning permission.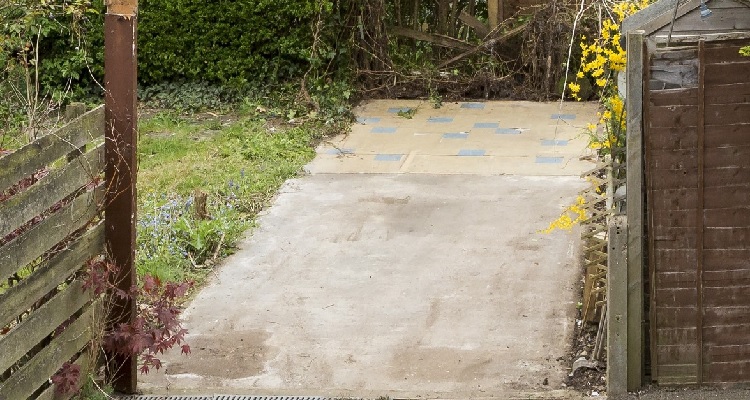 While planning permission is not required, you will have to apply for building regulations approval if you plan to install an attached garage to your home. For a detached garage, you will only have to apply if your installation has a floor area of more than 15 square metre or 30 square metres if the garage is less than one metre from any boundary.
To apply for building regulations approval, you will need to check with your local council and enquire about their fees, as they all charge different prices across the country.
If you require power/lighting in your new garage, then you need to hire an electrician that is registered with the Registered Competent Person Electrical scheme so that the electrical work done will comply with Part P building regulations.
Cost of Removing a Garage
If you have an attached garage that is leaking, and it is affecting your home or even a detached garage that is significantly damaged you may want to consider removing it. You can hire a professional to remove this, which will cost around £100 to £200 per day.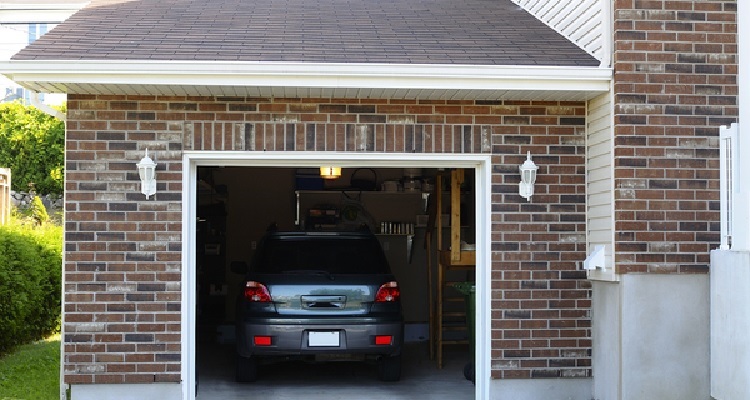 If you're an experienced DIY enthusiast, you could consider removing a detached garage yourself, however, you should definitely leave an attached garage to professional to avoid damage to your property.
To get rid of your garage waste, you will need to hire a skip which will cost between £70 to £300, although the price will depend on how much waste you have.
FAQs
How to Find & Hire a Garage Installer
To ensure that your garage is long-lasting and safely built, you should hire a professional garage installer, who will charge around £100 to £200 per day to install a high-quality garage.
Before hiring a tradesman, it is important that you check that they are qualified to complete the job. This will include qualifications in roofing, door installation, electrical installations, joinery, carpentry and decorating. You should also check that they have at least 5 years' experience installing garages, and you can also check their previous jobs by asking for photographic evidence.
You must also make sure that they are fully-insured and have both public liability and employer's liability insurance to protect your family and your home if anything goes wrong.
Sources
https://ezinearticles.com/?Brick-Garages-Versus-Concrete-Garages---Which-Are-the-Best?&id=7206951
https://www.quick-garden.co.uk/blog/timber-garages-things-need-know.html
https://www.dimensiongaragedoors.co.uk/news/deciding-type-garage-door-right/
https://www.samsondoors.co.uk/up-and-over-garage-doors
https://www.perfectsolutionsgaragedoor.com/pros-cons-5-garage-door-types/
https://www.designingbuildings.co.uk/wiki/How_to_build_a_garage
https://www.diamondgaragedoorsltd.co.uk/news/the-advantages-and-disadvantages-of-electric-garage-doors/
https://www.thegaragedoorcentre.co.uk/garagedoorprices
https://www.planningportal.co.uk/info/200130/common_projects/43/outbuildings