How Much Does a Rear Extension Cost?
To provide accurate pricing information, we have used various online quotation tools. The figures provided should give a good rough idea of a house extension cost, but of course, you will need to gather detailed quotes from tradespeople to get an exact price for your requirements.
In order to give an accurate cost for building an extension, we've gathered dozens of quotes from small and large companies across the UK. These figures should give homeowners a ball-park figure of the costs of having a rear extension built; however, these numbers can vary quite considerably so always compare quotes yourself before getting the work done.
The average material cost for a rear extension depends on numerous factors such as the size of the extension, the quality of the materials and the types of materials. For example, if you're looking to add a kitchen extension, then you should add £3,000-£10,000 to your costs. Alternatively, you could be looking to add a second living room, in which case additional costs are going to be focused around furniture.
The average building specialist will usually charge around £1,000-£1,500 per m2. For a double or single-storey extension, you will need several trades to complete your job. An architect and a structural engineer are going to be needed to help with the planning applications, reports, and to follow relevant building regulations – a builder and roofer to complete all of the structural work, depending on your design.
An electrician to install the cabling, lights, switches, sockets and potentially heating. A heating specialist or plumber for radiators, pipework and installation of a cooker or fire if a kitchen or living room is in the plans. A plasterer, decorator, tiler and/or flooring specialist for the walls, ceiling and floors. A joiner for kitchen fitting or any bespoke furniture such as boiler encasement.
A culmination of all the trades that you are going to need as well as the waiting times while things are in the making/drying can easily see the project taking a few months.
Rear Extension Prices
Below are some estimated rear extension costs:
| Extension size | Avg. Cost | Duration |
| --- | --- | --- |
| Small Rear Extension - 15 m2 | £15,000 - £20,000 | 8-10 weeks |
| Medium Rear Extension - 25 m2 | £30,000 - £40,000 | 10-12 weeks |
| Large Rear Extension - 50 m2 | £50,000 - £60,000 | 10-12 weeks |
Cost Breakdown Calculator
Individual costs of a medium rear extension at 25 m2 - Total Cost: £30,000
Labour Costs and Time Frames
The labour costs and timeframes will vary depending on the size of the job, accessibility and your location. Below we have provided an indication of the average hourly rates and how long you could expect to hire them for depending on the size of your extension.
| Trade | Hourly Cost | 15 m2 extension | 25 m2 extension | 50 m2 extension |
| --- | --- | --- | --- | --- |
| Builder | £65 | 5 – 10 Weeks | 10 to 12 Weeks | 13 to 15 Weeks |
| Plumber | £55 | 1-2 Days | 2 Days | 2 to 4 Days |
| Electrician | £50 | 2 Days | 2 to 4 Days | 3 to 7 Days |
| Joiner | £12 | 1 to 3 Days | 3 to 5 Days | 1 Week |
| Structural engineer | £50 | 1 to 3 Days | 1 to 3 Days | 2-4 Days |
| Architect | £60 | 1-2 Days | 2-3 Days | 3-4 Days |
| Glazier | £16 | 1 to 2 Hours | 2 to 3 Hours | 3 to 4 Hours |
| Roofer | £50 | 3 to 4 Days | 4 to 7 Days | 1 to 2 Weeks |
| Kitchen fitter | £40 | 2 to 3 Days | 3 to 5 Days | 5 Days to 1 Week |
Supply Only Costs
There are a number of supply costs you need to consider when building an extension. Here is a breakdown of the different rear extension costs:
Bathroom
Sink
There are a variety of different bathroom sinks to choose from although the most popular choices include budget options such as pedestal sinks (£50), Wall-hung sinks (£60), and drop-in sinks (£70), or on the luxury end, you have vessel sinks (£80) under-mount sinks (£110), and console sinks (£260).
Shower
If you prefer a shower in your bathroom extension, then you can choose an electric shower (£50), a shower bath (£50), a power shower (£150), a steam shower (£250), or even a digital shower (£550).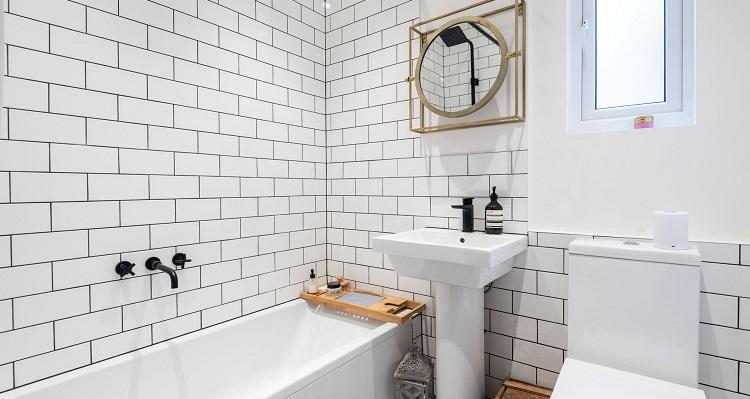 Bath
For a larger bathroom extension, you could choose from several bath materials including acrylic (£80), steel (£120), fibreglass (£200), cast-iron (£300), stone (£1,000), and marble (£1,200).
Toilet
One of the most important fixtures you need in your bathroom is a toilet. For something cheap, you may want to opt for a low-level (£50) or wall-hung toilet (£150). Mid-range options include two-piece (£170) and high-level toilets (£180), while one-piece (£200) and smart toilets (£500) are the most expensive of them all.
Windows
Double glazed
For enhanced light and insulation, you should consider having double glazed windows installed in your rear extension. The average cost per window is about £300, although this depends on the size you want.
Triple glazed
For a more upscale installation, you should consider installing triple glazed windows which cost around £400. Triple glazing will help you improve your home's energy efficiency, as less heat is lost as a result of the additional glass panel.
Kitchen
Units
There are three main types of kitchen unit, including stock (£200), which are usually pre-assembled with a more generic design. Semi-custom (£500) offers more design flexibility as there are usually several styles available. While custom cabinets (£1,000) are more ideal for those looking to design a unique kitchen with any size, material or colour they want.
Worktop
There are several options to choose from when selecting a kitchen worktop, although the most popular materials used are laminate (£20-£40 per m2), marble (£315 per m2), solid wood (£75-£100 per m2), quartz (£225-£475 per m2), and granite (£150-£400 per m2).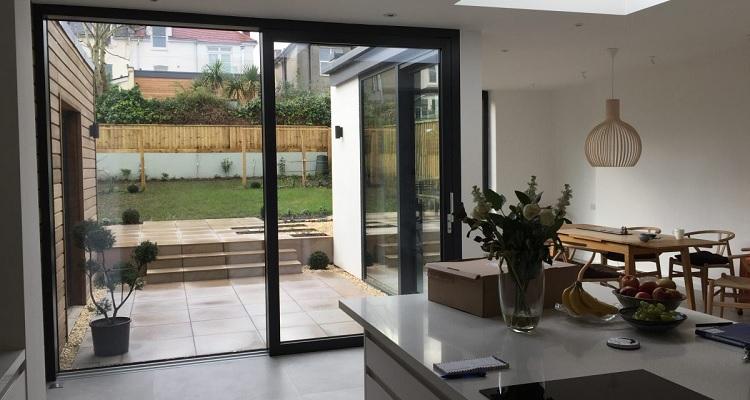 Appliances
To finish off your kitchen extension, you will need appliances including the basics like an oven (£300 to £16,000), fridge freezer (£200 to £2,000), washing machine (£200 to £1,500), dryer (£150 to £1,000), and Dishwasher (£300 to £600).
Doors
External
When adding on a rear extension, you will need to consider what type of doors you want for entering and exiting your home. The most popular materials for external use include steel (£300), softwood (£700), fibreglass (£1,500), sliding (£900) and French patio doors (£1,600).
Internal
In order to connect your rear extension room to other rooms in your home, you will need one or more internal doors. You can choose from a number of options including timber (£50), aluminium, (£90) glass (£100) and PVC (£200).
Lighting
Natural
To enhance your rear extension, you need to bring in some natural light. The best way to do this is by adding more windows and mirrors. You could consider adding a full-length mirror, which would cost around £60 to £150 or more. If you're adding a bathroom extension, then you may want to buy a wall-hung mirror over your sink, which are typically priced at £40 to £200.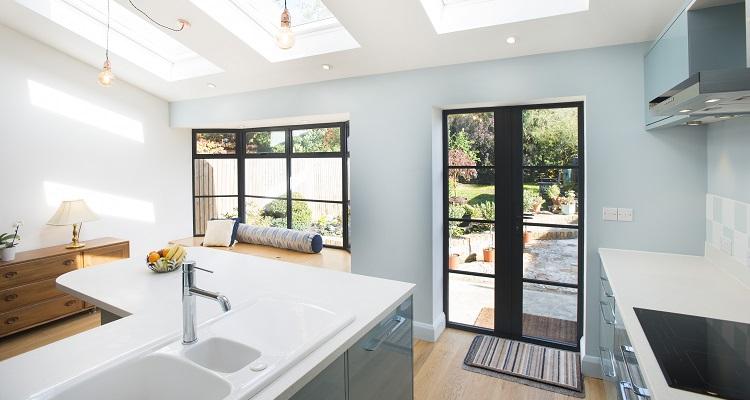 Artificial
If the natural light is not sufficient, then you can add artificial lighting such as table and floor lamps (£30 to £120), wall-mounted lights (£15 to £60), downlights (£10 to £50) or even smart lighting (£25 to £500). The last option may be expensive, but it will also help you to reduce your carbon footprint and lower your energy bills.
Heating
Gas system
To heat your extension, you should consider having a new gas system installed which could cost around £2,000 to £3,000. This includes a new boiler, pipework and any extra parts.
Electric system
If you sticking to a low-budget, you may prefer an electric system as it costs around £20 and £150 for an electric baseboard heater, or for an even cheaper option you could opt for a wall heater which is usually priced between £50 to £100.
Radiators
For all new radiators in your rear extension, you should expect to pay around £100 for low-level radiators and up to £400 for a vertical radiator. The number of radiators will depend on the size of your room, as the bigger the room, the more heat is required.
Underfloor heating
For a more luxury installation, you may want to opt for underfloor heating, which will circulate heat around the entire room. There are two different types of underfloor heating, including wet underfloor heating which costs around £100 per m2 and dry, which is usually priced at £60 per m2.
Flooring
Tiles
If you are adding a new kitchen or bathroom onto your home, your best option may be floor tiles. There are a wide range of materials to choose from with the most popular being ceramic (£20 per m2), porcelain (£55 per m2) and stone (£105 per m2).
Wood
An alternative to tiling is wood, which is one of the most durable flooring types. You can pick from solid wood (£15 to £80 per m2), engineered wood (£19 to £160 per m2), reclaimed wood (£25 to £100 per m2) and parquet wood (£25 to £110 per m2).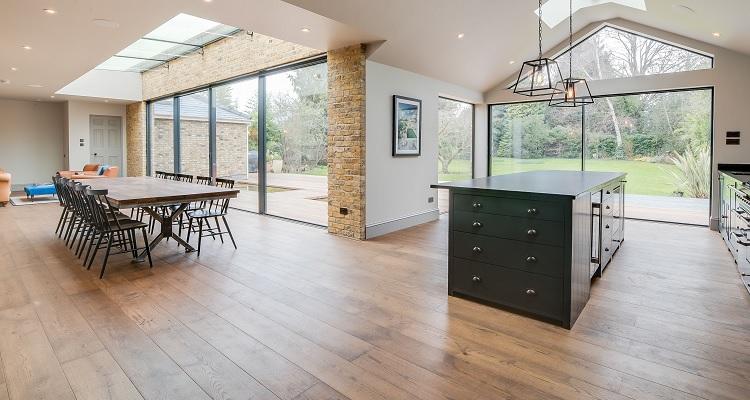 Laminate
You could also consider laminate flooring, with budget variations such as red oak, maple, and white oak which cost around £5.50 per m2. Mid-range options acacia, beech and cherry, are usually priced at £10 per m2, while more expensive laminate flooring like hickory costs an average of £20 per m2.
Carpet
A common and comfortable option is carpet, with options including Axminster and Wilton woven carpets which usually cost around £60 per m2. Tufted carpets are also a popular choice due to their low-cost price at just £12 per m2.
Walls
Plaster
You may need to do some plaster work on your walls to get it up to standard for decorating. This will usually costs around £20-£25 per m2.
Paint
When decorating your walls, you can choose from a variety of different paint styles including matte (£5 a litre), semi-gloss (£6 a litre), gloss (£6 a litre) satin (£14 a litre), and eggshell (£15 a litre). These prices will vary depending on the colour you pick.
Wallpaper
For something more durable, you may want to opt for wallpaper. You will need liner paper which costs around £3 to £5 per roll. Then you will need to choose a wallpaper style which could cost between £8 to £60 per roll on average.
Additional Costs
There are some additional costs you may need to consider when having an extension built including:
| Job | Average cost |
| --- | --- |
| House rewire | £1,200 to £3,000 |
| Structural issues | £3,000 to £10,000 |
| New heating system | £1,000 to £3,000 |
What Does Building A Rear Extension Entail?
Building a rear extension is a big, messy project, so will involve a lot of upheaval including extensive foundation work in the rear garden.
Planning and design

The first step with an extension is the planning and design which should be undertaken by professionals, or as a minimum with professional advice from an architect and/or a structural engineer. At this point, you will establish your budget, what you want, and whether you require planning permission.

Setting up the layout

At this point, you should hire construction experts such as builders and joiners, who will work closely with the architect and structural engineer to ensure that the extension meets building regulations. The work completed will depend on the type of extension you want. Work could involve levelling out the ground, blocking or renewing your pipes, laying the block floor and adding weed and vapour barriers.

Brickwork and insulation

The tradesmen will then lay out the bricks, making sure that they follow the drawing plans correctly. They may add in expansion joints to avoid any brick movement when the temperature changes. They will then add insulation on the inside of the brick to keep in heat and prevent water damage. This will then be secured with joists and steels to keep the structure in place.

Roofing

The roof will then be constructed by attaching a timber frame to the existing roof and expanding out. The roof material will then be cut and attached, making sure to stick to the exact measurements. This will include the installation of the roof frame, underlay and soffits.

Flooring

If you decide to have underfloor heating fitted, then this should be laid down first, which can involve help from plumbers for wet systems and an electrician for dry system installation. The floor should then be covered with screed to level out the floor, followed by the chosen floor material.

Heating

If you are not opting for underfloor heating, then you will have to consider the type of heating you want. You could have either a central heating system fitted or an electric system, which will both include the radiator fittings.

Walls

To prepare walls for decorating, a painter or decorator will cover the walls in plaster and then secure it will a sealant or emulsion. Once this is dry, they can then add the wallpaper or paint of your choice.

Electrics

To ensure you have the right power outlets, you should bring in an electrician to fit plug sockets and light switches, as this will ensure that they are fitted legally and properly.

Lighting

Once the electrics are fitted, you can then add your chosen lighting. This could include installing wall lights, smart lighting, or even a chandelier, making sure that drill holes are measured properly before permanent holes are made.

Windows

To open up your space, you can have a number of windows installed. The number of windows and style you choose will depend on your budget as well as the size of your room, as you need to make sure that the windows are measured before they are fitted by a glazier.
The above steps may vary depending on the type of extension you want. For example, if you are adding a kitchen extension, then you will need to consider the installation of units, appliances and worktops. You may also want to add a dining room or lounge, so you need to consider the furnishings you need.
A bathroom extension will require the help of a plumber to fit the toilet, sink, bath and shower, making sure that the pipes are fitted and connected correctly.
You will also need to consider the type of doors you want and where they need to be fitted. For an open-plan extension, you may want to keep everything open. Therefore, you may only require one or two doors used for entry and exit to the rest of your home and the garden.
Cost Affecting Factors Of A Rear Extension
Type of extension
Garage extension (£3,000)
Bathroom extension (£5,000)
Kitchen extension (£10,000)
Conservatory extension (£15,000)
Size
15m2 extension (£18,000)
25m2 extension (£35,000)
50m2 extension (£55,000)
Quality
Basic quality (£1,500 per m2)
Good quality (£2,200 per m2)
Excellent quality (£2,400 per m2)
Fixtures
Foundations (£4,000 to £11,000)
Plastering (£5,000 to £15,000)
Plumbing (£2,000 to £6,000)
Electric and gas
Electric heating (£50 to £100)
Gas heating (£2,000 to £3,000)
Electrics (£1,900 to £3,000)
Lighting (£4 to £25)
Roof
Gable roof (£30 to £85 per m2)
Flat roof (£40 to £90 per m2)
Hip roof (£50 to £100 per m2)
Labour
Joiner (£12 per hour)
Glazier (£16 per hour)
Kitchen fitter (£40 per hour)
Electrician (£50 per hour)
Roofer (£50 per hour)
Structural engineer (£50 per hour)
Plumber (£55 per hour)
Builder (£65 per hour)
Architect (£60 per hour)
Legal
Planning permission (£206)
Party wall agreement (£300)
Survey (£900 to £1,800)
Extras
Landscaping (£100 to £800)
Clean-up (£3.20 to £5.30 per m2)
Kitchen appliances (£2,000 to £5,000)
Can My House Have a Rear Extension?
The majority of homeowners can add a rear extension onto their house as long as they follow the below rules:
Extensions cannot cover more than half the area of your home.
Materials must be similar to those featured on the original property fixtures.
Cannot go beyond 3 metres of the original rear wall of an attached house or 4 metres for detached.
The extension must not exceed a height of four metres.
Listed buildings, in particular, a Grade II listed building cannot alter a property, therefore, cannot add an extension.
Can I Build A Rear Extension Myself?
A well planned and professional extension should more than pay for itself in terms of adding value to the property, but adding an extension is a project that will be beyond all but the most experienced DIY enthusiasts, so finding a reputable and professional builder is essential.
You can, of course, contribute in many ways, such as painting and decorating. You may need to purchase some tools such as a step ladder (£60), brush set (£10), seam roller (£5), self-adhesive film (£10 per roll) and masking tape (£2).
You should avoid any difficult jobs such as fitting electrics, plumbing or roofing, which should be left to the professionals. By doing so, you can avoid any expensive complications or legal issues.
Types of Rear Extension
There are different types of rear extensions which all cost various prices. Below are some average prices of numerous different rear extensions, where you can get an idea of what you should be expecting to pay.
Rear kitchen extension
Rear kitchen extensions can differ in price exponentially, depending on size and quality:
| Size | Finish Quality | AVG. Cost |
| --- | --- | --- |
| Small (15 square metres) | Basic | £12,000 - £16,000 |
| Small | Average | £16,000 - £21,000 |
| Small | Deluxe | £21,000 - £30,000 |
| Medium (24 square metres) | Basic | £19,000 - £26,000 |
| Medium | Average | £26,000 - £34,000 |
| Medium | Deluxe | £34,000 - £48,000 |
| Large (48 square metres) | Basic | £38,000 - £52,000 |
| Large | Average | £52,000 - £67,000 |
| Large | Deluxe | £67,000 - £100,000 |
Rear kitchen/diner extension
Open-plan living is increase in popularity so if you wish to add some extra space with a kitchen & diner extension, here are some average costs:
| SIZE | AVG. COST |
| --- | --- |
| Small (15 square metres) | £18,000 - £25,000 |
| Medium (24 square metres) | £25,000 - £38,000 |
| Large (48 square metres) | £38,000 - £60,000 |
Rear lounge extension
If it's extra lounge space you're needing, here are the average rear lounge extension costs:
| SIZE | AVG. COST |
| --- | --- |
| Small (15 square metres) | £15,000 - £22,500 |
| Medium (24 square metres) | £22,500 - £36,000 |
| Large (48 square metres) | £36,000 - £58,000 |
Rear bathroom extension
Bathroom extensions can be a bit more costly than you think as you have to buy the bathroom suite which can cost up to £5,000, The average, medium rear bathroom extension costs around £30,000. Here are the average prices based on size:
| SIZE | AVG. COST |
| --- | --- |
| Small (15 square metres) | £15,000 - £25,000 |
| Medium (24 square metres) | £25,000 - £35,000 |
| Large (48 square metres) | £35,000 - £45,000 |
Rear conservatory extension
Instead of building a brick extension, you may want a conservatory to add extra light into an area in your home, here are some average prices (average costs will vary depending on size, material and type):
| TYPE | SIZE | AVG. COST |
| --- | --- | --- |
| Lean-to | 15 square metres | £5,000 - £8,000 |
| Victorian | 15 square metres | £8,000 - £11,0000 |
| Edwardian | 15 square metres | £7,000 - £10,000 |
| Orangery | 15 square metres | £15,000 - £25,000 |
Rear glass extension
Glass extensions are becoming more and more popular, but they can come with an expensive price tag, depending on the size and style you want:
| SIZE | AVG. COST |
| --- | --- |
| Small (15 square metres) | £14,000 - £26,000 |
| Medium (24 square metres) | £24,000 - £38,000 |
| Large (48 square metres) | £33,000 - £70,000 |
Do I Need an Architect?
Legally, you do not need an architect to complete a rear extension. However, it is advised to do so, as they will help you achieve a better design, avoid any errors, and will also have a better understanding of the entire process. They will also ensure that your rear extension will be a profitable investment by choosing high-quality materials and finishes, and that will boost your property's value.
An architect typically charges around £50 to £60 per hour which can add up especially if you're planning to have a large rear extension built. Another similar alternative is hiring a structural engineer which costs around £50 per hour.
You could also consider alternatives like an interior designer, although they can charge much more and you can expect to pay around £100 per hour, although this would only focus on the decoration and furnishings for your extension.
Lighting Costs
To install artificial lighting in your extension, an electrician could charge up to £50 per hour for wiring and lighting while a glazier would charge £16 per hour for windows which will let in natural light. These prices will vary depending on the type of lighting you want. Here is a breakdown of the costs for the various types of artificial and natural light.
| Type of lighting | Average cost |
| --- | --- |
| Lamps | £40 to £120 per lamp |
| Spotlights | £4 to £6 per bulb |
| Low-energy | £3 to £6 per bulb |
| Dimmer switches | £7 to £25 per switch |
| Skylights | £350 per window |
| Double glazing | £300 per window |
| Triple glazing | £400 per window |
Heating Costs
To install heating in your extension, a plumber would charge around £50 per hour, although this will depend on the type of heating you want. Here is a cost breakdown of the different types of heating:
| Type of heating | Average cost |
| --- | --- |
| Combination boiler | £1,800 |
| System boiler | £1,000 |
| Regular boiler | £900 |
| Gas radiators | £200 |
| Oil radiators | £300 |
| Electric radiators | £470 |
| Underfloor heating | £100 per m2 |
| Plug-in heaters | £40 |
Fire Safety
There are various fire safety regulations you need to consider when building your rear extension, including:
Provide an acceptable means of escape.
The ability to sound an alarm.
Prevent the spread of fire with proper internal lining.
The extension must be built to avoid collapse.
Fire separation and suppression is provided.
Unseen fire is restricted in cavities.
Provide access for the fire brigade.
Restrict fire from spreading over external walls.
Restrict or prevent a fire spreading to neighbours' homes.
To ensure the avoidance of fire, you need to make sure that you have smoke and carbon monoxide alarm fitted on each floor within 7.5 metres of bedroom doors in landings or hallways. This will cost around £12 each for a typical smoke alarm or up to £90 for a smart smoke alarm.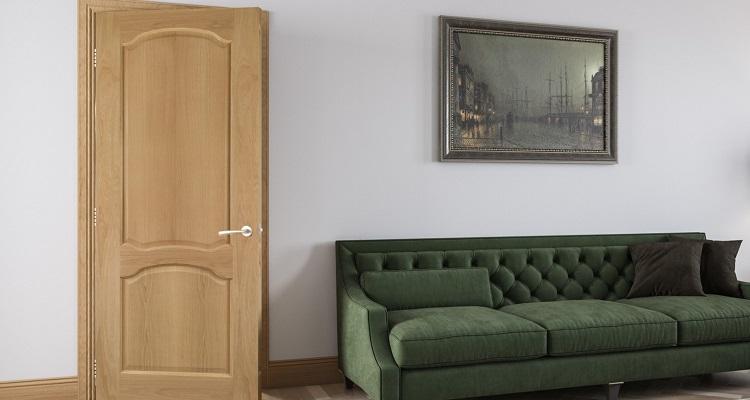 You may also want to have fire-resisting doors installed to protect your home further. This will cost anywhere from £70 to £300, depending on the style you want.
Will a Rear Extension Add Value to My Home?
To make sure a planned extension adds value to your property, you need to put a lot of thought into it even if it is a simple, small extension. For a bathroom extension, you can expect a return of up to 6%, while an additional lounge could increase to 12%. If you are adding a large kitchen extension, you could benefit from a 50% return on your investment or more if you choose high-quality materials.
Planning Permission
Planning permission may or may not be required depending on the size of the extension and the existing property. The permitted development rights allow home extensions to be added without planning permission as long as they meet certain criteria. Under permitted development rights you can extend a detached house by up to 8 metres to the rear as long as it is not higher than 4 metres or higher than the existing building.
If the rear extension is a two-storey extension, it must be built of a similar material to the existing building and be no closer than 7 metres to the rear boundary. But in all cases, you are responsible for permissions and consents, not the builder, so always double-check with the local authority.
If you do require planning permission, it costs £206 to apply. If you do require permission and you do not apply, then you may be fined, and your extension could be removed or amended by your Local Authority to meet their standards.
Building Regulations
To ensure your extension is legally compliant, you should consider getting a warranty which will cover all elements of the job. You will also need to apply for a full plan submission or a building notice.
A full plan submission involves the process of sending design plans to your Local Authority, who will then send out someone to inspect the site throughout the entire construction process.
A building notice is a statement that informs your local council about the changes you are planning to make and how they fit in with the building regulations. You must give at least 48-hours' notice to building control department before you begin work. Once work has begun, your Local Authority will send out inspectors to ensure the job meets their standards.
If your home is a Grade II listed building, then you are not permitted to make any changes. However, you may be able to make some changes to other listed buildings, as long as you do not move away from the original design too much.
If you do not conform to these rules, then you may face extensive fines and any work that is carried out may be reversed at your own cost.
Party Wall Agreement
A party wall agreement is a legal document that protects both you and your neighbours. This is because it enables you to carry out the necessary work while also making sure that your neighbour complies with the construction and does not dispute it. It covers homes with shared walls, such as attached, semi-detached and terraced houses. It also includes the following details:
The party wall award
A schedule of condition of the neighbouring property
Drawings and plans of the work
Contactor's public liability insurance details
Yours and your Neighbours surveyor's fee
Both addresses
Protection by the building owner in favour of neighbour
Working hours
Time limit
To obtain a party wall agreement, you will require a professional party wall surveyor, which will cost around £300.
Benefits of a Rear Extension
Building an extension can be a cost-effective alternative to moving home when more living space is needed, extending the existing home can often work out to be cheaper than moving once you factor in all costs such as solicitors fees, removals and stamp duty.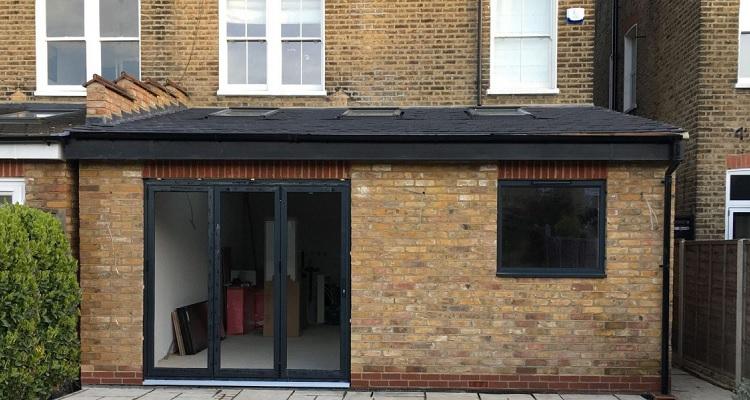 Adding a rear extension also helps you benefit from better access to the garden. You can also boost the property's value by adding a larger kitchen or bathroom. It can also bring more light into your home, especially if you choose an open plan extension as this will help you create space.
How to Keep a Rear Extension Cost Down
While you have builders and other tradesmen on-site, it will usually work out cheaper if you have them attend to any other jobs that may need doing at the same time. Also, if the rear extension is planned to match the existing building, then you may find that you need to clean or paint the exterior walls as the brand new construction will make them look grimy and dirty.
Building an extension is a large project involving many different tradesmen and often subject to some quite complex legislation. Failure to take professional advice will likely end in financial disaster. The vast majority of problems which occur with extensions involve poor planning, poor design or cowboy builders.
So, if you want to avoid expensive and possibly dangerous problems, use an architect or structural engineer to help design the extension and give advice on the process and the costs, then hire a reputable builder to carry out the work for you.
Managing the project yourself will also save you money, but then you have to hire subcontractors for each part of the project and take on the role of the project manager.
Cost of Removing a Rear Extension
There are several reasons why you would want to knock down your extension. The first reason could be that your extension is not compliant; therefore, it must be demolished to comply with building regulations standards. It may be that you want to rebuild your extension completely, so it will need to be demolished for new work can begin.
You may need to hire demolition contractors with an extension cost per square metre priced at around £55 for demolition, which includes waste disposal. This price will vary depending on what needs to be removed; for example, if you want to knock down a kitchen extension or a bathroom, this may be more complicated due to the electrics and plumbing that will need to be excavated.
There is also the option to remove it yourself. However, this may take longer and can also be risky, as you may hit wires or pipes, resulting in a costly repair job.
FAQs
How to Find & Hire a Rear Extension Builder
When building any type of rear extension, you'll need to hire a variety of extension experts, including:
Rear extension builder.
Electrician.
Plumber.
Kitchen fitter.
Glazer.
Joiner.
The type of traders you'll require will depend on what type of rear-extension you're building (e.g. kitchen, bathroom, conservatory).
Before choosing the right tradespeople, you need to consider their experience and whether or not they have public liability insurance, which protects both you and them. You should also check for qualifications for architects or structural engineers who require a degree or postgraduate qualification to qualify. Plumbers and electricians will also require industry-recognised qualifications in order to work onsite.
For more accurate pricing, many contractors or companies will have their own extension cost calculator on their website, which will help you determine your budget.
Sources
https://www.theheatinghub.co.uk/guide-to-boiler-installation-costs
https://www.greenmatch.co.uk/boilers/system-boilers
https://www.planningportal.co.uk/info/200130/common_projects/17/extensions/3
https://www.homelight.com/blog/which-renovations-increase-home-value/
https://www.realhomes.com/advice/party-wall-agreements-know-the-rules
https://hardingsurveyors.co.uk/party-wall-surveyor-cost/
https://assets.publishing.service.gov.uk/government/uploads/system/uploads/attachment_data/file/832631/Approved_Document_B__fire_safety__volume_1_-_2019_edition.pdf
https://studentscholarships.org/salary/556/architects.php#sthash.q2UCalNK.dpbs
https://www.jtatkinson.co.uk/blog/a-step-by-step-guide-to-adding-an-extension-onto-your-home/
https://www.kjmgroup.co.uk/blog/triple-glazing-cost
https://www.which.co.uk/reviews/wood-flooring/article/how-to-buy-wood-flooring/types-of-wood-flooring#point3
https://www.standardpro.com/3-basic-types-of-lighting/