How Much Does an Orangery Cost?
The cost to build an orangery is going to be dependent on a number of factors including the size of the build, your location within the UK, the materials used and the finish you are aiming to achieve.
So what kind of prices can I expect to pay?
Orangery prices start at around £10,000 for a small orangery constructed with a uPVC frame, but can cost up to £60,000, or even more for a large, timber-framed orangery.
A large, high-end, timber-framed orangery with a new fitted kitchen could cost you closer to £70,000 once the cost of new kitchen units and appliances has been added .
Orangery Extension Prices
One of the biggest influences on the price of your orangery is going to be the finish you want to achieve:
Low end – The bare essentials
Mid-range – A mix of basic and bespoke items
High end – All fixtures and fittings are top-quality
To give an idea of size estimates, this article assumes the following:
A small orangery is 15 m2
A medium sized orangery is 25 m2
A large orangery is 40 m2
Despite being similar in appearance to conservatories, orangery construction costs are closer to that of a single storey extension, with the choice of material used as the frame greatly influencing the cost of the overall construction. Below are some estimated costs of orangeries dependant on size, material and finish chosen:
| Orangery Size | Finish | Avg. cost |
| --- | --- | --- |
| Small orangery | Low end | £10,000 – £12,000 |
| Small orangery | Mid-range | £12,000 – £15,000 |
| Small orangery | High end | £15,000 – £20,000 |
| Medium orangery | Low end | £20,000 – £24,000 |
| Medium orangery | Mid-range | £25,000 – £30,000 |
| Medium orangery | High end | £30,000 – £40,000 |
| Large orangery | Low end | £35,000 – £38,000 |
| Large orangery | Mid-range | £38,000 – £45,000 |
| Large orangery | High end | £45,000 – £60,000 |
It can be beneficial to understand the costing of your extension in m2. Outlined below is an estimate guide of what you can expect to pay according to finish and scale:
| Orangery Size | Finish | Size in m2 | Avg. cost per m2 |
| --- | --- | --- | --- |
| Small orangery | Low end | 15 | £734 |
| Small orangery | Mid-range | 15 | £900 |
| Small orangery | High end | 15 | £1,165 |
| Medium orangery | Low end | 25 | £880 |
| Medium orangery | Mid-range | 25 | £1,100 |
| Medium orangery | High end | 25 | £1,400 |
| Large orangery | Low end | 40 | £912 |
| Large orangery | Mid-range | 40 | £1,037 |
| Large orangery | High end | 40 | £1,312 |
The cost of your orangery will be impacted by how you intend to use the space and the additional work that may be needed to fulfil that requirement; for example, if you are planning on using the space as a kitchen extension you will have an additional cost of plumbers and electrician labour, at £150 - £200 a day each, for the additional work needed compared to the orangery functioning as a living room.
Cost Factors of Building an Orangery
There are a few cost factors that are worth considerng when building an orangery:
Planning, design and architect fees
Planning and design will cost in the region of £1000 from a trained architect, with an additional cost of between 3% - 15% of the overall cost of the project should you choose to employ one for project management purposes.; a medium sized orangery costing £30,000 will therefore incur a cost of between £900 - £4,500 in architect fees.
In addition to this, you may incur additional costs for the following:
Planning permission (where applicable) - £200
Building control costs - £200 - £900
Tree report (where necessary) - £200
A structural engineer may also need to be consulted to ensure the build is structurally sound; this will cost around £500 - £1,000.
Foundations, drainage, brickwork and roofing
Foundations for a medium sized orangery will cost in the region of £3000. If drains need to be moved to accommodate for your extension application fees are in the region of £200 - £1,200 depending on the extent of the work needed, with the work itself costing on average £5,000. Brickwork for external walls will cost in the region of £2000, and roof installation, depending on the size, will cost on average between £2000 - £4,000.
Rendering, windows, doors and landscaping
The chosen windows and doors will have an impact on the overall cost and aesthetic of your orangery. Bifold and French doors are the most popular choices, costing around £2000, and you can expect windows to cost in the region of £3,000.
If rendering is required to match the orangery to the external walls, this is usually done at a cost of £60 per m2. Depending on how intrusive to the garden space your orangery is, you may require some landscaping in your garden, or may want to have a new patio area or path installed from your orangery doors.
Patios vary in price according to size and materials but you can expect this to cost in the region of £1,500.
Internal fixtures and finishing including plastering and decorating
As a general rule, plasterers will charge in the region of £300 to complete an entire room. Painters and decorators will generally also charge in the region of £300 to apply two coats of paint to a single room, usually over the course of two days.
An electrician will be required to install any electrical items and will charge in the region of £230 per day. They will also need to inspect your current home electric board to ensure it can handle the additional stress of the added electrics, and will advise if an RCD needs to be installed in-line with current IET Wiring regulations.
You may also wish to consider whether traditional radiators or underfloor heating is the best heating option for your new space, though there is a vast difference in price between the two of an average £200 and £1500 respectively.
Cost Breakdown Calculator
Average cost of a mid-range, medium-scale orangery - £30,000
Labour Costs and Time Frames
Installing an orangery at a property can involve many skillsets and materials, all of which have to be managed accurately and efficiently for smooth construction. As a guide, you can expect the following timeframes for the orangery construction depending on the size:
| Orangery size | Duration |
| --- | --- |
| Small (15 m2) | 2 - 4 weeks |
| Medium (25 m2) | 3 - 5 weeks |
| Large (40 m2) | 4- 6 weeks |
On average, builders charge roughly £150 - £250 a day for their time, or the equivalent of around £1,200 - £2,000 per m2.
What Does Building an Orangery Entail?
Here are the different stages you can expect when building an orangery:
Planning

Obtaining plans for your orangery is the first step to it's construction. It's advisable to work alongside an architect or structural engineer to ensure your build is in line with your budget and will be completed to your desired aesthetic. You may also need to obtain planning permission at this point depending on the size of your proposed build.

Groundwork

Foundations will now be dug out in accordance with your floorplan. A building inspection will be required at this stage; they will check that work is being carried out satisfactorily and advise if any reinforcements need to be laid within the foundations. If drains need to be relocated this will be completed before the concrete is poured.

If your orangery is going to have doors installed to give access to the garden you may want to consider having a new access path or patio laid, and if work needs to be undertaken to re-landscape the garden around the orangery location.

Main build

Once the foundations are set the external walls can be constructed. Typically orangeries are designed to 'match' the existing build and the brickwork should be similar to existing brickwork on the house. Once the brickwork is complete the windows, doors and roof can be installed.

Fittings

Once the roof has been installed and the build is weatherproof the fixtures can be put into place; this includes any carpentry work, electrical outlets, lighting or plumbing needed within the new build. Plastering can now be applied. Once dry the decoration can commence, including any wallpapering, painting and flooring.

Finish

Electrics will go live and any plumbing connected to the mains. Paperwork will be signed off by building control and any previously unconnected appliances installed – For example, if the orangery is part of a kitchen extension.
Orangery Construction Options
Traditionally orangeries were constructed using timber frames, but in today's market there are a number of materials to choose from to suit your need, budget and aesthetic:
Most Expensive - Timber
Timber frames offer a beautiful, traditional aesthetic and are well suited to period homes, but depending on the size of your build, can be quite costly.
Timber frames will need to be treated to ensure they do not rot or warp, rendering them ineffective, so keep in mind the ongoing upkeep cost of timber frames needed to keep them in peak condition, and should be constructed by a person with experience in craftmanship.
Mid-range - Aluminium
Strong and durable, aluminium frames are ideal for structures of all size, offering slim sightlines in comparison to both timber and uPVC. Aluminium frames can come in a variety of colours and can also be finished with a timber grain affect, making them a suitable alternative to actual wooden frames, though they can be considerably costlier than uPVC frames to purchase.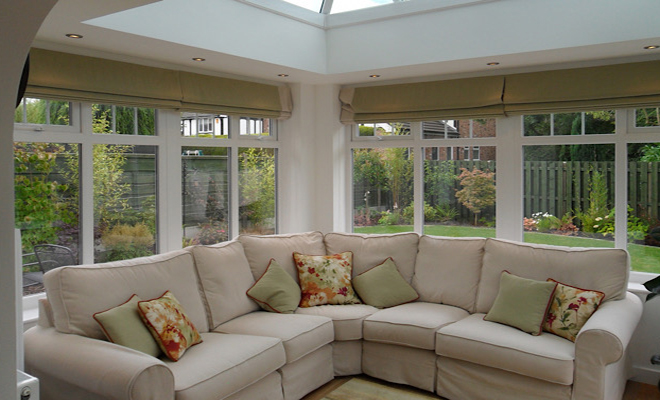 It should be noted that aluminium frames may not be suitable for coastal locations due to the presence of salt water, which can be erosive and costly to repair
Lower Cost - uPVC
Commonly used in the construction of conservatories, uPVC is a cheap and reliable option for orangery construction, available in an array of colours. UPVC may look out-of-place if installed alongside a period home, but would suit a more contemporary build.
UPVC is a good material choice if working to a stricter budget, but it tends to be bulkier than other materials on the market, meaning it can disrupt lines of sight and draw attention away from the surrounding area, and is the least durable of the materials offered.
Some, but not all, orangery manufacturers offer composite frames, which are a mix of timber, coated with an aluminium exterior. They offer the low maintenance of aluminium, paired with the warmth retaining properties of timber. Because of the mixed materials, where available, composite frames bridge the costing gap between solid timber and aluminium frames.
Pros and Cons of Building an Orangery
As with most home extension projects, orangeries are no exception to a list of pros and cons that need to be considered before committing to the build:
Pros
✔ Orangeries are designed to appear as an extension of the existing building, and not an "add on" to the home
✔ Orangeries are more energy-efficient than conservatories
✔ Orangeries can be used year-round as heat is better regulated than in conservatories
✔ Orangeries allow plenty of natural light into the space
Cons
✖ Orangeries are not cheap, costing closer to a single-storey home extension than your average conservatory
✖ Orangeries allow less light into your space than conservatories
✖ Orangeries can require extensive planning to integrate it into the existing aesthetic
✖ Construction of orangeries can be disruptive, particularly if being used to extend a kitchen or living space
Designing an Orangery
Designing an orangery is not as straight forward as just deciding you want one and constructing it; it's essential it is well planned. The following points will need to be considered during the planning process:
The Location of Your Orangery
The location of your orangery in relation to the rest of your home is an important factor; due to the amount of windows it's likely you will want to position it within your property that will allow views of your garden or surrounding nature – and you are unlikely to want to place an orangery facing a neighbouring wall or in an overly shaded position within your property.
The Function of Your Orangery
How do you want your orangery to function? Will it be an additional living room? A bedroom? A dining area? Or part of an extension on your kitchen? The answers to these questions will help you to determine the size of your orangery as well as it's positioning within your property; It's unlikely you will attach an orangery to a kitchen wall that will be used as a bedroom, but a dining area or kitchen extension would be well suited there.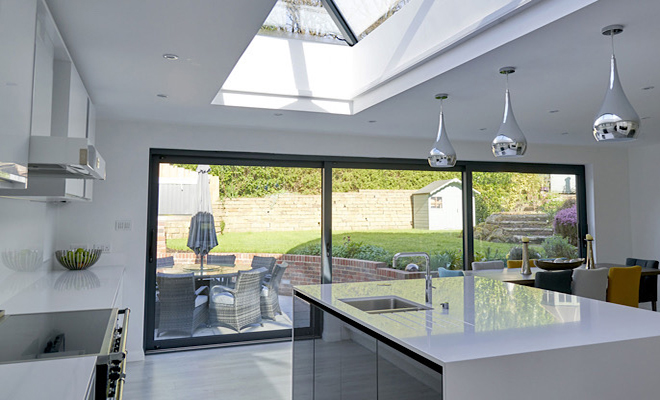 Styling Your Orangery
The aesthetic of your orangery will need to be decided and is usually influenced by the rest of your home; a traditional orangery structure is going to be better suited to an older home, whereas more modern builds may require a more modern orangery design.
Remember: Orangeries are generally designed to feel like a continuation of the home and not an add-on; this is why they are built in similar materials to the rest of the property.
Choosing Materials
Choosing the right materials for your orangery will impact not only how it looks and feels, but also how the orangery functions. The frame chosen will impact the maintenance required and there are numerous glazing options for orangery windows. Similarly, choosing the right type of door for access to the space can really impact the flow of the build.
Planning Permission
Although most orangeries and conservatories come under 'permitted development', there are some cases in which planning permission will be required before the orangery can be built. Additional information on planning permission can be found on the planning portal.
DIY Orangery
Building an orangery consists of many elements, but there is nothing stopping you from building it yourself if you have the right knowledge and experience to do so; whether you want to build from scratch or use a pre-fabricated construction kit, there are many orangery options on the market suitable for DIY construction, which will save you the cost of labour in construction.
However, whilst you may save in labour costs constructing an orangery yourself, if done incorrectly, the repair costs could be more than the initial saving – and with added hassle!
If you are unsure about your ability you should hire professionals to complete the work effectively and correctly.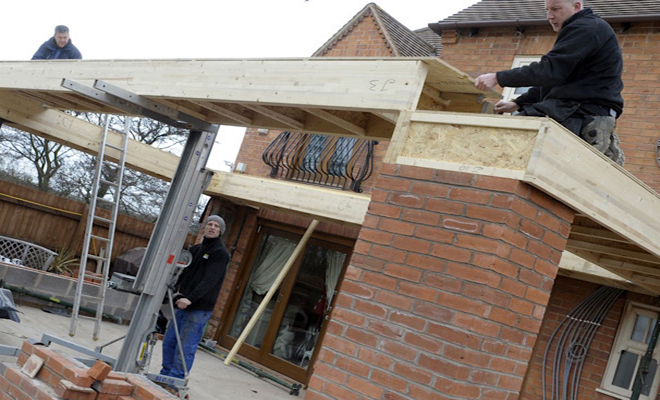 Before undertaking the construction of your orangery yourself, you should weigh up the money you will save in labour costs against the time it will take you to complete the work yourself.
Orangeries are not quick builds when working by yourself – a team of builders take, on average, 3-5 weeks - and you should be prepared to manage the disruption the build will cause to your day-to-day life whilst in progress.
Orangery Roofing Options
Traditionally orangeries are fitted with a lantern roof, which allows more light into the space than traditional tiled roofing options, and is one of the main features that helps to differentiate between an orangery and conservatory: Conservatories have a roof that is all glass, whereas an orangery has a flat roof with a glass centre, or 'lantern'.
Lantern roofs come in a choice of timber, uPVC and aluminium framing, with uPVC being the cheapest option and timber being the most expensive.
Timber-framed lanterns are traditional and beautiful, offering a classic look. Timber frames are the most expensive and require more maintenance than other types available on the market due to the effect of weathering.
uPVC roof lantern systems are the cheapest type to purchase, and are a great mid-ground between traditional timber and aluminium in terms of durability and aesthetic.
Aluminium lanterns offer the slimmest sight lines, helping the illusion of bringing the outside in, but come at the cost of being more expensive than uPVC lanterns.
Whilst you can opt for a bespoke roof lantern, there are many available to buy and some are suitable for DIY installation, and depending on the size of the lantern can cost as little as £600 to purchase yourself for a uPVC-framed lantern, though if you are not confident in your ability to install it, you should add a minimum of £500 for labour costs for a reputable roofer.
As far as maintenance is concerned, lantern roofs are relatively easy to upkeep. Whilst timber will need to be repainted more frequently than aluminium or uPVC, they tend to be sturdy and reliable structures. The glazing can be washed with water and mild detergent; the same as any other windows on your property.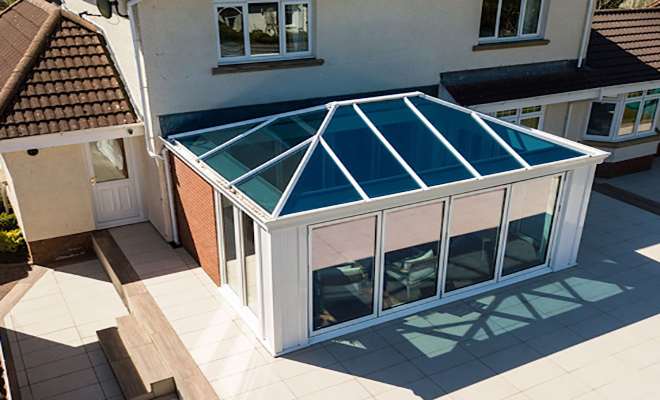 Ventilation can be another important factor to consider when choosing your lantern, especially if the room is southward facing – which will incur a lot of natural sunlight – or if the orangery is going to be used as part of a kitchen which are prone to heat and steam whilst cooking.
Ventilation allows you to control the humidity and temperature within your orangery during warmer periods and can be provided in three forms; opening skylights, trickle vents and top hung opening window sashes.
Orangery Door Options
With so many doors available on the market it can be hard to decide which are 'the best' to get. Consider your orangery and how you want the space to function, as well as the aesthetic you are trying to achieve.
Traditionally French doors were used in orangeries, though as time has progressed bifold or concertina doors are becoming increasingly popular, as are sliding doors.
The choice of door may be influenced by your budget but you should also consider how you want your orangery to function and try to choose doors that best compliment this – after all, orangeries are designed to invite the feeling of the outside in, so solid doors with little glazing are generally avoided, and doors offering plenty of natural light and sightlines are favoured.
As rough guide, you can expect to pay the following for doors;
French doors – £400 - £1500
Sliding doors – £500 - £1500
Bifold or concertina doors – £1000 - £4000
Installing Electricity in Your Orangery
An electrician will need to be consulted to assess your electrical needs in your new extension. They will check that your current system is able to handle the additional demands of the orangery, as well as ensuring that you have a Residual Current Device (RCD) installed in-line with current IET Wiring Regulations.
Depending on the load already present on your current wiring, you may find that you are required to have a new fuse-box (or Consumer Unit) installed; generally, this costs in the region of £300 - £500 including materials and installation costs.
Once the work is complete you should receive an electrical certificate under Building Regulations Part P Notifications and the local building control will be informed by the competent person that undertaken the inspection.
Electricians typically charge between £120 - £300 a day for their time, working in pairs, though the actual amount you will pay depends largely on your location within the UK.
Installing Plumbing in Your Orangery
If your orangery required plumbing connections, either because it involves a kitchen extension or simply for radiators, it's best to check that your current water system can handle the added demands, including radiator usage where applicable.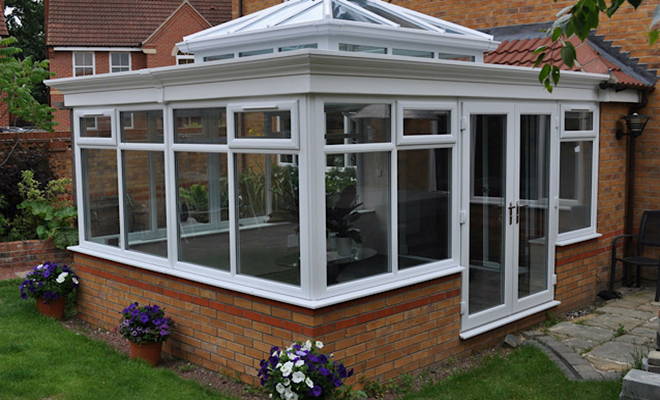 In the event that a sewer drain needs to be moved to connect to the orangery for water waste, you can expect to pay in the region of £1000 – This will be discussed during planning and the drains will need to be moved before the foundations for your extension are laid. If your existing boiler will be unable to handle the extra demands of the extension you may have to replace it; this will cost an additional £2500 or so.
Will an Orangery Add Value to my Home?
Generally, a well-built orangery will add nearly the same value to a home as a traditional extension; this is because extra living space is desirable and can allow for more flexibility within the home to utilise space effectively, with orangeries being considered more practical than conservatories as they are a 'year round' extension and not limited to use during the warmer months.
Beware though; a poorly constructed or cheap-looking orangery will likely deter potential home buyers, so don't be tempted to cut corners during construction.
On average you can expect the Return On Investment (ROI) of a well-constructed orangery to be around 70%, similar to a single-storey extension, but remember that the initial outlay can be costly.
Planning Permission and Regulations
To calculate the fees of obtaining planning permission you can visit the planning portal, though you can typically expect the fee to be in the region of £205 and a waiting period of between 8 – 13 weeks for a decision, depending on the complexity of the work proposed.
In many cases orangeries are considered permitted development and do not need planning permission, providing they adhere to the following criteria:
Extensions can be no higher than the highest part of the existing roof.
A maximum of half of the land surrounded the original house may be converted.
Extensions cannot extend beyond the rear wall of the original house by more than four metres if a detached house, or three metres for any other house.
The material used in exterior work must be of similar appearance to the existing home exterior.
If within two metres of the property boundary, the eaves of the roof cannot exceed 3 metres.
Extensions cannot extend beyond any wall facing a road if it forms the principal or side elevation of the original house.
Planning permission is necessary when a property extension does not fit planned permission criteria, either due to its size, aesthetic and impact on local environment. If the proposed extension is on a listed or graded building you will need to apply for planning permission, or at least listed building consent, regardless of the size.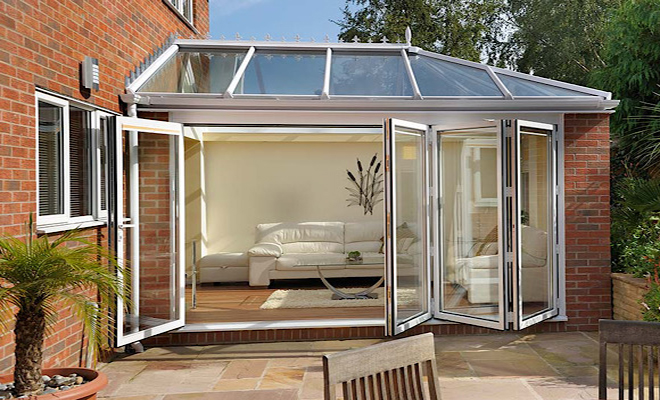 For more information regarding permitted development, you can visit the planning portal, read the technical guidance provided by the government here or contact your local planning department.
Building regulations, in contrast to planning permission, deal with the structural and technical impact of a building. The following items are subject to approval through building regulations:
Doors and windows
Drainage
Electrics
External and internal walls
Foundations
Roofs
Part L1B of building regulations stipulates that the maximum allowance for glazing on a property is capped at 25% of the total floor area. If your orangery will be connected via external doors to the existing property, or you can demonstrate compliance with thermal requirements, then the build should be regulations complaint.
In addition, kitchen extensions will need building regulation approval to ensure adequate ventilation and fire-safety measures are in place, as well as electrical and drainage use are up to standard.
Who Will I Need to Hire to Build my Orangery?
There are a number of trades that can be involved in the design and construction of an orangery. If hiring a firm to complete all of the work it is likely they will deploy multi-skilled tradesmen, however, you may be inclined to have the work done by individuals instead, or indeed save money and complete some of the work yourself.
Below is a list of the trades you can expect to be involved in constructing and completing an orangery:
Architect or Structural Engineer
Hiring an architect or structural engineer to help design your plans means that you can have peace of mind that the extension will be structurally sound and in-line with your aesthetic.
Structural engineers, where needed, can charge between £50 - £100 an hour for their time, and architects tend to charge per project at a rate of 3% – 15% of the overall cost of the construction if project managing, or charge a flat fee for their design plans.
Builder
Responsible for the majority of construction work, a typical builder will charge £150 - £250 a day in labour and will complete work in accordance with your design plans – so it's important to have a design beforehand for an accurate job quote.
Roofer
Responsible for work pertaining to the roof, expect a charge of between £150 – £225 a day, with the length of their services dependant o the complexity and size of the work needed.
Plumber
Depending on your needs you may require the services of a plumber; particularly if you are having an orangery built as part of a kitchen extension. Typical plumber rates are in the region of £150-£200 a day.
Electrician
The average cost of an electrician in the UK is between £120 - £350 a day, and you will almost certainly require one for your orangery. The electrician will be responsible for new wiring connecting your orangery to your existing home circuit, ensuring an RCD is fitted in accordance with current IET Wiring Regulations and ensure that your current consumer unit can handle the additional electrical demand from your extension.
Joiner/Carpenter
Depending on your needs you may require the services of a joiner or carpenter to handle any woodwork, typically costing between £125 - £180 per day.
Plasterer
There are a number of elements in building an orangery that may require the skills of a plasterer; whether it's plastering internal walls and ceilings so that they are ready for decoration, or applying rendering to external walls to match the original building, most plasterers charge between £100-£200 a day.
Painter and Decorator
Painting and decorating can very much make, or break, a room aesthetic so it's important that decoration is completed to a high standard. A professional decorator will cost between £100 - £200 a day for their services. Painters will usually work over a two-day period to allow drying time between coats of paint, allowing for a quality finish.
Floor Fitter
Whether your orangery will have bespoke wooden floors or tiling, you may want to consider hiring a flooring specialist to complete the work; typically costing in the region of £150 - £200 a day for their time.
Reducing Orangery Costs
Tasks like plastering, decorating, floor fitting and even joinery may be time-consuming, but if you're not in a rush for your internal work to be complete, and you are confident in your own ability to undertake the work yourself, you could save a large chunk of your budget by taking the DIY approach.
Effective Time-management
Or skills management at the least, can have a huge impact on the overall cost of your orangery.
You could opt to hire or appoint a project manager such as an architect or builder, to oversee the work and ensure it is being completed to schedule, or, you could project manage the extension yourself – which would be decidedly cheaper but does require a good level of organisational skills.
The smoother the build runs the less time it will take to be completed and, ultimately, the less labour costs you will be faced with.
Adjusting the Use of the Orangery
This can also help to reduce costs; an orangery built to function as a kitchen extension will inherently cost more than an orangery built as a living space.
There is nothing stopping you repurposing the space at a later date, but by choosing to install your orangery as a 'blank canvas' you allow yourself more room in your budget for potential costs and have the option to convert the space at a later date.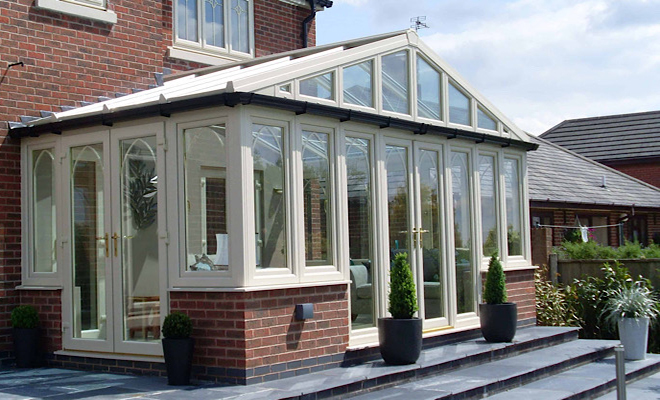 Compromising on the Size
The smaller the build the less materials, and the less time (and therefore labour) required to install them. Just be aware that whilst size and materials can be compromised to better suit a budget, it's not advisable to cut corners to reduce costs and could end up costing you more than the savings to rectify any issues that result from it.
You should also keep in mind that cheap-looking or poorly constructed builds tend to deter potential home buyers, so whilst it might be tempting to go as cheaply as possible with materials and labour, it's not necessarily the best thing to do.
Shop Around
This includes materials, orangery construction companies and even individual labourers – By asking for quotes, comparing products and services and investigating portfolios you can ensure that you get the best possible price for the work you need carrying out, without compromising on quality.
Alternatives to an Orangery
If the grandeur of an orangery is not to your liking there are several other extension options available that might be better suited to your taste, budget and purposes.
Due to the cost of an orangery it may be worth considering installing a standard single-storey extension for a similar price instead which would offer more room versatility and could be converted into multiple rooms (with an addition of a bathroom, for example) as opposed to a single room.
Sunrooms are also popular alternatives to orangeries or conservatories; essentially a sunroom is a conservatory with a tiled or slated roof, meaning it has better heat regulation than a standard conservatory whilst still offering plenty of eternal views to your property and surrounding area, but does come with the drawback of allowing less external light into the room.
Conservatories are probably the most popular alternative to an orangery, and can certainly be cheaper, averaging a cost of roughly £8000, though there are some key differences you should be aware of before committing to either in terms of their looks and functions:
| Conservatory | Orangery |
| --- | --- |
| Over 75% of the roof surface is glazed. | Less than 75% of the roof surface is glazed. |
| Over 50% of external walls are glazed. | Glazing options vary according to design. |
| Less brickwork to allow for wider field of vision. | More brickwork to integrate design into original building. |
| Traditionally harder to control temperatures and humidity. | Designed for easy temperature and humidity control. |
| Can be unsuitable for year-round use. | Suitable for year-round use. |
| Primarily used as sitting rooms. | Can be utilised for a number of purposes including sitting rooms, kitchens and dining areas. |
Whichever extension you choose to get, be sure to look around and get quotes from various sources and ask friends and families that have had similar work done for their recommendations.
Converting a Conservatory to an Orangery
Whether your existing conservatory is looking worn and tired or is no longer fit for purpose, converting a conservatory to an orangery can be done, but it isn't necessarily easy, and should be undertaken by a professional.
It is more than likely that you will need to seek planning permission to modify your existing build as well, so you should allow plenty of time for approval before commencing work.
Assuming the base is fit for purpose and deep enough to support the additional weight that an orangery has, the existing conservatory windows and doors can be removed, and dwarf and full walls built. New windows and doorways can be installed and the new roof with lantern can be installed.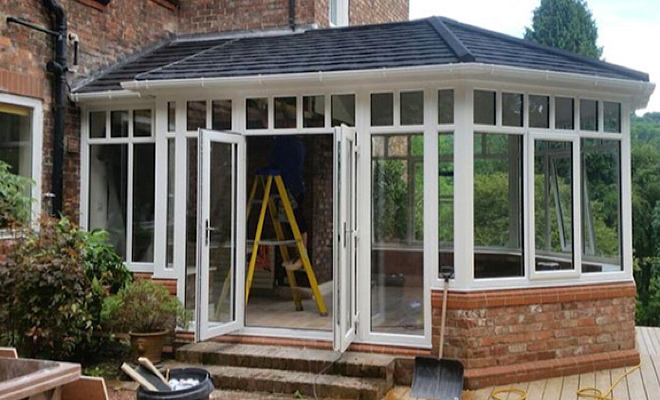 You will still need an electrician to sign off your build, wire the new electrics to the existing circuit and undertake all necessary checks. Building control will also be involved as they will determine whether the base needs to be removed and lowered further before the orangery construction can commence.
In terms of costing you may be able to repurpose your conservatory doors, but you will likely need new windows so it may make sense aesthetically to match the windows to the existing door or choose new pairings all together, in addition to the brickwork and decorating costs that will be incurred due to construction.
Having to replace the existing foundations is going to be costly, as they will need to be removed, remeasured, dug and laid again – which is costly in both the financial and timely senses. It may be more cost effective to demolish the existing conservatory and either opt for a new orangery or home extension.
Cost of Removing an Orangery
There are some cases in which you may want to remove an orangery from your property, either because you want to expand your garden space or are planning on renovating your home and installing a solid home extension.
As a general rule, depending on the size of your orangery you can expect to pay in the region of £500 - £2,000 in demolition and waste removal costs, though you may be able to recoup some of this costing by having doors and windows carefully removed and sold.
FAQs
How to Find & Hire an Orangery Builder
The first thing to do when trying to source an orangery builder is to contact friends and family that have had similar work done and ask them for recommendations; they will be far more likely to be honest in their review of the work undertaken and ay be able to answer any questions you have regarding the process before contacting a professional.
Another must-do is to enquire about builders' portfolios, this will give you an idea of the quality and experience the company will have completing similar projects to yours. Finally, it's important that you get quotes from multiple sources and determine which is best suited to your budget whilst ensuring quality work. You can use this tool to get three free job quotes from trusted traders in your area.
Sources
https://www.planningportal.co.uk/info/200135/approved_documents/82/part_p_-_electrical_safety
https://assets.publishing.service.gov.uk/government/uploads/system/uploads/attachment_data/file/441872/BR_PDF_AD_P_2013.pdf
https://www.gov.uk/government/publications/permitted-development-rights-for-householders-technical-guidance