How Much Does Supplying and Laying Patio Cost?
Your garden is an extension of your house and as such will reflect your personality and who you are. To design your patio, you may take inspiration from your home or take an idea directly from a gardening magazine or hire a landscape designer to put a layout together for you. However, you decide on the design there are some fundamentals which will determine the cost of your new patio.
First, the size of your garden. Whether it is a typical suburban semi, an urban property or a detached country house with lots of outdoor space, this will be the biggest determining factor in cost. For example, an 8 square metre patio in concrete slabs will cost approximately £750-£1,000.
Secondly, what type of materials you decide to use. With a wide variety to choose from this will be a key factor in your budget. A higher-quality product such as marble will create a high end feel but will come at a cost with a 10 square metre patio costing in the region of £1,500.
Finally, whether you decide to supply and lay the patio yourself or hire a professional installer to do the work will impact on the final cost. A small patio in sandstone pavers will cost approximately £800 for all materials if you intend to lay the patio yourself.
Hiring a professional installer will cost around £110-£180 per day for a landscape gardener, although this price will vary according to where in the UK you live. There will normally be a team of two as a lot of the work requires two people. This will add anything up to £100 per day to the cost.
Of course, the design of a patio is as varied as the size and shape of our gardens. The typical rectangular shape is still very popular but can be broken up with different levels, planters and placement of garden furniture. Adding a circular patio area can break up an angular space and soften lines but will be a more involved job. Paving circles will typically cost between £30-£45 per square metre for sandstone pavers.
The style of your property should also be a consideration as a modern patio design may not suit a traditional style house.
The average UK garden is 14 square metres, according to the Horticultural Trade Association. This would allow 8-10 square metres to install a patio and still have room for flower beds or borders. You should also leave enough room to move around the area comfortably.
For a patio paved in concrete slabs, the cost would be around £40 per square metre or £350-£400 in total. This size of patio would take approximately 2 days to install including all preparatory work. Labour costs between £200-£300 per day so this would cost around £400-£600 for 2 days.
Additional materials such as weed suppressant membrane, substrate, sand, cement, jointing compound or grout will add approximately another £200-£250 bringing the total project cost to between £950-£1,250.
The same-sized area in more expensive paving such as marble slabs would cost £700-£900 for materials with an average cost of £90 per square metre. With labour and additional materials, this total would be in the region of £1,300-£1,750.
Patio Prices
Below are the average costs for different types of slab paving materials, labour and additional costs for a 10 square metre project.
| Material | Cost per m2 | Cost 10m2 | Labour | Other | Total |
| --- | --- | --- | --- | --- | --- |
| Concrete | £40 | £400 | £400-£600 | £200-£250 | £1,000-£1,250 |
| Coloured conc | £45 | £450 | £400-£600 | £200-£250 | £1,050-£1,300 |
| Smooth conc | £40 | £400 | £400-£600 | £200-£250 | £1,000-£1,250 |
| Textured conc | £40 | £400 | £400-£600 | £200-£250 | £1,000-£1,250 |
| Sandstone | £70 | £700 | £400-£600 | £200-£250 | £1,100-£1,250 |
| Limestone | £45 | £450 | £400-£600 | £200-£250 | £1,050-£1,300 |
| Granite | £40 | £400 | £400-£600 | £200-£250 | £1,000-£1,250 |
| Slate | £40 | £400 | £400-£600 | £200-£250 | £1,000-£1,250 |
| Porcelain | £55 | £550 | £400-£600 | £200-£250 | £1,150-£1,400 |
| Marble | £90 | £900 | £400-£600 | £200-£250 | £1,500-£1,750 |
Although slabs are the most used material for laying a patio, it is possible to lay a patio with paving blocks. The preparation stage is much the same as with paving slabs, excavation of the area, laying of a compacted sub-base and finally laying the blocks in the chosen pattern ensuring there is a fall of 1cm in 60cm for water runoff.
Below is the average price to lay a patio with paving blocks.
| Material | Cost per m2 | Cost 10m2 | Labour | Other | Total |
| --- | --- | --- | --- | --- | --- |
| Sandstone | £80 | £800 | £400-£600 | £200-£250 | £1,400-£1,650 |
| Limestone | £70 | £700 | £400-£600 | £200-£250 | £1,300-£1,550 |
| Granite | £70 | £700 | £400-£600 | £200-£250 | £1,300-£1,550 |
| Concrete | £45 | £450 | £400-£600 | £200-£250 | £1,050-£1,300 |
| Clay | £85 | £850 | £400-£600 | £200-£250 | £1,450-£1,700 |
Patio Supply Cost
| Material | Cost per m2 | Cost 8m2 | Cost 20m2 | Cost 40m2 |
| --- | --- | --- | --- | --- |
| Concrete | £40 | £320 | £800 | £1,600 |
| Coloured concrete | £45 | £360 | £900 | £1,800 |
| Smooth concrete | £40 | £320 | £800 | £1,600 |
| Textured concrete | £40 | £360 | £800 | £1,600 |
| Sandstone | £70 | £560 | £1400 | £2,800 |
| Limestone | £45 | £360 | £900 | £1,800 |
| Granite | £40 | £320 | £800 | £1,600 |
| Slate | £40 | £320 | £800 | £1,600 |
| Porcelain | £55 | £440 | £1,100 | £2,200 |
| Marble | £90 | £720 | £1,800 | £3,600 |
As well as the cost of the paving slabs, there are additional materials that need to be included for the overall supply cost.
A weed suppressant membrane is advisable and costs approximately £10 for a roll of 10 metres. Sub-base aggregate is necessary as a solid foundation and will cost around £30 for 10 square metres. Grout or jointing compound will cost on average £30-£35 for a 12-15kg tub, and sharp sand will be around £2-£3 for a 25kg bag.
Additional Costs
As well as all the materials needed to supply and lay a patio, there are some other costs that could add to the overall price.
You may want a professional garden designer to come up with a layout for the patio and surrounding areas. Garden designers will charge anything between £60-£200 per hour depending on where in the country they are based.
Edging stones mark the boundary of your patio and separate it from the rest of the garden. Edging stones come in a variety of materials like patio slabs so how much they cost will depend on this, but the average cost is around £35 per square metre.
If you are doing a complete garden makeover, you may want to add some plants in the borders or lay some turf. This will necessitate an increase in your budget but should be viewed as an investment.
A nice garden can increase the value of your property so is worth spending time and money on. Adding new plants will cost in the region of £30-£40 per square metre while laying turf will cost approximately £14 per square metre. You could also lay artificial grass for around £10-£20 per square metre.
Jointing compound and grout are both necessary to ensure the paving slabs remain in place and don't move when walked on. They come in 12-15kg tubs and costs between £30-£35 and are available in various colours.
There are different grades of weed membrane. The budget variety is the fabric membrane which is a breathable covering but with a limited life of 3-5 years while the tougher woven membrane is more suitable for landscaping. The cheap version costs approximately £1 per square metre while the average cost for the stronger type is around £2 per square metre.
Paving risers are a quick and easy way of laying paving slabs whilst ensuring a completely level surface. They can be height adjusted and do not require any mortar. The average cost of paving risers for a 50-80mm riser is approximately £30 for a pack of 10.
To protect and extend the longevity of your patio paving slabs it is a good idea to seal them with an appropriate paving seal which costs on average £60 for 5 litres. This product will make the patio easier to clean and protect against permanent staining of the paving.
For joints of less than 5mm between paving slabs, sand is used to seal the gaps, using a brush to sweep into the crevices. A bag of kiln-dried paving sand costs around £5 and covers 10 square metres. Joints over 5mm are filled with a mortar mix of sand and cement. A 25kg bag of cement costs approximately £4-£5 and a 25kg bag of sharp sand is around the same.
Natural stone paving such as sandstone, granite, slate and limestone will require stone protector. This product will provide protection against staining from most liquids, including water, oil and petrol. It costs in the region of £35 for 5 litres.
A skip is probably going to be necessary for the waste that will be generated from digging out the base for the patio or the removal of old patio slabs or decking. The average cost for a skip is between £200-£300 for a week.
Once the project is complete, you may want to buy some patio furniture or replace old furniture. A table and four chairs, parasol and parasol base, can range from £150-£2,000 but of course, the sky is the limit and will depend on your budget.
Cost Breakdown Calculator
Individual costs for laying a 20 square metre patio including supplying slabs, excavating turf, laying hardcore, laying patio slabs and brush-in pointing - Total Cost: £1,800
Labour Costs and Time Frames
The average labour cost for landscape gardeners is approximately £110-£180 per day. It is common for a landscape gardener to also have an assistant or labourer, which will add approximately £100 per day to the labour costs.
These prices will vary according to regions in the UK with costs in London and the south-east always being higher for most trades and services and landscaping is no exception.
To reduce the labour cost, you could remove any existing patio, decking or turf yourself if you are able. If you are confident about what depth to dig down to, allowing for sub-base, mortar and paving then this is also something you could do leaving only the laying of the slabs to the professional. This should reduce the patio laying costs.
Intricate designs such as paving circles or randomised patterns are much more labour intensive and will increase your outlay through labour costs. A simple but attractive design can be just as aesthetically pleasing and be made more interesting with additional but inexpensive components such as planters or raised beds.
The size of your garden and more directly the amount of space you allocate for a patio will impact the price you pay both for materials and labour. If there a large space, you may consider allowing some space for cheaper ground covering such as grass or laying pebbles on a portion of the garden. This is something you could potentially do yourself further reducing your labour expense.
An 8 square metre patio with a simple design should take approximately 2 days for two people. This includes marking out the area, digging down to the required depth or removing existing paving or decking, laying the sub-base foundation, mixing and applying the mortar, laying the slabs and finally filling in the joints.
A complex patterned patio, circular design or randomised paving will be more time consuming and will take longer to complete. For a more bespoke design or larger area to cover, 3 to 4 days should be allowed for the work. With an average daily rate of £200-£300 for a team of two, this work will cost more for labour.
For a small project, 2 people are the normal mode of working. However, for larger or more involved work it may be prudent to have another pair of hands, if only for lifting and moving things around. It will cost more but will ensure the work doesn't go over schedule.
Planning Your Patio
When planning your patio, potentially the most important decision you need to make is the position within your garden. Most traditional patios are outside the back door of the property, making the transition from inside to outside easy and accessible.
However, if the purpose of the patio area is to sit out and enjoy the sunshine having the patio directly in the shade of the house is perhaps not ideal. Of course, a south-facing garden will get sun for most of the day, but not everyone is fortunate in that respect.
Shelter and privacy are also important considerations. Walls, fences and hedges can provide both, so perhaps an area that has these factors is what you want. If this area is away from the house, then you may want to install a path for access and to protect your grassed area.
The size of your patio may be limited by the overall size of your garden. If there is limited space, then the planning should focus on maximising the available space. It is worth making sure that any furniture you buy allows enough room for people to move around freely and that chairs can be pushed back safely without catching the edge of the patio.
Whether you opt for a traditional rectangular or square design, a modern or classical look the shape of the patio will be decisive in what elements you can incorporate into it. A seating area is usually a priority, and there are many different types to choose from, allowing creativity and practicality to co-exist.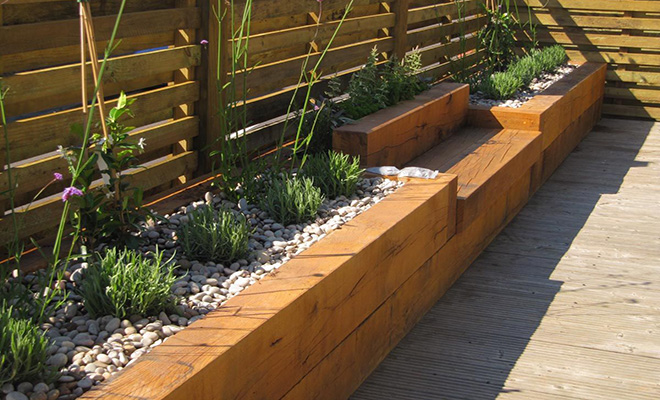 Angular designs can look harsh in the wrong setting but can be softened with flower beds or a curved path. Or you can have the best of both worlds with a circular patio with 'squared-off' slabs in a rectangular area.
Having different levels within the patio area adds interest and can allow more to be included in a restricted space. Even if your patio area is all on one level, you could add a raised border with colourful flowers or unusual plants. If space allows you could add steps down to the lawn or up to a secluded seating area, although it may not be practical for households with very young children or elderly relatives.
The choice of which material to use will most likely be determined by budget, although there are so many options available that you should be able to find something that suits your taste and your pocket. The cost per m2 is important, of course, but also the durability of the material and cost of regular cleaning and maintenance should also be considered.
While natural stone looks great, it does require greater care and higher maintenance than a man-made material such as porcelain. Although the price to lay a patio in porcelain may be higher, it is an extremely durable material, frost and algae resistant and requires very little maintenance. So, while the initial outlay may be higher ongoing costs will be lower.
The pattern for your patio may in some sense be determined by which material you choose and while there are numerous patterns to choose from some variations may not suit paving slabs. Herringbone pattern, for instance, really only works with paving blocks or for large commercial applications and chessboard arrangements are not a great look for slabs. However, it is a matter of personal taste.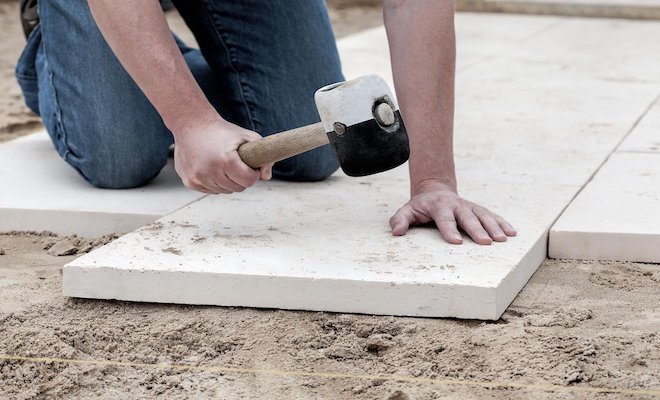 Garden centres are full of wonderful accessories and features for your garden and patio, and there is a huge amount to choose from. Classics such as ponds or water features are not as popular today, but the sound of trickling water is very soothing, and a pond is environmentally positive.
Fire pits have become very popular recently and encourage extended use of the outside space beyond sunset or the warmer weather. And of course, no British patio would be complete without a barbeque for that one day in the summer when you can use it!
So, the things to consider when deciding where to site your patio and what type of patio you want are:
Size and aspect of your garden.
The main function that the patio will serve e.g. outdoor dining area, a place to relax, etc.
Shape and design of the layout.
Type of material to use such as natural stone or man-made such as porcelain.
What features you want to incorporate into the space.
Differing levels if space allows.
Shelter and privacy.
Patio Options
Concrete is at the lower end of the price spectrum when it comes to garden paving cost at an average of £40 per square metre. However, it comes in many styles, designs and colours so are extremely versatile. It is also a very hard-wearing, durable material and is relatively easy to maintain.
There are, however, a few disadvantages to consider. Coloured concrete has had a dye added to the mix during the manufacturing process, and this will fade over time when exposed to the weather or prolonged foot traffic.
Concrete is a porous material and while good drainage should ensure that water continues down to the ground below if there isn't good drainage in place the soil can become saturated causing movement in the slabs when walked on. As it is porous, it can be prone to staining if not sealed.
Natural stone is a wide category which includes sandstone, granite, slate, limestone and marble. Prices range from £40-£90 per square metre. These come in a vast array of colours, styles, textures and applications giving almost unlimited options in their usage.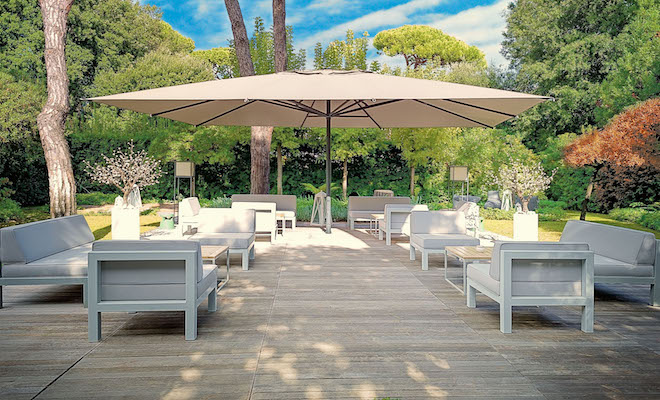 As a natural product, it seems obvious that they look good in a garden setting and many people prefer that over an artificial, constructed appearance. Natural stone is by its composition and formation very strong and long-lasting. With imports from China and India, natural stone has become more affordable in recent times.
Porcelain is a man-made material which can be produced to resemble natural stone or wood or as an ultra-contemporary finish. The average cost per square metre is between £40-£80. It is a resilient material, being frost proof and fade-resistant, making it long-lasting and low maintenance. As a non-porous material, porcelain prohibits the growth of algae and moss, which are not only unsightly but a slip hazard.
The cost to lay a patio in porcelain will be slightly higher than some other materials reflecting its durability and low maintenance. Unlike some other patio paving materials, porcelain is not suitable for DIY installation.
It is a very hard substance and needs specialist equipment to cut and fit. This also makes it difficult to find a suitable professional installer as porcelain paving resembles tiling more than slab laying and incorrect handling can cause expensive mistakes.
If you choose to use paving blocks rather than slabs for your patio prices range from £45-£80 per square metre for materials such as concrete to sandstone.
Concrete is the cheapest paving slab and comes in a variety of forms. Coloured, stained, stamped, printed, decorative, engraved, exposed and aggregate. This gives a wide range of choice for this versatile material.
Coloured concrete is made by introducing a dye to the mix during the manufacturing process. This allows for a spectrum of colours from which to choose. The average cost for coloured concrete patio paving is around £45 per square metre.
Stained concrete is created by adding metallic compounds into the surface of the concrete where they react with the calcium carbonate. This results in a permanent colour change within the concrete. Stained concrete paving can create a dramatic look for your patio, and the cost is like that of coloured concrete paving around £40-£45 per square metre.
Stamped or imprinted concrete paving involves colouring the concrete first and then pressing a pattern into it as opposed to just an image on the surface. This gives it depth and texture. It has the advantage of being durable with many patterns and designs to choose from. Imprinted concrete ranges in price from £50-£100 per square metre.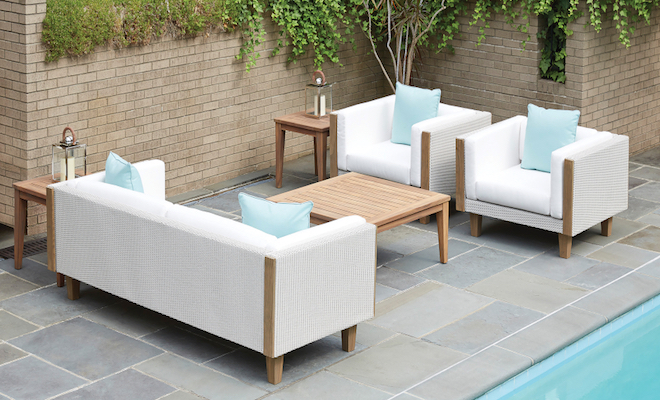 Decorative concrete paving can incorporate techniques such as staining, sandblasting and textured overlay. Textured overlay is achieved by mixing overlay powder with water to get a workable consistency, which is then spread over the primed substrate surface. It is levelled with screeding bars and then textured with either texture mats, stencils, textured rollers or other tools to achieve the decorative effect required.
Sandblasting uses stencils applied to the concrete, and the uncovered surface is sandblasted to achieve a decorative pattern. The etched pattern can be further enhanced with staining.
Engraved concrete paving involves staining the concrete first and then engraving a pattern into the material with a special routing machine. The effect of staining the concrete first is to create a contrast with the routed pattern.
Exposed aggregate concrete paving is a type of paving which has both domestic and commercial applications. There are two ways to achieve the exposed aggregate effect. The first is for the decorative aggregate to be pressed into freshly poured concrete; the second is where the top 2-6mm of the concrete is stripped away to reveal the constituent aggregate.
Cost for various kinds of decorative paving range from £40-£130 per square metre.
Patio Finishing Options
There are many finish options for your patio whichever material you choose. You can have a smooth finish with a high gloss or matt surface, a textured finish in different patterns and designs or a stained finish available in a multitude of colours.
Smooth finishes are available in most paving materials from concrete, porcelain, natural stone to marble with prices on average ranging from £40-£90 per square metre.
Textured finishes can be achieved through stamping or engraving, or they can occur naturally as in stone with a riven face. Stamped concrete costs between £50-£100 per square metre while quarried stone costs in the region of £40-£70 per square metre.
Coloured or stained concrete offers a wide choice of designs and patterns. On average the cost is around £45 per square metre but can be as much as £130 per square metre.
DIY Patio Laying
If you are confident that you know how to lay patio slabs correctly, have all the right tools and are aware of all the preparatory work and heavy lifting involved then there is no reason why it can't be a DIY project.
The first job is to decide where to locate the patio within your garden. Once you have found the perfect location, you then need to design it. You may take inspiration from magazines, friends' homes or television gardening shows.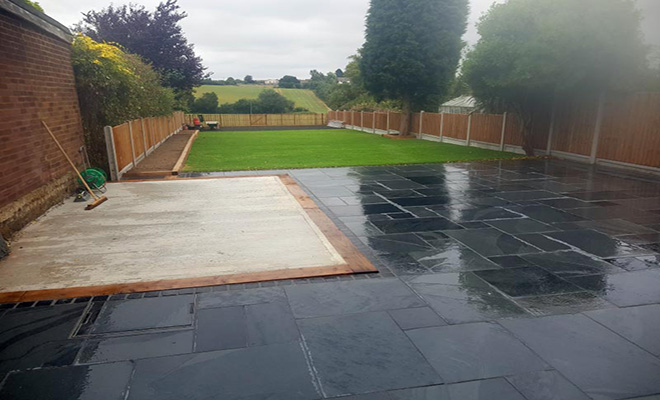 Next, you need to mark out the area. This is best done with wooden pegs and string. If you think this will impede work whilst digging, you can then mark the ground with spray paint. Before you put a spade in the ground; however, you should check that there are no underground cables or drains that could be damaged in the process. Cable and pipe detectors can be hired from tool hire shops at the cost of £45-£90 for a day.
Dig out the marked area or remove the existing patio or decking. It is likely that you will need a skip for the waste or make several trips to the recycling centre. When digging out remember to allow a fall of 1cm in 60cm for water runoff and if the patio is adjacent to the house, this slope needs to run away from the property.
You will need to calculate the correct depth to dig out by the amount of sub-base plus the layer of mortar plus the depth of the chosen paving.
If the patio is next to your house, then you must ensure that the finished level is at least 150mm below the damp proof course of the property to prevent damp problems in the future.
Once you have dug out to the correct depth you can add the sub-base aggregate to a depth, of approximately 80-100 mm. This will then need to be compacted with either a hired wacker plate or with the use of a tamper. Cost to hire a wacker plate for a day is approximately £30-£40.
Now you can put down the mortar for the first slab. Make sure that this first slab is square and level as all subsequent slabs will be laid against it. Use a rubber mallet to tap down the slab to level it. It is a good idea to wet the back of the slabs before placing to prevent the slab from absorbing too much moisture from the mortar mix and drying it out too soon.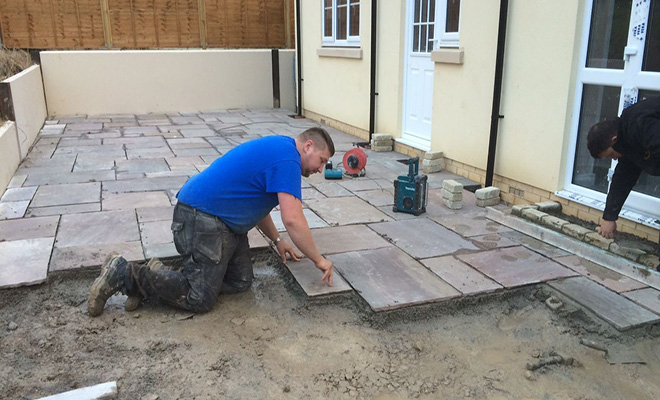 Carry on with the rest of the slabs, only laying the mortar when you are ready to lay the next piece of the patio. Check that the slabs are level as you go along and ensure you maintain the fall of 1cm in 60cm for runoff.
It is prudent to cover the area with a tarpaulin in case of rain and leave it for 24 hours to allow the mortar to set. Do not walk on the patio during this time.
You can now fill in the joints with mortar or jointing compound, or if the gap between slabs is less than 5mm, you can use sand.
Brush off any excess mortar or sand and wipe slabs if necessary, to avoid staining.
To do the job yourself, you will need the following materials:
✔ Paving slabs
✔ Sub-base aggregate
✔ Sand
✔ Cement
And the following tools and safety equipment:
✔ Spirit level
✔ String line & pegs
✔ Tape measure
✔ Wheelbarrow
✔ Trowel
✔ Shovel
✔ Rake
✔ Rubber mallet
✔ Bucket
✔ Tarpaulin
✔ Gloves
✔ Dust mask
✔ Goggles
✔ Ear defenders (if using wacker plate)
✔ Safety boots
| Tools | Price Range |
| --- | --- |
| Spirit level (900mm-1800 mm) | £10-£20 |
| String line & pegs | £5-£10 |
| Tape measure (5m-10m) | £5-£30 |
| Wheelbarrow (steel) | £35-£60 |
| Trowel | £5-£20 |
| Shovel | £15-£25 |
| Rake | £5-£20 |
| Rubber mallet | £5-£20 |
| Bucket | £2-£20 |
| Tarpaulin (6sqm-40sqm) | £5-£30 |
There are hazards to doing this kind of work as a DIY project, and in the UK thousands of people are injured doing gardening work every year. One of the most common issues is back injury as there is a lot of lifting, carrying and bending down involved. It is advisable for two people to carry out the work to minimise the risk of injury from overexertion.
Another commonly reported accident is foot injury when heavy items such as paving slabs have been dropped. Therefore, steel toecap boots are advised for this task, especially if you intend to use a wacker plate.
Inadvertently hitting an underground cable is probably not very likely but precaution should be taken nevertheless by using a cable detector. This is particularly relevant if you are unfamiliar with the garden, for example, if it is a recently purchased property.
Safety equipment is a matter of personal choice but is advised, and average costs are:
| Safety Equipment | Price Range |
| --- | --- |
| Gripper gloves | £2-£5 |
| Dust masks | £1-£5 each |
| Goggles (pair) | £2-£15 |
| Ear defenders | £3-£13 |
| Safety boots | £17-£120 |
Laying the paving yourself to reduce the patio installation cost can result in a good finish if you take time at each stage and inform yourself beforehand on the best approach to each step. A rushed job will look rushed, and you may end up re-doing some of the work later.
Using the correct tools will also help to give a professional finish, and anything you don't already have in your garden shed can probably be hired or borrowed.
If you are unsure of any part of the process trying reading some articles or watching instruction videos on reputable and recognised websites.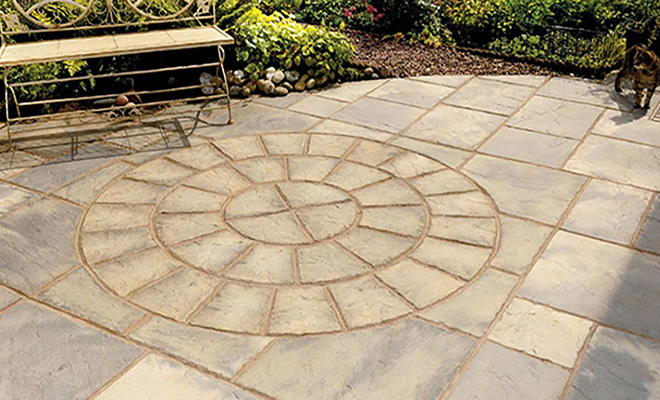 There are, of course, things that can go wrong. You may miscalculate the required depth by not allowing for the layers of sub-base, mortar and the paving slab so that it finishes at the correct level. This is why it is important to take your time and to seek information if you are unsure.
Cutting corners will store up problems which may become evident later. Not using a weed suppressant may mean weed growth through the paving joints, dot and dabbing mortar instead of a proper layer may result in movement of the slabs when walked on and not checking levels as you go along could result in a trip hazard on your new patio.
A typical issue is the omission of a proper fall of approximately 1cm in 60cm as some people may be unsure how it works and underestimate how important it is. If water is allowed to accumulate on the patio, it will cause damp issues if adjacent to the house, it may stain the paving material if it is porous and can encourage moss and algae growth which is both unsightly and a slip hazard. Taking the time to learn how to do this will be worth the effort and save money and time in the long term.
Hiring a professional whom you can trust is preferable if you have never done a project such as laying a patio before. Personal recommendation and an established reputation are good bases for choosing a professional patio installer such as a landscape gardener or builder. They have the knowledge, experience and the correct equipment to do the job properly, safely, and to a good standard.
The cost of hiring someone to lay your patio will potentially be the biggest factor in your decision and sticking to your budget is important. However, you should weigh the benefit of the time and effort it would take you to do the work as well as your desired outcome for a beautiful outdoor space.
To limit your expense of hiring a professional, there are things that you can do to reduce the overall cost. If you have an existing patio or decking, you could remove and dispose of this yourself. Taking things down is infinitely easier than building things up and requires no particular skill, although safety should be paramount and disposing of waste should be done properly and legally.
Digging up the area is best left to the installer as they will ensure that it is square, level and to the correct depth and with an appropriate fall for water runoff. However, if you are completely confident that you can do this part of the job, there is no reason why you shouldn't. It may be prudent to check with the installer first that they are happy for you to do so as it could impact on any guarantee for the work.
You can also purchase the slabs yourself although most landscape gardeners and builders will have access to trade prices. They will also know what the most suitable mortar or slab layer is to use for different paving materials and the right equipment needed for cutting the slabs.
Patio Drainage
Good drainage is vital when installing your new patio. As some of the paving materials are non-porous, ensuring that any water has an escape route is very important for the longevity and maintenance of your patio. Therefore, it is necessary to make sure that the gradient of the patio incorporates a fall for water to disperse from the surface of the paving.
Permeable materials will allow water to soak through and drain away through the substrate of aggregate under the paving leading eventually to the water table below. This is the most ecologic method for drainage as opposed to diverting surface or subsurface water to communal drains and waterways.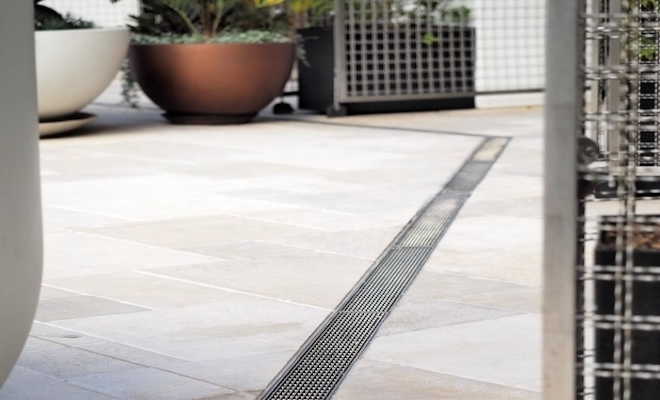 Inadequate drainage can result in repercussions, not only for the paved area but also for the rest of your garden and adjacent property. Some of the potential problems are:
Allowing algae and moss growth.
Potentially slippery surfaces.
Damage to the paving material.
Increased risk of ice.
Possible ingress of damp to the adjacent property.
Increased cleaning and maintenance.
Installing drainage channels or gullies when laying the patio will reassure you that accumulated surface water will have somewhere to go and alleviate any associated problems. Drainage channels are available in plastic and galvanised steel and cost on average from £5-£30 per metre.
Drainage channels can be installed at the bottom edge of the patio furthest from the house and where the gradient of the patio is at its lowest. For a drainage channel, you will need to dig a trench that is the correct depth to take the drainage channel and a minimum of 50mm of concrete.
The finished level should be 3mm lower than the surrounding paving to allow gravity to take the water into the channel. The trench can then be filled in and a grate placed on top of the drainage channel to prevent the entry of debris and leaves.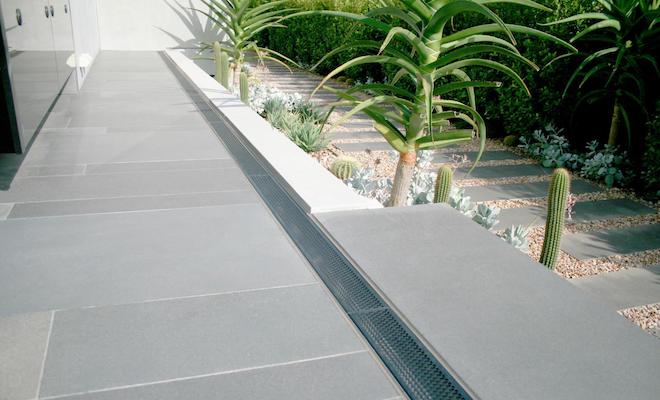 What is the Best Time of Year to Lay a Patio?
Mid to late spring is probably the best time of year to lay your new patio. If you want to enjoy your new outside space for the summer, then this is the time to decide what kind of patio you want, where to locate it, what type of materials you will use and who should install it.
With the weather warming up and hopefully not too much rain, spring is a good time to be working in the garden. Once the danger of frost has passed, then you shouldn't need to worry about the effect on the mortar and pointing a patio can be done with relative confidence.
Of course, with the British weather being as unpredictable as it is, there are no guarantees, so it is wise to take precautions by covering the newly laid patio with a tarpaulin while the mortar sets. You can also put an additive into the mortar mix that will prevent it from cracking in the event of a late frost.
If you are hiring a landscape gardener or builder to do the work, then you will need to book them well in advance of the summer to ensure you get to use your patio in the warmer months.
It's not advisable to try and lay a patio in the wetter months as the bedding mortar and joints may remain moist for longer and any foot traffic on the patio may dislodge the paving. In the hotter months, your mortar is in danger of drying out too quickly and potentially leaving you with loose or moving slabs. Heavy work in hot weather is not very comfortable either and can lead to dehydration or sunburn.
Alternatives to Patio
There are several alternatives to laying a patio including timber decking, grass, artificial, block paving and concrete.
| Material | Benefits | Cost per metre |
| --- | --- | --- |
| Timber decking | Natural material, looks attractive, can be built on a slope | £15-£90 |
| Grass | Relatively cheap, easy to install, environmentally friendly | £2-£10 |
| Artificial turf | Low maintenance, no watering, looks good all year | £10-£30 |
| Concrete | Inexpensive, variety of colour & texture, durable | £35-£50 |
| Block paving | Variety of colours & patterns, low maintenance, versatile | £25-£100 |
Timber decking is very popular in the UK and is available as hardwood or softwood. Hardwood comes from trees such as ash and oak which take a long time to grow and mature, hence the higher cost. They are more durable and less likely to split or crack.
Softwood is usually pine which a more abundant and faster-growing tree and is therefore much cheaper. Both are aesthetically pleasing, and the deciding factors between the two will likely be cost, maintenance and lifespan.
Timber decking can be prone to algae and most growth with prolonged periods of rain and if not properly maintained and cleaned can be a slip hazard.
Grass is the most environmentally friendly alternative to a laid patio. It is relatively cheap to install, allows water to permeate to the water table below and looks good if well maintained. Although in the summer months it can be a chore to mow when you would rather be sitting out enjoying the sunshine.
Artificial turf doesn't need to be mown of course and looks good all year round if you have chosen a quality product. Some fake grass does look very obviously fake, so it is worth investing in a mid to high range product. It is not entirely maintenance-free and does need to be hosed and cleaned with specialist cleaners to keep it looking its optimum.
Concrete is an inexpensive option for laying a patio and can be done relatively quickly as opposed to laying slabs. There is the option of adding colour to brighten an otherwise dull material although the colour is prone to fading over the years and may become patchy. Extremes of heat and cold can cause cracking and repairing just a portion of your patio can be tricky.
Block paving is very popular for driveways but can equally be used for patios and pathways. As the materials are individually smaller than slabs, it takes longer to lay and is more labour intensive. This can increase the overall cost. However, there is a wide variety of colours, sizes, shapes and potential patterns that can be achieved, and it is a very durable option.
Patio Maintenance & Repair Costs
Common problems that require repair on a patio include sinking or dipping slabs, broken slabs or blocks, cracking of joint filler and loose edging or drainage channels.
If a slab has become sunken or is dipping in one corner, it can present a trip hazard and should be remedied as soon as possible. Remove the slab carefully and set aside. If your laying slabs on sand, only then level the sand, adding more if necessary. If the slab has been set in mortar, then this should be removed, and a fresh bed of mortar laid down.
Before replacing the slab, wet the back with a paintbrush dipped in water so that it doesn't absorb all the moisture from the fresh mortar mix and cause it to dry out too quickly. Then, ensuring it is level, tamp down with a rubber mallet to bed it in. Finally, refill the joints. The cost to resolve a dipping or sunken slab will be the price of the sand and cement for the mortar mix or the sand. A 25kg bag of sand is less than £5, and the same quantity of cement is also around £5.
The same process can be used to replace a broken slab although be aware that, unless you have left over slabs from the original installation, the new slab is unlikely to exactly match the existing patio. Paving materials are no different from other materials, and batches can vary in colour, tone and texture.
Even if you have spare slabs leftover, they may look different from those that have been outside and exposed to the elements. However, with time they will begin to blend in. The cost of the sand and cement will be as above, approximately £10 and the price of the replacement slab will be dependant on what you are replacing.
Replacing a broken paving block is relatively simple, and it just needs to be removed with care, the sand underneath levelled out or added to if necessary and a new block put in its place. Again, it may take a while for the new paver to blend in with its neighbours. The price of the replacement paver will be dependant on what it is, and a 25kg bag of sand is less than £5.
Where there is loose and cracked joint mortar, it should be carefully removed, and the paving swept. A semi-dry mortar mix of four parts sand to one-part cement can be used to repair and replace the broken jointing. The mixture should be moist enough to bind but not too wet as it may stain the paving. Sand will cost around £5, and a 25kg bag of cement is the same, less than £5. A pointing trowel will cost on anything between £5-£20.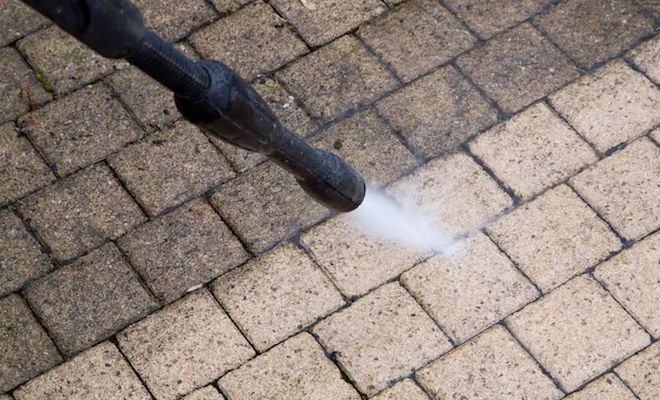 If edging or drainage channels become loose, then it may be necessary to remove them along with the old cement, a bolster chisel and mallet will be useful for this job. Once the area has been cleared out, you can mix fresh mortar and re-bed the edging stone or drainage channel, checking that it is level and in line with the surrounding paving.
Replacement edging will depend on what you have existing, and drainage channels cost between £5-£30 per metre depending on the type. A bolster chisel will cost between £5-£10 and a mallet £5-£20.
For your patio to remain in the best possible condition, regular maintenance is important. The first step is sweeping with a stiff brush to remove dirt, debris, moss and algae. If left on the surface of the paving, this detritus will encourage weed growth, and your patio will start to look unsightly very quickly.
There are many different patio materials, and there is a suitable cleaning solution for most of them. However, these chemicals should not be used on a regular basis as they can potentially damage the surface of the paving with prolonged and regular use. Instead, hot soapy water and a stiff-bristled brush are very effective along with some elbow grease.
Regular weeding is important, and it is preferable to remove the weeds by pulling them up by the roots rather than spraying weed killer, which is both environmentally unfriendly and may stain your paving.
It is a good idea to seal your paving as this will prolong the life of your patio and keep it looking its best for many years. Patio prices are not inconsiderable, and you want to make the most of your investment by prolonging the life of your paving. Different paving materials will require specialist sealer specific to them, and it is important that you use the right product for the right paving.
Pressure washing is not necessary, and in fact, a high powered jet of water and chemicals can do more harm than good by excavating the mortar from the joints. These will then need to be replaced. You can use a pressure washer if you wish but try to use it on the lowest possible setting to avoid dislodging the joint filler and directing the jet of water across the joints and not up and down them.
Prices for pressure washers are in the region of £200-£500, and it may be worth looking to hire one as it may be required only once or twice a year. Prices for hiring a pressure washer range from £25-£150 per day.
How to Seal a Patio
Prior to sealing your patio, it is important that it is cleaned and allowed to dry for between 2-3 days. Natural stone materials look beautiful in the garden and can make an outdoor space look stunning. However, they do require attention and maintenance on a regular basis to keep them looking good.
Due to the high absorbency of natural stone, the moisture content allows lichen, algae and moss to invade the surface, turning your beautiful paving into a dirty, mottled mess which needs regular cleaning. Fortunately, cleaning your natural stone is relatively easy and not too expensive.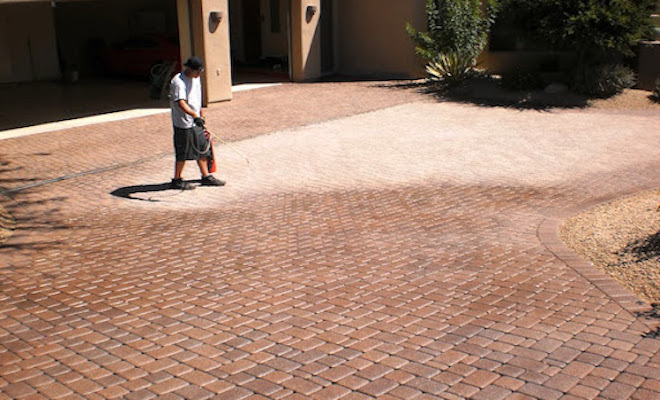 Concrete patio slabs are cleaned in the same way as natural stone, i.e. swept and then washed down with a warm soapy solution. If there are stubborn stains, they can be cleaned with a specific concrete cleaner. It may be tempting to use a pressure washer on a concrete patio, but it is not advisable as it is a very aggressive way of cleaning and can cause damage to the paving and pointing.
Porcelain is probably the easiest patio material to clean as it is non-permeable and will respond well to being swept and washed with a soap solution to remove surface dirt. There should be no problems with stains as the porcelain doesn't allow penetration of moisture. Again, there are porcelain specific cleaning agents available to help keep the paving looking good.
Sealing your Patio
Natural stone includes materials such as sandstone, granite, slate and limestone. These materials are inherently porous with sandstone being the most permeable. Limestone is a denser material but will still absorb water and is prone to fading with exposure to sunlight. Granite and slate have a low absorbency rate and do not need to be sealed.
The reason for sealing any paving product is to repel as much moisture as possible, maintain colour and to make cleaning and maintenance easier and less frequent. Unfortunately, no cleaning or sealing product will make your patio completely maintenance-free, and any claims in this respect should not be taken as fact.
When the paving slabs absorb moisture, it creates the perfect environment for the growth of moss, algae and lichen. These organisms thrive on these moist surfaces and can be difficult to remove, spoiling the look of your patio and posing a slip hazard in damp conditions.
Sealing the stone repels most of the water, thus protecting the stone from excess moisture and the associated problems. To seal natural stone, you should use an appropriate sealer for your specific patio material.
The process is relatively simple and should not take too long though this depends on the size of your patio:
Natural stone sealer costs in the region of £15 per litre although coverage will vary for different types of stone.
The biggest threat to concrete paving slabs is water collecting in minute cracks which then expand with the freezing/thawing process during the colder months. The best solution is to minimise the amount of water which can penetrate the concrete and hopefully prevent it from cracking. This is done with a concrete sealer which creates a waterproof barrier. The process is similar to that with natural stone sealer:
Concrete sealer costs approximately £12 per litre.
Porcelain is a very tough and durable manmade material; it is also non-porous. This is why it is such a popular tiling material in bathrooms. As non-permeable material porcelain does not require sealing and will repel water and other liquids, making it a very low maintenance surface.
Cost of Removing a Patio
Removing an old patio may be the first step if you wish to update and refurbish your garden. You may have just bought a property with an existing patio that is not to your taste or may be in a bad state of repair.
Or you may want to get rid of the patio altogether and replace it with something else such as decking or turf. There are many reasons for wanting to remove a patio, and the next question will be how to remove it.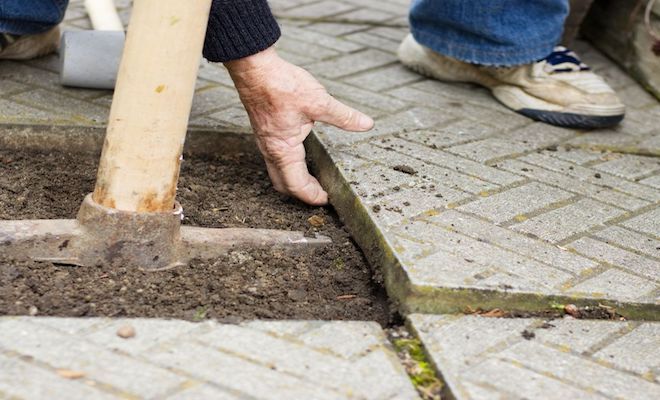 Of course, you can remove the patio yourself if you have the time, tools and energy to do so or you could hire someone to remove it for you. A tradesman will normally charge around £150 per day although they will rarely work alone, and you should allow another £100 per day for a labourer as well. The work should take no more than a day for two people.
Whether you hire someone to remove the patio or do it yourself, you will need to budget for waste removal, which will usually be via a skip. A 6 cubic yard skip will cost around £250-£300 and will accept approximately 6 tons of waste. If the skip must go on the road, then you will need a permit, and this will be an additional cost with prices varying between local authorities. If it goes on your drive or garden, then there is no need for a permit as it is off the public highway.
FAQs
How to Find & Hire a Patio Installer
Laying a patio is a very physical project, and not everyone can do it themselves. Even those who could, may choose not to and may prefer to rely on the experience and knowledge of a professional.
There is a peace of mind that comes from knowing that your project is in the hands of someone who is qualified and who can guarantee their work. This is important as if there are any issues you have recourse to the installer to put things right.
Most tradespeople charge around £150-£200 per day and will usually employ a labourer at a rate of approximately £100 per day.
Some paving manufacturers operate and accredited installer scheme making it easy to find a reputable professional with experience and qualifications. A personal recommendation is always a good option when choosing someone to do work on your property, especially if you can view any completed work done by them.
The British Association of Landscape Industries has a directory of members which you can search to find a landscape contractor who is vetted for skill, workmanship and health & safety practices. All tradespeople should have adequate insurance against loss, damage and injury, and it is important that you check this prior to hiring someone.
Sources
https://www.pgrtimber.co.uk/materials-calculator/patio-mortar-calculator/
https://www.pavingplace.co.uk/materials-calculator