How Much Does Decking Cost?
First, let's take a look at the factors that affect the cost of timber garden decking.
The cost of installing timber decking will depend on the size, quality and thickness of timber decking.
What are the different types of timber decking?
There are various decking materials available, the cheapest of which are pressure-treated pine products. Pine is affordable, aesthetically-pleasing and can be easily installed with nails and screws. However, they can suffer badly from splits and cracks.
You should expect to pay around £15 per square metre for budget timber materials.
Premium decking products are typically made from cedar or tropical hardwood boards, which tend to cost more than budget timer.
What's the cost?
Premium decking supplies tend to cost up to £90 per square metre.
What else affects the cost of decking?
The average price can vary greatly depending on location, preparation or excavation work.
What to Consider When Installing Timber Decking
There are many things you need to consider before having your timber boards installed.
You'll need to decide whether you want ground-level or raised decking.
Ground-level Decking
A ground-level deck is decking that is installed close to the ground. This option is the easiest to install as it doesn't require the use of a ladder. As the decking is near the ground, it typically does not need a stair installation, which will help to reduce costs significantly.
Another advantage of choosing a ground-level deck is that you do not need planning permission if your decking is less than 30cm off the ground.
Raised Decking
Raised decking, on the other hand, will normally require you to apply for planning permission, as the timber decking will be lifted off the ground. You may also need to purchase stairs to access the decking and railings for safety reasons which will increase the cost.
Many people choose the raised option, as it creates a great aesthetic while also reducing wear on your decking, as it is away from the ground and will, therefore, be less affected by mould and rot, allowing it to last longer.
Decking Prices
Timber decking is usually broken up into three categories – budget, medium and premium timber decking, which all have different qualities.
Budget timber decking is typically mass-produced and can be found in local stores. While medium timber decking usually offers a more bespoke design which allows you to customise mass-produced products. Premium options include hardwood boards and IPE boards which both offer a high-quality aesthetic.
There is also the option of choosing deck tiles over timber decking, which usually costs around £3 for hardwood and stone tiles, while composite decking tiles are generally priced at about £5. Decking tiles are also cheaper to install and are usually fitted on a DIY basis.
Below are some estimated costs of hiring a decking expert to build timber decking:
| Timber Quality | Size | Avg. Cost | Duration |
| --- | --- | --- | --- |
| Budget (£15 / sq. m) | 20 square metres | £900 | 2-3 days |
| Medium (£50 / sq. m) | 20 square metres | £1,600 | 2-3 days |
| Premium (£90 / sq. m) | 20 square metres | £2,400 | 2-3 days |
| Budget (£15 / sq. m) | 40 square metres | £1,400 | 4 days |
| Medium (£50 / sq. m) | 40 square metres | £2,800 | 4 days |
| Premium (£90 / sq. m) | 40 square metres | £4,400 | 4 days |
Here is a breakdown of the costs of different thickness sizes for timber decking:
| Thickness Size | Average Cost per m2 |
| --- | --- |
| 19mm | £35 |
| 21mm | £50 |
| 28mm | £80 |
| 35mm | £100 |
| 38mm | £120 |
Timber Decking Supply Only Costs
Thinking of installing decking yourself?
If so, you can save a significant amount on labour, however, you will also need to consider the following decking supply costs:
| Type of Decking | Size of Decking | Average Cost |
| --- | --- | --- |
| Budget decking boards (£10-£15 per square metre) | 20 square metres | £200-£400 |
| Budget decking boards (£10-£15 per square metre) | 40 square metres | £400-£600 |
| Medium decking boards (£30-£50 per square metre) | 20 square metres | £600-£1,000 |
| Medium decking boards (£30-£50 per square metre) | 40 square metres | £1,200-£2,000 |
| Premium decking boards (£60-£90 per square metre) | 20 square metres | £1,200-£1,800 |
| Premium decking boards (£60-£90 per square metre) | 40 square metres | £2,400-£3,600 |
Here are some additional decking supply costs you need to consider:
Supply
Average Cost
Decking post
£8-£12 each
Baluster
£1-£5 each
Hand rail
£4-£8 each
Railing Kit
£80-£135 per kit
Membrane
£20-£30 each
Preservative
£5-£10 per litre
Oil
£20-£30 per litre
Cost Breakdown Calculator
Individual Costs For Hiring a Decking Specialist To Install 20 Square Metres Of Medium Quality Timber Decking - Total Cost: £1,600
Labour Costs and Time Frames
Now, let's take a look at the decking installer rates and how long it takes to install timber decking.
A decking specialist will typically charge around £150 per day to install timber decking. Tradespeople will often work in pairs, which means you will have to pay double the day rate. However, extra help means the decking will be installed quicker.
How long does it take to install decking?
On average, decking takes around 2-4 days, depending on the area size and if any excavation work is required.
Are there any other tradespeople you need to hire?
To enhance your garden's aesthetic, you may want to consider hiring a landscaper who can fix or install fencing, apply gravel, and lay turf around your garden decking, create flower borders and more.
Landscapers tend to charge around £40 to £60 per hour depending on their experience and the specific job.
You may also want to hire a gardener who will maintain your garden by cutting the grass, keep your plants and watered and sort any grass or weed issues.
Gardeners typically charge around £20 to £40, although the rate usually depends on your location.
Additional Costs of Installing Timber Decking
To enhance the look of your decking you may want to consider additional jobs, such as:
Balustrades
There are a variety of different decking balustrades to choose from, including wooden balustrades which cost around £120 to £150 each, while glass balustrades can cost anywhere from £19 to £112 per panel.
Spindles
The cost of spindles depends on the material you choose, although the most popular options are pine wood (£1 to £13), white oak (£4 to £23) and primed wood (£2 to £34).
Posts
To support your garden steps, you will require newel posts, with prices starting from £30 to £47 for pinewood, £34 to £52 for hemlock wood and £33 to £58 for primed wood.
Steps
For a raised deck, you will need decking steps which start at around £9 for a three-step set and can increase to £1,000 for a full wooden staircase.
Joists
To lay your decking, you will need to install joists which will act as the framework for the decking. Decking joists can come in various sizes, and the ones you choose will depend on how much decking you want. The typical cost for joists is around £6 for pinewood, £10 for softwood, and up to £15 for hardwood.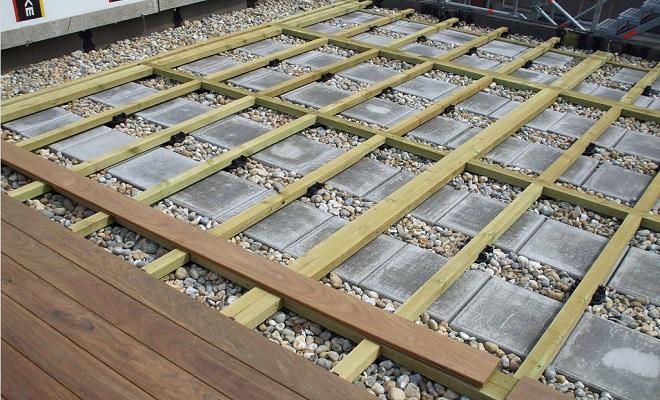 Lights
To enhance the look of your decking, you may want to add decking lights. There are various lighting options to choose from including path lights (£60 to £80 per light), floodlights (£60 to £115), and wall lanterns (£80 to £115).
Seating
For a large decking area, you may want to include a seating area to make your garden feel more homely and comfortable, with garden furniture sets starting at £280. You could also choose to install wooden benches which usually cost around £170 to £300 per bench, or for something more luxurious you could opt for a garden swing which is generally priced at £300.
Modular Deck Systems
A modular decking system is a perfect solution for anyone looking to reduce their costs, as this type of decking can easily be installed without the help of a professional. It has everything you need, including deck tiles which can be fitted in a matter of minutes. The price of a modular decking system is usually around £450; however, this will depend on the quality of the system.
What Does Installing Timber Decking Entail?
To help you understand the process of timber decking installation, take a look at the following guide:
The first thing that needs to be done before the installation is to measure the space in order to plan what materials you want to use, decide where you want your decking and how you want it to look
The next step involves mapping out where the decking will be installed using pegs, and a builder's line then clearing away any rocks, vegetation or even turf surrounding the area
Weedkiller spray should then be applied along with a weed barrier that should cover the entire decking area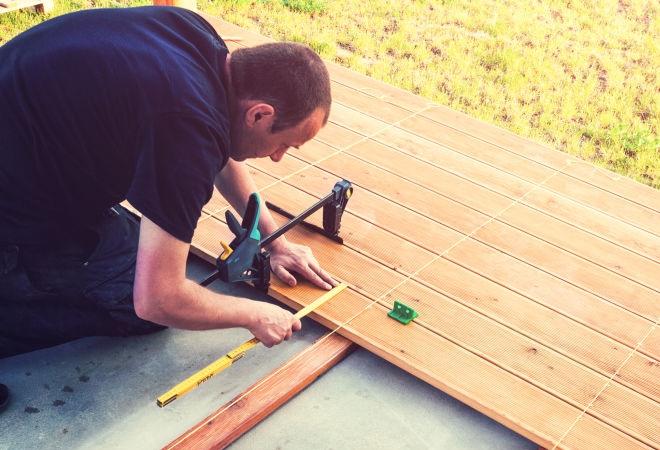 The next stage will depend on the positioning of your decking as there are several installations to choose from, including:
Laying it directly on the ground which will involve spreading waterproof pea shingle over the weed barrier then once this is complete the timber frame can be constructed by attached the joists together along the perimeter of the decking area. The joists will then be bolted together with galvanised screws
Laying the decking on concrete which will involve placing concrete slabs across the marked-out area, then the frame can be prepared and fixed together with joists. The timber frame can then be placed on top of the concrete and then fixed to an adjacent building or ground post so ensure it is secure
Laying a solid footing structure which involves constructing the outer frame first with joists. The space will be then market out to establish where the posts will sit. Posts will be then be screwed into the frame; then holes will need to be made to accommodate the posts
Once the posts are deposited in the holes, concrete should then be poured into each hole to secure the posts and timber frame in place. This should then be left to dry for 7 days before painting or making any other changes.
Pros and Cons of Timber Decking
Before installing timber decking, you should consider the following pros and cons:
Pros
✔ Timber decking is environmentally friendly, as the wood used comes from responsible producers who insist on the conservation of forests through the use of sustainable forest management and renewal through planting schemes
✔ Timber is one of the more durable materials, especially in comparison to composite and plastic decking
✔ Hardwood or IPE wood requires little to no maintenance and can last up to 40 years or more
✔ Timber is the only mainstream construction material that is a renewable resource
✔ Timber decking can also be customised to your tastes with a wide range of additional design features including balustrades, pergolas, trellises, garden steps and much more. Decking is almost infinitely customisable and can be extended, or feature different levels to make it further your own individual design
✔ Timber offers anti-slip qualities which enables a better grip than materials like composite, which will help to avoid any accidents during rainfall
Cons
✖ The colour of real timber decking can fade with exposure to Sun's UV rays. This is entirely normal, and many prefer the look of slightly weathered decking
✖ Low-cost timber can be high-maintenance and may require a new coat of paint once a year to prevent any cracks or splits
✖ Waterproof coatings may need to be applied to prevent rot which can be costly
✖ Timber can warp or bend over time
✖ Pressure-treated wood offers an unnatural aesthetic in comparison to hardwood boards
DIY Timber Decking Installation
The construction of low-level timber decking is a project that is well within the scope of most DIY enthusiasts. Still, when building the deck, it is crucial to follow the recommendations of the product manufacturer for the decking kit you purchase, while also making sure the correct tools are used, and the appropriate safety precautions are taken.
While you can save money with a DIY decking installation, if you are planning a raised deck, specialist expertise is required to ensure the deck is structurally safe for people walking on it.
Raised deck structures should be built by experienced installers to ensure that the deck is reliable and fit for purpose. Raised decks will also perhaps need planning permission, so it is always wise to consult a professional in any case.
Best Time of The Year to Install Timber Decking
According to experts, the best time to install timber decking is between October and April. Installing decking within this timeframe will preserve the natural aesthetic.
Having it installed in colder months like December and January will also allow you to get the most out of it during the spring and summer, which are the seasons where the garden is used the most. This will also ensure that your timber boards are thoroughly dried out, in contrast to the summer when timber tends to expand and contract, which can lead to damage.
Cleaning Timber Decking
Cleaning your deck is vital to ensure that is it stays in good condition.
In terms of ongoing maintenance, the decking should be kept free of leaves, and dust so needs an occasional sweep up. Plus, a chemical fungicide can be applied once a year to prevent mould, moss, algae and lichen growth (use a product specifically designed for decking to ensure it will not discolour the timber).
Decking can be pressure washed, but this should only be done on the lowest possible power setting.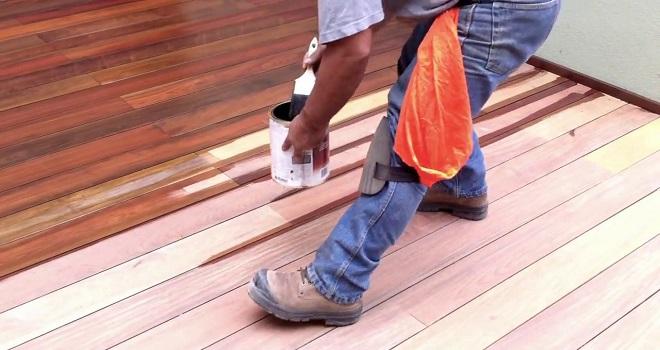 How to Oil Timber Decking
Before oiling, you should make sure that your decking is cleaned thoroughly using a wood cleaner, which typically costs around £17 per litre.
After you've finished cleaning, you should make sure that your deck is completely dry before applying any oil. You should try to use a high-quality exterior wood oil, which is usually priced at £24 per litre. This will help to main your timber decking as the majority of wood oils contain UV protection which prevents discolouration and also protects again mould or rot due to its waterproofing qualities.
You should be careful if you have IPE, Teak or exotic wood decking as this is naturally oily anyway, so you should try not to apply as much as this type of wood will not absorb excess oil.
Alternatives to Timber Decking
If timber decking is not for you, you may want to consider the following alternatives:
Composite Decking
Composite decking is fastly becoming the biggest competitor for timber decking. It's made from a mixture of wood, plastic and bonding agent to give it an authentic appearance which needs less maintenance than timber decking.
Composite decking ranges from £80 to £160 per square metre.
PVC Decking
PVC is a human-made decking create from a synthetic resin that contains no wood fibres and is completely plastic. It's low maintenance and easy to clean, but if the basic PVC decking is bought, it can have a 'plastic' appearance.
The average cost of PVC decking is around £30 to £80 per square metre.
Aluminium Decking
Aluminium decking has a lifespan of 60-100 years and isn't vulnerable to damp, rot, woodworm or mould. It's maintenance-free and slip-resistant in wet or icy weather conditions.
The price of aluminium decking costs anywhere from £40 to £90 per square metre.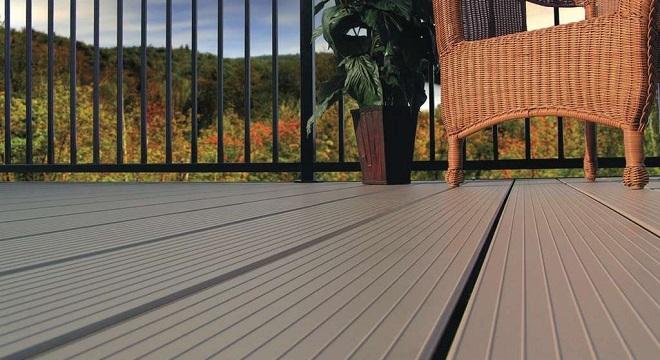 Plastic Decking
There are a variety of types of plastic decking, including recycled plastic eco decking, made entirely from recycled plastic. They require zero maintenance and are resistant to water, frost, moss and algae.
Plastic decking is one of the cheapest options, at £20 to £50 per square metre.
IPE Decking
IPE decking (also referred to as Brazilian walnut) and is one of the toughest hardwoods available. It has the same fire resistance as steel and concrete and is extremely dense. These characteristics make it a fantastic option for decking and also rather expensive.
You should expect to pay around £60 to £110 per square metre for IPE boards.
Trex Decking
If you're conscious about the environment, Trex decking is constructed from 95% recycled materials, a combination of reclaimed timber, plastic and sawdust. It's resistant to rot, wrapping, and never needs to be sanded or sealed.
The average cost of trex decking is approximately £50 to £80 per square metre.
Removing Timber Decking
You may need to remove or replace timber decking in the garden if it has begun to rot or you want a completely new decking system.
To do this, you may need to call in a professional to remove your decking planks, who will charge around £100 to £500 a day for removal and waste disposal.
You could also remove it yourself and hire a skip for around £140 to £300, depending on how much waste you have.
If you have raised decking, you should start by removing the staircase and any fencing or railings surrounding the decking planks which can easily be removed with a drill or screwdriver.
Once this is out the way, you can work your way down to the posts which will be secured with concrete, which will require a shovel to shift it. However, if it is new you might need help from a friend or a professional.
You can then remove all the timber, and either keep it and recycle it or throw it in the skip.
FAQs
How to Find & Hire a Timber Decking fitter
For high-quality decking installation, you should consider hiring a decking professional who will ensure that your decking is fitted properly and lasts as long as possible. This should cost around £150 per day.
This job may also involve hiring a landscaper, who usually charges around £40 to £60 per hour or a gardener for £20 to £40 per hour. Before hiring any of these tradespeople, you should consider their experience and also check to see if they have public liability insurance should any damage or accidents occur while fitting the decking.
Sources
https://www.wickes.co.uk/how-to-guides/garden-landscaping/plan-build-a-raised-deck
https://goberco.com/why-slope-a-deck.html
https://www.jacksonwoodturners.co.uk/planning-advice/planning-new-staircase/stair-parts-price-list
https://www.thespruce.com/best-decking-materials-pros-and-cons-2736284
https://www.barbourproductsearch.info/pros-and-cons-of-timber-decking-blog000470.html
https://www.lawsons.co.uk/blog/landscaping/composite-vs-timber-decking
https://www.diy.com/ideas-advice/how-to-build-a-basic-ground-level-deck/CC_npci_100130.art
http://www.wocadenmark.com/guide/how-to-clean-oil-and-maintain-a-wooden-deck
https://www.sgwoodflooring.com/articles/what-are-the-pros-and-cons-of-timber-decking.html