How Much Does Decking Cost?
Installing composite decking is a popular choice for homeowners who want to achieve that natural aesthetic of wooden decking but don't want to keep up with the maintenance of it.
Typically, the cost for composite decking will be around £100 for one m2, however, this may vary depending on the quality of flooring or specific suppliers.
What will the overall cost depend on?
Based on this, the overall cost of the flooring will be dependent largely on the size of the decking area being produced.
Tradespeople may also include the cost of some additional costs for other materials (adhesives, sealants, etc), but these are likely to be nominal except in some larger projects.
There are several different options you can use for composite decking including Wood-plastic composite (WPC), Capped composite, and PVC composite, this article will discuss their difference and range of prices for each.
Overall, composite decking cost is around £1,600 for an average 15 sq. metre garden including labour costs, materials and waste removal.
This is typically a higher cost than installing timber decking however, you will save a lot more money in the long run as composite decking requires a lot less maintenance and possible rotting or repairs.
Composite Decking Prices
Below are some estimated costs of installing composite decking:
| DECKING TYPE | SIZE | AVG. COST | DURATION |
| --- | --- | --- | --- |
| Hardwood Timber | 15 Square Metres | £1500 | 1-3 Days |
| Solid Core Composite | 15 Square Metres | £1600 | 1-3 Days |
| Solid Core Composite | 30 Square Metres | £2750 | 1-3 Days |
| WPC Composite | 15 Square Metres | £1600 | 1-2 Days |
| Capped Composite | 15 Square Metres | £1800 | 1-3 Days |
| PVC Composite | 15 Square Metres | £2000 | 1-4 Days |
Supply Costs
If you're installing composite decking yourself, then you will have to pay for the decking materials, which include:
| DECKING TYPE | SIZE | COST PER BOARD | AVG. COSTS |
| --- | --- | --- | --- |
| Budget WPC boards | 20 square metres | £10-£25 | £300-£600 |
| Budget WPC boards | 40 square metres | £10-£25 | £500-£900 |
| Average WPC boards | 20 square metres | £30-£60 | £600-£1,000 |
| Average WPC boards | 40 square metres | £30-£60 | £1,300-£2,000 |
| Deluxe WPC boards | 20 square metres | £70-£100 | £1,400-£2,100 |
| Deluxe WPC boards | 40 square metres | £70-£100 | £2,200-£3,500 |
In the table below, you'll find any extras that are needed when installing composite dekcing and their average costs:
| SUPPLY | AVG. COSTS |
| --- | --- |
| Composite decking post | £15-£25 each |
| Composite balustrade | £1-£10 each |
| Railing kit | £80-£140 per kit |
| Membrane | £25-£40 each |
| Adhesive & sealant | £3-£6 per tube |
| Composite oil finish | £45-£60 per gallon |
Additional Costs
Installing composite decking can offer a range of other opportunities to complete extra jobs around your house and garden.
If you need to install joists before laying your decking, you may need to buy them separately as a part of your supply costs.
Costs of joists is between £8-£15 depending on sizing.
This is the perfect time to explore and add new options within your garden and outdoor areas.
You can lay turf for around £700 for a 50 square metre garden or install artificial grass for the higher price of £2500 for a 50 square metre garden.
Hiring a gardener to tend to garden maintenance will typically cost around £20 an hour.
If you need to add garden furniture, this can cost anywhere between £30-100 depending on the amount and the quality of your furniture, especially if you have a large garden.
You can also install outdoor security lights for around £150.
Composite decking isn't the only choice for decking materials, there are plenty of different alternatives which may suit your household better.
Below is a selection of different materials and their average costs per m²:
| DECKING TYPE | AVG. COSTS PER M2 |
| --- | --- |
| Composite | £30-£80 |
| PVC | £30-£70 |
| Aluminium | £50-£100 |
| Plastic | £30-£60 |
| IPE boards | £50-£100 |
| Trex | £50-£90 |
Cost Breakdown Calculator
Individual costs of installing composite decking (15 square metres ) - Total Cost: £1600
Labour Costs and Time Frames
The time for the labour involved is typically a few days, but this could be less depending on the size/complexity of the installation.
If it was a smaller decking size, it may well be possible to be installed within 1 day, which could also save money on the time to complete, but an average decking can often be between 2-3 days.
For the tradesperson, they would typically charge their normal day-rate for this type of job - commonly around £200.
For any additional complexity or issues that may arise, this could incur additional costs where more time has been spent by the tradesperson to complete the work.
You can hire a decking specialist for fitting composite decking, or you can decide to hire a landscape gardener for the job.
Landscape gardeners are trained in many different installation jobs and you may find when comparing quotes that this is the best option for you, each circumstance and area is different so you should always ensure that you've done your research on each candidate before hiring.
What is Composite Decking?
Composite decking (aka Wood-Plastic decking) is a recent material which offers the beauty of modern decking but without the typical work and maintenance required.
Composite decking is a man-made material that has the natural look of hardwood and has become the fastest growing decking material in the UK.
Composite decking is usually made from recycled plastic and wood, which in practice comes from discarded plastics which have been recycled and wood chippings/sawdust, so this is much less harmful to the environment than other types of decking.
But the main reason people buy composite decking is for convenience, this material needs virtually zero maintenance as there is no need to sand or treat the surface regularly.
Plus, the composite boards don't fade in the sun and really only need a wipe down with soapy water once every year.
The majority of retailers are so confident in the quality of composite decking that they offer a guarantee of quality for 10 years or more.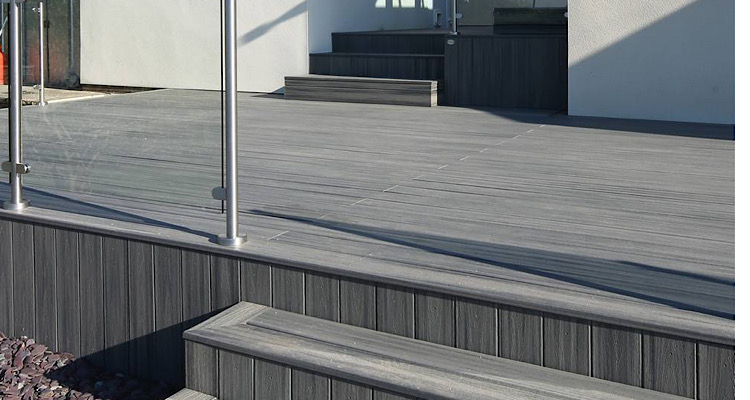 Because of the plastic component, composite decking is highly resistant to rot and damp, plus is also incredibly strong so won't warp, twist or splinter.
Composite decking is also highly resistant to UV rays so won't fade in the sun, but unfortunately all of this does come at a cost.
Composite decking board for board is more expensive than wooden decking and it can't be sanded-down or stained a different colour if you decide you fancy a change!
Some may also argue that composite decking doesn't have the same traditional feel of a timber structure, there is some truth to this, but on the whole, it does a pretty good job and you would need to have a serious good look to tell the difference.
Cost Affecting Factors of Fitting Composite Decking
Although we have stated an average cost of composite decking, each installation will differ with added costs depending on your specific circumstances and extras you may want to add.
Most of these factors are within your control, so you can alter your installation costs to your preferred budget.
Size
It may seem obvious, but the size of your decking can drastically change the price of your installation.
A standard and popular size of composite decking is around 12' x 24', which can cost around £2,000, this will increase per Sq. metre for between £20-60 depending on the quality of boards.
Type
There are three main types of composite decking which are the most popular in homes, each with their own benefits and cost differences.
WPC decking is an ideal cheaper choice with classic wood features, ranging from £20-£50 per m².
Just up from that is capped decking, slightly higher in price and perfect for a diverse range of weather conditions, at £35-£60 per m².
For a higher budget, there's PVC decking, incredibly high quality and low maintenance, at a cost of around £40-£80 per m².
Removing the Old Deck
It may be that you want to replace your old timber decking with composite decking due to structural damage or weather issues causing rotting and decay.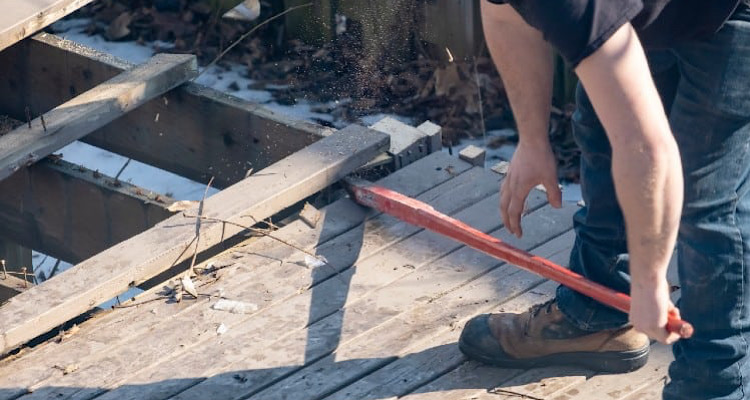 If so, you will have to call in a professional to remove your previous decking boards. This can cost between £100-£400 a day for removal and waste disposal.
Grading/Levelling
If you're working from uneven ground, you may have to fork out the extra costs of grading and levelling your ground to create a solid surface for your taking.
The average cost for a professional to do this job is around £400, however this can escalate starting from £200-800 depending on the size of the ground.
What Does Installing Composite Decking Entail?
Installation of composite decking generally costs the same as traditional wooden decking.
However, different composite manufacturers have different fitting guidelines, so the instructions need to be carefully followed to avoid problems using the included fasteners and parts for your chosen boards.
Composite decking is not as strong or as stable as wood decking and it is vital that you leave the correct spacing between boards to compensate for this additional movement.
You also need to leave a specific gap between the decking boards and any abutting wall to allow for expansion during hot weather.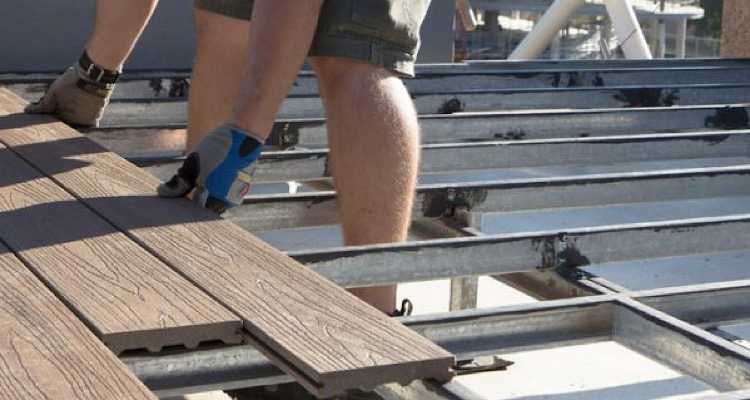 Failure to leave sufficient expansion gaps will lead to warping and buckling of decking boards in hot weather.
Most installers will use the same process as fitting a wooden deck with subtle technique variations to suit your specific needs and preferences.
Before a professional arrives to start the job, you should ensure that there are no prior issues with mould and damp on your property as this may make the installation process longer and more difficult.
If so, then it's best to get this sorted and fixed before installing any new decking.
DIY Composite Decking Installation
Installing composite decking is a popular job for DIY enthusiasts and is a great for those working on a budget and searching for a cheap composite decking alternative.
If you have to correct tools, materials and knowledge, a DIY job is definitely an option to keep the costs of your project down as all labour costs will be wiped.
However, this is not an easy task to undertake so if you're feeling unsure, it's always best to consult an expert for advice.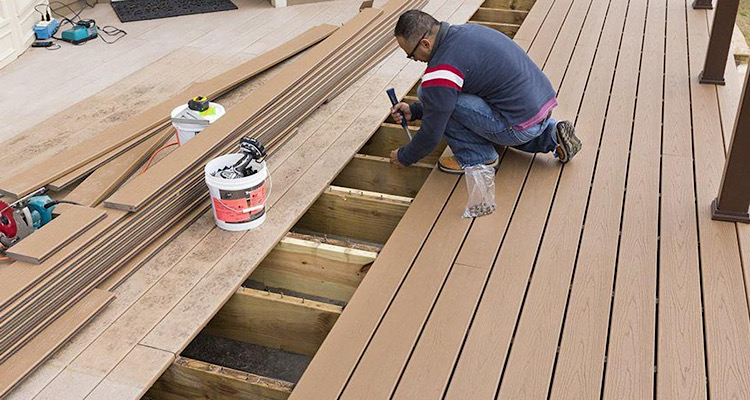 But, if you're feeling up to the task, here is a general idea of how you will go about the installation process.
You'll need:
Chalk line
Tape measure
Carpenter square
Spacing tools
Joists
Starter clips
Materials
Preparation
Before any work starts, you need to be certain on exactly what material you want, the tools you have/need to get, and the readiness of your chosen working area and measuring it out, if you're unsure on any of these details, consult a pro or a fellow expert DIYer to guide you.
Prior to getting started, you'll need to make sure you're installing over a flat-based and secure sub-base, if not, this may result in extra costs and work on composite joists.
You'll have to place down your joists all around the edges of your decking space and lay in parallel rows with spaces between each one and walls.
Laying Boards
Next, you'll have to attach starter clips to the ends of your joists before laying down the decking boards, so you place accurately with peace of mind.
You should then be ready to start placing the boards down by either nailing/screwing them onto the sub-floor, repeating this until you reach the end of each row's joist and continue all the way round.
Finishing and Waste Removal
After this, your decking will be pretty much complete, now you can clean up any extra material waste, and debris or mess from outside, wipe down your boards and add any decorations or garden trinkets.
There will also be a variety of maintenance and finishing you'll need to do to ensure your decking is long-lasting and looked after, however, composite decking requires a lot less maintenance than timber decking.
Choosing Composite Decking
Composite decking comes in all different types, and it's important that you pick the right one for you, your house, and your environment.
Each one has their own unique style, benefits and price ranges, so it's best to read up on each so you can pick the best one for you.
Below is a selection of composite decking types with their advantages and pricing.
Wood-Plastic Composite Decking Cost
Wood-plastic composite, also known as WPC, is one of the most common and popular choices for decking, it's best for people looking to spruce up on a budget with the same look as natural wood without the high maintenance.
The use of thermoplastics and wood fibre produces lovely natural features for those looking for a classic wood-styled finish.
It is composed of wood fibre and thermoplastics to create a stunning finish which looks like hardwood.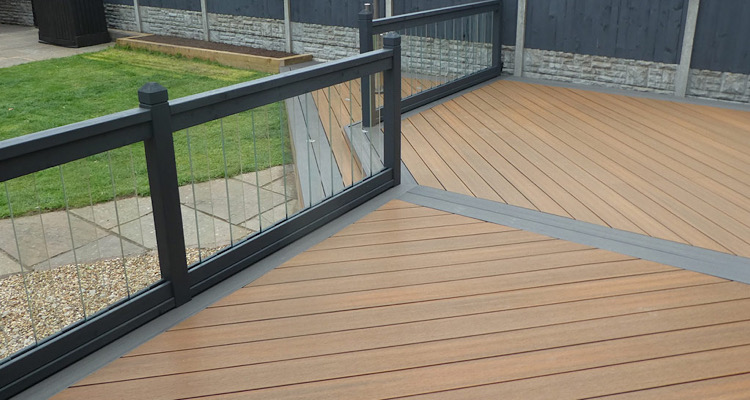 If you're looking for an environmentally friendly option, WPC is a great sustainable choice as it's generally built with recycled substances.
It's also immune to rotting and decay, making it a low-maintenance option and a lot less hassle.
WPC composite decking boards can be priced around £20-£50 per m², a perfect option if you're searching for a composite decking cheapest price.
Capped Composite Decking Cost
Capped composite is a type of decking which is extremely durable and long-lasting.
It is a great substitute to wood or plastic decking as it's shielded by a resistant polymer shell, protecting it from rotting, decay, staining, and scuffs.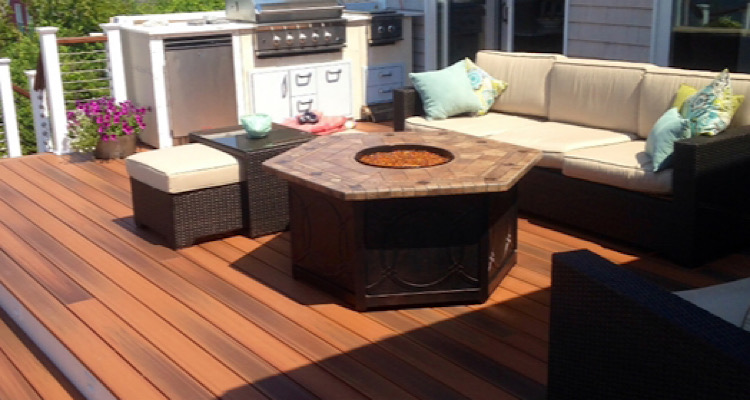 The polymer shell provides year-round protection from an array of different occurrences, making it the perfect spot for hosting parties or guests.
Capped composite decking boards can cost between £35-£60 per m².
PVC Composite Decking Cost
Polyvinyl chloride , also known as PVC, is a bit pricier due to its low maintenance and high-quality finish.
PVC doesn't contain any wood, making it an ideal option for a loud household as it's extremely effortless to clean and tend to.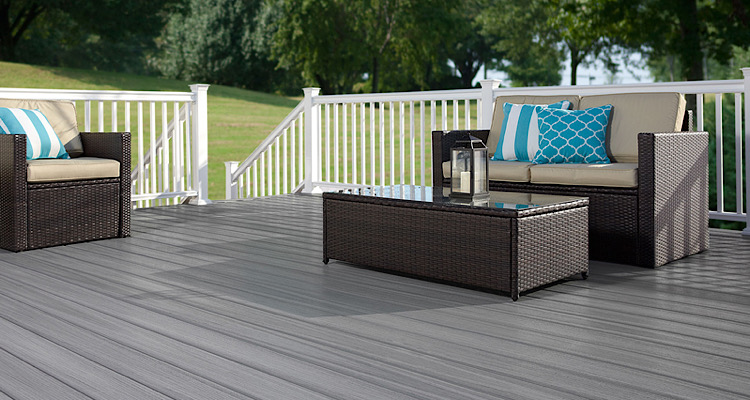 It is also another sustainable and environmentally friendly option as it uses recycled plastic decking materials.
PVC decking boards price range from £40-£80 per m².
Alternatives to Composite Decking
Composite decking is a great option for your outdoor furnishings, however there are plenty of other different options that may suit your specific circumstances and housing environment.
It's best to look at all your options before making a decision so that you're sure you're getting the best deal for you.
Any housing addition can be life-changing so it's important to be informed and prepared.
Aluminium Decking Cost
Aluminium decking has a lifespan of 60-100 years and isn't vulnerable to damp, rot, woodworm or mould.
It's maintenance-free and slip-resistant in wet or icy weather conditions. Typically cost between £40-£90 per m².
Timber Decking Cost
Timber decking is a classic choice for those looking for traditional decking with a classic wood feel.
It's important to consider that they are rather high maintenance, especially when exposed to the elements.
The average cost can be anywhere between £20-£100 per m² for various qualities of timber.
Patio Cost
A patio may be the perfect choice for you if you want to make use of a larger space and host alfresco dining opportunities.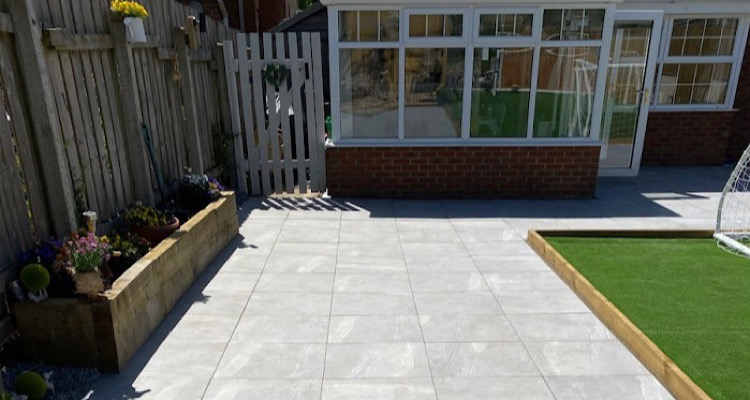 This can also cover up grassy areas, making your garden easier to maintain.
Average patio pricing is around £20-£40 per m² for slabs.
Lawn Cost
A garden lawn is the staple of a classic garden area, if lay down professionally and maintained well, it can offer a long future within your home.
It's the perfect option if you have dogs or children as they can play safely and comfortably, there's also the benefit of now clean-up after mucky pup feet marks and shoes.
The cost of a garden lawn is typically around £650-£750 for a 50 square metre garden
Composite Decking Maintenance Cost
Although composite decking is a simple low-maintenance option, it's important to check in and take care of it several times throughout the year.
This doesn't necessarily have to be strenuous work but can make a huge difference to the longevity of your decking.
This can be as simple as brushing off leaves during autumn time and cleaning with warm water and soap in the summer if it's being used regularly.
However, it should undergo a thorough clean at least twice a year and general cleaning after use.
Because of the wood and plastic composition, composite decking is particularly susceptible to mildew if your boards are uncapped.
Keeping surfaces dry and clean is the most effective way to fight mildew so a basic power washer with a specialised decking cleaning product can be used to combat the growth of mould and mildew.
Capped composite decking products are effectively sealed so mildew and mould cannot attack the wood.
But these capped decking products are more expensive and can cost up to £50.
Different maintenance products include composite decking reviver for between £60-£70 and composite decking cleaner for £40-£50.
However, make sure to ask your installer on the best options for your exact decking to ensure you're looking after the area correctly so that it doesn't react to a bad chemical.
Cost of Removing Composite Decking
You may need to replace or remove your composite decking if it's suffered heat damage, deep scratchings, or reaction to certain chemicals.
To do this correctly, it's best to call in a professional to remove your composite decking boards, they will typically charge around £100-£400 a day for decking removal and waste disposal.
However, if you feel like undertaking this task yourself, you can call a skip hire for between £200-£500 depending on the size of waste if you don't want to keep the boards for yourself or recycle.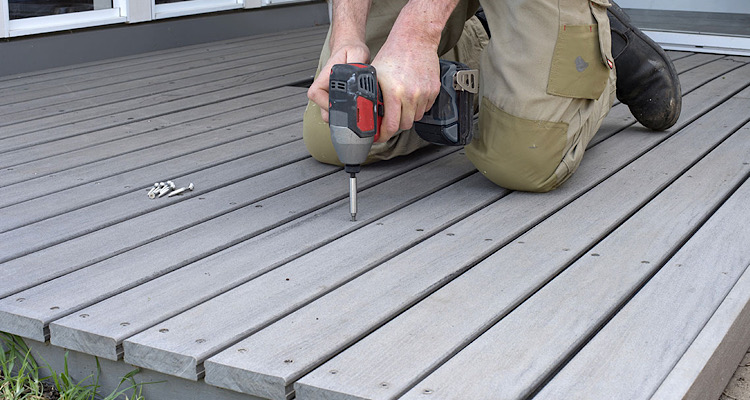 To remove composite decking, you'll have to remove any fences, rails, or staircases if the decking is raised, before beginning to remove your boards with a screwdriver. Once the nails and starter clips, you can start to take out the planks with a shovel.
For this you may need the assistance of a handy friend or a professional.
If you're ever uncertain about removing your decking, then ALWAYS consult a decking expert to avoid any accidents or mishaps.
Removing decking can potentially be a dangerous job if done incorrectly and it's imperative to put your safety first over a cheap fix.
FAQs
How to Find & Hire a Composite Decking Installer
For a top quality composite decking UK installation, you want to make sure you have the best person suited to your needs who will make sure that your decking is installed correctly and seamlessly.
You could potentially hire a landscaper who could charge around £30-£50 per hour, or a gardener which can be between £15-£40.
Before settling on a tradesman, there are several things you should look out for and ask.
Experience
Make sure that the contractor you're choosing has prior experience in installing composite decking and ask for previous references or pictures of their jobs.
You should also ensure that they have relevant liability insurance
Quotes
Establish an average amount of how much you agree the job should cost and compare quotes with several contractors, if four are in the same price range and one is way higher, then you can get an idea of the normal price range.
Ensure You're Comfortable With Them
You always want to hire someone who you feel happy with in your home as there may be certain occasions when you need to nip the shop or leave them alone for a bit. So, it's best to have a chat and get a feel for whoever you decide to pick.
Set Up a Payment Plan
Once you've agreed on a price, set up a payment plan that suits both parties, whether that's through a direct debit or cash.
Make sure to ask for a receipt to avoid any potential future disagreements.
Sources
https://earlyexperts.net/costs-guides/composite-decking-prices-and-tips/
https://uk.trex.com/products/composite-decking-price-landing/
https://www.timbertechuk.co.uk/pricing