How Much Does Lawn Treatment Cost?
There are a number of treatments available for lawns that can help improve their appearance, health and durability depending on your needs – Some of which are suitable for home DIY application, and others that will require a qualified professional to complete.
On average, basic lawn treatments costs start at around £15 for basic work on a small (50m2) lawn, up to around £180 for more labour-intensive and time-consuming services in larger lawn areas, but keep in mind that the cost of lawn treatments are affected by a few factors, such as the severity of the issue being addressed, your location within the UK, the size of the lawn being treated and who will be providing the treatment service.
Lawn Treatment Prices
There are several types of lawn treatments available throughout the UK from a number of lawn specialisation companies and independent gardening firms.
Seasonal lawn care treatment usually includes basic care and maintenance customised for the time of year, and are generally the most budget-friendly lawn treatment services available:
| Treatment type | Size of lawn | Average Cost |
| --- | --- | --- |
| Seasonal Treatment | 50m2 | £15-£18 |
| | 80m2 | £20-£23 |
| | 130m2 | £25-£28 |
| | 170m2 | £30-£35 |
| | 240m2 | £40-£45 |
In addition to seasonal treatments, lawn care experts offer a variety of other services to help maintain garden health, the cost of which will depend on the size and severity of your lawns' condition:
| Treatment type | Average cost |
| --- | --- |
| Scarification | £45-£120 |
| Aeration | £30-£80 |
| Overseeding | £60-£160 |
| Topdressing | £80-£180 |
| Systematic fungicide | £45-£120 |
| Contact fungicide | £45-£120 |
| Nematodes (pest control) | £35-£85 |
| Slowmow | £15-£45 |
It should be noted that treatments such as overseeding and topdressing prices vary greatly according to the existing condition of the lawn, grass and soil type; the price for these treatments is estimated towards a worst-case scenario in which the whole lawn will need treatment rather than a limited area.
Supply Costs
As an indication, you can expect to pay the following for treatment and treatment equipment if purchased independently:
| Treatment | Frequency | Cost of product |
| --- | --- | --- |
| Lawn feed | Per treatment | £5-£21 |
| Pest control (Nematodes) | Per treatment | £20-£45 |
| Lawn scarifier | One-off purchase | £30-£60 |
| Lawn aerator | One-off purchase | £8-£45 |
Additional Costs
In addition to having your lawn treated, there are several garden-related jobs that you may want to consider undertaking at a similar time to compliment your garden's aesthetic.
Garden Maintenance
You could consider hiring a professional for garden maintenance if you find you have little time to undertake the work yourself, or don't have a particularly green thumb.
Regular garden maintenance is key in keeping your property looking presentable, maintaining kerb appeal and helping to reduce the likelihood of pests and moulds going unchecked. Garden maintenance costs can start from as little as £15 per hour.
Re-stain Woodwork
If your lawn is being tended to frequently, it makes sense to ensure the rest of your garden looks pleasing as well; and this includes any woodwork that may have been neglected such as sheds and fence panels.
Wood stain starts from as little as £1 per litre to purchase, or you could hire a professional to complete the work for you, depending on your budget and availability.
Erect a New Fence or Garden Wall
If your garden-space is looking particularly run-down, it may be worth considering installing a new fence or garden wall to brighten up the space.
Depending on the size of your garden perimeter, a new fence could be as cheap as £650 including materials and installation, and brick walls can cost as little as £50 per square metre.
Paint House Exterior
Again as a means of maintaining aesthetic, it may be worth having your external walls repainting whilst undergoing garden maintenance.
A professional will charge roughly £750 for labour and materials (assuming a 3-bed semi-detached home with all walls being painted), or you may wish to do the work yourself, with exterior paint costing roughly £3 per litre.
Patio Cleaning
Another means of boosting the visual impact of your garden space is to have your patio cleaned, either professionally or by yourself using a pressure washer, to remove built-up dirt and grime from the surface. A hired professional will charge between £150-£400 depending on the size and severity of dirt being removed.
Tree Stump Removal
Apart from being unsightly, a tree stump in your garden, and particularly within a lawn space, can cause a plethora of issues to your lawn and surrounding foliage. Tree stump removal services can be as cheap as £40, though it will largely depend on factors such as the width of the stump, type of wood and which removal method is recommended to you.
Cost Breakdown Calculator
The average cost of lawn treatment for a 180m2 lawn: £50
Labour Costs and Time frames
Most lawn treatment specialists' factor in the cost of labour with the treatments they are supplying, usually allowing between £15 to £50 per hour for their time.
Depending on the size and condition of your lawn, as well as the treatment that it is undergoing, the timescale for work can range from 30 minutes to upwards of 4 hours.
What Does a Lawn Treatment Entail?
There are a number of lawn treatments available on the market to help with a multitude of issues.
Before any professional treatment begins, your lawn expert will visit the property and analyse the lawn state to enable them to recommend the most appropriate treatments. The analysis may include soil samples, determining the most prominent grass type, the turf density and colouration of your lawn.
Depending on the type of treatment needed, the method of application varies.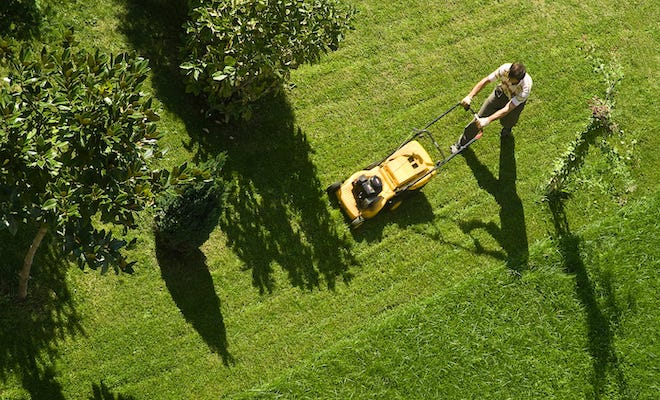 Some treatments, such as lawn feed, fungicides, and slowmow, are sprayed onto lawns, taking care to cover affected and desired areas. After these treatments have been applied its recommended that grass isn't watered afterwards, ideally for a couple of days, to allow the products to penetrate the grass.
Nematodes are also applied through a spraying process, but as they are living organisms, many experts recommend watering the lawn prior to their application so that there is enough moisture in the soil for them to penetrate the ground and thrive.
Scarification and aeration are manual jobs, involving physically manoeuvring specialist equipment across the lawn to break up and remove thatch that impedes lawn growth. Some clean-up may be required afterwards to remove unwanted thatch and soil plugs.
Topdressing is also a manual process, layering an organic mixture of composted materials across the lawn to add nutrients, followed by brushing or raking into the ground to ensure penetration.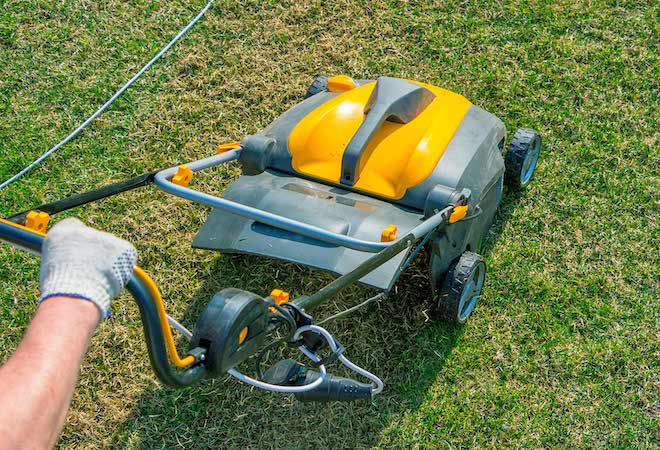 To prepare a lawn for overseeding, it's recommended that the area is either raked prior to application if there is little thatch, or scarification may be required for more neglected lawns – This will allow the grass seeds greater contact with the soil, allowing for more successful germination.
Once the lawn is ready, overseeding does not require machinery; instead, the products can be hand sown into the desired areas.
Cost Affecting Factors of a Lawn Treatment
There are multiple factors to take into consideration that can affect the overall cost of lawn treatments.
Lawn condition
The condition of the lawn prior to treatment will affect the cost of work to be completed; a lawn that is in poor condition will likely need more treatments and treatment types to improve quality than a lawn that has been well maintained and only requires infrequent or basic treatment.
Lawn Size
The size of the lawn requiring treatment will have one of the biggest impacts on prices, with larger lawn areas obviously taking a greater amount of time to treat than smaller ones. Most UK lawn treatment specialists price work according to the time taken.
Number of Treatments Required
The number of treatments required will impact the overall cost of lawn maintenance. A one-off treatment will be cheap compared to a lawn requiring regular, corrective treatments, or a lawn requiring several treatment types.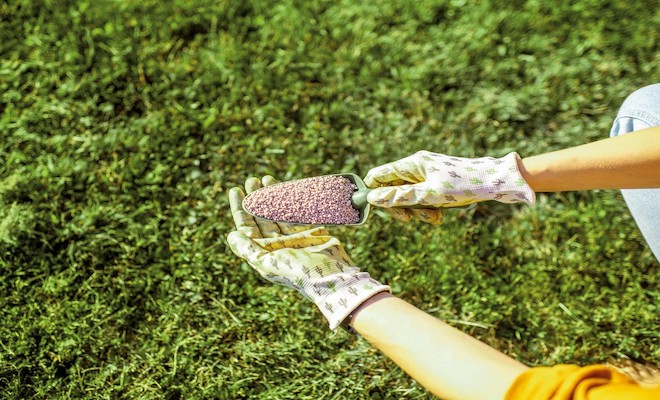 Type of Treatment Required
The type of treatment required can also affect the cost you can expect to pay; seasonal treatments as part of a contracted maintenance regime will, for example, cost considerably less than topdressing an entire lawn area.
Location within the UK
Your location within the UK can also have a large impact on the overall cost of lawn treatments, with areas such as London and the surrounding boroughs typically costing three -times more than non-London areas in terms of labour costs.
Body Completing the Work
Unsurprisingly, who you hire to complete the lawn care treatments will also affect the cost you can expect to pay; whilst most large companies operate under similar prices, it's worth getting quotes from at least three different professionals regarding the work you need completing to ensure you're getting the best price and quality of work for your lawn.
DIY Lawn Treatment
With a little know-how and persistence, you can take control of your lawn yourself - most lawn treatments and maintenance regimes are well-suited to DIY enthusiasts and those with a green thumb.
Scarification Cost
Scarification can be completed by home gardeners who do not want to pay for professional services. To purchase a mechanical lawn scarifier, you can expect a cost from around £60 upwards, with manual scarifiers costing on average £30 to purchase and, cheaper still, some DIY gardeners recommend simply using a rake for thatch removal that is not too dense, which can be bought for as little as £10 if you don't already own one.
Aeration Cost
Lawn aeration is suitable for DIY completion but will require the use of either lawn aeration shoes (sometimes known as lawn spiking shoes) which can be purchased from most gardening centres for £8-£30, or an aerator fork costing, on average, £15-£45 to purchase.
Alternatively, you may wish to rent equipment – In which case you can expect a cost in the region of £50-£120 for a day, with an additional cost per extra day thereafter.
Lawn Feed
Lawn feed can be purchased from most garden centres and some larger supermarkets for between £4-£21. Application of lawn feed can be completed as a DIY project, though the results may not be as evident compared to a professionally applied solution, which tends to be more potent and tailored to your lawn type.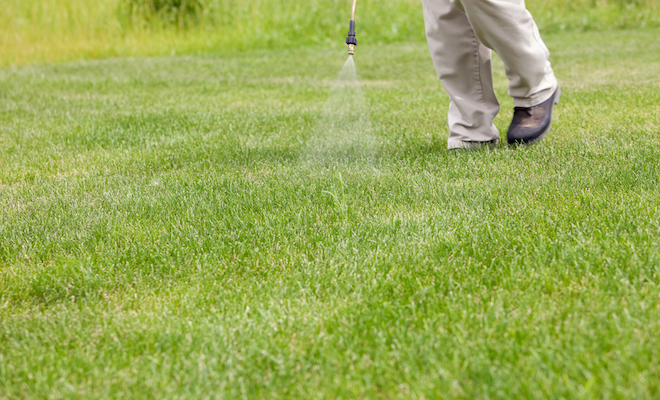 Pesticides and Fungicides
Whilst there are some Plant Protection Products that can be purchased off-the-shelf and applied to a lawn without professional intervention, you are responsible for ensuring that an approved product is used, in the correct quantities, and in accordance with the Code of Practice as outlined by the Health and Safety Executive. Most products available cost around £30.
If you have any doubts, are uncomfortable handling the chemicals or are unsure of what to do you should always consult a professional who will be able to apply the solutions for you, or may recommend a professional-grade alternative – or, recommend a non-invasive, environmentally friendly alternative.
It should be noted that professional treatments, such as lawn feedings and fungicide application, is usually more effective than store-bought solutions. This is because the products used are specialised and may require a licence to use due to the potency of the product.
Choosing a Lawn Treatment
There are several lawn treatments available to help you get the best out of your lawn, but not ever lawn will need every treatment. A specialist will be able to recommend the best treatment for your lawn if you are unsure about the best course of action to take.
Seasonal Treatment Cost
Seasonal treatment is the term used for a garden maintenance regime, usually consisting of 4 or more sessions in a given year. The treatments are tailored towards each season, optimising on weather and plant germination to encourage and help your lawn growth and development.
Usually, each treatment will consist of an application of lawn feed tailored to the time of year, as well as moss-control and weed treatments. You can expect a regular maintenance regime to cost between £15-£45 per visit, depending on the size of your lawn.
Scarification Cost
Scarification is the process of mechanically removing surface thatch (live and dead grass, leaves and moss, mostly) from a lawn. Sharp blades penetrate through the thatch to break it up, and it is then raked away from the lawn and removed.
Scarification allows nutrients, air and water to penetrate the soil that would otherwise be obstructed by excessive thatching, which could otherwise lead to insufficient nutrients reaching the roots. Scarification is usually undertaken when grass growth is at its strongest, between the late spring and early autumn months.
Typically, scarification is charged at around £45 for a small lawn, to upwards of £120 for a large lawn.
Aeration Cost
Lawn aeration is an appropriate treatment for compacted soil where drainage is an issue, often indicated by the presence of moss and spongey patches. There are two main types of aeration methods. Aeration is usually completed between late spring to early Autumn. Aerating during the colder months may damage your lawn due to seasonal frosting. Whichever method is chosen, lawn aeration cost in the region of £30-£80.
Hollow Tine
Hollow-tine aeration involves removing multiple plugs, or 'cores', of soil and lawn materials from the ground, usually using machinery, although a hollow fork can be used, enabling better air and water circulation towards the roots of the grass which had been restricted by excess sub-surface thatch. Once the lawn has been aerated, the cores can be collected and removed.
Fracture Tine
Fracture-tine aeration, in contrast to hollow tine, does not remove soil from the ground. Instead, fracture tine aeration works by creating small channels into the lawn surface, breaking up sub-surface thatch and roots by means of small, angled blades. Because no soil is removed during the process, there is no clean-up needed afterwards.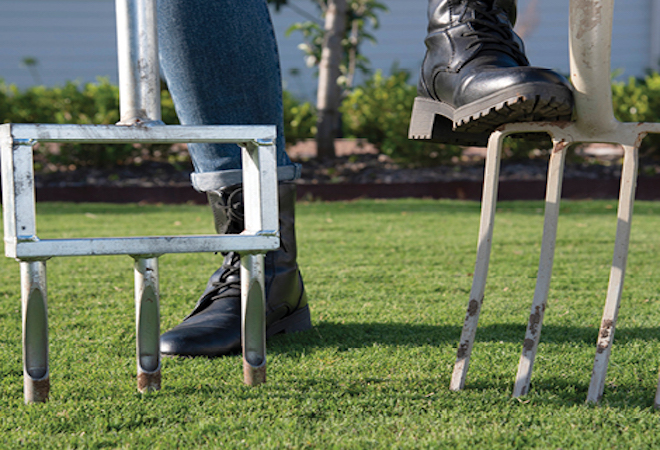 Overseeding Cost
Overseeding is the process of adding grass seeds to an existing lawn as a means of improving coverage, density, quality and appearance of the lawn. Different grass seeds are available for different soil and lawn types.
Overseeding can also be used on freshly prepared soil to create a new lawn area. Overseeding is usually completed during the spring or autumn months as this is when the seeds will have the best chance of germination.
The cost of overseeding varies according to how much product is needed and how large the area needing treatment is, though as an estimate you can expect a charge of around £1.20 - £1.50 p/m2 of lawn tended; roughly four times the cost of seasonal treatments.
Topdressing Cost
Topdressing is a mixture of prepared sand, soil, and peat that is spread across lawns to help promote growth by adding additional nutrients to the lawn. Topdressing is usually applied at a thickness of up to 3mm and raked or brushed into the lawn to irritate the surface, which promotes penetration into the soil beneath. Topdressing is usually applied in the spring or autumn.
The cost of topdressing is largely dependent on the condition of your current lawn and the areas that need greater attention. As an indication of prices, for an area of 1m2, you will need roughly 2kg of topdressing, at the cost of around £1.60 p/m2, the equivalent of roughly £80 for a small 50m2 lawn.
Systematic and Contact Fungicides Cost
Fungicides are applied to lawns to help address issues such as fairy ring, red thread and other fungal conditions that can deplete your lawn of its nutrients and impact the visual appeal of your lawn.
Systematic fungicides are absorbed into the grass once applied and are typically a curative method of dealing with invasive fungi within the lawn. In contrast, contact fungicides are not absorbed into the plant and instead create a protective barrier on the grass blades as a preventative measure against fungal invasion.
Fungicides come in either liquid or granular form, and many are restricted products that can only be handled by professionals that have undergone training.
Fungicides vary greatly in cost depending on their active ingredients and quantity used, as well as the type. Professional application of fungicides can start at around £45 for a small lawn to upwards of £120 for larger areas.
Nematodes Cost
Nematodes are small worm-like organisms that can be added to lawns as an organic means of pest control. Nematodes are particularly efficient at combatting infestations of leatherjackets and chafer grubs, which can wreak havoc on your lawn.
Nematodes can be added to a lawn as a preventative measure or when an infestation has become apparent, though the actual timing of this will be influenced by factors such as the weather, which will impact the pests' breeding season and growth.
The cost of nematode application is roughly between £35-£85 per application depending on lawn size, and usually recommended twice a year as a preventative measure.
Slowmow Cost
Slowmow is an additive solution which can be sprayed on lawns as a means of reducing growth speed and improving grass density. Slowmow is typically applied to lawns when they will be left untended for a period, such as vacations.
Slowmow is also effective in shaded lawn areas as the plants are less affected by sun access due to the added nutrients. Slowmow treatment is usually charged at the same rate as a seasonal treatment, so expect a charge of around £15-£45 per application.
Lawn Care Programmes
Lawn care programmes are often available with larger garden service companies, offering year-round maintenance and treatments to keep your lawn in good condition, no matter the weather.
In most cases, lawn care programmes utilise seasonal treatments, visiting a minimum of four times a year (once per season) or more depending on the care program you opt for.
Many companies go further still and offer early and late seasonal treatments to better utilise on weather, plant germination and preventative measures such as weed and moss control, as well as fungal disease control – either as they present themselves or as a preventative measure beforehand.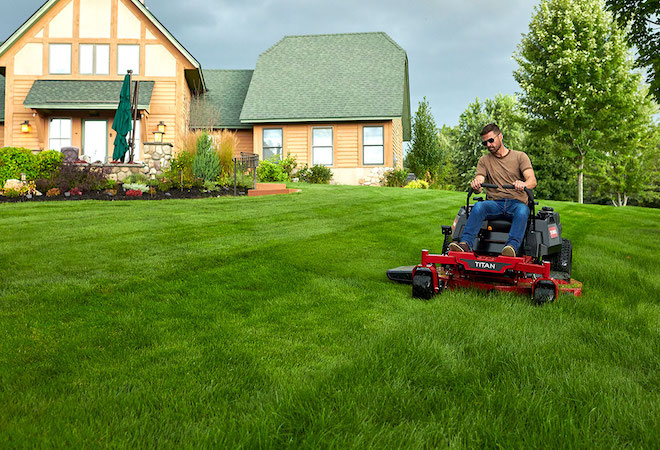 Most large companies offer different levels of lawn care programmes, from a basic package to more expensive, but more inclusive packages that help maintain and care for your lawn.
Basic packages may be restricted to seasonal treatments only included in the price, with additional treatments such as scarification and overseeding at an additional cost – in contrast to the more inclusive packages that may include these as standard.
Lawncare programmes can start from as little as £6-£18 per month for a small lawn, to upwards of £60 a month for larger lawns, depending on the care package chosen.
Benefits of a Lawn Treatment
Keeping on top of regular lawn treatment throughout the year has a lot of benefits for your home, garden and for the environment too. So it's an investment that well worth the time and money, here are a several benefits of lawn treatments:
Increase Kerb Appeal
Lawns that are visible from public footpaths should be kept in good condition as they help to maintain kerb appeal. Lush, green lawns are also attractive and a good indicator of a well-maintained home for prospective property buyers.
Increase Nutrients and Soil Quality
Increased nutrients in the lawn will directly impact the quality of the soil and lawn growth, meaning you may be less likely to have to undergo expensive corrective treatments in the future.
Disease-free Lawns
Keeping your lawn disease-free helps to retain your lawn's appearance and performance and tackling the issue at the first sign of it helps to keep the costs of repair down to a minimum.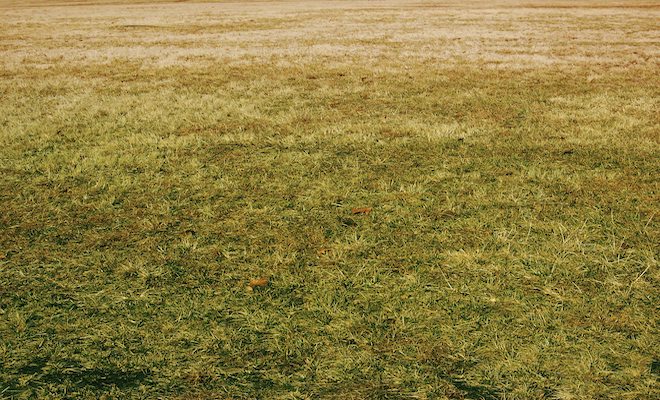 Environmental Impact
A healthy, well maintained-lawn can have a number of positive environmental impacts, such as noise reduction and effective carbon absorption.
Lower Maintenance Costs
Overall, it is much cheaper to maintain a well looked-after lawn than it is to correct lawn issues. Undergoing the right lawn treatments when issues become apparent means that problems can be tackled quickly before they spread or worsen.
Does My Lawn Need Treatment?
It's hard to say outright whether a lawn needs treatment or not without assessing it, but there are certainly some indicators that your lawn may benefit from treatment.
Lack of Worms
There are numerous reasons why you may notice a lack of worms in your lawn and garden area, but one of the big influences regarding this is lawn compaction – If your soil is too tightly compressed worms will struggle in the area.
Worms are essential in breaking down dead and rotting organic materials that are then converted into nutrients for living plants. Aeration is usually recommended in these cases as a means of loosening the ground.
Bald Patches of Lawn
Again, there can be numerous causes of bald patches within an otherwise healthy lawn – ranging from pet urination to simple foot traffic. Bald lawn patches can also be an indication of pest infestations such as leatherjackets and chafer grubs which should be addressed at the first sign, or you'll risk losing more of your lawn.
Natural pest controls such as nematodes are usually recommended in these instances to combat the issue. It may also be worth considering overseeding bald patches to encourage regrowth.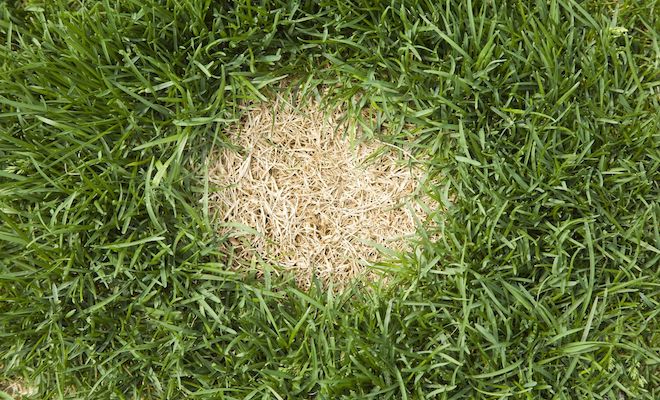 Spongey Underfoot
A spongy lawn can be an indication that there is too much water retention in your lawn, or that there is moss present. Scarification will eradicate excess thatch on your lawn that may be causing drainage issues, and aeration will usually further help with sub-surface thatch.
Discolouration
Common causes of lawn discolouration are fungal infections, nutrient deficiencies within the soil and lack of moisture.
If your lawn is yellowing in patches that are consistently exposed to harsh sunlight, consider changing your watering regime to either early morning or at dusk when the sunlight is at its least harsh to allow more time for absorption. Similarly, you may wish to consider using or changing your lawn feed if you suspect nutrient deficiencies are the culprit, allowing time for the mixture to absorb into the soil before it evaporates.
Lawn diseases present in a number of fashions, but the most common in the UK are:
Red thread – characterised by a red or pink appearance of grass patches
Fusarium – Similar to snow mould, with a cotton-like mould blanket
Fairy ring – Presents in a visible ring-pattern in a lawn, sometimes producing toadstools
In most cases, lawn disease will need to be addressed quickly to avoid spreading using fungicides. Although some fungicides can be used as a preventative measure, and some may cure disease once they have presented, there are no long-term, long-lasting cures for lawn disease at present.
Rapid Drying
Lawns can dry too quickly if there is too much soil compaction, if the lawn is stressed from overuse or if it has fertiliser burn (caused by excessive fertilisation, resulting in an imbalance of nitrogen and salt in the soil), which can lead to unhealthy lawns. Adequate aeration can help loosen your soil, which in turn will allow for better water absorption and retention.
Thatch Layer
Lawns that feel soft underfoot may have too much excess thatch; a mixture of dead organic matter such as leaves and grasses. Whilst some thatch is good for protecting your lawn, too much thatch can cause deficiencies in oxygen, water and nutrients needed by the grassroots to thrive properly. Scarifying your lawn can help reduce the amount of surface thatch, which would otherwise impede dense grass growth.
How Often Should I Treat my Lawn?
Whilst it may be tempting to frequently treat your lawn in the hopes of helping it progress, too much interference, or too many of the same treatments, can also cause lawn issues; it's important to find the right balance of treatments that works for your lawn and its needs.
Most lawn care specialists will recommend a yearly maintenance schedule for your lawn based on soil and dominant grass type, which will cover your lawn needs, tailored to the seasonal weather expectations.
Below is a table outlining the preferred time of year for treatments to take place:
Key
✖ - Don't use treatment
0 - Optimal time
1 - Acceptable time
| Treatment | Jan | Feb | Mar | Apr | May | Jun | Jul | Aug | Sep | Oct | Nov | Dec |
| --- | --- | --- | --- | --- | --- | --- | --- | --- | --- | --- | --- | --- |
| Aeration | ✖ | ✖ | 1 | 1 | 1 | ✖ | ✖ | 0 | 0 | 0 | ✖ | ✖ |
| Scarification | ✖ | ✖ | ✖ | 0 | 1 | ✖ | ✖ | ✖ | 0 | 0 | ✖ | ✖ |
| Lawn feed | ✖ | 1 | 1 | 0 | 0 | 0 | 1 | 1 | 0 | 1 | ✖ | ✖ |
| Pest control | ✖ | ✖ | ✖ | ✖ | ✖ | ✖ | 0 | 0 | 0 | 0 | ✖ | ✖ |
| Fungicide | ✖ | ✖ | ✖ | 0 | 0 | 0 | ✖ | ✖ | ✖ | ✖ | ✖ | ✖ |
| Mowing | ✖ | 1 | 1 | 0 | 0 | 0 | 0 | 0 | 0 | 0 | ✖ | ✖ |
| Watering | ✖ | ✖ | ✖ | 0 | 0 | 0 | 0 | 0 | 0 | 0 | ✖ | ✖ |
The table above is a reference purpose only.
Lawn feed used should be tailored to the time of year, such as a slow-release feed in early spring to help revitalise your lawn after the winter months.
Aeration should ideally only be carried out twice a year, and scarification once.
Pest Control Legislation Banning Pesticides
In 2012 the Sustainable User Directive saw changes to the laws and guidelines surrounding the use of Plant Protection Products (PPPs) within the UK, limiting their usage and who is able to purchase and apply them.
Many pesticides contain hazardous substances and must be used appropriately, including storage and application. All PPPs must, therefore, be authorised by the Chemicals Regulations Directorate (CRD), and professionals using pesticides must hold a relevant qualification demonstrating competence and training has been undertaken - a list of recognised certificates can be found here.
The user of pesticides will also have to ensure that reasonable precautions have been taken as outlined in the Code of Practice for Using Plant Protection Products.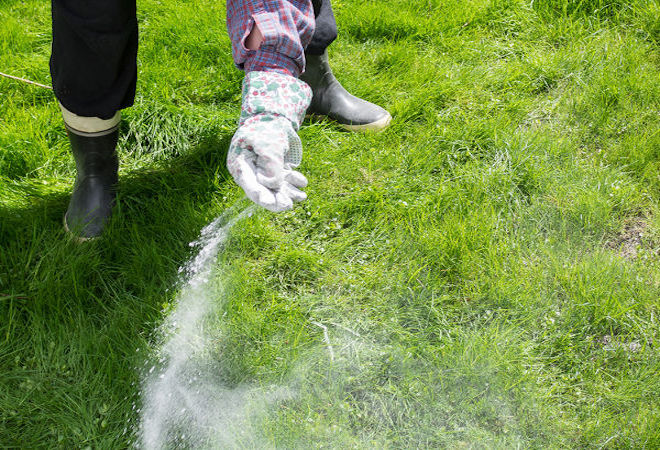 The application of pesticides designed for home use do not require the user to hold a certificate but are still subject to guidelines regarding their safe use and legality of the product - The Health and Safety Executive (HSE) has provided a database of pesticides which are suitable for use within the UK; if your product is not listed, it is no longer considered legal and should be properly disposed of.
Failure to adhere to pesticide regulations, such as using pesticides that are no longer considered legal within the UK, could result in prosecution.
HSE recommends the use of organic pesticides where possible as an alternative to harmful chemicals which can have an adverse effect on the local environment or alternative means of dealing with garden issues.
Further information regarding pesticides and home use can be found on the HSE website here.
Are Lawn Treatments Safe?
The vast majority of lawn treatments are considered safe, providing that any instructions for an item such as lawn feed and fungicides have been carefully checked and followed and that machinery is handled with caution.
Lawn care treatments that include the application of active ingredients, such as fungicides and lawn feeds, are harmful when ingested, and can be harmful if they come into contact with skin – so most product manufacturers will state a minimum time that the lawn should not be disturbed after application.
With non-application treatments such as scarification, aeration and general mowing, the risk of harm is minimal to yourself, children, pets and the environment.
No matter what treatment is being undertaken, safety precautions should always be followed; this can include, but is not limited to:
Restricting access to the lawn for children and animals during the treatment process, and for a suitable period afterwards where applicable, such as in the use of fertilisers, weed killers and fungicides.
Wearing adequate safety equipment such as gloves, suitable footwear and protective eyewear.
Checking the condition of equipment prior to use to ensure it is fit for purpose.
Carefully disposing of chemicals and containers after use.
Seeking the help of a professional service if you are uncomfortable to or unable to undertake a task yourself.
Replacing a Lawn Cost
You may find that, depending on the condition of the lawn, it would be more beneficial to replace the existing lawn entirely with a new one than try and rectify the existing one. This is particularly true of neglected lawns with lots of deep-rooted weeds, uneven surfacing or poor-quality soil.
Some lawn care companies offer a "makeover" service, which includes removing and disposing of the old lawn materials, ground preparation, laying new materials and after-care visits to ensure issues have not raised with the new lawn – though these services are not cheap, costing between £600-£800 for a 50m2 lawn to be replaced, to around £2000 for a 240m2 lawn.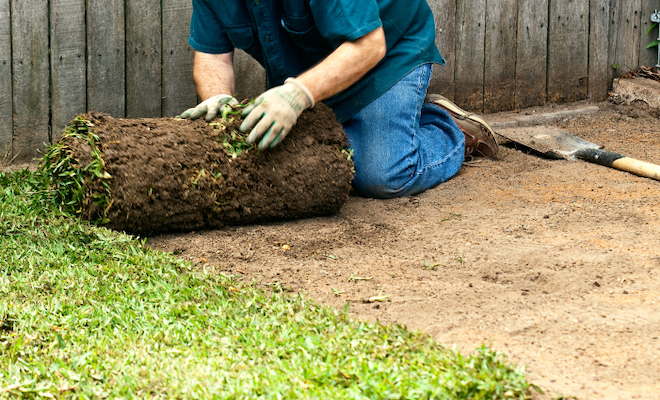 For a cheaper fix, but at the cost of manual labour and time to yourself, you may wish to lay a new lawn yourself.
The basic process for replacing a lawn is as follows:
Personal Safety
Before beginning any gardening work, yourself, make sure you take adequate safety measures to minimise the risk of injury to yourself. This may include wearing protective equipment such as garden gloves and suitable footwear, and ensuring you are physically capable of completing the work yourself – Replacing a lawn can be physically demanding and is not a quick job to complete. Children and animals should also be kept away from the lawn area, whilst work is being undertaken.
Remove Existing Lawn
Using a shovel, pitchfork or garden hoe you can remove the top layer of grass from the lawn. Grassroots do not penetrate particularly deeply into the earth, and proving the soil beneath is moist, is a relatively easy job to complete.
Prepare and Fertilise
The soil over which you are going to lay the lawn will need to be prepared, ensuring weeds have been removed, and a fertiliser should be applied before the turf is laid to ensure nutrients are available for the new lawn.
Position Topsoil
Laying topsoil before a lawn is installed ensures enough nutrients are available for the lawn to feed on, helping the lawn to establish and flourish. If you have particularly poor soil in your garden, top soiling will be particularly important to the survival and establishment of your new lawn.
Lay New Turf or Lawn Seeds
You can now begin to lay your new tuft, or alternatively, sow lawn seeds. Most lawn experts will recommend re-turfing the law, particularly if you are keen to see results quickly. Grass seeds are cheaper, but the results are much slower.
For further information about laying turf, we have a dedicated turf laying guide. Alternatively, you may want to consider installing artificial grass on your lawn to minimise maintenance, in which case, you can find information here.
Most lawn companies will dispose of the old lawn as part of the service they provide, though if you decide to complete the work yourself, it's advisable that you take the waste products to your local garden waste recycling centre, which are usually free to use or consider hiring a skip for larger lawn replacements.
FAQs
How to Find and Hire Lawn Treatment Experts
It may be tempting to go with the first service provider you find, but you should get at least three quotes from multiple sources before committing to make sure you're getting the best value for money.
Just because one company may ask for more money does not necessarily mean they provide a better service – It's recommended that you ask to see a portfolio of work carried out by each company or individual providing a quote so you can assess the quality of their work for yourself and assure the best price for your lawn treatment.
It's a good idea when searching for a lawn care expert to seek recommendations from neighbours and friends who have undergone similar treatments with a prospective service supplier as they will be able to give you some insight into their experience and how well the company was able to meet their needs. Your lawn care provider may also be able to provide independent references upon request.
If your lawn service professional is using pesticides on your property, they will need to hold a certificate indicating that they are a recognised professional with sufficient training and demonstrated competence to do so.
You may also want to enquire as to whether the lawn care specialist has public liability insurance – Whilst this isn't a legal requirement for gardeners, it may offer peace of mind should any accidents or injury occur during the treatment process. Also ask what the cost of lawn treatment service is before agreeing to anything.
Sources
https://www.gardenersworld.com/plants/top-lawn-care-tips/
https://www.hse.gov.uk/pesticides/
https://www.gov.uk/pesticide-approval
https://www.gov.uk/government/publications/pesticides-uk-national-action-plan
https://garden-care.org.uk/