How Much Does Garden Waste Removal Cost?
Working out garden waste removal prices can be quite tricky, and many factors will affect the final cost. It can depend on the size of your garden, what type of waste you've got and where you live. But there's also the type of removal you go for and the cost of labour or tools to think about too.
The first thing to consider is the size of your garden and how overgrown it is. A little pruning and grass cutting in a small garden will barely create any waste or take much time to clear. However, a large garden that is completely overgrown and full of rubbish is a much bigger job to take on, increasing time and cost.
You could hire a handyman or gardener to clear the garden or buy some basic tools and do it yourself. A handyman or gardener will cost between £10 and £50 per hour. Whereas a basic set of tools and some protective clothing will cost between £150 and £300.
There are two basic types of garden waste. Green waste and general waste. Green waste is classed as vegetation such as grass cuttings, weeds, leaves and small twigs. General garden waste is pretty much everything else — soil, stones, broken patio furniture, large branches and old paving slabs.
The amount of garden waste and the type could affect how you have it removed. Normal amounts of green waste you can simply put in your garden bin, on your compost or take to your local authority's recycling centre. However, for removal of garden waste in large quantities, there are alternative and more practical methods.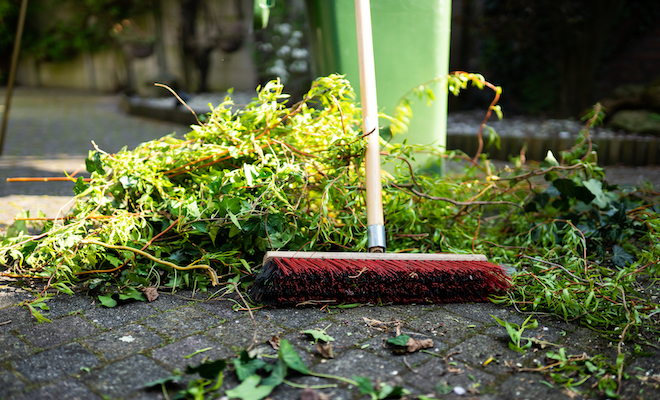 For a relatively small amount of green and general garden waste, you could hire a HIPPOBAG. A midi-sized HIPPOBAG can hold a tonne in weight and costs around £150, which includes collection. You typically have up to six months to fill your bag, so there's plenty of time to fill it.
You could hire a mini skip for slightly larger amounts of garden waste or a 'man with a van'. A mini or two-yard skip can hold the equivalent of 20 bin bags, and a van can take around the same amount. You can expect to pay around £70 to £200 for a van or £120 to £150 for a two-yard skip size.
If you have a much larger amount of garden waste, you may decide to use a waste removal company or hire a six to 12-yard skip instead. Waste removal companies may charge between £200 and £350, depending on how big the job is. Skip hire prices start at around £170 to £220 for a four-yard skip. Larger skips can cost between £225 and £450. Plus, you'll get between two weeks and a month to fill it, depending on what company you choose.
You'll need to consider the weight of your garden waste too. General garden waste such as soil and bricks will be heavier than vegetation, so you'll need to check the weight limit of your skip or van to make sure it's suitable.
Finally, where you live, and the level of access to your garden will also help determine the cost. For example, those living in London are likely to pay up to 50% more for a skip. Plus, if you can't place a skip or HIPPOBAG in your garden, you'll need a permit to place it on the road, which costs on average £30. And if your garden's access is limited, it could add extra time onto your labour costs.
Removing Garden Waste Prices
Below are the different types of garden waste removal and the average cost of each.
| Type of Removal | Average cost |
| --- | --- |
| Mini skip hire | £140 |
| 4-yard skip hire | £190 |
| 6-yard skip hire | £250 |
| 8-yard skip hire | £300 |
| 12-yard skip hire | £450 |
| HIPPOBAG hire | £150 |
| Local man with a van | £150 |
| Waste removal company | £280 |
Additional Costs
Here are some additional costs you may incur:
Tree Felling and Stump Removal
You may have trees that are blocking light, too close to the house or suffering from disease. If so, you may want these trees removing. Due to the tools and skills required, you should hire a tree surgeon to undertake this task. A qualified and experienced tree surgeon will cost £150 to £400 per day.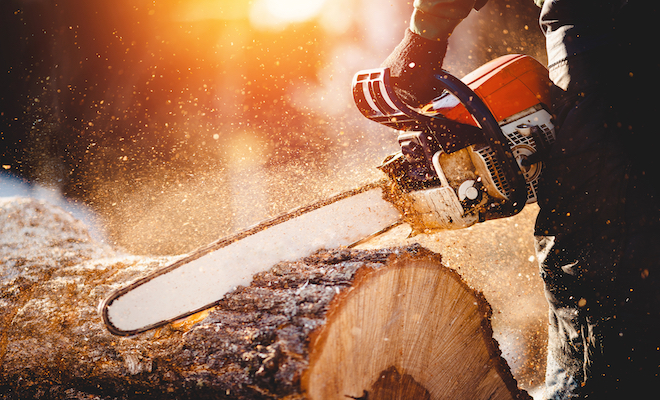 However, if it's just a tree stump that needs removing, it's likely to cost between £200 and £250, depending on how you choose to have it removed.
Removing Hazardous Materials
Hazardous materials such as asbestos and containers of chemicals can often be uncovered in gardens. These can't be thrown into a skip and do cost more to remove. Many old garages can contain asbestos.
Tyres need to be disposed of legally, which will cost from around £3 to £20 per tyre. Removal requires a specialist and can add another £1,000 to the cost. Plus, certain items such as old tyres can't be thrown in with the rest of the garden waste either.
Clearing Gutters
Overgrown gardens can often cause your gutters to become blocked up with leaves, moss, twigs and ivy. So, it may be worth clearing these out and disposing of this extra garden waste at the same time. Having your gutters cleaned will cost between £100 and £150.
Garden Maintenance
Once you've cleared your garden, you may want to think about organising some regular garden maintenance to prevent it from becoming overgrown again. The cost of this will depend on the size of your garden and the jobs you'd like done. On average, you can expect to pay £100 to £150 per day for a gardener.
Creating a Wheelie Bin Store
If you've decided to clear some of the green garden waste yourself, you may have ordered a garden waste wheelie bin from your local authority's waste department. Multiple wheelie bins can look unsightly, so you may like to fit a wheelie bin store in your garden to improve its appeal. Installing a wheelie bin store could cost between £300 and £500.
Constructing a Shed
Additionally, you may have bought some new gardening tools to help clear your space. It's a good idea to have somewhere to store them, to keep them secure and in good condition. So, installing a garden shed may be another cost to consider. A garden shed will cost you between £500 and £800 to put up.
Building a Garden Wall
If you've had to remove a section of the wall to create access to clear your garden or place a skip, then you'll need to fix it afterwards. Building a garden wall will cost you around £600 for a single skin of bricks but reusing some of the old materials will reduce the price.
Creating a Driveway
If you've removed a section of wall or fencing to create some access to your garden, you may decide to make a permanent entrance or driveway instead of reinstating your wall. There are many different driveways you could install, from tarmac and resin to block paving. So, this could cost you anywhere from £3,000 to £5,000.
Cost Breakdown Calculator
Skip hire for garden waste, handyman or gardener labour costs, and garden waste disposal — Total Cost: £500.
Labour Costs and Time Frames
Labour costs and time frames are going to be one of the big factors in the overall cost of removing your garden waste.
Different jobs can take varying amounts of time to do. Removing a tree could take a day and clearing away lots of brambles and ivy could take an additional day to do. Strimming and mowing grass may only take half a day to do, depending on the size of your garden.
Weeding can take as little as a few hours to a few days, depending on how overgrown your garden is. Demolishing a shed or outbuildings can take between a day and a week to do, depending on the size and materials. And digging out soil for foundations will add another day or two.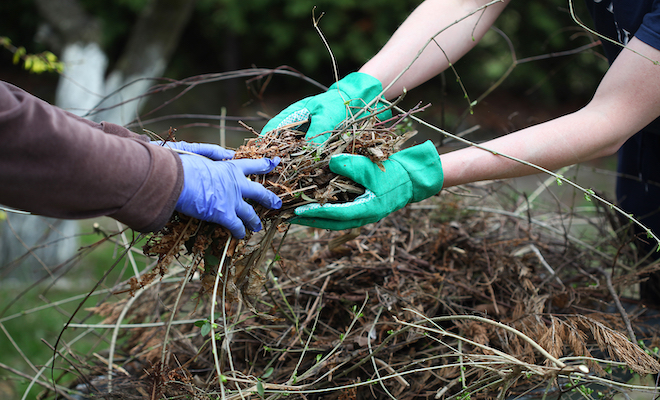 So, how long might it take to clear a garden? Well, a small garden (6 x 4 metres) could take one or two days, whilst a medium-sized garden (8 x 6 metres) is likely to take between two and four days. A large garden (12 x 8 metres) could take four to eight days.
If you're hiring a gardener or handyman to do the clearance, this could cost between £70 and £700 for a small garden and £1,400 upwards for a large garden. Plus, you'll have skip hire or waste removal costs to add on to this.
For tree removal or branch cutting work, you'll need more specialist, skilled labour, which can cost £50 to £100 per hour.
When hiring a skip, you will be charged by duration as well as size. A skip can often arrive within a few days of you contacting the company, and you may have as little as two weeks before they collect it. So, if you're relying on a handyman or gardener to load it up, be sure to arrange for them to start work on the garden before the skip arrives. Delaying your collection date could increase your skip hire costs.
If you're hiring a local man with a van, they will load up the waste and take it away. But you'll need to check whether they will sort and bag up the waste or whether you or your gardener need to do this.
Meanwhile, if you hire a national waste removal company, they're more likely to bring a team to work on the job. This could make it quicker, but you may end up paying more to cover the company's labour costs.
When hiring a person or company to take the waste away, check whether you're paying a set price for the job or being charged by time and weight. And remember that there will be a maximum weight they load onto a van. If the van needs to make two or three trips, this is likely to increase time and costs too.
Cost Affecting Factors of Removing Garden Waste
Many variables can affect the cost of removing garden waste, including time and volume. Here are the main factors to consider:
Type of Waste
The type of garden waste you're disposing of will have an effect on cost. Different waste types vary in weight. Some collection methods will charge more for heavier loads or limit how much you can dispose of.
Green garden waste such as leaves and grass tend to be relatively light. Whereas general garden waste such as soil and concrete slabs are much heavier. Whether you're hiring a van, skip or HIPPOBAG, you'll need to check what the weight limit is.
Hazardous waste such as chemicals, oils, or asbestos will need to be disposed of separately and may incur costs. You may be able to dispose of old paint or oil cans at your local recycling centre. However, any asbestos will need a specialist to come in and remove it. It's too dangerous for anyone else to handle or remove it.
Skip Sizes
If you're hiring a skip to remove your garden waste, then the price will depend on what size you require. Skips sizes are measured in yards. A mini-skip or two-yard skip can hold the equivalent of 20 bin bags, a four-yard skip can hold 30 to 40 bags, and an eight-yard skip can hold 60 to 80 bags. Larger quantities of waste will require a 12-yard skip. The larger the skip, the higher the price you will pay.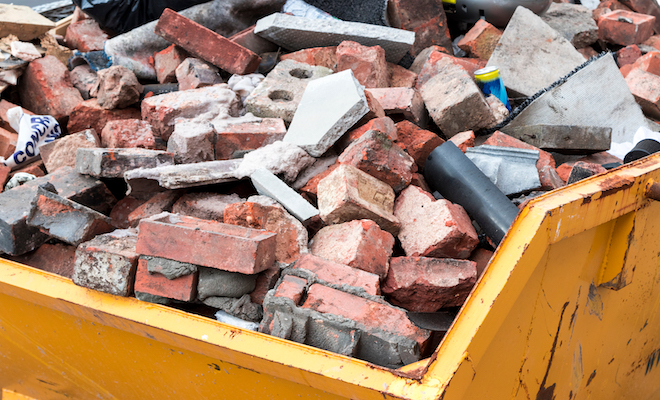 Time
If you're paying by the hour or day for someone to clear your garden, then the longer they're working, the more it will cost you. Having to dismantle, cut down and sort your garden waste will add to the time and therefore cost. You could cut downtime and labour costs by doing some of the easier jobs yourself. If you're hiring a skip, make sure it's easy and quick to access from the garden to save even more time.
What Does Garden Waste Removal Entail?
This is what you can expect from garden waste removal:
Size of the Job
First, you'll need to work out how much garden waste there is to remove. Whether it's something you can manage by yourself or if you'll need some help from a gardener, handyman man or specialist.
You'll need to work out roughly what volume of waste you're likely to have, so you can decide on a collection and disposal method.
Hire a Gardener or Handy Man
If you're hiring a gardener or handyman to clear the garden, you'll need to look for someone reputable and preferably local to do this. You could look online by searching for 'gardeners near me' or ask friends and neighbours for recommendations.
Remember to check when they are available and how much they charge per hour. Invite them to come and have a look at the garden to price up the job. This should give you an accurate quote.
Get in Specialist Help
You may also need to arrange for additional help clearing the garden from tree surgeons and other specialists. You will need to check that they are qualified or licensed and available at the right time to do the task.
Choose Your Collection Method
To get a good idea of what waste removal companies operate in your area, try searching online for 'garden waste removal near me'. If you're hiring a gardener or handyman, they may be able to advise you on how much waste there is likely to be. This will help you decide on whether a van, skip or bag is your best removal option.
Arrange Permits and Access
If you're hiring a skip, you'll need to check whether any access issues will prevent the lorry from delivering your skip. If the skip doesn't fit on your property, you will need a permit to place it on the road. A HIPPOBAG, although smaller, will also need a permit. This can be arranged by the skip hire company or by contacting your local authority.
Clear and Sort the Garden Waste
If your handyman or gardener is doing this for you, you may need to inform them of the types of garden waste that need to be separated out. For example, if you've got a skip, it will be fine to throw in both green or brown garden waste, but items such as old tyres or paint cans will need to be kept aside.
If you're composting some of your green waste, then this will need sorting too. If you're arranging for collection by a man in a van or waste company, check whether the waste needs bagging or if they'll do this for you.
How to Fill a Skip
When the skip is being filled, you will need to make sure you're aware of what level it can be filled to. There should be a line indicating its maximum capacity. Try to load it with the general garden waste first, so the heaviest material goes at the bottom. Green waste should, ideally, go on top. You may need to compact or cut up some of your waste to make sure it fits.
Arrange Collection
Finally, don't forget to arrange for the collection of your waste, so you don't incur any extra fees. If you're hiring a man in a van, make sure you're ready for the collection, as any delays could increase the amount of time you're charged for. If the van needs to park up on the road, check there's a space free and give them clear instructions about where they should park.
DIY Garden Waste Removal
Of course, you could choose to clear and remove the garden waste yourself. There are several ways you could do this.
If you choose to clear the garden yourself, instead of hiring a gardener or handyman, you'll need some basic tools and some protective clothing. You may need gardening gloves or protective gloves, overalls, goggles and safety boots. Plus, a wheelbarrow, spade, secateurs, loppers, a strimmer and shears. This could cost between £150 and £300.
For small amounts of green garden waste, you could request a wheelie bin from your local council and simply keep filling it up. Or you could load up the waste in your car and take it to the local recycling centre. However, you'll need to sort the waste and bag it up to transport it. This can be time-consuming and messy. If you're clearing a garden ready for other work such as extensions or driveways to be built, this may not be practical.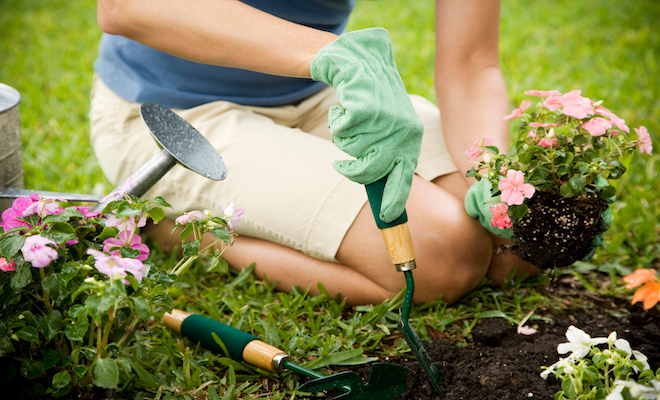 Alternatively, you could hire a van. You will need to factor in the cost of van hire for the day, plus fuel, parking permits, congestion charges, and fees to dispose of the waste. Local authority recycling centres usually charge a fee for commercial vehicles. Van hire typically costs between £40 and £80 per day. London's congestion charge is £15 per day. However, parking permits and recycling centre charges vary from area to area, so you'll need to check with your local authority.
In total, DIY garden waste removal will cost around £250 to £300, which could save you money. However, not all garden waste removal can be done without specialist help. Tree felling, demolition of outbuildings or hazardous waste removal should be left to the professionals.
Building Regulations for Garden Waste Removal
UK building regulations don't usually affect the removal of garden waste. However, if you live in a listed building or conservation area, you may need consent to remove old outbuildings, walls, hedges and trees. Historic England and your local council planning office can advise you on your specific property or area's restrictions.
Planning Permission for Garden Waste Removal
If you're clearing space for a large extension or a new driveway, you may need to apply for planning permission. It's a good idea to check with your local authority's planning office before you start work. Planning permission for small changes to your property should cost £96.
If you need to place a skip on the road rather than on your property, you will need to apply for a permit from your local authority. The price of a permit varies from area to area, but you could pay from £15 to £70.
Occasionally trees can have a Tree Preservation Order placed on them. This can be because they are old, of significant interest or in a conservation area. These trees need permission from your local planning authority to be lopped or felled.
Japanese Knotweed is an invasive species that grows quickly and can cause damage to homes. If you find any in your garden, you may need to notify the Environment Agency, and you will certainly need the help of an expert to remove it.
How to Find & Hire a Garden Waste Removal Specialist
Sometimes you may need a professional or specialist to remove your garden waste. Certain plants and materials can be difficult to remove on a DIY basis. Removing a tree, for example, should always be done by a tree surgeon, as working at height with tools can be dangerous.
If you're thinking of hiring a tree surgeon, check they're certified to use a chainsaw and to process and fell trees. Hiring a tree surgeon costs on average £275 per day, although it will depend on how big the job is and where you live.
Removal of Japanese Knotweed, an invasive plant species, should also be carried out by a specialist. This fast-growing weed is classed as controlled waste and can only be disposed of at a licensed landfill site. You can check the PCA Invasive Weed Control Group (IWCG) register to find suitable help. It can cost £400 per year for a treatment plan, including removal.
Asbestos is a harmful material that's often found in gardens. It was once used to build outbuildings and garages. It should only be handled and disposed of by a specialist. On average, it can cost £1,000 to remove, and the Asbestos Removal Contractors Association (ARCA) is a good place to look for a specialist.
If you're hiring a man with a van or waste removal company, it's a good idea to check their vehicle is insured and ask where they are planning to take the waste to ensure it gets disposed of correctly. Reputable businesses will be able to show you a copy of insurance certificates and be able to explain what happens to the garden waste.
FAQs
Sources
https://www.rhs.org.uk/advice/profile?pid=444 https://www.silversurfers.com/lifestyle/home-garden/6-tips-to-get-rid-of-garden-waste/ https://www.recyclenow.com/what-to-do-with/garden-waste-1 https://historicengland.org.uk/advice/your-home/making-changes-your-property/types-of-work/alter-the-area-round-my-house/ https://www.gov.uk/guidance/fees-for-planning-applications