How Much Does Caravan Decking Cost?
On average, having caravan decking installed will cost approximately £1,500, however, there are price estimates that range between £1,200-£1,600. There are a number of factors which will affect the project cost, not least of which is the scale of the project, the size of your decking area, additional features and the wood type.
What can affect the overall cost of caravan decking?
There are several aspects which can affect the average cost of the project, the major aspect being the size of the project. Obviously, the larger the decked area required, the more materials you'll need and the more expensive the job will be. Additional features such as terraced decks with steps and balustrades will also increase the cost of a project significantly.
Other than the actual size of your decking area, the next largest cost factor is the timber decking prices. There's a wide variety of wood you can use for decking, with everything from cheap softwood to luxurious hardwood that can be clicked into place with no visible screws.
This top of the range hardwood decking such as composite and timber is, unsurprisingly, much more expensive, so you need to consider your budget. For hardwood, expect no less than £50 per square metre.
What about fitting costs?
In addition, hardwood is more expensive to fit so in addition to a higher material cost, labour costs will be higher too. If you're attempting DIY decking, then softwood material will be easier and less expensive when you make a mistake.
However, you could also consider installing uPVC decking which is much cheaper if you're on a budget and has the benefit of durability and very little maintenance, however, it's very difficult to repair and can suffer UV damage.
You may choose to replace decking yourself. Below are some of the costs of decking for supply only.
| MATERIAL | COST |
| --- | --- |
| Aluminium | £200 per square metre |
| Composite | £50 per square metre |
| uPVC | £12 per square foot |
| Timber | £50 per square metre |
Installation Costs
Below are some of the average figures of the installation costs and supply costs.
| JOB DESCRIPTION | LABOUR COST |
| --- | --- |
| 4m x 8m decking area | £225 |
| 6m x 10m decking area | £375 |
| 10m x 15m decking area | £600 |
| 20m x 30m decking area | £900 |
Additional Costs
There are a number of other considerations with decking prices, for example, costs can be lower when decking is built on top of a pre-existing patio area, but much higher if built on rough, steeply sloping ground. A simple shape without lots of levels and balustrades is also a lot cheaper and easier to build.
| FEATURE | COST |
| --- | --- |
| Posts | £6.30 each |
| Glass balustrade | £1,120-£1,800 dependant on measurements |
When you install decking, you may wish to add additional features such as those listed above. Elevated decking will require posts to prevent the boards sinking into the ground. Posts should be spaced out eight feet apart, so the amount you need at a cost of roughly £6.30 each will depend on the scale of the decking area.
However, do take into consideration, that if you plan on having your decking installed professionally, you'll be given an overall ballpark figure, rather than being notified of the cost of each post individually.
A glass balustrade is a contemporary form of railing to enhance the look of your decking, while providing the element of safety. Although they're quite an expensive feature with a price range of between £1,120-£1,800 dependant on the length and width of your decking area, they can truly make a luxurious finishing touch to the project.
This figure is inclusive of labour costs, as the balustrade is extremely difficult to install on a DIY basis without the correct knowledge and health and safety training.
You also need to consider local planning laws as even though decking isn't considered a permanent structure, many councils around the UK have placed limits on how much of a garden can be covered by decking. In addition, because decking is elevated planning permission may be required as it could affect your neighbours.
Different restrictions may apply in caravan parks, so you will also likely have to get written permission from the park owners before proceeding.
Cost Breakdown Calculator
Average cost of caravan decking at 10m x15m without additional features - £1,600
Labour Costs and Time Frames
Time delays are expected when completing a complex project such as caravan decking. Trying to juggle different labourers' availability and material deliveries can changed time frames, however the fit of the decking itself, should take no more than two days by a professional tradesman at approximately £225 as a starting price for labour only.
In some projects, there may be a requirement for additional tradespersons to assist, so this could increase the cost. For example; a small decking installation could take one day using a single tradesperson, costing around £225.
For a larger decking installation, it may take two days and require an extra tradesperson, costing £900 roughly (two tradespersons for two days, at £225 per day). These costs include fixings and any tipping charges.
The table below will give you a general idea on what to expect, dependant on the measurements and material used for a standard decking project.
| TYPE OF DECKING | DURATION |
| --- | --- |
| Aluminium | 1-2 days |
| Composite | 1-2 days |
| uPVC | 1-2 days |
| Timber | 1-2 days |
What Installing Caravan Decking Entails
Decking has been a popular way for homeowners to create more usable space in their garden for many years. Decking can provide a place to enjoy the good weather, great for barbeques and parties, so it's no surprise that this feature is now growing in popularity amongst static caravan owners.
Whether you are thinking about decking for your home or your caravan, it's worthwhile to at least consider the option of hiring tradespeople and having the decking professionally installed.
Though getting a decking quote is almost certainly going to be more expensive, once you factor in the cost to buy or hire tools and equipment, plus the cost of all the materials and your time, then the actual difference in cost might not be as great as you would think.
But if you already have all the tools and equipment plus some serious DIY skills, then you can certainly tackle this job yourself.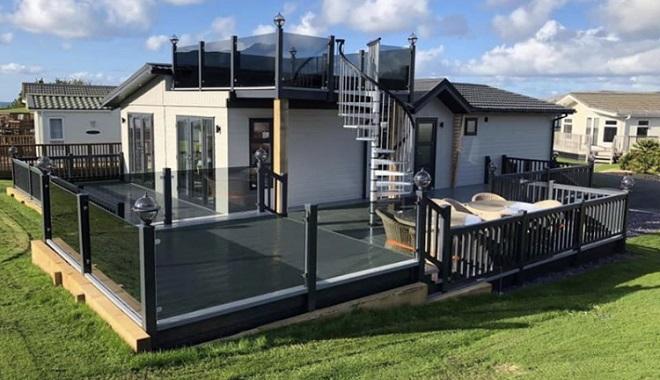 Caravan decking (aka verandas) can help you make the most of your holiday home and if you choose uPVC or composite materials then it's low maintenance too.
Composite caravan decks look beautiful and will last for many years longer than wooden decks as they won't rot, chip, splinter or crack - plus they never need staining or painting. Verandas for caravans are available in a wide variety of styles and are versatile enough to meet almost any requirement.
Composite and uPVC decking products are particularly popular amongst retired communities on caravan sites due to the lack of maintenance. They are great in winter as well as summer, giving some extra non-muddy exterior space. For sites with sloping ground, skirts can be added to the decking with built-in storage for items such as bikes, deckchairs and barbeques.
Other Trades You May Need
Before decking has been installed, you may wish to hire a gardener to clear the area for the framework; particularly if the land is overgrown or needs to be dug out, to prevent an imbalance in the decking. You can expect to pay £150 per day for a gardener, depending on what work needs to be carried out.
Once the decking has been fitted, you may wish to get quotes from a painter and decorator to paint timber wood decking for example, the most suitable treatment. Decking needs the correct maintenance from the off to ensure long-lasting durability. A handyman can complete this task and they typically charge £20-£30 per hour.
The fitters may be willing to apply a wood preserver to the surface, before sealing with a specialised sealant, however, this will depend on the duties they offer, meaning you may need to hire another professional externally.
Pros and Cons of Various Types of Decking
If you're unsure about which type of decking to choose, we have put together a list of useful pros and cons for each material type so you're able to get an insight into which option is best for you.
Timber Wood Decking
There are two types of timber decking, softwood and hardwood, to choose from. They're also available in different types of finishes. You can expect to pay on average £50 per square metre for timber decking.
Pros
✔ Natural look: Unlike other types of decking, timber wood offers the most realistic finish.
✔ Low labour costs: Treated wood, redwood and timber can often incur lower labour costs as each board can be cut, shaped and sanded with ease.
✔ Less susceptible to warping: Timber is much less likely to warp or rot than other forms of hardwood and softwood if it is well-maintained.
Cons
✖ Low life expectancy: Unfortunately, even the most well-preserved of timber decking only has an approximate 10-15-year life span. It is extremely common for timber to crack and split over time, which may mean you need to replace it quicker than you expected.
✖ High maintenance: You'll spending a great deal of time painting, oiling cleaning and re-sealing timber decking on a regular basis, which can really bump up the maintenance costs if you're paying a tradesman.
Composite Decking
Composite decking is a mixture recycled wood pulp, sawdust, and plastic that has become an extremely popular decking option over the last few years. On average, composite decking costs £50 per square metre.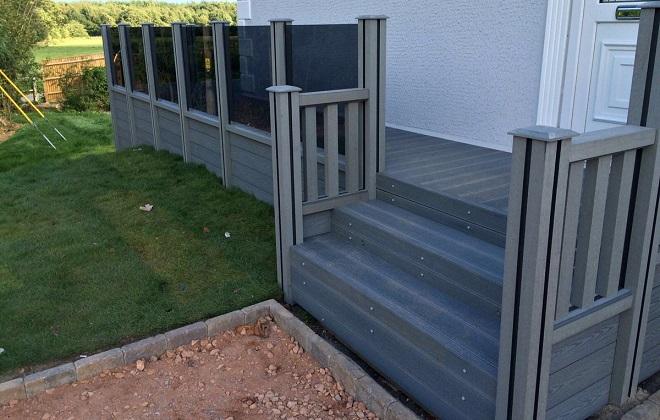 Pros
✔ Colour variety: If you're looking to add a bright pop of colour to your outdoor space, you'll be spoilt for choice with the range of colours available when it comes to composite decking.
✔ Weather-resistant: One of the main aspects that many consumers are on the lookout for when it comes to decking is weather resistance to prevent rotting and splintering and ultimately, longevity – composite decking offers this benefit.
Cons
✖ Some can look cheap: If you're hoping to achieve the natural look, composite decking may not be for you. On occasion, composite boards can look extremely man-made.
✖ Slippery: Do be aware that composite decking can be slippery underfoot, especially when wet.
Aluminium Decking
Aluminium is the least used type of decking used and is completely overlooked by consumers in terms of a go-to option; however, it offers many benefits if you're looking for another decking alternative. Aluminium is the most expensive option, costing £200 per square metre.
Pros
✔ Longevity: When it comes to building supplies, aluminium has always been a durable option that's deemed to last a lifetime - especially if it's been anodised beforehand.
✔ No maintenance: As aluminium isn't a natural material that'll crack or splint, it won't require any regular maintenance, apart from a hose down every couple of months.
✔ Fire-resistant/recyclable: Aluminium also offers two other unique benefits – it's completely fire-resistant as well as 100% recyclable.
Cons
✖ More expensive: If you're on a budget, aluminium wouldn't be the most advisable option, as it is double the price of wood and composite.
✖ Loud underfoot: Do be aware that this type of decking can be loud underfoot due to its solid construction, which can be a problem if you're planning on adding furniture that's likely to scrape against the surface.
uPVC Decking
This type of decking is made from polyvinyl chloride (PVC), a unique type of plastic resin that has become a popular option amongst consumers. uPVC is the cheapest decking averaging at £12 per square metre.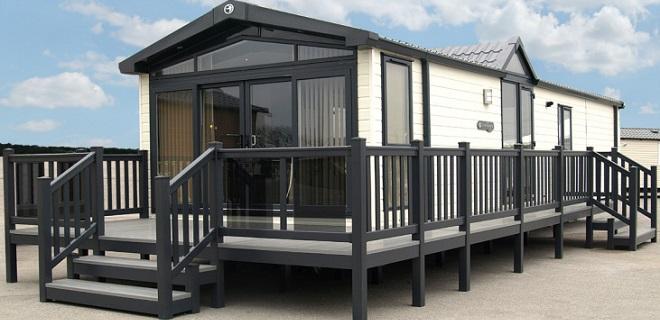 Pros
✔ Affordable: uPVC is one of the most budget-friendly decking types on the market.
✔ Ease of installation: This decking can be installed promptly and simply thanks to its lightweight handle, which is beneficial if you're planning on carrying out a DIY job.
✔ Durable: The low maintenance obligations of uPVC make this type of decking extremely attractive. You'll never have to paint, stain or oil the boards which can save both time and money in the long-term.
Cons
✖ UV Damage: Although uPVC decking isn't known to fade quickly, persistent exposure to the sun's rays can cause the boards to weaken and lose their colouring over time.
✖ Difficult to repair: It's extremely difficult to replace just one board if a section of uPVC decking becomes damaged, which means restoring the whole area of decking is often required. This will of course, add to the overall decking cost in the long-term.
Planning for Decking
Do be aware that before any decking can be laid down, it's highly likely that the owners of the park will want to see plans of your proposed decking and skirting.
Even if they haven't asked to see any drawings after informing them of your plans, it would be highly advised you do so and ask them to sign the document, which will act as a form of written permission.
If you go ahead without signing any legal documents, you may face the consequences if they go on to claim they haven't been informed or are unhappy with the finished project.
Suppliers and Manufacturers
Although many holiday parks are quite relaxed when it comes to customising the space around your caravan, they may be very specific on the suppliers and manufacturers you use for your decking job.
In this case, it would be advised to ask if there are any regulations in place before hiring your own professional to carry out the job and sign a written agreement that gives you the specific rights to hire your own supplier and installer.
Caravan park owners may also ask when manufacturers plan on visiting the premises – which isn't unreasonable, since outsiders entering onto the property may pose security risk to other holidaymakers.
Is My Space Suitable for Decking?
Providing there is an adequate garden area between each caravan that you can prove you're in ownership of, installing decking on your land shouldn't be too much of an issue. You will need to think carefully about the right style of decking for the amount of space you have to work with, however, a professional tradesman will be able to advise you on the best options available.
Can I Install Caravan Decking Myself?
If you consider yourself a DIY expert, you may like to have a go at installing decking yourself to save some cash. However, in order to do this, you need to be sure that the ground is levelled off, or the entire project can prove to be quite a challenge. Ventilation is one of the main concerns when it comes to decking and if you're not too clued up on it, it would be highly recommended you hire a professional instead.
If you wish to carry out a DIY project of installing decking around your caravan, here is a step-by-step guide that will come in useful:
Step 1 - Do the Preparations
Before the decking can be laid, carry out the necessary preparations beforehand. Fix pegs in the ground to pinpoint where the corners of the decking will be and use a builder's line to mark out the outer structure.
Next, clear away any debris within the section and use weed killer to prevent future growth in that section. Lay down a deck fabric over the soil to prevent water seeping into the wood when the ground starts to flood.
Step 2 - Build the Deck Frame
Many people choose to lay their decking on concrete slabs, which acts as a sturdy base for the frame to rest on, as well as preventing the woodwork from touching the ground and leading to damp exposure.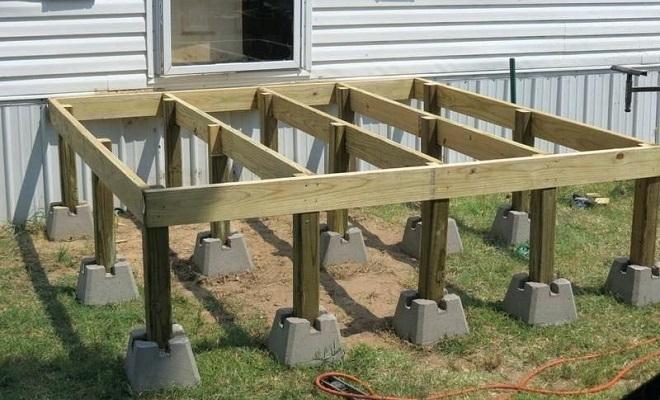 If you choose to use this method, here's how to build your deck frame:
Using your builder's line, place down the concrete slabs within the section, ensuring, they mark the corners of where the framework will lie. Make sure they are spaced out approximately one metre between one another to provide enough support.
Fix joists together at each corner of the section.
Assemble the framework and place on the concrete slabs, using a spirit level to ensure the outer structure is perfectly flat. The inner section of the framework should gently slope towards your caravan at a gradient of 1 in 40.
Step 3 - Attach the Frame
When it comes to fixing your decking to your caravan, it's essential you're aware of the exact meeting point between the frame and the wall.
Decking can be easily attached to a wall with a ledger board. Firstly, hold the ledger board against the adjacent wall and start to drill holes at the centre every 16 inches.
Once the decking frame has been built, you need to come to a decision on how high you would like the decking to be and the exact location on where to attach it on the outside wall. Once you have decided on the right level, use a pencil to mark where the holes are likely to be drilled. Hammer anchor bolts into each of the holes, before adding lag screws to firmly attach the ledger board to the wall.
Step 4 - Fix the Joists
The joists act as the main support for your decking boards and attach to the outer frame with nails. For a small decking area, around three joists would be enough – one at the centre and two on the outer frame.
Joists are essential to the framework of the decking, as wet weather can force the wood to expand and those springs end up taking the force.
Step 5 - Laying the Decking Boards
To begin laying down the boards, you firstly need to position the first board as close to the edge of the frame as possible and nearest to the building. Leave a small 7-10mm gap between your next board.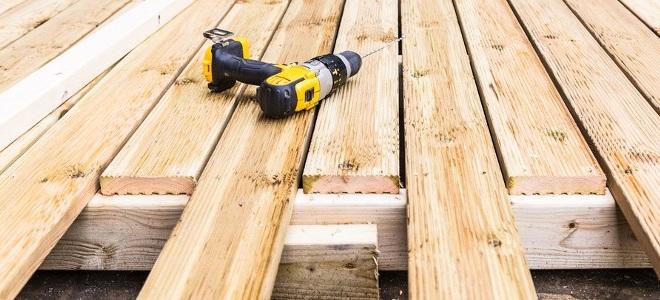 Each board should be fixed at the corners by drilling in nails, rather than hammering which can cause cracks and splits in the wood.
Step 6 - Install Steps
Needing stairs added to your decking is a high likelihood with your caravan being raised high off the ground. You'll need to pay close attention that each step is the same height, by estimating your rise and run.
If your decking is raised just a couple of inches off the ground, you can build stairs using stringers that have already been cut, to make the job easier for you.
Be sure that the wood used to create stairs of the highest quality and durability as it's going to take a greater deal of wear and tear in comparison to the rest of your decking.
Decking Repair, Maintenance and Cleaning
While the initial idea of having decking installed may be an attractive idea, there are several hidden costs that come alongside the maintenance and cleaning aspect.
If you're no DIY expert, repairs and maintenance would be best carried out by a professional who holds the adequate knowledge and training of how to prolong the life of the woodwork and ensure health and safety is guaranteed. Quotes are typically broken down into labour costs and the materials used.
| TYPE OF DAMAGE | COST |
| --- | --- |
| Damaged deck boards | £800 |
| Missing deck nails | £7 per pack |
| Rot damage | £150-400 |
| Stain and sealant | £3.50 per square foot |
| Oiling | £300 |
Damaged decking boards is one of the most common maintenance issues, which often need replacing after several years. For a section of decking to be replaced, you'll be paying an average of £800.
Missing Deck Nails
Nails are likely to come loose after time and in some cases, can make the decking unstable. It's extremely easy to replace nails yourself. Packs of nails can be picked up for around £7 at the hardware store. This would be the ideal time to upgrade to screws to fix your decking more securely.
Oiling and Sealant
Oiling decking is one of the most important forms of maintenance, as it keeps the wood weather-proof while restoring the natural oils that have been lost over the years. You can expect to pay around £300 for a small area of decking that's likely to be installed around a caravan.
If your decking has lost its colouring or needs sealing in any areas, a tradesman is likely to price the job at around £3.50 per square foot.
Warping, Splinting and Cracking
Unfortunately, even wooden decking that is well maintained can suffer warping, splinting and cracking over time. In this case, boards will need to be replaced to ensure safety is guaranteed and further damage doesn't occur.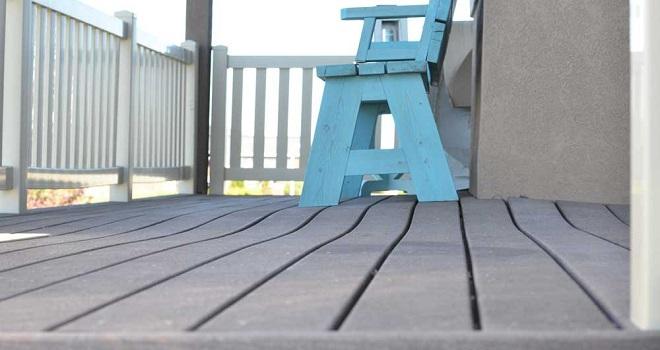 The cost of the replacement often depends on the type of wood used and the number of boards that need to be replaced. For a single board, you'll be looking to pay approximately £70, while a large area of decking that needs a full replacement may cost around £800.
Mould, Mildew and Rotting
Luckily, mould and mildew can be easily resolved to prevent rot setting in – so this isn't too much to worry about in terms of cost. If you already own a power washer, it will cost you no extra, but you can hire one for around £30 per day, as well as an extra £10 for cleaning supplies.
Cleaning your wooden boards on a regular basis can prevent mould and mildew, however, if you happen to notice any patches of mould appear, it would be a good idea to purchase a tub of decking cleaner which you can pick up for around £20. Mould inspection and removal only needs to be done once per year.
If however, you notice that rot is starting to cover a significant proportion of decking, you'll need to hire a contractor to repair the wood, which will set you back between £150-400.
Removing Caravan Decking
Your wooden decking may have grown tired and is now starting to crack or sag, meaning a replacement is necessary. Unfortunately, little can be done to save your decking at this stage, which means a full removal it is the only option.
Most modern decking is now built with screws which can easily be detached using a screw or screwdriver. If your decking was built with nails, you can simply disassemble the boards with a standard hammer.
The way in which you choose to dismantle your decking should be carefully considered – especially if you're thinking about re-using the wood. The timber boards from your decking can be used for other projects if it's still in good condition.
Next, remove the legs and feet of your decking. Some styles of decking may have concrete feet that can easily be removed from the ground with a push, but if they're proving or if difficult to budge, use a backhoe to detach the concrete from the ground.
Removing decking as a DIY project can be easily done, however, it will typically take 1 day to complete. On the other hand, hiring a professional with experience and expert knowledge can be completed in less than a day.
Dependant on the scale of the project, you can expect to pay between £150-£600 for decking removal.
FAQs
Sources
https://www.thespruce.com/best-decking-materials-pros-and-cons-2736284
https://www.doityourself.com/stry/pros-and-cons-of-pvc-decking
https://www.flooringclarity.com/aluminum-decking-reviews/
https://www.barbourproductsearch.info/pros-and-cons-of-timber-decking-blog000470.html
https://tradefixdirect.com/post-supports/simpson-concealed-post-base?gclid=Cj0KCQiAt_PuBRDcARIsAMNlBdozTB2Ea4Awo3Flci6FTL3Yq-x-cM-eomYspbgvoDTg9OfBow-2yNwaAq0VEALw_wcB