How Much Does a Swimming Pool Cost?
Until recently, swimming pools were not really associated with gardens in the UK, mainly thanks to our poor weather and the high costs.
An outdoor pool is actually pretty cheap when you compare it to the staggering cost of an indoor swimming pool!
An outdoor swimming pool is actually within the financial reach of many in the UK, with simple pools costing under £20,000, this is cheaper than many conservatory projects, and there are lots of options of cheap swimming pools for the garden!
However, a conservatory will likely add considerably to the value of your home when it comes to resale, whereas with a swimming pool, this is not always the case.
So, if you have the space and light, building a pool can be a valuable and useful extension to your dream home.
The average material cost of installing a garden pool will vary depending on what type of pool you decide to build.
Above the ground pools are cheapest as a standard kit can cost up to £3000.
Below-ground swimming pool material cost will depend on what type of tiles and the required piping system with material costs normally starting from around £10,000.
The more expensive insulated polyurethane panels and mosaic tiles can bring the materials costs up to around £25,000-£30,000 without installation costs.
Garden Swimming Pool Prices
The lowest cost to have a pool professionally installed would be around £15,000, but this would be a small pool with a basic in-ground liner rather than attractive tiles.
A more attractive mosaic tiled concrete pool would cost a minimum of £25,000, but the average pool cost is somewhere in the region of £40,000.
In addition to the installation costs, you also need to consider the running costs.
Heating and treating a medium-sized pool in the UK, even in the summer, can cost around £5 per day.
Below are some estimated swimming pool installation costs of hiring a specialist to install a garden swimming pool:
| SWIMMING POOL TYPE | COST | DURATION |
| --- | --- | --- |
| Above ground pool 12ft by 24ft | £4000 | 1-2 weeks |
| Small pool with liner | £20,000 | 4-6 weeks |
| Medium concrete pool with mosaic tiles | £30,000 | 4-7 weeks |
| Large concrete pool with mosaic tiles | £40,000 | 6-8 weeks |
| Medium fibreglass pool | £30,000 | 1-2 weeks |
| Large fibreglass pool | £45,000 | 2-3 weeks |
| Medium overflow pool | £25,000 | 2-3 weeks |
| Large overflow pool | £40,000 | 3-4 weeks |
| Medium stainless-steel pool | £40,000 | 4-7 weeks |
| Large stainless-steel pool | £60,000 | 6-8 weeks |
Additional Costs
Installing a swimming pool is a large-scale job for most gardens, so whilst undertaking this work, it may be worth looking into what else you can complete in your garden.
If you don't fancy the entrance and exit of your pool being welcome to grass, then it may be worth looking to install a patio for around £1800 or to install decking for around £1600.
You'll want your garden looking in top condition if you're hosting pool parties, it may be a perfect time to hire a regular gardener to take care of garden maintenance for up to £200 per day.
This can also include garden features to add a lovely decorative touch to your space; you can purchase an outdoor patio heater which will cost between £30-£40 per week to run, or spend some money on general garden decor which can add another £200-£300 onto your prices.
Cost Breakdown Calculator
Individual costs of a mid-range, underground swimming pool - Total Cost: £25,000
Labour Costs and Time Frames
The average swimming pool specialist will usually charge around £200 per day, although to construct a swimming pool a team of up to 4 tradesmen may be required. A standard above ground swimming pool is expected to take around 1 week to complete.
In contrast, a below ground swimming pool may take up to 4 or 5 weeks depending on the size and the complexity of the preparation work, i.e. if a tree needs removing.
Labour costs will reach a considerably high price if you're choosing a large concrete or stainless-steel pool with a variety of finishes as this will take much longer to complete and acquire more workers.
Cost Affecting Factors of Building a Swimming Pool
Although we've estimated an average garden swimming pool price, there are many different factors that can add or lessen these costs.
Below are several things which may or may not affect your costs when installing a swimming pool.
Above Ground
If you're looking for a simple pool on a limited budget, an above-ground pool is by far the cheapest solution, and they are also the easiest to remove when it comes to selling the property.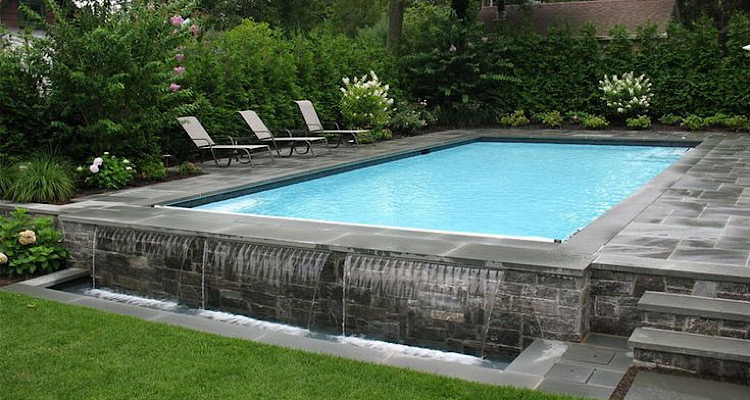 You can purchase a 12ft by 24ft above ground pool kit for under £3,000, and it is well within the scope of the average DIY enthusiast to put this up. Of course, when most people think of a swimming pool, they imagine a beautifully tiled pool set in the ground, not an above-ground oversized paddling pool!
However, aesthetics aside, above ground pools can provide most of the fun for a fraction of the price.
Underground
The traditional swimming pool is the in-ground type seen in luxury villas all around the world that allows you to plunge straight into the inviting waters.
Today there are many innovative and modern designs for gorgeous pools of all sizes, and you can even specify a hardcover to maximise your outside space when the pool is not in use.
In-ground swimming pools are of course much more expensive thanks mainly to the excavation costs.
This type of outdoor pool is also not suitable for the average DIY enthusiast either, so, even though kits are available for under £10,000, the installation costs will be high.
Type of Pool
There are several different types of swimming pools to choose from, which can alter costs drastically.
The specific types and advantages are listed below, but these include concrete, fibreglass, overflow, stainless steel, and blokit.
Prices can start at around £25,000, ranging to £70,000 depending on which swimming pool you choose.
Size
It may seem obvious, but yes, size is an extremely important factor when building a concrete garden swimming pool, and a larger pool can hike up your prices to about an extra £10,000.
A small garden pool can start off around the £20,000 price range, increasing by around an extra £15,000 for a medium pool, and a whopping extra £40,000 for a large pool.
Below is a table of other cost affecting factors that will alter the prices for swimming pool installation.
| COST AFFECTING FACTOR | AVG. COST |
| --- | --- |
| Hiring an excavator/digger | £450 per week |
| Supply costs minus materials | £900 |
| Paving bricks and slabs | £200 |
| Decking/patio installation | £1600 |
| Winter cover | £350 |
What Does Building a Garden Swimming Pool Entail?
There are four main ways of building a swimming pool. The most common method by far is the traditional block and liner technique, which uses masonry blocks and a waterproof vinyl liner.
You can also use a gunite shell made up of a steel mesh frame onto which shotcrete or gunite is sprayed, a polymer or fibreglass preformed shell or polyurethane panels. Each will add to the cost of building a swimming pool.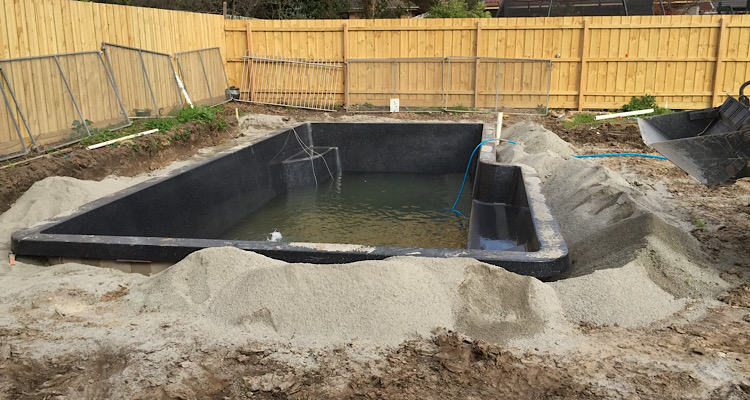 The traditional block and liner technique are the cheapest method but also the one most prone to failure due to cracking and liner failure.
The more expensive pool types with insulated polyurethane panels make a huge difference to the running costs of your pool, so are cheaper to run.
Below is a general guide of how a tradesman will install a garden swimming pool.
Planning the site and marking out the excavation area
Using the excavator to dig out the hole
Bottom channel gets placed down as well as panels and frames
Steps attached to the wall are installed and locked
Bottom of the pool gets screeded
The back of the pool panels are backfilled
The above-ground surrounding areas are built
Floor covering is set
Liner is placed, locked and creases are smoothed out
The pool is then filled with water, and the surrounding decking/decoration is installed
DIY Swimming Pool Building
It may seem pretty straightforward to simply dig a big hole, install a plastic liner then fill with water.
But there are countless horror stories on DIY forums from those who attempt this without the necessary building skills and experience.
Attempting to build a swimming pool without the right skills and experience can easily end up costing more in the long run than hiring a professional crew in the first place!
So, even though the labour costs will form a substantial part of the overall cost, get a professional contractor in to do the job right the first time!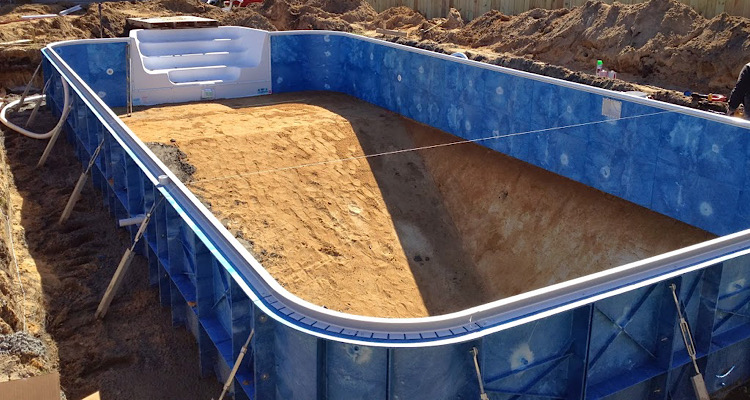 For peace of mind, choose professionals that are registered members of the Swimming Pool and Allied Trade Association, so you'll get a warranty and be financially protected in case your chosen contractor does not complete the project.
The installation process for a DIY installation job is the same as detailed above.
DIY swimming pool kits/packages are a popular choice for experienced DIY experts as they come with all the essentials needed, such as polymer panels, shell equipment, steel reinforcing bars, piping, filters, ladder, liner, liner corners and lock, maintenance kit and pool chemicals.
Below is a table of the average costs of a standard pool kit for different size swimming pools.
| TYPE OF POOL KIT | AVG. COST |
| --- | --- |
| 10ft x 20ft pool kit | £7,500 |
| 12ft x 24ft pool kit | £8,200 |
| 14ft x 28ft pool kit | £9,000 |
| 16ft x 32 ft pool kit | £11,000 |
| 20ft x 40ft pool kit | £13,500 |
Swimming Pool Options
There are a few choices when it comes to installing a garden swimming pool:
Concrete Swimming Pool Costs
A concrete swimming pool is a great option for anyone with a design eye who wants to customise their pool and can be placed anywhere within your garden.
Design possibilities can range from the length, height, shape, depth, entry and exit ways, and placement near the home.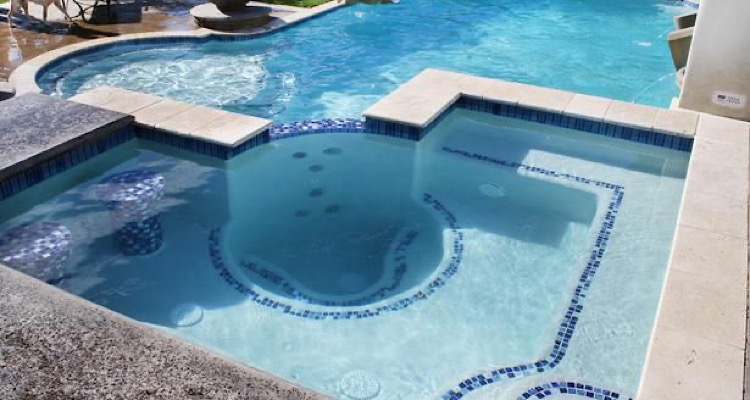 Concrete pools can also be finished in a variety of styles such as ceramic tiling, quartz, vinyl lining, pebbles, or mosaic tiles.
A typical concrete swimming pool can cost between £25,000-£30,000 and take several weeks to install.
Fibreglass Swimming Pool Costs
A fibreglass swimming pool is extremely easy to install and is the best option for garden areas which are harder to access.
They're durable, which makes them long-lasting and reliable, they can also take between one to two weeks to install, as the majority of the work is done prior to delivery.
There may be an opportunity to add water features or build in a spa pool with fibreglass.
A typical fibreglass swimming pool can cost between £30,000-£45,000.
Overflow Swimming Pool Costs
An overflow swimming pool is a popular choice and is also referred to as a deck level pool.
This where the whole perimeter is encircled by an overflow channel where the water line is level with the pool's edges.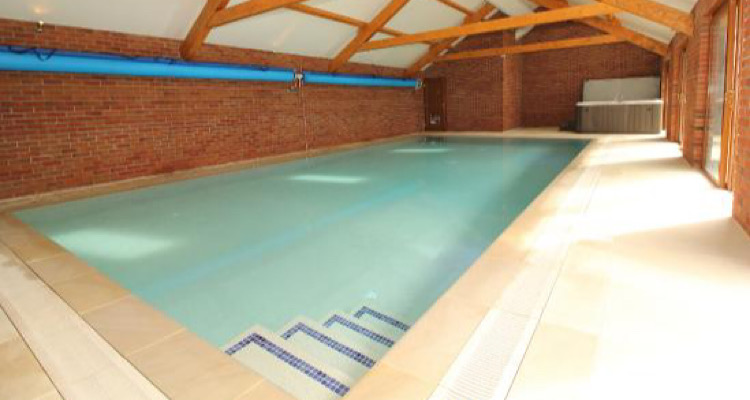 These are a common choice in public swimming pools as the water flows freely into the channel before being pushed into the filtrations system and pumped back into the pool.
A typical overflow swimming pool can cost between £25,000-£40,000 and can take 2-3 weeks to install.
Stainless Steel Swimming Pool Costs
A stainless-steel swimming pool is thoroughly sealed and watertight, making sure that there are absolutely no cracks or punctures to avoid losing water.
Stainless steel swimming pools are incredibly low maintenance and are protected for general wear and tear, including UV rays, weather conditions, water damage, and vandalism.
A typical stainless-steel swimming pool can cost between £35,000-£60,000.
Blokit Swimming Pool Costs
A blokit pool system is a cheaper alternative to a standard garden swimming pool.
It uses polystyrene blocks stocked with reinforced concrete.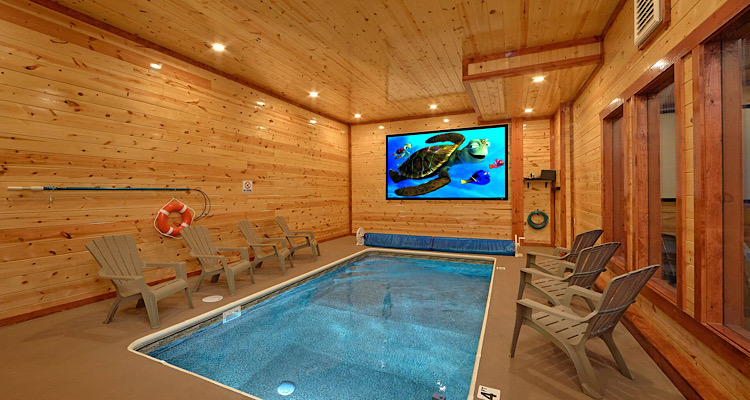 It provides thermal insulation for the pool once the concrete has been poured through the blokit units and can be assembled quickly whilst offering plenty of design opportunities. A typical blokit swimming pool can cost between £20,000-£25,000.
Swimming Pool Maintenance Costs
Most swimming pools use chlorine which breaks down over time so must be continually checked and topped up for safety reasons, as well as pH levels.
In hot weather, it should be checked several times per week, but there are automatic dosing systems which cut down on maintenance and all tasks are completely routine and do not require a specialist.
There are even mobile apps now that will help you monitor the pool pH and temperature levels.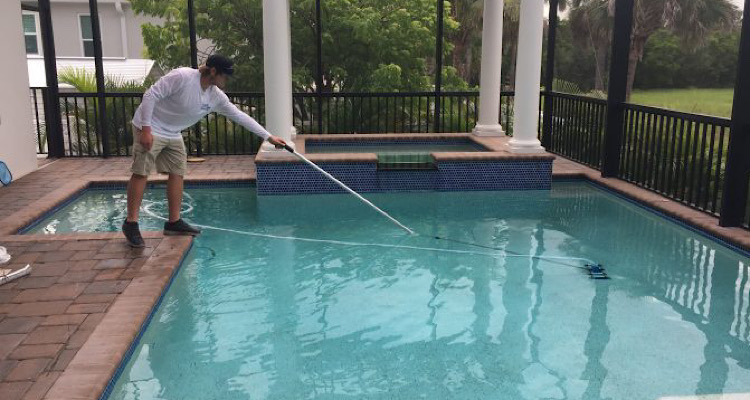 If you don't like chlorine pools, then you can install an alternative salt or pool purification system.
There are three main different types of pool filters, including sand filter, cartridge filter, and diatomaceous earth filters (DE).
Which one you choose will depend on the type of swimming pool you have and can typically cost between £50-£150.
Alternatives to a Garden Swimming Pool
Planning permission is not normally required unless you live in a listed building, where you would need to apply for consent, which would cost around £206.
A garden swimming pool may not be the best option for your household or location.
However, there are other opportunities for you to enjoy a water feature either inside or outside of your home if you cannot afford the cost of swimming pool.
Indoor Pool Cost
Indoor pools are a more popular choice in the UK where weather conditions are far more unpredictable.
However, they tend to come at a higher cost because of added heating and ventilation costs.
As with garden pools, indoor pools come in all shapes and sizes, and indoor swimming pool costs can range from around £60,000-£140,000.
When budgeting down your costs, the building itself is a very important cost; if you already have a large space ready for a pool to be installed, then you'll save on money.
However, if you're also building an extension, this can add another £30,000 to project costs.
If you're looking for a cheaper alternative, you can install an indoor/outdoor convertible pool cover which can cost £15,000-£25,000.
Lay Z Spa Cost
Lay Z Spa is a good alternative if you're after a more relaxing option as opposed to a competitive swimming unit.
It is also the most popular choice for hot tubs due to its reliability, quality and choice range.
Different types of Lay Z Spas include Lay Z Spa Paris for £599, Lay Z Spa Vegas for £499, Lay Z Spa Miami for £399, Lay Z Spa Palm Springs £399, and the Lazy Spa Monaco for £699.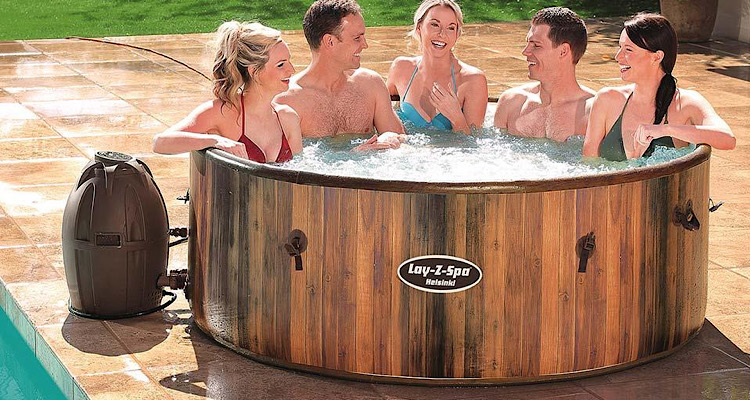 Once any of these options are set up, they will cost between £10-£40 to run per month.
These costs can be reduced by making sure the spa is well-maintained, keeping the hottub at a warm heat, and providing a good quality and well-insulated cover.
You'll also have to take into account the placement of your hot tub, and if it needs decking, you can install a patio for around £1800, or install decking for around £1600.
Swimming Pool Regulations
Outdoor swimming pools generally do not need planning permission before building work takes place.
However, if your building or house is considered a listed building or belongs within a conservation area, then you will need permission for any changes to the property.
If you're unsure on this, then you can check with your local council or authority before planning your job.
If you're looking to install an indoor swimming pool, then it is more than likely you'll require planning permission and building control applications.
There are regulations that an outdoor swimming pool will have to adhere to.
This means making sure that your pool is not considered an indoor swimming pool, to do this you'll have to ensure the pool is unenclosed and have no heated air surrounding the area.
Any fixed structure which encloses the pool will automatically turn it into an indoor pool which will require building regulations such as insulation and ventilation.
Cost of Removing a Swimming Pool
People may want to remove their swimming pool for many reasons including lack of usage, amplified remodelling costs, want more space, high maintenance costs or safety hazards as they can be difficult to fix.
It can cost up to £10,000 to remove an outdoor swimming pool including the costs of complete demolition and filling in the ground.
You can either hire a contractor or take on the large task of DIY removal to reduce the costs, this job is possible for an advanced DIYer but can be very dangerous if done incorrectly.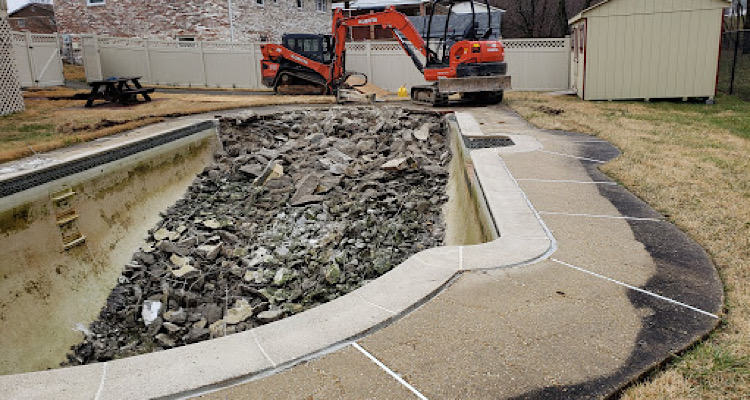 Removing a garden swimming pool, yourself will require you to hire and operate an excavator, and possible a skid steer as well.
Below is a general step by step guide on how to remove an outdoor swimming pool yourself with the correct machinery and equipment.
Hiring & Ordering Materials
You'll have to hire an excavator which has rubber tracks and a blade.
A 5-ton mini-digger can typically cost between £50-£100 per day, and £350-£450 for a week.
A top tip to keep costs low is to ensure you have all your materials before hiring an excavator as delay in delivery will cause you to waste money on your digger per day.
To make sure you have the right type and amount of filling material, you should figure out your pool's cubic yard volume.
You can do this by measuring the width, length and depth of the pool in ft, multiply them together and divide them by 27 - this will amount to the complete yardage of the pool.
When ordering your material, an average dirt filling can cost between £5-£8 per cubic yard.
Preparation
Prior to excavation, the bottom base of the pool should be broken or torn apart to make sure it's drained sufficiently; you can do this with the excavator's bucket or rent a jackhammer/concrete break for around £40 per day.
If you don't have either of these machines, you can drill several holes into the bottom of a concrete pool.
Excavate Pool
Once the pool has been thoroughly drained, you can operate the excavator and use the bucket to tear out each side of the pool and ensure that the sides, liner and materials are not embedded into the ground as they will need to be transported to a removal site.
Using an excavator should only be carried out by an experienced professional as it's easy for injuries to occur, including the machine falling into the ground.
Filling
Once the pool's ground and walls have been successfully removed, you'll need to start filling in the empty ground.
If you've hired an excavator for removing the walls, you can take advantage of the machine's blade which can move your dirt/filling into the hole.
If this isn't possible, then you may need to hire a skid steer for around £50-£80 per hour. It's wise to push the soil together as tightly as possible to alleviate possible dirt settling.
Finishing and Planting
As the filling nears the top of the ground, you should drive the machine over the area so you can make sure the soil is tight and firm.
When there's a foot left between the filling and the top of the ground, it's time to add the topsoil to ensure grass will grow.
Once the topsoil has been placed, you can finish up by adding grass seed, fertiliser and chopped hay.
This is a very brief outline of what it takes to remove a garden swimming pool yourself.
You should not take on this task if you have no previous experience or help from a professional.
FAQs
How to Find & Hire a Swimming Pool Installer
Installing a swimming pool is a rather costly job, so you want to make sure you have the best person for the job as you want to get the most for your money and protect your home.
Speak to several different contractors for quotes so you can compare prices and get the right fit for your specific job.
You should make sure that your contractor:
Is a registered member of the Swimming Pool and Allied Trade Association
Has experience in this type of job (with proof)
Will offer prior referrals and customer experiences with pictures
Is licensed and insured
Visits your site before any quotes are agreed in
Ask what their prices include (skip hire, decking, excavation, water fill)
Sources
https://www.compass-pools.co.uk/learning-centre/faqs/how-much-does-it-cost-to-build-a-swimming-pool/
https://www.grilloservices.com/grillo-blog/an-easy-cost-effective-way-to-fill-in-your-old-swimming-pool/