How Much Does a Porch Cost?
This information was collated from a combination of online sources and tradesman around the UK. But you should note that the figures provided are only a rough guide as there are several factors which will affect exactly how much your new porch will cost.
What factors will I need to consider when building a porch?
The average cost to build a porch will depend on the type of porch you choose, as porch prices range from £1,900 for a uPVC porch up to £10,000 for a lean to porch. Other porch types include traditional-style porches such as Victorian and Edwardian porches which cost around £2500 to £8400.
The cost will also vary depending on the material, for instance, a brick porch tends to be priced at £2,200 to £7,500, while an aluminium installation may cost slightly more at £7900. These can be all installed as a front or rear porch, although the latter option will usually be a lot larger as there are fewer restrictions.
The size of the porch is also an important factor, as under planning permission regulations, a porch should be no larger than 3 square metres, although many people do opt for porches that are 6 or 9 square metres for the rear of their property.
Porch Prices
Below are some estimated prices of hiring a tradesman to build a porch:
| Porch Type | Size | Avg. Cost |
| --- | --- | --- |
| Lean-to Porch | 3m² | £3100 - £3700 |
| | 6m² | £5700 - £6900 |
| | 9m² | £8400 - £10,000 |
| Edwardian/Victorian Porch | 3m² | £2500 - £3100 |
| | 6m² | £4500 - £5700 |
| | 9m² | £6600 - £8400 |
| Brick Porch | 3m² | £2200 - £2800 |
| | 6m² | £3900 - £5100 |
| | 9m² | £5700 - £7500 |
| uPVC Porch | 3m² | £1900 - £2500 |
| | 6m² | £3300 - £4500 |
| | 9m² | £4800 - £6600 |
| Aluminium Porch | 3m² | £2200 - £2800 |
| | 6m² | £4200 - £5400 |
| | 9m² | £6100 - £7900 |
Supply Costs
If you have a low budget in mind, you may want to install a garage yourself. To do this, you will need to be aware of the following supply costs:
| Porch Type | Avg. Cost per m² |
| --- | --- |
| Lean-to Porch | £700 - £900 |
| Edwardian/Victorian Porch | £500 to £700 |
| Brick Porch | £400 - £600 |
| uPVC Porch | £300 - £500 |
| Aluminium Porch | £600 - £800 |
Additional Costs
There are various other costs to consider when installing a new porch, such as:
Block paving installation
Block paving is a brick pathway installation which will is durable, long-lasting and will enhance the look of your property's exterior. Block paving will cost around £20 to £60 per m² for concrete blocks, £70 to £100 per m² for clay blocks and £50 to £105 per m² for natural stone.
Resin driveway installation
An alternative to block paving is a resin driveway, which creates the illusion of a gravel driveway without the excess maintenance. There are two types of resin driveway – resin-bound which costs around £1,200 to £10,000 depending on the size of your path, while a resin-bonded driveway is typically priced at £800 to £6000.
Tarmac driveway installation
Another long-lasting paving surface is a tarmac driveway, which is made up of tarmacadam or asphalt. This robust installation normally costs around £50 to £70 per square metre, depending on the type, colour and size you want your tarmac driveway.
New front door
To enhance the aesthetic of your porch and improve the safety of your home, you should consider having a new front door installation. This can cost anywhere from £250 to £3,900 depending on the type of door you choose.
Porch lights
Another way to improve the look of your porch is by adding some lights, which will also enhance visibility and security. Porch lights tend to cost around £125 to £200 per light.
House rendering
If the exterior walls of your property are looking worse for wear, then you may want to consider having your walls rendered. House rendering tends to cost around £40 to £60 per square metre, so the overall cost will depend on the extent of the damage.
Cost Breakdown Calculator
Individual costs of building a 3 square metre Edwardian Porch - Total Cost: £2500
Labour Costs and Time Frames
The average specialist will usually charge around £150 to £300 per day in labour. Typically, builders will often work in a pair or as a small team of 3 to 4 workers to complete the job but can occasionally work on their own depending on the size of the porch being built.
The time spent building the porch normally takes around 1 week to installation for an average 3m² porch, while a large porch measuring around 9m² could take 2 weeks or more to finish. There are some exceptions though, with aluminium porches, which take around 3 to 5 days to install, and will, therefore, have lower labour costs.
What is a Porch?
A porch is a sheltered building extension which is traditionally located at the front of a property; however, it can also be added on to the side or rear of your property.
The concept of the porch was first thought up in Ancient Greece, where the word portico was used to describe a frame that defined an entrance and established authority.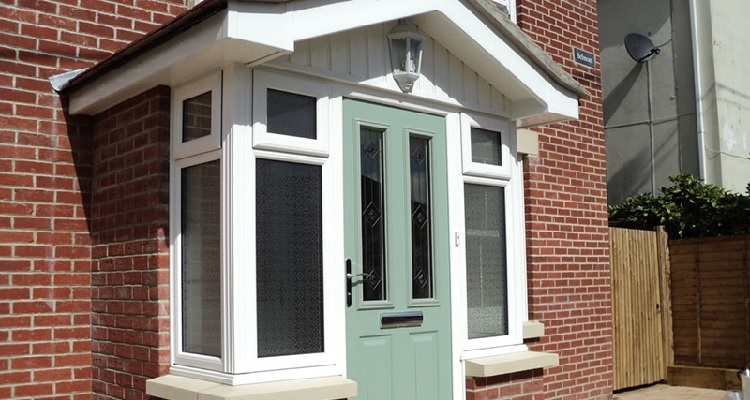 The reason porches are so popular is that they are one of the simplest extension projects for your home. Making the most of an entrance with a porch is a great looking addition which also offers additional space for bags, coats and boots (plus a handy area for parcels to be left when you are out!). A well thought out porch is not only affordable (as far as extensions go) but will also be an elegant addition to your home.
Cost Affecting Factors of Building a Porch
A porch extension cost will vary depending on a number of factors, such as the type of porch you choose, for example, a lean-to porch can cost up to £900 per m², while a simple brick porch only costs around £400 per m². The material used will also affect the price, as uPVC porches tend to be cheaper at around £300 per m², while an aluminium porch can cost up to £800 per m².
The size of your porch will also affect the prices, as an average-size 3m² porch tends to cost around £1900 to £3700, however for 9 square metre porch you could pay up to £10,000 plus an additional fee for a planning permission application.
The type of roof you choose will also be a cost affecting factor, so if you're looking for a cheap option it may be best to stick with a flat roof, which tends to cost around £30 to £50 per square metre, while the most expensive roof option – a hip roof is typically priced at £50 to £70 per m².
You may also need to pay extra for excavation work if the area where your porch is being built is in poor condition. This will increase labour costs, as the job will take a lot longer to complete.
What Does Building a Porch Entail?
Building a porch involves the following steps:
Laying the foundations

The first step involves installing the porch foundations. This will include excavation work, with professionals making sure that they dig the right depth for proper stability. How far they dig will depend on the type of soil, and whether any pipework or wiring is in the way.

Damp-proofing

Once the foundations are in place, a damp-proof membrane should be installed to prevent damp issue occurring in your newly built porch.

Sub-floor installation

After your floor has been damp proofed, concrete is typically laid on top of the membrane to form a subfloor. If you've chosen a timber floor, then joists will be laid at this point to support it.

Building the porch

When all the preparation is complete, the porch itself can be built. This will involve building the porch up to same height as the damp proof membrane, followed by installing the floor material and protective layer to prevent water damage.

If installing windows in your porch, the specialist will continue to build up to the windowsill level follow by installing a lintel. They will then continue to build further up to the top of the roof.

Roof construction

Once the main construction is complete, the roof framework can then be installed. This will usually involve constructing a timber framework and installing a roof membrane before the roof tiles can be added.

Gutter installation

To waterproof your roof further, porch specialists will install guttering onto your roof. This will also help to improve drainage and reduce water pooling.

Final touches

Once the porch framework is complete, porch specialists may add on steps to offer better access to the property. They will also decorate the inside, before installing windows and doors.
DIY Porch Installation
A porch is relatively straightforward to build, but still beyond the scope of all but the most experienced DIY enthusiasts. This is because it involves a significant amount of excavation, along with various installations including the porch itself, a damp-proof course, windows, and doors.
If your porch requires building regulations approval or planning permission, then it may be worth hiring a professional to ensure that the installation is compliant. This will allow you to avoid fines should your porch not meet the requirements.
If you're not experienced, you should avoid a DIY porch, however, if you wish to save a significant amount of money, you could consider tackling a few small jobs, such as excavating the ground. To do this, you will need a shovel, which will cost around £10 to £30. When digging, you need to familiarise yourself with the location of the pipework and wiring to avoid causing any expensive damage.
Benefits of a Porch
There are various benefits you gain when installing a new porch, including:
Aesthetically-pleasing
Installing a porch can help to improve the look of your home's entrance by creating a focal point. It can also add to your home's value and give it some additional curb appeal if you ever sell. Naturally, you will need to consider the price of building a porch and the amount it will increase your property value before having the work done, especially if you're looking to sell soon.
Enhances natural light
A typical porch with glass panels can help to increase the amount of natural light that enters your home. This will help to improve the aesthetic, while also creating the illusion of more space.
Creates more space
If you are building a large porch, this can provide more space for furniture or storage, which may not fit in your existing property. By creating more space, you can organise your home better by preventing excess mess and clutter.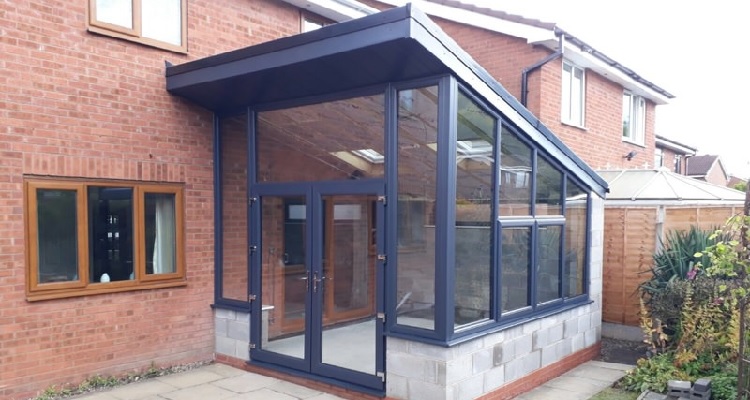 Increased security
Another bonus of a porch is that it can add additional security to your front door. This is because it acts as an additional barrier, which may deter or prevent burglars from entering your home.
Warmer home
Having an additional doorway and windows can help to warm up your home, as again they act as a barrier can also improve the level of insulation.
Keeps your home clean
Porches are an ideal way to keep your home clean, as you can keep shoes in the porch which will encourage people to take their shoes off before entering your home. This will reduce the amount of time spent hoovering or cleaning up stains.
Porch Options
There are various types of porch including:
Lean-to Porch Cost
This type of porch features a roof that is on a small slope and has a slight overhang. A lean-to porch is typically priced at around £700 to £900 per m².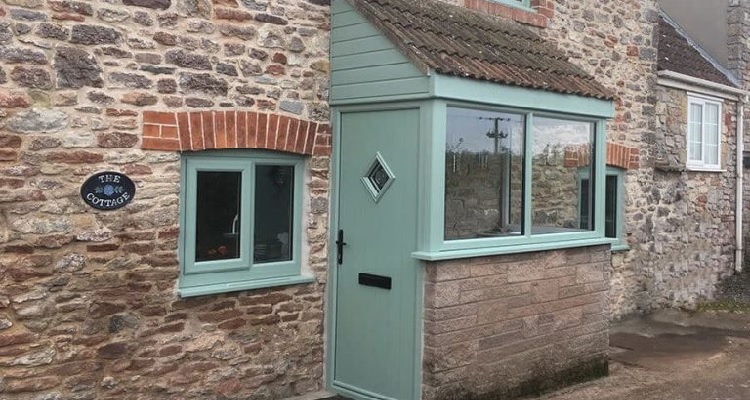 The main advantage of this type of porch is that it provides complete protection, which is especially important during heavy rainfall or stone winds. It is also one of the best choices if you do not have a lot of space at the front of your home.
Downsides of choosing a lean to porch include the fact that is it does not provide a lot of space, and its simplicity does not allow for much flexibility.
Edwardian Porch Cost
Edwardian porches are usually made of wood or stone with a triangular pitched roof. The cost of a porch with an Edwardian-style is around £500 to £700 per m².
The main advantage of an Edwardian porch is that it offers a traditional feel to your home, which works well with period properties. They can also easily be restored, as they have a long lifespan.
A problem with Edwardian-style porches is that they do not work well with contemporary homes, as the aesthetic is more traditional.
Victorian Porch Cost
Victorian porches are similar to Edwardian porches with triangular-shaped tops; however, the Victorian-style usually features uPVC and is much more decorative with ornate detailing on the roofing and frame. The average cost of installing a Victorian porch is around £500 to £700 per m².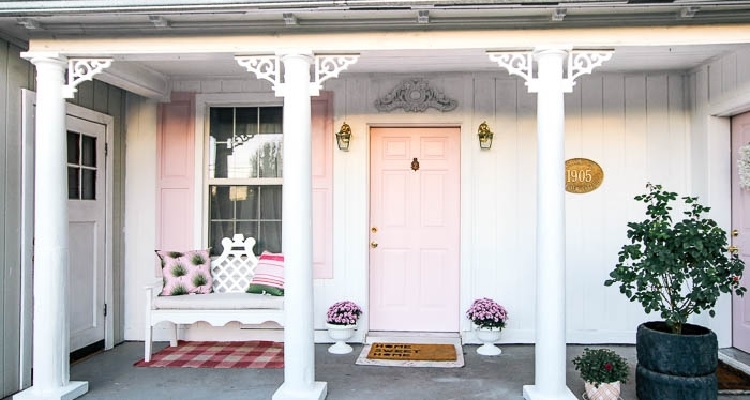 A great thing about Victorian-style porches is that it offers a unique aesthetic with a traditional flair, which works perfectly with traditional brick properties.
A downside of choosing a Victorian style is porch is that they are usually installed with uPVC, which is not as durable as other materials.
Front Porch Cost
Front porches are featured on many homes across the world, where they are normally installed before the front door to create an entrance.
The great thing about a front porch is that provides an established entryway into your home, which helps to enhance the aesthetic. It also helps to reduce mess in your home, as it encourages people to take their shoes off in the porch.
A downside of having a front porch is that it creates more space that needs to be cleaned, which means household chores may take longer. It will also increase the amount of maintenance that must be done, such as sealing or waterproofing.
Rear Porch Cost
Rear porches are more modern than traditional porch styles, as they are located at the back of the property.
An advantage of having a rear porch is that it can offer additional space in your home for things like shoes. It will also help keep your home clean, especially if you have animals or children who tend to run straight into the house full of mud, as the porch will act as a barrier where they can be cleaned up before entering the rest of the house.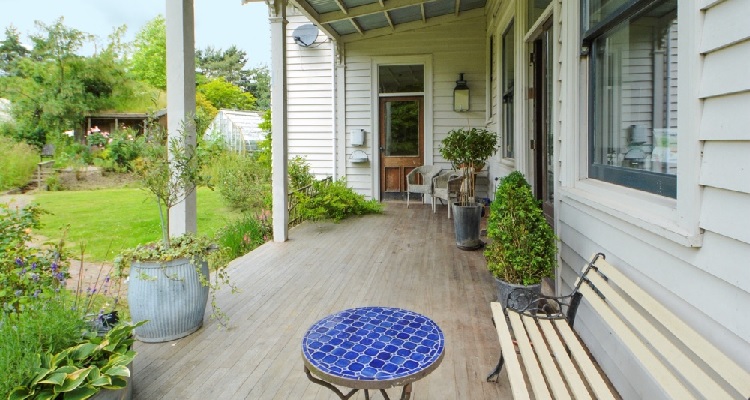 A downside of having a rear porch installed is that it can take up a lot of garden space, so it may not be the best choice if you only have a small garden.
There are also various materials used for porch installations including:
Brick Porch Cost
A brick porch is usually made up of the same or similar materials to the exterior of your existing property. This tends to cost around £400 to £600 per m².
One of the main benefits of installing a brick porch is that the design is typically seamless and fits perfectly with your current exterior. It is also one of the most durable porch materials, which will enable it to have a long lifespan.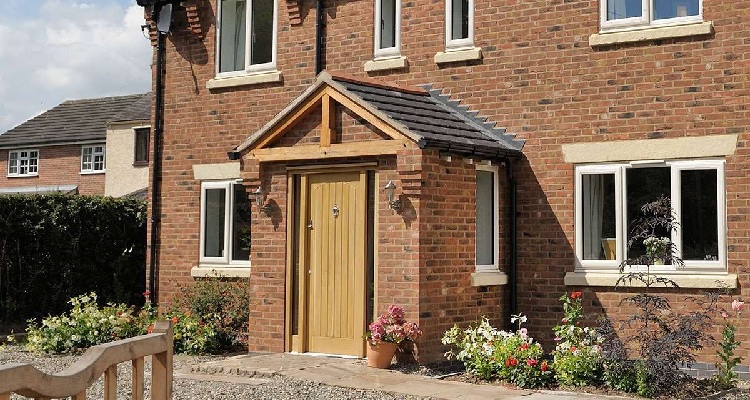 A brick patio may not work with a modern-style home, as brick is not a versatile option. It is also susceptible to warping which can cause movement to occur and may lead to costly repairs.
uPVC Porch Cost
uPVC is a type of plastic which can be used to build a variety of extensions, including porches. A uPVC porch tends to cost around £300 to £500 per m².
The main advantage of choosing uPVC is that is highly weather-resistant so it will act as an effective barrier during harsh weather conditions. It is also very easy to clean and maintain, and unlike an oak porch, does not shape or warp.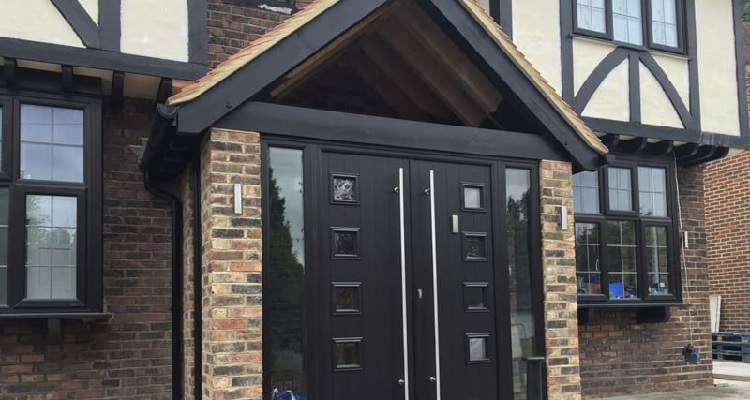 While uPVC is cheap, it may not always be a good thing, as cheaper materials tend to become brittle over time and can also discolour. They are also hard to repair, after a while, so you will have to pay out for a complete replacement.
Aluminium Porch Cost
Aluminium is a light-coloured metal which is used to construct a variety of buildings including porches. The cost of an aluminium porch is around £600 to £800 per m².
If installing an aluminium porch, you can benefit from easy installation due to using a lightweight material. It is also corrosion-resistant which means you will get your money's worth as the porch will have a long lifespan.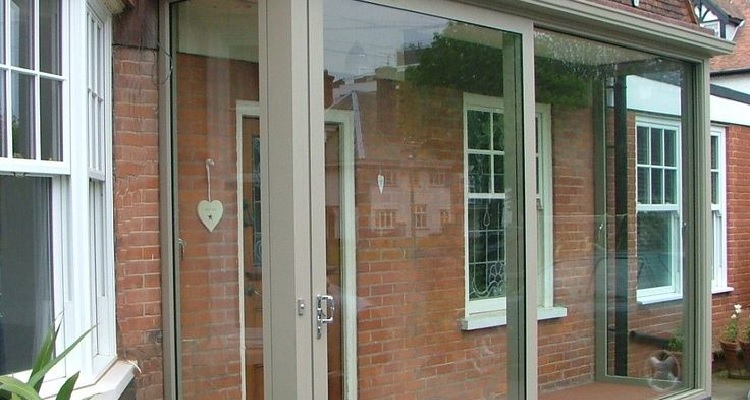 One of the main problems with aluminium is that is hard to reshape and repair, therefore you will probably need to pay out for a brand-new porch if it gets damaged.
Prefab Porch Cost
A prefab porch is a building that is pre-built off-site and is then installed in one piece. These tend to cost around £1200 to £1700 per square metre, although this will depend on the materials used or how big you want your porch.
The main benefit of prefab porches is that they are extremely easy to install, as they already pre-built when delivered, although the manufacturing process can take around 8 to 10 weeks. They are also much more cost-effective in comparison to traditional porches, as they tend to cost 10 to 25 per cent less.
A downside of installing a prefab porch is that there is not much room for change once it has been delivered and installed, unlike traditional porches where designs can be changed during on-site construction.
Prefab porches are typically built and installed by specialist manufactures and can therefore not be built on a DIY basis. The installation involves heavy machinery, which is dangerous and costly, so prefab porch installation is best left to the professionals.
Porch Roof Designs
There are several roof designs to choose from when building a new porch, including:
Porch Pitched Roof Cost
A pitched roof is any type of roof which slopes downwards, with two parts that angle in the opposite direction from the central point of the roof. The cost of a pitched roof is normally around £50 to £70 per square metre.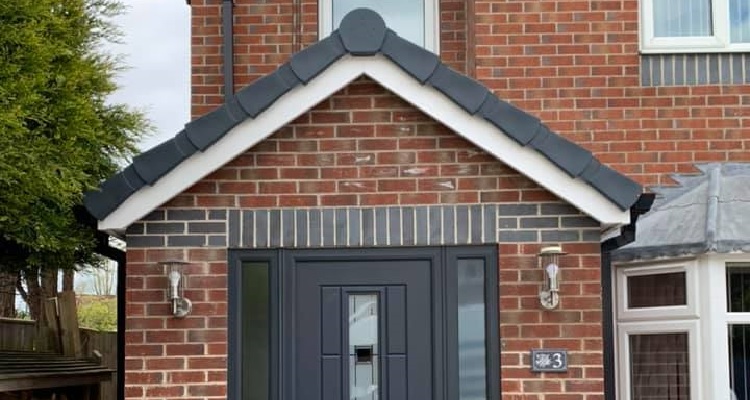 One of the greatest benefits of installing a pitched roof on your porch is that it offers a traditional aesthetic which works perfectly with most properties. It is also easy to maintain as it allows water to drain properly, unlike flat roofs which are susceptible to clogging.
A disadvantage of a pitched roof is that it can be expensive, especially if your porch has a complex structure, as this will make it difficult to install.
There two most popular pitched roofs include a gable and hip roof:
Porch Gable Roof Cost
A gable roof consists of two roof sections which slope in opposite directions. This type of roof is normally priced at £40 to £60 per m².
Having a gable roof installed on your porch can help to withstand water pooling, as it easily sheds snow and water. It is also one of the more affordable options in comparison to other pitched roofs, as the installation is not as complex.
Gable roofs may be susceptible to peeling during harsh weather conditions such as strong winds. If not installed properly, it may also result in the roof collapsing.
Porch Hip Roof Cost
A hip roof normally has slopes on all four sides, however when installed on a porch it usually only has three sides as the back of the porch will usually be attached to a wall. The cost of this type of roof is around £50 to £70 per square metre.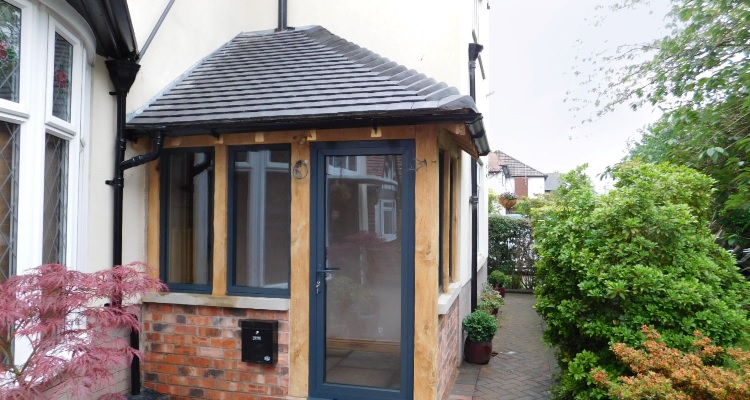 One of the main advantages of installing a hip roof onto your pitch is that it creates a unique aesthetic without the hassle of a difficult installation. They are also much more stable than gable roofs due to the additional slopes.
It can be hard to maintain a hip porch roof, due to its complex structure, which is also costly to install. It may also be susceptible to leaking without the right flashing protection.
Porch Flat Roof Cost
A common installation is a flat roof porch, which features a slightly sloped roof which costs around £30 to £50 per square metre.
One of the main advantages of choosing a flat roof porch is that it is more affordable in comparison to a pitched roof, as it is much easier to assemble.
A downside of having a flat roof is that they do not last as long as pitched roofs, and it may not offer the same level of insulation as a normal roof.
Building Regulations for Building a Porch
Before installing your new porch, you will need to check to see if your installation is compliant with current building regulations.
If you are planning to build a porch that is at ground level and less than 30 square metres, then you will not normally need building regulations approval. You also need to make sure that your existing front door stays in place, and if any ramps are installed this must not affect access. You must also ensure that the glazing and electrical installations are compliant.
If you plan on building a porch larger than the set requirement or plan to replace your door, then you will have to pay to submit an application. The fee will depend on your local authority, as they charge their own individual prices.
Maintaining and Repairing a Porch
To ensure you get your money's worth, you should try to maintain and repair your porch when it is required or hire a professional which will cost around £150 per day. The following guide sets out the various types of maintenance and repairs for different porch materials.
uPVC Porch Repairs & Maintenance
Oiling
Oiling is also important for uPVC materials, especially on windows and doors which may have become stiff. To oil your hinges, you should use a silicone spray (£2 to £5 per bottle) which should be applied using a cloth to ensure you reach the smaller areas.
Window handle repair
If any of your windows will not open, they can easily be repaired by a window specialist who will charge around £20 per window. You can also repair it yourself, by using a palette knife (£2 to £40) to lift up the handle and place it between the gap in the frame and the window. Pressure should then be applied to the top of the frame to enable it to open.
Brick Porch Repairs & Maintenance
Weed and moss removal
Brick porches are susceptible to mildew and moss growth, which can look unsightly and may also cause damp. To remove it, you should mix a cup of bleach with a gallon of water and apply it to the area with a scrub brush.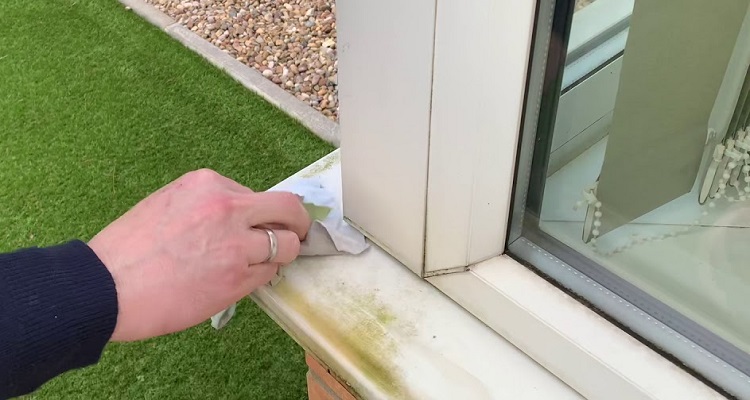 Structural damage
If you notice your bricks are cracking or crumbling, then you can either hire a professional for £ or do it yourself. To repair your brick porch, you will need to first remove any loose brick with a pry bar (£4 to £30). You can then install a new brick using a pre-made mortar mix (£7 to £12 per tub).
Aluminium Porch Repairs & Maintenance
Stain removal
If aluminium is not cleaned regularly, then stains can form which can be hard to remove. To get rid of stains, you will need a solvent-based cleaner (£10 to £50) which can be used on metal surfaces. This should be left on to settle into the material and then rinsed thoroughly.
Window chip repairs
If you have your porch for a while, then there is a chance that chips will start to form in the aluminium window frames. You can hire a window specialist to fix the problem for around £, although it is a simple job which will involve painting over the chips. To repair the chips, you will need to get the exact colour paint as your existing windows, along with paint brushes.
How to Clean a Porch
To maintain the look of your porch, you should try to clean it regularly. You can hire someone to do this for you for around £150 per day, however, it will be much cheaper to clean yourself. There are various cleaning methods for the different porch materials, such as: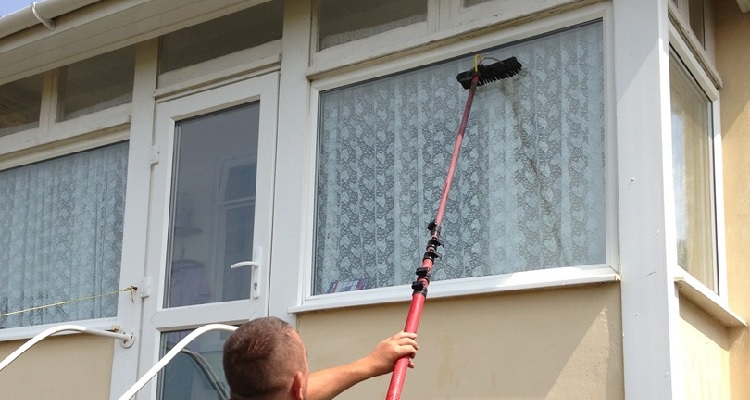 Cleaning a Brick Porch
The best way to clean brick is by power washing, which can cost up to £ for a professional to do it. You could also consider hiring one yourself which can cost around £22 to £160 per day, depending on the type of washer you choose.
If you do not have access to a power washer, then you can use a scrubbing brush with diluted bleach which should be applied to the brick to remove stains. Once the stains disappear, the brick should then be rinsed.
Cleaning an Aluminium Porch
For everyday cleaning, you should use a garden hose to remove any dirt from the window frames and porch surround, making sure that it is not dripping wet to avoid water staining.
For a more thorough clean, you should use steel wool and paint thinner which should be applied to gently to any tough stains. You should then polish the aluminium frame by applying water to the steel wool and buffing any dull areas.
Cost of Removing a Porch
If you're looking at replacing your old porch with a new one, then you first need to have the old one demolished. This isn't usually a difficult job, so you can do it yourself, but it will require a full days' worth of work and a skip or two which should cost around £70 to £300, depending on the size you need.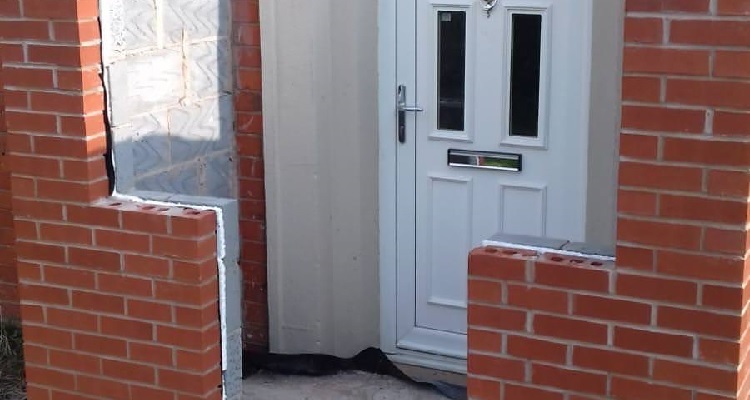 As such you should expect to pay anywhere from £300 to £500 just to have the old one removed by a professional, before work on the new one can begin. You may want to consider repairing your old porch instead as this will likely be a lot cheaper than replacing it.
FAQs
How to Find & Hire a Porch Installer
If you want to install a porch that is high-quality and long-lasting, you should hire a professional porch installer who will charge around £150 per day.
Before hiring a professional, you should take a look at their credentials, including qualifications in roofing, bricklaying, window and door installation, and joinery. You can also ask for evidence of previous porches that they have installed to give you an idea of what they can do for you.
The final thing you need to check is their insurance, as they should have public liability insurance in place to protect themselves and you should any damage or accidents occur while building the porch.
Sources
https://www.washingtontimes.com/news/2015/jul/2/the-evolution-of-the-american-front-porch/
https://www.thespruce.com/best-decking-materials-pros-and-cons-2736284
https://www.roofingsuperstore.co.uk/blog/how-to-build-a-porch/#how-to
https://www.findleyroofing.co.uk/the-pros-and-cons-of-pitched-roofs/
https://victorianconservatories.wordpress.com/2011/10/19/the-pros-and-cons-of-using-lean-to-conservatories-and-p-shaped-conservatories/
https://www.planningportal.co.uk/info/200130/common_projects/46/porches
https://www.windsealdoubleglazing.co.uk/maintain-upvc-windows-doors/
https://www.oakporches.co.uk/oak-porch-maintenance/