How Much is a Resin Driveway?
Firstly, where have resin driveways come from?
Resin-based driveway surfacing is comparatively new to the UK but gaining in popularity thanks to significant advances in polymer and epoxy resins in recent years.
Next, the cost of resin driveways...
To provide accurate pricing information, we have contacted local, and national companies, plus have used various online quotation tools.
The figures provided should give a good rough idea of the costs involved if you are considering laying resin for your driveway, but of course, you will need to gather more in-depth quotes from tradespeople and local companies to get an exact price for your requirements.
The installation cost of a resin driveway is normally around £60 to £90 per square metre.
However, this will vary depending on the size of the drive, for example, a 20 square metre driveway which can accommodate one car ranges from £1,300 to £1,800, while a 2-car driveway measuring 40 square metres will cost around £2,500 to £3,750.
If you have a driveway that fits 4 cars, this should have a dimension of 80 square metres or more and will cost around £4,750 to £6,000 for a resin driveway installation.
What other factors can affect the over cost?
These costs may vary depending on the aggregate material you choose, as well as the company you hire as some will charge around £150 per day, while others will have a daily rate of £200 or more.
Resin Driveway Prices
Below are some estimated costs of hiring a driveway specialist to install a resin driveway.
Driveway Size
Materials
Avg. Cost
1 car (20 sq. m)
2 - 5mm Daltex classic (21 bags)
1 – 3mm Daltex classic (7 bags)
6.5 kg C52 sand (7 bags)
7.5kg UVR resin(7 tubs)
£1,300 to £1,800
2 cars (40 sq. m)
2 - 5mm Daltex classic (39 bags)
1 – 3mm Daltex classic (13 bags)
6.5 kg C52 sand (13 bags)
7.5kg UVR resin (13 tubs)
£2,500 - £3,750
4 cars (80 sq. m)
2 - 5mm Daltex classic (75 bags)
1 – 3mm Daltex classic (25 bags)
6.5 kg C52 sand (25 bags)
7.5kg UVR resin (25 tubs)
£4,750 - £6,000
Supply Costs
If you wish to install the driveway yourself, then you will need to consider the individual supply costs, which are listed below.
| Material | Avg. Cost |
| --- | --- |
| Sand | £5 to £8 per bag (6.5kg) |
| Aggregate | £5 to £25 per bag |
| UV stable resin | £40 to £60 per container (6.5kg) |
| Non UV stable resin | £30 £40 per container (6.5kg) |
Additional Costs
There are various other costs you need to consider when installing a resin driveway. The below table sets out the different jobs and their prices.
| Description | Avg. Cost |
| --- | --- |
| Removing current driveway | £150 to £450 |
| Manhole covers | £30 to £60 |
| Aluminium edging | £7 to £40 per trim |
| Landscaping | £200 to £1,000 |
| Tree removal | £200 to £5,000 |
| Gate installation | £300 to £1,500 |
| Garden wall installation | £650 to £1,400 |
Resin Driveway Cost Calculator Breakdown
Individual Costs Of Installing a Double-Width (2 car) Resin Driveway (40 sq. m) - Total Cost: £2,500
Labour Costs and Time Frames
The average driveway specialist will usually charge around £150 per day. Driveway specialists will often work in a group of 2-3 to complete the job and ensure the job is done as smoothly as possible, which normally costs around £200 per day.
The time spent on the job will depend on the size of the driveway, with a 1-car driveway taking around 3 to 5 days, while a 2-car driveway could take 1 to 2 weeks to complete. If you have a larger driveway that fits 4 cars or more, this could take 2 to 3 weeks to install your resin driveway.
Cost Affecting Factors for Installing a Resin Driveway
There are a number of elements that affect the cost of a resin driveway installation, including:
Resin Bound vs Resin Bonded
One of the most important things you need to think about when planning your installation is whether you choose a resin bound or resin bonded driveway. As a resin bonded driveway ranges from £800 to £6,000, depending on the size of the driveway, while a resin bound driveway is slightly more expensive with starting price of £1,200 and rising to over £10,000 for driveway over 100 square metres.
Driveway Size
The most obvious factor is, of course, the size of your driveway as the larger it is, the more materials you will need and the longer it will take to install. For example, a typical 2-car driveway will be priced at around £2,500, while a larger driveway that fits more than four cars can cost £6,000 or more.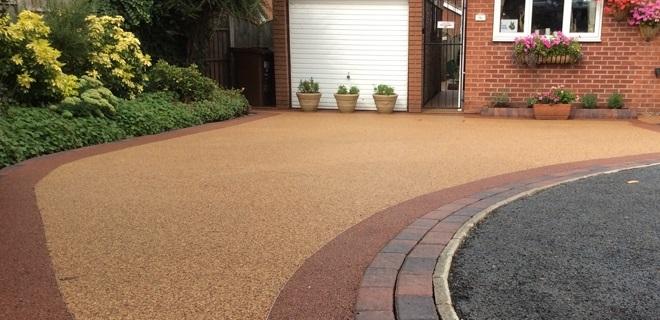 Driveway Depth
Another important size factor is the depth of your driveway, as the deeper your driveway is, the longer it will take to remove the existing pathway and install the new one. The depth will also determine the size of the aggregate that needs to be used.
For example, a 12mm depth will require at least 3mm of aggregate which is normally priced at £4 per bag while 10mm aggregate which costs around £5 per bag is the standard size for 22mm driveway.
Condition of Current Driveway
The state of your existing driveway will also affect the cost of the installation, especially if the sub-base is damaged along with the drainage, as this will add on around £120 to £170 per square metre onto the initial installation cost.
However, if your driveway is in perfect condition, then it should cost no more than £80 per square metre for a driveway under 40 square metres.
What Does Installing a Resin Driveway Entail
Installing a new resin driveway involves the following steps:
The first step involves assessing the tarmac or concrete base to ensure it is steady enough for installation. If not, then a new base will need to be applied before the fitting. If there is nothing wrong with the base, then the area should be cleaned, and any liquid or dust is removed from the pathway.
The next stage is to mark out the area where the resin will be applied. Once this is in place, the resin materials will be mixed in preparation for pouring.
The resin will then be slowly poured onto the driveway, followed by levelling it out with a shovel to ensure it is even. Aggregates will then be packed into each corner, making sure there are no gaps.
A trowel will then be used continuously until the aggregates become solid and stop moving in a fluid motion.
Once the resin is completely level and compacted, the driveway should be smoothed out and polished thoroughly.
This process will continue until the entire area is covered and completely cured. The area should then be left for at least 48 hours before walking or parking small cars on the area, while large vehicles should only use the driveway after 72 hours.
When's the Best Time to Install a Resin Driveway?
According to resin driveway specialists, resin material should not be poured in winter months or in temperatures below 5°c, as it needs a slightly warmer temperature to be able to cure in a few hours.
It may be best to book your resin driveway installation in the summer months when temperatures are warmer, although spring is also an ideal time. While temperatures can reach below 5°c in Autumn, you could benefit from discounts during quieter periods, and many resin driveway specialists tend to use a catalyst product which heats the resin materials and speeds up the process.
DIY Resin Driveway
While it is possible to install a resin driveway yourself, it can be a difficult job, especially if your path has any sloping areas, as this can cause the resin to run and set in the wrong place. Problems can also occur if you use the wrong depth of resin, as typically a driveway requires at least 3mm aggregate with a 12mm depth. Any less than this can cause the resin to crack, and patches may appear on your driveway.
If you have no experience with installing driveways, then it's best to leave it to a professional, as this will ensure that everything goes to plan. This is especially important if you need to install a new sub-base before pouring the resin, as this will involve lifting up the original driveway, which can be both time-consuming and complicated.
However, you also need to be careful when installing a resin driveway over concrete, as you need to know exactly where the control joints have been cut, as concrete tends to move in certain temperatures, so if it is not installed properly it can lead to cracks.
If any of the above problems do occur, then you will have to pay to have it removed which will cost around £150 per day, while a replacement may set you back around £1,300 to £6,000.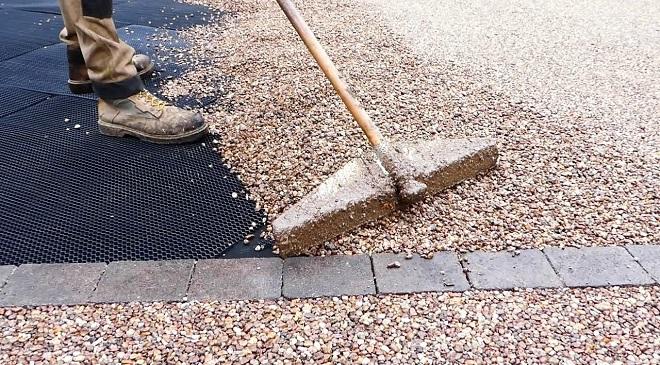 Pros and Cons of Resin Driveways
Pros
Resin driveways are extremely durable thanks to a top sealed layer which is resistant to extreme weathers and heavy vehicles. They also remain colourfast over many years and are porous, which means they are environmentally friendly and no more puddles on your drive!
To make a resin driveway, essentially decorative gravel is bonded to an existing solid surface utilizing a transparent or a coloured resin. These aggregate driveways are fairly resistant to weeds and moss, as well as oil leaks, plus they do not fade over time when exposed to UV light and are relatively low-maintenance compared to other driveway types.
In comparison to other driveway applications, a resin-based driveway can be installed at a low-cost rate, with starting prices at just £40 per square metre. This will, of course, vary depending on the condition of your driveway and its size, although the price per square metre does tend to drop the larger the area is.
Cons
The main problems with resin driveways most often occur when they are installed onto block paving. This is really cheap but also very risky due to the possible movement of the paving blocks underneath the surface.
If you ever see a resin drive with an uneven surface, this is almost always caused by not laying it on top of a proper sub-base. This is, of course, a false economy as the driveway looks awful and will likely need redoing at some point so will cost even more in the long run.
Especially when you consider that often more resin is used on block paving surfaces to try and get an even finish, then all this extra resin, plus the block paving, will need to be removed.
Another downside is unwanted moss and weed growth, which is not only unsightly but can also cause your driveway to become slippery and could possibly cause accidents. However, this can be prevented by maintaining the driveway as much as possible to ensure that the area is clean and safe.
Difference Between Resin Bonded and Resin Bound
There are two main types of resin driveway – resin bound and resin bonded. To help you decide which is the best option, take a look at the following guide.
Resin Bonded
A resin bonded surface consists of scattered aggregate which is installed on top of a resin layer. This gives the impression of loose gravel on your driveway without the need for regular maintenance that comes with the real thing.
Resin bonded driveways do not drain as well as resin bound surfaces, as the initial resin layer acts as a barrier which does not allow water through as quickly, which can lead to water pooling. This can cause extensive moss growth which can cause damage to your driveway if not maintained properly.
Resin bonded driveways are slightly cheaper, starting at around £800 for a driveway under 30 square metres and up to £6,000 for driveways up to 100 square metres.
Resin bound
Resin bound driveways consist of aggregate which is mixed in with the resin. This is then trowelled to create a smooth finish which is similar to the way screed looks, as there are no loose stones on show. The material used creates an appealing aesthetic, while also creating a robust and long-lasting driveway that can last up to 10 years or more.
Resin bound surfaces are SUDS (Sustainable Urban Drainage System) compliant which means it does not retain water, and instead is drip-fed through the surface rather than flowing directly into the drainage system.
This prevents water pooling or overflow, which is especially important during heavy rainfall. Having a SUDS compliant driveway also means that you do not require planning permission, as the drainage quality complies with building regulations.
Some problems can arise from having a porous driveway material, as it is more susceptible to weed and moss growth, and therefore must be cleaned regularly to avoid your driveway looking unattractive while also avoiding a slippery surface.
Resin bound driveways tend to cost more than resin bonded surfaces, with costs ranging from £1,200 to over £10,000.
Maintenance, Repairs and Cleaning
To ensure your resin driveway is long-lasting, you should conduct regular maintenance and cleaning, such as removing any leaves, dirt or debris with a stiff brush. You can also hose down the path occasionally with clean water.
You should try to do this as often as possible, as debris can cause stains to appear if it is left too long, as can the oil or grease that is released from your car. If you do have stains on the surface of your resin driveway, then they can be removed using a pressure washer which costs around £70 to £1,000 to buy.
You could also get a professional to jet wash your driveway for you. They typically charge around £100 to £150 per day, although this will depend on the size of your driveway.
During the colder months, you can maintain your resin driveway by laying down grit salt, as this will help to reduce the amount of ice and frost that settles on the surface.
However, once the weather clears up, it is important that the salt is removed and washed thoroughly, as in the long-term salt can damage your driveway. You can purchase grit salt from most trades stores for around £9 to £18 per pack.
If you have any damaged patches on your resin driveway, then it is possible to have them repaired. This will involve chiselling out the damaged area, then applying the same resin blend in the gap. The cost of this will depend on the type of material used; however, for professional repairs, you may pay around £150 for a day's work.
Edging Options
When installing your driveway, it is important that you choose the right edging profiles to protect your driveway while also improving the aesthetic. There are various edging options to choose from, including:
Classic kerbs
One of the most common types of edging is the classic kerb style, which is usually installed near the roadside. A classic kerb is usually made up of concrete and is typically rounded to create an appealing aesthetic. They can either be buried alongside the driveway offering a seamless finish or can be featured as an upstand. The cost of this type of edging adds around £25 to £40 per square metre to the price.
Stone edgings
For a more seamless look, you may want to opt for stone edging to blend in with your resin driveway. One of the more expensive options is granite edging, which costs around £10 to £40 per stone, which may seem steep. However, it will be beneficial in the long-run due to its extensive durability.
The robustness of granite means you do not have to worry about the colour fading or damage, as granite is the perfect material for driveways with heavy foot traffic.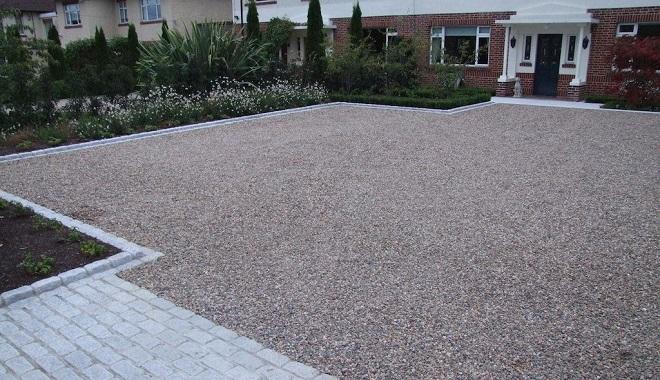 Aluminium edgings
In contrast to granite edging, aluminium is one of the most affordable options at just £7 to £12 for an 18mm trim. This is perfect for anyone with a low budget, as it is cheap but also worthwhile.
Aluminium edging is available in two different shapes – straight and flexible – with the latter being the most popular option as it can form any shape or design. It even allows you to personalise your driveway with letters or a motif.
This type of edging not only offers a great aesthetic but is also able to lend itself as a movement joint, which means it is resistant against cracking or movement.
UV vs Non-UV Resin
There are two main types of resin – UV stable and non-UV stable resin. To help you decide which is the best for your resin driveway, take a look at the following pros and cons.
UV Stable
UV or aliphatic resin is a polymerized material which can be cured using an ultraviolet device. UV resin offers a number of advantages and disadvantages, including:
Pros
✔ UV resin can cure within seconds or a few minutes.
✔ This type of resin is less susceptible to cracking.
✔ UV resin is more resistant to weather conditions and moisture.
Cons
✖ A more expensive option than non-UV.
✖ A UV lamp is required for curing.
Non-UV Stable
Non-UV or aromatic resin is just your typical epoxy resin which is a type of durable plastic that is used for several applications including driveways. It has a number of pros and cons, such as:
Pros
✔ Non-UV resin is a more affordable option than UV resin.
✔ This type of resin is more reliable as it does not require a UV tool to cure.
✔ Non-UV resin can be used in small areas where a UV lamp cannot gain access.
Cons
✖ Non-UV resin can darken in colour if it is exposed to sunlight for a prolonged period.
✖ This type of resin can crack or become brittle over time.
✖ Non-UV resin can take a long time to cure.
Lowering My Resin Driveway Cost
One of the best ways to reduce your resin driveway cost is by laying the resin over an existing concrete or tarmac surface. However, this is only possible if the surface is suitable.
This is especially important for concrete surfaces, as you must have proper drainage in place with no evident cracks.
If your surface meets these standards, then you will not have to pay out for groundworks which would add up to around £120 to £170 per square metre extra for a new surface, drainage and your resin driveway installation.
Another way to reduce the installation price is by removing your existing path yourself if it's necessary; however, this is quite a complicated task so only experienced DIYers should try it.
The reason for this is because you will have to dig up the pathway and if you do not know where your utility lines are then you could damage them, and if this happens, you will have to pay for extensive and costly repairs.
If you have no experience with driveways, then you could consider prepping your path yourself, which will just involve cleaning the area and removing any weeds, moss, dirt and debris using a brush and clean water.
Other Driveway Options
There are plenty of other driveway options you could look at, including:
Gravel driveway
A gravel driveway is usually made up of processed rocks, sand and clay. This type of driveway offers a natural aesthetic that fits perfectly with both modern and traditional homes.
The price of a gravel driveway installation is typically around £2,600 for a 40m2 driveway and up to £6,000 for a 100m2 driveway, making it one of the most affordable options available. It is also very easy to install, in comparison to block paving, as no additional drainage is necessary.
There are also a number of downsides associated with gravel driveway installation, including the fact that is a high-maintenance material, as it tends to move and would, therefore, require replacement of the gravel. It is also quite difficult to clean, especially when dealing with leaves or twigs, as they're not that easy to remove.
Block paving
This type of driveway is one of the most common applications which uses brick to form a decorative pathway. It is a popular choice due to the unlimited options available, although the most popular materials include clay block paving which costs from £2,800 a small driveway up to £10,500 for a large driveway.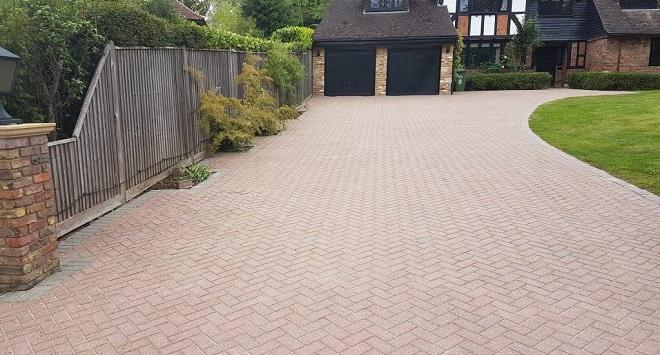 Another common material is a natural stone which is usually priced at £2,000 for a small pathway and up to £11,000 for a larger space. While, the cheapest of all block paving materials is concrete, which costs from £1,800 for a driveway for 1 to 2 cars up to £6,500 for a home with space for 4 to 5 cars.
Block paving is not as cheap as other driveway types, and can also take a long time to install; however, it is one of the most hard-wearing and long-lasting driveways that is easy to repair. Although, in comparison to a resin bound driveway, which has no joints or gaps, block paving has gaps that allow weeds to grow, resulting in wear over time.
Tarmac driveway
Tarmac or tarmacadam consists of crushed stone and tar and is one of the most commonly used materials for driveways due to how easy it is to apply.
Tarmac is an inexpensive material, with a small tarmac driveway priced at around £2,000 while a larger area fit for 4 to 5 cars tends to cost about £7,500. However, these prices may increase if you want an alternative colour such as red, as manufacturers will not produce as many batches of this colour.
One of the main problems with tarmac is that it can discolour quickly if it is not maintained properly, especially if you choose additional colours. Another issue with tarmac is that it is prone to cracking, so it may be worth investing in a more durable sub-base that will enable it to last longer.
Concrete driveway
Concrete is usually made of cement, sand, and water making it the perfect material for driveways due to its long-lasting and flexible qualities. If choosing a concrete driveway, you will have a variety of styles to choose from, including different shapes, patterns and colours, although, the most popular design is pattern imprinted concrete (PIC).
For coloured PIC, you should expect to pay around £3,700 for a 40m2 driveway or up to £9,000 for a 100m2 driveway. This price does not include a new sub-base, as concrete can be laid on top of most materials, allowing you to reduce the cost of installation.
Before deciding on a concrete driveway, you need to understand some of the downsides, such as repair difficulties in the event of cracks, which may result in you having to get a completely new driveway. You may also have to pay extra to seal the concrete, as this will improve the aesthetic and its durability.
Resin Patios
Another way to transform the exterior of your home is by installing a resin patio. There are various resin blends to choose from which will help you improve the look of your front or back garden, which will also cover up any unsightly manholes or drains. Your exterior will not only look great but will also benefit from its permeable qualities which allows water to pass through rather than puddling.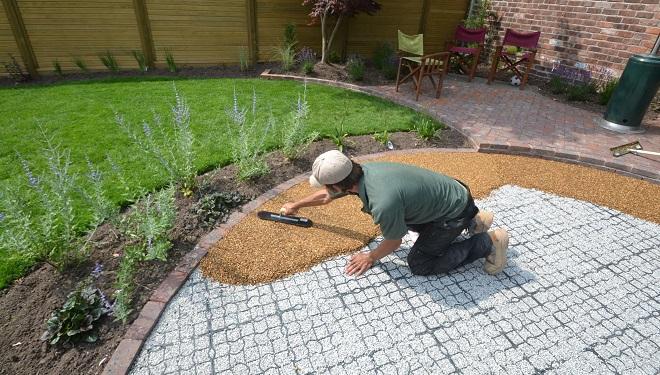 One of the many benefits of resin patios is that they do not require planning permission and are one of the most inexpensive options at just £600 for a 10m2 resin patio with no excavation work and up to £1,700 if a new sub-base and drainage are required.
They are low-maintenance, as they only require a quick brush or clean with some clean water and a hose. They are also extremely durable and can last up to 25 years or more if they are looked after properly.
Removing a Resin Driveway
If you've had your resin driveway for a long time, you may want to consider replacing it or upgrading it. This is not an easy job, as it will require heavy machinery such as a demolition hammer which typically costs around £20 to £40 per day to hire.
If you are removing the driveway yourself, then you will need to consider waste removal. The majority of homeowners tend to hire a skip for a week which on average costs around £220 for a 6-yard skip and £250 for an 8-yard skip.
If you want your driveway demolished quickly, then you should call in professionals such as driveway specialists who will charge around £150 to £200 per day for removal.
FAQs
How to Find & Hire a Resin Driveway Installer
Installing a resin driveway can be a difficult job, so it is worth paying a professional who should charge around £150 to £200 per day.However, before hiring a resin driveway installer, it is important that you check the tradesmen or company has public liability insurance and is also certified to install resin bound driveways and plans to use BBA-certified materials.
You should also inquire about their experience with resin driveways and if possible, ask for picture evidence of their previous work.
By hiring someone with good references, you can rest assured knowing that your resin driveway installation will be worthwhile.
When speaking to a resin driveway installer, you should also ask for some picture evidence of resin driveways they have installed in the past, as this will give you an insight into the quality of their work and what the finished product will look like.
A good way to separate a competent resin driveway installer from a cowboy labourer is to ask about the installation process, including how they install it and how long they have been doing it in order to establish their knowledge of resin driveway installation.
The final deciding point will, of course, be the price, as some driveway installers may overcharge you. For example, if your driveway surface is suitable, then it will not need to be lifted so the resin driveway cost per m2 should be no more than £80 per square metre, so if you come across anyone charging more than this you should stay clear.
If you have block paving, you will find that most installers will offer you a lower price to overlay over the current surface, but this may not include a guarantee. Usually, they will offer a second price which will include removing the existing block paving and laying a new tarmac sub-base before the resin surface is installed.
This will obviously cost a lot more due to the extra labour but is a much better job, and you'll usually get a firm guarantee on the driveway.
Sources
https://drivewaywise.com/resin-drive-problems/
https://www.softsurfaces.co.uk/blog/resin-bound-or-block-paving/
https://www.sureset.co.uk/blog/why-choose-resin-bound-paving/
https://www.dpm.limited/news/resin-driveways
https://completedrivesandpatiosltd.co.uk/blog/resin-bound-driveways-pros-and-cons/
https://resinbondedaggregates.com/knowledge-centre/resin-bound-or-resin-bonded
https://totalprotection.co.uk/resin/bonded-system/
https://homeguides.sfgate.com/removing-old-driveway-43574.html