How Much Does It Cost to Drop a Kerb?
Dropping a kerb ranges from £330 to remove two kerbstones and up to £1500 for seven kerbstones.
What affects the cost of a dropped kerb?
Dropped kerb prices will vary depending on your local authority, as councils tend to charge different rates depending on location.
The cost will also depend on the pavement width, the number of kerbs to drop and whether you want to extend an existing dropped kerb.
Some contractors and councils offer an extended dropped kerb for free, while some charge up to £600 or more.
Dropped Kerb Prices
A typical job would involve removing 3-7 kerbstones and remediating the footpath in line with the dropped kerb. Common kerb dropping prices include:
| Number of kerbs | Under 2m | 2m-2.5m | 2.5m-3m | 3m-3.5m |
| --- | --- | --- | --- | --- |
| 2 kerbs | £330 | £400 | £450 | £530 |
| 3 kerbs | £450 | £530 | £610 | £670 |
| 4 kerbs | £600 | £700 | £810 | £930 |
| 5 kerbs | £720 | £820 | £980 | £1,100 |
| 6 kerbs | £900 | £1,020 | £1,160 | £1,300 |
| 7 kerbs | £1,000 | £1,140 | £1,300 | £1,500 |
The prices above may vary depending on the location.
Here is a cost breakdown of the different regions with estimates of what councils and contractors may charge in these areas for dropping a kerb that is between 2 to 3 metres.
| Location | Avg. Cost per Square Metre |
| --- | --- |
| London | £1,100 |
| The South and the Midlands | £1,000 |
| Outer region and the North | £950 |
Cost Breakdown Calculator
Individual costs for dropping 7 kerbs under 2m - Total Cost: £1,000
Labour Costs and Time Frames
What are the labour costs for a dropped kerb?
Before the installation can begin, your local council will arrange an inspection of the proposed area, which usually costs around £200, although this will vary for different locations.
After the area has been overlooked, the council may suggest having parts of your landscape removed, which will require the help of a tree surgeon.
How much does it cost to cut down a tree ?
If you need trees cut down, this could cost anywhere between £75 to £1,200 depending on the height of the tree.
What about general garden clearance?
For general garden clearance, you should expect to pay around £40 an hour.
Once your driveway or garden is clear, the kerb dropping process can begin with the help of a contractor. This may be appointed by your local council or chosen by yourself as long as they are approved.
A typical contractor budget is around £200 for a full day's work, although this will depend on location and the extent of the job, as some dropped kerbs and driveways take a lot longer than others.
How long will it take to drop a kerb?
Dropping a kerb can take from three days to a full week depending on how many kerbs are being dropped, the complexity, width, and how many tradespeople are involved.
What Does Dropping A Kerb Entail?
Here is a step by step guide on what dropping a kerb involves:
The first step is to inspect the area, which involves assessing the ground for any pipes or cables, which may cause issues during the installation process. These may need to be protected to avoid any damage when vehicles are parked on the driveway.
Next...
The areas is excavated, which will involve the contractor measuring how far they need to dig into the pathway without damaging the existing foundation. This will prepare the ground for the installation.
The kerbstones will then be lowered to create a ramp-style driveway. It will then be strengthened to ensure they are strong enough to support the weight of one or more vehicles.
Once they are in place, the area can then be tarmacked.
Cost Affecting Factors of Dropping a Kerb
The cost to drop a kerb can vary greatly.
But first...
You will need permission from your local council, and there will likely be a non-refundable application fee which could cost between £50 to £350 depending on location. Some councils will pay back half of the fee if the applications are declined, while others will put the application cost towards the installation.
Some Local Authorities also charge a fixed fee, and they will use their own approved contractors to do the work. Some councils will allow you to choose your own contractor to do the work once they have granted permission, but you will probably still be given a list of approved contractors to choose from.
The price will depend on the location, with councils and contractors in the south charging a lot more than cities in the north. The value will also increase if you require more kerbs to be installed, and the width and drop size will also be deciding factors.
Here's another thing!
If you have any obstructions on your pathway, such as trees or furnishings, then this may affect the price as you will need to hire somebody to clear your driveway to fit the dropped kerb properly.
Additional Costs
You may also need to consider any extra costs that you may incur to ensure your dropped kerb meets your council's standards.
Here's an example...
If you are applying for a dropped kerb for better vehicle access, you need to make sure that you have a driveway to accommodate this.
What if the driveway is not adequate?
If the driveway is unsuitable, you may need to pay out for a new driveway which could cost around £40 to £70 per square metre, although you may get some discount from the existing contractor.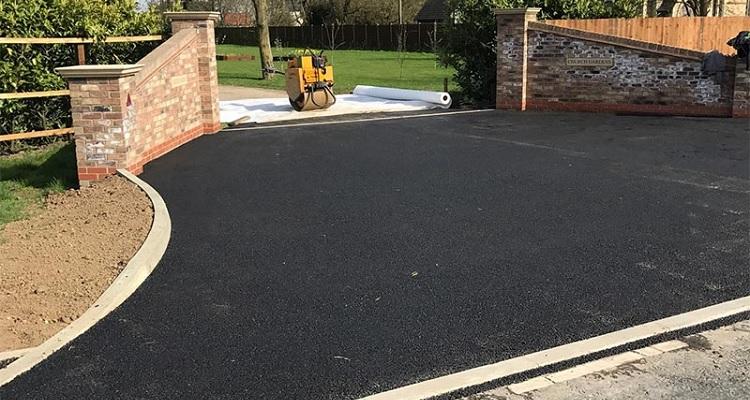 Do you have a wall surrounding your property?
If this is the case, you may be advised to knock it down in to accommodate the dropped kerb.
The cost of removing a wall:
For a professional to tear it down and remove waste, it would cost about £100-£400 depending on wall size and type.
You could also do it yourself, but you will still have to pay for skip disposal which on average costs around £175.
This may be the ideal opportunity to build a new garden wall to add extra appeal and safety to the front of your property.
After the dropped kerb is installed, you may want to secure your property by having a fence and garden gate installed.
For a fence, you should expect to pay up to £100 per panel, while a garden gate is typically priced at £20 to £50 for a single gate and £60 to £90 for a double. These prices will depend on the size as well as the materials used.
Can I Drop a Kerb Myself?
The majority of local authorities will assign a contractor to complete the job or offer you a list of approved contractors for you to choose from once permission has been granted. Your local council will strongly advise against DIY dropped kerbs.
However...
There may be exceptions if you are qualified to do the job yourself or hire your own contractor. You will only be able to do this if you obtain a Road Opening Notice, as well as meeting the following criteria:
You or the contractor have a full NRSWA accreditation.
You or the contractor have public liability insurance covering a minimum of £10 million.
Planning consent has been granted.
Access to the highway authority's vehicle crossing installation standards.
Access to utility drawings for the location.
Adhere to the highway guidelines set out in chapter 8.
If all of this applies to you or your chosen contractor, then you can begin the work, however, if none or only some of the above applies, then you must use your council's own contractor.
What If I Drop a Kerb Myself Without Planning Permission?
Many assume planning is just a technicality. But, implementing a dropped kerb without planning permission will leave you open to several problems.
First of all...
The council will immediately fix or remove any illegally dropped kerbs and reinstate your original pathway with costs usually paid by the homeowner.
The average cost for this is about £150 to £200, although this will, of course, depend on your local council as well as the size of your pathway.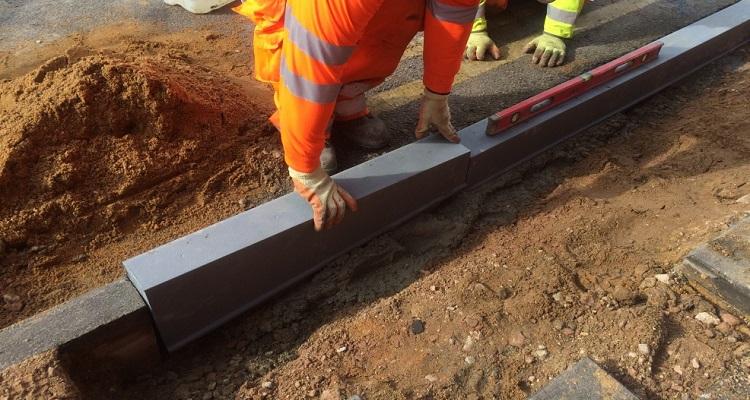 Bear in mind...
If you complete the job or employ a contractor who is not unauthorised to work on a public highway, that is effectively criminal damage to local authority property.
No reputable contractor would consider dropping the kerb without permission from the council as they know the consequences for all parties.
So, beware of any contractor who tells you they have dropped hundreds of kerbs with no problems from the local authority or those who claim some sort of special dispensation or a special relationship with the local authority which allows them to do work without first seeking permission.
No matter what drop kerb contractors tell you, always check first with the local authority!
What Are the Reasons to Drop a Kerb?
Why do you need to drop a kerb?
The main reason why you would need a dropped kerb is to park your car on the driveway, as it is important to note that in the UK if you intend to drive a vehicle over a path into your driveway off a highway, then you will need a dropped kerb.
What happens If don't drop my kerb?
If you do not have dropped kerb and drive over the footway, you are technically breaking the law and would likely be liable from any collision with a pedestrian or any damage to the path or utility apparatus under the path.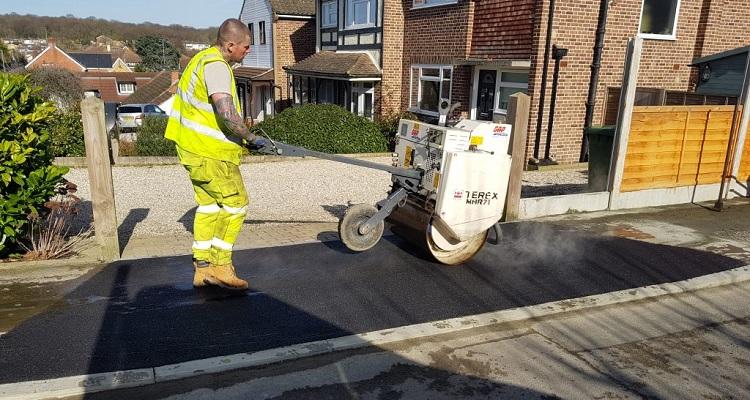 Another reason why you would require a dropped kerb is if you or a family member requires wheelchair access to your property, as a dropped kerb makes it much easier to reach the pathway.
You may also request planning permission for a dropped kerb if you are elderly and struggle to walk or require mobility scooter access. Dropped kerbs are also practical for pushing prams, which will prevent you from having to lift the pram every time you want to walk on the pathway.
Do I Need to Apply for Planning Permission to Drop a Kerb?
Where planning permission is required, this is not automatically given, so do not assume it is just a formality.
Listed buildings will almost certainly be held up by the planning application process and converting a garden to a driveway is classed as "change of use" by many local authorities, so will require additional planning permission consideration.
The type of road adjacent to the kerb is also a major factor in granting planning permission. Assume that planning permission will be required in all cases.
More than likely, you will have to request for permission, as the most popular reason for wanting a dropped kerb is so you can park your car on the footway, which definitely requires planning permission.
You must apply for planning permission via your local council, which will involve an application fee. The cost will vary depending on the area you live in, with the starting rate at £50 in the north west of England and the highest at £350 in Southern regions.
How long's the wait?
Once you have submitted your application on your local authority's website, you will need to wait for permission, which could take up to 8 weeks for a straight-forward planning application or up to 16 weeks for more complicated procedures.
During this time, your local authority will organise an inspection to survey the area and decide whether permission can be granted.
After the inspection is complete, it can take up to 10 working days to receive a quote for the work if your application is successful. This time period may increase if work such as securing pipes and cables, tree excavation and more must be completed.
When you finally receive your quote, your local council will give you six months to accept the quote and pay in full. If you do not pay within this time period, then you will have to reapply, and you will be charged for another application fee.
Your Local Authority may appoint a contractor or offer you a list of approved drop kerb contractors to complete the work. You may also be able to hire your own contractor as long as they adhere to the council's requirements to ensure the job is completed safely.
Why Has the Application for a Dropped Kerb Been Rejected?
Not all applications for a dropped kerb are accepted.
You may be denied planning permission if your home does not meet the following criteria:
Your front garden is large enough to fit at least one vehicle on your property.
The kerb is at least 4.8 metres from the front of your home or 6 metres if you have a parking space in the front.
The parking space is at least 2.4 metres in width.
The requested access is more than 10 metres away from a road junction and 15 metres from major roads and busy junctions.
Any street furnishings, including lamps, are at least 1.5 metres away.
Adhering to the visibility guidelines according to the type of road where your property is located.
Proper drainage must be provided to accommodate excess water.
A healthy tree is in proximity to the property.
Avoidance of tree root removal.
The slope leading to your driveway must not be too steep.
The construction material used must be the same as the surrounding areas.
The property owner applies for permission rather than a tenant.
You may also not be allowed to drop the kerb if the utility companies have cables or pipes underneath the pavement.
In any case, an on-site inspection will be carried out to check for any health and safety issues and the location of any drains, cables or pipes which may be affected.
Any utility pipes and cables will need to be reinforced so they can cope with the weight of vehicles driving over them.
Can a Kerb be Dropped for Free?
If dropping the kerb for wheelchair access, you may be able to get the job done by your local authority for free or at a considerably cheap price - so always get in touch with them first before speaking to contractors.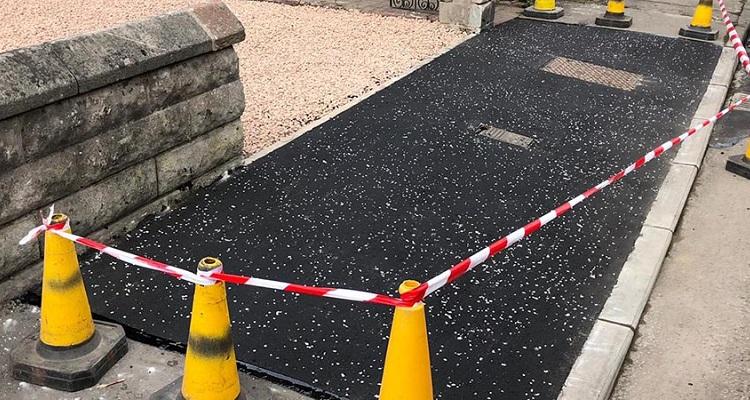 Many people can benefit from paying just a quarter of the average dropped kerb cost, which is around £250, although not all authorities offer such a generous discount.
What Are the Benefits of Dropping a Kerb?
The advantages of dropping a kerb include:
You can park your car right outside your home, making it more accessible and safer.
Dropped kerbs are also extremely beneficial to wheelchair users, mobility scooter owners and parents with prams. This makes entering and exiting your property much easier, instead of having to lift it up on the kerb every time you want to access the pavement.
A dropped kerb is also a great investment, especially when combined with a driveway, as buyers are more willing to purchase a property with easy access and safe-keeping for their car, enabling your property value to increase.
Will Dropping a Kerb Add Value to My Home?
Having a dropped kerb installed outside your home essentially adds value as, without a dropped kerb, you cannot install a driveway.
By installing a driveway, you can increase your property's value up to 10%, as it is one of the most sought-after amenities, especially in suburban areas, although this will depend on your location.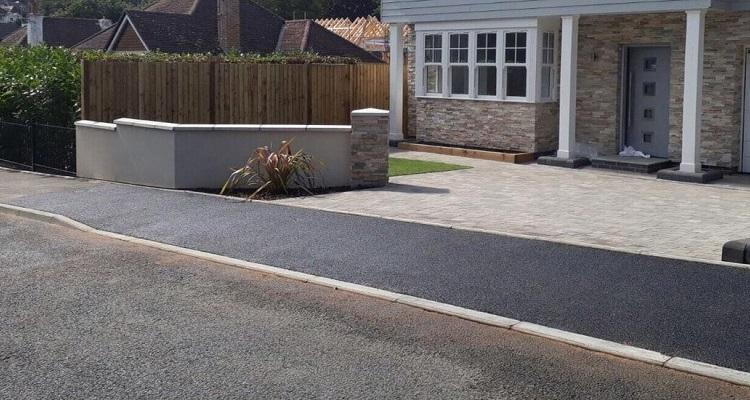 Driveways may not be as important in some areas, especially those that require parking permits. However, other neighbourhoods may benefit from private driveways if there is limited parking space elsewhere.
How Much Does It Cost to Build a Driveway?
If you are considering dropping the kerb for vehicle access, then you should also speak to the contractors doing the work to get a quote for building a driveway. If they are already dropping the kerb and laying tarmac, you may get a good price for adding a drive, and they can do both jobs at the same time. But as with all such jobs, gather 2-3 quotes from reputable companies and compare before making any decisions.
Before building your driveway, you must understand planning permission restrictions.
You may not require consent for a driveway which uses porous materials, as these will all allow water to drain through.
Here are some of the most common porous driveway materials:
Porous concrete blocks - £20-£60 per square metre.
Porous asphalt - £50-£70 per square metre.
Permeable clay blocks - £70-£100 per square metre.
Gravel – £10-£20 per square metre.
You will need permission if the surface of the driveway covers more than 5 square metres and does not use porous products.
You are also required to apply for planning permission for a dropped kerb which leads onto a driveway, as without this you cannot park your car on your property.
If you do not already have a driveway, then this must be implemented before the dropped kerb. However, you need to make sure you have permission first.
To receive permission, you must make sure that your driveway is at least 4.75 metres in length to accommodate your vehicle.
Removing a Dropped Kerb
Removing a dropped kerb involves reinstating the kerbstones and lifting the kerb back to its previous height.
Many local authorities will reinstate an existing kerb if a dropped kerb has been implemented illegally.
They may also reinstall kerbstones if there any complications with utilities or there is a crack in the kerb, which will require replacing altogether.
Keep in mind...
You may have to enquire about reversing the dropped kerb to your council, as they will appoint a contractor who meets their housing and road safety standards, so you should not conduct the work yourself.
FAQs
How to Find & Hire a Tradesman to Drop a Kerb
When having a kerb dropped, your local council will usually appoint a contractor or offer you a list of pre-approved tradespeople.
While this is helpful, it can be expensive, and usually costs around £200 a day, so you may want to look for your own contractor.
Keep in mind...
When choosing someone for the job, it is important you follow the legal guidelines, making sure that the people you choose are fully qualified for the job and hold an NPORS or SWQR accreditation, as well as a vehicle crossover licence before completing the job.
This will ensure that they stick to the guidelines of the parking on dropped kerb law and should prevent any problems in the future.
You can then check to see if the suggested worker has the right qualification and experience, as well as their own liability insurance.
If you require any additional work to be done before the kerb can be dropped, such as tree removal, this could cost up to £40 an hour for an experienced tree surgeon.
You may even need to bring in a plumber or electrician to deal with cables or pipes, which both charge around £30 per hour.
Sources
https://www.kent.gov.uk/roads-and-travel/highway-permits-and-licences/apply-for-a-dropped-kerb
https://liverpool.gov.uk/parking/apply-for-a-dropped-kerb/
https://www.propertychecklists.co.uk/articles/10-steps-to-dropping-a-kerb
https://www.birmingham.gov.uk/info/20109/parking/660/apply_for_a_dropped_kerb/5
https://www.tameside.gov.uk/kerbdropping
https://www.planningportal.co.uk/site_search/results/?q=kerb
https://housingvoice.co.uk/benefits-getting-kerb-dropped/
https://www.designingbuildings.co.uk/wiki/Planning_permission_-_how_long_does_it_take
https://www.trafford.gov.uk/residents/transport-and-streets/roads-highways-and-pavements/dropped-kerbs.aspx