How Much Does a Tarmac Driveway Cost?
This article is intended as a guide to tarmac driveway prices. We have gathered quotes from driveway specialists from all over the UK and averaged out the prices for typical tarmac driveway jobs.
Though it is worth noting that tarmac is produced from by-products of the oil industry, so the cost of tarmac fluctuates based on current oil prices, which at the time of writing are at almost their lowest recorded levels ever! So, bear that in mind, as tarmac prices may not be this low in the future. Tarmac is short for tarmacadam and nothing to do with the company "Tarmac".
The cost per square metre of tarmac can vary from around £40 to £50 for classic black tarmac, while coloured tarmac such as red can range from £60 to £70 per m².
Tarmac drive prices will also vary depending on the size of the driveway, as the larger the driveway the more expensive the installation will be. For instance, a small 20 square metre path is a cheap driveway which typically costs around £1100 to £1700, while a large 100 square metre tarmac drive can cost up to £5900.
Tarmac Driveway Prices
Below are some estimated costs of hiring a driveway expert to tarmac a driveway:
| Size | Red | Black |
| --- | --- | --- |
| 20 sq. m | £1500 - £1700 | £1100 - £1300 |
| 40 sq. m | £2900 - £3300 | £2000 - £2500 |
| 60 sq. m | £4200 - £4800 | £3000 - £3600 |
| 80 sq. m | £5500 - £6300 | £4000 - £48000 |
| 100 sq. m | £6900 - £7900 | £4900 - £5900 |
Supply Costs
If you plan to install a tarmac driveway yourself, then you will need to consider the following supply costs:
| Description | Avg. Cost |
| --- | --- |
| Red tarmac | £60 to £70 per m² |
| Black tarmac | £40 to £50 per m² |
| Edging | £5 to £40 per m² |
Additional Costs
There are various other costs you need to consider when installing a tarmac driveway including:
| Description | Avg. Cost |
| --- | --- |
| Installing security lights | £125 to £200 per light |
| Build a garden wall | £800 to £1200 |
| Garden maintenance | £30 to £800 |
| Installing fence panels | £500 to £1000 |
| New front door | £250 to £3900 |
Cost Breakdown Calculator
Individual costs of laying black tarmac for a 60 square metre driveway - Total Cost: £3000
Labour Costs and Time frames
Labour rates should also be considered when calculating a tarmac drive cost. A driveway specialist will often charge in the region of £150 to £200 per day and will likely work in pairs or groups to tarmac a driveway. As such you should usually expect around £250 to £400 per day in total labour costs, however, this does help get the job done quicker.
The time frame for installing a tarmac driveway depending on the size of your driveway, as a small driveway measuring 20 square metres should take around 2 to 3 days to complete, while a 100 square metre driveway could take up to 6 days or more to finish.
The job may take longer if additional excavation is required or access is restricted, causing the job to take an extra 1 to 2 days to complete.
What is Tarmac?
Tarmac, also known by its official name tarmacadam is a road surface material that is made up of crushed stone that is coated with tar. Tarmacadam was first pioneered in the 1820s, although it was patented by the welsh inventor Edgar Purnell Hooley in 1902.
The production of tarmac involves heating at a temperature of around 1,000 degrees centigrade to remove impurities. Tarmac is then mixed with other materials including tar and other aggregate materials such as concrete, gravel, sand and cement. This is then left to cure at a high temperature before it can be installed.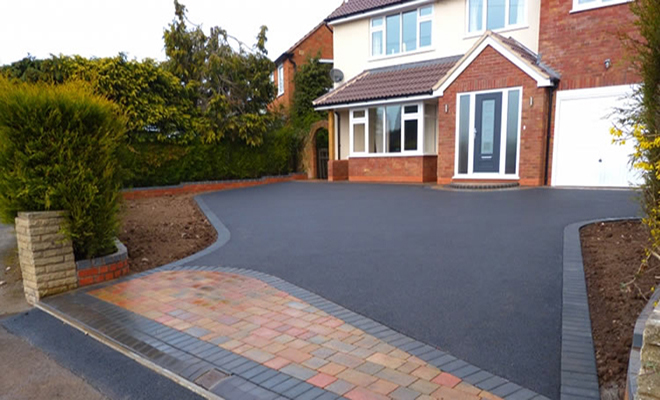 Tarmac has been popular for years, as the material is one of the most durable and weather-resistant options available for a tar driveway and road surfaces. It is also long-lasting, so it can save you a significant amount on replacing or repairing road surfaces.
Cost Affecting Factors of Tarmacking a Driveway
There are several factors that affect the cost of driveways, such as tarmac prices, as coloured tarmac costs around £50 to £70 per m², in comparison to black which is priced at £40 to £50 per m².
The size of your driveway will also determine the cost, as a small 20 square metre driveway may cost around £1500, while a large 100 square metre drive can cost up to £5900. You can work out the size of your driveway by using a tarmac driveway cost calculator to figure out the total cost.
The condition of your existing driveway will also determine the cost, as a damaged driveway will need to be excavated and will take longer to install. For instance, if you have an irregular shaped driveway or unusual slopes, this may take longer.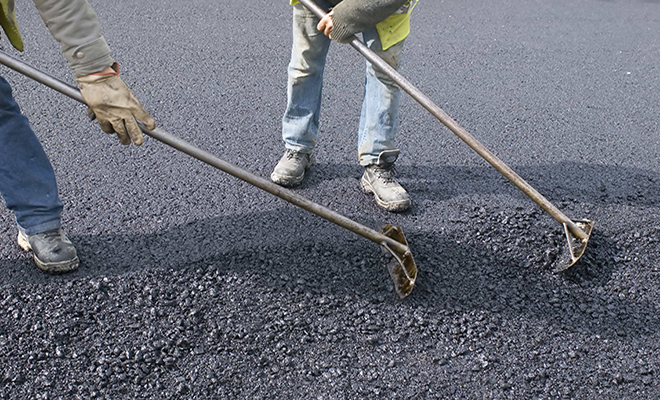 Overlaying tarmac onto an existing driveway can be much more cost-effective, as the labour costs of removing the old driveway are non-existent. This can usually only be done if the existing driveway is solid such as a worn-out old tarmac or concrete driveway. It's important when considering this to get a professional opinion as driveway specialists will know best if it's possible or not.
Any large cracks in the existing driveway will likely show through the tarmac over time so will need to be repaired to a high standard. Also, making sure the new driveway does not exceed the level of the house's damp course layer. You may also need to install a new soakaway to meet surface drainage regulations which costs around £500 to £1000.
What Does Tarmacking a Driveway Entail?
The job itself typically involves the following steps:
Removing the existing driveway

This will involve ripping up the old driveway with heavy machinery along with excavating the base in order to prepare the ground for installation.

If you already have a tarmac driveway, then the professional driveway specialist will either repair the existing base or create a new one if it has significant damage.

Prepare the driveway

Before the tarmac driveway can be installed, a specialist will lay a weed control membrane to prevent unruly weed growth onto your driveway.

At this point, they will either install new drainage or connect existing drainage to the pipework that is in place. Once this is complete the sub-base can be installed, along with concrete and edging to protect and sustain the driveway.

Laying the tarmac

Once the base is prepared, the first layer of tarmac will be heated and installed with a machine or by hand, which should then be compacted with a roller.

This process will then be repeated with a second layer of tarmac.

Removing the waste

Once the tarmac is installed and cured, the area will then be cleaned thoroughly. This will involve removing and disposing of any waste materials, while also giving the area a quick brush.
DIY Tarmac Driveway
While it is not illegal to install a DIY tarmac driveway, it is not advised as tarmacking is complex job which can involve heavy machinery. This can be dangerous and if the job is not done properly, it may be expensive to repair or replace.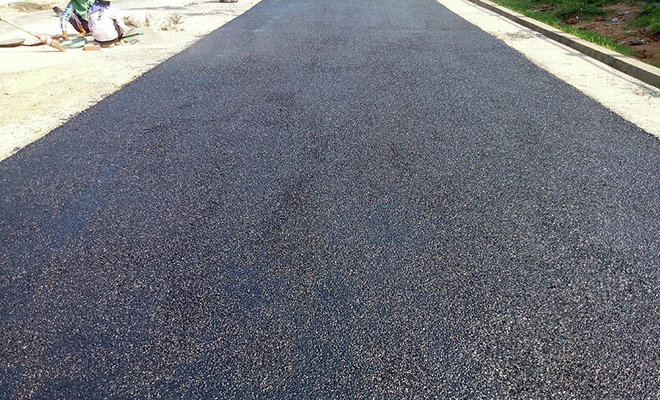 There are some jobs that you can complete, such as painting your tarmac driveway. This is a great way to maintain your tarmac driveway and keep it looking brand new. To complete this job, you will need the following materials:
| Type of Equipment | Avg. Cost |
| --- | --- |
| Tarmac paint | £40 to £130 |
| Primer | £18 to £35 |
| Brushes | £2 to £10 |
| Roller brush set | £3 to £15 |
Type of Tarmac
There are various types of tarmac including:
Hot Tarmac Costs
Hot-mix tarmac is one of the most common materials used for tarmac driveways. It is produced at a temperature between 300 to 350 degrees before it is shipped and installed.
Cold Tarmac Costs
Cold tarmac is installed by mixing the materials with soapy water, which is useful for repairs and low-traffic areas.
Cold-mix tarmac is usually cheaper at around £7 to £10 per bag. This is because cold tarmac does not need to be heated up and is therefore easier to transport and install. However, without high temperatures, the tarmac installation will not be as durable and may not last as long.
Black Tarmac Costs
The original colour of a tarmac driveway is black. It is mostly used for driveways and roads which provides a classic aesthetic.
One of the main advantages of using black tarmac is that it is much easier to produce and is more affordable than coloured tarmac, as it costs around £40 to £50 per m². A downside of using black tarmac is that your driveway will not stand out, as it will look like every other tarmac driveway, unless additional edging is added.
Coloured Tarmac Costs
Tarmac also comes in a variety of colours including red, green, brown and more, which can be used for a number of tarmac driveway ideas. These are made by combining normal tarmac with clear polymer materials and a selection of aggregates.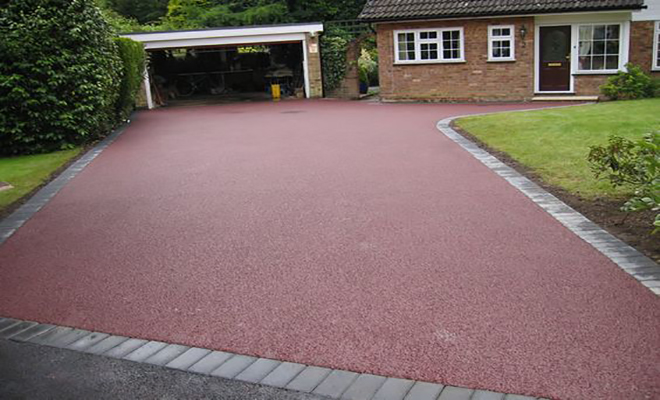 The main benefit of coloured tarmac is that it offers a unique aesthetic and brightens up your driveway. However, it is one of the most expensive options, costing around £60 to £70 per m² for red tarmac. This is because the majority of manufacturer's do not stock coloured tarmac in comparison to black tarmac.
Benefits of Tarmacking a Driveway
Long lifespan
Tarmac is one of the most durable road surface materials, enabling tarmac driveways to last up to 20 years or more. This will, of course, depend on the quality of the installation, and how well the driveway is looked after.
Low maintenance
Tarmac driveways are also very low-maintenance, as they only need to be brushed every so often to remove any dirt and debris. You can also rejuvenate your tarmac driveway with a yearly power wash, which is easy to do yourself.
Easy repairs
It's very durable so it can easily take the weight of vehicles and it handles the UK weather fairly well, being highly resistant to cracking and warping. If any serious damage is done, tarmac resurfacing can be completed at a low cost.
Weather-resistant
Tarmac driveways are highly weather-resistant, and can therefore withstand harsh weather conditions, such as snow or hot summers. This enables it to last a lot longer without having to pay for repairs or a new driveway.
Easy to install
Tarmac is perhaps the easiest driveway material to install, being able to lay the tarmac over old driveways in most cases, and thus no excavation work is required. It's easy to lay with most professionals getting the job done in a few hours once the mix is ready. It also dries quickly as the tarmac cures faster than most driveway materials.
Alternatives to Tarmac
There are various alternatives to having a tarmac driveway, including:
Block Paving Costs
Block paving is a common pavement option which uses layered bricks to create a decorative pathway. This includes concrete which costs around £20 to £60 per square metre, clay which is typically priced at £70 to £100 per square metre, and natural stone which is slightly more expensive at £50 to £105 per square metre.
The main benefit of installing block paving is that is extremely durable, and it is also resistant to oil spills, chemicals and frost, enabling it to last around 25 years or more, if looked after properly. It can also increase the value of your property by 10%, which is ideal if you plan on selling or renting in the future.
A disadvantage of block paving is that is susceptible to weed growth and will therefore need to be maintained regularly. You will also need to ensure that a proper sub-base is installed to prevent sinking, which can be expensive.
Concrete Driveway Costs
Concrete driveways are a type of block paving, which are simply made up of concrete slabs. Concrete paths tend to cost up to £60 per square metre, so the overall price will depend on the size of your driveway.
One of the main advantages of having a concrete driveway is that is one of the most affordable options which also has a long-lasting lifespan of up to 50 years. This is due to its durability, which allows it to withstand the weight of heavy vehicles.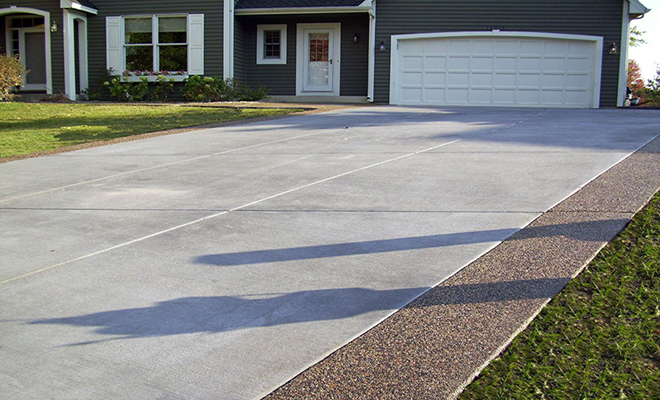 A downside of having concrete paving is that it requires regular maintenance, as it is susceptible to oil staining, and it also tends to fade over time. Because of this, concrete is not the best choice for homeowners wanting to enhance their exterior, as this material is not as aesthetically-pleasing as other options.
Gravel Driveway Costs
Gravel driveways are made up of loose rock or stone which is typically combined with sand and clay. This type of path costs around £20 to £50 per square metre, depending on the type of aggregate you choose.
If you have a low budget in mind and are looking for the cheapest driveway, gravel is definitely one of the best choices, as it is so easy to install. It also offers a variety of design choices, as there are numerous stones and colours you can pick.
The main problem with gravel driveways is that they are hard to clean, especially during colder months where you can't plough or clear snow without lifting up the stones. They also need to be maintained regularly, as stones may be displaced, and potholes can form easily.
Resin Driveway Costs
There are two different types of resin driveway – resin-bound and resin-bonded. A resin-bound path consists of aggregate which is mixed with resin to create a smooth driveway, which costs around £1200 to £10,000. While a resin-bonded driveway features aggregate that installed on top of a resin layer, which offers a similar appearance to a gravel path, and is normally priced at £800 to £6000.
If installing a resin bound driveway, you can benefit from a robust and long-lasting material which is SUDS (Sustainable Urban Drainage System) compliant. This prevents water from pooling and overflowing during heavy rainfall, unlike resin-bonded driveways which do not drain as well.
A downside of having a porous material, however, is that the driveway will be more susceptible to weed growth and will therefore need to be maintained regularly. Without proper cleaning, it can cause the surface to be slippery, while also hindering the aesthetic.
Building Regulations for Tarmacking a Driveway
If installing a new tarmac driveway, you will not require building regulations approval, as long as your driveway is SUDS compliant, which means it made up of porous materials which allow water to drain properly.
If you plan on making changes outside the requirements, then you will need to submit an application. For instance, the installation must not hinder access to the property or if you plan on changing levels and installing steps, then you may need to apply for approval. The cost of this will depend on your own local authority, as they all charge different fees.
Maintaining and Repairing a Tarmac Driveway
It is important to maintain a tarmac driveway at least once a year, along with conducting any repairs, such as:
Sealing a driveway
Resealing your driveway on a regular basis is very important to maintaining the look and structure of your tarmac driveway. You may also need to resurface every 5-10 years also so this needs to be taken into account when choosing tarmac for your driveway.
You can hire a professional to reseal your tarmac driveway, which should cost around £150 to £200 per day. You could also do it yourself, although you will need to pay for an appropriate tarmac sealer which can cost around £16 to £120 per bottle. This should be applied using a roller kit, which will take a lot longer than a professional job.
Repairing a crack
If you have any cracks in your driveway, then it will cost around £150 per day for a professional to fix it or you could do it yourself. This will involve applying a weed killer, followed by removing any weeds or loose material from the ground first using a knife. You should then use a hose to clean out the cracks. To avoid water pooling, you should use a brush to remove the excess water.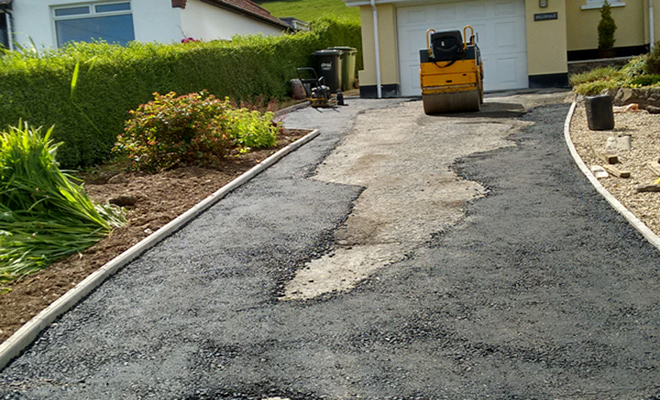 To repair the crack, you will need a tarmac-friendly crack filler which should cost around £20 to £35 per tub. You can also use cold-lay tarmac which is typically priced at £7 to £10 per bag, which is much easier to install, although it does not last as long.
Cleaning a Tarmac Drive
To ensure your tarmac driveway is long-lasting and looks good, you should conduct the following:
Weed Removal Cost
Weeds are a natural process that cannot be fully prevented no matter what you do. They like to break through surfaces, especially near lawn or plant bed areas, the best way to try to prevent them is treat the area of the proposed driveway regularly with weed killer for at least a full week before the driveway is to be installed. This will cost around £2 to £20, and will give the driveway a fighting chance against the weeds.
After the driveway is done, if weeds eventually penetrate the surface, then use a water-based weed killer to kill the weeds and when they have died off you can carefully remove the remaining foliage. Do not just try and pull weeds out though the tarmac, sometimes a small weed poking through can have large roots attached, attempting to pull this out can actually further damage the tarmac surface.
If you do not have the time or experience to do this, then you could hire a gardener which will cost around £10 to £50 per hour.
Oil Removal Cost
If you have any oil stains on your tarmac driveway, they can be hard to clean so you may want to bring in a professional to power wash it for you, which can cost up to £300. However, if you want to save money, you could consider doing it yourself.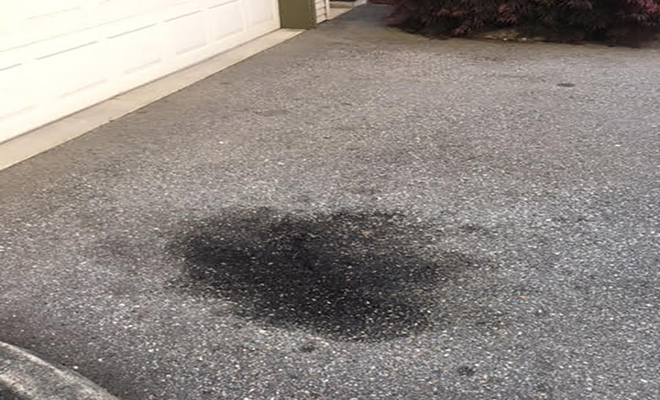 The problem with oil stains is that they are hard to remove, so a simple water and soap mixture will not work. Instead, you should use an oil remover which you can buy for around £20 to £30 per bottle. This should be sprayed onto the damaged area using a power washer, which you can rent for £20 to £90 a day. It should then be scrubbed with a brush. The oil remover should then be left for around 10 to 20 minutes before rinsing it with a hose.
Cost of Removing a Tarmac Driveway
If your existing tarmac driveway is significantly damaged with stains and cracks, then you may want to have it removed and re-laid. You may also want it to have it removed and replaced with a different type of driveway.
The average cost of removing an old driveway is simply the cost of labour, machinery and skips. A regular single or double driveway shouldn't take more than 1-2 days in labour to remove, so you would expect a cost of between £150 to £400.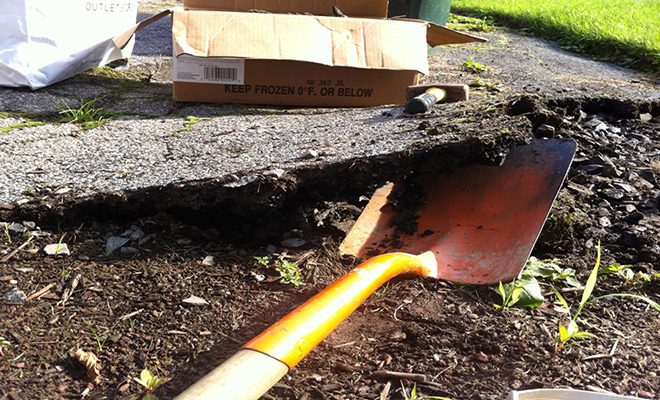 If you're an experienced DIY enthusiast, then you could consider removing it yourself. To dig up the tarmac, you should hire a pneumatic drill which will cost around £60 to £70 per day. This will allow you to get the job done quickly without spending hours using a spade.
To dispose of the removed tarmac, you will need to hire a skip, which can cost anywhere from £60 to £300, depending on the size you need.
FAQs
How to Find & Hire a Tarmac Driveway Installer
To ensure your tarmac driveway is long-lasting and durable, you should hire a professional driveway installer who will ensure that is fitted properly. This will cost around £150 to £200 per day.
Before hiring a professional driveway specialist, you should check that they have the right qualifications such as an NVQ in hard landscaping or roadbuilding. You should also enquire about their experience and ask for evidence of previous work.
Another important thing to ask is whether they have public liability insurance, as this will protect your home should any accidents or damage occur.
Sources
http://www.drivewayexpert.co.uk/tarmac-driveway-patio.html
https://copavementsolutions.com/hot-mix-vs-cold-mix-asphalt/
https://www.thespruce.com/pros-and-cons-of-gravel-driveway-1398078
https://www.pavingexpert.com/blocks
http://www.bbc.co.uk/nottingham/content/articles/2009/07/03/edgar_hooley_tarmac_feature.shtml
https://www.planningportal.co.uk/info/200130/common_projects/44/patio_and_driveway/2