How Much Do Prefab Extensions Cost?
Ordinarily, the cost of prefab extensions is often between £1,200 and £1,700 per square metre.
What's the difference in cost between a small and medium-sized prefab extension?
So, it can often can be around £18,000 for a small basic extension measuring around 15 square metres features an additional lounge.
Medium-range prefabs however tend to cost around £30,000 for the total project of around 25 metres squared.
Costs can increase up to £65,000 for more premium prefab extensions which feature a bathroom, kitchen or double-storey extension.
Prefab Extension Prices
In many cases when purchasing a new garage door the supplier will fit the door for you, with the cost of installation included in the quote. As a guide, the cost breakdown for a single garage door replacement is as follows:
| Size | Quality | Avg. Cost |
| --- | --- | --- |
| Small | Basic | £18,000 to £25,000 |
| Medium | Basic | £30,000 to £35,000 |
| Large | Basic | £42,000 to £45,000 |
| Small | Average | £21,000 to £25,000 |
| Medium | Average | £35,000 to £40,000 |
| Large | Average | £49,000 to £55,000 |
| Small | Premium | £25,500 to £30,000 |
| Medium | Premium | £42,500 to £45,000 |
| Large | Premium | £59,500 to £65,000 |
Additional Costs
When planning a prefab extension, you may want to add on a kitchen or bathroom, which will involve paying out the following costs:
Additional Cost of Adding a Kitchen or Bathroom
| Description | Avg. Cost |
| --- | --- |
| Countertops | £20 to £400 per M2 |
| Cabinets | £200 to £1,000 |
| Oven | £300 to £16,000 |
| Washing machine | £200 to £1,500 |
| Fridge freezer | £200 to £2,000 |
| Dishwasher | £300 to £600 |
| Bath | £80 to £1,200 |
| Shower | £50 to £550 |
| Sink | £50 to £500 |
| Toilet | £50 to £260 |
There are various other miscellaneous costs that you need to consider including:
| Description | Avg. Cost |
| --- | --- |
| House rewiring | £2,000 to £3,500 |
| New heating system | £2,000 to £4,500 |
| Structural repairs | £1,200 to £2,600 per M2 |
| Wallpapering | £3 to £60 per roll |
| Painting | £5 to £15 per litre |
| Carpet fitting | £12 to £60 per M2 |
| Tiling | £20 to £100 per M2 |
Cost Breakdown Calculator
Individual costs of a basic prefabricated extension (25 metres squared) - Total Cost: £30,000
Labour Costs and Time frames
At a typical tradesperson's rate would be £200-£250 per day. So, for a prefabricated project being around a week of work can cost between £1,400-£2,100 accordingly, but with the possibility of additional tradespeople required for such a large project, this can also incur an extra cost for the following tradesmen:
| Trade | Cost per hour | Time (15m2) | Time (25m2) | Time(35m2) |
| --- | --- | --- | --- | --- |
| Plumber | £55 | 1 – 2 days | 2 - 3 days | 2 – 4 days |
| Joiner | £12 | 1 – 3 days | 3 – 5 days | 5 – 3 days |
| Electrician | £50 | 1 - 2 days | 2 – 4 days | 3 - 7 days |
| Structural engineer | £50 | 1 – 2 days | 2 – 3 days | 2 – 4 days |
| Glazier | £16 | 1 – 2 hours | 2 to 3 hours | 3 to 4 hours |
| Kitchen fitter | £40 | 2 – 3 days | 3 to 5 days | 5 – 7 days |
| Architect | £60 | 1 – 2 days | 2 to 3 days | 3 – 4 days |
Cost Affecting Factors of Building a Prefab Extension
The cost of a house extension, whether traditional and prefabricated, can vary considerably depending on a huge range of factors, but it can often be a cheap solution compared to moving to a new house.
The overall size and style obviously have a large impact on the total cost. Prefab or modular extensions are seen as an ideal, cost-effective way to add additional space to your home.
It's important to remember that an extension costs much more than just the cost of the structure itself. The total costs will include planning, digging, excavation/foundations, downpipes, roofing and tiling, decorating, plastering, flooring, heating, skip hire, doors and windows, and possibly new support beams.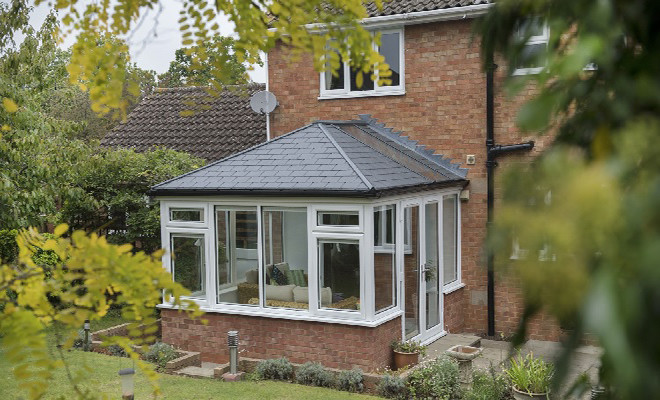 There may also be additional costs related to financing and insurance, plus any architects and project managers will need to be paid. Underestimating the total costs is a common mistake so don't forget to include a budget for internal decoration, removal of waste.
You will also need to take size and quality into consideration, as small and basic prefab extensions tend to cost form £18,000, while large premium prefabs can cost up to £65,000 depending on the type of extension you choose. You may also have to pay extra for excavation or additional costs such as house rewiring which is typically priced at £2,000 to £3,500.
You will also have to consider the costs of the interior, for example, if you plan on installing an extra bathroom which can cost from £200 to £2,500 just for the main bathroom essentials such as a bath/shower, sink and toilet. While a new kitchen installation could cost around £20 to £1,000 for new cabinets and for tiling, you should expect to pay between £20 to £100 per square metre.
What Does Building a Prefab Extension Entail?
There are several steps involved in the construction and installation of instant home extensions, including:
Design and planning

The first step involves planning your extension. To do this, you can work with an architect or a structural engineer who will help you plan an extension that is suited to your home, while also ensuring that building regulations are met.

The design will be catered around your needs, for example, if you would prefer a larger kitchen, you could design a modular extension that expands this space, without exceeding your budget.

Once you have a plan in place, a qualified architect will then draw up some plans using the exact measurements of your space, which can then be passed to the company building your extension.

Preparation

Before your prefabricated extension can be installed, the groundworks and foundations must be checked to ensure they are in good condition. This may involve some structural work, or you may just need your floor levelling out before installation.

Professional tradesmen will also ensure that all connections such as the water, electricity, sewer and communications are in place and working correctly.

Prefab installation

Once everything is prepared, and your plat pack extension has been engineered, it will then be delivered and installed. It will usually come in parts, and, therefore needs to be assembled upon delivery, with many manufacturer's offering an installation service.

This will involve setting up the scaffolding, followed by using a crane to lift the prefab extension into position. The majority of prefab extensions will come fitted with windows and doors, although some may not and will need to be installed onsite.

Technical fixtures

Once the prefab installation is in place, technical installations such as the plumbing work, electrical wires, heating and ventilation systems should be fitted. This will involve the help of a qualified plumber, electrician, gas engineer or more trades if need be.

Interior decorating

Once all technical installations are securely in place, a team of interior designers, decorators, joiners, tilers, and more can start on the inside of the home.

This will involve everything including painting the walls, laying down the flooring, placing furniture and adding the finishing touches to the extension.
DIY Prefab Extension
Flatpack extensions are pre-constructed and installed by professionals, as they involve complex design, planning, construction and installation. The actual fitting itself involves the use of a crane or to lift the extension into place.
You can, of course, hire a mobile crane for around £380 a day. However, you would need a license to operate it as it classified as dangerous equipment, so you're best leaving it to the professionals.
DIY enthusiasts can get involved in the decorating process. For example, if you want to paint your walls you will need to buy the paint of your choice, along with the following equipment:
| Item | Avg. Cost |
| --- | --- |
| Masking tape | £1 to £9 |
| Safety goggles | £1 to £20 |
| Primer | £6 to £50 |
| Filler | £2 to £30 |
| Paintbrush | £1 to £10 |
| Roller and tray | £3 to £10 |
| Sandpaper | £1 to £12 |
What is a Prefab Extension?
Prefab is short for prefabrication, which means that a prefab extension is a building that is pre-built offsite and is therefore ready for installation on delivery. There are a variety of manufacturers who produce prefab extensions according to an individual's preferences.
Prefab extensions are usually made up of timber or steel frame structures which are designed and manufactured in workshops and factories.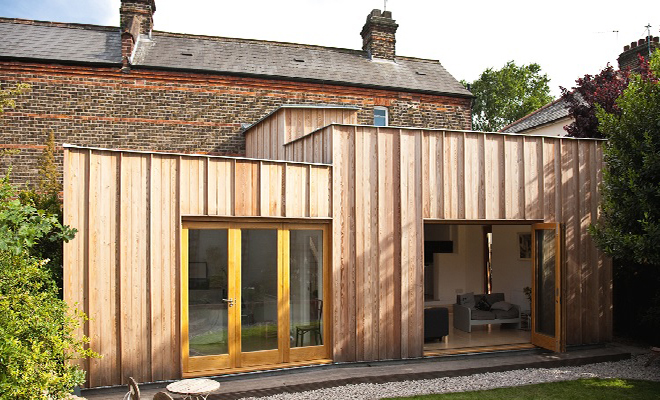 Before prefab extensions are constructed, manufacturers are given measurements and a detailed plan of what the homeowner wants. They will then produce this quickly by installing steel frames, which are quick and easy to install, unlike a slower system that is brick-built.
Do I Need an Architect for a Prefab Extension?
When planning your prefab extension, you may want to consider hiring an extension. This costs around £500 to £2,000, depending on the extent of the job. They will help you calculate the measurements of your extension in line with building regulations. They will also help you plan out the layout to ensure that you make the most of your space.
Benefits of a Prefab Extension
There are a variety of benefits for installing a prefab extension, including:
Environmentally-friendly
Many prefab extensions are usually constructed of environmentally-friendly materials meaning a lower impact on the environment during the construction stage.
Enhanced insulation
Prefab extensions tend to be better insulated, especially SIP extensions which feature structurally insulated panels, which normally have two outer layers of insulation with an extra layer of internal insulation. This prevents from escaping and lowers energy bills, while also providing high-quality soundproofing.
Cost-effective
A prefab or flat-pack extension will cost between 10 and 25 per cent less than the traditional extension once you factor in the foundation and excavation costs, plus you get much less noise and impact on your everyday life.
Prefabricated buildings also reduce the total cost of labour as the installation does not take as long.
Quick and easy installation
Prefabricated building extensions are practical and quickly installed. This is because the prefab structure is built in a factory, so you can typically expect just 6 to 8 days of building work on-site, as opposed to a traditional extension where your home is a messy building site for months. Plus, they can be made to blend in seamlessly with your existing home, and once finished, no one would even know that it is prefabricated.
Prefabricated extensions also allow far greater control of your home as they are built in sections offsite, so you avoid much of the hassle of extension building as the finished module is delivered to the site already made and just needs to be added to the existing building and the new foundations.
Better aesthetic
Modern prefab extensions are nothing like those ugly, grey concrete slab buildings you may be thinking of. You can also customise to them to your tastes while staying within budget.
They also offer a more private living space compared to conservatories, and they are also a lot more durable and will outlast conservatories and timber clad type extensions by decades.
Will a Prefab Extension Add Value to my Home?
Adding a prefab extension onto your home can actually increase the value of your property by up to 23% if you add on another bedroom and en-suite, while an extra bathroom increases the value by 6%. The reason for this is because space is a sought-after commodity, along with additional bathrooms which are a huge selling point.
To ensure that your prefab extension adds value to your property, you need to make sure that you have a budget in mind, so you don't end up overspending. This is especially important if you plan to sell your home, as you do not want to spend more money that you won't get in return, as this will leave you with no return on investment.
Can I Have a Prefab Extension?
The majority of properties can have prefab extension installed, as long as it complies with building regulations and you have obtained a building notice to approve the work.
Under permitted development, your prefab extension can extend up to 8 metres at the rear of your property and must be no more than 4 metres higher than your existing home.
It is also important the area where you are installing the prefab extension is fully prepared. For example, the groundwork will need to be level and secure, and if there any issues or bumps in the ground, excavation may be required. Plumbing and wiring will also need to be fixed or installed before the extension can be fixed in place.
Where Can I Build a Prefab Extension?
You can add on a prefab extension to almost any part of your home, including the rear and side, or even a wrap-around installation.
Where you install your extension will, of course, depending on the type of property you live in, as a terraced home will only be able to extend at the back of the property, while a semi-detached property can only extend on one side and the rear. Whereas detached homes and bungalows may have more freedom.
Types of Prefab Extension
There are various types of prefab extension including:
Steel Prefab Extension Cost
Some prefab extensions are made up of lightweight steel which features insulation on the outside of the masonry frame which tends to cost around £35 to £40 per square metre. While galvanised steel costs £42 to £200 per square metre or more.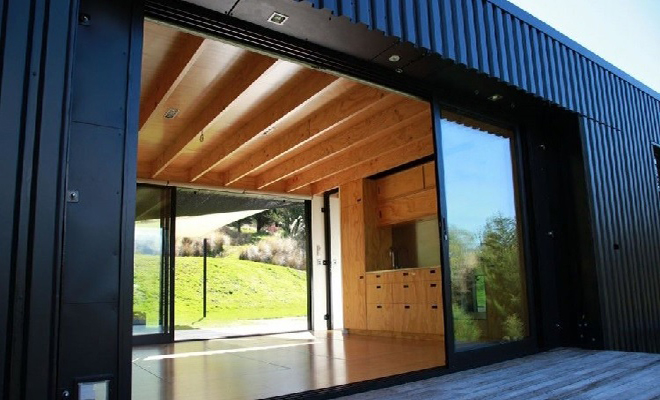 One of the main benefits of using galvanised steel is that it provides protection against correction, which enables the structure to last for 60 years or more. While lightweight steel can prevent cold bridging due to the location of the external insulation.
One of the main cons of using steel for your prefab extension is that this material does not conduct heat well, which means extra insulation is required. Steel is also not ideal for use on its own, as other materials such as brick, concrete or wood must be combined with it to create a sturdy structure.
Timber Prefab Extension Cost
Timber frame panels are one of the most common materials, which cost around £70 per square metre and are used to construct prefab construction. Timber panels are made up of plywood sheets which are fixed in place with studs. These are then wrapped in a waterproof barrier and external cladding.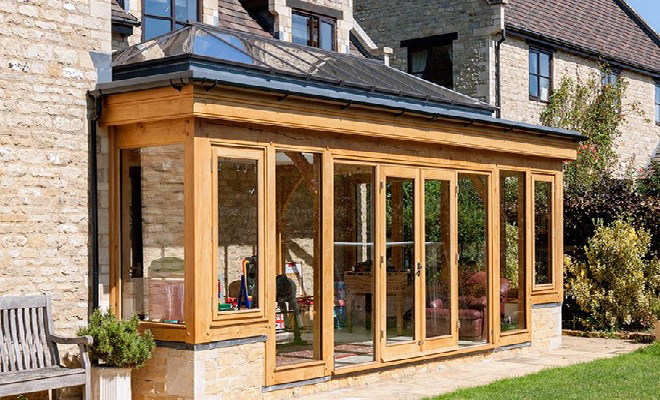 One of the main benefits of using timber panels Is that construction is fast, resulting in quick installation. They are also environmentally friendly, as the majority of the timber is recycled during manufacturing.
A big disadvantage of timber frame panels is the expense, as materials can be expensive, as there may not be good access to the material in comparison to other masonry resources. Timber panels can also be quite noisy, as they are not as dense as other materials, so you may have to pay for extra insulation to be installed.
SIPs Prefab Extension Cost
Structural insulated panels (SIPs) are a type of prefab system which incorporate high-quality foam insulation between two structural panels. These tend to cost around £80 per square metre.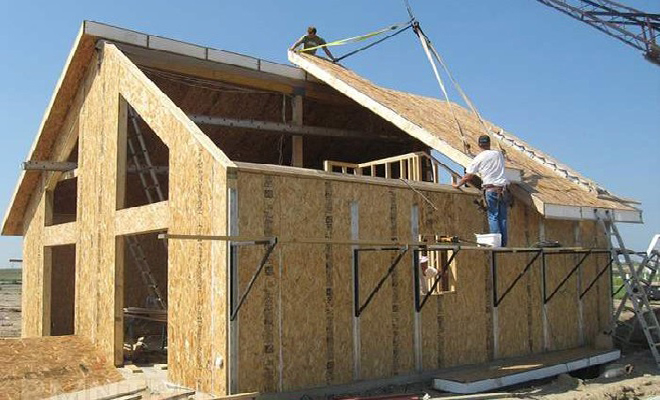 One of the main advantages of SIPS is that they are robust, efficient and are extremely flexible, so are therefore ideal for bespoke prefabs. They are also made out of foam, which means they are not susceptible to pest infestation.
A downside of SIPs is that they require additional ventilation, as the material used forces heat to be trapped inside the home, which causes a significant amount of condensation. They are also prone to rotting when wet forcing the insulation to lose its effectiveness over time.
Planning Permission for Prefab Extensions
You will not have to apply for planning permission if your prefab extension is 4 metres of higher than the roof of your existing home or does not extend more than 8 metres at the rear of the property.
You will, however, need planning permission if your property is a listed building or your prefab extension is made of a completely different material from the existing property.
To obtain planning permission, you will need to make an application which should cost around £206. This is important, as without planning permission, you will be fined, and you may have to pay to reverse the extension or adjust it to meet regulations.
Building Regulations for Prefab Extensions
The majority of extensions require building regulations approval. The regulations cover changes or additions including doors and windows which must at least have double-glazing, high-quality ventilation and safety measures to protect homeowners and others.
It is also important that both internal and external walls are structurally sound, are insulated properly and have the right ventilation, especially if installing a kitchen or bathroom.
Drainage is also an important aspect, as any extension should have both foul drainage and surface water drainage in separate areas, especially when building a bathroom extension.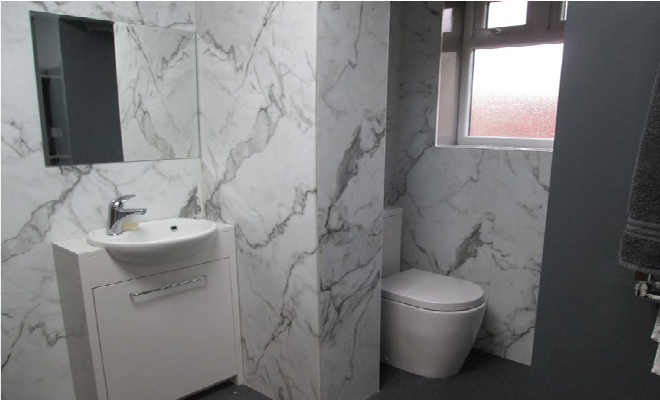 If you are adding a bathroom, then you should make sure that any electrics are installed outside of the room. You will also need to obtain a building notice if you need set up a new circuit or add a new consumer unit, as this will ensure that the property is wired up properly by a competent electrician.
To ensure you meet building regulations, you should hire someone who is listed under the competent person's scheme to ensure all of your prefab extension installation is compliant.
Party Wall Agreement
If you are planning to have a prefab extension built onto a wall that you share with your neighbour, then you may need to obtain a party wall agreement. This is a legal document that is agreed between you and your neighbours regarding the extension.
To obtain a party wall agreement, you will need to hire a party wall surveyor, which will cost around £300. They will work with you to help you draw up plans for the work and provide a schedule of condition of both properties.
Before getting a party wall agreement, you should first speak with your neighbour to ask for their consent, and if they do not agree, then you can begin legal proceedings.
Alternatives to a Prefab Extension
If a prefab extension isn't for you, then you could consider one of the following options:
Conventional extension
A conventional extension is usually made of brick and located at the rear of the property. They usually cost around £17,000 to £45,000, depending on the size and materials used.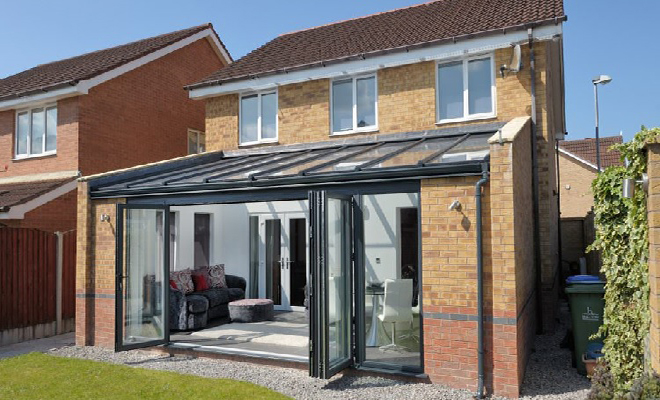 Pros
✔ Provides a versatile space
✔ Adds value to your property
✔ Less hassle than moving to a new house
Cons
✖ You may be limited by planning permissions
✖ Extension construction can be time-consuming
✖ Can take up a significant amount of land
Glass extension
Glass extensions are completely clear and frameless constructions which have no visible supports. The average cost of installing a glass extension is around £14,000 to £70,000, with prices depending on the size and quality of the construction.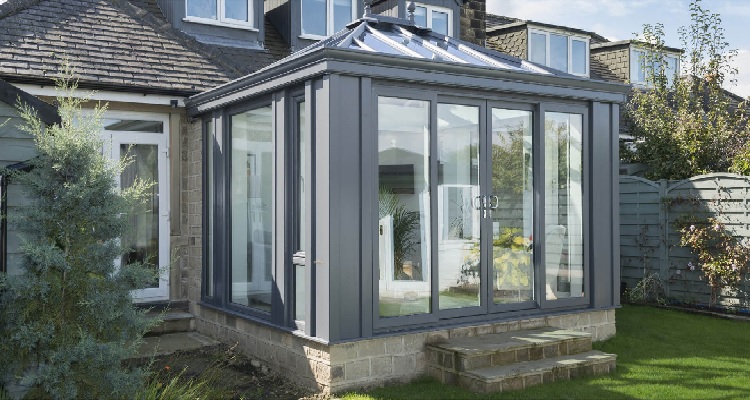 Pros
✔ Creates a unique aesthetic
✔ Helps to enhance the light and space in your home
✔ Provides indoor/outdoor living
Cons
✖ Can be quite costly in comparison to traditional extensions
✖ Susceptible to heat loss
✖ Hard to maintain
Conservatory
A conservatory is an extension which is built with a glass roof and walls. The typical cost of a conservatory is around £5,000 to £10,000.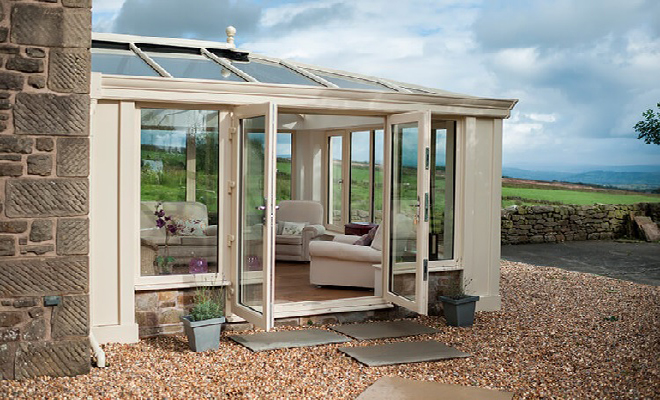 Pros
✔ There are various conservatory designs to choose from
✔ Light is enhanced in the home
✔ Glass roofs warm up the home instantly in the summer
Cons
✖ Conservatories have an inconsistent temperature
✖ A heating system will be required in colder months
✖ Planning permission is required
Orangery
An orangery is similar to a conservatory; however, it is constructed with more brickwork and costs around £15,000 to £25,000.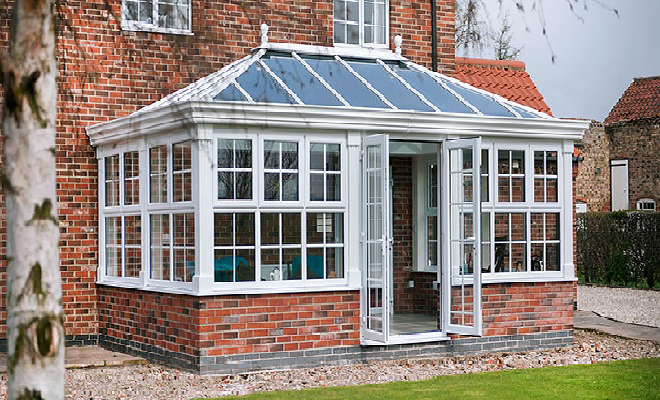 Pros
✔ Offers a more seamless design
✔ Less heat loss than a conservatory
✔ The brick material provides more insulation
Cons
✖ A more expensive option
✖ Installation is more complex
✖ Reduced light compared to conservatories
Prefab Extensions vs Conventional Extensions
There are some differences between prefab and conventional extensions, with the main distinction being that prefab extensions are pre-built before they are delivered and installed, unlike conventional extensions which are constructed onsite.
Prefab extensions are also cheaper, in comparison to a conventional extension, which takes a lot longer to install. However, the time frame for modular extensions may be longer, as it takes around 8 to 10 weeks to construct.
Unlike normal extensions which may require you to move out of your home while it is built, prefab extensions will not disrupt your home life.
How Can I Keep Prefab Extension Costs Down?
If you have a budget in mind, then there are a number of ways you can cut your prefab extension costs, including:
Having a simple design
By planning ahead and creating a simple design, you can save a significant amount of money. For example, if you're planning to install an extra bathroom, you should stick with a minimalist design which includes a bath/shower, sink and toilet along with simply décor.
Cheaper materials
Another way to reduce modular extension costs is by choosing cheap prefab extension materials such as brick and glass prefab extensions which are much cheaper than a steel installation. You should also shop around for interior materials, as this will help you find affordable furnishings which are still good quality.
Avoiding complicated groundwork
To lower costs, you should try to avoid installing your prefab extension near trees, drainage or electrics, as this can result in complicated and costly groundwork.
Complying with regulations
Finally, you can save money on your prefab extension installation by complying with the requirement set out in planning permissions and building regulations, as this will prevent you from paying extensive fines or paying to restore your extension.
Cost of Removing a Prefab Extension
If you want more garden space in your property and a prefab extension is taking up room, you can have it removed. If the prefab building is in good condition, it can be removed in one piece with the help of a crane and a qualified operator which costs around £700 for contract lift hire.
Some prefab extensions may need to be demolished before removal. You can hire a professional to do this or do it yourself. However, this is usually not advised unless you are a seasoned DIY enthusiast. You will also need to dispose of the waste by hiring a skip, which normally costs around £70 for a small skip and up to £440 for a large-scale skip.
FAQs
How to Find & Hire Prefab Extension Contractors
To ensure your extension is robust and long-lasting, you should hire prefab extension experts who can help you with everything from planning your extension to installing it. Ask if the labour includes a guarantee too.
Before hiring a company for the job, you should take a look at their website or ask them directly for evidence of previous work. You should also check that they have public liability insurance, as this will protect them should anything go wrong.
Sources
https://synergy-lifting.co.uk/how-much-does-crane-hire-cost/
https://katus.eu/learn/courses/how-prefab-homes-are-built
https://www.planningportal.co.uk/info/200130/common_projects/16/electrics/3
https://www.constructionnews.co.uk/archive/types-of-prefabricated-systems-28-06-2001/
https://parsonsjoinery.com/blog/extension-series-pros-cons-conservatories/
https://www.stanleygroup.co.uk/modular-building-services/
https://blog.glwengineering.co.uk/the-advantages-disadvantages-of-steel-frame-construction