How Much to Convert a Garage?
Most garage conversions costs in the range of £10,000 to £20,000, although they can be done cheaper if you keep things as simple as possible.
Can you provide me with some examples?
Indeed we can! For example, rather than remove an entire wall to connect your garage with your home, simply create a new doorway - this is much cheaper.
Similarly, rather than go for expensive bi-fold doors you can opt for a normal uPVC door, and there are plenty of other ways to keep the costs low for your conversion.
To provide accurate pricing information we got in touch with dozens of small and large businesses as well a few online quotation tools.
Please remember that costs can vary greatly in different parts of the UK, and sometimes even small differences in specifications can cause prices to fluctuate significantly.
Before hiring a garage specialist, we always recommend getting up to 3 quotes from local tradesmen in order to compare prices.
The average material cost to convert your garage will depend on the quality of materials you would like to use, the size of your garage, and exactly what you're converting your garage into. Materials will include those for flooring, insulation, heating, lighting, decorating, doors and windows.
The average builder will usually charge around £150 per day but will usually work in a team of at least 2 to 3. For a garage conversion, you will need a few different trades to complete your job. These may include:
Builder to help with any structural issues before you start the renovation.
Electrician to install the cabling, sockets and lights.
Heating engineer or plumber to install the radiators.
Flooring specialist for the flooring.
Joiner for any boiler/meter encasement.
Plasterer and decorator for the walls and ceiling.
As you can imagine, the difficulty in organising this number of different tradesmen can cause the project to drag on for weeks and sometimes it's better to simply hire a larger company to do all of the work at a higher cost.
Garage Conversion Prices
Below are some estimated costs of having your garage converted into a living space:
| Job Description | Avg. Cost |
| --- | --- |
| Average cost of a single garage conversion | £7500-£15000 |
| Internal wall removal & RSJ | £750-£1500 |
| Damp proofing and insulation | £500-£1000 |
| Concrete and/or screeding | £500-£1000 |
| Flooring | £400-£750 |
| Garage Door Replaced with Window | £1000-£1500 |
| 1 Window & 1 Door | £1000-£1500 |
| Boiler/Meter Encasement | £1000-£1500 |
| Build stud wall & added insulation | £500-£800 |
| Plumbing, Heating & Electrics | £1500-£2000 |
| Plastering | £500-£800 |
| Painting & Decorating | £400-£600 |
Cost Breakdown Calculator
Individual costs of a garage conversion- Total Cost: £10,000
Labour Cost and Time Frames
To complete a garage conversion, you'll need to hire a variety of tradespeople and specialists. Their charge per day will vary on what their specialties are. Most traders on average charge £70-£250 per day.
See the table below for the duration of individual jobs:
| Job Description | Duration |
| --- | --- |
| Single garage conversion | 3-5 weeks |
| Internal wall removal & RSJ | 1-2 days |
| Damp proofing and insulation | 1-2 days |
| Concrete and/or screeding | 2-4 days |
| Flooring | 1-2 days |
| Garage Door Replaced with Window | 2-3 days |
| 1 Window & 1 Door | 1-2 days |
| Boiler/Meter Encasement | 1 day |
| Build stud wall & added insulation | 1-2 days |
| Plumbing, Heating & Electrics | 3-5 days |
| Plastering | 2-3 days |
| Painting & Decorating | 2 days |
What a Garage Conversion Entails
Converting an existing garage is a cost-effective way to add some valuable living space to your home. Garage conversions can seem like a very attractive option in terms of costs when compared to the high costs of moving and the continually rising house prices.
There are many ways to extend your home and garage conversions are perhaps the cheapest way, so if you don't already really use your garage space and treat it more as a junk room, then a garage conversion could well be the best option to free up some valuable space.
If you have a double garage you could even just convert half the space so you still have somewhere to park a car while benefiting from an additional living room.
One of the reasons that a garage conversion is so cost-effective when compared to a traditional extension, is that you don't need to lay new foundations or build new walls, plus many garages will already have electricity further reducing the overall costs of conversion.
In addition to the extra living space, a garage conversion can add value to your property too!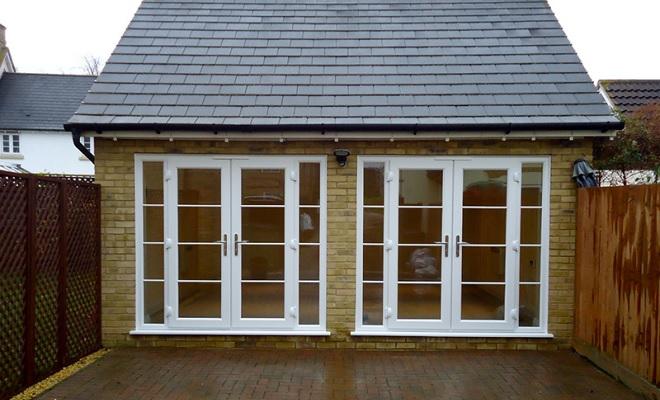 Even though the building costs for a garage conversion are minimal when compared to building an extension, there are still some major alterations that have to be made. The first thing to consider with a garage conversion is the removal of the existing garage door which often simply needs blocking up with perhaps the addition of a small window.
Additional Costs
To convert a garage into a comfortable living space, doors and windows are essential, the number and size of the windows will determine the total cost, but typically a single door or window would cost in the region of £500 for a standard unit.
With most garages, the existing floors are typically rough and uneven. So whatever type of flooring you require, you will need to account for the cost of pouring some new concrete as a base if it's required.
For the walls, stud walls can be built inside your garage to create a new room with insulation added between the stud walls and the existing structure. If you're changing your garage into a bedroom or living room and you already have electricity, then all you require is a few extra outlets.
However, if you're turning your garage into a bathroom or kitchen, then plumbing and gas pipes will probably need to be installed. Once the basic structure of the new room is in place then it will, of course, require decorating and new flooring. All of these costs need to be accounted for in your budget.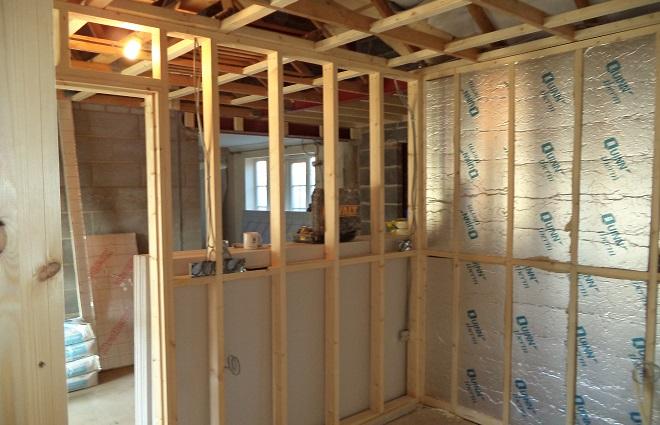 DIY Garage Conversions
Converting a garage to a living space can help homeowners to make use of space that is not efficiently used. It is also not an especially complex project so many are tempted to tackle this as a DIY job to save money.
But while a garage conversion is more straightforward than a typical extension project, there are still many important points to consider, such as insulation, ventilation and fire escape routes - all of which will need to comply with your local building control office under building regulations.
In addition, the foundations will need to be checked to ensure that they can cope with the additional structure while both new and existing floors will require a suitable damp proof membrane. There is a lot to think about and approvals will need to be sought before any work starts.
Any new electrical work carried out will also require an electrician. So a garage conversion is not a suitable job for first time DIY enthusiasts as it is a bigger project than it first appears!
Although a well-thought-out professional garage conversion can add value to your property (as much as 10%) making it one of the most cost-effective home improvement projects, a DIY bodge conversion job will reduce your property value and make the home difficult to sell!
Don't be tempted to cut corners in terms of insulation either as this will cause condensation and damp which is not only a health hazard but will also stain and damage the new stud walls which will ultimately mean it will cost you a lot more in the long run. As with all home improvement projects, cutting corners and trying to do things on the cheap often will end up costing you more money.
Planning Permission, Building Regulations and Party Wall Agreements
Most garage conversions will come under permitted development rights so planning permission will not be required, however, you should always contact your local planning department about any planned works and it's always worth applying for a certificate of lawful development from your local authority for your own peace of mind.
However, under certain circumstances, you will need planning permission for a garage conversion:
If you have a listed building.
If the planned conversion will increase your home beyond permitted development rights.
If the council has restrictions on reducing parking in your area.
You are converting the garage space to use as a business.
All garage conversions will be subject to building regulations approval, so you need to notify your local authority or use a contractor that can self-certify the works. To comply with building regulations, the new living space must:
Be structurally sound with a damp-proof course.
Be energy efficient with insulation to walls and roof.
Be moisture proofed with adequate ventilation.
Be fire-proofed with fire escape routes.
Have all existing electrics tested to ensure safety.
Once the building inspector is satisfied with the works a completion certificate will be sent to you within 28 days. Always check that your local council is happy with your plans before starting any building work!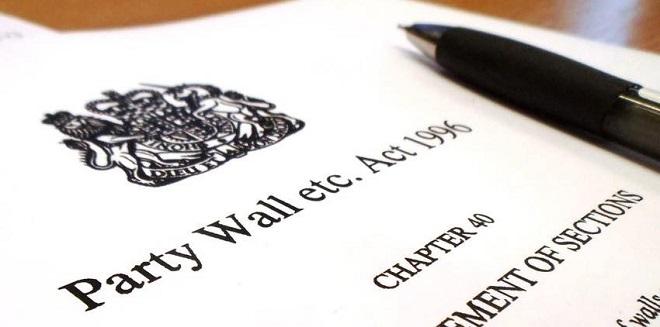 If the conversion will involve work on a structure shared with an adjoining property (usually a shared wall), the Party Wall Act will apply and a party wall agreement will be required with your neighbours unless you can persuade them to sign a waiver. Expect to pay around £750 for a party wall agreement.
Should I Hire an Architect?
A garage conversion to make additional living space is a complex building project and although it is not illegal to this as a DIY project it is not recommended.
You should always seek professional advice from an architect or building contractor and always check with your local council building control team before starting any work. If you decide to do this as a DIY job then you should at the very least have an architect draw up plans detailing:
The foundations and whether they will be deep enough to handle the extra weight of floors.
Walls and ceilings.
Infilling the door opening.
Damp courses.
Weatherproofing and insulation.
Structural strength and if it's suitable for a new roof and additional insulation.
Windows and ventilation.
Expect to pay £500 to £1000 for such plans, more if a structural engineers visit is required (it probably will be).
Garage Conversion or Conservatory
If you're looking to add more living space, then you may be looking at a choice between a conservatory or a garage conversion. Each has its advantages and disadvantages, so you will have to carefully consider these before deciding which will be the best option for you.
A conversion to an existing garage can add as much as 10% to the value of your house. Plus if you are converting the existing garage without extending, you won't normally require planning permission. But you will need to comply with building regulations to convert a garage to be a liveable space.
Likewise, a conservatory can often be built without planning permission but you will also need to give notice to your local council and comply with building regulations to ensure the conservatory meets the required standards.
Some of the main downsides to conservatories include:
Often too cold in the winter
Too warm in the summer due to their use of glass
More cleaning required
Easy to choose the wrong conservatory due to the vast amount of options available.
In terms of planning and building regulations, there isn't much difference between adding a conservatory and converting a garage. A garage conversion will be warmer and will not take up any garden space, whereas a conservatory will be brighter and still leave you a garage for your car!
Garage Conversion or an Extension
Garage conversions are one of the most cost-effective ways to add more living space to your home. You can add to the value of your home with valuable extra living space and no planning complications. In the case of double garages, you can just convert half of the garage so you still have somewhere to park the car too!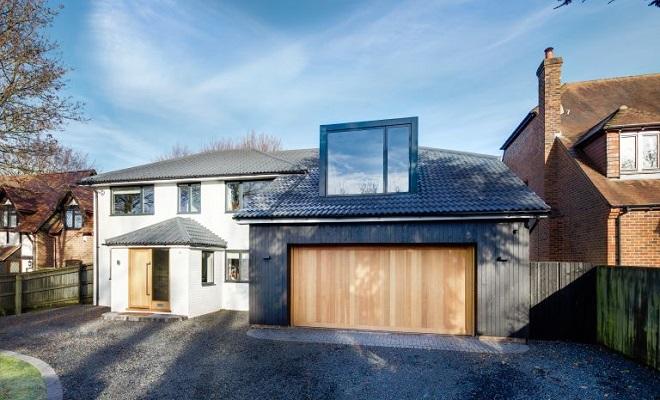 The main advantages of a garage conversion over an extension include:
You won't lose any garden space.
Converting a garage is much cheaper.
Use neglected garage space.
Lower time frames
Garage conversion building costs are significantly lower than the building costs associated with an extension as you will normally save money on new foundations and walls, your garage may already have power and plumbing which will reduce your cost even more.
If you need a lot of extra living space and have a large garden with a big budget, then an extension is the better option. But if you just want an additional room or small annexe, want to preserve existing garden space and are on a limited budget - then a garage conversion is ideal.
Granny Flat or Annexe
If you've got an elderly relative that you feel would benefit from living under your roof but you both want to retain some privacy and independence, then converting your garage into a self-contained flat could be the answer.
By creating an annexe not only can you keep an eye on your relative and look after them, but you can also increase the value of your property and reduce the loneliness which is now common in older people.
Also, there is no longer a council tax burden on homes with self-contained annexes. Although the value a granny flat will add to your property may be the last thing on your mind when you're thinking about caring for a relative, it is not selfish to consider this when making your decision.
The government has helped encourage families to live together by discounting council tax and scrapping stamp duty increases on granny annexes, as these arrangements can help save the NHS and social care system a lot of money when current budgets are already stretched.
But although granny flats are a great solution for elderly living, they're not something that can be rushed into!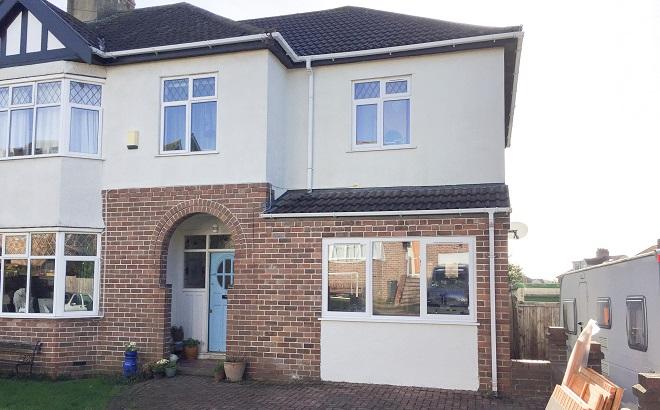 Converting your garage into a granny flat is a great option as the costs and disruption are less than for an extension so you can quickly and relatively cheaply create an annexe for an elderly person to avoid going into a care home.
Besides, garages are on the ground floor which is essential for older relatives needing extra assistance, a loft conversion is a great way to add space to your home but not a great idea for a granny annexe!
But before you make a decision, frank discussions are crucial about how bills will be paid, who's responsible for the garden and other ongoing maintenance, privacy and locks, etc.
You should take legal advice on what happens if either party wants to move to a different property but the other party doesn't want to sell. Other legal issues to consider are what happens in the case of a relationship breakdown and divorce.
FAQs
Sources
https://www.realhomes.com/advice/how-to-plan-your-kitchen-extension
https://www.self-build.co.uk/extension-cost-guide/
https://www.homebuilding.co.uk/foundations-explained/
https://www.magnet.co.uk/kitchens/get-a-guide-price/