How Much Does it Cost to Convert a Basement?
The UK currently builds the smallest new homes in Europe; this is thought to be mainly because of the high cost of land with permission to build, which in turn is caused by a lack of space. But basement conversions can add another whole storey to every new home without requiring any more land, or even add multiple storeys if required.
Adding a basement is a simple solution, and hardly a new idea, basements and cellars were common in most townhouses built in the 19th century, so what we are really seeing is a surge in popularity for a traditional idea. Space is highly prized in inner cities, and in London new basements several storeys deep are being excavated beneath existing homes.
It is of course much easier to build a lower ground floor at the same time as the house construction, adding a basement retrospectively is a much more expensive option. But if you need the extra space, it can often be the best option.
To provide accurate pricing information, we have contacted local, and national companies, plus have used various online quotation tools.
The figures provided should give a good rough idea of the costs involved if you are considering renovating your basement, but of course, you will need to gather detailed quotes from tradespeople to get an exact price for your requirements.
The average cost to dig and underpin a new basement of 20 sq. metres is up to £50,000. The average material cost to convert a basement will firstly depend on the size and the quality of materials which are used.
Material costs will include underpinning cost per metre, any changes to current plumbing, new windows and electrics. Material cost will also vary when decorating the renovated space, such as flooring, light fixtures and paint.
Converting a Basement Prices
Below are some estimated costs of hiring a specialist to renovate a basement.
| JOB DESCRIPTION | AVG. COST | DURATION |
| --- | --- | --- |
| Convert an existing basement | £1000-£1800 / sq. m | 2-4 weeks |
| Dig & underpin new basement | £2000-£3000 / sq. m | 2-6 months |
| Lower floor level & underpin existing basement | £1500-£2500 / sq. m | 1-2 months |
| Digging basement space underneath a garden | £1500-£2500 / sq. m | 1-2 weeks |
| Producing lightwell or external access | £5000-£7500 / sq. m | 1 week |
| Engineer fees | £1000-£2000 | N/A |
| Planning application (if needed) | £206 | N/A |
| Applying for building regulations | £750-£900 | N/A |
| Party Wall Agreement | £700-£1000 | N/A |
Supply Costs
There are plenty of extra jobs that come with renovating a whole new room in your house.
These can often add up to enhance your costs. Below is a table of typical supply costs that come with a basement conversion cost.
| JOB DESCRIPTION | AVG. COST |
| --- | --- |
| Installing kitchen suite | £4,000-£8,000 |
| Fitting bathroom suite | £1,500-£3,500 |
| Fitting a staircase | £3,000-£5,000 |
| Install light fittings and fixtures | £100-£500 |
| Internal wall removal | £750-£1200 |
| Damp proofing and insulation | £500-£1000 |
| Plastering | £300-£600 |
| Painting and decorating | £400-£800 |
| Fitting carpet | £300-£600 |
| Fitting laminate flooring | £400-£700 |
Additional Costs
Converting and renovating a basement is a large undertaking and offers up a prime opportunity to complete and undertake several other jobs that may need doing or add value to your conversion.
Typically you'll need to plaster your walls in your new conversion for around £300, as well as painting and decorating your space which can vary between £250-£600.
Depending on how your basement is being designed, you may need to fit in a staircase for clear access which can cost between £3,000-£5,000.
If you're building a downstairs bedroom or communal area, it may be worth considering fitting a new bathroom suite, costs here can vary from £1,500 for a small standard bathroom to up to £8,000 for a high-quality bathroom.
If your budget stretches far, you can even install underfloor heating to keep your feet nice and cosy in the winter month; this typically costs around £1,500.
Although it should be included in your contractor quotes, you will have a lot of excess dirt, debris, and wreckage to get rid of. There might be items that you have to get rid of yourself, meaning you'll need to hire a skip, which can cost between £150-£300.
Cost Breakdown Calculator
Individual costs to dig & underpin a new basement of 20 sq. metres via basement conversion cost calculator - Total Cost: £50,000
Labour Costs and Time Frames
The average specialist will usually charge around £150-£200 per day.
Basement conversion specialists will often work in pairs to ensure the job is done as smoothly as possible.
The overall labour price will be factored into the overall price quoted by the trade, which can be anywhere from £2,000-£10,000 depending on location but will be mostly affected by the duration of the project.
Different contractors may be needed for this job such as builders, architects, designers, and general tradesmen and their prices will vary from around £100-£300 per day, adding to the cost to build basement.
Cost Affecting Factors of Converting a Basement
The cheapest basement option is a simple utility basement with no windows, fine for a workshop, utility room, wine cellar, or just for extra storage. With a little more money, space can be upgraded to make a gym, sauna or games room.
But to use as living space (a family room, kitchen, office, extra bedrooms or bathrooms) then considerably more money will have to be spent in addition to complying with building regulations.
A basement conversion project will always work out cheaper than moving if there is no excavation required to create the underground space required, whereas the cost to dig out basement will make the overall price considerably higher.
The excavation to create this space is the most expensive and difficult part of the project. Especially if difficulties are encountered such as concrete slabs, sewer and drains, or awkward access for removing the excavated materials.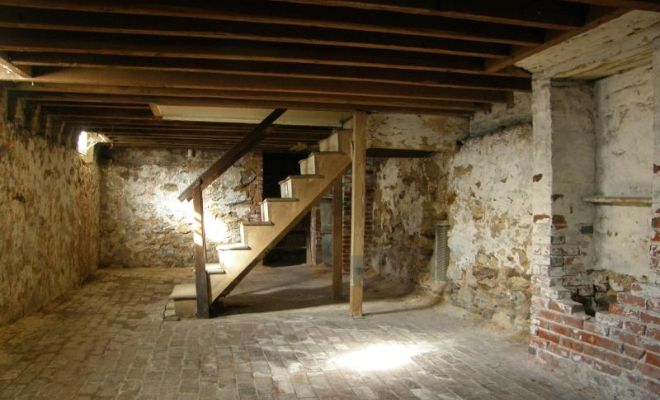 Without major excavation, the job really just entails waterproofing the space and making it habitable with safe access and light. So, converting an existing space that doesn't need extra headroom can cost half as much as having to excavate a new space from scratch.
Light is crucial for creating extra quality space and living space should get priority of daylight and any space near the centre of the floor-plan with no lightwells should be utilised for cloakrooms, storage space and utility rooms.
Light can be maximised by incorporating multiple lightwells, using a large open plan stair with glass balustrades and open tread steps, glass partition walls, glazed or partially glazed doors, flat roof-lights where the basement extends underneath the garden, and a good lighting scheme.
Depending on the quality of lighting, this is a great investment for your home but may enhance your budget slightly.
What Does Converting a Basement Entail?
During a basement conversion project, the builders will typically use the front garden for access and to create an external entrance/exit to the new level.
Expect whatever garden you have to be pretty much destroyed! Landscaping the garden after the basement conversion may be part of the quote you received, but often it is not. So, budget for some extensive gardening work after the basement project, or if doing it yourself expect many hours of backbreaking work!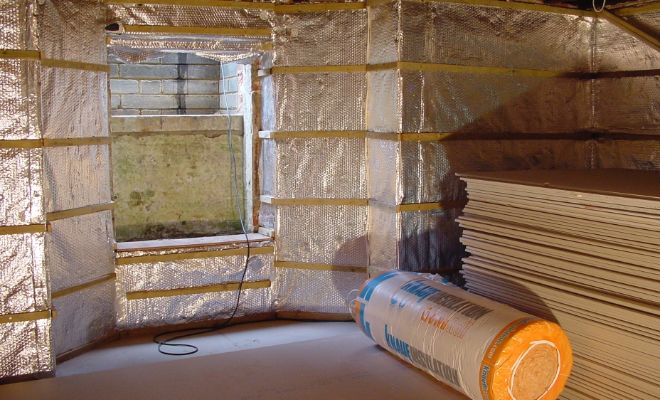 Converting your basement is a great way to save costs when using contractors to undertake the work compared to a standard extension. Builders will excavate the site and landscaping before an architect comes into re-plan the conversion with you.
Once you've settled on the layout of your new basement, builders will add/take away any necessary floors or wallings before an electrician adds new lighting and plasters and decorators come in to complete the job.
DIY Converting a Basement
If your existing basement is already liveable, dry, waterproofed, and ready to go, then it will be considerably easy to DIY your own conversion.
An experienced DIYer just needs to plaster, paint and decorate, add furniture and install any necessary appliances. This will also be a great way to lower your cellar conversion costs.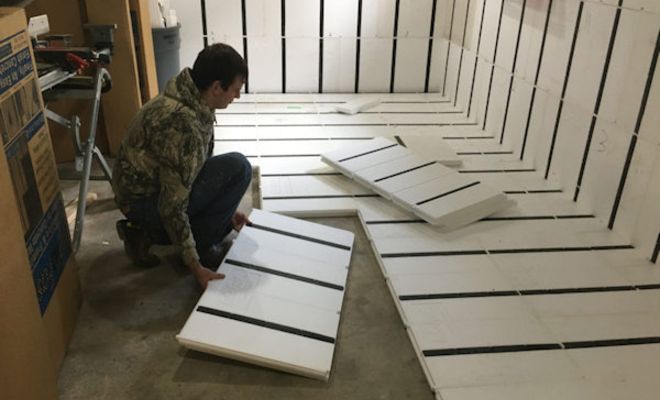 However, DIY may not be an option for you if your basement is unliveable, suffering from damp, needs waterproofing or excavating, for an extension, then it is definitely worth calling in the professionals.
These are extremely dangerous jobs to undertake, excavating foundations may also need underpinning to provide structural safety and should not be tackled alone as the basement may collapse or cave in.
Type of Basement Conversion
A basement conversion offers a lot of potential for your family home, and you can add an array of different rooms to benefit and adjust to your property's needs. Below are a few different ways you can utilise your basement space and add value to your home.
Bedroom Basement Conversion
Converting your basement into a bedroom is a fantastic way to add value to your property and utilise space for larger families.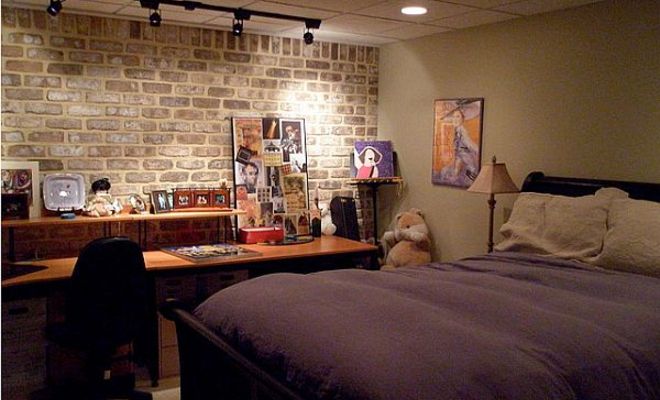 It could even be a faster and cost-effective way to add a bedroom into your home without the hassle of an extension. However, this project may offer up some hindrances such as applying to building regulations, waterproofing, dampness, lighting and ventilation.
Bathroom Basement Conversion
Another way to add value to your property is by converting your basement into a bathroom; this is also really convenient if you often find yourself queuing for the shower in the morning.
However, this is a more complex renovation and needs to include planning of water and damp proofing, plumbing and ventilation.
Kitchen Basement Conversion
Adding a kitchen into your basement is a really funky and easy way to utilise the space.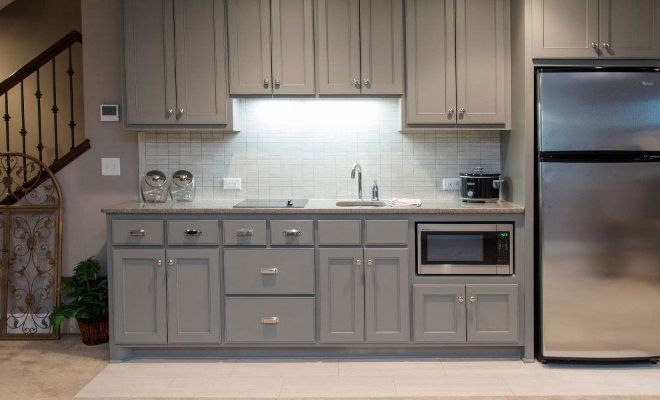 This can work extremely well if the basement extends out to the garden, making it ideal for social gatherings. A kitchen can be a really easy conversion and has little aspects to worry about.
Living Room Basement Conversion
A living room/lounge area is probably the easiest basement renovation because it's main installations will be decoration and home living.
This is another great social area if you have a large family or roommates and need some extra space instead of fighting over the Friday night Netflix film.
Office Basement Conversion
A basement space is a perfect place for a secluded office or study room, away from the hecticness of a busy family home or away from roommates.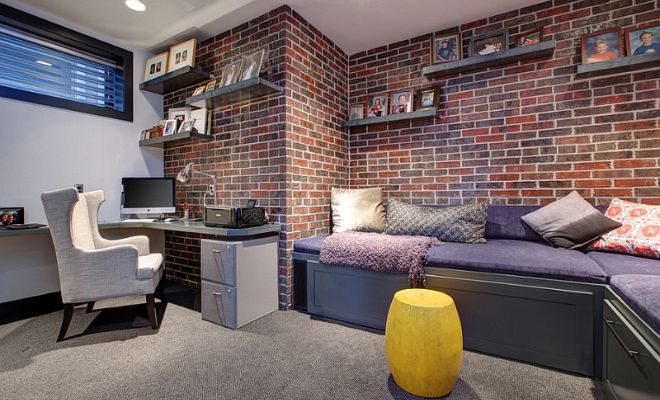 This is especially prevalent given our current climate with more and more businesses finding it convenient for their employees to work from home. This also comes with little hassle and need for any big changes or planning permissions.
Planning Permission and Building Regulations for a Basement Conversion
Planning permission isn't usually needed for converting and renovating an existing cellar, as long as it's not a separate unit to the house or changes any parts of the property's exterior appearance.
However, if you need to excavate any part of your property, this will most probably need planning permission, as well as homes which are considered a listed building or conservation house.
In most cases, it's always best to get in touch with your local planning authority for tips and guidance prior to planning or starting work and renovations on your home.
Make sure that you have an initial consultation with your contractor as then you'll be able to discuss any issues that may occur with your home project and any potential requirements under building control or planning approvals that you'll need to adhere to.
Party Wall Agreement
A party wall agreement can be a costly extra and can typically cost around £700-£1,000 per neighbour.
A party wall agreement is needed when you are extending, excavating or underpinning your existing cellar. You'll need to adhere to the Party Wall Act, as your neighbours may be able to have a say in when and how your renovations are taking place.
You won't need to inform them if you're carrying out maintenance such as waterproofing or replacing (although it may be kind to let them know) but, you will have to tell them prior to a big renovation job which may alter the joining walls.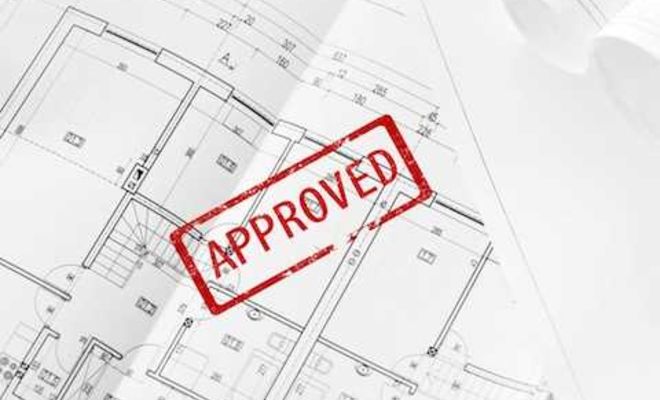 Hopefully, you'll have a good and understanding relationship with your neighbour, but if not, it's always best to agree to your terms of work in writing and arrange a Schedule of Condition to make sure there are no misunderstandings.
You can find more useful information on party wall agreements at Gov.uk.
Waterproofing Options
Waterproofing is a key facet of any basement space as the area is prone to damp and collapsing from weather conditions. It's extremely important that you take into consideration all the different types of waterproofing options and which one will suit your property best.
Below is a description of the most popular choices.
CDM
Cavity drainage membrane (CDM) is a popular choice for waterproofing basements. The CDM lines the walls and a pump system with its studded plastic cavity which allows water to slowly flow down the CDM, directing to the internal drainage channels prior to being transported away.
This can cost between £1,200-£1,800 / sq.m.
Barrier System
A barrier system is completely different from a cavity drainage membrane by holding back the water rather than helping it flow into the drainage system. It does this with a tanking system placed on top of the previous walling and floors.
This can cost between £1,000-£1,500 / sqm.
Floor Sealing / Tanking
As well as the walls, the floor also needs to be sealed. Tanking is a great option to waterproof both walls and floors at the same time and requires adding a layer of cement/membrane/bitumen slurry coat which will apply a waterproof coat on the walls surfacing.
This can cost between £1,350-£1,650 / sqm.
Benefits of Basement Conversion
One of the main reasons for deciding on a basement or cellar conversion is a straightforward lack of living space.
In London and other crowded cities with sky-high house prices, a basement conversion, while far from cheap, can be cheaper than the cost of moving to a larger property, once you take into account stamp duty, removals costs plus the additional cost of purchasing a larger property.
Extra Space
A basement conversion is also a good way to maximise the potential of your property, perhaps creating leisure space on a completely new floor level.
This additional space can be used in many different ways, but popular options are a media room, playroom, games room, gym, sauna, extra bedrooms, nanny or granny flat, swimming pool, artist's studio or just an extra bathroom.
The possibilities are endless and whatever you decide to use the extra space for, it will likely increase the value of your house too!
Add Value to a Property
As mentioned above, a basement conversion is an ideal way to add value to your property.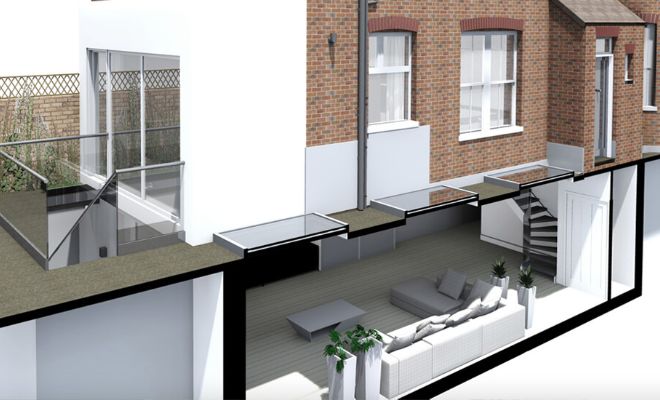 You can add extra assets into your house with added bathrooms, an office, or gym, or add the overall property value with an extra bedroom. This makes your home a lot more attractive if you want to sell in the future.
Don't Have to Move to a New house
This is pretty self-explanatory, although work may disturb your home for a few weeks, it's a way better alternative than trying to find a new home which has four bedrooms, or a study space.
Utilising the space of your basement can save you a lot of stress and hassle in the long run.
No Extension Needed
You can save money drastically, hereby avoiding adding a whole new extension onto your house.
If you need an office space or extra bedroom, then why not utilise the space you already have rather than splashing out even more on a property extension.
FAQs
How to Find & Hire a Basement Converter
Finding the right person to convert and renovate your basement can be a daunting task, this person is going to be working in your home with their team for a number of weeks, so you need to know that they're trusted and will do a good job.
Below is a guide to what you need to look out for before hiring tradesmen and things you should look out for.
Rather than scrolling through different websites or the Yellow Pages, we've made it easier for you with our Get a Quote page, helping you find local builders and tradesmen who can give you their best quotes.
You should always check their references, pictures, pricing, and if they're members of any trade associations. It's also best to hire a builder who is a part of a trade association, preferably the Federation of Master Builders as it implements thorough reference checks on all new members.
This will give you peace of mind when hiring as you know they are certified and have completed this job before. If you still feel uneasy, ask to talk to previous clients and for pictures of their previous work.
Always make sure that any builders you hire have Public Liability Insurance to cover both themselves, you, and your property. If you're hiring an architect to help plan and structure your room, you should ask if they have Professional Indemnity insurance to cover any issues or mishaps that happen with their design.
This insurance should be available for anyone who has input in the design of your renovation.
Sources
https://www.realhomes.com/advice/how-to-convert-a-basement/2
https://www.labcwarranty.co.uk/blog/10-basement-conversion-costs-you-may-need-to-consider/
https://www.basementconversions.co.uk/blog/how-much-does-a-basement-conversion-cost.php
https://www.harveynormanarchitects.co.uk/articles/basement-conversion-and-basement-extension-guide-how-to-successfully-tackle-basements
https://wisetradesmen.com/list/basement-conversion-cost-guide-cellar-conversion-costs-and-prices
https://www.gov.uk/party-walls-building-works/reaching-agreement-with-neighbours