How Much Does Installing Timber Cladding Cost?
The average cost to install exterior timber cladding will be determined by several factors: the type of timber, the profile of the cladding, the size of the house and your location within the UK.
The three most common timber types used for exterior cladding are:
Oak
Larch
Red cedar
Oak cladding ranges in price from between £20-£50 per square metre depending on the profile.
Larch is less expensive, costing on average between £10-£40 per square metre and red cedar costs between £10-£65 per square metre depending on profiles.
The profile chosen to clad a property will affect the cost. Shiplap as well as tongue and groove are the most popular choices and cost roughly the same per square metre at between £20-£60. Feather edge and waney lap profiles are less commonly used and cost around £10-£40 per square metre.
Log lap cladding is typically found in redwood, and the average cost is between £25-£35 per square metre for this profile.
Some of these timbers are imported from places such as Canada or Siberia, and some are grown in the UK; therefore, their source will impact the price paid. Labour costs will be determined by the area you live in, with London and the southeast being the most expensive for tradespeople.
The size of a house and the area to be clad will also affect the cost; clearly, differently sized homes will vary in price. Some homeowners will want the entire exterior of the property covered while others will opt for half-clad.
Complex house design will also increase the amount of work needed to clad a property in timber, and this will be more expensive than a more basic shaped property on one level.
The time taken to install the cladding will depend on the size and shape of the property; therefore, it is difficult to estimate the cost of labour. However, taking an average tradesperson's rate of £150-£200 per day with a labourer costing £80-£100 an installation of 3 days will cost approximately £600-£900.
Timber House Cladding Prices
Below are the costs per square metre to install timber cladding to the exterior of a three-bedroom house, with installation taking from 2-5 days.
| Type | Oak | Red Cedar | Larch | Redwood | Labour 2-5 days |
| --- | --- | --- | --- | --- | --- |
| Shiplap | £45-£55 | £30-£65 | £20-£30 | N/A | £400-£1500 |
| Tongue & Groove | £40-£55 | £35-£60 | £20-£40 | N/A | £400-£1500 |
| Feather edge | £20-£30 | £10-£60 | £15-£20 | N/A | £400-£1500 |
| Waney lap | £20-£40 | £15-£30 | £10-£25 | N/A | £400-£1500 |
| Loglap | N/A | N/A | N/A | £30-£35 | £400-£1500 |
Supply Cost
Average supply cost per square metre for different profiles of exterior timber cladding in various types of timber.
| Timber Cladding Type | Oak | Red Cedar | Larch | Redwood |
| --- | --- | --- | --- | --- |
| Shiplap | £50 | £40 | £25 | N/A |
| Tongue & Groove | £50 | £50 | £30 | N/A |
| Feather edge | £25 | £25 | £15 | N/A |
| Waney lap | £30 | £20 | £20 | N/A |
| Loglap | N/A | £20 | £30 | £25 |
Additional Costs
Cladding the exterior of your home with timber will have many benefits not least of which will be the appearance of the property. Therefore, you may consider other improvements to the external aspect of your home.
Installing new gutters is recommended if the existing is in a bad state of repair or very old. You won't want rainwater flowing down your new timber cladding and spoiling the appearance. The cost to install new guttering is typically around £450-£700 for an average-sized semi-detached house.
The roofline of your home is more than just the guttering however and also includes the fascia and soffits. Painting fascia and soffits is a quick way to improve the appearance of this part of your home, although this is only possible if they are made of timber. The average cost for this work is around £700-£1,000 depending on the size of the property.
Of course, you may decide to replace the fascia and soffits entirely as part of an external makeover of your home. For a typical three-bedroom semi-detached house, the average cost for this work is around £1,000-£1,500.
For all of these jobs, it will be necessary to include the cost of hiring and erecting scaffolding which can range from £250 for a scaffold tower for a day to £500 for scaffolding for a week. If you do have other jobs to complete apart from the cladding, it is advisable to book the trades to work consecutively to reduce the time that the scaffolding is up and the associated cost.
Cost Breakdown Calculator
Individual costs to install red cedar shiplap cladding to a three-bedroom property. Total cost: £6,000
Labour Costs and Time Frames
The cost of labour to install timber cladding will depend on the size and shape of the house, the complexity of the installation and the location of the property in the UK.
If you hire a cladding specialist company to carry out the work, then you will most likely pay one price for a supply and fit service. However, if you buy the cladding and hire a tradesperson to install it, you will need to negotiate a price and get a quotation from three or four installers before deciding who to hire.
The average price you can expect to pay will be around £150-£200 per day for the main installer and approximately £80-£100 for additional labourers.
Timeframes will depend on many factors, including the design of the building as well as the profile chosen and even the orientation of the cladding. Most timber cladding is installed horizontally, but vertical applications are possible with the correct profile.
The size of the house will also determine the time taken for installation, and even the weather can impact on how long it will take as it is an outside job. Bad weather may delay the start or completion of a cladding project, and this may impact on the timeframe and labour costs.
Cost Affecting Factors of Installing Timber Cladding
Below is a list of cost affecting factors that could dictate how much timber cladding will cosst you:
Type of Timber
The timber that you choose for your exterior cladding will be one of the most significant considerations. The type of timber you choose will not only affect the look and durability of your cladding buy will also have an impact on the price that you pay.
Hardwood is more expensive than softwood due to the difference in the speed of growth between hardwood and softwood trees. Hardwoods such as oak typically take longer to grow and mature whereas softwoods such as red cedar and larch grow much more quickly. This means that there is a more plentiful supply of softwood trees which also reduces the price of this timber.
Timber cladding cost per square metre for oak profiles ranges from £20-£55 while a softwood such as larch costs between £10-£40 and red cedar in the region of £10-£65. Some of this timber will have been imported, thereby increasing their cost.
Profile Choice
The type of profile that you choose may depend on the benefits to the property that you wish to achieve or simply the aesthetic that you want. Either way, the profile you select will affect the overall price that you pay.
Planed timber profiles such as shiplap, tongue and groove and log lap are more expensive than the rough sawn profiles such as feather edge and waney lap. The price difference is due to the extra processes that the planed profiles go through to get to the finished state.
Shiplap cladding and tongue and groove profiles are the most popular types and cost approximately £20-£60 per square metre. Log lap is usually made from redwood and costs on average £30-£35 per square metre. Feather edge and waney lap cladding profiles offer a more rustic look and cost in the region of £10-£40 per square metre although imported red cedar in these profiles can cost up to £60 per square metre.
Size of Area
The amount of cladding required will depend on the size of the house and the amount of cladding that you wish to install. Some people will want to fully clad their home while others prefer to mix timber cladding with other exterior wall surfaces such as to render or stone.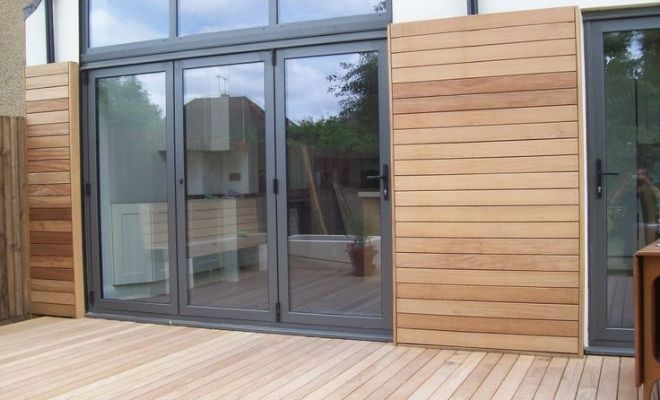 It is ultimately down to personal choice and design. Nevertheless, the quantity of cladding will impact on the overall cost of the project. However, for large projects, the price per square metre may be less and small jobs may be more elaborate and potentially more labour intensive.
House Design
The shape of your house will be a factor in the external timber cladding cost. A simple shape such as a bungalow on one level will be a more straightforward installation than a more complex design with various angles and elevations. The labour involved for a more complicated installation will result in increased costs for time and manpower.
Location
Where your property is may impact the cost of the installation of timber cladding in two distinct ways. First, the type of timber and cladding profile will be determined by the site that the property occupies. If it is in an exposed site such as coastal or mountainous, then it will be subject to more severe weather than an urban or suburban situated property. This may influence the type of cladding chosen, which will impact the price.
Hardwood such as oak is more durable and therefore more expensive costing between £20-£55 per square metre whereas softwoods such as larch are cheaper at £10-£40 per square metre.
The second consideration regarding location is the cost of labour in different parts of the country. London will always command higher prices when it comes to building and home improvements. Companies and tradespeople in the capital and southeast of the UK have higher overheads, and their prices often reflect that. Other large cities in the UK such as Edinburgh, York and Oxford are also expensive for property improvements.
DIY Timber Cladding
The installation of exterior timber cladding can be done as a DIY job if you are competent and confident in what you are doing and have some experience of similar work.
Installing the battens and the timber cladding itself may not present too many problems; however, the edges and trims, as well as windows and doors reveals, will need skill and patience.
Issues that may arise, such as fitting the cladding boards too tightly together and not allowing for expansion and contraction throughout the year can present problems later on with fixings popping out.
Ensuring that each board is straight and level is also essential. The most important will obviously be the first board, but subsequent boards should also be checked as some may have a slight bend or bow which can throw out the levels of the following boards. Taking a level check at every third or fourth board should be sufficient to ensure consistency and an even installation.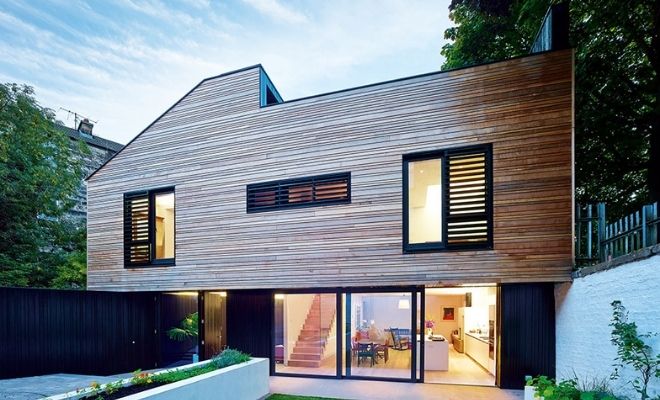 Finding the right position for the nails or screws in the boards is also essential. For example, with shiplap or tongue and groove, it is necessary to catch the tongue of the previous board with the nail or screw to provide stability and weatherproofing.
Professional installation will provide a guarantee, unlike DIY, where if a mistake is made, it is up to you to rectify it, and a lot of companies will offer a supply and fit service.
However, many people enjoy the challenge of a big DIY project and are willing to embrace imperfection for the satisfaction of having done the work themselves. Of course, budgetary constraints may be a larger influence than pride, and in these cases, there is little option other than to do it yourself.
Apart from the issues of potentially incorrectly or inadequately fitted timber cladding, any DIY work can be dangerous. Using power tools, ladders or work platforms should be done with care, and lone working can be particularly hazardous, so if possible, have someone else around to help.
The tools required to install external timber cladding are:
Power drill
Saw
Claw hammer
Spirit level
Combination square
Appropriate fixings
The safety equipment recommended for the task of installing exterior timber cladding is as follows:
Safety goggles
Gloves
Safety boots
If you want to save some money on the cost of installing timber cladding, then you may be able to do some of the preparatory work yourself to cut labour costs. This may involve removing old cladding or other external surfaces in preparation for the installation. You could perhaps save £150-£200 or a day's labour by removing existing wall surfaces prior to the installation.
For the majority of homeowners, exterior timber cladding will fall under Permitted Development Rights, and planning permission is not needed. However, for listed properties or those in conservation areas, national parks, or areas of outstanding natural beauty this may be different, and you should contact your local authority if you are unsure before proceeding.
The work does not need to be signed off by a professional.
Choosing Timber Cladding
The profile of your timber cladding will do more than influence the external appearance of your property; it will also impact on the weatherproofing and stability of the installation.
Shiplap Cladding Cost
Shiplap cladding is perhaps the most popular profile. Its overlapping edge makes it an excellent choice for water tightness. It is a style that has been popular for many decades, and this is testament to its effectiveness as a cladding profile.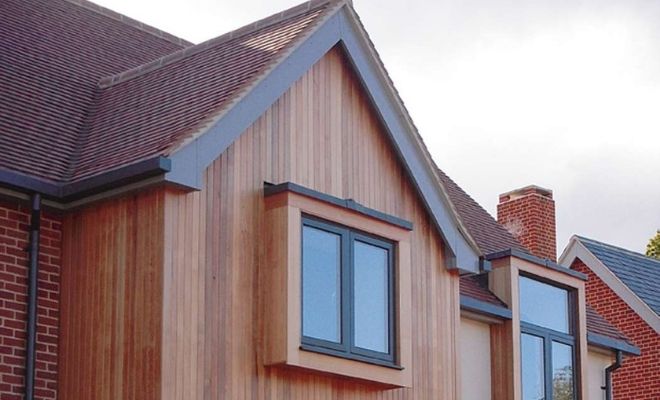 Pros of shiplap cladding:
✔ Excellent weatherproofing style with minimal risk of rot
✔ Hides fixing screws or nails in overlap
✔ Suitable for exposed properties subject to heavy rainfall
Cons of shiplap cladding:
✖ More expensive than other profiles
✖ Subject to warping and loosened fixings if not correctly installed
✖ Will need regular maintenance
The average cost of shiplap cladding is £25-£65 per square metre depending on timber type.
Tongue & Groove Cost
This profile is quite similar to shiplap cladding, but the latter has a slightly longer lip which improves its ability to repel rainwater. However, the two profiles do share the same interlocking joining style.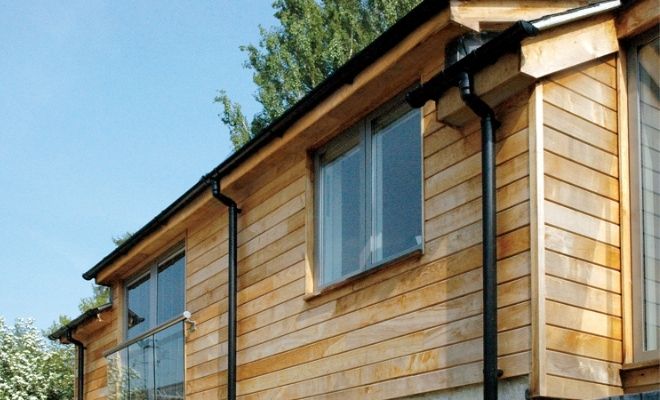 Pros of tongue and groove cladding:
✔ Has a neat and tidy appearance
✔ Good weatherproofing abilities
✔ Interlocking boards provide strength and stability
Cons of tongue and groove cladding:
✖ Allowances need to be made for expansion and contraction to prevent warping
✖ Relatively expensive compared to some other profiles
✖ Not as effective in exposed conditions as shiplap
The average cost of tongue and groove cladding is between £20-£60 per square metre depending on timber type.
Log Lap Cladding Cost
Providing the look of a log cabin, this profile is a relatively quick and easy way to achieve this effect for your property. The boards are machined into a curve and fitted together in much the same way as shiplap and tongue and groove with a protrusion on one edge and a recess on the other.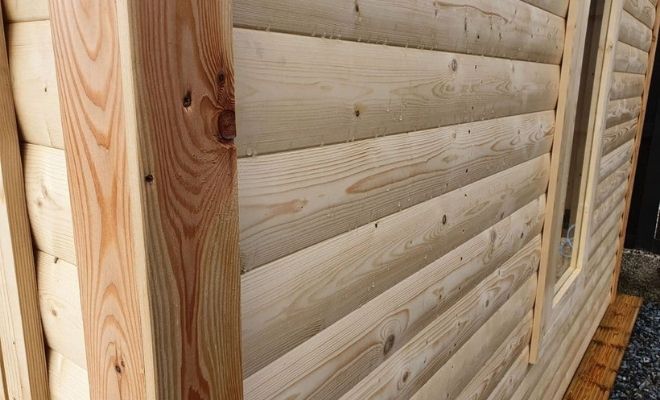 Pros of log lap cladding:
✔ Achieves the log effect look with less effort and cost
✔ It has a thicker cross-section making it a strong cladding
✔ Gives a rustic feel to a property
Cons of log lap cladding:
✖ Fully clad log lap homes may look out of place depending on their location
✖ Not as easy to hide fixings as with some other profiles
✖ May not give the same level of rain runoff as shiplap cladding
The average cost of log lap cladding is £25-£35 per square metre and is most commonly made from redwood.
Featheredge Cladding Cost
Featheredge cladding is a very traditional method of weatherproofing a property and is made from sawn timber as opposed to planed all round.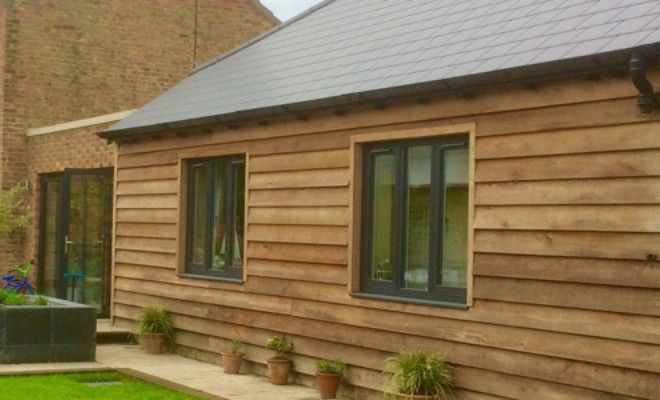 Pros of featheredge cladding:
✔ A traditional and effective method of weatherproofing the exterior of a property
✔ More cost-effective than some other profiles
✔ Achieves a traditional rustic look
Cons of featheredge cladding:
✖ Fixing requires more skill as there is no interlocking of boards
✖ Care must be taken with overlaps when fitting 'green' boards due to shrinkage
✖ Has a rougher appearance so applications may be limited to certain property types
The average cost of featheredge cladding is £10-£60 per square metre with the higher end prices representing imported timber.
Waney Lap Cladding Cost
Waney lap cladding is another sawn profile except this style has one uncut side with bark still on and one cut edge. It is a very distinctive style and gives a unique aesthetic.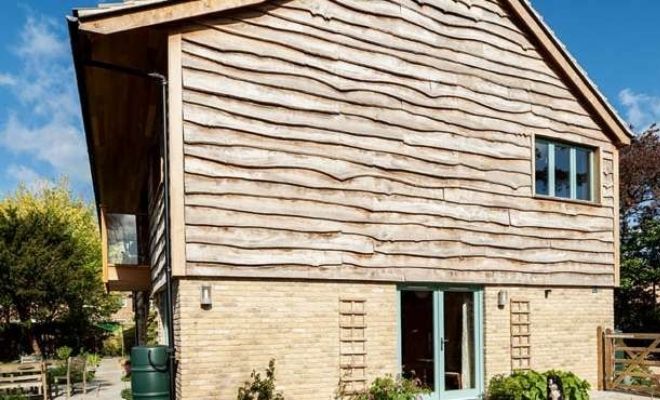 Pros of waney lap cladding:
✔ Provides a very authentic rustic look to the exterior of a property
✔ Ideal for projects such as barn conversions
✔ The least expensive profile for exterior cladding
Cons of waney lap cladding:
✖ May look out of place on certain properties
✖ Green or 'wet' boards can be prone to splitting if fixed top and bottom
✖ Due to irregular shapes, boards require careful levelling up with previous boards
The average cost of waney lap cladding is £10-£40 per square metre depending on timber types.
Choosing Timber Type
The type of timber that you choose for your cladding will be subject to many factors. The suitability for the location of the property, the look that you wish to achieve and your budget.
Oak Cladding Cost
Oak is a hardwood and one of the most durable timbers for external cladding. This resilience and longevity comes at a price obviously, and there are various grades of oak available too from knot-free to a more rustic look.
Pros of oak timber cladding:
✔ Very durable and strong timber
✔ Resists fungal attack due to its density
✔ Has a beautiful appearance with a prominent grain
Cons of oak timber cladding:
✖ More expensive than softwood external cladding
✖ The original colour will fade with weathering and exposure if left untreated
✖ Denser and therefore heavier timber for cladding
The average cost of oak timber cladding is £20-£55 per square metre depending on the profile.
Red Cedar Cladding Cost
Red cedar is a softwood and cladding made from this timber can be from homegrown trees in the UK or imported from Canada. There will be a significant difference in price between the two with imported timber being more expensive.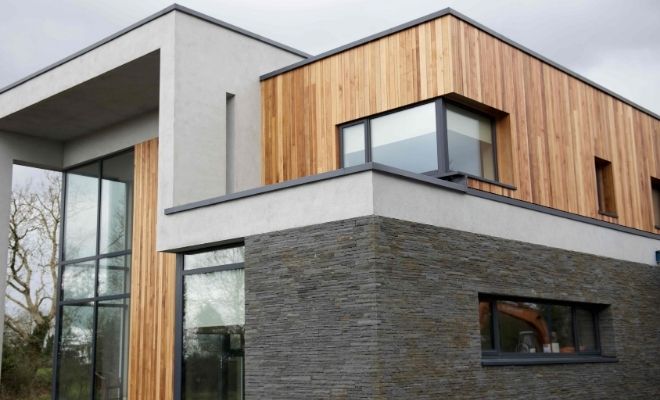 Pros of red cedar cladding:
✔ Very durable timber despite being a softwood
✔ Beautiful appearance and fine grain
✔ Lighter wood than oak but still very weather resistant
Cons of red cedar cladding:
✖ Can be expensive depending on where it comes from
✖ Colour will fade to silver if not treated or protected
✖ British specimens are more knotty and can be more brown than red
The timber cladding cost per m2 for red cedar is £10-£65 depending on profile and source of the wood.
Larch Cladding Cost
Larch is another softwood and very popular as a cladding material. It too can be homegrown in the UK or imported from places such as Siberia. Naturally, imported timber will be more expensive than homegrown due to the increased associated costs.
Pros of larch cladding:
✔ Hardwearing and robust wood
✔ Relatively inexpensive
✔ Choice of homegrown or imported and various grades available
Cons of larch cladding:
✖ British grown larch is more knotty than imported varieties
✖ A tendency to split so drilled pilot holes recommended
✖ Knots can become loose, which can present problems
The timber cladding cost per square metre for larch is £10-£40 depending on profile and source of the timber.
Benefits of Timber Cladding
There are many benefits to using timber as cladding on a property:
Weather Protection
The primary function of any cladding is to protect the building from the elements, and timber cladding does this as well as any of the alternatives. As weather protection, it has been in use for many centuries in different forms and styles and has been improved and perfected over time.
Shiplap cladding has an excellent water runoff style with a long lip that funnels the water away from the building's structure. Tongue and groove provides a very strong and stable exterior surface with its interlocking joints. Both of these profiles work well in properties which are exposed to harsh weather.
Longevity
The lifespan of timber cladding will depend on the timber type, but oak and cedar cladding can have a lifespan of 50 years or more if it is well maintained. Oak as a hardwood is naturally more durable. Still, red cedar and larch have a natural resistance to moisture and so make excellent cladding that will last many years especially if well maintained.
Maintenance
The level of maintenance for different timber types will vary and all the timbers listed will actually do well with no treatment due to their resilient nature.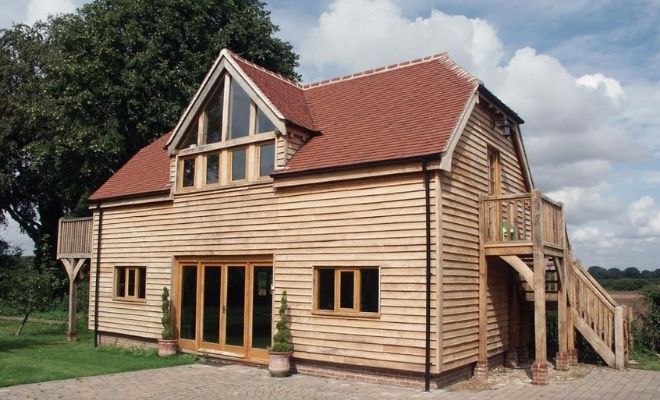 By applying a treatment or installing pre-treated timber cladding, you will extend the life of the cladding and reduce the amount of maintenance required. However, you may need to re-treat or re-paint cladding that is particularly exposed, such as in coastal or mountainous locations.
Appearance
Perhaps the most appealing thing about exterior timber cladding is its natural appearance. With numerous shades and hues of timber and the option to install cladding horizontally or vertically, the possibilities to enhance the outside of a home are many and varied.
Timber also mixes well with other external surfaces such as stone or glass either as a contrast or to complement. The timber cladding can also be easily changed by re-decorating with a different colour, or untreated cladding will naturally change colour over time while maintaining its weatherproofing.
Natural Product
As a renewable product, exterior timber cladding is an ecologically friendly way to protect your home from the elements. Most manufacturers will provide source certification for their timber cladding to guarantee that it comes from a sustainable supply. It is also fully recyclable at the end of its lifetime.
Insulation
Timber cladding can provide additional insulation as it has natural insulative properties. As well as thermal insulation, it can also provide a degree of sound insulation.
Building Regulations and Planning Permission for Timber Cladding
There are no particular Building Regulations in relation to installing exterior timber cladding to an average house, although there are for taller buildings such as apartment blocks.
For properties which are listed buildings, in conservation areas, national parks, and areas of outstanding natural beauty, there will likely be restrictions and advice on planning permission from the local authority will be necessary.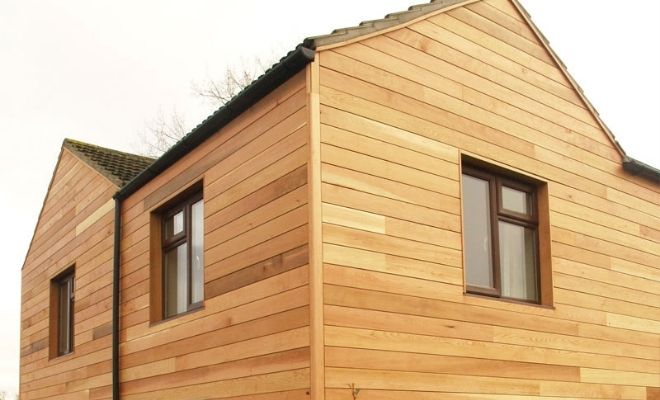 If you are unsure about any aspect of the Building Regulations which apply to installing external cladding, then you can consult the government website for more information and clarification.
Alternatives to Timber Cladding
There are several alternatives to exterior timber cladding.
Render Cost
The use of render as an external building covering is widespread and popular due to its low maintenance and practicality. It can also be used as whole house cladding or as a contrast or complement to other types of cladding for a property. Rendering external walls is a useful way of reinventing a property and giving it a fresh look.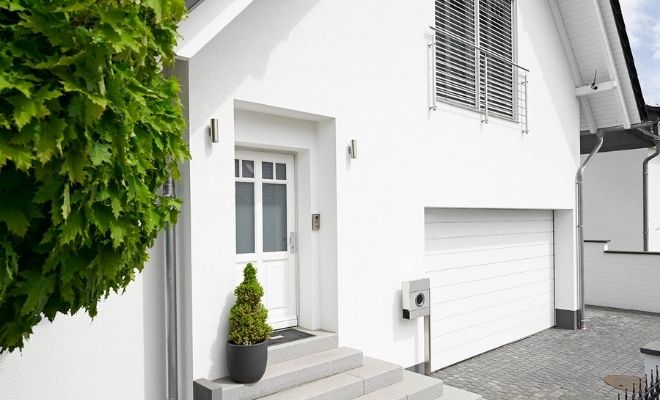 Pros of render as a cladding:
✔ Relatively cheap as an external cladding.
✔ Can transform the external appearance of a property.
✔ Available in a wide range of colours and finishes.
Cons of render as a cladding:
✖ Cement render tends to crack if the underlying structure moves.
✖ Quite labour intensive and requires professional application for a proper finish.
✖ Cement render will require regular re-painting to maintain a good appearance.
The average cost of render as a cladding is £3,000-£4,000 for a typical three-bedroom semi-detached property.
uPVC Cladding Cost
Another alternative to timber as an external wall covering is to install uPVC cladding. It is available in a range of colours and finishes including woodgrain effect.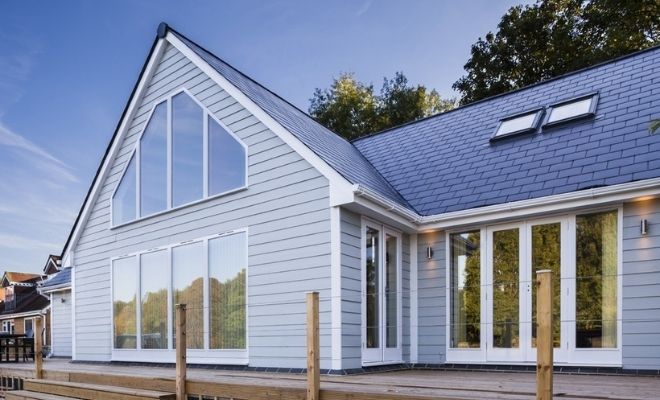 Pros of uPVC cladding:
✔ Very low maintenance requiring only occasional washing down.
✔ Can be installed horizontally, vertically, or even diagonally.
✔ Relatively cheap compared to some other cladding solutions.
Cons of uPVC cladding:
✖ Some uPVC cladding can be adversely affected by strong UV light over time.
✖ Most are only guaranteed for 10-20 years.
✖ Does not have the same aesthetic appearance as timber.
The average cost of uPVC cladding is £1,500-£2,000 for an average property.
Removing Timber Cladding Cost
If the timber cladding on your property has been in situ for a long time, it may be experiencing the effects of prolonged exposure to the weather and need replacing. Or you may have purchased a property which is clad in timber, and it is not to your taste. Whatever the reason for wanting to uninstall timber cladding, you will need to budget for its removal.
Removal Cost
You may not need to hire a cladding specialist to remove the timber cladding from the exterior of your home, and a general builder could do the work. However, care should be taken when removing the battens to ensure that damage is not caused to the exterior wall of the building.
If the cladding is being replaced and the battens are in good condition, then they could be left in place and reused. A tradesperson will typically charge between £150-£200 per day as an average rate.
Additional labourers could cost between £80-£100 per day. The amount that you pay will depend on the amount of cladding to be removed, how long it takes, and the number of people working on the job.
Waste Cost
The cost to dispose of timber cladding will depend on how you choose to get rid of it. One way is to hire a skip, and this will cost on average £200-£300 per week.
If a full-sized skip is too big or there is nowhere to put it on your property, you could use a Hippo bag although this will only work if you have a reasonably small amount of cladding.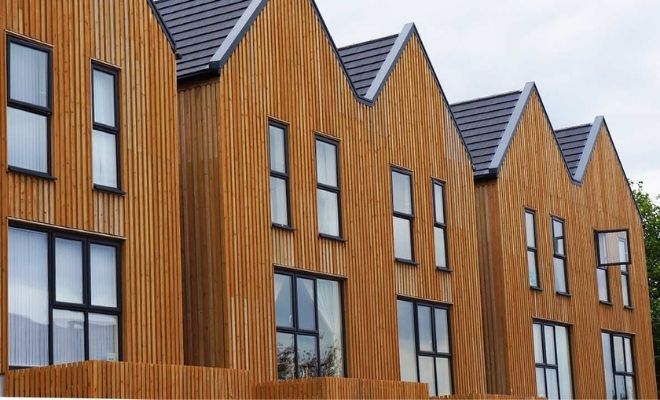 The weight that these bags take is between 1 tonne -1.5 tonne, and they cost between £135-£250 for the bag and collection. If you just purchase the bag, they will cost between £12-£30, but you still have the problem of disposing of the waste.
Most local recycling centres will not take large amounts of waste timber, especially if it has been treated.
DIY Removal
It is possible to remove old timber cladding as a DIY project with the right tools and safety equipment. The cladding boards can be either unscrewed with a powered screwdriver or if nailed removed with a nail bar or claw hammer.
The battens can be removed in the same way with care taken to ensure that there is minimal damage to the surface of the property. If the cladding is being replaced the battens can be left in situ and reused, saving time, money, and labour.
Access to the cladding should be done from the safety of scaffolding or another stable work platform. A ladder is neither safe nor practical unless at least two people are completing the work.
FAQs
How to Find & Hire a Timber Cladding Installer
Unless you intend to fit the exterior timber cladding yourself, it is helpful to know how to find an installer.
What to Look For When Hiring a Timber Cladding Installer
When searching for a timber cladding installer, you should look for a company or individual who has a well-established business and a good reputation. Professional installers will have business premises, a website you can peruse, knowledgeable staff and be willing to undertake a site survey prior to any order being submitted.
They should be able to make recommendations based on your property, location, budget, and the look you wish to achieve for your home. While suggestions and recommendations are helpful, do not allow yourself to be pressured into buying something you are not completely happy with or agreeing to a quotation based on time constraints.
Qualifications
There are no specific qualifications for installing exterior timber cladding, although good carpentry skills would be a minimum requirement. Most installers will have had extensive experience of fitting exterior timber cladding, and you can ask for proof of previous completed jobs.
Accreditation
Accreditation from the TDCA (Timber Decking & Cladding Association), an independent advisory body for the UK timber cladding industry is a sign of quality, and the Cladmark quality scheme recognises high standards of installers.
Insurance
All tradesmen working in or on your home should have adequate insurance. Professional indemnity insurance protects against compensation claims and legal fees. Public liability insurance protects against injury or property damage. You should ask for proof of insurance cover before any work is started on your property.
Quotations
It is not good practice to use the first person that quotes for installing your timber cladding. Making comparisons not only of cost but also of experience, knowledge and quality of previous work is essential to ensure that you hire the best installer for your cladding.
Get at least 3 or 4 quotations from different installers and discuss your options with them. They should be able to advise on all aspects of the project and be able to provide examples of previous installations they have carried out.
References
If someone has been personally recommended to you and you have seen examples of their work, then references may not be necessary. However, if you are hiring someone without recommendation, then it is acceptable to ask for references, most professionals should be willing and able to provide them.
Sources
https://www.tdca.org.uk/timber-cladding/
https://www.gov.uk/government/publications/building-amendment-regulations-2018-frequently-asked-questions/building-amendment-regulations-2018-frequently-asked-questions