How Much to Install a Downstairs Toilet?
A recent revealed that 46% of potential homebuyers claimed that having two toilets is a priority when looking for a new house. Typically, installing a downstairs toilet will cost around £2,000 to £4,000 depending on the materials and fittings plus of course the labour. On average, adding a new downstairs toilet will take about 10 days to complete.
What about the cost of materials?
The average material cost to install a toilet downstairs will depend on the cost of the toilet and basin you choose, and any extra piping work required as well as additional features such as towel rails, shelving and hooks. A toilet and basin alone will cost between £200 to £500 depending on quality.
Will adding a downstairs toilet add value to a home?
Many will be surprised to learn that adding a downstairs toilet can add as much as 5% on to the value of your home. Don't think that this means you'll have to start building an extension to accommodate the new toilet, as usually downstairs toilets utilise space that you already have, such as under the stairs or perhaps a small spare room.
Even if you don't have much space to play with, there are stylish modern bathroom units available which feature basins that are placed on top of the cistern, meaning that downstairs toilets can be installed in very small spaces indeed.
Downstairs Toilet Prices
Below are some estimated costs of hiring a plumber to fit a downstairs toilet:
| Job Description | Avg. Cost | Duration |
| --- | --- | --- |
| Small bathroom with toilet & basin | £1,500-£2,000 | 7-10 days |
| Stud walls | £150-£200 | 4-6 hours |
| Supply & fit toilet & basin | £400-£700 | 1-2 days |
| Fit a privacy window | £150-£200 | 2-4 hours |
| Fit a bathroom extractor fan | £150-£200 | 2-4 hours |
| Flooring | £200-£300 | 4-6 hours |
| Plastering & decorating | £300-£400 | 2-3 days |
Supply Cost Only
When installing a downstairs toilet, you may want to purchase your own furnishings and fittings to reduce the overall cost. This could include everything from toilets, sinks, taps, towel tailings and flooring. Below are the average costs for medium quality supply products:
| Products | Avg. Cost |
| --- | --- |
| Sink/Basin | £50 - £150 |
| Taps | £50 - £100 |
| Toilet | £150 - £200 |
| Radiator | £150 - £200 |
| Tiles/flooring | £300 - £400 |
Additional Costs
Utilising an existing space as a new toilet you may want to consider other related jobs at the same time. For example, once you have partitioned off the new room to be used as a toilet with a stud wall and door, you may find it necessary to redecorate as this brand-new wall and a freshly painted door will make the surrounding decor look tired and dull.
If you are adding a radiator then you need to check that the existing boiler can cope with this additional demand. If not, you could perhaps consider electric underfloor heating or simply installing a towel rail/radiator. Below are the prices of other additional jobs that could benefit your downstairs toilet:
| Job Description | Cost | Duration |
| --- | --- | --- |
| Flat-mounted mirror | £20 | 1 hour |
| Cabinet/shelving | £60 | 1-3 hours |
| Shaving plug | £70 | 1-2 hours |
| Heated towel rail/radiator | £200 | 2-3 hours |
| 2-3 hours | £200 | 4-8 hours |
| Underfloor heating | £1,200 | 1-2 days |
Cost Breakdown Calculator
Individual costs to fit a downstairs toilet- Total Cost: £2,000
Labour Costs and Time Frames
The average plumber will usually charge around £100-£150 per day. To fit a downstairs toilet and basin, a plumber will often work on their own to complete the work and will take anywhere between 4-10 days.
You might have to hire additional tradesmen to finish the job, such as flooring specialists, plumbers, plasterers, electricians and decorators. The overall labour price will depend on your location and the duration that the trade is working on the project, but you can expect it to cost around £1,100 for the whole job.
If you're installing your downstairs bathroom in a small space such as under the stairs or utility room, it may take shorter and therefore cost less. However, installing a downstairs toilet in a large space such as a spare room or extension may take up to two weeks which will amp up the prices for the tradesmen.
What Does Installing a New Downstairs Toilet Entail?
Every process is different depending on the location but choosing the right spot to fit your house is the first step in any bathroom installation process. This could be anything from a cloakroom, large cupboard or utility room. Once you've decided and surveyed, here's a brief breakdown of what happens during building a downstairs toilet:
Removing Old Fixtures
The first thing that needs to be done before installing your bathroom is to clear the area you've chosen. This will typically involve removing any furnishings, stripping the walls and flooring, as well as cleaning the whole area. You'll need to switch off any water and heating nearby to prevent possible leaks during installation.
Fitting Electricity
Once the area is cleared, you'll need an electrician's assistance to check that any required electrics are in the right place. If not, the electrician will reroute them to assist the new fixtures and check that everything is safe and ready to go.
Prepping the Walls
The workers you hire will prepare your bathroom walls ready for the plumbing pipework to be installed. Preparing the room involves checking that there is no dents and leaks that may cause disruption during installation.
Plumbing Fixtures
The plumber will replace any pipework that needs doing and then begin to fit the toilet and basin. They'll also fit any extras like a shower if the space is big enough and make sure that everything is working and fitted correctly.
Tiling and Plastering
You can then hire a decorator or tiler to finish off the walls and floor. Tiling will begin first and it's best to use resilient tiles to prevent any water damage. After this, the walls will be plastered smoothly.
Finishing
Once everything has been fitted and decorated, the tradespeople will assess the toilet and confirm that everything is done properly. All that's left to do is add lighting, mirrors, cupboards and shelves to your desired completed look.
Costs Involved With Installing a Downstairs Toilet
Toilet Costs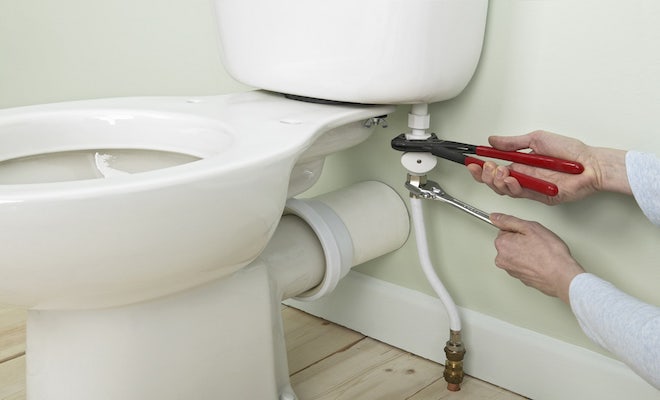 The average cost for a toilet installation is around £280, depending on the size and material. The choice for a downstairs bathroom will vary as each space will be a completely different size and shape. Below is the different prices and benefits of different toilet types:
| Toilet Type | Lowest Cost | Benefits |
| --- | --- | --- |
| Low-level | £50 | Cheap and saves space |
| Wall hung | £150 | Modern and small |
| Two-piece | £170 | Water-saving options |
| High level | £180 | Available for customised design |
| One piece | £200 | Small and great for elderly, children or people with a disability |
Sinks/Basin Costs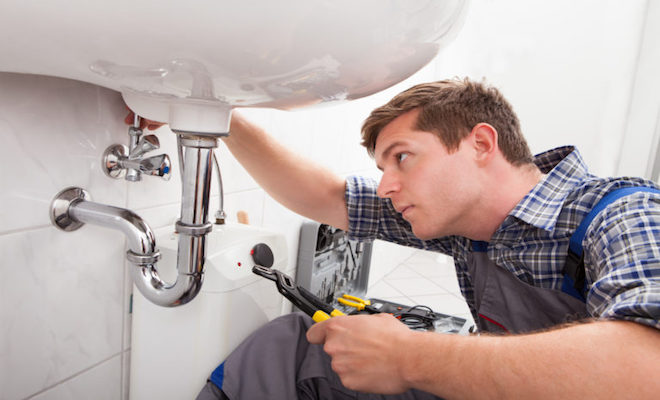 A bathroom sink or basin can cost between £50 to £250 depending on the material, style and size. Popular materials range from china, metal, porcelain, iron and glass. Below is the price and benefits of different sink/basin types:
| Sink/Basin Type | Lowest Cost | Benefits |
| --- | --- | --- |
| Pedestal | £50 | Cheap and saves space |
| Wall hung | £60 | Is directly in wall and has no countertop |
| Vessel | £80 | Spacious and installed above counter |
| Undermount | £100 | Sleek and custom fit |
| Console | £250 | Handicap accessible with space underneath |
Tap Costs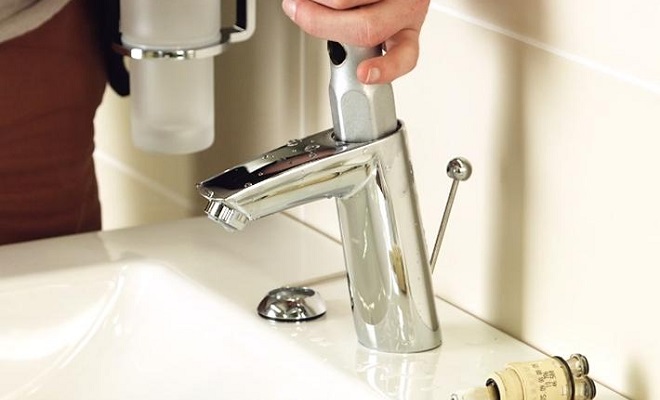 A new sink also means new taps. The average bathroom faucets cost an average of £100. Below is the price and benefits of different tap types:
| Tap Type | Lowest Cost | Benefits |
| --- | --- | --- |
| Mixer | £25 | Cheap and small |
| Pillar | £50 | Popular and uses two valves for different temperatures |
| Deck mounted | £60 | Easy plumbing access |
| Wall mounted | £90 | Low maintenance and reaches into basin |
| Floor mounted | £150 | Can place sink/basin anywhere |
Tile Costs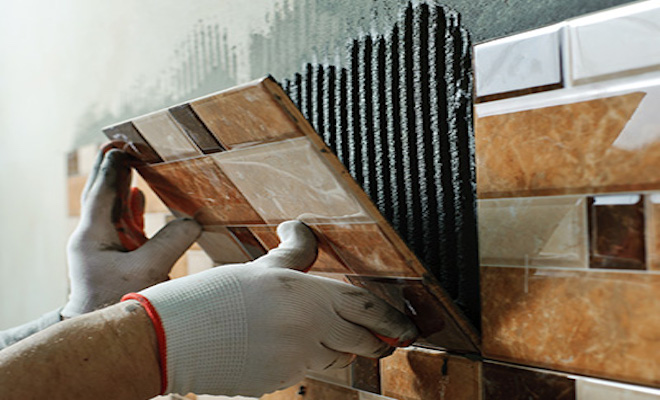 Tiles can be used for both floors and walls in the bathroom and come in a range of materials which can up the cost of your downstairs toilet installation. The average pricing for tiling a downstairs toilet can vary between £400 - £800 as they're typically installed in small spaces. You should also inspect the actual cost of the tiles and the labour price, because certain tiles are more difficult to install than others.
Ceramic tiles are a popular and affordable option at just £15 to £20 per square metre. However, brick pattern tiling may cost over £30 per square metre. Below is the average price of different tile materials per square foot:
| Material | Price per Square Metre |
| --- | --- |
| Vinyl | £10 - £15 |
| Ceramic | £15 - £20 |
| Marble | £40 - £50 |
| Granite | £45 - £55 |
| Limestone | £50 - £60 |
Cost Affecting Factors of Installing Downstairs Toilet
When pricing up your downstairs toilet installation, there will be more to think about than the outright labour and supply costs. Depending on your home and preferred toilet situation, there may be extra costs involved including:
Flooring Cost
Before installing any floor tiles, a professional will inspect the floor to check it's flat. If the floor isn't flat, they might install a plywood subfloor before installing any new tiles. This could cost you an extra £600.
Ventilation Cost
It can often be the case when building a downstairs toilet that there is no window available, leaving the room prone to damp and mould. In this case, building regulations do require a suitable ventilation system or extractor fan in a downstairs toilet with no windows. This can cost around £200-£300 extra onto your toilet installation.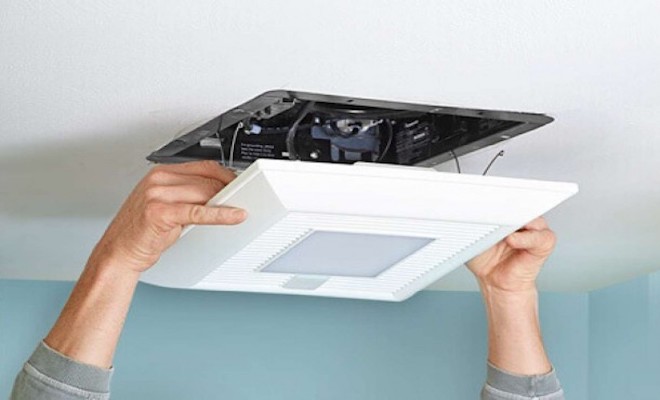 Waste Removal
Once the job is completed, you'll need to make sure that all waste is disposed of properly. Depending on whether you're removing a current bathroom space or a separate room entirely, you may have fixtures with scrap value. You can either keep these for yourself or have the tradesmen remove them with any other waste.
Waste removal will typically cost between £100 - £200 depending on the amount of waste and size of skip required.
Things to Consider When Installing a Downstairs Toilet
Before installing a downstairs toilet there may be a few things and questions that you want to consider. When deciding on a small space, make sure there's enough head room for men who're standing up or considerably tall people.
Is there lighting in the room or opportunity to install lighting? Having a toilet in the dark will not be ideal. Do you want the room to be heated with a radiator or is it small enough to do without?
Designing the toilet to match the rest of your house may be important to consider. If you want it to match your second bathroom or a certain colour scheme within your house, you may want the advice of a painter or decorator to plan what you do with the aesthetics of your space, this will usually cost around £100 - £150 per day.
If in doubt, check. A professional tradesperson can help you with any of these enquiries and point you in the best and most suitable direction.
Can I Install a Downstairs Toilet Myself?
It is possible to install a downstairs toilet as a DIY project as long as you already have some decent carpentry and plumbing skills and can cut your costs to up to 70%, but you will need the services of an electrician to add a lighting circuit and an extractor fan if required.
If doing this job DIY, you will need to be very careful about planning and building regulations. Experienced contractors will be well aware of the regulations and know exactly what they should be doing, but the average DIY enthusiast will need a lot of guidance and planning.
If the available space is very small, even though it may be potentially possible to add a toilet, it could be worth considering adding an extension to make a decent sized bathroom downstairs, especially if the toilet is to be used by a wheelchair user or someone with mobility problems.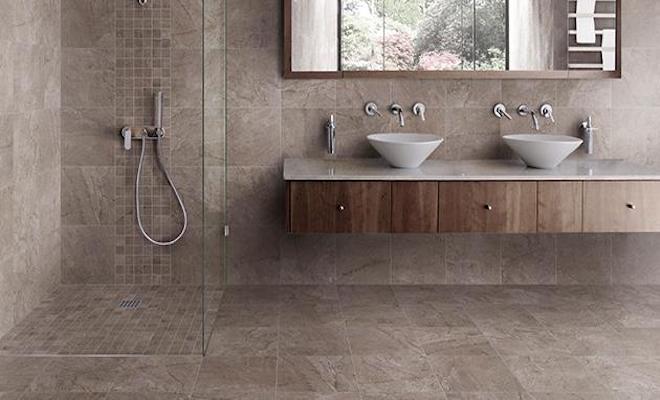 This is a fairly straightforward job, though it can be labour intensive. Most of the problems which end up increasing the cost of the job are due to poor planning and failure to comply with building regulations in terms of drainage, space, ventilation or lighting.
As with any project, time spent planning is rarely wasted, as the saying goes, measure twice and cut once! Installing a downstairs toilet yourself will be different in every scenario, but generally, it'll involve:
Removing any fixtures including flooring, walls, tiles, pipework and heaters
Checking and removing any damaged wiring
Deep cleaning the whole space including walls and floors
Fitting and tiling the floor with chosen material
Fitting all plumbing for your toilet, basin, and shower if needed
Installing lighting and electrics
Painting and decorating
However, there are many dangers involved with DIYing this job without guidance or professional help, including improper installations, leaks, electrical damage, and unsuitable materials.
Planning Permission & Building Regulations
Planning permission won't be needed if you comply with your building regulations. This will be something you'll have to check specifically for your house but concerns under building regulations typically include proper drainage and correct electrical fittings.
You'll only need planning permission if your home is a listed building, a conservation site, or if your building a toilet within an extension.
Other bathroom building regulations to consider include:
Installing a ventilation fan if the room has no windows
Enclosed light fittings and pull cords or switches located outside of the room
Thermostats must be clear of any possible water splashes and protected with an RCD
Requiring a completion certificate for any alterations to electrical work
How Much Space Do I Need For a Downstairs Toilet?
One of the benefits of a downstairs toilet is you can utilise the small spaces in your house to install a bathroom. The minimum space allowed for an extra downstairs toilet is 70cm x 10cm, this is the right amount of space to fit a toilet and basin. The price of a simple toilet and basin will cost between £200-£500.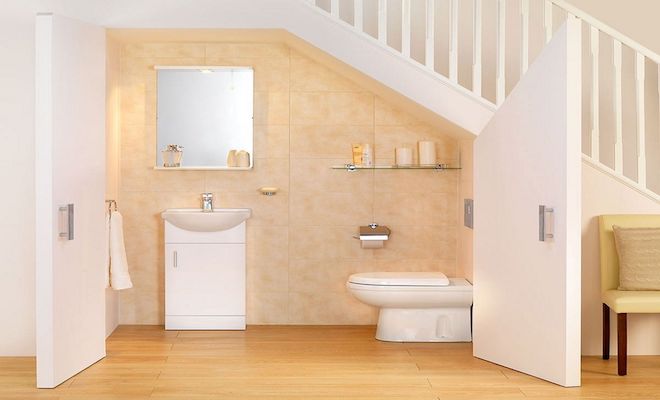 If you're struggling to find space to fit your bathroom, there are options that can make the area more spacious for fittings. Installing a sliding door or having the door swing outwards are great ways to utilise the space and add more room, but these are quite costly and can cost between £600 - £1,000.
You can also install a basin with a cupboard underneath for an average of £150 - £200. Having the two in one can save a lot of space and give your bathroom added storage.
Where Can I Put a Downstairs Toilet?
Many people might think that they don't have a spare room or the space in their house to fit a downstairs toilet, but in fact, you can make use of existing areas of your home to fit one. There are plenty of easy options where you can avoid knocking down walls or building an extension.
You can use a cloakroom or utility room, which should easily be able to fit a toilet and sink basin for £2,800. You can also fit a toilet underneath the stairs for £2,500, or even a large cupboard for around £1,500.
If you're looking for a bigger bathroom which can fit a bath or shower, you can think about using a garage space or small spare room can be anywhere between £3,000-£5,000 or building a bathroom as part of an extension for between £5,000 - £10,000.
What are the Reasons to Install a New Downstairs Toilet?
There are many reasons to install a downstairs toilet and some that you might not have even thought of. Commonly, a second toilet is needed if you have a growing family and are sick of waiting outside during similar work schedules. It's also ideal for a home with small children who're unable to wait, or if you frequently have guests over or parties.
One of the most common reasons for installing a downstairs toilet is the accessibility and convenience that it offers for elderly people, or people with a disability who need extra support. Grab bars can be added for extra stability and mobility, costing between £50 - £100.
Adding value to your property is also another added benefit when investing in your future and home. Some councils may claim that any downstairs toilet installation should be fully accessible to wheelchair users. This means the door frame should be wide enough for accessible entrances and exits, and there should be suitable parking space within the bathroom.
Will a Downstairs Toilet Increase the Value of my Home?
A downstairs toilet can add up to 5% onto the value of your home, especially if it's located downstairs for elderly or disability use. Although the initial payment will set you back around £2,000 to £4,000, it can potentially increase your property's value by up to £18,000 depending on your homes size and location.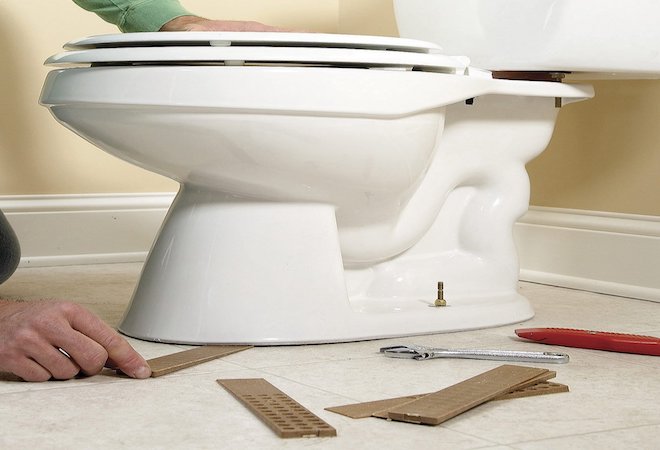 The value will increase if you invest into the toilet installation with good quality plumbing and fittings, and aesthetically pleasing decoration.
Other ways to add value to your home is by building a loft conversion, A recent survey by sellhousefast.uk revealed that a loft conversion can add up to £23,754.57 more value to your home. A lot of houses still have single-glazed windows which can be a big turn off for potential buyers. You can replace existing windows with double-glazing for approximately £3,000 - £4,000.
How to Keep Downstairs Toilet Installation Costs Low
Keeping the costs low when installing a downstairs toilet can be easily done if you keep your bathroom layout simple. As long as you have a toilet, small basin, lighting and ventilation, your toilet will have all the essential parts it needs to function.
The best place to start is by setting a reasonable budget for the size and assets of your toilet. You can make sure you stick to your budget by positioning fixtures tactically such as placing plumbing fixtures close to available waste and water lines.
This will allow you to keep any plumbing or building costs in one place. Prices tend to go up in cost when the installation process is subject to poor planning or careless fittings.
During the installation process, you can cut costs down my dismantling any fixtures and disposing of the waste yourself. If you have enough car/van space, you can transport any waste to your local skip yourself or hire a skip for around £100.
If you're feeling confident enough, you can also buy the materials and fixtures yourself before hiring a professional to come in and install. However, you'll need to have a keen eye or advice from someone who knows what to look for.
Cost of Removing a Downstairs Toilet
A downstairs toilet removal can cost around £300 to £500, which includes the prices of gutting and waste disposal. If you're looking to renovate an existing room in your house, you'll need to make sure that all prior furnishings and fittings have been removed properly.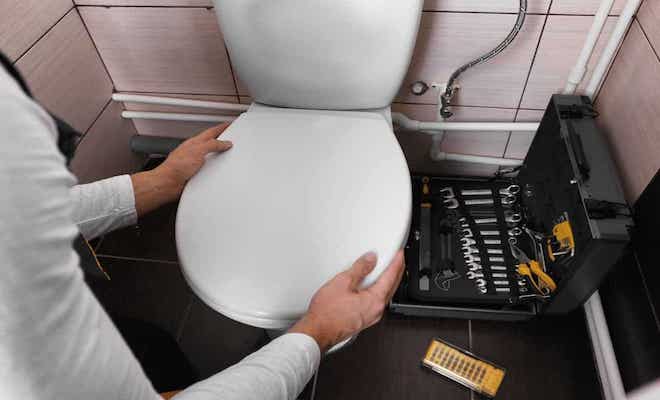 To do this, workers will rip out any tiling, plumbing, electrics and fittings which can take a few days to do depending on the size of the room.
Although DIY is possible for removal, it's always best to seek out help from a professional tradesman, especially in regards to electrics and plumbing. This is to avoid any potential harm to yourself, your family and your home.
FAQs
How to Find & Hire a Plumber to Install a Downstairs Toilet
Finding and hiring a reputable plumber for installation work on your house is key for a smooth and stressless job, after all, you're leaving important aspects of your home in their hands. When it comes down to hiring your tradesman, here's some questions you should consider asking:
Are you a licensed worker?
Can I have a written quote for the job?
Do you have examples of your previous work?
Do you have any reputable references?
Are you insured to work on my property with both Public Liability Insurance and Workers Compensation Insurance?
Are you a member of a trade association?
Always make sure that you have a written quote including the costs of labour and materials so both parties can feel comfortable and confident with the job. To find the best person for your installation, you can use the 'Get a Quote' service on this site. Ensure that the quote includes materials, labour, and waste removal.
Sources
https://victoriaplum.com/blog/posts/how-much-should-you-pay-to-have-a-bathroom-fitted
https://www.homebuilding.co.uk/bathroom-cost-guide/
https://www.heatandplumb.com/blog/what-are-the-rules-about-installing-a-downstairs-toilet/