How Much Does a New Bathroom Cost?
The average cost to replace an entire bathroom suite is typically in the range of £2,000 to £5,000 but can be as high as £15,000 for larger bathrooms with higher quality fixtures and finishes.
The price will also vary depending on your location and who you get to do the job; larger companies tend to charge more than single tradesperson.
A bathroom specialist will often charge around £150 to £200 per day in labour costs and a full bathroom installation usually takes approximately 5-10 days to complete the work, but again, this will depend on the size of the bathroom, the type of materials to be fitted and any extra pipework that's required.
The price of a new bathroom installation will depend on several factors including the size, the quality of materials used and the labour cost.
If your bathroom is 4m2 or less, then you can expect to pay around £1,500 to £5,000 depending on the design you choose for both materials and labour.
An average size bathroom measuring 4m2 to 10m2 would cost anywhere between £2,500 to £7,500. The higher prices will be as a result of more costly materials, full renovation works like new plasterboards and spotlights, and there will be some bathroom layouts that may cause very awkward installations.
If you're looking to renovate a master bathroom over 10m2, then this would cost upwards of £5,000 to £15,000 or more.
Now you've established the cost of the different sized bathrooms you need to decide on the quality of the design. For example, a budget bathroom remodel could simply consist of like-for-like replacements for the shower/bath, toilet and sink.
Taking it up a notch would consist of removing the old fixtures and fittings and installing a new bath/shower, sinks, toilet, tiling, flooring, and perhaps a towel radiator and extractor fan.
For a luxury bathroom remodel, you could opt for high-end furnishings such as walk-in showers, heated flooring, lavish lighting and glass tiles. These will push material costs up naturally, but also cause the time to complete the job to increase, thus costing more in labour also.
To help you decide which option is best for you, take a look at this cost breakdown of new bathroom installations for different sized bathrooms along with the various finishes.
| Size and quality | Cost |
| --- | --- |
| Small bathroom with a low-quality finish | £1,500 |
| Small bathroom with a medium-quality finish | £2,500 |
| Small bathroom with a high-quality finish | £5,000 |
| Medium-size bathroom with a low-quality finish | £2,000 |
| Medium-size bathroom with a medium-quality finish | £3,500 |
| Medium-size bathroom with a high-quality finish | £7,500 |
| Large bathroom with a low-quality finish | £4,000 |
| Large bathroom with a medium-quality finish | £7,500 |
| Large bathroom with a high-quality finish | £15,000+ |
New Bathroom Material Costs
When remodelling a bathroom, you may want to purchase your own furnishings, as this will reduce the overall cost. This could include everything from showers, toilets, cabinets, lighting, flooring and more.
To help you understand the costs, take a look at the below table which sets out how much you should expect to pay dependent on size and quality.
| Size and quality | Cost |
| --- | --- |
| Small bathroom with a low-quality finish | £700 |
| Small bathroom with a medium-quality finish | £1000 |
| Small bathroom with a high-quality finish | £1500 |
| Medium-size bathroom with a low-quality finish | £1,000 |
| Medium-size bathroom with a medium-quality finish | £1,500 |
| Medium-size bathroom with a high-quality finish | £2,500 |
| Large bathroom with a low-quality finish | £1,500 |
| Large bathroom with a medium-quality finish | £2,000 |
| Large bathroom with a high-quality finish | £5,000+ |
Additional Bathroom Installation Costs
When it comes to renovating your bathroom, there are so many different costs you need to consider, which will be dependent on the changes you plan to make.
Below you will find the estimated costs and duration of various additional costs for budget, medium and high-quality bathroom designs.
Budget Bathroom Finishing Costs
| Description | Cost | Duration |
| --- | --- | --- |
| Framed mirror | £140 | 30 minutes |
| Task lighting | £150 | 1 to 2 hours |
| New radiator | £50 | 3 hours |
| Refresh paint | £200 | 4 to 6 hours |
Medium-Quality Bathroom Finishing Costs
| Description | Cost | Duration |
| --- | --- | --- |
| Wall-length mirror | £240 | 1 to 2 hours |
| Upgraded cabinets | £500 | 2 to 3 hours |
| Downlights | £60 per light | 3 to 4 hours |
| Heated towel rail | £150 | 2 to 3 hours |
| Extractor fan | £250 | 4 to 8 hours |
High-Quality Bathroom Finishing Costs
| Description | Cost | Duration |
| --- | --- | --- |
| LED mirror | £400 | 1 to 3 hours |
| Custom cabinets | £2000 | 4 to 5 hours |
| Automated lights | £20 per bulb | 1 to 2 hours |
| Underfloor heating | £10 per square foot | 2 to 4 days |
| Electrical changes | £2 to £4 per square foot | 1 to 2 days |
| Walk-in shower | £1,000 | 2 to 4 days |
Cost Breakdown Calculator
Individual costs for hiring a bathroom specialist to replace an entire bathroom suite including prep work, wall and floor tiling, and installing a mirror, light and heated handrail - Total Cost: £3,500
New Bathroom Labour Costs and Time Frames
When evaluating how much your new bathroom will cost, you need to remember the labour charges, which may add up depending on the work that needs completing and how long it takes.
If you're just planning to make a few renovations, such as a replace or re-grout your tiles, cabinets, repaint or purchase a new mirror, then this could take 2 to 5 days to complete.
For an average refurbishment, you should expect a tradesman to complete the job within 10 days. While, a complete remodel could take as long as 15 days depending on the size of your bathroom, the fixtures you choose and if any rewiring needs completing.
You may also need to consider the cost and time frame of removal if you are planning a complete renovation. On average, this should take no longer than 2 days for an average bathroom which puts the cost anywhere from £250 to £400 depending on the size and fixtures in your bathroom. This includes the cost of hiring a skip.
You can choose to hire a number of different tradespeople to complete different tasks or simply go with a bathroom specialist who will be capable of carrying out the majority, if not all of the work. If you are going to hire them separately, take a look at the below breakdown of the average individual costs per hour:
Plumber - £35 to £70
Electrician - £35 to £70
Painter - £15 to £40
Interior designer - £50 to £200
General labourer - £10 to £20
What Does Installing a New Bathroom Entail?
Having a new bathroom installed may seem daunting, especially if it's an expensive remodelling. To reassure you, here is a breakdown of what happens during a bathroom remodel:
Removing Old Fixtures
The first thing that needs to be done before installing your bathroom is to rip out the old one. The extent of the removal will depend on the changes you want, although usually for a new bathroom this will involve removing the furnishings, stripping the walls and flooring, as well as giving the bathroom a good clean. Your water and heating will also be switched off to prevent any leaks during installation.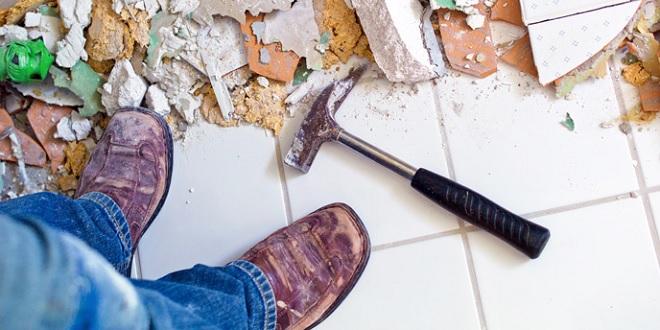 Electrics Fitted
Once everything is cleaned up, the first job should involve the help of an electrician who will make sure that the electrics are all where they need to be. If not, they may need to reroute them to accommodate the new fixtures. They can also check to see if existing amenities are still intact before any other work can begin.
Wall Preparation
The tradespeople you hire will ensure that your bathroom walls are fully prepared for the plumbing pipework to be installed. This will involve making sure there are no leaks or dents which may need preparing before plumbing can begin.
Plumbing Fixtures
The plumber you hire will try to work as quickly as possible, as they understand it is a necessity for homeowners to access their toilet. However, if any pipework needs replacing, it will be necessary for the tradespeople to continue working until everything is in order. They can then fit the toilet, bath/shower and basin while also making sure that everything is working as it should.
Plastering and Tiling
Once the fixtures are in place, you can call in a decorator or tiler to finish off the walls and floor. The tiles will be placed in accordance with the design, making sure that the placement of the tile is exact before it is stuck down. This will prevent any water damage, especially if you choose resilient tiles that will last. To make the walls look smooth, plaster the walls after the tiling is complete.
Finishing Touches
Once all the main fixtures are in place, the tradespeople will then assess their work, making sure that everything is correct. Then once everything is perfect, the aesthetic furnishings can be added such as lighting, mirrors, shelves and more, which will all improve the look of your home.
Can I Install a New Bathroom Myself?
If you're looking to save money, you could consider fitting the bathroom yourself, as this can cut your costs up to 70 per cent depending on how much work you do yourself.
To install a new bathroom properly, you need to make sure you understand the process, which could involve the following tasks:
Gutting your bathroom which involves removing the bath, sinks, toilets, tiles and every other item in the room
Removing the pipework in your bathroom if it is dated
Getting rid of old heaters or radiators
Checking your wiring and remove if faulty
Cleaning your walls and floor before tiling
Using a piece of wood and a spirit level to align your tiles properly before securing them with waterproof adhesive
Fitting all plumbing and sanitaryware for your toilet, sink and bathtub/shower
Installing your faucet and brassware
Fitting new lighting
Painting and decorating your walls
To complete these tasks, you will need to make sure you have all the right equipment. If not, you will need to make sure you include these costs when pricing up a DIY bathroom installation.
| Equipment | Cost |
| --- | --- |
| Hammer | £5 to £30 |
| Caulking gun and sealant | £8 to £60 |
| Tape measure | £3 to £15 |
| Power drill | £20 to £200 |
| Spackle and knife | £10 to £30 |
| Safety mask | £2 to £10 |
| Pry bar | £5 to £30 |
| Chisel | £2 to £20 |
| Wrench and screwdrivers | £10 to £50 |
| Hacksaw | £5 to £30 |
How Much are Bathroom Fixtures?
Toilet Costs
The toilet is one of the most important furnishings in your bathroom; therefore, it is important that you choose the right one for you. The average cost for a toilet installation is £280, although this will depend on the size and material, as well as who will be using the bathroom, as this will determine whether you choose a toilet for practicality or luxury.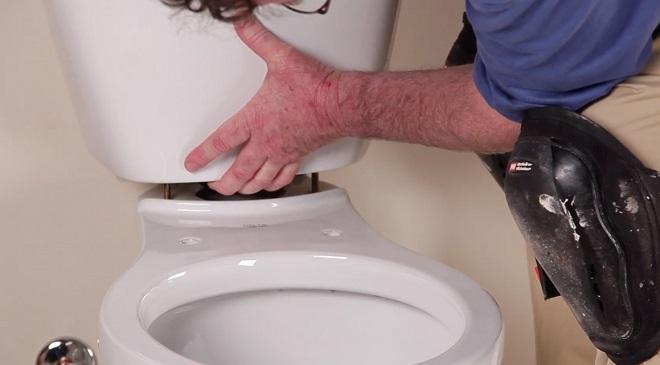 The below table sets out the different costs for buying and installing a toilet, which will help you make the right decision:
Type of toilet
Starting price
Properties
Low-level toilet
£50
- The cistern is located just above the toilet with handle flush
- Space-saving
- Better flushing than high-level
Wall hung toilet
£150
- This type of toilet saves space
- Modern design
- Easy to clean
Two-piece toilet
£170
- Easier to install
- Cheap alternative
- Water-saving options
High-level toilet
£180
- Cistern positioned high on the wall with a pull chain flush
- Traditional style
- Can be customised for a bespoke design.
One-piece toilet
£200
- Perfect for small bathrooms
- Low-maintenance
- Ideal for the elderly, children or for people with a disability
Smart toilet
£500
- Increased health and hygiene
- Wash and dry functions
- Hands-free benefits
Bath Costs
If you want to install a new bath, then you should expect to pay an average of £200. The cost of a bath will be dependent on several factors including size, with the standard being 700 x 1700mm. Keep in mind that some materials are more expensive than others.
Here is a breakdown of the costs of buying and installing a bathtub, which includes the different types of materials and their properties:
| Type of bath | Starting price | Properties |
| --- | --- | --- |
| Acrylic bath | £80 | Most common bathtub materials which is extremely efficient. |
| Steel bath | £120 | Cheaper alternative to iron, long-lasting and easy to maintain. |
| Fibreglass bath | £200 | An inexpensive option that is lightweight and versatile. |
| Cast iron bath | £300 | Durable design, resistant to chips and dents and holds heat well. |
| Stone bath | £1,000 | A freestanding bathtub perfect for a master bathroom. |
| Marble bath | £1,200 | A versatile design which offers a luxurious but classic feel. |
Shower Costs
If you have a small ensuite bathroom, you may want to opt to install a shower which will fit in a compact space better than a bath. A bathroom shower usually costs around £280 depending on the type of shower you want.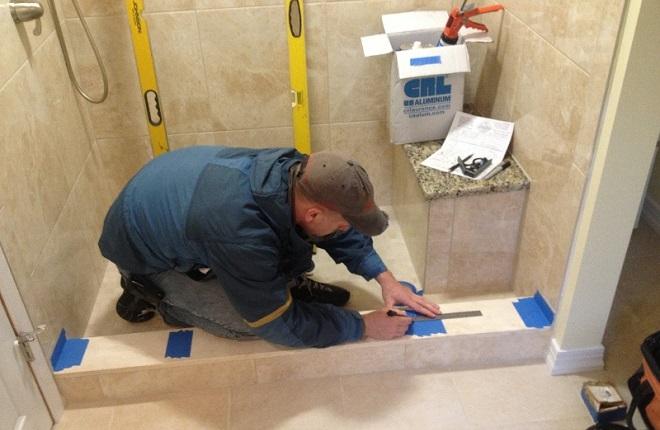 Take a look at the following table, which offers an average cost breakdown of the different types of showers and how they work:
| Shower | Cost | Application |
| --- | --- | --- |
| Electric shower | £50 | Connects to the cold water mains and is heated on demand. Eco-friendly and cheap to install. |
| Shower bath | £50 | Uses the shower hose and bath faucet together for an easy and affordable shower unit. |
| Manual shower mixer | £60 | This includes a wall-mounted hose and spray, along with a temperature control button. |
| Thermostatic mixers | £125 | Similar to manual mixers, has a built-in thermostat which automatically adjusts the temperature. |
| Power showers | £150 | Boosts water flow by being connected to an integral pump. Not uitable with combi boilers |
| Steam showers | £250 | This type of shower is fully sealed to keep heat and steam in. |
| Digital towers | £550 | This features a digital thermostat which is controlled remotely, as is the flow of the shower. |
Sink Costs
For hygiene and aesthetic reasons, you will need to think about the type of sink you want in your bathroom. Sinks or basins come in a variety of materials including china, fireclay, porcelain, metal, iron and glass.
A bathroom basin typically costs around £60 to £150 depending on the material, size and the style you choose. Take a look at the below table which sets out the different sink types, their properties and prices.
Sink/basin
Starting price
Properties
Pedestal sinks
£50
- Freestanding installation supported by a small column
- Space-saving
- Concealed pipework
Wall-hung sinks
£60
- Inserted into the wall
- Does not have a countertop
Drop-in sinks
£70
- Installed above the countertop
- Easy to install
- Versatile design
Vessel sinks
£80
- Above counter installation
- Variety of materials used
- Spacious
Vanity top
£70 (not including countertop)
- Sink built into one-piece countertop
- Hidden plumbing
- Easy to install
Undermount sinks
£110
- Installed from underneath a countertop
- Custom-fit
- Bespoke design
- Sleeker look
Console sinks
£260
- Wall-mounted sink that sits on 2 or 4 leg-supports
- Handicap accessible
- Space below
Tap Costs
If you are updating your sink, shower or bath, then you will also need to think about replacing your taps with typical bathroom faucets costing around £100.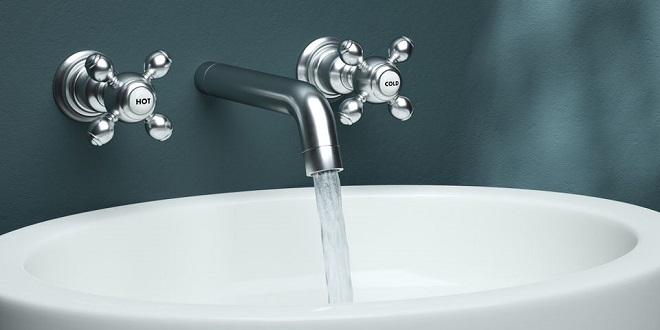 Before deciding on your bathroom taps, you need to consider the type of design you want, as well as which type of taps will work with the rest of your furnishings. Here is a price list of the different types of bathroom faucets, including both simple and luxury designs:
Type of tap
Starting price
Properties
Mixer taps
£28
- Only use one tap hole
- Offers an even temperature
Bath filler taps
£50
- Able to control the temperature better with one tap
- Does not require high water pressure
Pillar taps
£60
- Most common style
- Two valves which control the flow of hot and cold water
Deck mounted taps
£60
- Drilled into the rim of a basin or bath
- Easy plumbing access
- Full turn operation
Bath/shower mixer taps
£90
- Hand-held shower head
- Balanced temperature
- Increased control
Wall-mounted taps
£90
- Mounted on the wall and reaches into the bath or basin
- Low-maintenance
- Hard to repair
Floor-mounted taps
£150
- Drilled into the floor
- Allows bathtub or basin to be placed anywhere
- Exposed plumbing
Bathroom Tile Costs
To complete your bathroom, you will need to think about your tile preference for both your walls and floor. Tiles come in a variety of different materials, sizes, colours and more which can be a lot to consider and can also add up depending on how many tiles you need.
The cost of tiling your bathroom is usually calculated per square metre. On average, professional tilers charge around £20 per square metre for tiles measuring 12 x 12 inches.
To help you choose the right tiles, take a look at the below table which discusses the variety of tiles, their costs, and their pros and cons.
Tile material
Cost per square foot
Properties
Vinyl tiles
£1 to £7
- Resistant to cracks
- Easy to install
- Simple compared to other tile materials
Limestone tiles
£2 to £10
- Offers a natural look that adds warmth
- Versatile shaping
- Sensitive to acids
Ceramic tiles
£3 to £8
- Doesn't absorb water
- Durable although not as impervious as porcelain
Linoleum
£4 to £8
- Biodegradable
- Easy to install
- prone to scratching and wear
Marble tiles
£5 to £10
- Aesthetically-pleasing
- Versatile
- Susceptible to scratches
Granite tiles
£5 to £15
- Unique aesthetic
- Strong material
- Can be slippery
Glass tiles
£10 to £30
- Hard and durable
- Unlimited options
- Scratches
There are a variety of other elements you need to consider when having a new bathroom installed. This includes the heating facilities, with many opting for a vertical towel rail instead of a radiator, which on average would cost around £350.
This would cover both the material and labour cost, as this would require a plumber's expertise. You could also consider an electric towel rail which would cost around £420 for a full day's work. This will include materials, labour, as well as any additional charges for installing electrical circuits.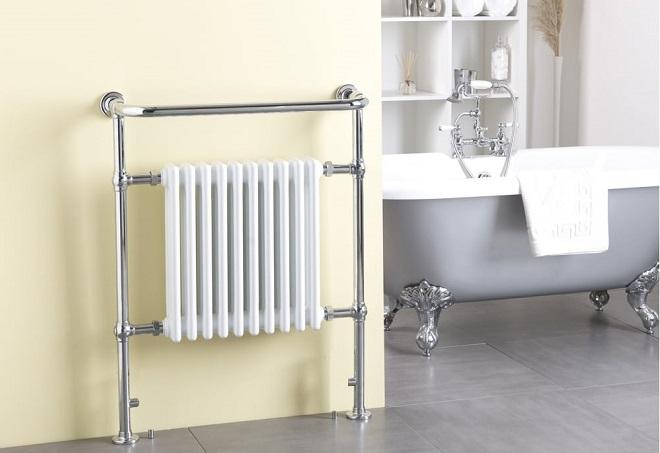 If you're planning a luxury bathroom installation, then you could opt to install underfloor heating, which typically costs around £6 to £16 per square foot. However, the price will depend on the system you choose. A dry system is powered by electric heat mats that are laid under your bathroom flooring.
This is a cheap upfront cost, although it can be expensive to run. Whereas, a wet system is made up of underfloor pipes which are connected to a boiler. This is a complicated and costly fitting process but is definitely the more cost-effective option in the long run.
Another added extra you may want to consider is a bidet, which typically costs around £250. Although this feature is a notable furnishing in other countries, it is not very popular in the UK, however, by installing one in your bathroom, you could create an exotic feel, while also improving your hygiene.
Even if you have a small ensuite bathroom, you could install a washlet to replace your toilet seat, which is a high-tech bidet that washes and dries. For a more understated look, you could opt for a spray attachment for your toilet which you can purchase for as little as £30.
To improve the aesthetics of your bathroom, you should also consider the cost of mirrors, which could act as a centrepiece for your bathroom. If you want to keep it simple, you could stick with a flat-mounted mirror for as little as £20, while a professional mirror installation could cost up to £500 if it is placed over a vanity countertop.
Cost Affecting Factors
When trying to work out how much your bathroom installation is going to cost, you need to think about the different factors that could affect it, including:
Electricals
If the design you want requires fixtures to be repositioned, then you may need to consider the cost of re-routing your electrical wires, which is around £2 to £4 per square foot.
When installing new fixtures, you may need to update your consumer unit, especially if you're installing a power shower as this will ensure that you get the most out of it. A consumer unit upgrade could cost between £700 to £1,200. You can read more about these costs here.
Flooring
Before having your floor tiles installed, a professional will check to see if your floor is flat before they can proceed. If not, they may have to install a plywood subfloor or use some self-levelling screed before laying down the new tiles which could cost an extra £600.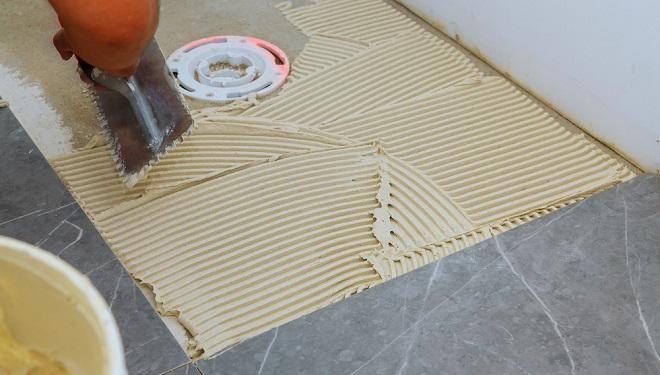 If your bathroom is quite a cold space, then you may want to consider installing underfloor heating, which is quite an expensive addition but could definitely be worth it. For underfloor heating, a professional will usually charge around £10 per square foot.
Tiling
Before choosing your tile material, you may want to consider the size of your room, as the majority of tradespeople tend to charge per square foot, so the larger your bathroom is, the more you will pay. However, some professionals may offer a discount for large projects by lowering the amount per square foot.
You also need to consider the actual cost of the tiles and the labour price, as some tiles are more difficult to install than others. For example, ceramic tiles are an affordable option at just £3 to £8 per square foot.
This is because they are easier to source, and also do not require a lot of effort to cut and fit. While brick pattern tiling may cost upwards of £10 per square foot, as it is harder to fit and there may also be more tile wastage.
Best Bathroom Lighting
Lighting is so important in a bathroom, as it opens up space which is especially helpful if you have a small ensuite bathroom. The table below sets out the different type of lighting, the costs and function.
| Lighting | Cost | Function |
| --- | --- | --- |
| Downlights | £25 to £40 | Can be used to accent mirrors or walls for a luxury feel. |
| Spotlights | £20 per light | Can be fitted in the floor or wall for a modern and relaxing atmosphere. |
| Wall lights | £125 per light | You can add these to the wall next to a mirror to brighten up the room. |
| LED mirror | £400 | LED lights offer better ambience and task lighting. |
| Smart lights | £20 per bulb | Automated lights which have motion sensors and are much more eco-friendly. |
Bathroom Design Costs
Before deciding on a design for your bathroom, you need to think about who is going to be using it. For example, if you require a family bathroom, then practicality should be your priority, which means you should keep the design simple. While an ensuite bathroom fit for two adults can afford a more luxurious design.
When designing your bathroom, you need to consider the layout as well as how the furnishings fit in the space. To do this, you may want to hire a bathroom designer who can help you plan the layout. They usually charge around £30 to £100 per hour depending on how big the job is.
One of the most important design elements for your bathroom is the colour scheme, as you need to make sure that everything is matching and looks good in the space. You can also work with a designer to figure out how the colour and décor can enhance the size of your bathroom if it is under 40 square foot.
Bathroom Finishing Costs
The finishing touches in your bathroom are equally as important as the plumbing and tiling, as this is what provides a good aesthetic. This includes:
Shelving - £20 for a freestanding shelf
Towel radiators - £150
Ornaments - £2 to £50+
Painting - £100 to £300 for a whole bathroom
Shower/bath curtain - £3 to £30
Bath mats and towels - £4 to £20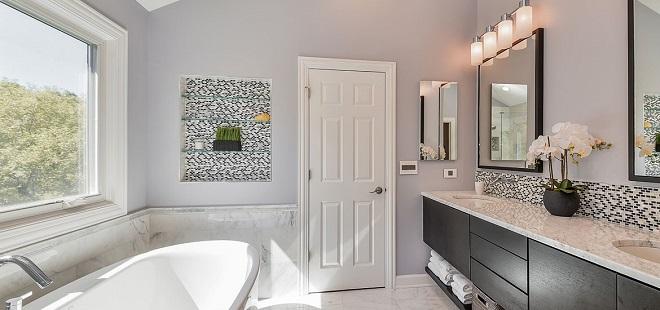 Will a New Bathroom Bring Up My House Value?
Installing a new bathroom could increase your house value, making it a worthwhile investment. The return on investment will, of course, be a lot higher for those installing an upscale bathroom which costs over £25,000, as the better the bathroom, the more interest there will be.
How to Lower the Price of your New Bathroom
You can save money on your bathroom installation by only having the walls partially tiled or even tiling over the existing tiles, but this is not recommended. Budget bathroom suites and tiles can also save a lot of money but most look and feel cheap.
To lower costs, you could dismantle your bathroom and dispose of waste yourself. If you have access to a van, you could take everything to your local skip or hire your own skip for around £200.
You may also want to source materials yourself, as this cost is usually included in your final bill. Don't be pressured into buying on the spot, get a written quote including everything you need and come back once you have compared with other prices. That being said, the tradesman fitting the bathroom suite will have access to trade prices, so check with them if they can get the suite you need even cheaper.
Bathroom Suite Removal Cost
Before your new bathroom can be installed, you need to make sure all your old furnishings are removed. This includes ripping out the tiles, plumbing, electrics, and more which can take up a couple of days depending on the size of it. A full bathroom removal will cost around £250 to £500, which includes gutting and waste disposal.
FAQs
Sources
https://www.wikihow.com/Plumb-a-Bathroom
https://www.diy.com/ideas-advice/how-to-lay-floor-tiles/CC_npci_100035.art
https://www.independent.co.uk/life-style/design/plan-design-decorate-bathroom-tips-top-interior-designer-relax-unwind-a8198336.html
https://www.premierbathrooms.co.uk/buyers_guide/
https://www.bigbathroomshop.co.uk/info/blog/the-bathroom-mirrors-buyers-guide/
https://www.idealhome.co.uk/bathroom/bathroom-ideas/10-bathroom-finishing-touches-91686
https://www.thespruce.com/pros-and-cons-of-marble-kitchen-flooring-1314997
https://nativetrailshome.com/vessel-sinks/