How Much Does Tiling Cost?
When it comes to bathroom upgrades or refurbishment, tiling is probably the number one DIY task that comes to mind. Bathroom tiling is likely the most cost-effective way to upgrade a bathroom, adding value to your home without too much in the way of additional costs. Tiling a bathroom floor can cost between £500 and £800, including the cost of materials, labour and waste removal.
Bathroom tiles are easy to maintain whether on the floor or wall, especially if you use ceramic tiles as they are very low absorbency, so are great in wet areas plus they need very little maintenance if installed correctly.
The average material cost to tile a bathroom will vary on the type of tile you choose and, of course, the size of the area you're tiling. Tiles can start from the small price of £0.50 each ranging up to a higher price of £10 a tile! The average price of tiling a bathroom is around £800 for a medium-size room with ceramic tiles.
Dirt and grime can simply be wiped off, so the only real maintenance required is to apply a good sealant every few years. Pound for pound, bathroom tiles offer incredible value for money and if you shop around you can find some great deals.
Tiles are also very durable when compared to other wall coverings and will last for years as long as they are fitted correctly using the appropriate grout and sealant. Bathroom tiles are also available in a wide range of styles and options so you can be sure you will be able to find the perfect match for your dream bathroom.
Bathroom Tiling Prices
Below are some estimated costs of tiling a bathroom depending on size, material and job:
| Size | Material | Job | Avg. Cost |
| --- | --- | --- | --- |
| Small | Ceramic | Floor | £100-£200 |
| Small | Granite | Floor | £250-£400 |
| Medium | Ceramic | Floor | £150-£400 |
| Medium | Granite | Floor | £500-£700 |
| Small | Ceramic | Floor & walls | £600-£1000 |
| Small | Granite | Floor & walls | £1,500-£3,000 |
| Medium | Ceramic | Floor & walls | £1,000-£2,000 |
| Medium | Granite | Floor & walls | £2,500-£3,500 |
| Average | Ceramic | Splashback above sink | £80-£250 |
| Average | Granite | Splashback above sink | £150-£250 |
Supply Costs
Floor tiling cost can easily be broken down when figuring out supply costs for materials which include tiles, grout and adhesive. Grout and adhesive can cost near to £50 for both depending on the size of the job, and whether the walls need prepping by plastering or removing old tiles.
A bag of adhesive needed to cover 5m² will cost around £20, and a pre-mixed adhesive comes out at approximately £25, saving you time. A bag of grout needed to cover 15m² can cost anything above £15 per bag.
The wide selection of tiles will need to be taken into consideration when pricing up the job. Below is a list of various tile materials and their cost per m²:
| Material | Cost per m2 |
| --- | --- |
| Ceramic | £15-£45 |
| Marble | £40-£60 |
| Slate | £40-£60 |
| Limestone | £50-£80 |
| Porcelain | £70-£90 |
| Granite | £80-£100 |
| Glass | £100-£150 |
Additional Costs
The cost to tile bathroom is fairly average compared to other fitting jobs; however, bathroom tiling is typically done as part of a more extensive task, such as a complete new bathroom refurbishment including a new bath, shower, toilet and basin to be fitted. If you're just replacing the tiles, then consider if any jobs (which require the tiles to be disturbed), need completing too. For example:
Replacing the existing bathroom radiator with heated towel rail, which costs between £150-£250.
Installing underfloor heating which can cost between £65-£90 per m².
Retiling a shower for around £250.
Installing a whole wetroom for near £5,000.
Adding ventilation with an extractor fan for £300.
Replace a whole bathroom suite for between £300-£400.
Cost Breakdown Calculator
Individual costs to tile a medium-sized bathroom from the floor to ceiling - Total Cost: £800
Labour Costs and Time frames
The labour cost of tiling a bathroom can be around £100-£150 per day depending on location and tradespeople will often work on their own to do the job. Depending on the size of the bathroom and how much prep work is required, expect a tiler to take 1-3 days to complete the job.
The average tiler day rate is around £130-£180, and the job includes planning and organising the layout of the tiles, cutting, spreading adhesive, laying the tiles, filling in the gaps, spreading grout across the surface and cleaning up the tiles.
You can keep the costs down by DIY-ing certain tasks such as planning the layout or organising the clean-up and waste removal process.
For a standard pattern in a 9 x 9 bathroom, it can take any time between 6 hours and two days depending on the type of material. Most standard patterns like ceramic or marble, are easily fitted and generally preferred for quick and easy tiling.
However, if you fit the room with patterned tiles such as herringbone, it may cost more as it's very labour intensive, due to longer timeframes and more waste from the number of cuts made.
What Does Tiling a Bathroom Entail?
Tiling a bathroom floor entails, first of all, measuring the floor and then preparing the underlay. The tile layout needs to be determined, and then the tiles can be cut and placed using a thin-set mortar or a grout.
When the adhesive or mortar has been allowed to dry, the tile grout can then be applied taking care to wipe away any excess as you go. The last step is simply to apply a quality grout sealer to ensure tiles are waterproof.
Plan and Prep
Planning and prepping are key to a smooth process of tiling a bathroom floor and can make all the difference between a short and long job. Workers will need to survey the property to make sure the floor is solid, level and dry, measuring and marking the position of the tiles from wall to centre.
They'll then have to calculate the correct size and material of tile to use and work out any positioning struggle that might occur.
Lay Tile
They will then add the needed portions of tile adhesive powder and water to a bucket and start melding them together with a mixing paddle and drill until they've successfully made a thick adhesive paste with no lumps.
The paste will then be spread with an adhesive spreader, pressed down firmly and twisting against the battens and covering all gaps; a spirit level will be used regularly throughout to ensure the tiles are flat and level. Any excess adhesive on grouting lines can be washed off with a damp sponge.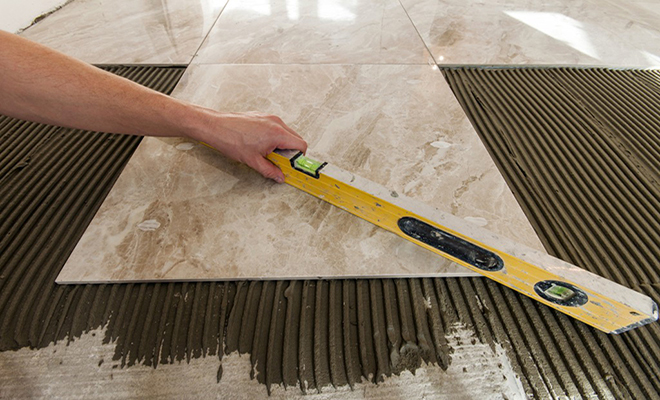 Cut and Place
Proper planning will ensure that the gap between the floor and the wall has the correct spacing as not all gaps will be the same. Workers will draw a cutting guideline, ensuring a clean edge will be made.
Then by using a metal ruler and pencil, they will hold the ruler down and press firmly down on the tile to split it with the pencil, cutting through the glaze, and a firm press on each side should cut the tile in two neatly. Once the tiles are cut correctly, they will make sure the cut tiles fit properly, allowing for space, and then will apply adhesive to the floor and place them the same as previously done.
Grout and Finish
When the adhesive is fully dry, it's time to mix up the grout with grout powder and water, mixing them together with a grout trowel until thick. The grout is then used by placing a small amount onto the tiles and working into the tile joints with a float, filling up all grout lines thoroughly.
A damp sponge is used to clear any leftover grout from the surface before it dries and hardens. Once the grout is fully dry, they'll finish off nicely with a finishing tool before wiping the surface to remove residue. Grout protector should be sprayed on for long-lasting protection.
All that is left to do is seal the joint between the edge of the floor and bottom of the wall with a silicone sealant, providing a smooth finish for your bathroom tiles.
Bathroom Tile Options
Before you decide on the right type of tile for your bathroom floor project, you should probably take advice from a good tile supplier as there are ways in which tiles are measured and compared to determine how slippery they will be under wet conditions. But you should note that no tiles will ever be 100% slip-proof.
Porcelain tiles are particularly popular as they are very low absorbency and are hard-wearing on both walls or floors. But bathroom tiles can be made from porcelain, ceramic, natural stone or glass.
Porcelain Tile Costs
Porcelain tiles can cost around £60-£90 per m2.
Advantages
✔ Variety of styles
✔ Hard-wearing and durable
✔ Low maintenance
Disadvantages
✖ Heavy to manoeuvre
✖ Complicated installation
Ceramic Tile Costs
Ceramic tiles can cost between £25-£50 per m2.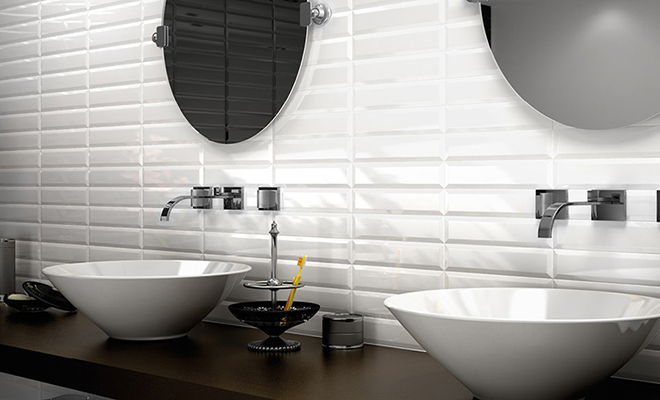 Advantages
✔ Cheap and have a selection of styles to choose from
✔ Very durable
✔ A lot of them don't require sealing
✔ Low maintenance
Disadvantages
✖ If it's an unglazed ceramic, it may need to be sealed
✖ They're heavy and can affect higher floors
✖ Can be cold and hard for bare feet
Terracotta Tile Costs
Terracotta tiles typically cost between £50-£70 per m2.
Advantages
✔ Warm and comfortable under bare feet
✔ Durable finish
Disadvantages
✖ Highly permeable
✖ Potentially will need re-sealing over time
✖ Easily stained and requires cleaning
Glass Tile Costs
Glass tiles typically cost between £100-£150 per m2.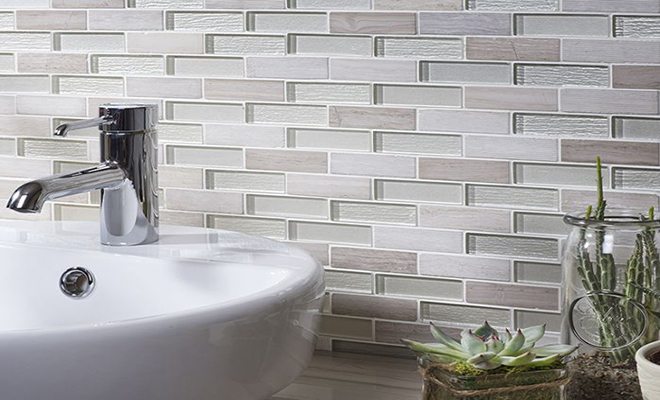 Advantages
✔ Don't absorb water
✔ Cleans easy
✔ High-quality finish
Disadvantages
✖ Difficult installation process
✖ High prices
Marble Tile Costs
Marble tiles typically cost between £50-£70 per m2.
Advantages
✔ Good choice for underfloor heating
✔ Can polish easily
✔ Increases home value
Disadvantages
✖ Prone to stains and scratching
✖ Can be slipped on easily
✖ Cold on bare feet
Slate Tile Costs
Slate tiles typically cost between £40-£60 per m2.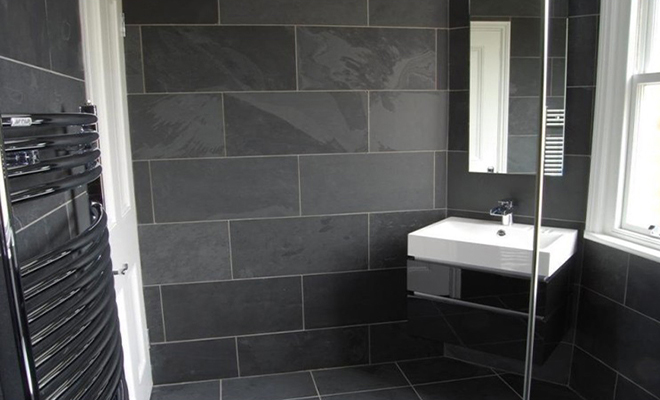 Advantages
✔ Natural finish
✔ Very durable
✔ Good choice for underfloor heating
✔ Increases home value
Disadvantages
✖ Prone to stains and scratching
✖ Needs sealing
✖ Strange texture on bare feet
Limestone Tile Costs
Limestone tiles typically cost between £50-£70 per m2.
Advantages
✔ Cheaper natural stone option
✔ Environmentally friendly
Disadvantages
✖ Needs to be delicately cleaned
✖ Prone to scratching
✖ Needs sealing
Granite Tile Costs
Granite tiles typically cost between £80-£100 per m2.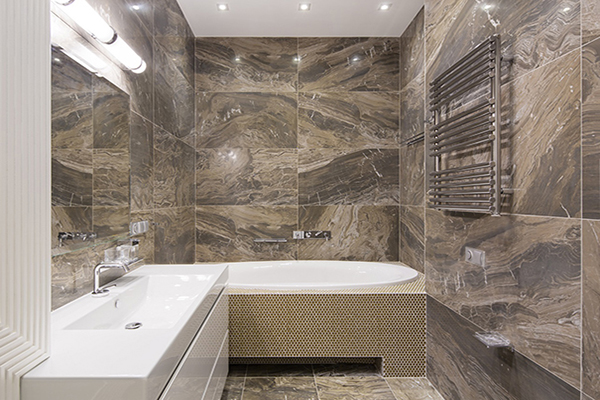 Advantages
✔ Long-lasting
✔ Very durable
✔ Increases home value
✔ Stain and scratch-resistant
Disadvantages
✖ Needs a professional to install
✖ Needs sealing
✖ They're heavy and can affect higher floors
✖ Needs delicate cleaning
Alternatives to Tiles in a Bathroom
Tiling is an extremely popular choice for bathroom flooring, but it isn't the only choice. If you feel like going in a different direction or design, there are plenty of alternatives and options to tiling that work just great.
Hardwood Flooring Cost
Hardwood flooring is an attractive alternative to tiled flooring but may pose certain risks such as water damage and slippery surfaces. You can battle this by installing wood putty in between cracks during installation to stop water from getting in between the hard boards.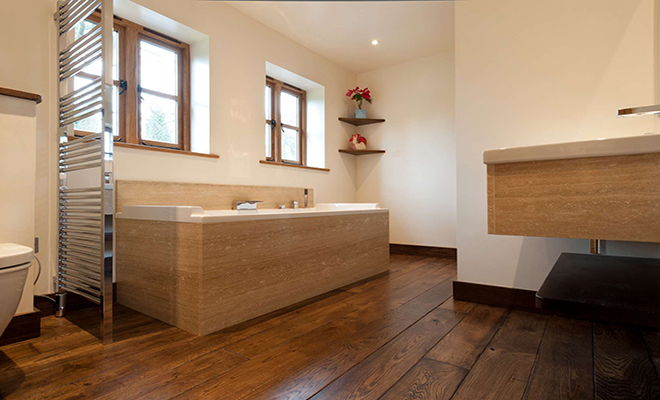 Make sure to add extra coats of varnish to enhance durability, and most importantly to wipe down any wet flooring after showers or cover with a bathmat to protect floors and prevent slips. Hardwood flooring can cost between £1,000-£2,000 for a medium-sized bathroom.
Bathroom Carpet Cost
This is not a beige hallway carpet that you're thinking of; there are certain carpets designed for bathroom use that avoid build-up of moisture and dampness. Bathroom carpets are constructed like tiles, meaning you can remove and wash them if need be, this is because they have an antimicrobial backing that helps protect against spreading of bacteria and mould.
Bathroom carpet is extremely comfortable towards bare feet and comes in a wide range of styles to suit your decor. Bathroom carpet can cost between £400-£800 for a medium sized bathroom.
Rubber Leather Flooring Cost
This is an interesting choice for a bathroom, as it creates an authentic leather look whilst containing the ease of washing rubber.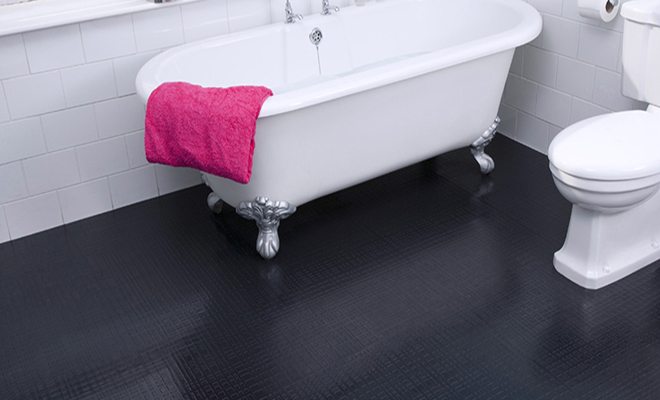 This is an extremely attractive option and is also easy to maintain with regular waxing or washing with soap and water. This may not be to everyone's tastes, however, and has to be regularly maintained. Rubber Leather can cost between £500-£700 for a medium-sized bathroom.
DIY Bathroom Tiling
As a DIY Project, bathroom tiles are fairly easy to install, and you don't need to be a master craftsman to tile a bathroom floor or wall on a budget. But you do need to take your time and preferably get a little practice in before you start the job.
Generally speaking, anyone with reasonable DIY skills should be able to do a pretty decent job when it comes to tiling a bathroom as long as they can set aside a few days and have some basic DIY experience and a lot of patience. Here are some things you can do to cut down the costs of tiling a bathroom floor for a cheap job.
Rip out the tiles
Ripping out tiles is a fairly straightforward job; all you need is safety equipment, a hammer and a chisel to get started! If there's already a loose tile hanging about, start there, but if not just break a tile and start there. To rip off tiles efficiently, place the chisel behind the corner of each tile, and whack the top with the hammer and pull the tile away.
Remember to protect yourself with appropriate clothing, safety glasses, and to cover up the remaining floor, bath, basin and WC to protect from any falling tiles and debris. This job itself can save you around £30 an hour that a contractor would charge, and with a fully tiled bathroom removal taking around 4-6 hours, that would save you around £180 at most!.
Dispose of tiles
This is another great way to save a buck when adding up costs. Disposing of tiles consists of gathering up the broken tiles and remaining wreckage safely and thoroughly, and then taking them to a tip to throw away.
Some tips may charge a small fee as tiles can be considered rubble; this all depends on the certain tip but will cost at most £5. However, if you leave this job to your contractor, it could cost up to £30 waste removal charges.
Sourcing your own materials
Before hiring and agreeing to any contractors, make sure to figure out the price you are being charged for sourcing tiles, grout and adhesive. A thorough search could mean that you find a better deal if so, check with your tiler that they're happy to use the grout and adhesive you've found before you provide them with it. This could save you up to £100 depending on the size of the bathroom and the amount needed.
Do it yourself
If you're feeling extra confident and have prior knowledge or have prepared thoroughly, you can even try tiling the job yourself. This will be even easier if none of the tiles needs cutting, meaning you can tile small neat sections all by yourself.
For example, the splashback over your sink is an easy job to do, and you can then leave the harder parts for your tiler to do. This alone could save you near £70.
How Many Bathroom Tiles Do I Need?
Before you start your bathroom tiling project, you should, of course, estimate how many tiles you think you are going to need. Once you know how many tiles you think you will need, add 10% to that figure, or more if you are a complete novice in terms of tiling. This extra 10% is insurance so that you are covered in case you break or otherwise damage some of the tiles when cutting or installing them.
The number of tiles you need can be worked out simply by using the measurements of the tiles you are buying and the measurements of the floor and or wall area you intend to cover with them. If your bathroom is already tiled, you might want to consider re-grouting as this can be a much cheaper option and can result in a brand-new look.
When buying tiles, always choose tiles from the same batch in-store and check that they match exactly in terms of shapes and pattern. If you fail to get extra tiles at the beginning of the job, you may find that if you need more tiles later, when you visit the DIY store, it may well be that you cannot get tiles that exactly match the ones you have already fitted in the bathroom!
So, the only option is now to finish the job with tiles but do not match exactly or to remove the tiles already fitted and start again with brand new tiles which will cost a fortune!.
What Grout Do I Need?
Grouting is a key part of the bathroom tile installation process and can prevent stains and blemishing in the long-running of your home if maintained well. Grouting is a bonding material used to fill in joints between tiles and is extremely absorbent to liquids and damp.
This means they need to be protected and maintained properly so that they're easy to clean and can fight off staining. Below are the four main grouts used for bathroom tiling:
Unsanded grout
Unsanded grout has a smooth texture and sticks well to vertical surfaces, making it great for ceramic wall tiles where the grout joint is less than 1/8" wide and can cost around £20 per bag.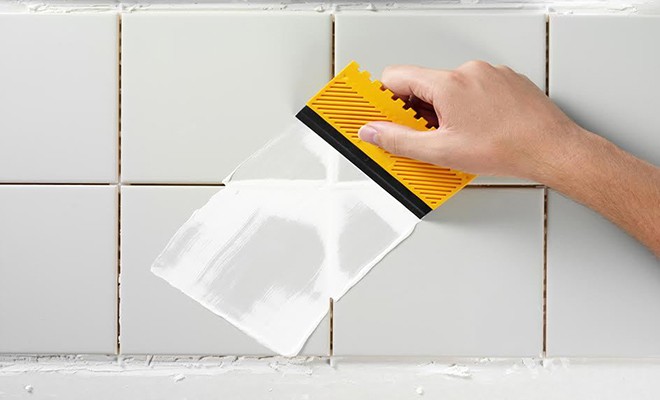 Finely sanded grout
Finely sanded grout can avoid shrinking and cracks, making it perfect for floor tiles where the joints are 1/7" to 3/7" wide, and can cost around £15 per bag.
Quarry-type grout
Quarry-type grout is similar to finely sanded grout but is often rougher and coarser, making it a great choice for ceramic floor tiles. It is typically used for joints that are 3/7" wide to 1/2" wide.
Epoxy grout
Epoxy grout is very high-quality grouting and is made up of epoxy resin and hardener, making it thoroughly resistant to various staining and chemical spillages. It also has a highly valuable bonding strength, making it perfect for countertops and other areas that may be stained often. This can cost around £40-£60 per tub.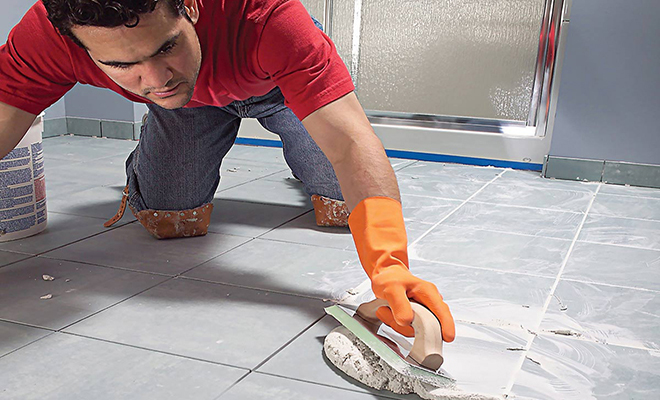 Tile Maintenance & Repair Costs
There are certain times when it may not be in your best interest to completely remove your bathroom tiling and fit it new tiles; there are occasions where thorough maintenance and small repair jobs will suffice. Tiles should be regularly cleaned with warm soap and a sponge, especially if any mud or dirt gets brought in from outside, or if the room is often damp.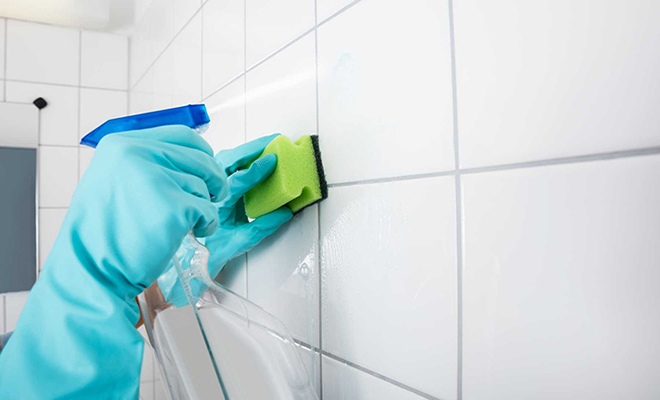 Make sure to avoid any alkaline cleaning products because they may remove the sealant layer from the top of your tiles. It's important to note that if you have terracotta tiles, they tend to be extremely porous and can benefit from being resealed once every few years, this can cost around £100-£250. Another great way to maintain your tiles for longer is by re-sealing the grout, the price of this can be around £200-£400.
Cost of Removing Bathroom Tiles
Removing bathroom tiles is a common household job that most people will encounter when renovating parts of their house. Reasons for this differ, some people don't like the current style of their tiles and want to match their new decor, some tiles can be filled with mould or dirt and need updating, and the latter could need new tiling due to cracks and breakages from a variety of reasons.
It's wise to remove any previous tiling before fitting in new ones, although it is possible to layer a new tile on top of an old one, it means that the adhesive will be carrying a heavy weight from two sets of tiles and holds the risk of falling through. It's definitely a safer choice to remove any old tiles and fit new ones separately.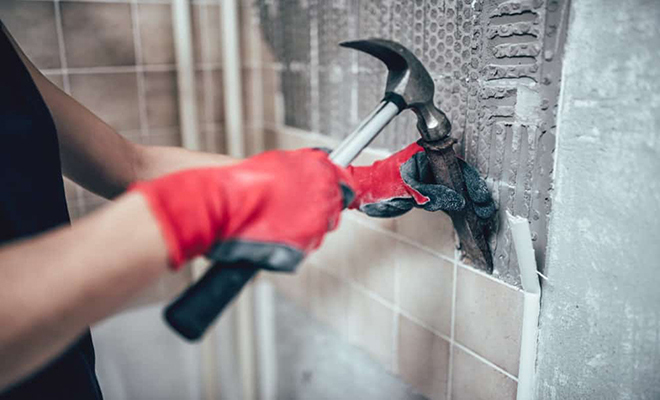 When hiring a contractor, you can work out a price for them to remove tiling if you don't feel confident with doing it yourself, costs for this can differ depending on how long the job takes and the amount of waste removal. An average cost to retile bathroom can be around £30 per hour with an added £30 for disposal, for an average size bathroom it may cost around £200 for a 5-7 hour removal process.
FAQs
How to Find and Hire a Contractor to Tile a Bathroom
Hiring a professional tiler can make all the difference between a smooth, well-executed job compared to a rushed and poorly finished job done by yourself, it's important to find out who's right for the job so here are some things to look out for when searching for your perfect tiler.
A good tiler would be expected to have a lot of jobs lined up, and it could be a red flag if they're willing to fit you in for a quick job tomorrow.
Make sure to ask for recommendations and be sure to notice whether they're willing to let you converse with former clients, this will allow you to notice if they're proud of their previous jobs.
Although there are no official qualifications for tilers, signs of an NVQ or a CITB qualification is a good sign to show they've taken a well-informed course and have up to date knowledge on working as a contractor.
Ask for a quote before making any decisions and make sure to compare against other tiler quotes to make sure you're getting a fair deal.
Sources
https://www.wickes.co.uk/how-to-guides/tiling/tile-bathroom-floor
https://www.homebuilding.co.uk/bathroom-flooring/#wood
https://ukbathroomguru.com/pricing-for-tiling/