The price differences between various parts of the UK will also be highlighted. If you need to have some tiling work done in your home, this article will help you get an idea of the average cost of hiring a tiler and set it against the cost of doing it as a DIY project.
Across the UK the average cost of hiring a tiler to fit wall or floor tiles is between £140-£200 per day. However, many jobs may not take a whole day, and the average tiler hourly rate is between £12-£20 with variations depending on location in the country.
As well as considering the cost of hiring a tiler, you should also be looking for someone with a good reputation, who is reliable. Getting recommendations from family, friends, and neighbours is an excellent way to find a trustworthy tiler.
The benefit is that you may be able to look at the tiler's work and judge for yourself how suitable they would be for your project. You may also get the chance to discuss how the job went in terms of timeframes and how the tiler treated the client's home while working in it.
Obviously, the cost of the work will be an essential factor, but the quality of the finished tiling will matter hugely to most clients.
Tiler Jobs
The need for a tiler to be multi-faceted in their approach and their jobs is reflected in the diversity of their profession.
Tiling is common in most people's bathrooms, and kitchens as a preferred wall covering and the popularity of floor tiles in the UK is growing too.
As there are generally not separate wall tilers, floor tilers or shower tilers, all of these jobs are typically done by the same profession.
Installing Internal Wall Tiles
The most common job that a tiler will undertake is to fit internal wall tiles in either a kitchen, bathroom, or utility room. The type of tiles you have chosen to be installed will affect both the cost and the time the job will take.
Ceramic tiles are very popular, durable and have excellent waterproof properties. They are also much easier to cut and so the process to fit them around sanitary ware, windows or doors is not overly difficult.
However, porcelain tiles are denser and therefore much harder and require a special diamond-tipped blade to cut and trim them. This will take longer than with ceramic tiles and involves more work to trim and shape the tiles to fit around obstacles such as sanitary ware.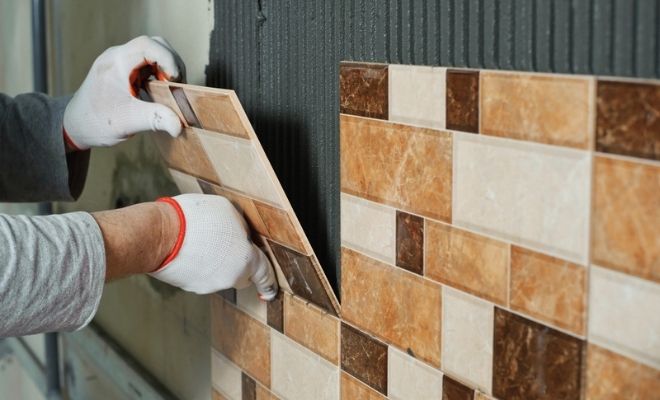 Although most tilers will use an electric tiler cutter, the process still has to be done with care and precision to avoid ruining or chipping the tiles.
To fit wall to ceiling tiles to a small bathroom will take approximately 1-2 days and cost on average £200-£400 in labour. For a smaller job such as tiling a splashback, the timeframe will be around 2-4 hours and cost £60-£100 in labour depending on location in the UK. Clients will generally provide the tiles and the grout with the tiler providing the adhesive.
Fitting Floor Tiles
Porcelain and stone floor tiles have become very popular as an alternative to carpet or lino in bathrooms and kitchens. The cost to install floor tiles will depend on the type of tile, the area to be covered and where in the country you live. The other factor which will affect the labour cost will be the amount of cutting of the tiles to be done.
There may be minimal cuts in what are normally regularly shaped rooms for a kitchen or utility room. However, in a bathroom, there will be sanitary ware such as toilets and sinks that the tiles will need to be trimmed to fit around.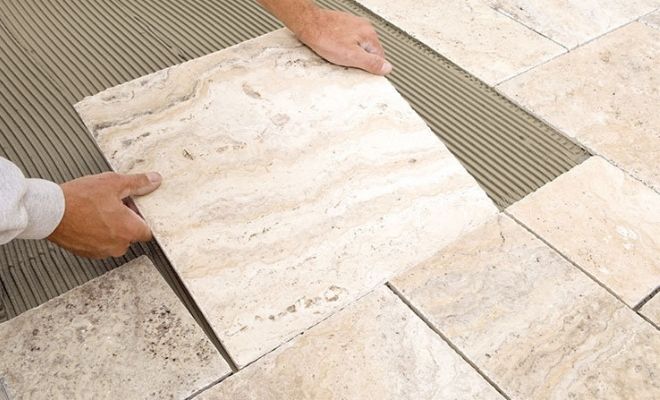 Stone and porcelain floor tiles are tough and require a diamond-tipped wheel cutter to shape them. This process is labour intensive and will add to the tiler cost per day. The average price in labour to tile a 20 square metre room will be £200-£250.
Re-tiling a Shower
To remove and re-tile a shower will take time and patience, and this will increase the cost of labour. Once the old tiles are taken off, the wall surface will need to be levelled, and all traces of old adhesive and grout removed completely.
This is to create a sound, clean base for the new tiles to ensure that they adhere to the wall properly and are even and level. The cost to re-tile a shower will be between £150-£200 in labour and will take one to two days.
Re-tiling a Bathroom
The task of re-tiling a bathroom will be quite labour intensive if the room is tiled floor to ceiling. Depending on the bathroom's size, removing the old tiles and preparing the wall surface may take a day while re-tiling may take another day or two.
The type and size of tile being fitted will directly affect the timeframe and amount of work involved. Larger tiles will obviously cover more floor area per tile, but they are more difficult to handle by the same token so it may take more time to fit.
Porcelain and stone tiles are also harder to cut and will take longer to fit around sanitary ware and windows as a result.
The labour cost to tile or re-tile a bathroom will depend on the size of the room, the type of tile, the tiler day rate and the area you live in. An average cost is around £250-£300 in labour.
Replacing Grout
If the grout between tiles becomes brittle and starts to crack, it can allow water to seep behind the tiles and will eventually cause them to detach and fall off. To avoid this, if you see small holes or hairline cracks appearing in the grout, it is time to replace it.
Grout has a finite life span and will not last as long as the tiles around it. Water will find its way into the smallest fissure or hole and cause damage that will be unseen until it is too late. Therefore, replacing damaged or aged grout is a cost-saving exercise in the long term as it is much cheaper than re-tiling.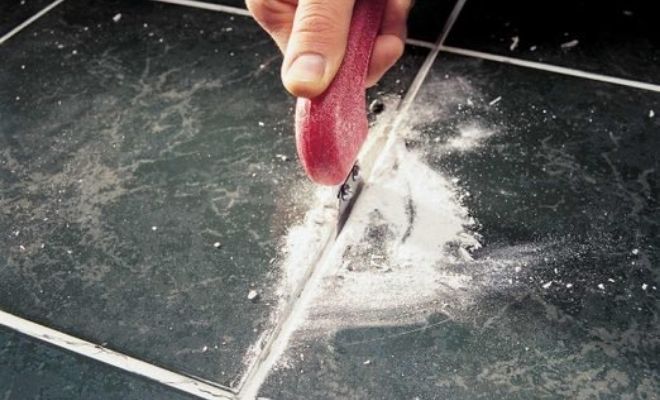 The task of removing grout is actually a relatively labour-intensive and challenging job. There are manual tools to rake out the old grout, but a professional tiler will use an oscillating power tool with a specific grout removing blade attached.
This speeds up the process and makes it less strenuous, but it still takes time as there is the danger of damaging the tiles if the job is rushed. The labour cost for replacing grout will be approximately £200-£250.
Tiler Rate
Here are the different rates you can expect to pay a tiler:
Tiler Hourly Rate
The average hourly rate for a tiler in the UK is about £12-£20, although there will be regional variations and cost differences depending on the type of tiling being done.
Working with porcelain tiles is more labour intensive and will potentially cost more per hour. Other types of tiles, such as mosaic are very time consuming and will incur a higher labour cost as a result.
Tiler cost per hour will typically be higher in London, and in some cases, it may be double. This is mainly due to the living costs and other overheads like insurance which are costlier in the capital than in other parts of the country.
A tiler will typically work a 7-8-hour day depending on the job that they are carrying out. They are not affected by bad weather like some other trades as it is mainly an indoor job.
As a tiler is normally working either in a kitchen or bathroom, and both are essential to the welfare of the occupants of the house, there may be a time pressure to complete the work. This should never compromise the quality of the work that the tiler does, but he may work longer hours than usual to finish.
Tiler Daily Rate
The tiler day rate will depend on the location within the UK and the type of tiling that the tiler is doing, but the average will be between £140-£200. The higher end of the range will typically apply to London and the southeast where these prices may double in some areas.
Some areas of the north of the UK will be cheaper, but large cities will still command a higher tiler cost per day.
Depending on the type of tile and the size of the room, the daily tiler rate may vary. Tiles which require more time such as mosaic tiles will command a higher price per day.
Porcelain tiles are extremely hard and as a result, take a lot of effort to trim and cut, and this too may increase the tiler cost per day.
Tiler Qualifications
Tiling is one of those jobs that people assume is an easy DIY project for a weekend, but there is a lot more to it than is appreciated. Many tilers work for years to gain a reputation and build up a successful business, and it all has to start somewhere.
Tiling Courses
A college course or apprenticeship is the most likely route into tiling as an occupation. There are NVQ Level 1 and 2 qualifications for wall and floor tiling and a specialisation at Level 2 for tiling for property maintenance.
However, some people come to tiling as a second career from all different backgrounds and previous professions, and there are many different professional tiling courses available.
The skills to become a tiler are not just the practical ability to be able to lay tiles. There is also a need to be able to calculate square meterage, costs and quantities as well as working to patterns and designs.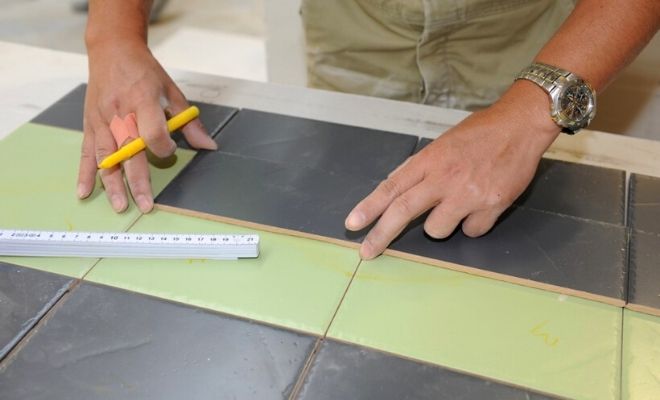 A tiler should also be good at communication and customer service to ensure that the client's requirements are clearly understood and followed.
A tiler can become a member of The Tile Association, which is the trade association for the UK and includes contractors, fixers, retailers, distributors, and manufacturers.
Tiler Insurance
A tiler should have insurance in the event that their work causes any damage to property or injury to people. Public liability insurance will provide cover for claims by members of the public for damage and protect against compensation claims for injury as a result of a tiler's work. Public liability insurance will also provide protection for legal fees.
Employers liability insurance is mandatory if a tiler employs someone other than a family member. Failure to have this cover will result in a fine of £2,500 for every day that the insurance is not in place.
A further penalty of £1,100 can be imposed by a failure to present an employer's liability insurance certificate when requested by an inspector.
FAQs
How to Find and Hire a Tiler You Can Trust
Recommendations from family, friends, and neighbours are good ways to find a tiler that you can trust. It will likely be possible for you to see the results of their work and speak to previous clients about prices, timeframes and how the project progressed. It may be more reliable than typing 'tiler near me' into a search engine.
Qualifications
The minimal qualifications that a tiler should have are an NVQ Level 1 and 2 for wall and floor tiling. There are also many providers, such as City & Guilds, who run tiling courses. Most professional tilers will be happy to discuss their qualifications with you and provide evidence if required.
Accreditations
The largest tiler's trade association in the UK is The Tile Association, and membership ensures that codes of practice and workmanship standards have been adhered to.
The Tile Association along with the Worshipful Company of Tylers and Bricklayers can confer the status of Master Craftsman on tilers who have achieved NVQ Level 3 or who have served a 3-year apprenticeship and demonstrated experience in heritage or complicated work.
Insurance
Tilers should have public liability insurance to protect them against damage or injury claims. If they employ someone other than a family member, they must have employer's liability insurance. Failure to have this insurance can result in a substantial fine, as previously mentioned.
Reviews
Many tradespeople will have a presence online, whether it is a website or a social media platform. You may be able to read reviews from previous customers but do treat this content with caution as there is no real way to verify if reviews are genuine.
Previous Experience
Asking a tiler about their previous experience will give some insight into the extent of their knowledge and skill. You should be confident in their ability to do the job to the standard that you expect and for which you are paying.
Specific Job Experience
For your tiling job, it is essential to know if the tiler has experience which is specific to the work that you wish to have done. Professional tilers should have knowledge of most types of tiles, and a range of previous jobs to draw from so your project should not present too much of a challenge.
If you feel that your project may be the first time a tiler will have attempted such work, it may be better to look elsewhere.
Quotations
For any work that you want to have done in your home, you should obtain at least three quotations and speak to all the contractors about the work to be done.
This will allow you to evaluate the differences in price and the approach and attitude of each of the tilers quoting for you. Having input from more than one source on the tiling project may also raise issues or scenarios that you may not have already considered.