How Much Does Installing Wall Tiles Cost?
The price you pay for internal wall tiles will depend on the tile material, the necessary adhesive and grout and of course the cost for the tiler.
There is such a wide variation that it is difficult to give an average cost, but it is possible to give examples and an idea of wall tile prices.
However, nothing takes the place of a written quotation supplied by a tradesman that has visited your property and discussed your exact requirements.
Material Costs
The average material cost to fit wall tiles for a bathroom or install a tiled kitchen worktop will vary on the price of the tiles, the adhesive and the grout used. Different tile materials require different adhesives and grout will normally be chosen to either compliment or contrast with the tile colour.
Labour Costs
A tiling specialist can charge an average of £150-£250 per day in labour costs depending on where in the country you are and the kind of tiling they will be undertaking.
The job itself can be time consuming as extra care needs to be taken to make sure surfaces are level ensuring the tiles are fitted correctly.
Depending on the size of the area to be tiled, you should expect the job to take around 1 to 2 days.
Size of Area
The average size of a UK bathroom is between 4 ½ sqm-5 ½ sqm but for tiling purposes you will need to calculate the wall area which will vary depending on style and layout.
Some bathrooms are fully tiled, floor to ceiling and some will have a tiled shower or just tiles behind the sink. You will also need to allow an extra 10% of tiles for breakages and cutting.
Wall Tile Prices
Below are some estimated costs of hiring a tiling specialist to supply & fit internal wall tiles:
| JOB DESCRIPTION | AVG. COST | DURATION |
| --- | --- | --- |
| Tile a small bathroom, floor to ceiling | £900 - £1000 | 1-2 days |
| As above but half tiled with floor to ceiling tiles around the bath | £500 - £600 | 1-2 days |
| To tile a small splash back above a hand basin | £75 - £125 | 2-4 hours |
| Tile above kitchen work surface up to wall cupboards | £250 - £300 | 1-2 days |
The below prices are estimated based on the material and size of the tile.
| MATERIAL | TILE SIZE | 11sqm | 4sqm | 8sqm | 0.5sqm |
| --- | --- | --- | --- | --- | --- |
| Ceramic | 10cm x 20 cm | £800 | £300 | £600 | £125 |
| Porcelain | 60cm x 60cm | £875 | £350 | £725 | £110 |
| Glazed | 13cm x 13cm | £1000 | £450 | £850 | £130 |
| Mosaic | 30cm x 30cm | £2275 | £900 | £1650 | £185 |
| Natural stone | 30cm x 60cm | £750 | £325 | £650 | £100 |
| Glass | 30cm x 30cm | £2250 | £800 | £1600 | £165 |
In general, the least expensive tile material is ceramic. They are also easy to clean, hard wearing and relatively inexpensive.
Porcelain is a tough material as well and is popular for tiling walls and floors. Due to its durable nature it is a more expensive material and takes specialised equipment to cut and drill through.
Natural stone materials such as granite, slate and marble are prized for their looks but do require more care for maintenance and longevity. They are relatively inexpensive.
Mosaic tiles are often a composite of materials on a flexible sheet, often a mixture of materials such as stone, glass, or metal.
Supply Costs
| MATERIAL | SIZE | COLOUR | STYLE | PRICE PER SQM |
| --- | --- | --- | --- | --- |
| Ceramic | 10cm x 20 cm | White | Metro | £20 |
| Porcelain | 60cm x 60cm | White | Square | £35 |
| Glazed | 13cm x 13cm | White | Crackle Glaze | £35 |
| Mosaic | 30cm x 30cm | Various | Mix Mosaic | £140 |
| Natural stone | 30cm x 60cm | Black | Slate | £25 |
| Glass | 30cm x 30cm | Black | Square | £145 |
Additional Costs
Apart from the cost of the tiles and the labour to fit them there are other costs that may be incurred when installing internal wall tiles.
It may depend on whether you are installing kitchen wall tiles or bathroom wall tiles, porcelain tiles or ceramic metro tiles but it is likely that some additional work will need to be done.
Plastering Costs
Walls are rarely perfectly smooth and level unless you are tiling a brand-new room. There may be a need to plaster a wall to achieve a good surface for installing your wall tiles and ensure a professional finish.
Plastering a wall will cost you around £200-£300 depending on the size of the wall and your location.
Painting Costs
If you are tiling a kitchen wall you may want to refresh the other walls in the kitchen with a new coat of paint. The cost to paint an internal wall will depend on the square meterage but the average cost will be around £250 if hiring a professional decorator.
Replacing Kitchen Worktop Costs
Installing kitchen tiles will likely be around a work surface area and you may think about replacing your kitchen worktop to compliment your newly tiled wall. Kitchen worktops come in various materials and sizes so there is a wide choice available.
The average cost of installing a solid wood worktop is in the region of £800. Quarry tiles can look good on a kitchen floor creating a rustic look. These are essentially unglazed clay tiles and cost between £30-£90 per square metre.
Updating Bathroom Fittings Costs
Updating your bathroom with some new bathroom tiles may inspire you to change your fittings or taps. This is a relatively cheap way to reinvent your bathroom without all the expense and upheaval of replacing the entire suite.
Depending on your taste and style replacement sink taps can cost between £20-£150 while bath taps range between £25-£200.
Decorating Costs
To compliment your new tiles, you may want to budget for a decorator for wallpapering or painting your woodwork. A professional decorator will cost between £150-£200 per day.
Moving Radiators Cost
Finally, if radiators need to be removed for access, there is a possibility that you may have a leak once the radiator is refitted (old radiators really do not like being disturbed).
If you do need to hire a plumber, you should allow approximately £150-£200 per day.
Installing internal wall tiles is certainly suitable as a DIY project if you have the skills and the patience.
Although, if you would prefer you can find local tradespeople by using the "Get a Quote" button.
Cost Breakdown Calculator
Individual costs of tiling a small bathroom, floor to ceiling - Total Cost: £900
Labour Costs and Time Frames
Modern tiles offer one of the most durable and hard-wearing surfaces that can be found in a home.
Whether they are used for walls or flooring, they are available in a huge variety of sizes, colours, designs and shapes. Popular tile materials include ceramic, porcelain, natural stone, and glass.
The size of the area to be tiled therefore will have a significant impact on the overall cost of the project including the number of tiles required and the time needed to install them.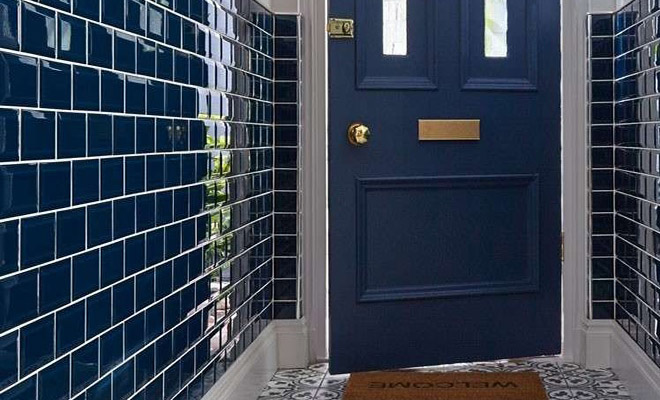 The average cost for installing wall tiles is between £20-£40 per square metre.
A tiler may charge by the day which can be in the region of £150-£250 per day or by the hour, on average between £20-£30.
Reducing the Costs
To reduce the amount that you spend on labour there are things you can do yourself to bring the labour costs down.
Removing old tiles is quite simple but should be done with care to avoid damaging the wall surface underneath. You will need:
Bolster chisel - £5-£15
Hammer - £5-£40


OR


Electric hammer drill - £25-£200
Tile removal attachment - £25-£30
Using a hammer drill with a tile removal attachment is by far the quickest way to remove old tiles but in awkward to reach places you may need to work by hand with a hammer and bolster chisel.
Whichever method you use it is essential that you wear appropriate safety equipment such as that listed below:
Gloves - £2-£5
Safety boots - £17-£120
Goggles - £2-£15
Dust mask - £1-£5 each
Goggles will protect your eyes from flying shards of tile and dust from the debris.
Gloves will protect your hands from the sharp edges of the tiles and safety boots will protect your feet from falling tiles.
There will a considerable amount of dust generated so the dust mask is vital to prevent inhalation.
Preparing the Wall Surface
Removal of the old tiles should take no more than a day, but it is worth making sure that the wall is suitably prepared before bringing your tiler in.
It needs to be sound, level, and clean. Old tile adhesive can be scrapped off the wall using a blunt wood chisel and hammer or an old wallpaper scraper.
A good tip is to use a wallpaper steamer to soften the adhesive first to make it easier to remove however be aware it may exacerbate any problems with blown render so be careful.
Alternatively, you could soak the old adhesive with a sponge and warm water to soften it.
Re-plastering Before Tiling
If the surface is in poor condition it is worth considering re-plastering however this is not the ideal job for a DIYer, and it is advisable to hire a professional plasterer.
Hiring a plasterer will cost you between £150-£200 per day.
If it is necessary to have someone plaster the wall, then this will need to be done well in advance to allow the plaster time to dry prior to tiling. Ideally this should be at least four weeks.
Minor damage may not necessitate re-plastering and you may only need to carry out some minor repairs. Small holes can be filled with an appropriate filler and sanded smooth once dry.
Replacing Plasterboard
Old tiles that were adhered to plasterboard may be difficult to remove cleanly and without damage and the boards may need to be replaced.
It is best to replace any plasterboard with a moisture resistant variation which may be slightly more expensive at between £15-£20 per sheet but will potentially last longer and protect against damp.
Tiling on a Lath and Plaster Wall
The same may be true if the tiles you remove were adhered to lath and plaster. This material is very fragile and may not survive the tile removal process unscathed.
You should also be cautious about the weight of tiles that you put on a lath and plaster wall, even an undamaged one.
The recommended maximum weight for tiles on plasterboard is 32kg per square metre and 20kg per square metre for plaster. This weight allowance is the total weight of the tiles and the adhesive.
These additional measures will add to your timeframe as well as to your labour and material costs for the project but may prevent failure of the tiles to adhere to the wall surface and the need to re-do the work due to a lack of appropriate preparation.
Cost Affecting Factors of Installing Internal Wall Tiles
There are a few factors when tiling that can affect the overall costs:
Size of the Area
The most obvious contributor to the cost of installing internal wall tiles will be the size of the area to be covered. A fully tiled bathroom will require more materials, time, and labour than a single wall or a splashback.
Some tilers will charge by the square metre and the average cost is £20-£40 per square metre.
Type of Tile
The type of tile used will also have an impact on the cost especially the material that the tiles are made from. Ceramic is the cheapest material at an average price of £20 per square metre, coming in a wide variety of styles, shapes, and designs.
Natural stone tiles are relatively inexpensive at an average price of £25 per square metre but natural stone covers many different materials such as granite, marble, and slate. Therefore, it depends on which natural stone you opt for as to how much you will pay.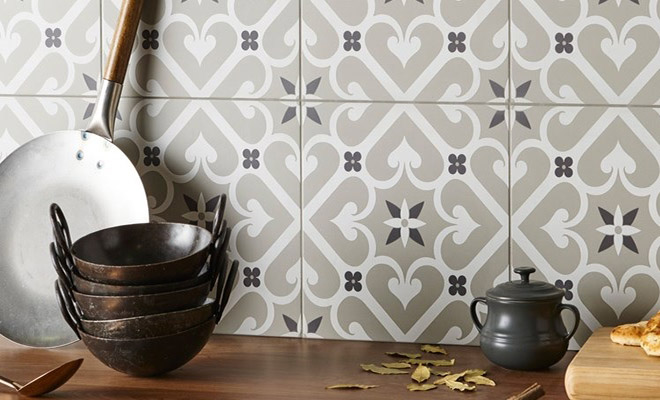 Porcelain is more expensive at an average of £35 per square metre. Like ceramic tiles, porcelain is made from clay, sand, and water but the clay in porcelain tiles is denser and creates a harder tile.
Glass and mosaic tiles are expensive at between £140-£150 per square metre but this reflects both the material and the installation process required for these tiles.
Size of tile
Wall tiles come in a range of sizes from small kitchen tiles to large bathroom tiles.
A small glazed kitchen tile per sqm can cost as much as a large slate tile, so the size is not necessarily the deciding price factor.
However, it is important when considering the area to be covered, the preparation required as well as the cost of labour.
Mosaic tiles are small pieces of tile either of a single material or a mixture of glass, metal, or stone.
They usually come on a backing of material making them slightly easier to fit although they are still time consuming and require skill to fit properly.
This can make them an expensive option in terms of labour cost.
Small metro tiles have become increasingly popular giving a utilitarian, urban look to modern homes and can be arranged in various patterns making them versatile and cost effective. They are often used with a contrasting grout for visual impact.
Larger tiles have the advantage of being quicker to fit but will require proper wall preparation to ensure adhesion.
They will also require more adhesive due to their size. You are also somewhat limited in the arrangement of larger tiles compared to their smaller alternatives, but they do give an impression of space.
Location in the UK
Where you live in the UK will affect how much a tradesperson will charge. Most people are aware that London and the south east have a higher cost of living and that prices in these areas will be more than in other parts of the country.
Overheads such as wages and insurance are higher in London for tradespeople and this is reflected in the prices that they charge. Expect to pay between £150-£250 per day for an experienced tiler.
Location of Tiles
There is no difference in manufacture between bathroom tiles and kitchen tiles, it is purely a matter of style and taste deciding what tiles to put in which room.
Therefore, the price should be the same if you are buying tiles for a kitchen or a bathroom.
Although porcelain tiles are more durable ceramic is still popular for bathrooms especially in a fully tiled room. Glass and marble tiles can be used in both kitchens and bathrooms but are normally reserved for accent features and statement pieces.
What Does Installing Internal Wall Tiles Entail?
This is what you can expect when tiling an internal wall:
Measuring the Area
Whether you intend to do the tiling yourself or hire a professional you will need to calculate the square meterage of the area to be tiled. To do this you measure the height and the width of the wall.
You can also measure doors and windows and reduce the overall size by these amounts. As mentioned previously it is advisable to allow at least 10% extra for wastage which means breakages and tiles which will need to be cut to fit.
Number of Tiles Needed
When you know the square meterage of the area you can check how many tiles you will need to cover it. The coverage area of most packs of tiles is printed on the packaging. If not check with the supplier.
You can also divide the wall area by the area of a single tile to determine the number of tiles needed.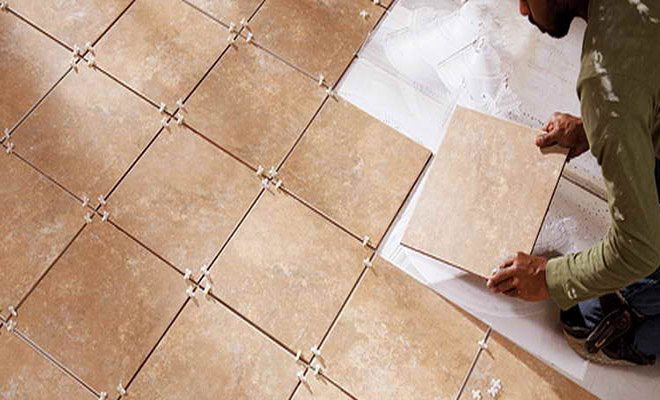 This method is for a full wall but there are many variations that you may need to tackle such as tiling around a window or above a kitchen worktop. The principals are the same for the most part, but these projects may mean more exact planning and cutting of tiles.
Cutting Tiles
There are a number of ways to cut tiles and it does depend on the tile material with porcelain being a much harder substance requiring a specialist blade.
Ceramic tiles can be cut with a tile scribe which is used with a straight edge. It is used to score the tile face several times and then light pressure is applied along this line until the tile breaks. There are also tile cutting machines and tungsten bladed saws which may be easier.
DIY Wall Tiling
Tiling is probably one of the most common DIY jobs that people undertake and with some knowledge and careful preparation usually one of the more successful.
Tools Required for Installing Tiles
Here is a list of tools and their prices to install interanl wall tiles as a DIY project:
| TOOL | AVG. COST |
| --- | --- |
| Tiles spacers (250) | £3 - £5 |
| Tile adhesive (20kg) | £20 - £40 |
| Notched trowel | £5 - £25 |
| Bucket trowel | £8 - £18 |
| Tile cutter | £12 - £150 |
| Tile saw | £4 - £70 |
| Pencil | £2 - £5 |
| Tape measure | £5 - £30 |
| Drill | £25 - £200 |
| Sponge | £3 - £6 |
| Spirit level | £10 - £20 |
| Tile trim | £3 - £8 per metre |
| Grout (2.5kg) | £7 - £10 |
| Grouting sponge | £3 - £12 |
| Grout spreader | £3 - £5 |
| Mixing bucket | £1 - £10 |
| Batten 25cm x 50cm (1.5m) | £1 - £2 |
| Dust sheets | £3 - £5 |
Obviously, the amounts and types of tile adhesive and grout will depend on the size and material of the tiles that you are installing.
Safety Equipment
The following safety equipment is advised especially when cutting tiles:
| TOOL | AVG. COST |
| --- | --- |
| Gloves | £2 - £5 |
| Safety boots | £17 - £120 |
| Goggles | £2 - £15 |
| Dust mask | £1 - £5 |
Hiring a Professional Tiler
While a straightforward job such as tiling a full wall may be relatively easy for a DIY enthusiast some other projects may be a little more challenging.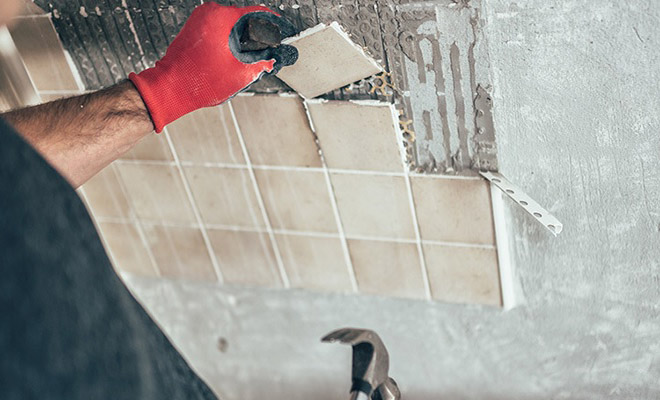 Tiling a full bathroom which will involve cutting tiles around a bathroom suite, door and window may be a bit daunting and you may want to hire a professional tiler to do this.
DIY Preparatory Work
To save time and money you could do some of the preparatory work yourself such as removing the old tiles if there are some or otherwise preparing the wall surface.
If it has been recently plastered it will need at least four weeks to dry completely and will require sealing prior to tiling. Sealing the tiles is something you could do yourself.
Choosing Internal Wall Tiles
Here are the most popular tile choices:
Ceramic Tile Cost
Ceramic is the most common tile material and the least expensive option. It is made from a mixture of either red or brown clay, sand, and water.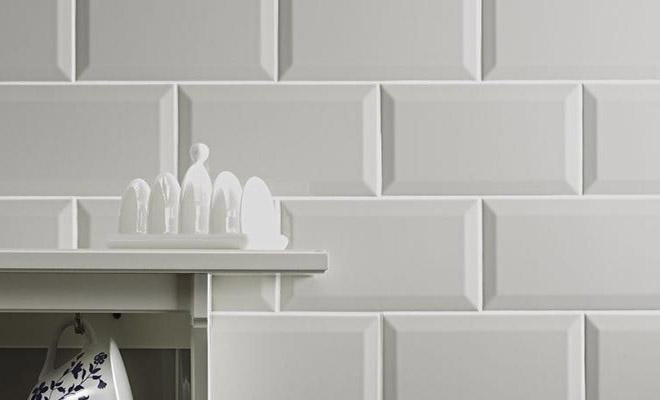 Ceramic tiles are fired at a high temperature and a glaze applied.
Pros of ceramic wall tiles:
✔ Most economic choice of tile.
✔ Versatile and available in a range of designs and patterns.
✔ Easy to cut.
Cons of ceramic wall tiles:
✖ More porous than other tile materials.
✖ Not as durable as porcelain tiles.
✖ Can be prone to cracking on impact.
The average cost of ceramic tiles is around £20 per square metre.
Porcelain Tile Cost
Porcelain tiles are also made from clay but from white clay which when fired at high temperatures creates a very hard material.
They are also much less porous so are suitable for areas which will experience a high moisture content such as shower cubicles or wet rooms.
Pros of porcelain wall tiles:
✔ Very hard wearing and durable..
✔ Excellent water-resistant properties.
✔ Highly stain resistant.
Cons of porcelain wall tiles:
✖ More expensive than ceramic tiles.
✖ Require a specialist tool to cut.
✖ Harder to get a professional look if doing a DIY installation.
The average cost of porcelain tiles is approximately £35 per square metre.
Glazed Tile Cost
Glazed tiles are either ceramic or porcelain tiles which have received a coating of enamel or liquid glass.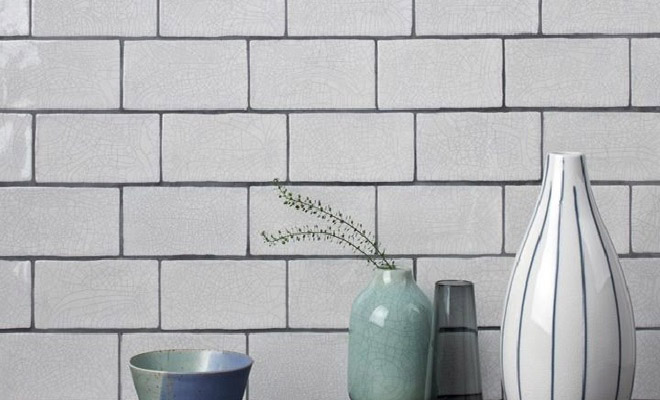 Pros of glazed wall tiles:
✔ Water resistant due to the presence of the glaze.
✔ Stain resistant as they have low porosity.
✔ Wide range of patterns, designs and colours available.
Cons of glazed wall tiles:
✖ More expensive than some other tile materials.
✖ Glaze covers the natural, earthy tones of the tiles.
✖ Crackle glazed tiles must be sealed to prevent water absorption.
The average cost of glazed tiles is in the region of £35 per square metre.
Glass Tile Cost
Glass tiles can be used on their own or mixed with ceramic or stone tiles to create a bespoke effect. They are available in clear, frosted, and decorative finishes.
Pros of glass wall tiles:
✔ Give a dramatic and exclusive look.
✔ Look good in both modern and traditional settings.
✔ Can be mixed and matched with other tile materials.
Cons of glass wall tiles:
✖ One of the most expensive tile materials.
✖ Not recommended for DIY installation.
✖ Prone to being scratched.
The average cost of glass wall tiles is around £145 per square metre.
Mosaic Tile Cost
Mosaic tiles are made up of small shapes of tile materials called tesserae. These can be made from glass, stone, metal, or ceramic.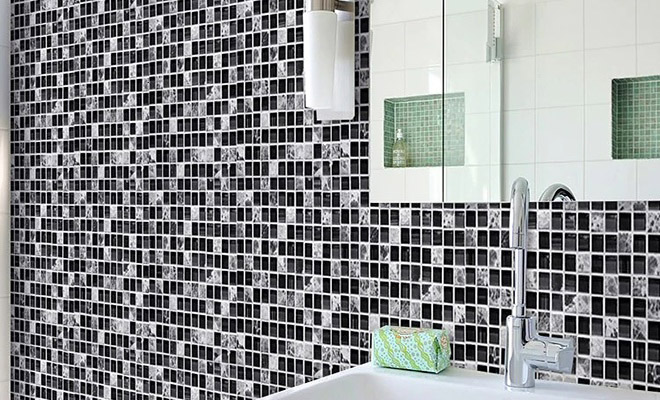 Pros of mosaic wall tiles:
✔ Create an attractive feature in any room.
✔ Wide range of variations and designs.
✔ Extremely versatile especially for small spaces.
Cons of mosaic wall tiles:
✖ They are expensive to purchase.
✖ More labour intensive to install.
✖ Due to their small size they are prone to breakage.
The average cost of mosaic wall tiles is approximately £140 per square metre.
Natural Stone Tile Cost
Natural stone tiles encompass many different materials such as granite, slate, and marble. They are durable and natural looking with a wide variation in styles and designs.
Pros of natural stone wall tiles:
✔ Relatively inexpensive compared to other tile materials.
✔ Attractive, natural look.
✔ Long lasting and durable.
Cons of natural stone wall tiles:
✖ Require regular maintenance to keep looking good.
✖ Need specialised adhesive due to weight and porosity.
✖ Some natural stone varieties are very hard to cut.
The average cost of natural stone tiles is in the region of £25 per square metre.
Choosing Tile Grout
Grout is used to bond and seal the joints between tiles and comes in different variations for use in specific areas or for certain types of tiles.
With a range of colours to choose from the grout can also create part of the overall aesthetic. It can be used to dramatic effect as a contrast or subtly blend with the tiles.
Cement Based Grout Cost
Most cement-based grout can be used in wet environments; it has a low water absorption and will usually contain a mould inhibitor.
These types of grout can be used in bathrooms, kitchens and for splashbacks.
Pros of cement-based grout:
✔ Easy to use in a DIY project.
✔ Versatile for a range of different tile materials.
✔ Can be used in a variety of settings.
Cons of cement-based grout:
✖ Not completely waterproof and will absorb some water.
✖ Prone to cracking and shrinking over time.
✖ Susceptible to colour fade and staining.
The average cost of cement based powdered grout (2.5kg) is £7-£10.
Epoxy Grout Cost
The majority of grout is cement based and while these will withstand contact with water without losing functionality or integrity, they are not completely waterproof. Epoxy grout contains resins and a filler powder.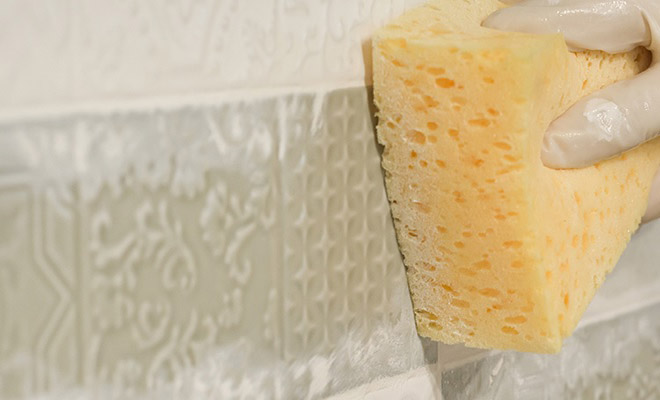 Pros of epoxy grout:
✔ Waterproof and stain resistant.
✔ Very durable.
✔ Resistant to cracking, shrinking and discolouration.
Cons of epoxy grout:
✖ Can have a slight plastic appearance.
✖ More expensive than cement-based grout.
✖ Requires more time to apply so labour expensive.
The average cost of epoxy grout (4kg) is £35-£50.
Decorative Grout Cost
Coloured grout is used for decorative effect and to enhance the aesthetic of the tile installation.
Pros of decorative grout:
✔ Creates a visually appealing addition to a tiled installation.
✔ Combines functionality with aesthetics.
✔ Can provide a statement effect in its own right.
Cons of decorative grout:
✖ Efflorescence can appear on dark coloured grout spoiling the appearance.
✖ If not done correctly dark coloured grouts can stain light coloured tiles.
✖ Coloured grout is prone to fading.
The average cost of coloured grout (2.5kg) is £10-£15.
Tile Maintenance Costs
To keep those tiles lasting longer and looking fresh, here are a few maintenance tips:
Cleaning Tile Cost
To maintain the look of your new wall tiles regular cleaning with an appropriate solution is advised. To keep the appearance of the grout pristine you can use a grout sealer.
This product is sprayed onto the grout lines after drying and protects against water penetration and staining. A 500ml bottle of grout sealer will cost on average £15-£20 and will cover approximately 15 square metres.
Repairing Grout Cost
If any part of the grout becomes damaged remove and replace it as soon as possible to avoid water ingress and potential damage to the surface beneath the tiles. This could lead to the tiles becoming detached from the wall.
A grout rake will cost less than £5 in most DIY stores and is used to remove old or damaged grout.
Regular checking of the grout in your tiling especially in areas of high usage such as showers is a good way to ensure that any issues are dealt with rapidly to prevent water ingress and damp issues.
Specialised Cleaning Products Cost
For most tiles weekly cleaning using a sponge and warm soapy solution will remove surface dirt and marks.
More stubborn marks should be removed with a cleaner that is appropriate for the tile material whether that is ceramic, natural stone or porcelain.
This is particularly important for natural stone tiles and a litre of appropriate cleaner will cost in the region of £15.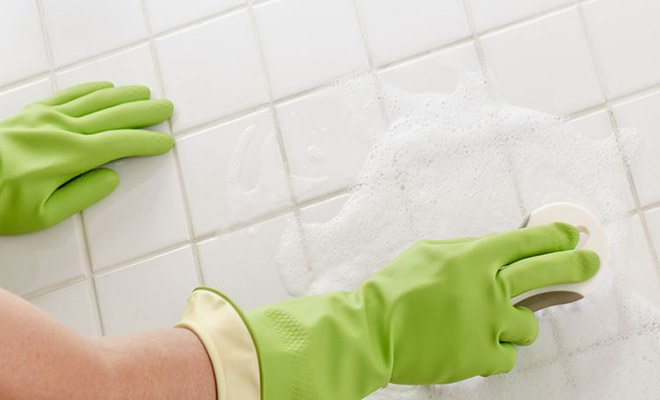 Strong acidic chemical cleaners should be avoided in most cases as they will either damage the surface of the tile or the grout. This damage could then allow water to be absorbed into the tile or grout causing further problems.
Finally, it is a good idea to wipe the tiles with a dry cloth to avoid any water marks spoiling the appearance.
Splashbacks in kitchens are not just subjected to water contact but also substances from cooking and surface cleaning.
A degreasing cleaner may be needed but avoid those containing acidic elements which will be too harsh for some tile materials.
An alkaline based specialist cleaner for tiles will cost around £15 for one litre.
Products are available both for cleaning and for reviving tile grout. A 500ml bottle will cost on average less than £10.
Cost of Removing Internal Wall Tiles
You may want to remove some internal wall tiles in order to replace them with new tiles or you may decide that you no longer want to have your wall tiled.
It is possible to do this as a DIY project with the right equipment and some knowledge of how to do the job safely.
How to Remove Wall Tiles
Whether you are installing new tiles or replacing them with a different wall covering you will want to ensure that the wall suffers little or no damage in the removal process. Using a bolster chisel and hammer is an efficient but time-consuming way to take old tiles off the wall.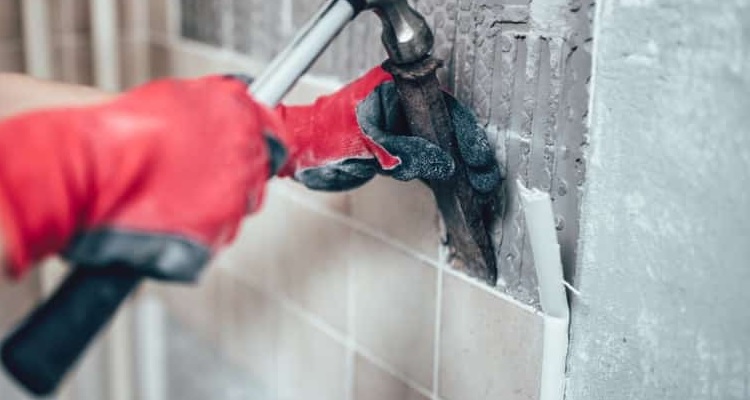 Alternatively, you can use an electric drill with a tile removing tool attached. This will speed the process up, but you will need to take care to avoid damaging the wall surface underneath the tiles.
Hiring a Professional to Remove Wall Tiles
If you prefer to hire a professional to remove the wall tiles for you this will cost approximately £150-£250 per day.
This amount however will depend on where in the UK you live and also on the type and number of tiles that need to be removed. Some contractors may charge by the hour and the average rate is around £20-£30 per hour.
Disposing of Old Wall Tiles
Removing wall tiles may be part of a redecoration or renovation project. In this situation there will most likely be a skip on site and old tiles can be deposited into it.
A skip will cost approximately £200-£300 per week.
If you are just replacing tiles or redecorating, then you can take old tiles to your local recycling centre.
All local authorities have separate disposal containers for things like tiles, timber, glass etc and as long as they are satisfied that it is domestic and not commercial waste you should not have a problem.
FAQs
How to Find & Hire a Tiler
Not everyone will be capable or confident about installing wall tiles and will need to hire a professional tiler. Getting a recommendation from someone you know is one of the best ways to find a reputable contractor.
If possible, you should ask to see the work that they have completed so you can assess the quality of their work and whether you would be happy with it.
As with any home improvement work you will want someone who is experienced, qualified, and capable. You can consult the Tile Association website to find qualified tile fitters in your area.
Cost of Hiring a Professional Tiler
Obviously, cost is an important consideration so you should also get estimates for the project. It is advisable to get at least three estimates but make sure that all of them include the same aspects of the work and that you are getting like for like costings.
A professional tiler will charge between £150-£250 per day or between £20-£30 per hour but this depends on your location within the UK.
Qualifications
Most tilers will have undertaken a training course such as an NVQ or a City & Guilds and will likely have completed an apprenticeship with an experienced tiler.
Insurance
You should check that your tiler has appropriate insurance for the type of work they are carrying out.
Public liability insurance is designed to provide cover if damage or injury occurs due to the work of the contractor and you should ask for proof of this before work begins.
Sources
https://www.diy.com/ideas-advice/how-to-tile-a-wall/CC_npci_100089.art
https://www.toppstiles.co.uk/knowledge-base/how-to-tile-a-wall
https://www.tilesporcelain.co.uk/tiles