How Much Are Kitchen Worktops?
This article is all about replacement kitchen worktops and how much should you expect to pay a joiner or kitchen fitter to remove the old worktops and replace them with new ones.
What should I consider when replacing worktops?
The average cost to replace kitchen worktops varies greatly on the material you choose for your worktop and the size of your kitchen. The price of laminate worktops is typically around £20-£50 per square metre.
What about solid wood or granite worktops?
Average quality solid wood worktops will cost around £50-£150 per square metre.
Granite worktops are the one of the most costly and can range considerably in price from £250-£400 per square metre.
Kitchen Worktops Prices
Below are some estimated costs of hiring a tradesman to remove old kitchen worktops and supply and fit new kitchen worktops in a standard-sized kitchen featuring a worktop space of 3 square metres with a width of 600mm and a thickness of 20mm.
| Worktop Material | Avg. Cost |
| --- | --- |
| Laminate | £260 to £350 |
| Solid Wood | £350 to £650 |
| Granite | £950 to £1,400 |
| Earthstone | £440 to £500 |
| Marble | £1,100 to £1,700 |
| Quartz | £800 to £1,700 |
| Glass | £1,100 to £1,700 |
| Slate | £470 to £1,100 |
| Steel | £950 to £1,400 |
| Concrete | £950 to £1,700 |
| Corian | £1,700 to £2,050 |
| Copper | £1,100 to £1,700 |
Supply Costs
If you wish to fit your own kitchen worktops, then you should take a look at the following supply costs to figure out your budget.
| Worktop Material | Avg. Cost per m2 |
| --- | --- |
| Laminate | £20 to £50 |
| Solid Wood | £50 to £150 |
| Granite | £250 to £400 |
| Earthstone | £80 to £100 |
| Marble | £300 to £400 |
| Quartz | £200 to £500 |
| Glass | £300 to £500 |
| Slate | £100 to £300 |
| Steel | £250 to £400 |
| Concrete | £250 to £500 |
| Corian | £500 to £600 |
| Copper | £300 to £500 |
Additional Costs
There are a number of additional costs you could consider to finish off your kitchen renovation. The following table includes the material price of several additional costs.
| Description | Avg. Cost |
| --- | --- |
| Tile backsplash | £20 to £50 per m2 |
| Worktop edging strip | £10 to £40 per strip |
| Upstands | £16 to £40 each |
| Joint trims | £5 to £8 each |
| New kitchen sink | £100 to £300 |
| Replacing kitchen cupboards | £20 to £90 per cupboard |
Cost Breakdown Calculator
Individual costs for hiring a kitchen specialist to install standard quality solid wood worktops in a regular L-shaped kitchen - Total Cost: £800
Labour Costs and Time Frames
A kitchen specialist will usually charge around £150-£200 per day in labour, and for an average-sized kitchen, the job shouldn't take any longer than a day to complete. A smaller kitchen may only take around 4 to 5 hours to finish, while larger kitchens could take up a full day. Especially when using materials such as granite or quartz, as both these materials require a significant amount of skill to ensure they are cut exactly right.
Your tradesman may also have to cut around sinks or other kitchen appliances which could increase the time frame up to 2 days, as this can be a time-consuming process.
If you have a built-in gas oven or hob, then then you'll need an approved Gas Safe engineer to remove and then re-install it after the worktops have been fitted.
The labour cost is usually around £60 to £100 per hour, although this will depend on the extent of the job, the area it is in and whether the company is small or large.
What Does Installing a New Worktop Entail?
Installing a new kitchen worktop will involve the following steps:
Step 1 - Measurements will be taken to ensure the worktop is the right fit. The majority of tradesmen will use a digital laser measure for precision.
Step 2 - The material will usually cut beforehand to reduce fitting time; however, some cuts might be made on-site, usually around sinks and kitchen appliances. This will involve the use of CNC machinery, cutting jigs and secure clamps.
Step 3 - To connect multiple worktops, the tradesman will use a joiner strip that is cut to match the exact width of the worktop. Each strip should be placed on the edge of the worktop and screwed into place.
Step 4 - Before securing the worktop, the installer will ensure that all the joints adjacent to sinks or appliances are separated by at least 100mm and 50mm away from the front of the job and 60mm from the back.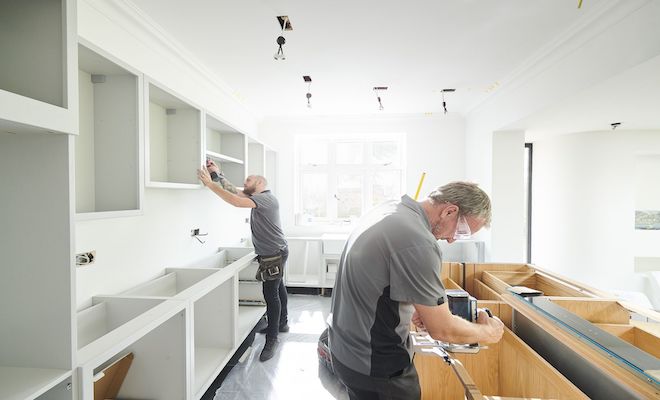 Step 5 - To secure the worktop, a clamping tool will be fixed to the top and underside of each worktop. It will then be drilled into place with three holes in the back and front of each cabinet below the worktop. The units will then be screwed to the worktop.
Step 6 - To finish off the job, end strips will be added to each end of the worktop. They will be cut to size using the worktop as a template. Masking tape will then be placed onto the top of the worktop to protect the surface while glueing down the end strips with contact adhesive. During this process, a window should be opened while waiting for the adhesive to dry, which should take no more than 15 minutes.
Step 7 - Once the adhesive is dry, it can be attached to the end of the worktop, and the masking tape can be removed. To neaten the surface, a file or sandpaper may be used to complete the installation.
Cost Factors of Installing a New Kitchen Worktop
When it comes to cost, there are several factors that can affect the price, for instance, the more mitred corners, the more time it will take, so the higher the price.
The cost of kitchen worktops themselves also varies considerably from £25 per square metre for laminate worktops to over £250 per square metre for something like granite. Having exposed upstands, those kitchen units that stand in the middle of the floor rather than rather butting up to a wall, also increase the cost considerably.
Location is also a major factor in how much it costs to replace kitchen worktops. For example, large organisations in London and the South East charge around £500 to £2,000 for replacement kitchen worktops, while companies or traders in the North West have much lower prices from as low as £300 to £1,500.
The type of tradesman you get in to do the work will also affect the price; small local fitters will usually be a lot cheaper than a nationwide company with hundreds of employees and heavy TV advertising. In addition, local fitters are often not registered for VAT as they are under the threshold, so they will be 20% cheaper than their larger competitors for that reason alone.
DIY Kitchen Worktop Installation
Worktops can be reasonably easy to replace, so this can be done as a DIY project to save money. But be very careful, worktops are not cheap and getting a neat finish in a mitred corner is not as easy as it looks, especially if the walls are not straight.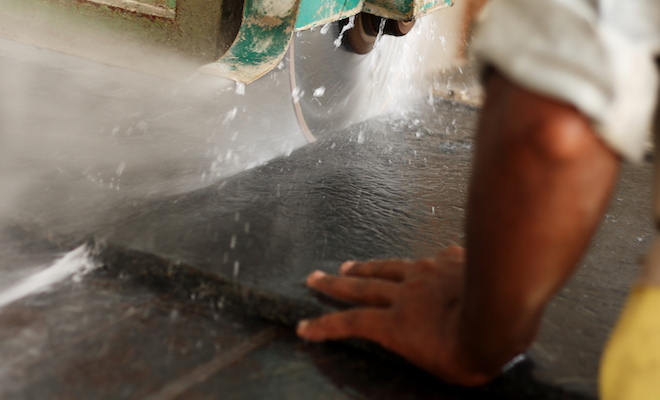 Preparation is the key to a successful worktop installation, especially with pre-cut granite worktops. Problems are nearly always caused by incorrect measurements, poor finishing on the mitred corners, or tricky uneven walls. Make a bad mistake cutting or measuring; then it's time to buy another worktop.
If going the DIY route, you will save around £200 in labour costs, although you will have to pay out for the materials and tools. Here is a list of the some of the tools you may need for a DIY kitchen worktop installation:
| Tools | Avg. Cost |
| --- | --- |
| Hack saw | £3 to £12 |
| Tape measure | £2 to £40 |
| Utility knife | £2 to £19 |
| Joining strip | £5 to £8 |
| Wood screws | £0.90 to £3 per pack |
| Hand drill | £8 to £17 |
| Power drill | £20 to £130 |
| Worktop clamps | £2.50 to £5 |
| Silicone sealant | £5 to £8 |
| Masking tape | £1 to £9 |
| Contact adhesive | £4 to £10 |
Choosing a Worktop
There are so many options it can be hard to choose which material would suit your lifestyle best - wood or concrete, natural or engineered stone, stainless steel or marble?
As if that were not difficult enough, you can now even choose to have mixed material worktops, such as a marble slab with a wooden worktop! Whichever worktop you choose will have a huge impact on your new kitchen, in terms of both visual appeal and function.
Here is a breakdown of the pros and cons of for each material along with the cost of fitting new kitchen worktops.
Laminate Worktop Cost
There are many different materials used to make worktops, but laminate worktops are the most popular type in the UK and made from high-density chipboard, plywood or MDF, with a hard-wearing plastic laminate.
One of the reasons for the popularity of laminate worktops is, of course, the fact that they are the most affordable, at around £20 to £50 per square metre, so will suit those with a low budget. It is also a common choice due to its varied designs.
When it comes to laminate worktops, there are hundreds of designs to choose from, and they come in a range of lengths from 3m to 4.1m and widths from 600mm to 900mm.
There is even a range of finishes including high-gloss and other more natural-looking finishes designed to mimic wood, marble and granite.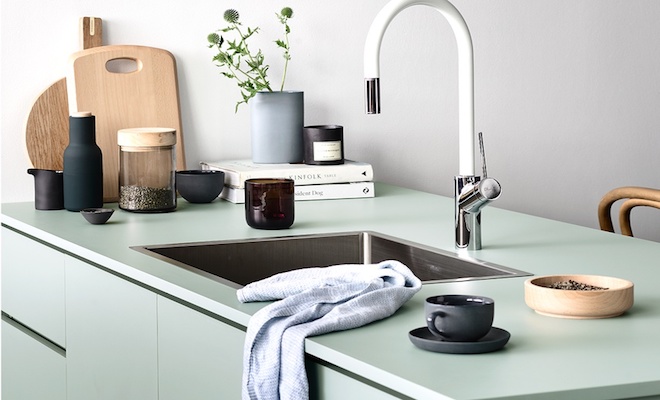 Laminate worktops are also easy to maintain and can last 20 years or more, although it is highly recommended that you use a chopping board to help prolong the lifespan of the work surface.
Although laminate worktops are heat and stain-resistant, they are not as sustainable as other materials, so you should try to avoid placing hot pans onto the laminate surface to prevent it from wearing away.
Another possible downfall of having laminate worktops is that they are usually made with a timber substrate, so there is a chance that water ingress could occur. This could result in damp which will force the laminate surface to wear away.
Wood Worktop Cost
Wood is always popular for worktops as you have beautiful options such as oak, maple and walnut to choose from, each offering warmth and a timeless look for kitchens. Timber is naturally antibacterial too, which means there is less chance of rot when the surface comes in contact with water or damp.
Wood is also a more affordable option than other worktop materials such as stone, as it costs around £50 to £150 per square metre, so it is a great choice for anyone who wants to transform their kitchen on a budget.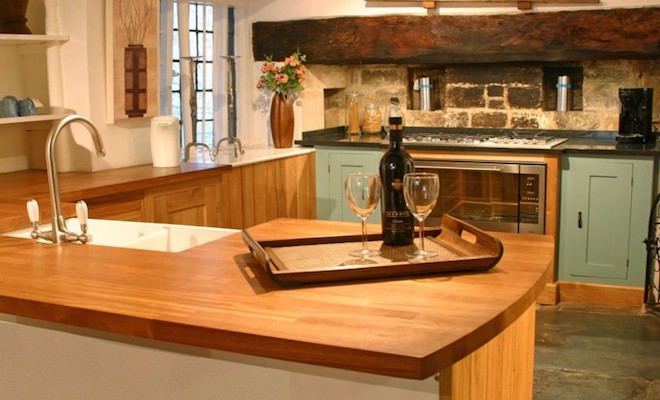 It is also simple to install and easy to repair. If you're willing to oil it regularly, it can be as robust as other more expensive worktops too, and it also looks great with age.
One of the downsides of installing wooden kitchen worktops is that they would need to be maintained regularly to avoid a build-up of dirt and water. Wood worktops are also susceptible to staining and scratching; however, with regular maintenance, they can stay looking brand new for longer.
Quartz Worktop Cost
A quartz worktop is made up of natural stone which is usually bonded together to create an extremely durable worktop that is ideal for any kitchen. Due to the extensive manufacturing process, this type of worktop tends to cost around £200 to £500 per square metre.
Unlike concrete and granite, which tends to crack or chip quite easily, quartz is a much more durable option. It is also susceptible to staining due to its non-porous qualities, so you don't have to worry about spilling tomato, coffee, wine and more. This also makes it much more hygienic, as non-porous materials prevent lingering bacteria or viruses, which is what you need in your kitchen.
One thing that puts people off having a quartz worktop is that it does not look as natural as other materials such as granite, slate, or wood. This is especially apparent with cheap quartz options which feature obvious seams which can be unattractive and off-putting in your kitchen.
Another downside of quartz is that it is not as heat resistant as other worktop materials such as granite, glass or concrete. Therefore, you need to avoid using hot pans or any other cooking equipment that may wear away the worktop surface.
Granite Worktop Cost
Granite is the most popular natural stone for worktops and gives a peerless quality feel to any kitchen. There are tons of shades and patterns available to make each worktop surface unique too.
Granite countertops are very tough and can last up to 100 years if looked after properly. This is due to their durability as well as the materials ability to resist heat and stains, so cooking comes easy with a granite worktop.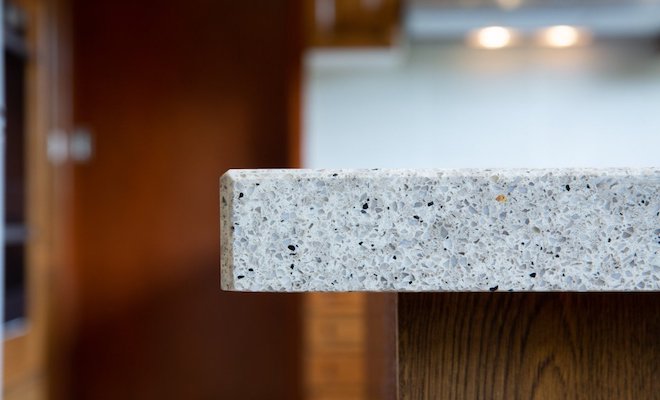 Although granite is very tough, it is also a porous material, so it needs to be regularly sealed around every six months to avoid cracking or sealing. If it is not sealed regularly and you spill red wine or citrus juice on the countertop, then it may be irreparable. It's also really heavy, so it requires good quality cabinets to sit on.
Another element that puts people off is the cost of granite kitchen worktops, which is around £250 to £400 per square metre. This is a significant amount in comparison to other kitchen materials such as laminate or Corian.
Earthstone Worktop Cost
Earthstone countertops are made up of chipboard and an acrylic outer layer. One of the best advantages of this type of countertop is its price, as it typically costs around £80 to £100 per square metre.
Another common reason why earthstone is so popular is that the installation appears seamless, making it much more attractive than other materials.
This acrylic used in earthstone is also non-porous, which means it is resistant to mould and bacteria, which is just what you need in a kitchen.
Some downsides of earthstone include its lack of heat-resistance which means you cannot place hot pans on the countertop. You should also avoid cutting food up, as this can cause damage to the worktop.
Concrete Worktop Cost
Concrete work surfaces are very fashionable right now, and there's a surprisingly large range of colours to choose from. Other materials such as stones, shells and lights can also be embedded in concrete worktops to make them more unique.
Concrete is fairly durable due to it being made from cement and sand to create a solid rock. However, there is still the possibility of hairline cracks if wire mesh or fibre reinforcement isn't used to prevent cracks. Also, if cracks do occur, then repairs can easily be made without having to replace the entire countertop.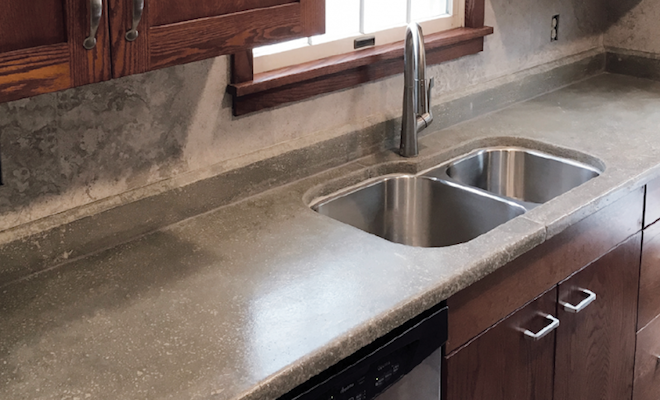 Unlike other robust countertop materials, concrete is not resistant to staining or scratches due to its porous qualities. As liquids are easily absorbed, resulting in bacteria growth which can become permanent.
Concrete worktops can also be extremely expensive, especially when adding additional materials with costs starting from £250 to £500 per square metre. This material also requires a significant amount of sealing, which may increase the cost further.
Corian Worktop Cost
Corian is a type of solid surface material that is made from minerals and resin, which offers a smooth and durable surface. The average cost of Corian kitchen worktops is around £500 to £600 per square metre, making it one of the costliest options available.
Corian worktops are popular in modern kitchens, as they offer a seamless aesthetic, which provides a more natural feel than other composite worktops.
Composite countertops are also easy to maintain, as they only require a wipe with a soft cloth and mild detergent to remove any marks.
Despite it being easy to maintain and non-porous, if any water does manage to reach the substrate material, then repairs may not be possible.
This type of worktop is robust to a certain extent, as it is somewhat resistant to scratches and staining. However, it is definitely not as durable as stone or quartz.
Copper Worktop Cost
Copper is a beautiful choice for worktops and costs around £300 to £500 per square metre. It has the warmth of wood, but you can put hot pans directly onto it, and while it does oxidise over time, you can wipe that off with a damp cloth.
Copper is also naturally antibacterial and really easy to clean with no worries about stains from spills in the kitchen. It is also antimicrobial which means it is resistant to any growing microorganisms and therefore prevents bacteria and viruses in your kitchen.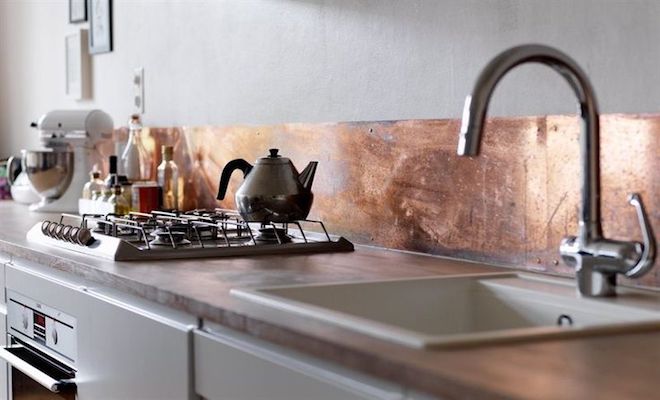 While easy to clean, copper must be sealed with beeswax or butcher's wax in order to protect its surface for longer. This is required for kitchen countertops, as they will be used and without a sealant can be susceptible to wear and tear.
Be warned it's really hard to keep that new appearance with copper, as it does wear over time to a weathered-looking finish that some love, but others are less keen on. After a while, it will develop a patina which will turn your copper worktops red, brown or even green.
Glass Worktop Cost
Glass is one of the most modern and stylish materials you can use in your kitchen. You can also choose from a wide range of glass types as well as unlimited colours to match the rest of your kitchen furnishings.
Glass is the perfect addition to your kitchen breakfast bar due to its aesthetically-pleasing design. It also offers a number of robust qualities such as its extensive durability, as well as its ability to resist heat.
Glass worktops are also very easy to clean due to the lack of joints which prevent a build-up of bacteria. However, your countertops will need to be cleaned every day, as marks tend to show up very easily.
Another possible downside is the price of glass countertops, which tends to cost around £300 to £500 per square metre, so it may not be the best options for those looking for a budget kitchen renovation.
Stainless Steel Worktop Cost
Stainless steel countertops offer a unique aesthetic through its industrial-feel, which has become more popular in recent years. The cost of this type of worktop is around £250 to £400 per square metre. It also offers practicality due to its heat-resisting abilities, which allow you to leave your pans on the countertops and cook as you please.
Stainless steel is also one of the most hygienic worktops, which is why it is used in the majority of commercial kitchens. This is due to its antibacterial qualities which prevent a build-up of bacteria growth and ensures your home is safe from the spread of germs.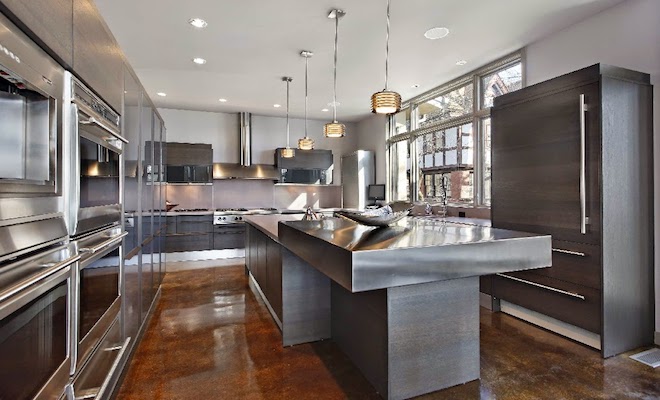 This material is also extremely easy to clean, as all you need is some soapy water, damp cloth and a mild cleaning product. However, you need to be careful when cleaning the countertop, as it can be easily scratched.
Stainless steel is not advised for households with children, as stainless steel is easy to dent and can be quite expensive to repair. It may also add a clinical feel to your home, which is off-putting to some people, but it can work for a contemporary aesthetic.
Marble Worktop Cost
Marble is a type of metamorphic rock which consists of various rocks that have fused together under heat or pressure. When choosing a marble kitchen worktop, there are plenty of options to choose from in terms of colours and patterns that are formed during the manufacturing process.
Many people you choose marble for their kitchen as it offers a luxurious feel with affordable prices, although the cost will depend on the type of marble you choose. Prices usually range from £300 to £400 per square metre, although those containing rare rock types can be more expensive and often more durable.
The main problem with marble that it is hard to maintain, as it is prone to scratching and staining, which is clearly visible, especially on white marble worktops. It also does not react well to acid, so if you really want a marble countertop in your kitchen, you should avoid spilling items such as lemon juice or vinegar.
Budget Kitchen Worktop Cost
If you have a low budget in mind, then you're best sticking with cheap kitchen worktops such as laminate countertops, which cost around £20 to £50 per square metre. This type of worktop offers complete versatility as it comes in a wide range of colours and finishes.
Wood is also another cheap option costing around £50 to £150 per square metre. This also offers numerous options, although it provides a more natural look than laminate.
Choosing budget worktops like this can be extremely beneficial, as it can help you save money which can go towards upscale appliances or a high-quality floor.
While both of these options have some durability, they are susceptible to water ingress, which can cause rot. This can not only cause damage to your worktops but also other elements in your kitchen, which could be extremely costly to repair or replace.
Premium Kitchen Worktop Cost
If you're looking to upgrade your kitchen worktops, then a premium option may be best, as often the more you pay, the longer they will last. For example, granite worktops which cost around £250 to £400 per square metre can actually last up to 100 years or more if they are looked after properly.
Another popular premium option is quartz which is typically priced at £200 to £500 per square metre. This engineered stone is one of the most durable worktop materials available and is often described as nearly indestructible.
Both of these options are perfect for any sized kitchen, and paying that little bit extra may provide you with better investment. A premium worktop will also enhance the aesthetic of your home, as high-quality materials will create an element of luxury in your kitchen.
One of the downsides of investing in a premium kitchen worktop is that you may have to spend a significant amount of time maintaining it, especially if you have paid so much. It may actually end up costing you more to buy granite or quartz cleaners that will ensure your kitchen looks brand new.
Reducing Kitchen Worktop Costs
If you are looking to lower the cost of worktop installation, then you could consider buying the materials yourself, which could mean waiting for sales and researching prices both in-store and online. However, buying anything yourself, you should get a quote from several professionals and compare this with the supply costs.
You may think that buying it yourself will be the cheaper option; it might actually be a lot cheaper for a professional to get materials, as they usually benefit from trade discounts.
Another way to cut costs is by delivering the materials yourself, as professional installers or kitchen companies may charge a fee for delivery. If you have a large vehicle, then delivery should be easy, as you need to remember that the worktops will more than likely be assembled so they will not fit in a typical 5-door car.
Repair, Maintenance and Refinishing Costs
If you've had your kitchen worktops for a long time, you may have noticed scratches, dents or discolouring. Instead of opting for a brand new worktop, you may only need a simple repair, some maintenance or refinishing.
Some companies may offer a warranty for their worktops, so any repairs or maintenance may be covered by them. If your warranty is up, then you may have to hire a professional or repair your worktops yourself.
To help you understand these costs, here is a breakdown of the different jobs and their prices.
Repairs
One of the most common worktop repairs is performed on scratched countertops. If you have a wooden worktop, then scratches are fairly easy to repair, all you need is some 240 grit sandpaper which will cost around £3 to £4 per pack.
You should use this to sand the scratches area until there are such signs of damage, then remove any dust off the and re-oil the surface with worktop oil which is typically priced at £6 to £12 per bottle. This should then be left for around 10 minutes before wiping any excess oil off the area.
If you have a laminate worktop, then repairs are slightly more complicated. However, chips can still be repaired if you have the right tools. This includes a steel spatula which you can purchase for around £5 to £7 and laminate repair paste which costs around £5 to £8 and usually comes in a variety of colours and finishes.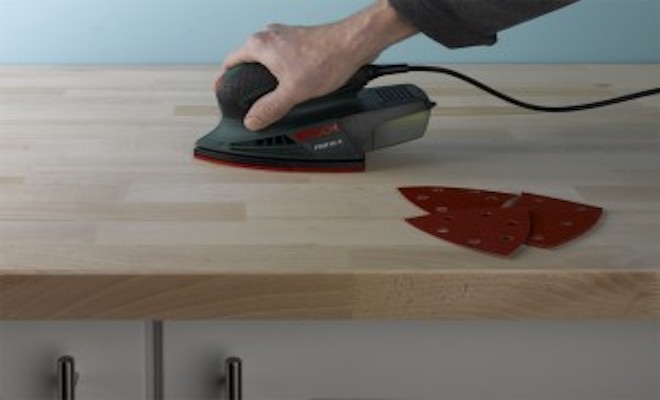 Before applying the paste, you should clean the area then fill in the chip with the right paste and apply it using the spatula, making sure that the filler is pressed in properly. Any excess paste should then be removed; then the surrounding area should be cleaned and left for 24 hours.
Another common but difficult repair is burnt countertops, especially on Corian or solid surface worktops. To remove a burn yourself, you will first need to clean the area with a solid surface worktop cleaner which should cost around £6 to £9.
You should then use sandpaper to remove a small layer of the surface, making sure to stop when the burnt stain has disappeared, as you do not want to overdo it and scratch the surface. Once this is complete, you should clean the area again with the same products.
Maintenance
Regular maintenance is important regardless of how durable your worktop is. Low-maintenance options such as laminate will only require regular wipe downs with a soft cloth, water, and mild detergent or a laminate cleaner which typically costs around £6 per bottle.
Wooden worktops require slightly more maintenance, as it is a porous material which is prone to rot or discolouration. To prevent damage, you should try to oil your worktops regularly. You should also try to follow the manufacturer's instructions in regard to cleaning, although soap and water is usually the best option.
One of the most high-maintenance worktops is marble, as despite its durability the material stains and damages easily. To avoid extensive damage, you should apply a marble sealer to your countertops, which costs around £2 per bottle. This will protect the marble from any spills, reducing the chance of stains or cracks.
Refinishing
If your kitchen worktops are fairly old and worn, but there is no extensive damage to them, then you may want to consider having them refinished rather than replacing them.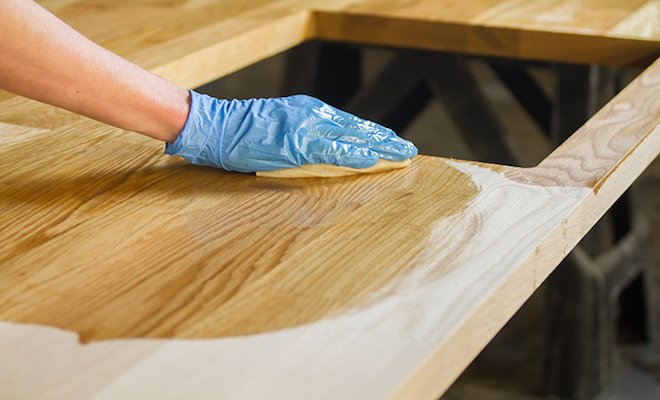 While this is not possible for granite or concrete countertops, other materials such as laminate can be resurfaced by adding laminate sheets to the top of the worktop. For a professional to do this, it will cost around £150 to £200 per day plus the supply cost of £25 to £120 per sheet.
By adding sheets onto the top of your worktop, you can actually increase the lifespan of your kitchen worktops by 10 to 15 years, without having to pay out for replacement worktops to be fitted.
Cost of Removing a Kitchen Worktop
Before having your new worktops fitted, you will need to have your old ones removed. If you're having your worktops professionally fitted, the cost of this is usually included in the quote given. A removal service is usually required for natural stone countertops, as they are heavy and can be difficult to remove.
It is possible to save money by removing your kitchen countertops yourself. This will involve removing all items and appliances off and away from your countertops and moving them to somewhere safe.
The next step is tricky, as it involves disconnecting the water and drain lines. If you're not familiar with this process, then you should consider hiring a plumber who will charge around £50 to £60 per hour.
Once the water is off, you should remove your sink if you have a drop-in fixture. To do this, you should use a chisel to slowly loosen the sink and use a knife to cut the adhesive which is usually located under the sink. Once you've removed the sink completely, you should then remove any excess adhesive and mortar with your chisel.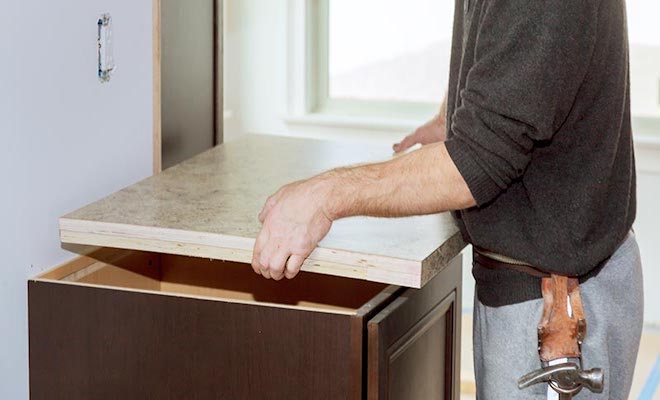 Once all the fixtures are removed, you should spray the countertop adhesive with a caulk softener then wait an hour for it to loosen the material. It should then be easy to remove the adhesive from the countertop.
To remove the countertop completely, it will need to be unscrewed from the cabinets; then a pry bar can be used around the perimeter to lift up the countertops without damaging the cabinets.
Once your countertop is off, you can either ask the professionals to take it for you or hire a waste removal company who typically charge around £70 to £180 depending on the amount of waste. You could also hire a skip for a week which could cost from £230 for a 6-yard skip and up to £250 for an 8-yard skip.
FAQs
How to Find & Hire a Kitchen Worktop Installer
Hiring a professional to remove and replace your kitchen countertops will ensure that the job is done properly and will last a significant amount of time. This should cost around £150 to £200 per day, although it may vary depending on where you live and whether you choose a sole trader or company.
When hiring someone for the job, you could enquire about their qualifications which should include a level 1 or 2 Diploma in joinery, carpentry, and plumbing. You should also try to hire someone with at least 5 years' experience fitting kitchen countertops, while also checking that they have public liability insurance that protects them and you in the event of any incidents.
Sources
https://www.countryliving.com/remodeling-renovation/a43247/pros-and-cons-concrete-countertops/
https://www.magnet.co.uk/advice-inspiration/blog/20162/August/how-to-maintain-kitchen-worktops/