How Much for a New Kitchen Sink?
This article is about removing and replacing the kitchen sink and is part of our series into the prices charged by plumbers for common household jobs.
The average cost to replace kitchen sink basins will depend on the type of sink you choose for instance; stainless steel sinks range from £100 to £850 and £190 to £720 for a granite composite sink.
More expensive options include fireclay sinks which cost around £210 to £1240, £300 to £880 for ceramic, £340 to £1340 for copper and £450 to £1840 for a cast iron sink.
The overall cost of installing a kitchen sink will depend on various factors, including the size of the sink, which usually one, one and a half or two bowls.
You may also have to pay extra for plumbing work if you are moving your sink, which would require an additional plumber's fee, which will again vary depending on your location.
Kitchen Sink Prices
Below are some kitchen sink price estimates of replacing a kitchen sink.
| SINK TYPE | SINGLE BOWL | 1.5 BOWL | DOUBLE BOWL |
| --- | --- | --- | --- |
| Ceramic | £300 - £650 | £280 - £700 | £350 - £880 |
| Stainless steel | £100 - £360 | £120 - £390 | £90 - £850 |
| Granite composite | £190 - £450 | £220 - £1150 | £320 - £720 |
| Cast Iron | £450 - £870 | £700 - £1010 | £730 - £1840 |
| Fireclay | £210 - £900 | £250 - £1110 | £270 - £1240 |
| Copper | £340 -£1130 | £590 - £1850 | £870 - £1340 |
Supply Costs
If you are planning to install a new kitchen sink yourself, then you can save a significant amount on labour costs.
To give you an idea of the supply costs, the below table sets out the material price for the different sink materials.
| SINK TYPE | SUPPLY COST |
| --- | --- |
| Ceramic | £200 - £730 |
| Stainless steel | £30 - £700 |
| Granite composite | £120 - £1000 |
| Cast iron | £380 - £1690 |
| Fireclay | £140 - £1090 |
| Copper | £270 - £1700 |
| Single basin | £30 - £180 |
| Double basin | £150 - £2300 |
Additional Costs
There are various other expenses you need to consider in your overall kitchen sink installation cost, including:
Kitchen Cupboard Door Replacement
If you have any scratches on your kitchen cupboards or notice that some of the hinges are broken, you may want to consider having them replaced.
The average cost of kitchen cupboard door replacement is around £800 to £1100, although this will vary depending on the door material as well as how many doors need replacing.
Kitchen Worktop Replacement
One of the most common jobs that is normally completed alongside a kitchen sink replacement is new kitchen worktops.
This will involve hiring a kitchen installer to remove the old worktop and fit a brand new countertop.
The cost of installing worktops ranges from £20 to £40 per square metre for laminate worktops, £75 to £100 per square metre for solid wood countertops and £150 to £400 per square metre for granite worktops.
New Kitchen Suite
If your kitchen is starting to look outdated, you may want to consider installing a completely new kitchen suite.
This is an extensive job, so you will need to consider what works for your budget.
For a basic kitchen, you should expect to pay around £4000 to £6000, £8000 to £12,000 for a mid-range budget kitchen and £15,000 to £20,000 for a premium kitchen suite.
New Kitchen Flooring
To enhance the look of your kitchen, installing a new kitchen floor may be the way to do it.
There are various kitchen floor options available, including budget options such as Linoleum and vinyl tiles which range from £15 to £25 per square metre.
Mid-range choices include tiles and laminate, which are both normally priced at £20 to £30 per square metre.
Other options include concrete and resin flooring which costs around £25 to £30 per square metre, while solid wood flooring is typically priced at £40 to £70 per square metre.
Moving Kitchen Sink
When installing a new kitchen sink, you may need to move it to accommodate the rest of your kitchen fixtures.
The cost of relocating your kitchen sink will vary depending on the extent of the job as a simple relocation normally costs around £500 to £600.
If you need to have new plumbing or pipes installed, then you should expect to pay anywhere from £600 to £1200.
Cost Breakdown Calculator
Individual costs for supplying & fitting a new single bowl stainless steel kitchen sink - Total Cost: £360
Labour Costs and Time Frames
A standard plumber will normally charge £75 to £150 to replace a kitchen sink in around 3 to 4 hours, although this will depend on how easy the sink is to install and if any cutting or pipework is needed.
You may have to pay an additional labour charge if you plan to have your sink relocated as this can take anywhere from one to two days to complete or up to 8 days for a kitchen island relocation.
Cost Affecting Factors of Replacing a Kitchen Sink
There are several cost factors you need to consider when having a new kitchen sink installed; for instance, you need to decide on the size and type of sink you want.
If you have a low budget, you need to look at the price of a kitchen sink, and you may want to opt for a single bowl stainless steel sink which normally ranges from £100 to £360 for materials and labour.
However, if you are looking for something more luxurious, you could consider a cast iron double basin sink which costs around £730 to £1840 to install.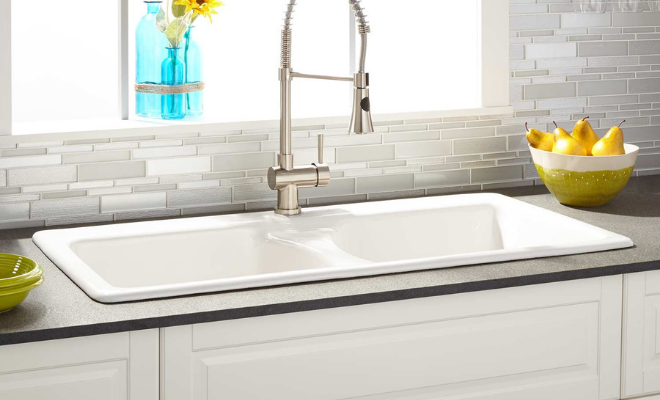 You may also need to consider additional costs such as extra plumbing work which may be required if you are moving the sink to a different area of the kitchen.
This should cost around £600 to £1200 with the final price depending on how easy it is to access the installation area and how long the job will take.
Your location will also determine the final price, as plumbers in areas such as London may charge up £500 to install a new kitchen sink, while tradesmen in northern areas only charge around £400.
What Does Installing a Kitchen Sink Entail?
Replacing a sink is not a difficult job for a competent kitchen fitter or plumber and usually involves the following steps:
Sink Assembly
The first thing an installer will do is assemble the sink on-site which involves fitting the waste outlet and overflow, as well as ensuring that all the seals are installed correctly, so there is no chance of a leak.
The fixing clips should also be attached to the sink at this point along with your new taps.
Cut off the Water and Waste Supply
The next step involves turning off the hot and cold water supply under the sink or at the mains.
They will then double-check the water is off by testing the taps in your home.
Once the water is off, they will disconnect the waste connection by unscrewing the plastic pipes underneath the sink.
Old Sink Removal
Once everything is turned off and disconnected, they will then remove the old sink by first removing the taps with the use of a wrench.
Once the taps are off, the sink clips can then be loosened and then cut through any sealant to lift the sink up completely.
Altering the Worktop
If your new sink does not fit properly, then the contractor may have to cut into the worktop using a jigsaw to ensure the sink slots in perfectly.
They will take great care when doing this to avoid damaging your worktop and should clean the area once they are finished cutting.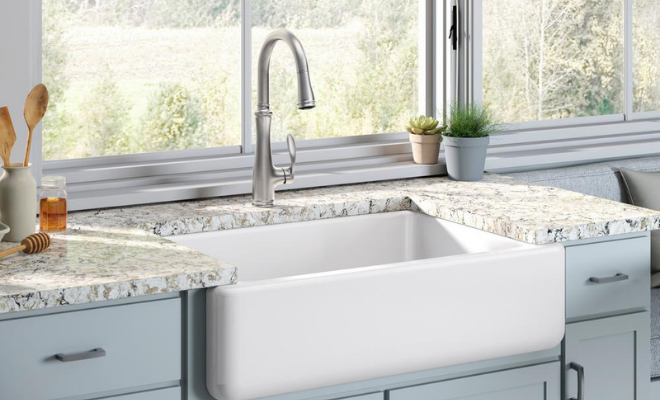 New Sink Installation
Once the worktop is prepared, the plumber will then fit the sink, making sure that the waste pipes are lined up properly.
When they are sure that the sink is secure, they will then attach sink retaining clips to secure it in place.
They will then attach the original or new taps to the installation, making sure to follow the manufacturer's instructions.
Leak Testing
Before connecting the waste pipe and turning the water back, the plumber will test the taps to make sure there are no leaks.
To do this, they will place a bucket underneath the sink before turning on the water and running the cold tap.
If there any leaks at this point they will fix them quickly by turning the water off and fixing the joint.
Connecting Plumbing and Pipework
Once all diagnostics are complete, the tradesman will then re-fit the waste pipework while checking that all seals are still in good condition.
The water should then stay on to check for additional leaks after applying the waste plugs which will be tested by filling up the sink and releasing it.
DIY Install Kitchen Sink
If attempting to do this job as a DIY project, there are a number of potential pitfalls, the most serious of which is to make a mistake measuring the new sink and cut a hole too large in the worktop, or if ordering a new worktop from the manufacturer to get one with a hole that is too big for the sink.
There is not much that can be done about this, except buy a completely new worktop.
While installing a new kitchen sink with new plumbing should be left to the professionals, a simple replacement is possible for most DIY enthusiasts.
To do this, you will need the following tools:
Utility knife (£1 to £18)
Pipe wrench (£15 to £85)
Screwdriver (£2 to £100)
Silicone sealant (£3 to £10)
Eye protection (£1 to £40)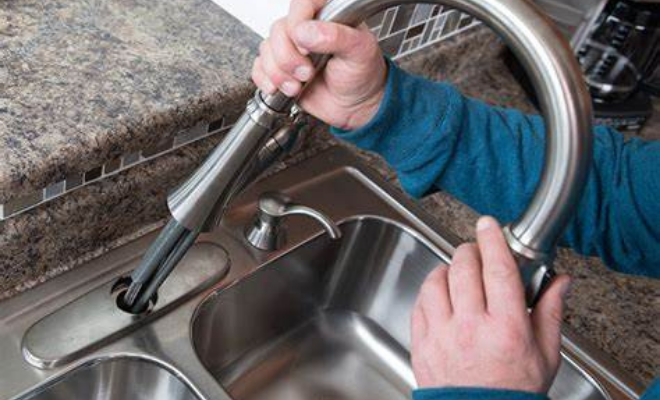 By installing a kitchen yourself, you could save around £75 to £150, as this is the typical labour cost that professionals charge.
However, you may want to hire a plumber to check over your installation to ensure that it is fitted safely and properly to avoid leaks and other issues later on.
Choosing a Kitchen Sink
When choosing a new kitchen sink, you should consider the cost, functionality and aesthetics.
Each should be considered carefully when selecting your sink material as there will no doubt be some sort of compromise to be made along the way.
The material of your sink is up to you – it may depend on your budget or the type of look that you want to create in your kitchen.
Before choosing, you should really weigh up the pros and cons to decide which of the following options is best for you.
Ceramic Kitchen Sink Cost
Ceramic sinks are made of a mixture of fillers, clays and fluxed that are blended together to create a durable material that works well with most kitchen interiors.
You should expect to pay around £200 to £730 for a brand new ceramic sink for your kitchen.
The main advantage of choosing a ceramic sink is its extreme robustness which resists excess heat and chemicals that may ruin less durable sink materials.
Ceramic sinks are also low-maintenance and only require some water and all-purpose cleaner to keep it looking pristine.
They are also very easy to install due to their seamless design which is normally available in a variety of colours and sizes.
The downsides of ceramic kitchen sinks are that they are susceptible to cracking and chipping, which can also cause discolouration.
It is also not the best option if you are looking for an eco-friendly installation as manufacturing ceramic wastes a significant amount of energy in comparison to more sustainable sink materials.
Stainless Steel Kitchen Sink Cost
Stainless steel sinks are made up of iron-based materials which makes it one of the favourable reasonably priced sink options with prices ranging from £30 to £700.
Stainless steel sinks are one of the most durable materials which are resistant against chipping, cracking or peeling.
They are also not susceptible to stains due to their extensive thickness and ability to withstand dents.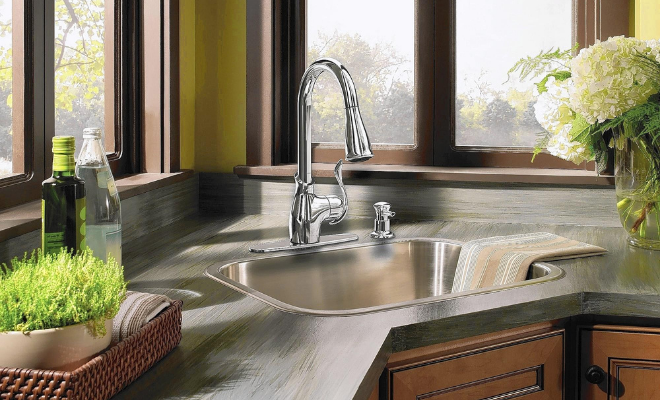 Despite stainless steels durability against corrosion, when in contact with abrasive acids, there is the issue of rust.
Another problem with stainless steel sinks is that they scratch easily and show watermarks.
Granite Composite Kitchen Sink Cost
Granite composite sinks are becoming increasingly popular due to the high-quality mixture of granite stone and acrylic resins used to construct kitchen sinks—prices for sink material range from £120 to £1000.
This high-end sink option will offer your kitchen and unique and aesthetically-pleasing design that is long-lasting and can be adapted to fit any kitchen interior. It is also highly resistant to heat, scratches and stains.
The issue with granite composite kitchen sinks is they can be very expensive and aren't necessarily bulletproof either, despite popular belief.
They also need to be sealed at least once a year to prevent damage.
Cast Iron Kitchen Sink Cost
Cast iron sinks are made of iron alloy with a porcelain enamel coating which makes it one of the most durable kitchen sinks on the market.
The average cost of a cast iron sink is around £380 to £1690.
In comparison to solid surfaces like stainless steel, cast iron is much more robust, which means they will not crack or dent even when exposed to extensive damage.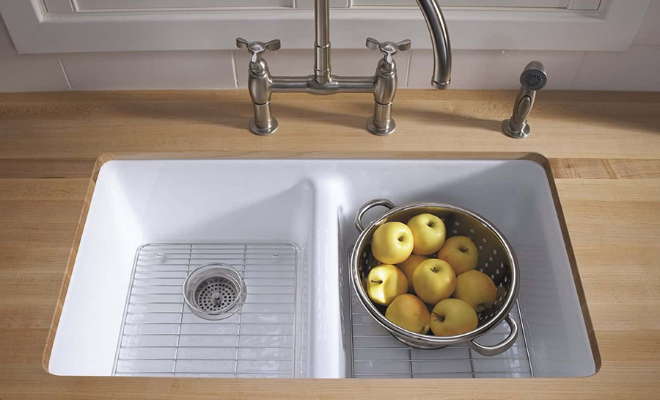 Cast iron sinks are also very easy to clean due to their smooth and non-porous surface, which is highly resistant to stains.
While cast iron is a durable material, the porcelain coating may be susceptible to wear and tear if it is knocked hard.
You also need to be careful when cleaning it, as abrasive cleaners can scratch the surface.
Fireclay Kitchen Sink Cost
Fireclay sinks are made using a fusion of clay and glaze which forms at temperatures up to 1600 degrees.
Fireclay sinks tend to cost around £140 to £1090.
Similar to cast iron sinks, fireclay is a non-porous material which is highly resistant to acids, alkalis and scratches.
It is also much more hard-wearing than other sink materials as it is hardened under extremely hot conditions.
Due to its extensive hardness and durability, you need to be extra careful when washing the dishes as dropping them could lead to them breaking.
You may also have to pay extra during installation to ensure that the weight of the sink is held up by durable support.
Copper Kitchen Sink Cost
Copper sinks are one of the most unique choices available which also offer extensive durability due to it being made in exceedingly hot temperatures. You should expect to pay around £270 to £1700 for a copper kitchen sink.
The main advantage of choosing a copper sink is that the material is antimicrobial, which means it prevents microorganisms from growing, which makes it one of the most hygienic kitchen sinks. They are also highly resistant to rust and corrosion.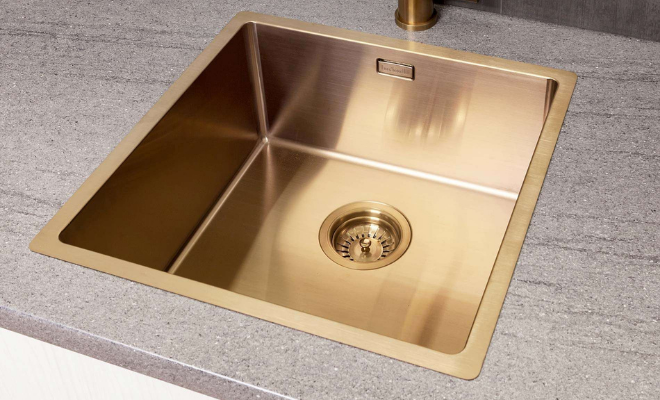 In comparison to other sink materials, it is more high maintenance as it needs to be cleaned regularly to avoid staining. It is also extremely sensitive to excessive heat and abrasive cleaning agents which can cause the copper to discolour.
Single Basin Kitchen Sink Cost
A single basin sink is one of the most popular options for the majority of kitchens due to its simple design with no dividers.
Single basins usually cost around £30 to £180.
The main benefit of single-bowl sinks is that they are ideal for smaller kitchens which have limited counter space.
They also have a lot more room for washing dishes, unlike double basins which tend to have two smaller sections.
If you just have a sink without a dishwasher, then a single basin does make it a lot harder to clean your dishes as they will all be packed in one space.
Double Basin Kitchen Sink Cost
A double basin features two bowls in one compact unit, which can be the same size, although some models have one section larger than the other.
Double-bowl sinks tend to cost around £150 to £2300.
Double basins are ideal for homeowners who tend to cook a lot as they can use one side for dirty dishes and the other for food prep.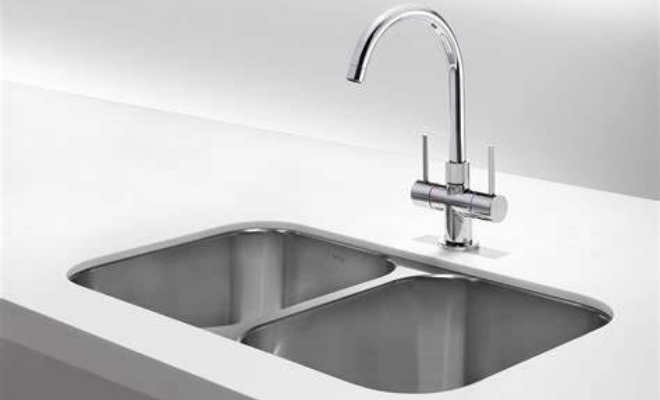 This way, you are not mixing dirty water with fresh food and creating a more hygienic kitchen space.
The downside of opting for a double-bowl sink is that it tends to take up a significant amount of under-counter space which can be used to store all your cooking or cleaning equipment.
It also provides less space for washing up large items such as pans due to the divider getting in the way.
Do I Need to Replace My Kitchen Sink?
You may want to consider replacing your kitchen sink if you notice that your sink is constantly leaking or has significant surface damage such as a chipped basin.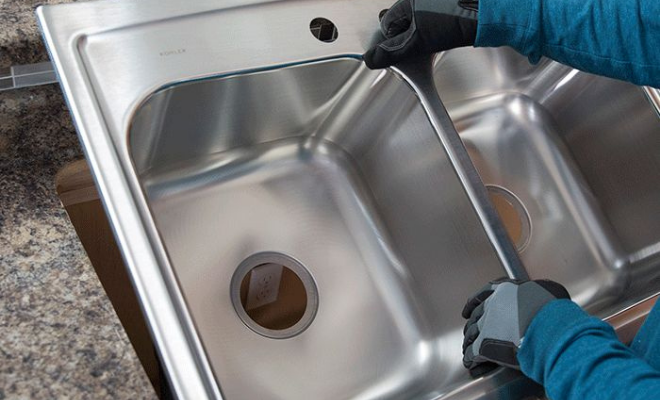 You may also need to get rid of your old sink if it is outdated and wastes water, and you are constantly having it repaired for clogging or leaks, which is a clear sign that your sink is nearing the end of its lifespan.
Cost of Removing a Kitchen Sink
If your old sink is leaking or visibly damaged then you will need to have it replaced, however, before doing this you should consider hiring a professional plumber to remove your existing sink first and price kitchen sink installations.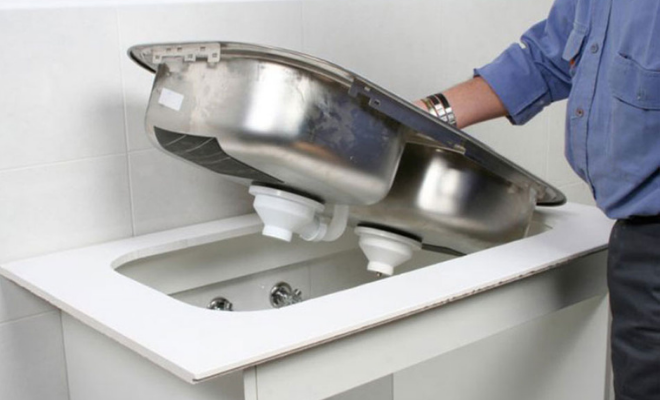 Plumbers tend to charge around £50 to £60 per hour for sink removal, which may include disposal.
If this is not included in the price, then you may need to hire a waste removal company which costs around £100 to £290 depending on the size of the sink.
FAQs
How to Find & Hire a Kitchen Sink Installer
To ensure that your kitchen sink is installed properly, you should consider hiring a professional plumber or kitchen sink installer who both charge around £75 to £150.
Before hiring someone to complete the job, you should double-check the tradesman's qualifications which should include a Level 3 NVQ in domestic plumbing and heating.
You should also enquire about their experience, as you should only hire someone who has replaced a kitchen sink previously and has at least three years of plumbing practice.
For complete reassurance, you may want to hire a plumber who is listed under the government's competent persons scheme.
Many plumbers are also accredited by becoming members of the Chartered Institute of Plumbing and Heating Engineering (CIPHE) or The Association of Plumbing and Heating Contractors (APHC).
Sources
https://www.homebeautiful.com.au/the-pros-and-cons-of-a-ceramic-kitchen-sink
https://handyrubbish.co.uk/prices/
https://www.pipewrenchplumbing.com/blog/2018/may/when-should-i-replace-my-kitchen-sink-/
https://www.ahs.com/home-matters/repair-maintenance/how-to-unclog-your-kitchen-sink-drain/