How Much Does Painting Kitchen Cupboards Cost?
As a general rule, painting contractors will either measure the paintable surface areas and give a cost based on the surface areas, or a fixed fee per cupboard.
Depending on the number of kitchen cupboards you want to paint, prices can vary greatly.
A small kitchen with only a couple of cabinets may cost as little as £200 to have painted professionally, whereas a large kitchen with many cupboards in various sizes could cost up to £550 or more.
One of the most significant factors when pricing the cost of painting kitchen cupboards is whether it is undertaken as a DIY task or if you hire a professional; doing it yourself might be easier on your budget, but will require patience, preparation and time to complete properly.
Another factor that may affect your quote is the shape and location of your cupboard doors, how accessible they are and if any additional work such as filling need to be completed before they can be painted.
Painting kitchen cupboard prices
Below is a table to illustrate estimate painting kitchen cupboard costs, including labour and material charges.
The below prices assume the following kitchen sizes and corresponding cupboard numbers associated:
Small kitchen – 10m2 allowing for 8 units
Medium kitchen – 15m2 allowing for 12 units
Large kitchen – 20m2 allowing for 16 units
| KITCHEN SIZE | TIME TAKEN | AVERAGE COST |
| --- | --- | --- |
| Small | 1 – 2 days | £200 |
| Medium | 2 – 3 days | £350 |
| Large | 4 – 5 days | £550 |
Time taken assumes drying times in between layers of paint applied; your trader is likely to complete the work over several days to allow for adequate drying times.
Supply Costs
If you decide to undertake painting kitchen cabinets yourself, then it's a good idea to have an understanding of the sort of costs you may incur.
Below is a list of items that are required when choosing to paint your kitchen cupboards.
| MATERIAL | AVERAGE COST |
| --- | --- |
| Paintbrush with synthetic bristles | £4 - £10 |
| Small paint roller kit | £3 - £8 |
| Sandpaper | £5 - £15 |
| Paint | £4 - £20 per litre |
| Replacement handles (each, optional) | £2 - £9 |
| Masking tape | £3 - £10 |
| Sugar soap | £3 - £6 |
Additional Costs
If you are thinking about painting your kitchen cupboards, it probably means you think the kitchen could do with a bit of a revamp.
Below are some additional or alternative tasks to painting your kitchen cabinets that may be worth considering.
Replace Cupboard Doors
Rather than painting your existing cupboards, you may be tempted to replace your kitchen cupboards entirely.
Whilst the overall process is more costly, typically around £350 for a medium-sized kitchen.
Replacing the cupboard doors is not necessarily as time-consuming if you hire a professional to complete the work compared to painting, and will generate a completely new feel in your living space.
Fit a New Countertop
In addition to painting or replacing your cupboard doors, replacing kitchen worktops is a sure-fire way of giving your kitchen a drastic change in aesthetic.
Prices for new countertops will vary drastically according to the material you choose, with laminate at the more budget-friendly end of the scale and granite or quartz at the upper end.
Replacing countertops in a medium-sized L shaped kitchen with wooden counters will cost, on average, around £800 for materials and labour.
Replace Kitchen Flooring
Much like your kitchen cupboards, flooring can become worn over time and begin to look unsightly.
Replacing your kitchen flooring is a great way to give your room an aesthetic boost, in particular when it is replaced to compliment your newly painted cupboards.
Depending on the material chosen, costs range from around £20 - £70 per m2.
Replace Your Existing Kitchen With a New One
Depending on the size and condition of your current kitchen, it may be worth considering replacing it as a hole with a brand new kitchen and layout.
Typically, a new kitchen will cost from £4,000 for a small, budget kitchen.
A high-range kitchen could cost you closer to £10,000 or more though depending on the size you choose.
Cost Breakdown Calculator
The average cost of painting kitchen cupboards in a medium-sized kitchen: £350
Labour Costs and Time Frames
The cost of labour will vary greatly depending on whether you use an independent decorator compared to one associated with a firm, as well as their individual experience and knowledge.
As a rough indication, you can expect labour charges to be in the region of around £100-£150 a day, though depending on the scale of your project you may be able to negotiate this charge.
Timescales will depend on the number of units that require painting as well as the size and finish required.
Typically, you can expect a small kitchen to have the doors painted and replaced over three days, with larger projects taking up to 5 or 6 days to complete, allowing for drying times and rehanging.
Site accessibility will play a role in this too though; if you have less space for the work to be completed in the project timescales may need to be extended, and you will be charged accordingly.
How to Paint Kitchen Cupboards
Below is a step by step guide to painting kitchen cupboards. The process is essentially the same whether you choose to complete the work yourself or hire a professional to paint your cupboards for you.
Preparation
Before you can begin painting your cabinets its recommended that you remove the doors; this will make it easier to ensure a smooth paint job with minimal risk of dripping and will give you easier access to all surfaces that need painting.
Using a pencil, you should number the interior of your door and the corresponding placement so that, once painted, you can easily identify their original position.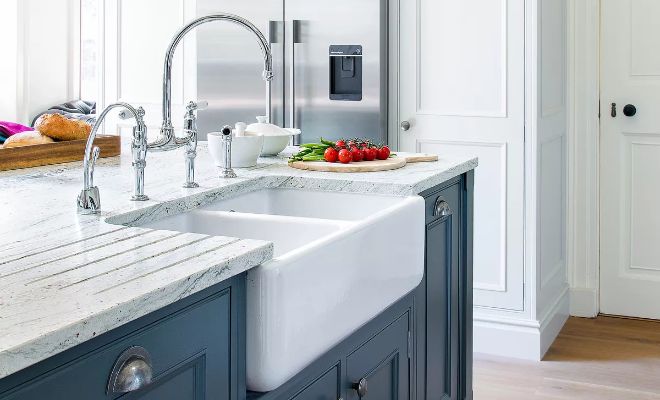 If for whatever reason, the doors cannot be removed, then the hinges will need to be masked off to ensure that they are not accidentally painted as this can affect their functionality. Cabinet and cupboard handles should also be removed to avoid accidentally tarnishing them.
You should thoroughly clean the doors using a sugar soap mix and cloth to remove grease and grime, which will enable better paint adhesion.
Once the doors have been cleaned, you may want to use sandpaper to lightly scuff the surface of doors so that the paint has a better surface to stick to; this is recommended for wooden doors and not laminate doors.
Make sure to wipe debris from the door if you do this before painting.
Painting
Lay your doors flat, preferably on a raised surface so that the door edges are exposed.
Using a small brush, apply the chosen paint to any crevices in your door design. Use a small roller to apply paint to the rest of the surfaces, making sure to apply even pressure.
Allow to dry, then add a second coat using the same method.
If you are painting your cupboard carcasses as well, make sure they are also cleaned adequately before applying paint in a similar manner.
Depending on the type of paint chosen, you may also want to opt for an additional layer of clear lacquer or sealant to ensure longevity of the finished appearance.
Rehang the Doors
Once the doors and carcasses are thoroughly dried, the doors can be rehung on the cupboards and the handles refixed into place.
Cost Affecting Factors of Painting Kitchen Cupboards
As with most home improvement projects, there are several factors that can influence the overall cost of the work being undertaken.
Below is a list of common factors that you may encounter that could affect your job quote:
Number of Cupboards Painted
The number of kitchen cupboards that you have that require painting will obviously affect the overall cost of work; with more cupboards requiring more time and materials to paint and reassemble than fewer cabinets.
Because you will usually require a minimum of two coats of paint on your cupboard doors, your decorator will need to complete the work over two days; so it may be worth considering whether any other painting work needs completing at your property at the same time and whether it would be more cost-effective to have all the work completed at once.
Size of the Kitchen Cupboards
The dimensions of your cupboard doors will play a role in the costing of the work; similar to the number of cupboards, larger cupboards will require more work and time to paint correctly, and this will be factored into your quote.
Type of Paint or Finish Chosen
Paint costs vary significantly according to brand and finish, and this will need to be factored in when choosing which sort you would like to use on your kitchen cupboards.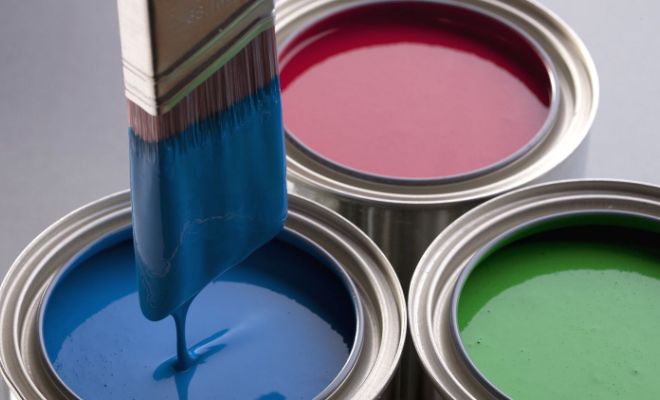 Whilst it may be tempting to complete the work as cheaply as possible, you will want to counter balance this with paint suitability, durability and expected appearance. You will also have to consider whether you wish to protect the paint with a clear lacquer.
Choosing to Paint Cupboard Frames and Baseboards
In addition to painting your cupboards, consider whether you also want the frames and baseboards covering to blend in with the rest of the kitchen, or contrast for a dramatic visual effect. Baseboard painting is usually charged at around £15-£25 per metre.
Painting the Internal Cupboard Space
Typically when discussing painting kitchen cupboards, people are usually referring to painting the exteriors only.
You might want to consider also painting your cupboard carcasses though; This is particularly true if you have glass-front cupboards that allow you to see into the space. Adding colour to the internal space of exposed cupboards can help you achieve a clean and refreshed feel in your kitchen.
Property Location
Your geographical location will play a role in the cost of having work completed by a professional.
Work is typically more expensive to have completed in London and the surrounding areas than it is in the rest of the UK.
Rural properties may also see some pricing inflation of their property is further afield than their chosen contractors usual area of work and will likely be charged an additional cost to cover mileage and additional time taken to travel to and from the site.
Ease of Access
Accessibility to the kitchen units and access to a viable space to paint the cupboard doors is essential.
Work will be harder to complete if there is not much room to manoeuvre, and space will be required to rest the doors whilst the paint dries.
If work is impeded due to access issues, the work will take longer to complete, and you will be charged accordingly.
DIY Painting Kitchen Cupboards
Kitchen cupboard painting is a great DIY project as it is relatively straight forward and easy to complete; requiring time and patience above all else.
To complete the work yourself, you would follow the exact same steps as those outlined in the 'how to paint' section of the article.
Keep in mind that this sort of project takes time to complete; you have to make sure your paint is completely dry before applying the next layer, or you risk damaging the layer of paint below, and you may have to strip the paint altogether and begin again.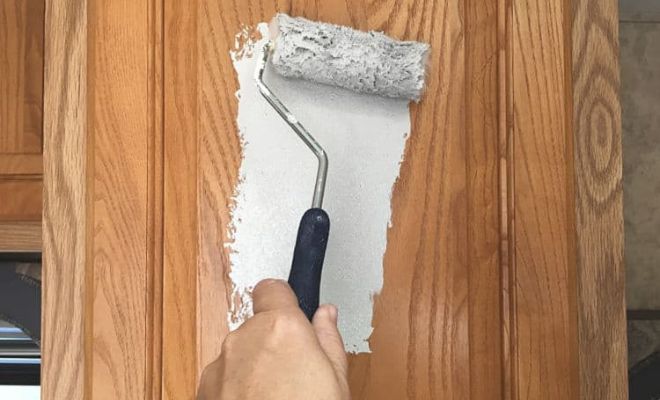 You will also want to make sure you have adequate space to lay your doors whilst they are drying.
Due to the fumes that paint omits, you will need to take adequate measures to ensure the room is adequately ventilated for your own health and safety.
You should also make sure that your surfaces are protected in case of paint splashing.
Choosing Paint
There are different kinds of paints available on the market that can be used to paint kitchen cupboards.
Below is a list of the most popular types typically chosen.
Gloss Paint Cost
Gloss paints are typically used when you want to reflect a lot of the rooms light back into the room.
Pros
✔ High durability
✔ Easily cleaned
✔ Reflects light well
Cons
✖ Shows imperfections
✖ Difficult to apply
Semi-Gloss Paint Cost
Semi-gloss paint is a medium between high-gloss and matt that exhibits characteristics of both.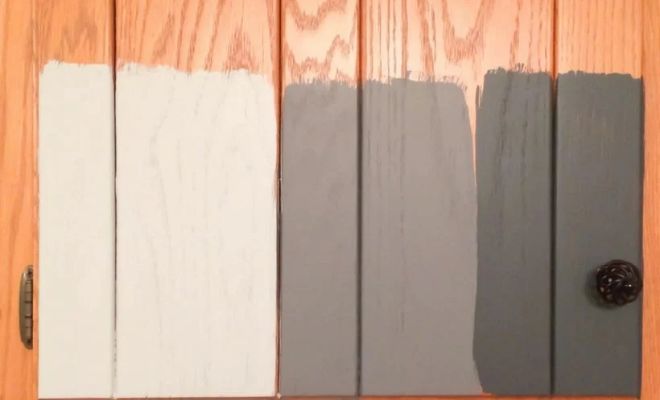 Pros
✔ Easily cleaned
✔ High durability
✔ Better at hiding imperfections than gloss
Cons
✖ Will still show some imperfections
Eggshell Paint Cost
Typically used on walls in high-traffic areas, eggshell paint can be used to paint cupboard doors providing care is taken to seal it if necessary.
Pros
✔ Available in a multitude of colours
✔ Washable
✔ Covers imperfections well
Cons
✖ Less durable than gloss and semi-gloss
✖ May require additional sealing
Chalk Paint Cost
Chalk paint has been gaining in popularity as matt-finishes often look professional and clean.
Pros
✔ Dries quickly
✔ Requires fewer layers as the paint is thick in consistency
✔ Will hide wood grains and imperfections beneath
Cons
✖ May leave brush marks
✖ May become tarnished easily
✖ Not easily cleaned of grease
✖ Does not reflect light well
Do my Kitchen Cupboards Need Painting?
Sometimes it may be hard to decide whether your kitchen needs updating and if your cupboards need repainting, as we often grow accustomed to our environments.
If you're unsure whether your cabinets need painting, you should look at their condition and assess them.
Some signs that it might be time to fix up your kitchen cupboards include:
Scratches
Scratches can be unsightly and are usually caused by a sharp item grazing the surface.
Over time, scratches can become more noticeable as dirt and grime tend to accumulate in them and can before difficult to clean out properly.
Marks and Staining
Kitchens often see a lot of action, so, unsurprisingly, your cupboards may become marked or stained over time.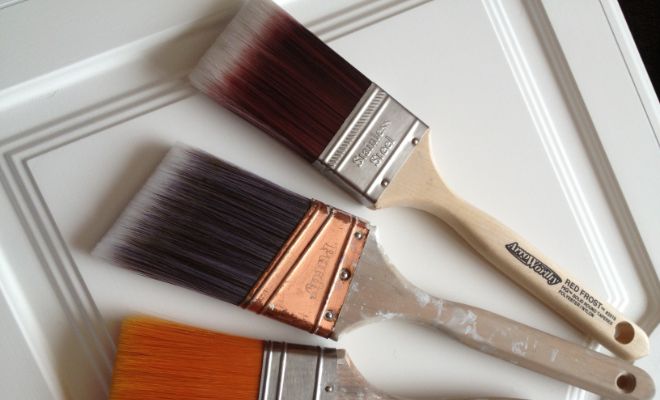 Common kitchen cupboard mark causes include oil and grease, but can also be caused by aggressive cleaning.
Chips
Similar to scratches in their cause, chips tend to occur in localised areas but can become bigger and more noticeable over time where the door covering materials have been damaged.
Paint Peeling
If you notice that paint on your kitchen cupboards has started to peel, it can be difficult to stop it from spreading; you will likely need to strip the paint from the door and apply a fresh new layer – Painting over the peeled areas will leave an indent and will look unsightly.
Discolouration
Discolouration is likely to occur when the wrong finish has been applied to the doors for the environment they are in.
Lacquered finishes are most known for this and discolouration varies from clouding to fading, to dark and mildewy appearances where moisture has penetrated the surface and is damaging the material underneath.
Removing Kitchen Cupboard Cost
In the event that you want to remove your kitchen cupboards altogether, for example, if you opt to have a new kitchen fitted, you can expect a firm to charge in the region of £100-£300 to remove cupboards and carcasses.
Alternatively, you could opt to remove your kitchen cupboards yourself – Just make sure you have taken adequate safety precautions and have some knowledge of how it should be done to avoid accidents or damage to your property.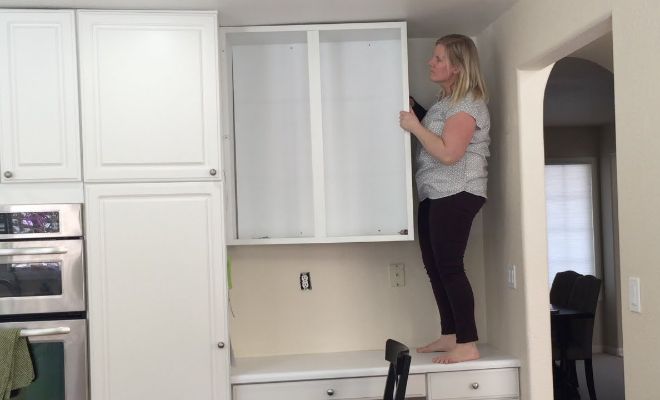 If you are having a new kitchen fitted by a company or firm, you may be able to have the old cupboards removed at a lower cost if it is included in their work contract.
Providing the cupboards are removed with minimal damage; it may be possible to sell them on and gain back some of the cost of having them removed.
Alternatively, you can dispose of old kitchen cabinets at your local recycling centre.
FAQs
How to Find & Hire a Contractor to Paint Kitchen Cupboards
When looking to hire a professional to complete work on your behalf, there are a few things you need to be mindful of.
Firstly, you should get no less than three quotes regarding the work you want undertaking; this will allow you to assess different sources and their pricings to ensure you are getting the best deal for your money in relation to the quality of work.
You can get three free quotes here from trusted, local and reliable sources.
You should also enquire as to whether your tradesperson holds public liability insurance; this will help give you peace of mind that in the event of an accident or damage to your property the cost can be recovered and you won't be left to foot the bill.
Ideally, your chosen contractor will have a portfolio available of their complete work for you to examine which will help you gain some understanding of the quality of their work.
If not, they may be able to supply references to previous clients who will be able to attest to their workmanship.
Sources
https://www.dulux.co.uk/en/expert-help/dr-dulux-how-paint-kitchen-cupboards
https://www.goodhousekeeping.com/home/renovation/tips/a31753/painting-cabinet-mistakes/
https://www.idealhome.co.uk/diy-and-decorating/how-to-paint-kitchen-cabinets-232194