How Much Are Replacement Kitchen Doors?
Let's get straight into it!
The average cost to replace ten kitchen cupboard doors for a regular-sized kitchen would normally cost around £200 to £3080 which includes material and labour prices.
What exactly does this kitchen cupboard door replacement price include?
This estimated cost normally includes the removal and disposal of the old cupboard doors and the fitting of the new cupboard doors and handles.
What type of kitchen cupboards are we reffering to?
There are a wide range of kitchen cupboard doors to choose from, although the most popular options include metal, glass and wood kitchen cabinet doors.
The price of the actual cupboard doors themselves can vary greatly depending on size, quality, finish and style.
Carry on reading for a more detailed breakdown of kitchen cupboard door replacement prices.
Below is a cost breakdown of hiring a tradesperson to replace kitchen cupboard doors in various-sized kitchens:
Kitchen Door Replacement Prices
| Material | Small (10 doors) | Medium (15 doors) | Large (20 doors) |
| --- | --- | --- | --- |
| Metal | £210 - £820 | £315 - £1290 | £660 - £1880 |
| Glass | £300 - £920 | £510 - £1440 | £840 - £2080 |
| Wood | £200 - £1420 | £360 - £2190 | £640 - £3080 |
Supply Costs
If you wish to replace your own kitchen cupboard doors, then you should take a look at the following kitchen cupboard door supply costs, which will help you figure out your DIY budget.
| Door Material | Avg. Cost |
| --- | --- |
| Metal | £9 to £70 |
| Glass | £18 - £80 |
| Wood | £8 - £130 |
The below table sets out the prices for different kitchen door handles:
| Door Handle Material | Avg. Cost |
| --- | --- |
| Steel | £1.80 - £2.30 |
| Aluminium | £2 - £11 |
| Nickel | £2.50 - £5 |
Additional Costs
Replacing kitchen cupboards is fairly small job, so why not kill two birds with one stone and pay for some extra jobs?
As you are already updating part of your kitchen, you may want to consider replacing kitchen flooring, worktops or you could even invest ub a brand new kitchen suite.
How much will these additional jobs cost?
The following table sets out the costs of some popular additional jobs:
| Job Description | Avg. Cost |
| --- | --- |
| Kitchen flooring | £20 to £70 per m2 |
| Kitchen worktops | £20 to £400 per m2 |
| Kitchen backsplash tiles | £20 to £50 per m2 |
| New kitchen sink | £100 to £300 |
| New kitchen suite | £4000 - £20,000 |
Cost Breakdown
Individual costs for supplying and fitting 15 low-end wood cupboard doors. Total Cost: £360
Labour Costs and Timeframes
Now, let's take a look at the labour costs and how long it takes to replace kitchen cupboard doors.
Did you know...
Labour takes up a big chunk of the overall price of replacing kitchen cupboards.
For a small kitchen with 10 doors, you should expect to pay around £120 for half a day's work.
A medium kitchen with 15 cupboard doors normally takes about a day to complete and costs around £240.
Large kitchens that have 20 doors will take approximately two days to replace, with a labour price of £480.
What are these labour prices based on?
These estimated tradesperson costs are based on the national kitchen fitter hourly rate of £30.
Keep in mind...
The installation cost will typically vary depending on the complexity of the job, where you live in the UK, and if there any access issues.
What Does Replacing Kitchen Cupboard Doors Entail?
To get a better understanding of what replacing kitchen cupboard door involves, take a look at our step by step guide.
Removing the Old Doors
The first step involves removing the existing cupboard doors and assess the condition of the units to ensure they are worth keeping.
Once this has been determined, the tradesperson will then remove the cupboard doors by unscrewing the hinges, while leaving the screw platess attached to the kitchen units.
What will happen to the old kitchen cupboard doors?
The kitchen cupboard fitter may opt to throw out the hinges if they are bad condition or reuse them for the new doors.
Preparing the New Kitchen Cupboard Doors
Before the doors can be attached to the kitchen units, the tradesperson will check that the hinge holes are in the right place. If not, they may need to drill new holes to ensure the cabinet doors are fitted correctly.
If the old hinges are being used, then they can be attached to the new doors along with the same screws.
Keep in mind...
If the hinges or screws are damaged anyway, the kitchen fitter will need to install new ones at this point.
Installing the New Kitchen Cupboard Doors
Once the hinges are in place, the tradesperson will then hold up each door to the hinge plates on the kitchen unit and attach it to the top hinge using a large centre screw.
The second screw can then be used to adjust the door once it is in place.
This process should then be repeated for the bottom hinge.
Attaching the Handles
The final step involves adding the kitchen handles. Some doors may come with pre-drilled holes which makes installation much easier. If not, a hole will need to be made.
How do you avoid damage to the kitchen doors?
To avoid damaging your new kitchen doors, a wooden block should be placed behind the hole and secured in place with a clamp while the drilling ocurs. This will prevent any splitting or tearing.
Once the hole is ready, the kitchen door handles will then be attached.
DIY Kitchen Cupboard Door Installation
Wondering if you can replace kitchen cupboards doors yourself?
DIY kitchen cupboard door replacement is possible but it can be difficult to install the new doors and get them to fit/hang correctly without making a pig's ear of it!
For a decent DIY job you will need some joinery experience, a lot of patience and good measuring skills!
Most people with decent DIY skills can change cabinet doors and drawer fronts by themselves as long as they take their time.
Hiring a tradesperson is a much better option, if you don't feel confident enough to replace your kitchen cupboard doors.
If you feel you can't do this by yourself, simply get in touch with a local kitchen fitter or joiner as it will be just one or two day's work for them with the right tools.
Choosing Kitchen Cupboard Doors
Can't decide on the right kitchen cupboard doors?
To help you decide, here are some popular kitchen cupboard door options:
Metal Kitchen Cupboard Doors
Metal kitchen cabinet doors are normally made from stainless steel or aluminium which is attached to furniture-grade particleboard.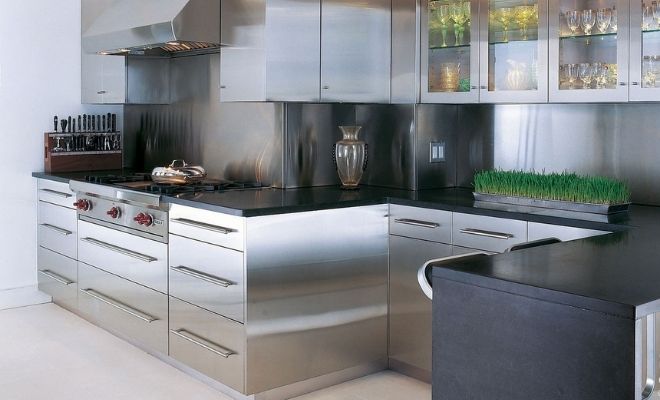 The supply cost of metal kitchen doors is around £9 to £70 per door. These types of doors are available in shiny and brush metal materials which create an industrial and contemporary feel.
Pros
✔ Sturdy materials
✔ Rust and stain-resistant
✔ Protected against heat and humidity damage
✔ Can be used as a display
Cons
✖ They can be easily scratched
✖ Show fingersprints easily
✖ Prone to denting
Glass Kitchen Cupboard Doors
Glass front kitchen cupboard doors are a popular staple in modern kitchens which help to create a spacious and contemporary space.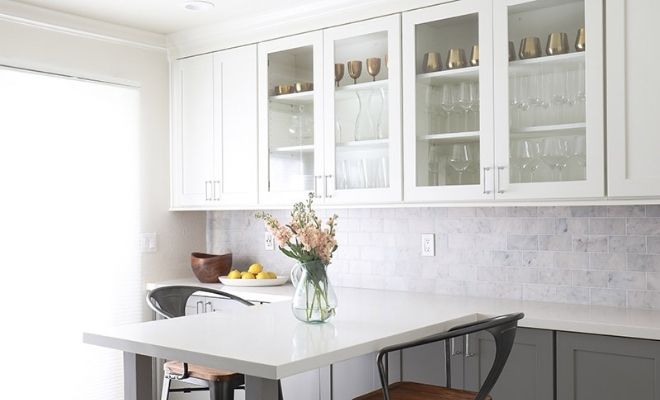 Glass kitchen cupboard doors typically cost around £18 to £80 per cabinet door. This will, of course, vary depending on the size as well as the design your opt for.
Pros
✔ Opens up the space
✔ Adds a luxurious feel
✔ Creates a contemporary style
✔ Can be used as a display
Cons
✖ Clutter is visible
✖ More fragile than other materials
✖ Marks show up easily
Wood Kitchen Cupboard Doors
Wooden kitchen cupboards are a popular choice for many homeonwers, as they are avavialble in a wide range of styles, colours and finishes.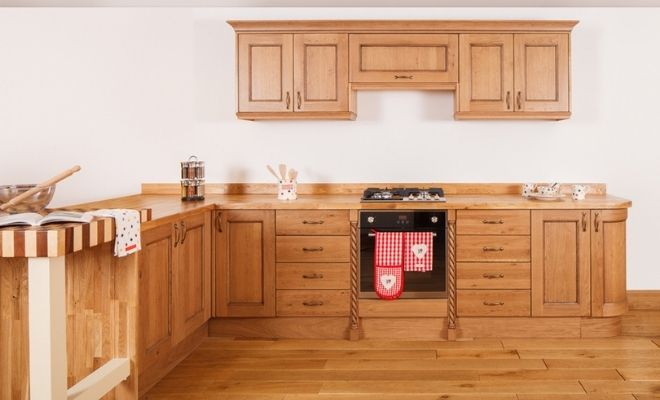 Wood kitchen cabinet doors tend to cost around £8 to £130 per door, depending on the type of wood you opt for, as well as the size and finish you choose.
Pros
✔ Extremely durable
✔ Easy to repair
✔ Customisable options
✔ Can be painted or stained
Cons
✖ Expensive installation
✖ Custom-built cabinet doors take longer to create
✖ Prone to exanding, contracting and warping
✖ Difficult to clean
Kitchen Cupboard Door Repairs
If your kitchen cupboard doors only have minor damage, you may just want to consider kitchen cupboard door repairs instead of a full replacement.
What's the cost?
The cost of professional kitchen cupboard door repairs will depend on the individual tradesperson or company you hire. However, you should expect to pay an hourly rate ranging from £20 to £40.
Common kitchen cabinet door repairs include:
Broken Kitchen Door Handles
Are your kitchen door handles loose?
If this is the case, you can either hire a professional kitchen fitter to fix them or do it yourself.
This is a fairly simple DIY task, as it simply involves tighetening the hinges on the kitchen cupboard door in order to secure the handles.
If the handles are completely broken, then you may need to consider replacing them with brand new handles.
For new kitchen door handles, you should expect to pay anywhere from £1.80 to £11 per handle.
Chipped Kitchen Cabinet Doors
What should you do if your kitchen doors are chipped?
Kitchen cupboard doors can be damaged easily and some materials are prone to chipping.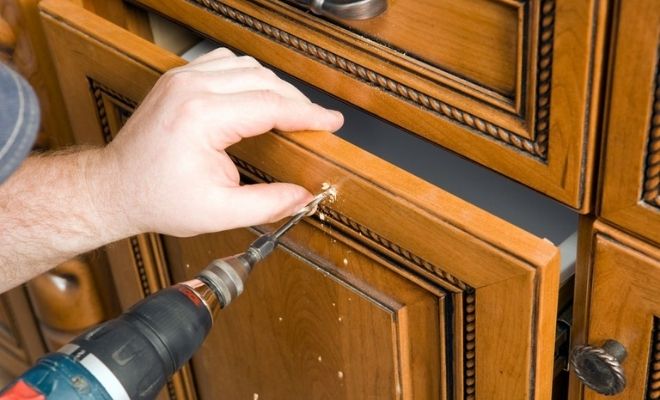 Chipped kitchen cupboard doors can be repaired by a professional kitchen fitter. This involves applying new paint or lacquer over the damage area to restore the door.
Cost of Removing Kitchen Cabinet Doors
Are your kitchen cupboard doors beyond repair?
If your kitchen cupboard doors are significantly damaged, then you will need to have the old doors removed before they can be replaced.
The cost of removal will normally be included in the price.
However...
You may have to consider waste removal costs, such as skip hire which normally ranges from £140 to £300 depending on the size of the skip and how many doors you have.
FAQs
How to Find & Hire a Kitchen Cupboard Door Installer
Hiring a professional to remove and replace your kitchen cupboard doors offers complete reassurance that the job will be completely correctly. It will also reduce the amount of time spent on the job, as a professional kitchen fitter can replace kitchen doors in less than one day.
When hiring someone for the job, you should consider the following checklist:
Check they have appropriate qualificiations which should include a level 1 or 2 Diploma in joinery, carpentry, and plumbing.
See if they at least 5 years of experience of kitchen fitting You should also try to hire.
Ask if they have insurance. At the very least, they should have public liability insurance which will protect them against any accidents or damage
As for references from previous jobd to ensure they are reliable.
Sources
https://www.ikea.com/gb/en/cat/metod-kitchen-doors-23613/
https://www.elledecor.com/home-remodeling-renovating/home-renovation/advice/a1658/how-to-choose-the-best-kitchen-cabinets-tips/
https://www.diy-extra.co.uk/replacing-kitchen-cupboard-doors.html
https://www.yellowpages.ca/tips/the-pros-and-cons-of-wooden-kitchen-cabinets
https://www.sinaarchitecturaldesign.com/2020/07/pros-and-cons-of-glass-front-kitchen-cabinets