How Much to Fit an Outside Tap?
The cost of installing an outdoor tap has multiple factors; whether you purchase a tap installation kit or the components separately, whether your plumber provides materials or whether you are installing the tap yourself, and the complexity of the work required.
What other factors need to be considered?
Typically, for a professional to install an outdoor tap costs between £40-£60 in labour for a straight forward installation, though this can rise to around £200 for more complex work, or if you decide to have two separate taps installed at the same time.
Most plumbers will charge the same rate regardless of whether they are installing a hot or cold tap, as the process is near identical.
Installing Outside Tap Prices
As a general rule, the average, straightforward outdoor tap installation takes roughly 1 hour to complete, with many plumbers offering to supply materials alongside the installation.
| TAP TYPE | AVERAGE COST | DURATION |
| --- | --- | --- |
| Cold tap | £80 - £150 | 1 – 2 hours |
| Hot tap | £80 - £150 | 1 – 2 hours |
| Hot tap with thermostatic mixing valve | £100 - £170 | 1 – 2 hours |
| Separate hot and cold taps | £140 - £200 | 2 – 3 hours |
Supply Costs
In some instances, you may decide to source your own materials prior to your outdoor tap installation.
Supply costs vary according to retailer and quality of materials, but as a rough indication, you can expect the following costs:
| MATERIAL | SUPPLY COST |
| --- | --- |
| Bib tap | £15 - £30 |
| Standard tap | £5 - £20 |
| Thermostatic mixer valve | £20 - £50 |
| Backplate | £5 - £15 |
You may want to consider purchasing an outdoor tap kit from a trusted retailer, which can be cheaper than buying components individually, usually at the cost of between £20 - £35 – but make sure to do your research before purchasing and check that the kit is up to British Standards.
Additional Costs
When having a garden tap installed, it might be worth considering what other kinds of tasks can be completed at the same time to compliment your project.
Whilst the water is shut off; it might be a good time to check existing pipework for leaks and fix them.
If you're looking to utilise your outdoor space, now might be a good time to undergo some garden maintenance, such as hedge pruning and weeding – with prices starting from £20 an hour.
Artificial grass can bring life to a shaded garden without the frequent maintenance, with prices from as little as £10 per square metre.
If artificial grass isn't to your liking, laying garden turf may be more appropriate – especially as your new outdoor tap will make watering and lawn maintenance easier. Turf can cost as little as £3 per metre squared, and lawn treatments start at £15 per treatment for a 50m2 lawn area.
Fence maintenance and upgrades can add a new lease of life to any garden space, whether you just need freshening up with a fresh layer of paint to replacing damaged and worn fence panels. Prices can start from as little as £1 per linear foot.
Cost Breakdown Calculator
The cost to install an external cold water tap: £100
Labour Costs and Time Frames
As a general rule, most plumbers will be able to install an outside tap on your external wall adjoining to the kitchen within 1 – 2 hours, assuming it is a straight forward process, usually at the cost of around £40 – 60 per hour, or the equivalent of £80 – £120 in labour charges for a larger job, plus material at the cost of around £30 – £100 depending on location and accessibility.
The average cost quoted for a straightforward garden tap fit was £100.
Accessibility to the site can drive up costs, particularly if your plumber has to move furniture in order to access the tap site – so it's advised than any furniture (internal and external) or clutter are removed from the site and the stopcock located before the plumber's arrival.
The cost of having an outside tap installed is increased significantly when the tap cannot be directly connected to existing pipework through the external wall.
For example, if the sink is on a far wall or kitchen island – and will generally require more extensive work such as floor removal and replacement to accommodate for the new pipe, which will, of course, drive up the overall cost and may require multiple tradespeople.
What Does Installing an Outside Tap Entail?
Whether you're having a hot or a cold tap installed, the process is the same.
For the purpose of this article, assume a straight forward installation where the tap is being installed on an exterior wall behind your kitchen sink, which is the most common and easiest location to install a tap.
The desired location of your outdoor tap will be marked on the exterior wall, below the height of your kitchen worktops and usually within 1 meter of the pipe you wish to connect to.
The hole can now be drilled; it should be big enough to accommodate the copper pipework and adequate insulation.
Once the main hole is complete, the tap should be positioned over the hole and marked where the connecting screws are going to be placed.
The tap is then removed and the holes drilled.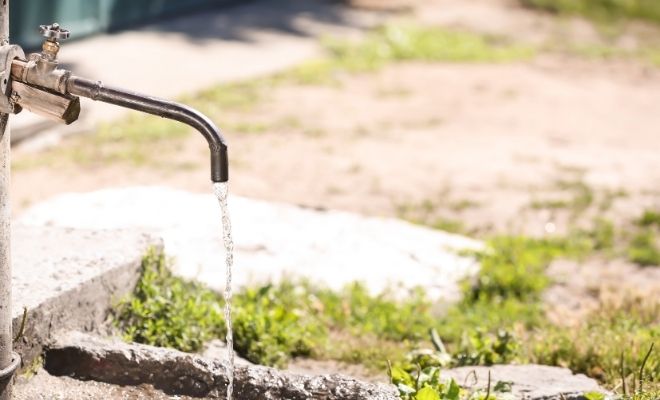 The copper piping can then be connected to the flange of the tap, ensuring the joint is tight and that PTFE tape has been applied for a snug fit.
The copper pipe can then be fed into the wall and the flange secured to the external wall, ensuring the tap is in a downwards position.
A stainless-steel flexible hose can be used as your water transportation method, or solid pipework can be used; this will depend on factors such as space availability, preference and location of the water source – your plumber will advise you which is best to use in your circumstances.
If a flexible hose is used:
The protruding copper pipe will be connected to the hose valve and secured.
Next, a saddle valve will be connected to the desired water pipe; this will create a puncture that will allow water flow to the external tap.
Once checked and secured, the remaining end of the hose can be connected to the valve.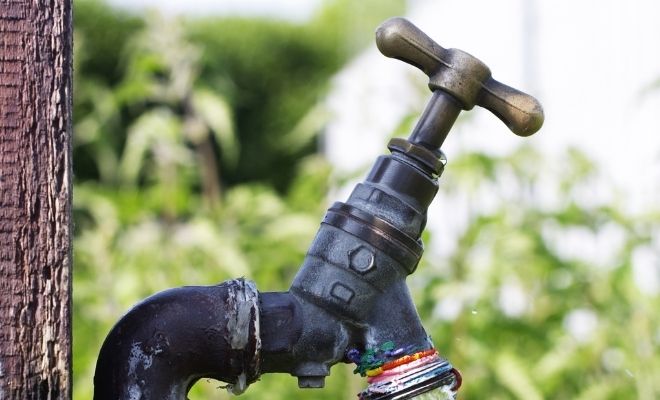 If solid pipe is used:
Your existing internal pipework will likely need to be cut and a T joint added to allow water to the external tap.
The T-joint will likely be made of brass and may be soldered into place, or may be part of a clip fitting.
The isolation valve usually sits just above the join, and you may have a drain off point installed as well to help prevent frozen water from expanding and damaging your pipes in the colder months.
Once all pipework has been secured into place, the water supply can be turned back off, and the tap should be tested to ensure it is correctly fitted and that there are no leaks within the system.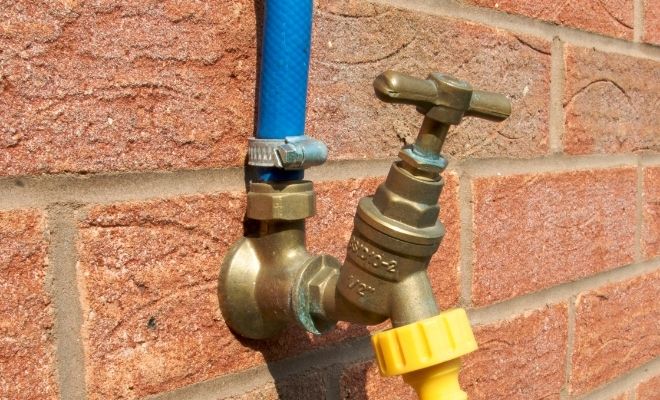 Cost Affecting Factors of Installing an Outside Tap
There are a couple of factors that can affect the cost of installing an outdoor tap that you will need to consider, as they may influence your budget.
Whether you are having a hot or a cold tap installed, the cost will be the same – however, hot water taps are not temperature-controlled and will require an additional thermostatic valve installed if you don't want to risk scalding. This is a particularly important consideration for homes with children present who may use the tap.
Thermostatic valves cost around £20 each.
Access to the site can influence the cost of installation; if your plumber arrives and needs to spend time moving object out of the way to access the tap installation location you will be charged for their time – You should always prepare the space for a hired tradesperson before their arrival when you can.
Your location can affect the cost of having a tap installed; if you are outside of a tradespersons' usual catchment area, for example, you are likely to be charged an excess mileage fee in addition to the installation cost.
You should keep in mind as well that your location within the UK can have an effect on the cost of your installation, with London and the surrounding areas typically costing more than the national average for work to be carried out.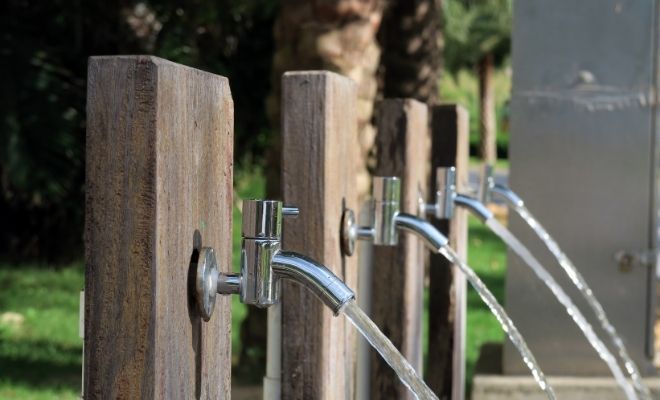 If you require a tap to be installed on a wall that is not directly behind your sink (which is the usual location for an external tap) you will inherently need more work to be carried out in order for the installation to take place, including more pipework being added, or in some cases, floors removed to accommodate the pipework (if, for example, your sink is located on a kitchen island) and reinstalled.
It's recommended that, where you suspect your installation will not be straight forward, you can request a visit from your plumber before agreeing to the work so that they can assess the layout and give an accurate quote for the work to be undertaken.
The materials of your home may also affect the cost of installation; drilling through a brick wall is an easier task than drilling through, for example, a granite wall and will take less time to complete.
The use of an outside tap kit can drastically reduce the overall cost of materials compared to individual purchase of materials, though some plumbers are wary of using such kits and prefer to complete the work themselves.
It's best to discuss the installation method that your plumber would recommend against the proposed cost of work.
Building Regulations for Outside Tap
When installing an outside tap on your property, there are building regulations that need to be observed:
You must make suitable provisions for backflow protection to avoid water contamination such as the installation of a non-return (check) valve
External taps must be suitably insulated to prevent freezing
The pipework and tap most be earthed to prevent it from becoming electrically unsafe
If you are using a tradesperson that is registered with a competent person scheme, you will not need to seek approval yourself, and in most cases, planning permission is not required when installing an outdoor tap.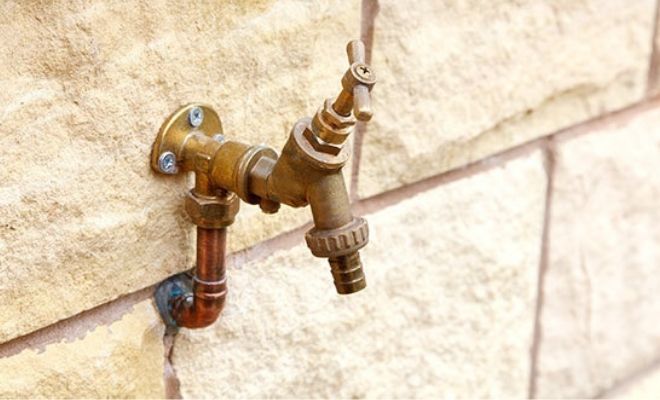 Providing the materials used have a CE mark they are compatible with UK standards and will not require external verification of their suitability for use.
For further information regarding building regulations and planning permissions for outdoor taps, and whether restrictions apply to your property, you can visit your local building authority website.
DIY Outside Tap
Many DIY enthusiasts are capable of installing an outdoor tap themselves, and there are kits available to make the process as streamlined as possible where straightforward installation is possible.
By completing the work yourself, you could save around £50 - £100, depending on labour charges in your area – with DIY kits costing from £20 upwards – making a great saving if you are comfortable undertaking the work yourself.
You will also need to ensure you have the right equipment for the job, including; safety goggles, a drill, an 18mm drill bit at a suitable length to go through the external wall, pencil, measuring tape, PTFE tape, an adjustable wrench and a suitable pipe cutter.
If you do decide to install an outdoor tap DIY, make sure you wear safety goggles whilst drilling to avoid dust and debris getting into your eye – and make sure you turn your water supply off at the stopcock before you connect your pipes to avoid accidental flooding whilst you're connecting the pipes.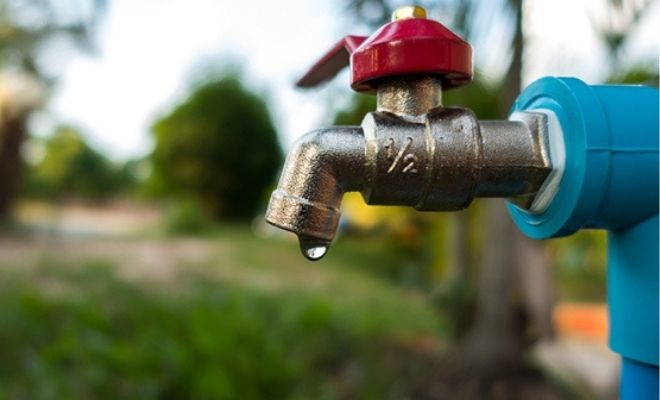 When installing your own tap, it is your responsibility to ensure that it conforms to building regulations; It is required to have a check valve installed to ensure water cannot run back into the system when the tap is not in use (to avoid water contamination) and that it is suitably insulated to protect the pipework, and therefore your home, in the colder months.
In cases where the tap installation is less straight forward, for example where water pipes are located at on the other side of the connecting room, it's recommended that you leave the work to the professionals; particularly where extensive work will need to be carried out unless you are confident in your ability to do so yourself.
Choosing an Outside Tap
There are two types of outdoor tap available on the market; a standard tap, which points out at a slight angle, and a bib tap, which faces directly downwards.
Each of these tap types can be used for either hot or cold-water usage, and the choice of which you prefer should be based on how you envisage the tap will be most used.
A bib tap is well suited for use where you are planning to fill containers directly underneath the outlet, and are usually installed directly above garden drains to help with the dispersal of overflow.
You may also wish to consider installing a bib tap if you have a permanent hose connection and wish for the materials to lay close to the wall.
Copper bib taps typically cost between £15 - £30 each.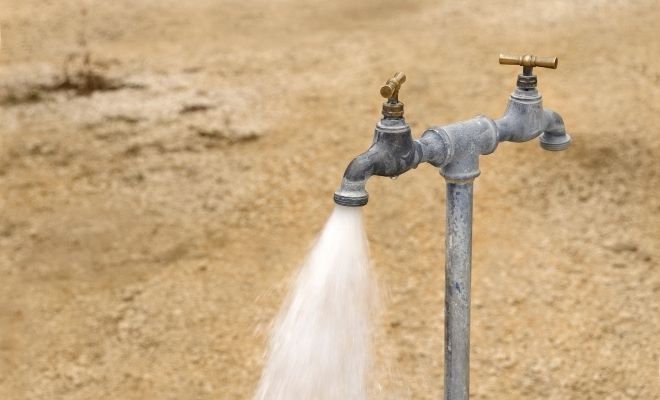 A standard tap, by comparison, is better suited for infrequent connections (such as a hose) where you have more space around the tap itself to manoeuvre materials and do not require the connecting equipment to be flush to the wall.
Standard copper outdoor taps can range in price from £5 for a cheap option, to around £20.
You should be sure no matter which type you use that it is connected to a check-valve, under building and water regulation, to avoid the risk of Legionella bacteria contaminating the water supply.
Removing an Outside Tap Cost
Sometimes it may be necessary to have an outdoor tap removed, for example, if it is faulty or you are planning a home extension covered the area where the tap is connected.
Whatever the reason, it should be a fairly straightforward task for your local plumber or building tradesman to complete.
Before any work can be undertaken, the water will need to be shut off from the location to avoid accidental flooding and potential property damage.
If a replacement is being made, then your plumber will simply have to remove and replace the external tap; this is done by gripping the adjustable spanner on the neck of the tap and twisting; there may be a need to use grips to hold the wall mount if the joint is particularly tight.
Once the tap has been removed the replacement tap will be connected to the existing pipework, once some PTFE has been applied to the thread to ensure a snug fit.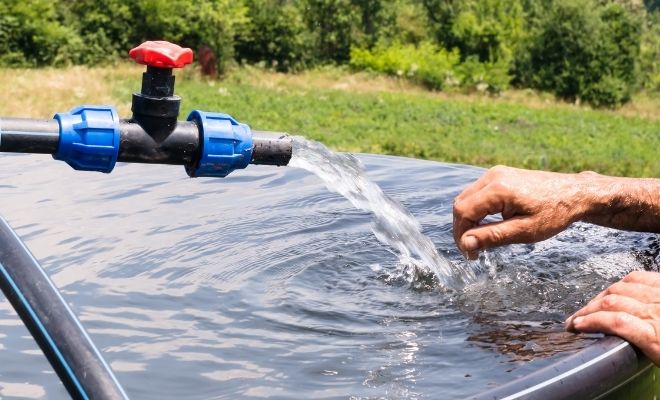 Typically, a replacement tap should cost in the region of £10 - £15 if you decide to undertake the work yourself, or a plumber may complete for the work you for as little as £30 - £50.
In the event that the external tap needs to be removed completely, the tap will be removed with the same process.
Internally, the pipework leading to the tap will need to be removed to ensure that no water remains in the system that could cause contamination.
The process should take less than an hour to complete, so a charge of around £40 – £60 should be expected for labour.
Your local recycling centre should accept any discarded pipework and tap fittings, or your plumber may offer to remove them from the site for free for you.
FAQs
How to Find & Hire an Outside Tap Installer
Fitting an outdoor tap is a relatively straightforward process that many plumbers should be equipped to handle with minimum stress and setback.
When choosing the right plumber for you, it's recommended that you get a minimum of three quotes for the proposed work, comparing plumber experience and portfolios if available.
It's also recommended that you talk to friends or neighbours that have had similar work done and ask whether they would recommend the tradesperson that they used to complete the work for you; they will most likely give honest opinion and feedback regarding the process and any issues they faced during the installation.
It's also recommended that you choose a plumber who is a member of a competent person scheme as they will be able to self-certify that their work is to the correct standard; hiring a professional also offers peace of mind to you as a customer because should a fault or damage to your property occur due to improper installation then they will be liable to correct the issue for you.
If you are unsure of which plumbers to contact regarding your work, you can get three free quotes here from trusted, reliable tradespeople in your area.
Sources
https://www.rightio.co.uk/advice-hub/consider-installing-garden-tap
https://www.waterworld.com/technologies/valves/article/16197251/understanding-check-valves-sizing-for-the-application-not-the-line-size