How Much Does a Wet Room Cost?
A wet room is currently one of the most sought-after types of bathroom in the UK and is both a popular option in premium new build properties and a common home improvement project on older properties.
Wet rooms are also no longer limited to ground floors, as new flooring technologies allow you to put a wet room anywhere in the home, even in a loft.
The actual cost of a wet room installation will vary depending on the fittings and the existing floor, but the average price of a wet room is typically between £2000 and £9000.
What does the overall cost depend on?
Prices vary depending on the size of the bathroom, with small wet room conversion costs starting at £2000 up to £7000 for a 3 square metre space.
The price of a wet room measuring 5 square metres is £2000 to £7500, and large wet rooms of more than 8 square metres start from £2500 up to £9000.
The average cost of a wet room is also determined by the quality and the furnishings.
For instance, a basic wet room with simple bathroom fixtures and tiling should cost £2000 to £4000. While a premium wet room with underfloor heating can cost anywhere up to £9000.
Wet rooms are usually designed with a level shower and a drain built into the floor in a contemporary, minimalist design.
Previously, having a wet room was really expensive as it was a pretty complex and labour-intensive process, but today, wet room installation kits mean a wet room can be created in just a few days, rather than weeks.
Wet Room Prices
Below are some estimated costs of installing a wet room for small (3m2), medium (5m2), large (8m2) bathrooms.
| SIZE | QUALITY | DURATION | AVG. COST |
| --- | --- | --- | --- |
| Small | Budget | 4 days | £2000 - £2500 |
| Medium | Budget | 5 days | £2000 - £3000 |
| Large | Budget | 6 days | £2500 - £4000 |
| Small | Average | 6 days | £3000 - £4500 |
| Medium | Average | 6 days | £4000 -£5000 |
| Large | Average | 7 days | £4000 - £6000 |
| Small | Luxury | 8 days | £5000 - £7000 |
| Medium | Luxury | 9 days | £6000 - £7500 |
| Large | Luxury | 10 days | £7000 - £9000 |
Supply Costs
If you want to save money, you could consider installing a wet room yourself, which would involve the following supply costs:
| DESCRIPTION | AVG. COST |
| --- | --- |
| Shower | £50 to £500 |
| Shower tray | £100 to £700 |
| Toilet | £50 to £500 |
| Sink | £50 to £250 |
| Tiles | £20 to £100 per m2 |
| Tanking kit | £65 to £300 |
Additional Costs
There are various other costs you need to consider when installing a wet room, including:
| DESCRIPTION | AVG. COST |
| --- | --- |
| New lighting | £25 to £125 per light |
| Bathroom mirrors | £140 to £400 |
| Underfloor heating | £60 to £100 per m2 |
| Extra plumbing work | £100 to £550 |
| Extra drainage work | £1000 to £8000 |
| Tanking slurry | £30 to £40 per m2 |
Cost Breakdown Calculator
The typical costs of a basic wet room installation with tiling - Total Cost: £5000
Labour Costs and Time Frames
The majority of plumbers and tilers charge around £150 to £250 per day for wet room labour costs with tiling, so a small wet room should cost around £1200 to £2400 for 4 days' work, while a large premium wet room with underfloor heating could cost up to £5000 for up to 10 days of labour.
As there are various jobs involved in a wet room installation, the time frames may vary.
For example, shower installation tends to take a full day and tiling usually take around 4 hours for a small wet room or up to 3 days for a large luxury installation, which includes the drying time of 24 hours.
While underfloor heating takes around 2 to 4 days to install.
Cost Affecting Factors of Installing a Wet Room
The majority of wet room installation costs will be for the materials required, this includes all tiling, shower fittings, sealants and any other products used to create the eventual wet room.
The costs can vary based on the size of the room.
For example, an average-sized bathroom of 5m2 can cost anywhere from £2000 to £7500, with prices also depending on the quality of the installation.
As cheap wet rooms tend to be priced at £2000 to £4000, while premium options cost up to £9000.
If your wet room needs to be waterproofed, then you may also have to pay for tanking slurry, which costs around £30 to £40 per square metre.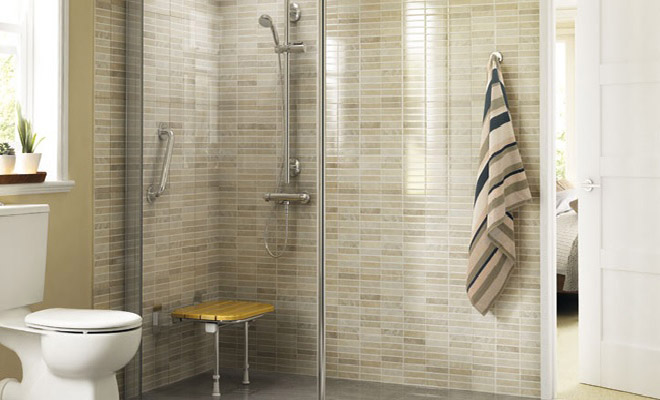 The price will depend on the individual tradesmen, as well as the difficulty of the job.
Another important cost factor is flooring, with tiling costing around £20 to £100 per m2 depending on the quality of the material.
Underfloor heating is also a common feature in premium wet rooms, with prices ranging from £60 to £100 per square metre.
The bathroom fixtures you choose will also determine the overall cost, with basic showers, sinks and toilets costing around £50, while a more luxury wet room fixtures cost up to £700.
What Does Installing a Wet Room Entail?
Having a wet room installed in your home involves the following steps:
Design and Plan the Wet Room
Before the installation begins, a professional will measure the area where you want your wet room installed.
Once they have the dimensions, they will then plan out where all of the fixtures will be placed.
Each area should then be marked out, starting with the shower tray and the waste hole.
Floor removal
The next step involves locating the flooring joists outside of the shower area to establish the point where the floor needs to be lifted up. A saw will then be used to lift up the floor.
Connecting the Shower Pipes
To construct the shower, a professional plumber will apply solvent weld adhesive to a drain connector before twisting the shower drain base onto the connector and the waste pipe.
They will then check that the pipes and drainage are working correctly by pouring water down the drain before checking for leaks.
Flooring Installation
Once the pipes are in place, the floor foundations can be installed. This involves covering any exposed pipes with timber battens and screwing them down.
The shower drain should then be measured against the flooring to ensure that it is exposed through the new flooring.
To ensure the shower fits properly, the wet room shower tray should also be lined up with the shower base. After checking the measurements, the floor should be laid down or painted and left to dry.
Positioning the Shower Fixtures
Once the floor has cured, the shower tray should be installed with adhesive, making sure it is level before sticking it down.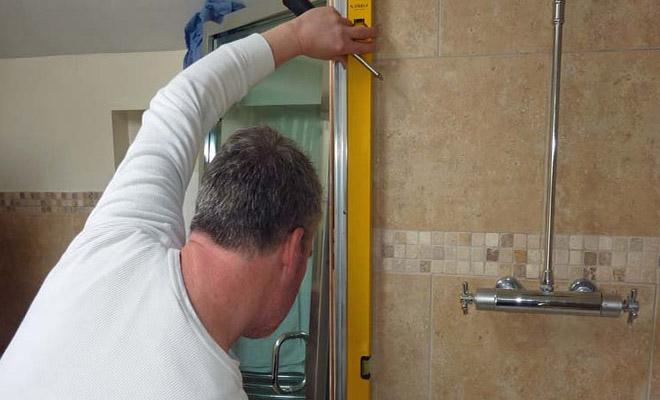 The internal bowl and internal dome can then be inserted into the shower drain. Silicone will then be used to secure the drain base to the shower tray.
Installing Waterproof Boards
To ensure your wet room is fully waterproof, your tradesman will apply adhesive to the floor, followed by installing the waterproof boards surrounding the shower area. These will be left to set for around 3 to 4 hours.
Fixing plates will then be installed over the joints of the waterproof boards, along with the waterproof internal corners, which should be screwed into the floor.
Floor Finishing
Once the floor has been waterproofed, a qualified tiler will then install your flooring, making sure that they cut along the lines of the shower base and install the tiles on the measured slope.
Inserting the Drain Top
After the floor is installed, the drain top should be eased into place, then any gaps surrounding the shower drain should be filled in with the same grout as the tiles.
A shower drain finishing grate will also be installed, and everything should be left for at least 24 hours.
DIY Wet Room Installation
Installing a wet room requires a lot of time, patience, and a good level of DIY skill along with all of the right materials.
Some experienced DIY enthusiasts can take on the job of installing a new wet room, whilst most others will hand over this project to the professionals. There are many reasons why taking on the job of fitting a wet room could be a good idea, the main one, of course, being to save money.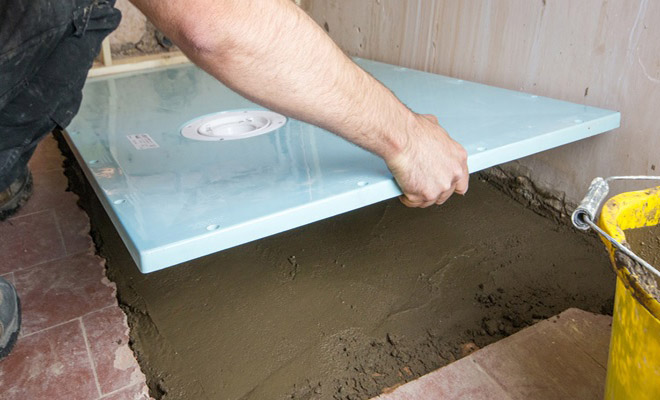 However, unless, you are experienced, then this can be a complex job, so to avoid costly mistakes, such as plumbing errors which cause leaks or pipe damage, you should bring in a professional who knows exactly what they are doing.
While you may not be able to install the entire wet room yourself, you could consider installing the flooring with the help of a fellow DIY enthusiast. To do this, you will need the following equipment:
| EQUIPMENT | AVG. COST |
| --- | --- |
| Circular saw | £40 - £80 |
| Electric drill | £25 - £90 |
| Trowel | £2 - £25 |
| Tape measure | £3 - £30 |
| Adhesive | £16 - £30 per tub |
| Grout | £4 - £20 per tub |
Planning Permission for a Wet Room
Planning permission is not required when installing a wet room except if you live in a listed building, which could require to make an application at the cost of £206.
Building Regulations for a Wet Room
If you are planning a wet room bathroom conversion, then you may not need to apply for building regulations approval.
However, if you are building an extension and plan on having a wet room installed, then you may need to obtain approval or hire someone who is listed under the competent person's scheme.
You will also need to ensure you meet the ventilation rules listed under Part F of the building regulations, which requires all rooms with a high level of condensation to have an efficient ventilation system which is energy efficient and has an appropriate air flow.
Ideally, this will involve installing an extractor fan outside of the wet room which should be connected to a light switch.
Lighting is also an important element, as under building regulations, the lighting in a bathroom should have an IP rating of 65.
To ensure that your light fixtures comply with building regulations, you should consider hiring an electrician who is a member of NICEIC, as they will be listed under the government's competent person's scheme, and will, therefore, adhere to building regulations.
Part P of the building regulations states that a wet room should not have mains voltage fitted inside the room and should instead be located outside. In addition, any electric or gas heaters should be located at a safe distance away from the shower area.
Another important part of the building regulations is drainage.
The regulations that foul water drainage systems must have a capacity large enough to accommodate the water flow from the shower. To achieve this, pipes should be adjusted to meet the requirements.
The rules also state that a water seal trap, or alternative, should be fitted at all points of discharge.
If you do not hire someone who is listed under the competent person's scheme, then you will need to apply for approval. The application cost will vary, as every local council charge their own individual fees.
Cost of Tanking a Wet Room
Tanking, also known as waterproofing, is the process of installing an extra layer between the flooring and walls located in your wet room.
If you do not have your wet room tanked, this could lead to issues such as tile damage, leaks, mould, damp, and water damage.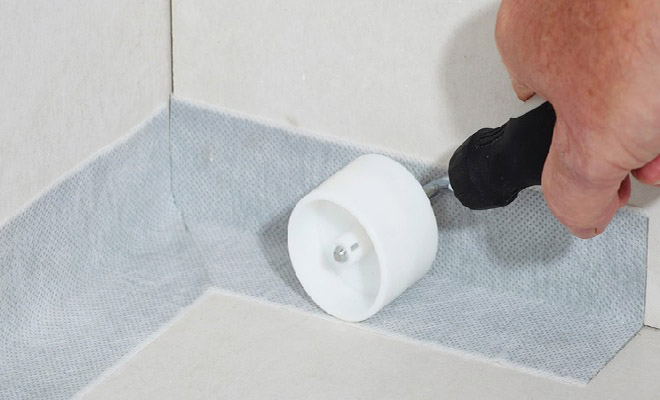 To ensure that your wet room is fully waterproofed, you may need to pay out for professional tanking, which tends to cost around £30 to £40 per square metre, or you can do it yourself by purchasing a tanking kit which ranges from £65 to £300.
To help you understand the tanking process, here is a breakdown of the installation:
Preparing your Wet Room
Before tanking your wet room, it is important that the area is dry and clear of any dust and debris. A primer should then be applied and left to dry.
Waterproof Membrane Installation
Once the primer is dry, reinforcing tape should be attached to all joints and edges surrounding the shower drain, as well as any pipes.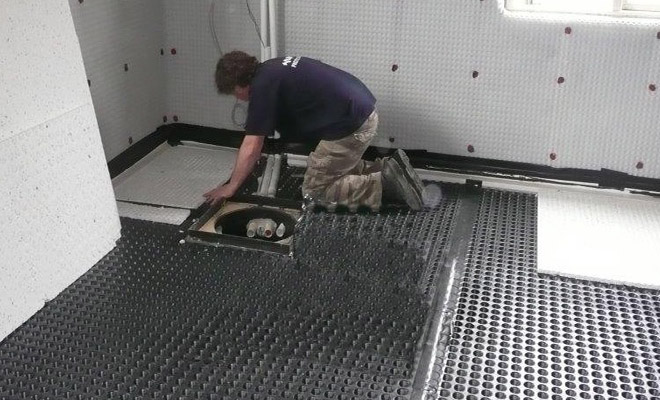 This will enhance the strength of the membrane, which should be installed across the entire floor area.
More reinforcing tape should then be added to soap recesses and wall junctions near the shower.
Tanking Slurry Application
Once the waterproof membrane is in place, tanking slurry should then be applied across the whole floor area, which should then be left to dry for around 24 hours before another coat can be applied.
Wet Room Flooring Cost
There are various flooring types that you can have installed in your wet room, including:
Tile Flooring Cost
Tiling is one of the most common flooring options for wet rooms, especially porcelain, stone and mosaic tiles. The cost of tiles is around £20 to £100 per square metre.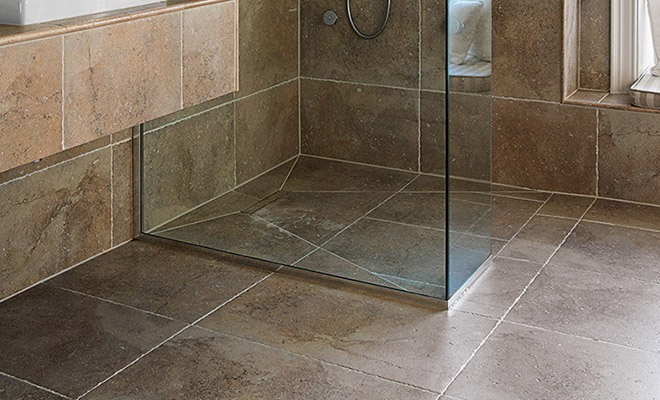 Here is a list of the pros and cons of tiles:
Pros
✔ Offer a variety of design choices
✔ Most tiles are temperature and moisture resistant
✔ Low-maintenance
Cons
✖ Tile grout is prone to stains and mildew
✖ Susceptible to chips and cracking when items fall on top of tiles
✖ Tile surfaces are cold underfoot
Vinyl Flooring Cost
A vinyl floor finish is another popular choice for a wet room, which tends to cost around £200 to £400 for materials and installation.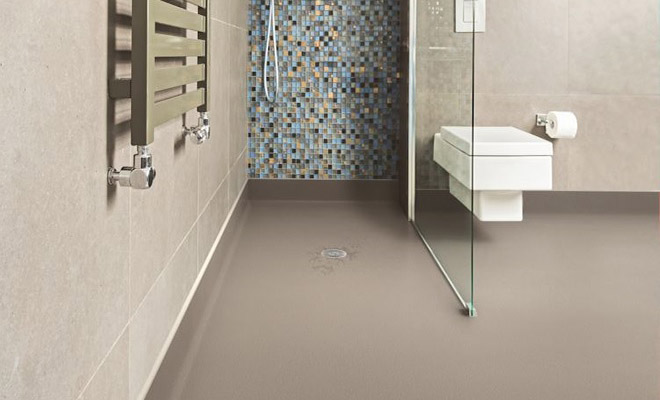 To help you decide whether vinyl flooring is right for you, take a look at the following pros and cons:
Pros
✔ Provides an anti-slip barrier
✔ Offers a waterproof layer
✔ It is easy to install
Cons
✖ Sharp objects can easily damage vinyl
✖ Susceptible to fading due to sun exposure
✖ Extreme temperatures can damage the floor
Microcement Flooring Cost
Microcement is a modern flooring solution for wet rooms. This is made up of composite, cement, water-based resins and colour pigments. Microcement tends to cost around £80 to £120 per square metre.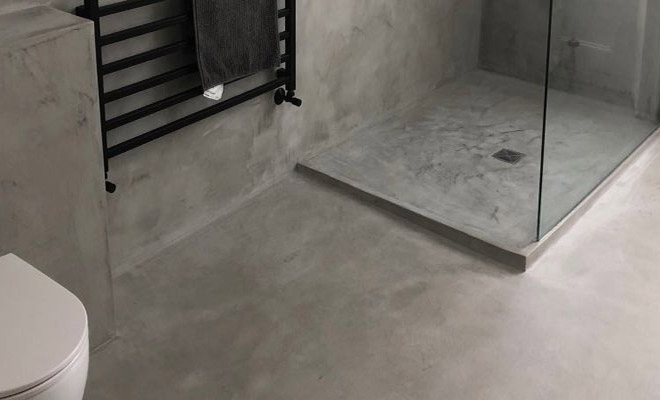 There are a number of pros and cons you need to consider including:
Pros
✔ Creates a smooth, seamless finish with no joints
✔ Can be installed on top of existing floor
✔ Resistant against chemicals and scrapes
Cons
✖ Installation is complex
✖ The overall cost is expensive
Can I Have a Wet Room?
Yes, it is possible for most properties to have a wet room installed. Typical wet rooms do not feature a shower screen. However, if you only have a small bathroom, then will need to add a shower screen to prevent you from soaking the room.
Benefits of a Wet Room
There are a variety of benefits for installing a wet room, including:
Health and Safety
The biggest advantage of wet rooms is accessibility, for anyone who has trouble getting in and out of the bath or shower, including those with mobility issues and the elderly, for practical reasons.
Easy to Maintain
Wet rooms are incredibly easy to clean as they are essentially just open space which can be quickly wiped with your bathroom cleaning product of choice. Cleaning a wet room takes only a fraction of the time it would take to clean a conventional bathroom.
Completely Waterproof
Professionally installed wet rooms are entirely waterproof, which means there is less risk of water damage due to shower leaks. This can help you save a significant amount on repairs, as well as any additional waterproofing.
Aesthetics
Wet rooms can be extraordinarily elegant and, at the same time, make the most of every inch of available space.
The open feel of a wet room offers a similar aesthetic to a luxury hotel or spa, offering dwellers a place of sanctuary in their own home.
Increase Property Value
Having a wet room installed in your home can help you increase the return on your property investment, as many buyers are attracted to large, open space wet rooms.
How Much Does It Cost to Remove a Wet Room?
If you have moved into a new home that has a wet room, you may want to remove it if you do not like the design or you would prefer a bath and a shower in your bathroom.
You can hire a professional to remove it which will cost around £150 to £250 per day. However, if you want to save money, you could consider removing it yourself.
To remove your wet room, you will need to lift up the flooring and remove the waterproofing boards. You can then take out the waste system and remove the shower tray using a pry bar.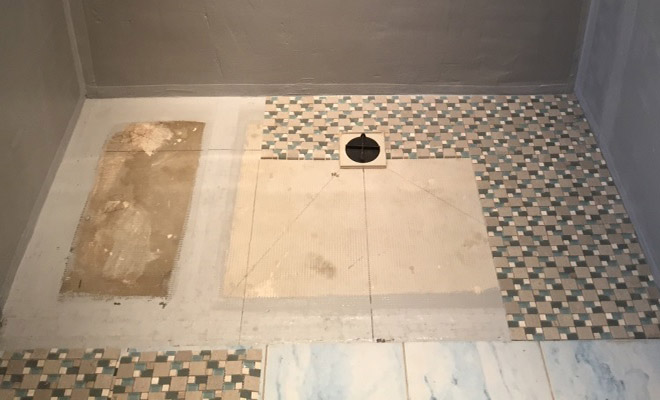 Once all the shower fixtures have been removed, you can remove the rest of the floor with a chisel and knife, before preparing it for re-tiling.
After the job is complete, you will need to dispose of everything. To do this, you will need to hire a skip which can range anywhere from £70 to £440 depending on the size of the skip.
FAQs
How to Find and Hire a Wet Room Installer
To ensure that your wet room is watertight, and no leaks or damage occur, you should definitely consider hiring wet room experts to install it for you.
This should cost around £150 to £250 per day, which may seem expensive, but it is worthwhile, as it will offer you a high-quality and long-lasting wet room.
You can choose to hire a company to take care of your entire wet room installation or hire individuals who are listed under the competent person's scheme.
Before hiring a professional, you should check that they have a certified diploma in domestic plumbing and heating.
For your wet room floor, you should hire a professional tiler, with the price for wet rooms ranging from £150 to £250 per day.
Professional tilers should have a nationally accredited qualification in wall and floor tiling.
Insurance is also another important element you need to consider when hiring people for the job, as they should all have public liability insurance to protect their business and you, should an incident arise, or damage occurs.
You can also ask for evidence of their previous wet room installations to check the quality of their work.
Sources
https://www.ccl-wetrooms.co.uk/technical/wet-room-technical-help-desk/how-to-tank-a-wet-room/
https://www.tilewizards.com.au/tiles-the-pros-and-cons/
https://wetroomexperts.co.uk/articles/can-i-build-a-wetroom-upstairs