How Much Does It Cost to Install a Steam Shower?
If you're currently updating or installing a bathroom, you may be trying to decide on a new shower. And one option you might be considering is a steam shower. But what is a steam shower? It's a completely enclosed shower cubicle capable of producing steam, much like a steam room. And it has the added function of a shower too. This article tells you how much it costs to install a steam shower and what's likely to increase or lower these costs.
The cost of installing a steam shower can range from £900 to £5,000. That's a huge price range, so you may be wondering why there's such a big variation. Well, that's largely down to the different options you have available. You could decide to have one custom-built or choose to buy a modular kit. As kits come in different sizes with a variety of high-tech features, these can vary in price too.
So, what are the options, and how might that affect the installation cost? Firstly, modular steam showers come in different sizes. They can be compact corner or quadrant cabins and larger rectangular or off-set quadrant shapes. A small corner cabin steam shower may only cost you between £800 and £1,200. However, a larger sized steam shower cabin with a seat and customised features could cost upwards of £1,500.
Extras such as LED lighting, Bluetooth connectivity and massage or aromatherapy functions vary from model to model. The higher the specification, the higher the price you're likely to pay. If you fancy going for a spa-like experience at home, you may choose a steam shower bath instead.
These also come in modular form, with a steam shower cabin set on top of a whirlpool or jacuzzi bath. Depending on the size and specification, you're likely to pay between £1,500 and £3,000 for this type of set-up.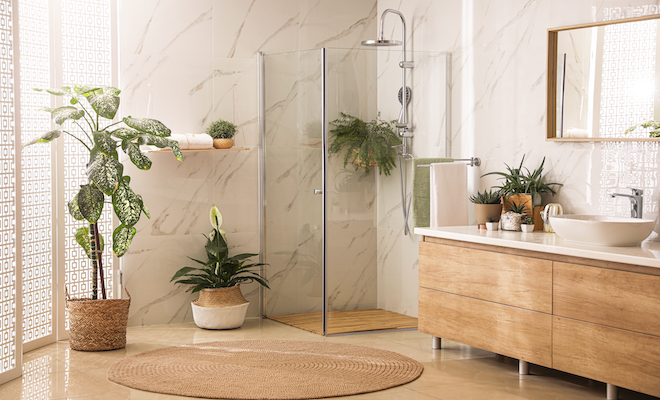 Of course, you may opt to have a steam shower specially designed and built for your bathroom instead. This will allow you to have greater flexibility over the style and materials. However, this also requires more expertise, so along with your fixtures and fittings, you may need to spend more on skilled trades to fit it for you.
If you're having a steam shower enclosure built for your bathroom, then you could pay around £3,000. And if you decide to go for high-end tiles, a more powerful steam generator and built-in seating, then your costs could go up even further.
Of course, it's not just the steam shower installation cost to consider. You may need to make some modifications to your existing bathroom to accommodate your modular cabin or enclosure. You may need to remove an old shower or bath first. Or you may decide to reconfigure your bathroom layout to make enough space.
Whether it's a straightforward installation or part of a much bigger job, you'll need to factor in the cost of labour. This may be the cost of a steam shower specialist or a plumber, plus an electrician to connect the wiring.
Even if you do most of the work yourself as a DIY project, you'll still need an electrician to check and certify the installation. Depending on whether you choose a simple modular steam shower or something more bespoke, it could take between one and five days to install.
A plumber could cost you between £150 and £200 per day, plus you'll need a qualified electrician to complete the wiring. This could add another £100 or more to your steam shower installation cost.
Steam Shower Installation Prices
Here's the average cost to install a steam shower by type:
| Steam shower type | Cost of materials | Cost of labour |
| --- | --- | --- |
| Modular with corner, square or quadrant cabin | £1,000 | £260 |
| Modular with off-set quadrant or rectangular cabin | £1,800 | £260 |
| Modular with whirlpool bath | £2,500 | £300 |
| Custom-built enclosure | £3,000 | £1,000 |
| Custom-built luxury steam shower | £5,000 | £1,500 |
Additional Costs
Steam showers offer a touch of luxury, so it makes sense that you may wish to upgrade some other parts of the bathroom at the same time. Whilst you've got trades in and alterations are being made, you may fancy adding a few other luxurious touches or decide to renovate the entire room.
Installing LED Lighting
Many of the luxury superior steam shower options include multi-colour LED lighting units or chromotherapy lighting. So, you may wish to coordinate the rest of the bathroom lighting to match those in your shower. The cost of installing LED lighting could add £100 to £200 to your installation, depending on the number of lights you need.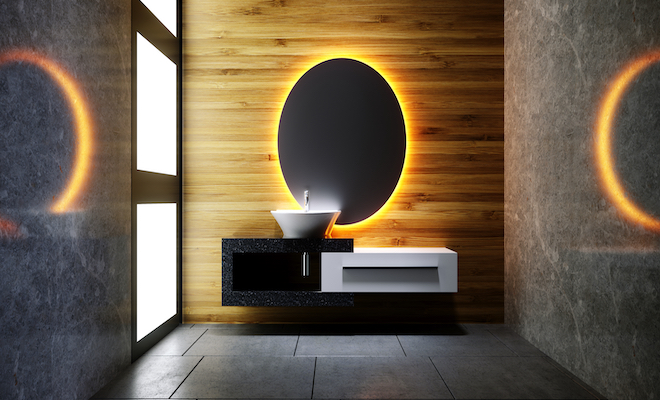 Adding Luxury Heating
If you're aiming to give yourself some spa-style luxury at home, you may like to add some underfloor heating or a stylish heated towel rail to your bathroom. You'll need to decide which is suitable for your bathroom first, but underfloor heating could cost around £100 per square metre, whilst a high-end heated towel rail could cost from £200 to install.
Updating Your Entire Bathroom
Of course, if you are trying to create that spa-at-home feeling, then you may fancy updating the whole bathroom. The cost of replacing your entire bathroom suite may add another £2,000 to £5,000 to your steam shower costs. For larger bathrooms with high-end fixtures and fittings and using materials such as marble and glass, it could cost more.
Retiling the Bathroom
Fitting a steam shower may cause a bit of disruption in your bathroom, so there could be some retiling work needed to rectify it. And if you've chosen to have a custom-built steam shower, you may wish to retile the rest of the bathroom to match. The cost of retiling the bathroom will depend on the size of the area that needs tiling and the type of tiles you choose. A small area of tiling will cost around £200 to fit, whereas tiling an entire bathroom will cost from £600.
Installing an Extractor Fan
Although steam showers use an enclosed cabin design to keep steam contained, bathrooms are often damp due to excess moisture and poor air circulation. So, whilst you're having your steam shower's electrics put in, it may be a good time to add or replace an extractor fan. For an extractor fan to be installed, it's a good idea to budget an extra £100 to £250 onto your costs.
Cost Breakdown Calculator
Individual costs for installing a steam shower - Total Cost: £3988
Labour Costs and Time Frames
You may be keen to work out the labour costs and time frames to install a new steam shower. However, time frames and labour costs can vary enormously depending on the space and type of steam shower you opt for.
Choosing a modular steam shower or steam shower bath will be fairly quick to install as they come in kit form, with much of the assembly easy to push, fit and screw together. With the help of skilled trades, you should be able to put a steam shower unit together in two to four hours, depending on the size. This will keep time and labour costs to a minimum.
However, the pipework for the water supply and waste also needs to be installed, and the electrical control panel and the steam generator will need hooking up to your mains supply. This will require a plumber and qualified electrician to complete.
If you're replacing an old shower unit, you may already have suitable pipework and drainage in place, but copper and plastic pipework also needs to be installed if you're starting from scratch. This could take between one and three hours to do. However, this may take longer if it's difficult to access your existing pipework.
If you combine the time it takes to install the pipework and assemble your steam shower unit, you may be looking at a full day. So, you can expect to pay a plumber between £150 and £200 for this. And don't forget, the electrics will need to be connected by an electrician.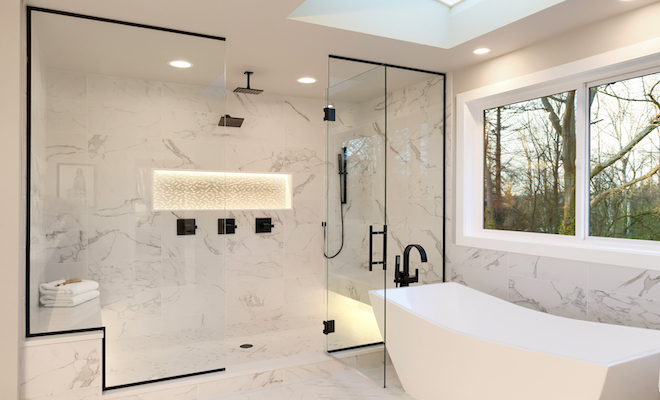 Although this won't take as long, you will need a qualified electrician who is registered with a Part P scheme to certify your installation. This may cost between £80 and £150 for a simple connection. However, if new wiring needs to be added or there are any access issues, this could increase your costs considerably.
If you decide to have a steam shower custom-built, then it will take much longer. Lining, tiling and fitting a door to your enclosure is most likely to be done by a builder or plumber. Depending on the size of your enclosure, this could take three to four days to complete.
You will also need a steam generator, your steam outlet and shower head fitting. This will require both your plumber and electrician and may add another day to the project. In total, you could be looking at between four days and a week for the installation work to be completed. So, it's likely to cost between £700 and £1,600 to complete.
But you should also factor in the time it takes for materials to arrive. Rather than the materials all coming together in one kit, these may need to be ordered separately and could come from different suppliers. So, you will need to allow time for choosing, ordering and delivery of materials. Realistically, this could add several weeks to your time frame, and you may pay for multiple delivery costs.
Whether you choose a module kit or custom build, you'll also need to factor in time and labour costs to remove any old fixtures and fittings, of course. An old shower, for example, will need to be disconnected from the water supply and the old materials disposed of. This could take an extra day to do.
Cost Affecting Factors of Installing a Steam Shower
There are plenty of factors to think about when you're installing a steam shower. And each can affect the total cost. Here are some of the main considerations to make when you're installing a steam shower:
Type of Steam Shower
Using a prefabricated, modular steam shower cabin – made of plastic, acrylic or fibreglass – is usually the most cost-effective option. These are designed with a tray, framework and panelled sections that fit together easily. So, they're reasonably quick to install.
However, you may prefer a custom installation, which will offer more choice in terms of style, size and shape. But this will also take more planning and expertise to fit. Plus, you may need more materials to complete the job. So, this type of steam shower is likely to be more expensive than the modular version.
Specifications
The specification of the fixtures and fittings inside your steam shower are also likely to affect the cost of your installation. And there are plenty of options with both modular and custom-built steam showers.
A more powerful steam generator, extra body jets and multiple luxury shower heads will give you a better experience but will certainly add to the cost. You may decide on a high specification control panel with extra functionality such as remote controls and the ability to connect to smart devices. Or perhaps extra LED lighting or massage and aromatherapy functions. But all these luxuries will add to your final cost.
Size and Location
Everyone's bathroom is different, so the costs involved with installing a steam shower will vary. It may be that you need to remove an old shower cubicle or bath to fit your enclosure or cabin in. You may be locating it in a space that doesn't already have the required plumbing. So, location will affect your total installation cost.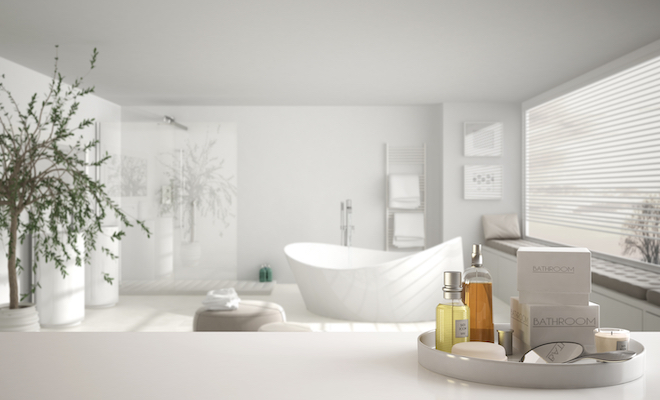 However, it's not just where you place your steam shower but the size of it too. Modular steam showers often fit just one person, but you can pay more for a roomier cabin with space for two people. These will usually contain more fittings, such as an extra seat, so not only will you be paying for the extra materials, but it could take a little longer to put together.
Of course, if you're having a steam shower built from scratch, then the bigger the size, the more materials you'll need and the more time it will take to install.
What Does Installing a Steam Shower Entail?
Unless you've decided on a completely bespoke design, your steam shower is likely to come as a flat-pack unit. Many products, such as the Insignia steam shower cabins, come ready to assemble. Typically, they have a control panel, roof panel, door, framework and tray that slot and screw together. But what does the complete installation entail? Here's a step-by-step guide:
Preparing the Space
First, you'll need to determine what type of steam shower will fit in your bathroom and where. So, some planning and measuring needs to be done. If it's replacing an old shower cubicle, then that will need to come out first. Although, the waste and water connections should be kept in place for the steam shower to be fitted.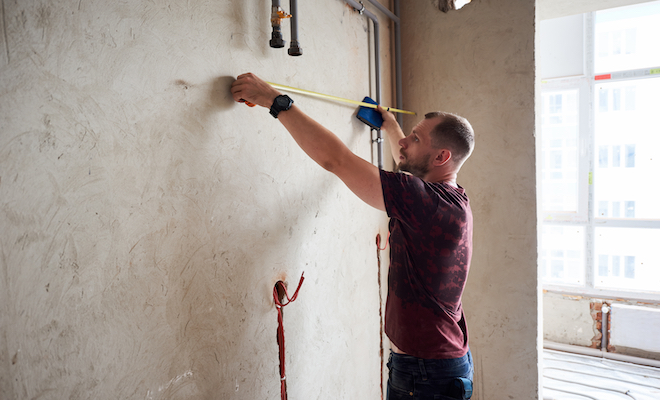 Installing the Pipework
If it's a new bathroom or the first time you're having a shower fitted into the bathroom, then pipework for both the hot and cold water supply and the wastewater drainage need to be added in. A plumber may be needed to install copper piping for the water, which will eventually connect to the back of the shower panel using a flexible hose.
Levelling the Shower Tray
Steam showers Usually come with a tray that has a pre-drilled waste hole, drain and flexible waste connector. The tray needs to be level on the floor, and many steam shower trays come with adjustable legs to make this easier. The waste connector is then fitted to the tray and sealed, ready for connecting to the waste pipe. If you've chosen a steam shower bath, this will be installed first, instead of the tray.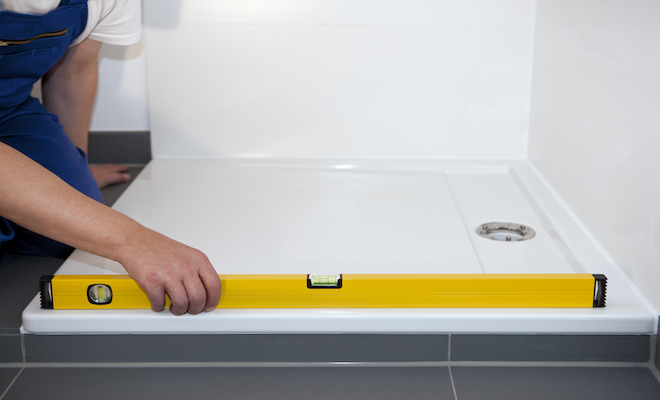 Because the framework and panels will be constructed next, the tray won't yet be connected up to the drainage pipe or sat flush against the wall. This usually happens at the end of the installation.
Constructing the Framework and Panels
Next, the framework and panels will be slotted together and screwed in place on top of the tray. The process varies slightly depending on the make and model you go for, but there are usually grooves in each of the framework struts to allow the panels to be slotted in place. Rubber or plastic strips are likely to slide in-between the joins to create a seal, or silicone sealant may need to be applied instead.
The door is usually the last panel to be fitted into the frame. It may need door stops, handles and wheels fitting to allow easy opening and closure before hanging.
Adding Fixtures and Fittings
The smaller fixtures and fittings are often installed next. There may be shelving, seating or other accessories to screw in place. The shower handset and headset may also need to be attached to the unit, ready to connect to the water supply.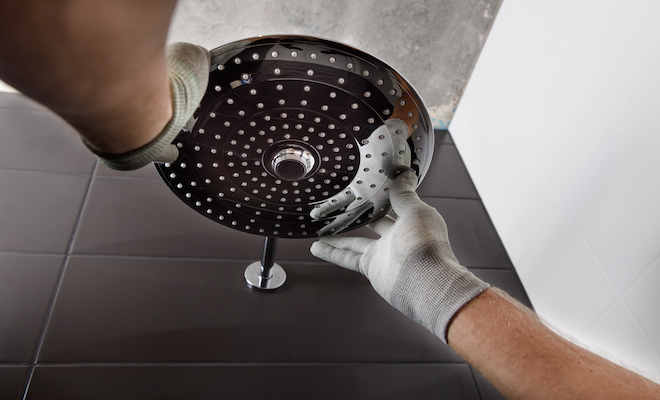 Connecting Plumbing and Electrics
Once the cabin has been constructed, the steam shower is ready for connecting to the mains water and electricity supply. Flexible hoses from the steam generator will be connected to your hot and cold water pipes. It's a similar method to plumbing in a washing machine. A drain hose will attach to the waste connector underneath the tray, which will be attached to your waste pipe.
The lighting connectors in your roof panel and the control panel are usually the last part of the installation before your unit is pushed into its final position. Most of this will entail screw and clip fittings. However, this also needs to be connected up to your electricity supply. This part will need to be carried out by a Part P certified and registered electrician.
Finally, the unit should be tested for leaks and the control panel programmed to your preferred settings.
Installing a Custom-built Steam Shower Enclosure
If you've decided to design and build a steam shower enclosure from scratch, then this will be a little more complicated. As well as installing the water supply and waste pipework, the enclosure needs to be built with waterproof walls and roof, and the door needs to fit into a frame with a seal around it to stop the vapour from escaping.
The enclosure will need lining with vapour-proof or moisture barrier sheet material first, then completely tiling. Ceramic or porcelain tiles are usually the best for this. A steam shower generator will need to be fitted outside the enclosure in an accessible spot for maintenance purposes. This should be boxed in and connected up to your water and electricity mains.
The generator is also connected up to your steam outlet and control panel inside the enclosure. Again, a qualified electrician will be needed to complete the electrical work to ensure it's safe and meets Building Regulations. Once everything is tested, you may need to programme your control panel unit's settings, depending on what model you've installed.
DIY Steam Shower Installation
If you already have some practical skills, many modular shower cabins can be installed as a DIY project. However, the electrics involved need to be completed by a qualified electrician. And because you've got water and electrics in a small space, everything needs to be properly installed to keep it safe for use. So, it's best to hire trades for the trickier aspects of the installation.
So, what can you safely do yourself? If you want to install a steam shower as a DIY project, then you can certainly construct the cabin's framework yourself. Many makes and models that come as kits are designed with DIY installation in mind.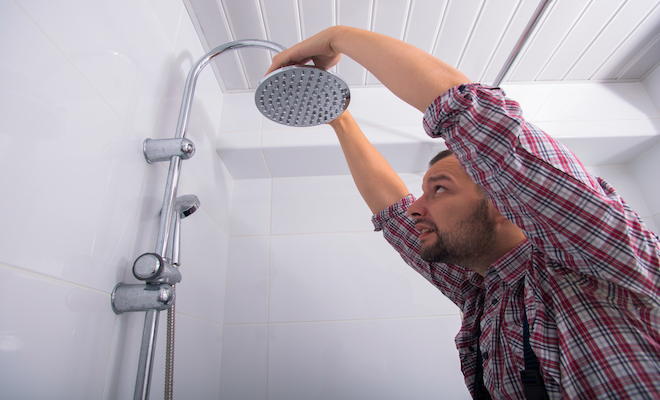 What tools and extra materials are you likely to need? A utility knife, silicone sealant and dispenser gun, spirit level, tape measure, screwdriver and an electric drill. Safety gloves and glasses should also be used. Depending on the module you buy, you may also need a self-adhesive sealant such as RubberGum and a sealing compound such as Plumbers Mait.
You may also need connecting parts such as hot and cold isolation valves and flexible hoses. If you need to buy the tools and extra materials, this could add between £150 and £250 to your costs, so it may not necessarily work out cheaper to do it yourself.
Although you need to leave the plumbing and electrics to skilled trades, you can still programme your control panel yourself, and you may be happy to connect up the drain to the waste pipe.
Building Regulations for Steam Showers
Water and electricity are both required for a steam shower. And mixing the two can be extremely dangerous. Not only that, but any electrical installations around your home need to meet current Building Regulations.
So, to keep you safe and meet legal requirements, the electrical installation on any steam shower needs to be completed by a qualified electrician. Your electrician will need their Part P certificate to be able to do this and should be registered with a recognised scheme.
If no structural changes are necessary for your bathroom update, this will be the only building regulation you'll be required to meet.
Planning Permission for Steam Showers
Thankfully, you won't need planning permission to install a steam shower unless you live in a listed building. If your home is listed, it's advisable to contact your planning office to check whether consent is required before starting.
How to Find & Hire a Shower Specialist
So, it may be clear now that installing a steam shower can be quite a skilled job to do. So, you need to find the right trades or specialists to help you install your steam shower or steam shower bath.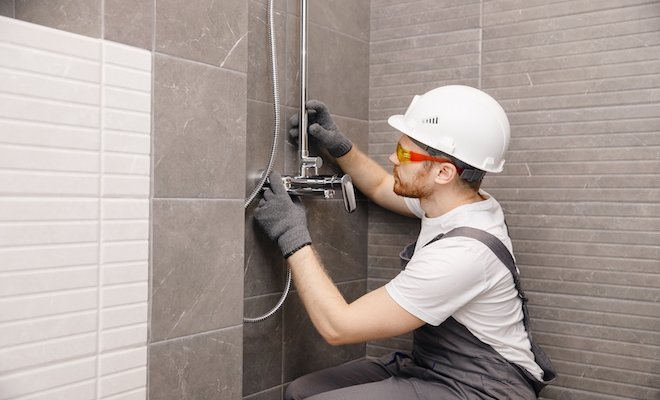 It's a good idea to check that the plumber you hire is not only qualified but has some experience of installing steam shower units. Most good plumbers are registered with a trade association such as the CIPHE. The electrician you hire needs to be Part P certified and registered with a competent person scheme such as NAPIT or NICEIC. This will ensure your installation is safe and meets Building Regulations.
Plus, it's a good idea to hire local trades to carry out the work so that it's easier to call them back in should there be a problem or maintenance issue.
FAQs
Sources
https://www.plumbworld.co.uk/documents/insignia-ins80581l-steam-shower-enclosure-installation-guide.pdf
https://steamshowerstore.co.uk/blog/how-to-install-the-perfect-steam-shower
https://www.leisurequip.com/resources/planning-tips/build-steam-room/
http://newworldbathrooms.co.uk/benefits-using-steam-showers/
https://vidalux.co.uk/steam-shower-cabin-installation-diy-professional-installer/
https://www.electricalsafetyfirst.org.uk/find-an-electrician/part-p/
http://www.jtspas.co.uk/blog/2016/06/09/steam-shower-cleaning-essentials-what-you-need-to-remember/
https://www.directline.com/home-cover/magazine/how-to-choose-a-good-plumber
https://www.ciphe.org.uk/
http://www.napit.org.uk/home-owner/why-choose-a-napit-member.aspx