How Much Does Tiling Cost?
The average cost of fitting floor tiles in an average sized room is typically around £600-£700. This price includes the cost of the floor tiles plus grout and self-levelling compound if needed, plus the labour. The price assumes mid-range, standard sized tiles costing £25 per square metre or less and a standard shaped room with no gas engineers or electricians required to remove/refit appliances.
Prices per square metre for your tile of choice is easy to find as whomever you're purchasing from will usually list this figure. The cost of laying the tiles themselves will depend on the size of the room (larger rooms mean lower cost per sq. metre), the tradesman you choose, your location, and the complexity of the floor space.
So, how much do tilers charge?
The standard tiler will often charge £150-£200 a day to install floor tiles. However, within major cities you should expect costs to be a little higher, and if you're in or around London, you might well see double the standard charges.
The complexity of the job usually comes down to the type of room you want tiling. Kitchens and bathrooms tend to be the most common rooms for floor tiling, and whilst kitchens can be fairly straightforward, bathrooms our almost always complex, with lots of curved and angle cuts.
This means the cost of tiling a bathroom tends to be around 50% more per square metre when compared against a kitchen or other room.
Tiling Prices per Square Metre
Below are some estimated costs of hiring a tradesmen to fit £25 per square metre floor tiles:
| Room Size | Avg. Cost | Duration |
| --- | --- | --- |
| 10 sq metres | £400 | 1 day |
| 20 sq metres | £700 | 1-2 days |
| 30 sq metres | £1000 | 1-2 days |
Cost Breakdown Calculator
Individual costs for fitting 20 square metre floor tiling - Total Cost: £700
What Fitting Floor Tiles Entails
This article is all about the floor tiling costs charged by tilers and kitchen/bathroom installers in the UK. Typically, this work will entail collecting the chosen tiles from the DIY store along with the grout, moving furniture and appliances for access (if moving a gas cooker and disconnecting it then a gas engineer will be required), the laying of the tiles and the removal and disposal of all waste. Quotes typically do not include VAT, unless you choose a larger VAT registered company, but most tradesman operate under the VAT threshold.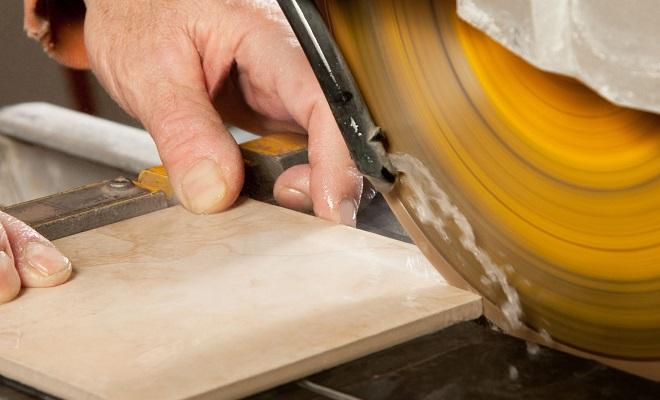 When purchasing floor tiles, always allow an extra 25% or more for breakages and waste. Breakages can even happen in transport on the way back from the DIY store, but are more common as the tiles are being cut to size. In addition, mistakes made during measuring will always happen to everyone, no matter how careful they are!
To save money you could do the job yourself if you are a DIY enthusiast. You can even just do parts of the job yourself to keep costs down, for example you could:
Collect the new tiles
Lift the old flooring
Remove the skirting boards
Waste removal and clean up
This would be much cheaper but you would still get the tiles laid professionally!
Note, it's free for homeowners to dispose of waste at the local recycling tip, but tradesman have to pay to get rid of commercial waste! Choosing a small business is another good way of saving money, their overheads are lower anyway which is already reflected in their prices, plus they may be under the VAT threshold, making prices up to 20% cheaper.
Other Trades You May Need
The main related job that may be wanted alongside floor tiling is new skirting boards. To fit floor tiles professionally the skirting boards will have to come off anyway (or at least be lifted up), so this is the best (i.e. the cheapest) time to replace them as the labour costs are mostly included in the floor tiling price anyway. Of course, if you are doing the skirting boards, decorating will likely be next up as the removal of skirting will often damage the plasterwork, requiring patching up and new paint or wallpaper to finish.
Floor tiling can be done as a DIY project, but if you are not careful a few mistakes can end up costing you just as much as hiring a professional! Tiling around toilet pedestals or unusual room shapes can be really difficult and the inexperienced can go through a lot of tiles trying to get a decent finish! It is a fiddly job that requires patience, so if this does not sound like you – leave it to the professional.
Dealing With Uneven Floors
Before laying tiles you must make sure your floor is properly prepared, but generally speaking a properly prepared floor does not have to be level, though it does have to be flat. If drainage is an issue, such as in a shower, bathroom or even kitchen then you must ensure the floor is not level and angled towards the drain.
If the floor you are tiling will not be exposed to water regularly, it does not necessarily have to be level but if your floor is not flat it will be difficult to install your tiles without you having some that stick up higher than the tiles next to them. You definitely don't want that as you will end up with an uneven floor and people could trip or alternatively end up kicking the tiles off! So when prepping your floor don't be concerned with how level it is, be concerned with how flat the surface is.
If the surface is not flat, whether it is concrete/screed or old wooden floorboards, you will need to put down a plywood or chipboard flat floor on top before laying the new tiles.
Floor Tiling with Underfloor Heating
With their popularity increasing by the year, heated floors have been increasing in popularity for many years and they may soon become the norm for tilers when pricing a job. The difficulty with laying tiles over heated floors is that the fluctuations in temperature can make the screed, adhesive and the tiles expand and contract at different rates which can cause the tile to crack or lift.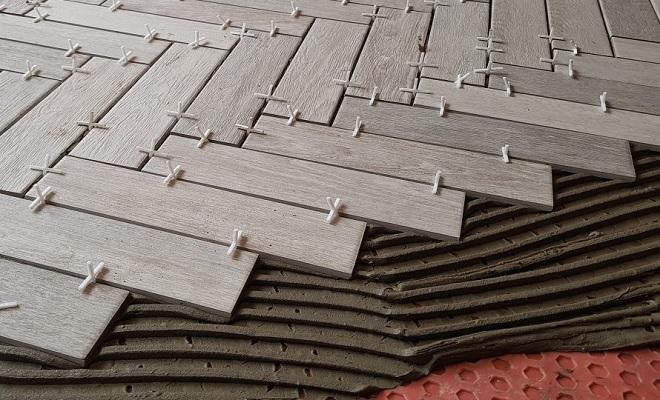 To prevent this problem, the preparation is crucial in terms of selecting the correct adhesive and grout. If laying tiles above a hot water pipe system covered with a mortar screed, then you first of all need to ensure the screed has fully cured which an take up to 3 weeks, then you need to use the right combination of grout, tiles and adhesive to cope with changes in temperature.
There are a wide variety of floor tiles available to use, but which tiles will work better with underfloor heating, porcelain or ceramic tiles?
Ceramic vs Porcelain Tiles
Both types of tiles are closely related, being composed of baked clay then strengthened by heat for a hard-wearing finish. However, ceramic tiles use darker clays whilst porcelain tiles are made using whiter clays. The clay used in porcelain tile production is more refined than that used for ceramic tiles and is often mixed with other minerals to make a harder, stronger tile. Porcelain tiles are also baked at a higher temperature than ceramic tiles too. The design application differs too, on a porcelain tile the design typically seeps through the entire tile whereas on a ceramic the design is just on the surface. Therefore, any wear or damage on ceramic tiles tends to be more noticeable.
Below we have shown some of the pros and cons for ceramic and porcelain tiles.
Ceramic Tile Pros and Cons


✔ Cheaper
✔ Easy to cut
✖ Indoor only
✖ Absorbs more moisture
Porcelain Tile Pros and Cons


✔ Harder
✔ For both indoor and outdoor use
✖ More expensive
Choosing the right tiles isn't the easiest task. There are so many options available to you, but there are some factors to consider before purchasing either porcelain or ceramic tiles. Porcelain tiles tend to cost around £5-£10 more per square metre. You also need to consider where the tiles are going and who is completing the installation, this will ensure that your installer is competant with the material that you have chosen.
FAQ's