How Much Does It Cost to Build a Carport?
Keeping your vehicle in top condition is a priority. Choosing to install a carport is a popular way to protect your vehicle from the elements. If you are thinking about installing a carport, read this useful guide to learn about everything you can expect when you decide to have a new carport installed.
The average cost of installing a carport is around £2500 - £3500, depending on the length and projection required, as well as the materials selected.
There are many different options you can choose from when picking out a carport, ranging from detached, attached, curved, lean-to, and you can even add extra car space with single or double carports.
All of these factors will alter the price in some way, as well as your choice of material. The two standard material choices are wood and metal, these are most popular when fitting a carport, ranging from timber, steel, aluminium, and many more.
Installing a Carport Prices
Below are some estimated costs of hiring a specialist to install a carport including materials, labour costs and waste removal:
| Description | Material | Avg. Cost | Duration |
| --- | --- | --- | --- |
| Cost of installing a detached single car carport | Steel | £2200-£2500 | 1-2 days |
| Cost of installing a detached double carport | Steel | £3200-£3500 | 2-3 days |
| Cost of installing an attached single car carport | Steel | £3000-£3800 | 2-3 days |
| Cost of installing a curved single attached car carport | Aluminium | £3200-£4000 | 2-3 days |
| Cost of installing a lean-to single car carport | Wood | £2000-£2300 | 1 day |
Supply Costs
When pricing up your job and hiring an installer for building a carport, you want to make sure that you're getting the right deal. Being aware of all your supply and material costs will help you massively, as you'll be able to figure out how much you're being charged for labour. This is also great when pricing up a DIY job.
Below is a list of popular types of carports:
Freestanding
Freestanding carports are the most common type of carport design to get installed and are usually placed next to a house and is your best bet when looking for cheap carports. When buying alone, free standing carports prices can typically cost between £400-£800.
Tandem
A tandem carport is perfect for a large car or two small ones and is also known as a double carport and is also detached. Prices for this range from £1000-16000.
Curved
A curved carport is extremely aesthetically pleasing and effective for rainfall. These are also detached and can cost around £1500-£2000 on their own.
Lean-to
Lean-to carports are super handy and can be attached directly to your house as a carport extension, these are most popular in wood and can cost between £600-£900.
Additional Costs
Installing a carport can come with many additional costs, ranging from bits and bobs you may need to spruce up, or renovating whole new areas of your garden and house, even potentially figuring out the average cost of a car.
You can tarmac your driveway for an extra £2000, or add a blocking paving drive for nearly £3000, or a resin drive for around £2500.
It's also a great opportunity to spruce up any garden work so that the whole area looks fresh and new, this can be as simple as hiring a garden for general maintenance for £150, or laying a whole new garden turf for around £700. Other additional jobs include lawn fertilisation, laying a new patio, or even installing a swimming pool.
Cost Breakdown Calculator
Individual costs of installing a single car carport including groundwork - Total Cost: £2800
Labour Costs and Time Frames
Your builder will usually work at a cost of around £150 per day, and if you're looking for a larger carport then you may have to pay extra for two workers. A small carport installation can take between 2-4 hours, whereas a large one may take between 6-8.
Metal carport installations can take longer than wood as it's not as easy to cut and shape the material. Materials can cost between £1500-£3000 depending on if you choose the cheaper option of wood or a metal which can be more expensive.
What is a Carport?
If you haven't got a garage, a carport is a quick, affordable and easy way to create a covered parking area for your vehicle. With a simple design that only requires a few materials to erect, carports are a convenient and hassle-free way to shield your vehicle from weather damage.
With your vehicle protected from the sun, ice, snow and rain, your carport is immediately ready for use in the morning, meaning that you no longer have to waste precious time scraping the car free from ice and snow during the cold winter months.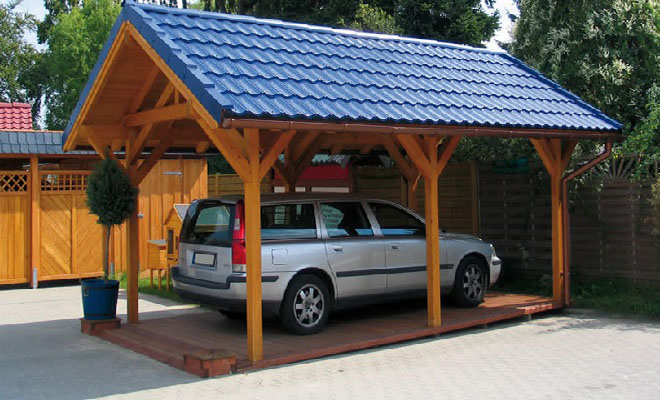 Fitted at a lower cost than a garage, with no possibility of complicated planning permission, carports are a simple and straightforward storage solution that will also increase the value of your home. They are available in wood or metal.
If your carport will endure high levels of rain at particular times of the year, it will be crucial that the drainage system fitted will be able to drain away enough water effectively and avoid becoming blocked.
If there will be heavy snowfall during the winter, then your carport's design must be strong enough to cope with the extra weight of the snow. A high-quality weather-proof finish is equally important too.
Cost Affecting Factors of Installing a Carport
It is tempting to opt for a sizable carport with plenty of room, however, do bear in mind that a larger structure will add to your carport cost. Adding space for an additional car can increase your costs by as much as £650, so think carefully about what you really need.
The type of material that you choose as well as special customisations, will affect the overall cost of the job. Additionally, you may want to have a concrete base laid to ensure that your vehicle is parked on a level surface. Most carports do have a concrete foundation laid before the carport structure is fitted, so this is easy to organise, but will increase your final costs by up to an extra £500.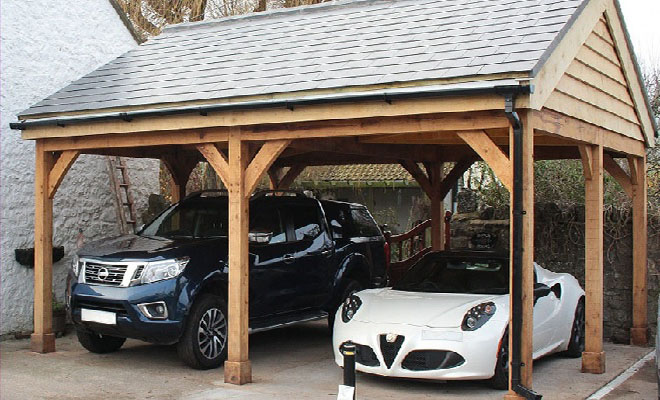 If you do not want to concrete over the area, there are many homeowners with carports over grassed areas, so check with your installation company if you are unsure which surface you would like. Finally, check the area that you would like to use for the carport carefully. If digging causes damage to underlying pipework, you will end up having to fork out extra money for repairs.
Although it may seem obvious, the size of your carport can hike up the prices by quite a high amount depending on the size of your cars and how many you need sheltering. A typical car size is typically 16' by 9' with a few extra feet for entering and exiting. If you want to fit additional parking spaces, it can add an extra £400 per car onto the overall costs.
What Does Installing a Carport Entail?
If you are having a carport fitted, you should confirm the actual length of the frame when you order. Once fitted, the length of the carport frame is always 30.5 cm shorter than the length of the roof, so it is useful to know the finished length from the outset.
Before the installers arrive, you will need to make sure that the area is clear and suitable for installation. If you do not already have a concrete base in place, you may decide to have one laid so that your vehicle is parked on a flat surface.
With the ground prepared, the posts will be set in concrete at least 121cm deep and left to harden overnight. One side of the posts will be slightly higher than the other so that rainwater can drain away. The higher posts should be those positioned nearest your home to keep water away from your home's foundations.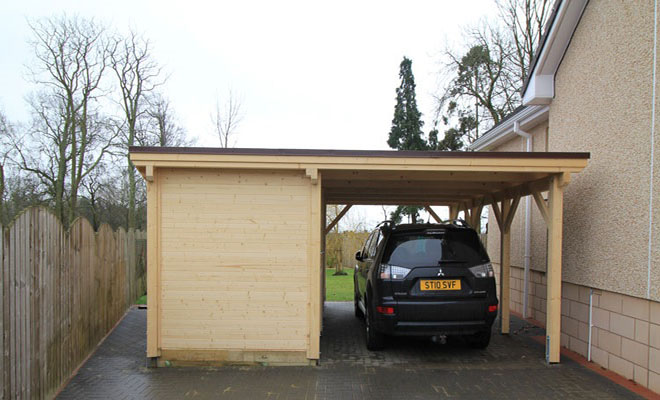 Next, the rest of the carport's structure will be built, and the roof fitted. For all-weather protection, the carport roof will be finished with a waterproof seal.
Once your carport is fitted, you may decide to employ a decorator or builder to finish the exterior in a more customised way, or a gardener to refresh the area around the carport.
DIY Carport
DIYers or people with a fair amount of carpentry knowledge can potentially install a carport on their own. However, if a concrete base also needs installing then it's highly advised to call in a professional as it's a considerably difficult task where one mistake can mess up your whole installation.
If you already have a concrete base, then here's a rough idea of how to DIY your own carport on a budget.
Planning and Checks
Before any work starts, ensure to check with any permits or building regulations on your property or in your area. In most cases this should be fine, but it's better to be safe than sorry. You should also make sure that the sire you're building on is level, if it's not then it's best to get help from a contractor.
Measurements
You should already have a rough idea of how many cars you need the carport to cover, so the next step is to measure each of the cars, with their length, width, height, and ensuring a few extra inches for space to enter/exit the vehicles.
Laying Materials
Choose your preferred material and ensure you have enough for the whole roof, you can test this by laying your materials to make sure everything is set to scale.
Attach Posts and Beams
Fit your corner posts into the concrete base with a continuous post, an adjustable or prolonged anchor. You can then drill pilot holes into the posts and add support beams to connect the corner posts together.
Building Roof and Walls
Install and attach the rafters and cover with your chosen material, and you can also cover the walls in a variety of materials. Once the whole area is covered and you feel the job is done, do some tests to assure that the carport is sturdy, if you feel it's wobbly you might have to install extra support beams or braces.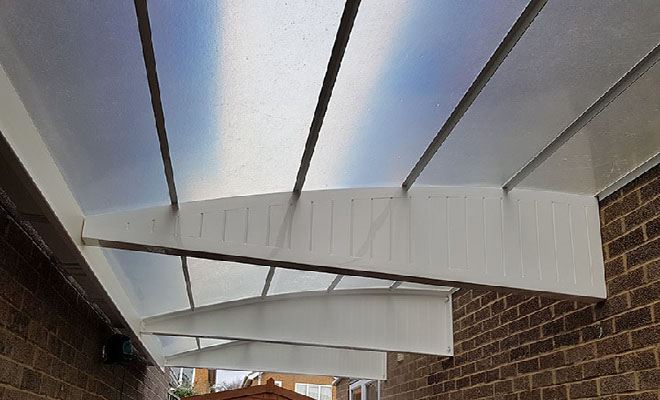 Waste Removal
When everything is cleared up, make sure to have something in place to be able to remove all the excess wastage. Skip hire can cost between £100-£200 depending on size.
Choosing a Carport
Carports can be built in wood or metal. When deciding which material to choose, it is useful to consider: which material will best match the exterior of your home, as well as the type of weather that the carport will need to withstand. Robust and long-lasting, galvanised metal or pressure-treated wood are the most popular types of materials used to create carports.
Wood Carport Cost
Wood is a light material which can be easy to cut and shape to your preferences, however, it is more susceptible to the outdoor environment compared to other materials and can decay if not looked after appropriately. The cost of a wooden carport can be around £1500-£2500.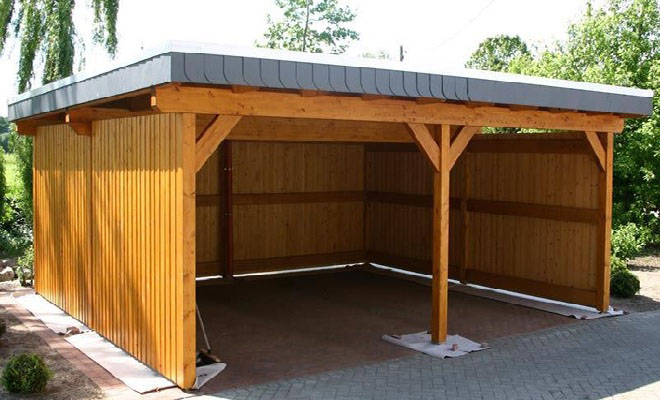 Metal Carport Cost
Metal is a popular choice for carports, particularly using steel and aluminium, this is because they're resistant and light to the touch. There's also no chance for decay or mould and can is low maintenance, it also doesn't break or chip. Metal carports are slightly more expensive and are often priced between £3000-£4000.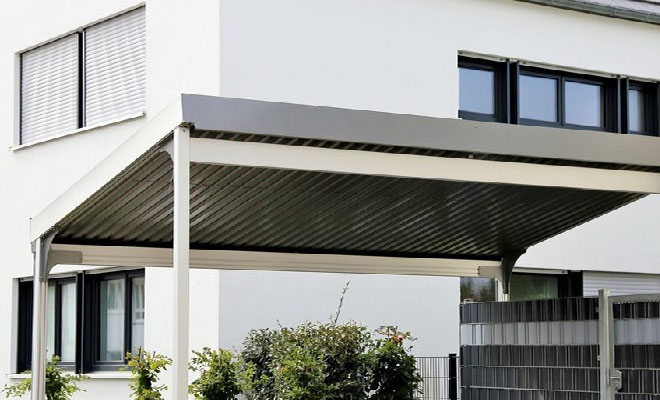 Benefits of a Carport
If you're thinking of installing a carport for necessity, don't forget the other array of benefits that it comes with. A carport can do a lot more than just protect your car, so make sure you're aware of all the benefits you can reap. Below is a list of advantages a carport offers:
Cheaper than a garage
Easy to install/can be done in one day
Protect your car's aesthetic
A great storage space
Eco-friendly options with solar carports
Offer shade in the summer months
Can increase home value
Easily accessible
Can be used as an outdoor porch
Can be customised to your decor
Can I Have a Carport?
Carports are an inexpensive option for those looking for a place to store their vehicles and don't want to dish out for a garage installation. They're ideal for those with a spacious front or back garden, or even ample spacing at the side of a household so a carport can fit in with no bother.
It's also a good choice if you have a smaller car, as the installation process will be even easier and cheaper. It's also important to have a concrete base on the ground before installation, if not, you'll also have to pay more to install one on top of any grass or patio.
Alternatives to a Carport
There are several other options you can choose for car storage instead of a carport, below is a list where you can compare pricing and what suits your needs best.
Car Shed Cost
A garden shed is a fairly easy job to complete and could potentially fit a small car, as well as other garden objects that you want to keep out of the outdoor environment. It can cost between £400-£600 depending on if you need a larger size for a bigger car, making it a cheaper option.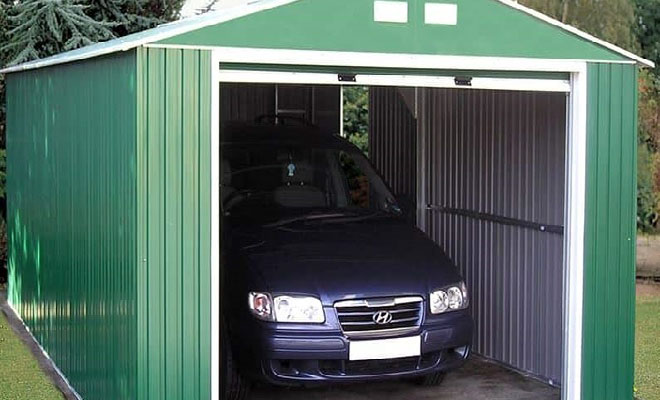 Garage Cost
A garage is the most preferred choice for car storage but can often take up a lot of time, preparation and is expensive. It can cost around £15,000 to install a garage attachment to your house. However, it may be worth the investment as it will add value to your house and keep your car protected all year round.
Patio Awning Cost
An awning is very similar to a carport but is attached to the house instead of separated. This makes the installation process slightly more advanced and there's more building regulations to comply to. The price of installation of a standard patio awning can cost between £200-£400, or up to £1,000 for a bespoke design.
Building Regulations for a Carport
Building regulations to install a carport are fairly straightforward, and the majority of people won't need planning permission if the carport is detached from their house. However, you will need planning permission if your carport is taller than 4m, and if the eaves height of the carport is higher than 2.5m and within 2m of the property boundary.
However, if you're feeling unsure, it's always best to contact your local planning authority to give you peace of mind.
Cost of Removing a Carport
Removing a carport may be necessary if you need to clear up space on your property, or if you choose to install a garage and don't need a carport anymore. This job is quite labour intensive and may be best left to professionals, however, it is a possible task for a DIY enthusiast but make sure not to attempt this job alone.
Remove the Roof
Starting with the outdoor edge, remove the roofing screws and rubber washers, and move over to the rest of the carport where you can loosen the trusses and lower them to the ground. Repeat this process across the length of the roof and finish at the front of the carport where you'll have to hold the front panel frame in place.
Remove the Structure
You then need to loosen anything that supports the weight of the trusses, such as the bolts that can be found on the purlins, going on to remove all bolts and purlins.
You'll then need to loosen the trusses and bolts, lowering them to the ground as you remove the front of the carport. This should be completed all around until you're ready to unbolt all the sections of the uprights from the metal rails and take them away from the concrete apron.
Waste Removal Cost
There will be a lot of wastage leftover and scattered on the ground once you're finished. Take aside anything that you want to keep for future projects and make sure to safely transport everything else over to a vehicle which can be taken to an appropriate skip, this is a cheap way to avoid paying skip hire prices, although it is advised to get rid of your waste properly.
FAQs
How to Find & Hire a Carport Installer
When planning any installation job on your property, you want to make sure that you have the right person for the job, which is why carefully hiring the perfect installer for you is so important. A carport installer can potentially cost around £150 per day. Before hiring a contractor, it's important that you ask whether the tradesman or the company has public liability insurance to assure you're both covered.
It's also a good idea to inquire about their references so you can rest assured that your carport installation is in good hands and you can get a feel for them as people.
When speaking to them about plans for your job, it's worth asking if they have any picture evidence of carports that they've installed in the past so you can get a feel for how yours will turn out looking. Another top tip to differentiate between a carport installer and a cowboy labourer, is to ask how they intend on executing the installation process to check that they have all the correct knowledge that you've learnt in this article.
Sources
https://www.improvenet.com/r/costs-and-prices/carport-construction-cost-estimator
https://www.fixr.com/costs/build-carport
https://www.stormclad.co.uk/blog/a-guide-to-choosing-a-carport/