How Much Does a Lean-to Conservatory Cost?
The average cost of having a lean-to conservatory constructed will vary depending on the material used.
The lean-to conservatory cost will depend on ease of access, the size and type of conservatory and where you live. The reason that property location matters is because that labour rates vary throughout the country.
The cost for a polycarbonate lean-to conservatory can be between £7000 to £10,000.
When it comes to a glass roof conservatory, expect to pay around £7500 to £10,500 and the price range of a guardian roof conservatory is likely to be around £7000 to £10,750.
Lastly, for a tiled roof lean-to conservatory, the cost would be around £3180 to £14,350.
Lean-to Conservatory Prices
Roof Type
Size
Total Cost
Polycarbonate
3500mm x 2000mm
£7000 to £8000
3500mm x 2500mm
£8000 to £9500
4000mm x 2000mm
£7500 to £9000
4000mm x 2500mm
£9000 to £10,000
Glass
3500mm x 2000mm
£7500 to £8500
3500mm x 2500mm
£8500 to £10,500
4000mm x 2000mm
£8000 to £9500
4000mm x 2500mm
£7000 to £10,750
Tiled
3500mm x 2000mm
£3180 to £11,500
3500mm x 2500mm
£3980 to £14,320
4000mm x 2000mm
£3640 to £11,450
4000mm x 2500mm
£4550 to £16,360
Guardian
N/A
£7000 to £10,750
Additional Costs
As with any construction work, there are a range of added costs that you may want to consider. Let's take a closer look at some prominent examples. These go beyond the lean-to conservatory prices fitted for the total installation.
Laying Foundations
If you need to have new foundations laid as part of this work, expect the cost to be roughly £3600 to £3800 for 5m x 2.5m x 1m, £5600 to £6000 for a 7m x 5m x 1m area, or £11,300 to £11,800 for 15m x 9m x 1m.
As for strip foundation, the pricing is around £3100 to £3500 for a 5m x 2.5m x 1m area, £5000 to £5500 for 7m x 5m x 1m, or £9500 to £10,500 for an area of 15m x 9m x 1m.
Roof Lantern
A roof lantern is a pyramid or dome feature to fix to the top of a roof. They were highly prominent in the Victorian and Georgian eras but have made a return in recent times as a way to let more natural light in, while also adding style and aesthetic value.
On average, it costs £1600 to £1800 to have a 750mm x 750mm roof lantern built, £2500 to £2700 for a 1500mm x 1500mm roof lantern, £3100 to £3300 for a 1500mm x 3000mm roof lantern, or £3900 to £4100 for a 3000mm x 3000mm roof lantern.
Cost Breakdown Calculator
Individual costs of building a 3500mm x 2500mm glass lean-to conservatory – Total Cost: £9500
Labour Costs and Time Frames
You may be wondering what the labour costs would be for building a lean-to conservatory. In this section, we'll look at the labour costs for different conservatory types and sizes as well as the various cost factors.
For a polycarbonate lean-to-conservatory the labour cost is about £3850 to £4400 for one that is 3500mm x 2000mm in size, £4400 to £5225 should it be 3500mm x 2500mm, £4125 to £4950 if it's 4000mm x 2000mm, or £4950 to £5500 for a 4000mm x 2500mm lean-to conservatory.
As for glass roof conservatories, the cost of labour would be approximately £4125 to £4675 for a 3500mm x 2000mm conservatory, £4675 to £5500 for 3500mm x 2500mm, £2200 to £5225 for a 4000mm x 2000mm conservatory, or £5225 to £5775 should it be 4000mm x 2500mm in size.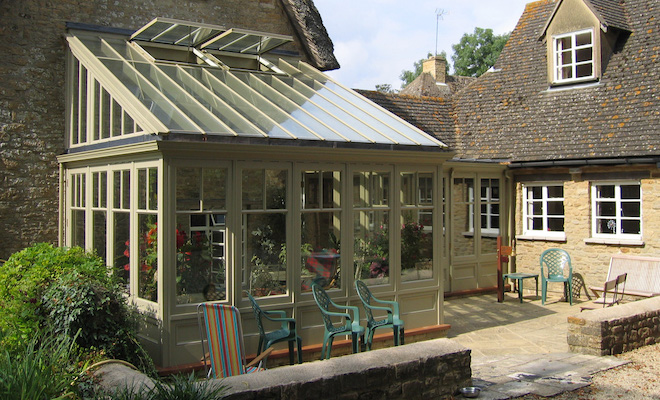 As for constructing a guardian roof conservatory, the labour price will likely range from £3840 to £5910.
As for a tiled roof lean-to conservatory, expect the labour price to be somewhere between £1750 to £6300 for a 3500mm x 2000mm conservatory, £2190 to £7875 should it be 3500mm x 2500mm, £2000 to £7200 for a 4000mm x 2000mm conservatory, or £2500 to £9000 if it's a conservatory with dimensions of 4000mm x 2500mm.
The breakdown of the work will take somewhere in the range of two to six weeks. Firstly, the foundations will be laid, if required.
Then, the wall will be added before finally the roof is installed. The labour cost and timeframe will depend on ease of access, the state of the installation area, and, of course, the size and type of conservatory.
Cost Affecting Factors of a Lean-to Conservatory
In this section, we'll now break down the various factors that shape the cost of building a lean-to conservatory.
Size of Conservatory
As for the size of a conservatory, this is relevant given that the bigger the conservatory, the longer construction will take (and therefore, the higher the labour cost will be).
Further, the larger the conservatory, the more you'll end up spending on materials. A small lean-to conservatory may cost thousands less than a larger alternative.
Type of Lean-to Conservatory Roof
The material used is another important cost factor. For instance, a polycarbonate roof lean-to conservatory would cost about £1000 to £1140 per m2, while a glass roof lean-to conservatory would set you back between £1070 to £1215 per m2.
Foundations
As for foundations, the two primary options are trench fill and strip foundations. The former costs about £280 to £310 per m2 while the latter would set you back by roughly £250 to £280 per m2.
Location of Property
Where you live plays a significant role in determining the labour cost, as builders charge different rates in different parts of the country.
The highest rates are generally found in the southeast and London, while the lowest labour prices tend to be present in the north of England, Northern Ireland, and Scotland.
Ease of Access
The more difficult it is for labourers to ask your garden or/and the specific work area in the garden, the longer the work may take, and therefore the higher the labour costs will likely come to.
What Does Building a Lean-to Conservatory Entail?
Let's now break down the steps involved in constructing a lean-to conservatory.
1. Planning and Hiring a Company
Before work can begin, it's important that you make the right decisions. After all, having a conservatory constructed is an expensive and time-consuming endeavour, and it's important to get it right.
You may, for example, wish to hire an architect or professional designer to help you with the planning stage. Of course, you could just simply consult the company you hire on this matter and allow them to help you in your decision making.
When it comes to hiring a company, it's advisable to seek three quotes before deciding. You should also ask for a few references to increase your confidence in the company that you choose. It's worth considering a range of lean-to conservatory ideas before making a decision.
2. Survey & Prepare
On the day of construction, the contractors present will prepare the area by setting aside all the necessary materials, tools and equipment.
3. Install the Base
Next, the base needs to be constructed. The foundation should be dug, as this will provide the labourers with the chance to remove any unnecessary soil.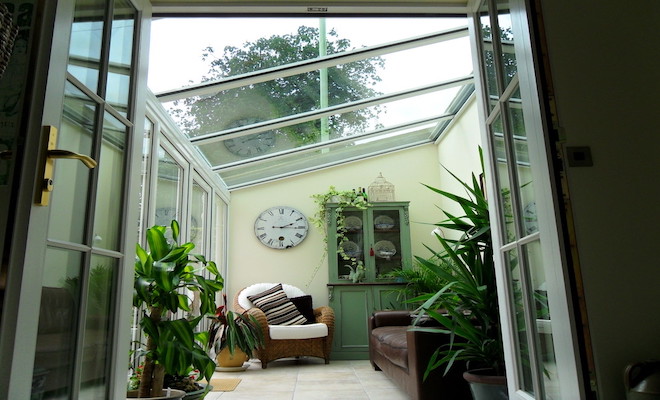 After that point, they'll add a flat surface prior to installing the base. Generally, the base will be made of concrete. Next, the contractors will wash the area around the base.
4. Add the Walls
As soon as the base has been installed, the team will move on to constructing the walls. The dwarf wall should be added first.
After the bricks have been put in place, the cement must be given sufficient time to dry before the doors can be fitted.
Of course, the specifics of installing the conservatory walls will vary depending on factors such as how many walls need to be built and the nature of the design.
5. Install the Roof
Then, it's time to add the roof. Firstly, the roof ridge must be fitted atop the conservatory frames before the roof rafters can be installed.
At this stage, the guttering may be installed. This is important to stop water damage and improve the lifespan of a conservatory.
At this point, you may wish to have decorators added. Of course, it may be suitable to hire a painter or decorator on a different day.
6. Wrap Up and Waste Removal
With work on the lean-to conservatory complete, the contractors will finish up and remove any waste.
Finally, they will tidy the area, leaving it fresh and new for use. Of course, you may still require more installations beyond this point, whether it be pipework, electrics, or otherwise.
DIY Lean-to Conservatory Build
It is possible to build a conservatory DIY to a certain extent. However, if electric or plumbing work is needed, for example, you'd need to hire a professional.
Obviously, you should only undertake construction work by yourself if you know exactly what is required and have the right experience and skills.
As with any DIY construction work, there are risks and hazards to consider. For instance, you risk falling from a height if using a ladder, so you should always have a second pair of hands to hold the bottom of the ladder when you're using it.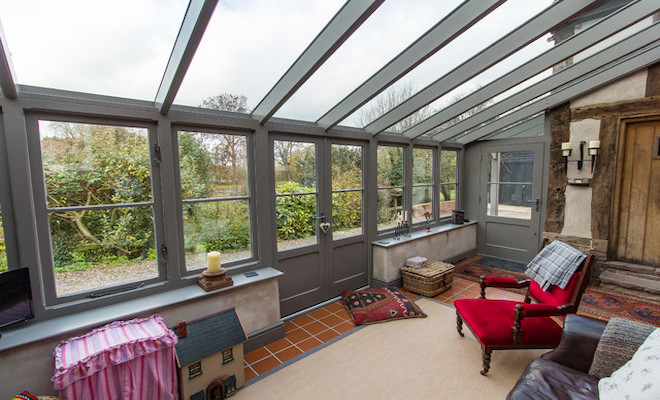 Beyond that, heavy objects could fall on to you, or you could strain your back when carrying a heavy load. It's important that you use the right safety equipment such as protective gloves, a helmet, safety goggles, and protective shoes.
If building regulations approval is required, a building control officer will need to inspect your work and sign off after surveying your conservatory.
Some aspects of building a conservatory DIY are easier than others, and you may even decide to stick to the most straightforward jobs such as painting and decorating.
Types of Lean-to Conservatory Roofs
In this section, we'll take a closer look at the various types of roof materials that may be used for your lean-to conservatory.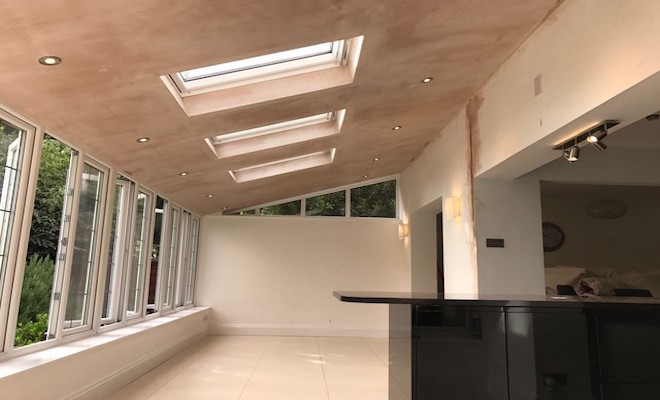 We'll look at the features of each type along with the price tag and pros and cons of each type.
Polycarbonate Roof Cost
Polycarbonates are thermoplastic polymers that make for a strong, resilient material. Polycarbonate roofs are fairly easy to shape and mould and are therefore an easy material to work with when building a conservatory. These roofs are also relatively cheap, costing about £200 to £300 per m2.
Polycarbonate roofs also have a range of transparency levels, with some allowing more light and heat in and vice versa.
However, polycarbonate roofs do not regulate heat, and they are not as visually striking as other roof materials such as glass. Also, they are more vulnerable to damage and are relatively loud when interacting with the elements (e.g. rain or sleet).
Pros:
✔ Relatively inexpensive
✔ Various levels of transparency
✔ Easy to work with
Cons:
✖ Insufficient heat regulation
✖ Less aesthetic value
✖ Prone to damage
✖ Can be noisy
Glass Roof Cost
The most common conservatory roof material is glass. For that reason, it's, of course, easy to find installers.
Not only that, but glass conservatory roofs are highly effective at letting in light and modern glass roofs are also long-lasting and durable. Glass is also quite visually striking and provides significant aesthetic value.
A glass conservatory roof is significantly more expensive than a polycarbonate roof, with a cost of about £300 to £350 per m2. It is also not a great option for regulating temperature or if you want to improve your home's resale value.
Pros:
✔ Most popular option
✔ Let's in plenty of light
✔ Easy to find a company for the installation
✔ Durable and long-lasting
✔ Visually striking
Cons:
✖ Costly
✖ Does not regulate temperature well
✖ Not the best choice for adding value to a property
Tiled Roof Cost
As the name suggests, these conservatory roofs consist of solid tiles. One major benefit to tiled roofs is that they provide a great deal of heat regulation, meaning that your conservatory is not likely to overheat in the summer or end up too cold during the winter.
Tiled roofs are also appealing, and their heat efficiency can save you money by cutting down your energy bills.
One of the downsides to a tiled conservatory roof is that they won't let much light in, and the strength and durability of tiles can vary significantly.
On average, conservatory tiled roofs cost around £1900 to £2100.
Pros:
✔ Great heat regulation
✔ Visually appealing
✔ Reduces energy bills
✔ A lean-to conservatory with solid roof
Cons:
✖ Doesn't let as much light in
✖ Durability and strength can vary significantly
Guardian Roof Cost
You may be interested in considering a warm guardian roof. These roofs are essentially solid lightweight alternatives to conventional conservatory roofs.
They are generally made of resin-bonded crushed limestone. It is designed for longevity and to avoid chipping or cracking. On average, guardian roofs cost between £7000 to £10,750 in total.
Pros:
✔ Modern alternative
✔ Lightweight
✔ Long-lasting
✔ Not as prone to chipping or cracking
Cons:
Benefits of a Lean-to Conservatory
Let's now take a closer look at the advantages of lean-to conservatories.
Cost-Effective
As far as value for money goes, lean-to conservatories are among the best design options out there. Since the design and structure is relatively straightforward, construction and maintenance is relatively cheaper. Overall, they tend to offer better energy efficiency too.
Can Suit Many Properties
Due to the simplicity of lean-to conservatories, they can be made to fit a range of traditional and modern homes.
Even in awkward places, a low pitched roof, as you'll find with a lean-to conservatory, can be made to fit relatively easily.
Added Natural Light
Assuming you go for a glass or polycarbonate roof, a lean-to conservatory is a great option if you're seeking a sunroof. This would be particularly enjoyable to use during the summer.
Building Regulations for Lean-to Conservatory Construction
If the conservatory is to be made of uPVC, you need to consider British Standard Marks (BSEN 126908 or/and BS7412). The purpose of these checks is to ensure that a conservatory can support its roof load.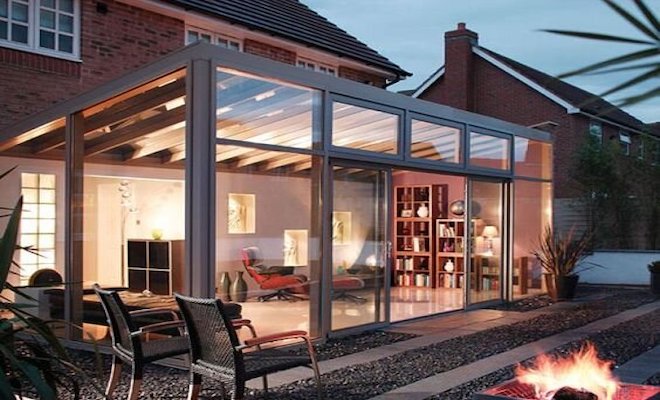 However, a conservatory does not need building regulations approval if:
The conservatory is smaller than 30m² in size
Your conservatory will be made up of non-combustible materials
It will be separate from nearby buildings or land and will not feature sleeping accommodation
You can find more information on Planning Portal. The regulations laid out on the Planning Portal apply specifically to England and Wales, and therefore the rules for Scotland and Northern Ireland may differ.
The cost of applying for building regulations and a building control inspection would come with a subtotal of around £300 to £500.
Planning Permission for Lean-to Conservatory Construction:
As for planning permission, you would need to apply if:
Over half the area of land that surrounds the original property is set to be covered by the new conservatory
The conservatory will be built ahead of the principal elevation
The conservatory will be built beyond the side elevation if your home fronts a highway
Your conservatory will extend beyond your property's rear wall by over four metres if you live in a detached house or three metres for any other type of property
Your conservatory will be taller than the highest part of your existing roof, or its eaves will be taller than the current eaves of your property
A microwave antenna, raised platform or alteration to the roof of your home will be involved in the work
Your home is located on article 2(3) designated land, and you intend cladding to be a part of the exterior work
As with building regulations, more information can be found via the Planning Portal. Again, the rules listed are specific to England and Wales, and Scotland and Northern Ireland's regulations may differ.
A planning permission application would cost about £200 to £500.
Removing a Lean-to Conservatory
The process of removing an old conservatory generally involves first removing the roof before disassembling the walls. At this point, the base and foundations can be removed.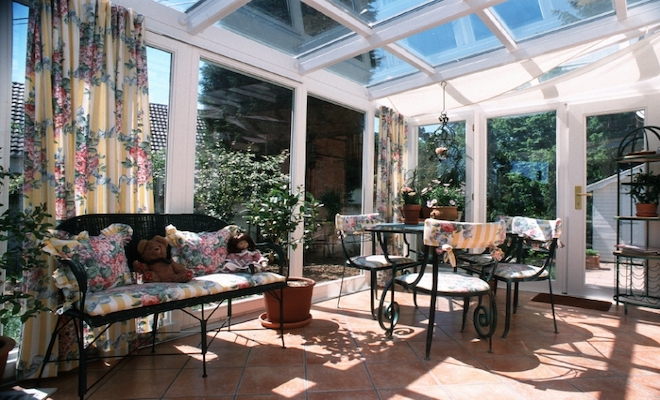 In total, it may take a few days, and it is best to hire a professional for this job. However, if you feel confident enough in your skills and ability, you could remove a conservatory DIY.
Between the cost of labour and that of waste removal, expect to pay about £400 to £600 to have a conservatory removed.
FAQs
How to Find & Hire a Lean-to Conservatory Builder
Unless you are particularly experienced and skilled in DIY construction, you should hire professionals to build your conservatory. However, some work must be performed by professionals, if applicable, such as electrical work.
Labour costs tend to fall between £100 and £200 per day, with 2-3 labourers usually being hired. When hiring a contractor/company for the job, you want to find someone with sufficient experience, insurance, and accreditation.
Ideally, a professional builder should have an NVQ. Of course, qualifications aren't always necessary. You can always contact the contractor/company directly if you'd like to find out more about any certifications or/and qualifications that they may have.
Sources
https://www.localconservatoryprices.co.uk/lean-to-conservatory-roof-replacement-cost
https://www.conservatoryonlineprices.co.uk/lean-to-conservatory
https://guardianbuildingsystems.co.uk/conservatory-roof-options-the-pros-and-cons/
https://www.acplasticsinc.com/informationcenter/r/polycarbonate-roofing-pros-cons
https://www.majesticdesigns.co.uk/news/what-are-the-benefits-of-a-lean-to-conservatory/