How Much Does a Kitchen Extension Cost?
The average kitchen extension costs £30,000, if you're living in London, it'll be closer to £50,000.
How many options do I have and how will that affect the overall cost?
Because there's so many options out there, any decisions you make on size, tradesperson, finishes, flooring, kitchen type etc. will have a significant impact on your overall price. A small, basic extension can be around £12,000, whereas a large, top-quality kitchen extension can reach prices of £100,000.
How much you'll pay relies heavily on size and quality of finishes. For a basic extension you can expect to pay £1, 500 per m². If you're looking at the higher-quality finishes, expect to pay between £1,900 per m² - £3,000 per m².
Remember to factor in a new kitchen cost, which on average is £10,000.
Kitchen Extension Prices
To get a more accurate estimate, understanding what type of finish you'd like your extension to end up with can help:
Basic - The bare essentials.
Average - A few bespoke items (bi-fold doors, quality flooring etc.).
Deluxe - All finishes and furnishings are top-quality.
Then you have to contemplate sizing; a small kitchen is around 15m², medium is 24m², and large is 48m².
Use the table below as an estimate for how much your new kitchen extension will cost:
| Size | Finish Quality | Avg. Cost |
| --- | --- | --- |
| Small | Basic | £12,000 - £16,000 |
| Small | Average | £16,000 - £21,000 |
| Small | Deluxe | £21,000 - £30,000 |
| Medium | Basic | £19,000 - £26,000 |
| Medium | Average | £26,000 - £34,000 |
| Medium | Deluxe | £34,000 - £48,000 |
| Large | Basic | £38,000 - £52,000 |
| Large | Average | £52,000 - £67,000 |
| Large | Deluxe | £67,000 - £100,000 |
A few additional costs may have to be considered for your budget, mostly regarding planning and building control.
| Additional Costs | Average Price |
| --- | --- |
| Planning drawings | £1,000 - £3,600 |
| Measured survey | £500 - £1,500 |
| Construction drawings | £1,400 - £3,400 |
| Structural engineer's fees | £500 - £1000 |
| Certificate of lawful development | £200 |
Cost Breakdown Calculator
Individual cost of single-storey average kitchen extension at 24m² – Total cost: £30,000.
Labour Costs and Time Frames
Time delays are expected when completing a complex project such as a kitchen extension. Trying to juggle different labourers' availability and material deliveries can changed time frames, making them less accurate. The table below will give you a general idea on what to expect, determined on your extension size:
| Extension Size | Duration |
| --- | --- |
| Small (15m2) | 8-10 weeks |
| Medium (24m2) | 10-12 weeks |
| Large (48m2) | 10-12 weeks |
Labour costs can vary, based on location and speciality (kitchen fitter, plumber etc.). On average, a tradesperson charges £150 - £200 per day.
Cost Factors of a Kitchen Extension
Building a kitchen extension is a complicated process and many variants can increase the cost. If you're on a tight budget and have no contingency, it may be worth noting what to look out for.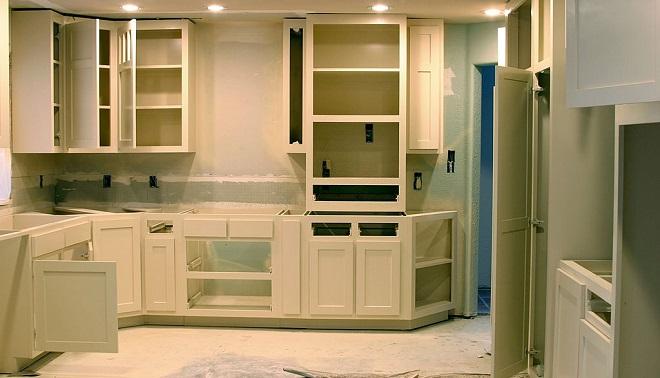 Planning
Before any building work begins or new kitchen designs are chosen, you'll need to investigate whether or not you need planning permission. If you're in England or Wales, you can check out the GOV website for details.
If you need planning permission extra costs may include:
Planning application fees - £200 approx.
Flood risk assessment - £600+
Ecology report - £720+
Tree report - £200+
Building control costs - £250 to £900
Party wall agreement - £700 to £1,000
If you don't need planning permission, you might have to pay for a certificate of lawful development, which costs around £200.
Design
After you have the correct permissions, you can move on to design. In theory, the design cost should be between 3% to 7% of the total extension price.
Design fee could include:
Planning drawing - £1,000 to £36,000
Measured survey - £500 to £1,500
Construction Drawings - £1,000 to £3,300
Structural engineer - £500 to £1,000
The Essentials
Here are the average costs of the essential work that needs to be completed in every kitchen extension:
Electrics & Plumbing - £2,000 to £4,500
Heating - £500 to £2,500
Plastering - £1,500 to £3,000
Rendering - £850 to £2,700
Roofing - £2,000 to £4,000
Brickwork - £3,000 to £5,000
Foundations - £2,000
Decoration
Once all the major building work has been completed, decorating your new extension will be next. Below are costs of what decoration might cost on average:
Concrete Flooring - £160 per m2
Hard wood flooring - £30 to £100 per m2
Laminate flooring - £10 to £60 per m2
Wall or floor tiles - £10 to £80 per m2
Paint and wallpaper - £20 to £50 per m2
Appliances
Every kitchen needs appliances, and as there are so many to choose from, they can be a cost factor:
Fridge freezer - £600
Washing machine - £350
Tumble dryer - £400
Dishwasher - £300
What Does a Kitchen Extension Entail?
Planning -

You can choose to have an architect draw up plans for your builder work alongside. Then you'll have to investigate whether you need planning permission, it's not always necessary, but does cost around £200.

You may need additional reports carried out like a flood risk assessment and ecology report.

Groundwork -

Next, a measured survey will be completed and a structural engineer will mark out the foundations, and then the builder will begin to dig them out. Foundations are crucial for the extension's longevity and building safety.

It's vital at this time to triple check all measurement and make sure all the plans are correctly labelled. Building control will then check the foundations, and once they've given the go ahead, you can begin to pour the footing (concrete) into them.

Main Build -

The outer shell will now be built on top of the foundations. The basic structure is usually manufactured from brick, breeze blocks, or timber. Once the walls are up, the roof and subfloor can be fitted.

When the windows and doors are fitted, the extension should be water tight, and work can continue on the interior.

Fittings -

The first half of the electrics and plumbing can now be completed, by running wires and pipes through the walls, ceiling and subfloor. Now the plasterboard for the ceiling and walls can be attached and a plasterer can be hired to plaster the entire extension.

Any fitted ceiling lights will be connected and hung but an electrician.

Before putting down any flooring, it's recommended the walls and ceiling are painted first. All plug sockets and light switches. The floor can now be laid, whether it's tile, polished concrete, wood or laminate.

Skirting boards can put fixed by a joiner around the circumference of the room, and glossed in needed. Radiators and boilers will also be installed at this point.

Finishing -

The kitchen units and appliances can now be fitted. This is normally completed by a kitchen fitter, plumber and electrician. Together, they'll fit and connect all appliances and plumbing. After everything has been complete, the electrics and plumbing can be signed of and certified.
Kitchen Unit Costs
For a medium sized kitchen, the average cost for standard units is around £5,800. The price can change based on what vendor you buy from, what design you select, and the size of your kitchen. A small kitchen is typically 8 units, medium 12 units, and large is 16 units.
The differences between kitchen finishes are what they're manufactured from. The basic units tend to be made from MFC (melamine faced chipboard). Average units are made built from hard-wearing MDF (medium-density fibreboard), and the deluxe units are made from solid timber.
| Kitchen Size | Kitchen Finish | Avg. Cost |
| --- | --- | --- |
| Small | Basic | £3,000 |
| Small | Average | £4,300 |
| Small | Deluxe | £5,100 |
| Medium | Basic | £4,400 |
| Medium | Average | £5,800 |
| Medium | Deluxe | £7,600 |
| Large | Basic | £5,800 |
| Large | Average | £7,600 |
| Large | Deluxe | £10,300 |
Kitchen Worktop Costs
Worktops are available in a variety of materials for any budget. The overall cost will depend on your kitchen size too.
Laminate
Laminate worktops are the most basic and work out at about £20-£40 per m2. They're quite minimal maintenance and are easily cleaned with a soft cloth and warm, soapy water. They're hardy and resilient to scratches, heat and water.
They're manufactured from timber substrate, wrapped in multiple layers of impregnated paper that's been heated and pressurised. You can choose laminate in almost and style you wish, and it can mimic natural materials too, such as, wood, marble and granite.
Solid Wood
Solid wood worktops are slightly more expensive at £75-£100 per m2. You'll have to oil wood surfaces every six months or they'll become permeable and unhygienic.
As wood is a lot softer than some materials, it can be easily scratched and scorched but it's easy to rectify with light sanding and oil. Wood goes with almost any kitchen style and colour, and if maintained properly, will look better as they age.
Granite
You can pay £150 per m2 for lower-end granite, whereas, top-end granite will cost £400 per m2. Granite is a natural material and mined directly from the earth in large slabs. They're then cut and polished to give a smooth, glossy appearance.
Because they're 100% natural, all granite worktops are unique, and come in a variety of shades and colours. They're extremely hard-wearing, and won't scratch or scorch, but they can chip and crack.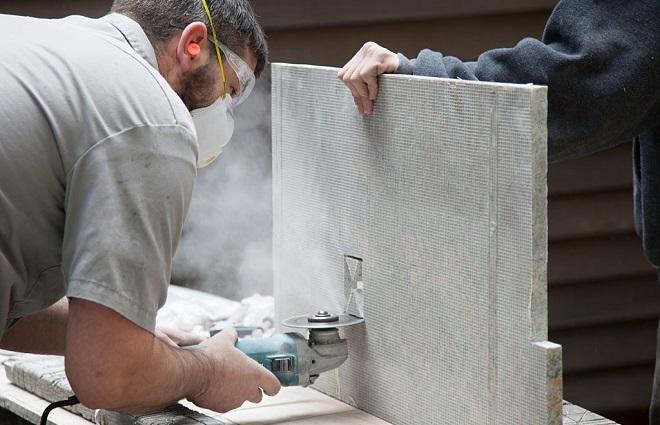 Marble
If you're looking at marble worktops, budget for at least £315 per m2.
Marble has been used in construction for thousands of years, and even though it's a soft stone, it'll last a life-time. You can expect scratches and chips over the years, and stains if spills aren't taken care of quick enough.
Quartz
Quartz is one of the most expensive materials and costs between £225 - £475 per m2.
It's man-made, engineered product made from quartz (usually 92% - 94%) mixed with resin and colour pigment. Because it's manufactured stone, it's available in an array of colours and is extremely hardy, more so than granite.
Corian
The most expensive material you can purchase is Corian, which average at £500 per m2. It's made from acrylic resin and minerals. Because of the way it's constructed, it can endure the daily wear and tear of scratches and spills.
What makes Corian so popular is it's almost seamless appearance and that it's available in over ninety colours.
Kitchen Appliances
If you choose to purchase new appliances for your kitchen extension, you can pick from budget buys to the best available. Here's a list of appliances and their range of costs:
Washing Machine –

There are two types of washing machine, freestanding and integrated. Freestanding can range between £170 - £2,600 and integrated cost between £400 - £850.

Tumble Dryer –

Three types of tumble dryer are available; condenser, vented, and heat pump. A condenser dryer doesn't need an external vent, and gathers the water in a container, unlike the vented dryer, which does require an output vent. Condensers are slightly more expensive and range from £190 - £1,030. Vented dryers cost between £180 - £800.

The heat pump dryer is the more expensive, but more energy efficient dryer, that recycles warm air. They can range anywhere from £350 up to £1,900.

Oven –

You can purchase a single or double oven that either uses electric or gas. Electric single ovens cost between £140 - £1,800, double ovens range from £260 - £2,000. Gas ovens don't have as wide a range as electric; single ovens cost £300 - £649 and double oven cost £450 -£800.

Hob –

You can choose between four different hob styles, solid plate, gas, ceramic, induction. Solid plate is the cheapest at £90-£300. Gas hobs range from between £70 - £1,000, and ceramic hobs cost £130 - £850. The most expensive hob is the induction, costing between £160 – £2,700.

Cooker –

Cookers have a grill, hob and oven all-in-one. They come in four different styles; electric, gas, induction and duel fuel. Electric cookers range between £180 - £1,100 and gas version costs £200 - £850. Induction are more expensive ranging from £500 - £1,000.

Duel fuel give you the use of a gas hob and an electric oven/grill, and cost around £240 - £1,400.

Range Cooker –

Range cookers are the most expensive cooking appliance and are available in gas, electric and duel fuel. Gas versions vary from £870 - £2,300. Electric ranges cost between £520 - £4,900.

Duel fuel ranges have a gas hob with electric grill and ovens, and cost £630 - £4,900.

Cooker Hood –

Cooker hoods have a wide variety of styles, but the most popular three are, chimney, ceiling and built-in canopy. The chimney style ranges from £80 - £1,550 and is similar in price to the built-in canopy which range from £80 - £1,400. The ceiling hood is more expensive and can cost £800 - £2,050.

Dishwasher –

Dishwashers are pretty straight-forward and come in three types; freestanding, integrated and slimline. All types are similar in price with freestanding ranging from £200 - £1,200, integrated from £220 - £1,400, and slimline from £200 - £800.

Fridge Freezer –

Fridge freezers are available in freestanding and integrated. There's no real difference in pricing between them both. Freestanding versions cost around £150 - £2,100 and integrated versions cost £250 - £2,100.

Fridge –

If you wish to purchase a standalone fridge, you can choose either freestanding or integrated. Freestanding fridges cost between £110 - £1,650, depending on size. The integrated versions cost £240 - £2,250.

Freezers –

A separate freezer has three styles to choose from; freestanding, integrated and chest. You can expect to pay £130 - £1,150 for a freestanding. Integrated freezers cost around £360 – £1,750. Chest freezers will cost you between £120 - £650.
If you're not installing the appliances yourself, expect to be anywhere between £50 - £300 for a professional installation.
How Should I Extend My Kitchen?
Before planning your extension, you need to think about how you're going to utilise the space. Will it just be a kitchen, kitchen & dining room, or kitchen & lounge? Once you know how you're going to use the area, you can then think of size and where to put the extension on your home.
Regarding size, there's no point in spending money on an extension that is too small to use correctly. But bigger isn't always better either, as you want it in proportion with the rest of your house.
Where to place your extension is next. You can extend from the rear of the house, but be careful not to remove too much outdoor space, try to find a balance that works.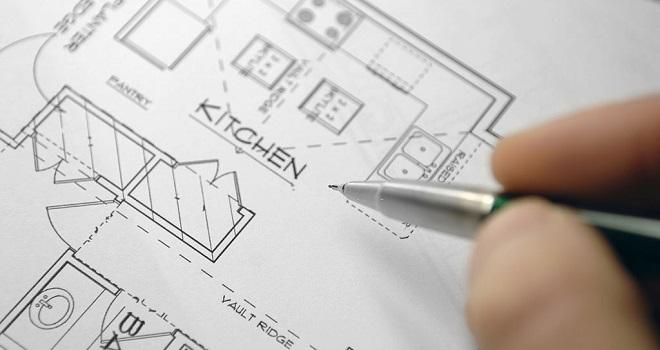 If you're living in a terrace, semi-detached or detached house, a side return extension is recommended. This uses the land to the side of the house, creating an L shaped garden. If you own a townhouse, it may be a good idea to create a basement extension. An architect can assist and advise you on this if you're not confident on what to do.
Open-plan kitchen designs have gained popularity due to creating the perfect area to cook, eat, socialise and relax in. You can create an open-plan layout in almost any size kitchen extension, the most important thing in open-plan is: layout. It's best to create distinct zones or it can lack flow and charisma.
Planning Your Kitchen Extension
There are a few things to consider when planning the layout of your kitchen. Firstly, the best way to exploit the space. You want to get the most out of the space you've created and the best way to do that is make separate zones to help multifunctional living.
You can use separate colour coded zones or unify them by using the same colour throughout. It's best to keep the dining zone in the most lit up area (next to bi-folds, or underneath pendant lights).
You can create a conservatory kitchen extension; this will create even more natural light and give you a Mediterranean style of living. Or, you can create a conservatory kitchen diner, and put the dining table in the conservatory. Modern conservatory conversions are on the increase, mostly due to kitchen extensions.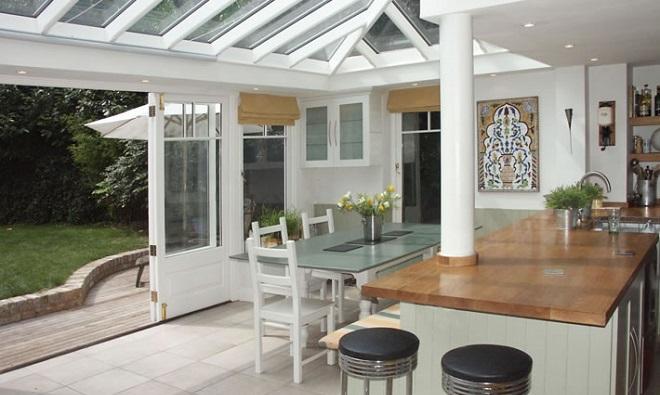 Open-plan extensions are now the most popular by far. But are they for you? They're a great room for bringing family together as well as entertaining friends.
The open space creates light, and brightens up the whole space, and also add property value to your home. It's recommended that if you do go for an open plan kitchen to add a separate utility room for noisy appliances, such as washing machines. You could also include a separate pantry to help organise space.
Think carefully about storage and what you need it for. Always try to keep cupboards to a particular area rather than have them spread about, this creates a better flow and keeps everything in one place and close to hand. You can also use integrated appliances if you wish to create a seamless block of units. You could also split up the space by using an island rather than continuous worktops.
When adding a new extension to your home, you have to keep in mind the style and period of your existing house. You want the extension to fit in with your overall house, not stand out. Try to incorporate the old and the new into the extension by using architectural characteristics and design features from both.
Adding Electrics To a Kitchen Extension
Depending on the age of your home and when the electrics were updated last, you may need to upgrade your current system. Your current system may not be able to handle new sockets and new appliances, so hiring an electrician to double check this is recommended. An electrician will charge around £120 - £350 per day, this could vary on your location.
If your home doesn't have an RCD (Residual Current Device) installed, it's now a legal requirement that one is fitted. An RCD turns off electricity if a fault is detected, so it can prevent electric shocks and fires.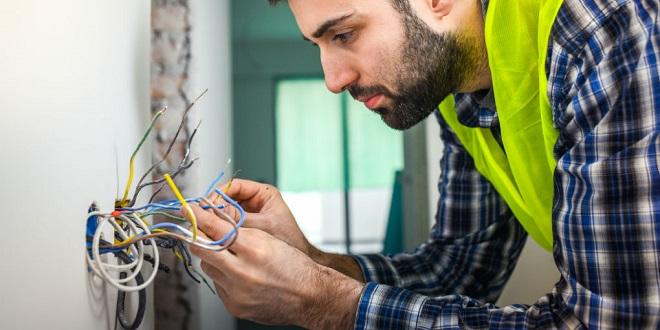 If your system does need updating, expected to pay anywhere between £850 - £4,500, this depends on location and also how much of the system needs updating.
Once the extension is complete, you will need to have an Electrical Installation Certificate supplied from your builder or your electrician. This is to prove all sockets and circuits have been tested and confirmed as safe in the new extension.
Adding Plumbing To a Kitchen Extension
Adding plumbing into your new kitchen usually happens in two fixes. The first-fix is for the pipework connecting the water supply and the waste water drainage. To do this, your plumber will check your existing system and evaluate what the best method is for adding the new supply and wastage. This could mean new pipework underneath your floor or along your walls.
The second-fix is where all the new appliances are connected (washing machine, dishwasher etc.) and all pipework is checked for faults or leaks. This is usually done near the end of the build.
You can expect to pay around £120 - £250 per day, depending on location.
Heating Your Kitchen Extension
There are a variety of heating options you can consider for your kitchen extension. Firstly, if you're installing a new heating system, you may need to know the difference between the boilers available.
Combi Boilers –

Combi is short for combination boiler and doesn't need any additional storage tanks. They're cheaper and easier to install and are perfect for smaller homes with few bathrooms. Depending on the size, they can cost between £500 – £2,200.

Conventional Boilers –

A conventional boiler (or standard boiler) needs a cold-water tank fitted in the attic and a hot-water cylinder fitted somewhere else in the home. If your home has two or three bathrooms, this is the boiler you want. They can cost between £1,300 – £2,700.

Sealed System Boilers –

A seal system boiler works like a combi boiler, but it has storage for hot-water. So, if hot-water is in high demand, or you have three bathrooms or more, this might be a good choice. They range from £1,000 - £2,500.
Choosing heating options depends on what fuel you're using too; gas, electric or oil. Gas is the more popular fuel used for heating systems in the UK. Electric is becoming popular as it's an eco-friendlier option and oil only tends to be used when there is no gas or electric available.
Oil or gas radiators cost from as little £20 to £800, based on size and design. Electric radiators can be a bit more expensive at £80 - £900. You can get electric radiators that are oil-filled, which are slower to heat up than standard electric radiators, but have a longer cooldown period.
Underfloor heating is another option and works well with open-plan living. There are two types of underfloor heating: electric and hot-water systems.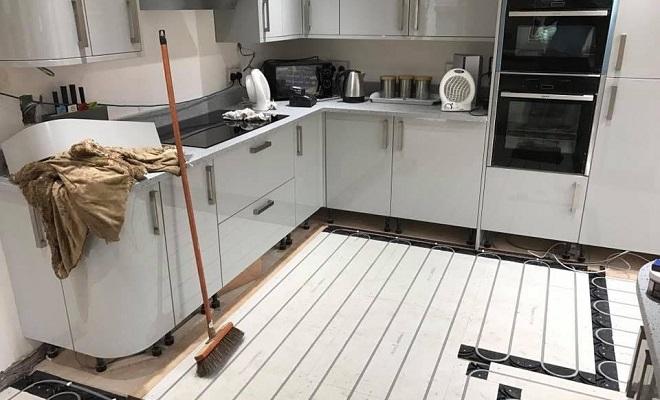 Electric underfloor heating uses a series of electrical wires or heating mats on top of floor installation. It costs around 10p per m² to run, and between £45-£80 m² to install (depending on electrician costs and heating controls).
Hot-water underfloor heating can by run from a standard gas central heating system (as well as solar panels), and consists of a series of pipes being laid under the floor. It's usually better to fit in larger rooms, but installation is more costly than the electric version at around £2,000 upwards for the entire job.
Because it runs more efficiently (at a lower temperature than radiators), it works out cheaper to run than the electric underfloor heating.
Best Kitchen Lighting
Natural light in a modern kitchen extension is important and easily achieved. As the kitchen is used to prepare and cook food, visibility is essential. Skylights are very popular, and can light up the kitchen directly from above. They can cost around £100 - £1,200, based on size and style.
Bi-folding & sliding doors are another great way to let light flood in, they vary in style and size, and can be fitted in almost any kitchen extension. Bi-folds range between £1,500 - £7,500, based on size and finish. Sliding doors can cost £1,650 - £15,000, again based on style and size.
It's suggested that you plan your kitchen lighting early on, as the electrician will need enough time to fit the correct wiring in the desired locations. The easiest way to map out your lighting is to divide it in to zones. If you have a kitchen diner extension, you will need task lighting for the kitchen (for more visibility) and mood lighting for the dining room.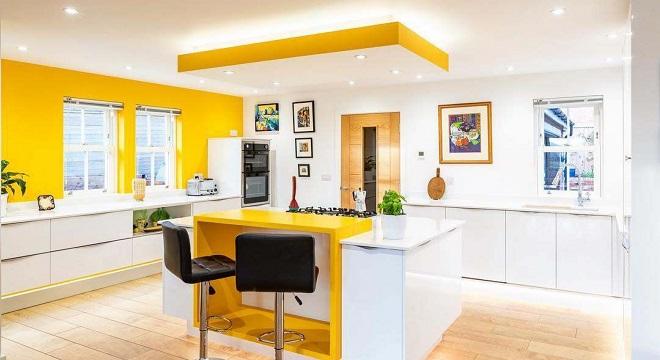 For the kitchen task lighting, you can have downlights fitted into the ceiling, which are usually LEDs that create bright light for the best visibility. A pack of ten can cost between £40 - £100, depending on finish (matt white, chrome, brushed aluminium).
Pendant lighting is also a great option, you can have them installed over an island or in the ceiling. They can cost anywhere between £7 to £600.
Spotlights are also another choice and are very similar to downlights other than they're surface mounted rather than ceiling mounted. You can expect to pay between £6 to £150.
Most kitchen retailers will offer lighting that can be attached to kitchen units. You can add under cabinet lighting and plinth lighting at an extra cost.
Planning Permission
A kitchen extension can be built without planning permission, as most houses have permitted development rights if you follow certain conditions, such as:
You can't cover more than half of the land around the original house.
The maximum height for a single-storey is four metres.
Verandas, raised platforms or balconies are not permitted.
Exterior materials look similar to the existing house.
You can find all the restrictions and conditions here. To be certain that you don't need planning permission, you can apply for a Lawful Development Certificate. It's not a legal requirement and there is a fee. To apply, got to the Planning Portal or your local authorities.
If you do need to apply for planning permission, you can apply online at the Planning Portal and to find how much it'll cost to apply, click here (this is only relevant in England, contact your local authorities if not in England).
If you're living in a listed building, you'll need to apply for Listed Building Consent. To apply, fill out the online application form on the Planning Portal website and there's no fee. It's illegal to carry out any extension work on a listed building without permission.
Once you've applied for planning permission, it depends on the complexity of the build for how long you wait. If it's a straightforward application, it should take no longer than eight weeks for a reply. Something more complicated may take up to thirteen weeks. If your property needs an Environmental Impact Assessment, you may have to wait sixteen weeks.
Planning permission can be denied for the following reasons:
Privacy issues (overlooks neighbouring property).
Limits any road access.
Excessive development.
The extensions appearance is clashing with existing and surrounding property.
Harmful materials to be used.
Your extending a listed building.
Loss of light to neighbouring property.
Damaging impact on trees or a nature conservation.
If your planning permission is denied, there will be a written, clear reason why. Most local authorities allow you to make changes to the plans and reapply (without additional costs) within twelve months.
If you need planning permission, but proceed without it, you will have to fill out a Retrospective Planning Permission application. If this fails or you don't apply, you could be asked to demolish any building work or extension.
Building Regulations
Building regulations differ to planning permission, they provide specific building standards concerning both design and construction. This is to protect the health and safety of people living in the property or surrounding area.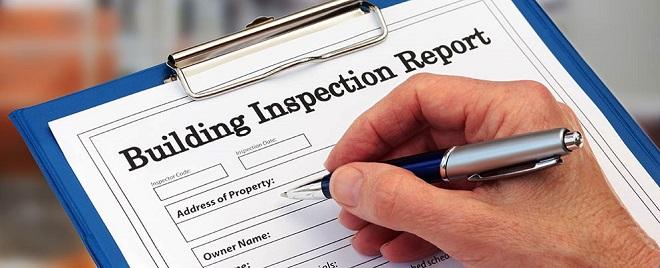 You can either send out a Full Plan Submission or a Building Notice to your local authority. A Full Plan Submission means you can send plans to your local authority building control to inspect for approval before building work starts. Then an inspector will visit the site at certain stages of the development.
A Building Notice is a statement that notifies the local authority that your complying with building regulations and when your building work is starting, and an inspector will visit at certain stages of the build.
Approval and inspection may be needed on the following:
Electrical safety.
Foundations.
Internal and external roofing.
Doors and windows.
Drainage and waste disposal.
Internal and external walls.
Party Wall Agreement
If you're planning an extension and your home has an adjoining property wall, under the Party Wall Act you're obligated to notify (in writing) adjoining neighbours and ask for their consent at least two months before any building work begins. There are letter templates plus more information here. You'll have to included your plans and ask for their consent in writing within two weeks' time.
Your neighbour can then reply within two week and:
Give their consent in writing.
Decline to give consent.
Produce a counter notice (asking for additional work to be completed at the same time, if they benefit from it, they pay for it).
If your neighbour refuses to give their consent, it becomes a dispute. Both parties must then hire a surveyor who will create a party wall award which states what work can happen and how, and also who will pay for what. The surveyor can cost between £300 - £900.
It's recommended you speak to any neighbours face-to-face before sending your letter to talk through any disagreements first. Legally, you don't need to give neighbours any notice, but it's suggested as it can disrupt building if they have any objections.
Who Will I Need To Hire To Build My Kitchen Extension?
It takes numerous tradespeople to complete a new kitchen extension. Here's a list of trades that you might come into contact with:
Interior Designer –

Interior designers can help you create a space that's functional and aesthetically pleasing. They can work with your painter and decorator to create the style of extension you want. Their cost per hour ranges from £25 - £60.

Structural Engineer –

When any serious renovation is being completed, it's best to hire a structural engineer to help evaluate how practical the extension plan is. They'll be able to establish what alterations you can make, what materials are needed, and how to guarantee the extension will be safe and structurally sound.

Structural engineers charge around £40 - £100 per hour, depending on location.

Builder –

It's best to get quotes from builder once you have preliminary drawings or designs in place, then they'll be able to give you a more accurate price. Choose a builder who has finished similar extensions to the one you're suggesting.

Builders usually complete any constructional work and you can expect to pay £140 - £250 a day.

Painter and Decorator –

A qualified painter and decorator can work with an interior decorator and offer advice on what direction you should go. They will paint and wallpaper walls, as well as gloss any wood (doorframes). Their typical day rate is between £100 – £190.

Kitchen Specialists –

A kitchen specialist can be a big market brand kitchen provider, that delivers an all-in-one service from designing, manufacturing the units, to installation. This will be added on to your overall kitchen price. It's best to wait and have a blank canvas before deciding your kitchen design.

The other option is to purchase your desired kitchen and hire a kitchen fitter of your own, they'll usually charge £125 - £160 per day.

Joiner/Carpenter –

If your putting wood cladding on the exterior of your extension, or fitting hard wood flooring down in your kitchen, you may need a joiner to complete this for you. You can expect to pay a day rate between £130 - £180.

Plasterer –

After the shell of the extension is finished and is water tight, a plasterer can plaster board all the walls and ceiling, and plaster on top of them. Most plasterers can also render the exterior of your extension. They typically charge £100 - £170 per day.

Window Fitter –

A window fitter can be hire to install any glazing. So, any windows, bi-folding & sliding doors, as well as skylights. They can charge from £110 - £170 per day.

Roofer –

A roofer is an expert who specialises in roof construction. They'll be able to design and build your extension roof. They can charge roughly £145 - £225 a day.

You can hire on company to complete the entire extension for you, or you can shop around and find your own multiple traders.
Do I Need To Hire An Architect?
Hiring an architect isn't compulsory, but it'll be beneficial in the long run if you do. Architects take about nine years to complete their studies and qualify fully, which makes them highly knowledgeable in design, building regulations, materials needed and communicating it all to the builder.
Offering your builder as many details on the project as possible, such as comprehensive plans, material requirements, measurements and quantities, not only will help your build run smoothly, but help keep your costs accurate to budget.
When choosing an architect, make sure they're registered with ARB (Architects Registration Board), and try to choose an architect in your area as they'll know the local building regulations and natural conservation zones.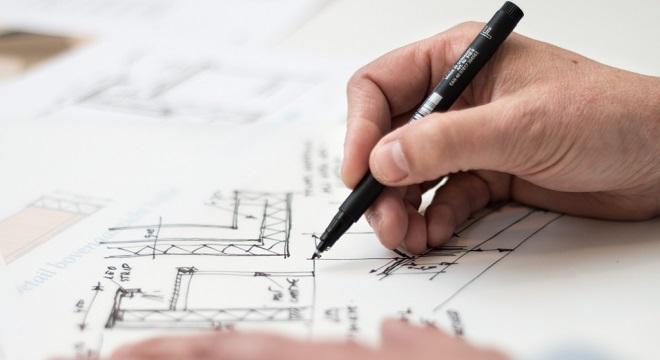 Architects offer a range of services, and depending on what you want will affect their fees. I you want just the plan to be drawn up, this can cost £1,000 - £3,600. In some circumstances, fees can be lower than £1,000 if the extension is small and simple.
If you want your architect to work on the entire project, from design to completion, they usually work out their fees by taking a percentage of the overall cost of the build. For an extension, it's usually between 7% - 12%. So, if your extension cost was £30,000, architects will charge between £2,100 - £3,600.
If your budget won't allow an architect and you only want plans drawing up, other professionals may be able to complete this for you at a lower cost, such as an architectural technician. But they cannot offer all the services a qualified architect can.
Will a Kitchen Extension Bring Up My House Value?
Extending the overall square footage of your home will most definitely increases your home's value, especially a kitchen extension. It's certainly an investment for the future as it can raise your estimated house price by 11%. This does heavily depend on your home's location; the size of the extension and the quality of the finish.
If you live within England & Wales, you can use this calculator developed by ONS (Office for National Statistics), which will estimate how much an extension will increase your home's value by.
Controlling Your Kitchen Extension Costs
If you're on a tight budget and don't have a contingency, keeping control of your spending is important. Here are few tips and tricks to keep those costs low as possible:
Compare Prices –

When it comes to purchasing materials or furniture, make sure to compare prices from various retailers so you get the cheapest prices available. You'll be surprise at how much you can save.

Ask for Multiple Quotes –

While finding traders, don't just hire the first builder you get a quote from. Shop around and ask for multiple quotes from various traders and hire the one that's the best value for money.

Kitchen Sales –

Most famous kitchen retailers have sales throughout the year, mainly after Christmas. Wait to buy your kitchen in a sale and you could save a huge 50% off your dream kitchen. So, an average kitchen of £10,000 would become £5,000, which will make a big difference to your overall cost.

Trade Discount –

Take advantage of any trade discount you can get through your hired tradespeople or family and friends. A lot of building merchants offer discount to tradespeople and it can help save some cash on materials.

Buy Second-hand and Recycle –

If you don't mind purchasing second-hand furniture or finishes, it's highly recommended and can save you a lot of money. For example, if you're thinking of buy hardwood flooring you can purchase it second-hand online, where it may have come from an old school hall etc.

Be Accurate –

When measuring for materials, double or triple check your measurements. The more accurate you are with your design, the less wastage you'll have on materials, saving you money.

Become Project Manager –

If you're confident you could run the extension project and hire individual traders, you can get away without having to hire a builder. This could save 12% -25% on the overall cost of labour.

Bypass Complex Groundwork –

Try to bypass anything complicated when choosing where to locate your build. For example, don't build too near trees, drains or sewers, as this can increase the groundwork cost dramatically.

Price and Payment Schedules –

When paying traders, decide a price and payment schedule. This means you only pay for the work completed and the materials used. This will make sure no money is wasted on unreliable traders or undelivered materials.
Another major help to keep costs low is to DIY and complete the less specialised jobs yourself, or help traders to prep and clean-up. Here are a few ideas you can DIY:
Demolition –

If you need to rip out your old kitchen or knock down walls (as long as it's structurally safe), this can be done yourself with a team of family or friends. Just be careful if you come across any plumbing or electrics.

Prep –

If you help traders to prep before a job, they'll usually knock off some money off the job price, or day rate. For example, cut and fit plasterboard ready for the plasterer.

Cleaning –

Tidying up after each job and making sure the worksite is tidy yourself can lower a trader's price.

Painting & Wallpapering –

This job depends on what finish you want in your extension. If you want a perfect finish, then hire a qualified painter and decorator. If you're not too fussed, pick up a paint brush and try it yourself.

Laying down flooring –

If you're tiling or laminating the extension floor, and you're fairly confident with DIY, it may be a good idea to try laying down the flooring and could cut costs on labour. If you're unsure, leave it to the professionals, as it could end up costing you more if you botch the job.
Removing Your Kitchen
You can remove your kitchen yourself with some help from friends and family. Here are some tips to consider:
Remember to turn off all utilities including gas, water and electric before you start.
Hire a skip for wastage if you're throwing away your kitchen.
When removing water-based appliances and sinks, ensure pipes stay upright to stop spillages.
With any heavy-lifting ask for help.
When removing kitchen units, unscrew both wall and floor brackets.
If you wish to hire a trader to remove your kitchen for you, you can expect to pay between £200 - £400. Skip hire depends on the size of the skip and ranges from £90 - £340.
FAQs
Sources
https://www.realhomes.com/advice/how-to-plan-your-kitchen-extension
https://www.self-build.co.uk/extension-cost-guide/
https://www.homebuilding.co.uk/foundations-explained/
https://www.magnet.co.uk/kitchens/get-a-guide-price/
https://www.which.co.uk/reviews/fitted-kitchens/article/planning-a-kitchen/kitchen-costs#point11
https://www.idealhome.co.uk/kitchen/kitchen-ideas/kitchen-extension-ideas-186126
https://www.mdbespokesolutions.com/blog/electrical-safety-kitchen-extension/
https://www.simplyswitch.com/energy/guides/underfloor-heating-is-it-right-for-you/
https://www.planningportal.co.uk/info/200130/common_projects/17/extensions