How Much To Install Electric Car Charger?
There are a number of factors that will influence the cost of installing a new electronic vehicle charging port at your home including the power output design, the type of charge available (most car charging port manufacturers provide two power rating choices of either 3kW or 7kW for residential use).
The location of the charging port as well as site accessibility and who you hire to install the outlet, with government funding available in some cases of up to £500 to help with costs if an OLEV-approved installer is used, you can expect an EV charger price to be around £1,000 in labour and materials.
Installing Home Car Charger Prices
The type of charger you have installed in your home can greatly affect the overall cost of the product. The table below outlines the rough prices you can expect to pay for each type of charging point, plus installation costs:
| Type of charger | Power | Average cost |
| --- | --- | --- |
| Universal socket | 3 kW | £300-£800 |
| Universal socket | 7 kW | £380-£830 |
| Universal socket | 22 kW | £1,020-£1,520 |
| Tethered connector | 3 kW | £330-£830 |
| Tethered connector | 7 kW | £410-£910 |
| Tethered connector | 22 kW | £1,050-£1,550 |
| Tesla-specific | 7 kW | £440-£480 |
| Commando socket | 7 kW | £190-£365 |
Please note: whilst many electric cars can be connected to a standard household 3-point socket, the power output does not make this a viable solution for long-term use.
Similarly, whilst commando sockets can be relatively cheap to purchase and have installed in comparison to other charging stations if it is being purpose-installed for use with an EV it will need to conform to IET wiring regulations and have a type b RCD installed as well, and will not be eligible for government grants to help towards the cost.
Supply Cost
Most sellers of EV charging stations include the cost of installation with the cost of the charging station. Assuming that you are not eligible for funding towards the cost of your electric vehicle charging station, you can expect to pay the following for the unit to be supplied only.
| Type of charger | Power | Average cost |
| --- | --- | --- |
| Universal socket | 3 kW | £800 |
| Universal socket | 7 kW | £830 |
| Universal socket | 22 kW | £1,520 |
| Tethered connector | 3 kW | £830 |
| Tethered connector | 7 kW | £910 |
| Tethered connector | 22 kW | £1,550 |
| Tesla-specific | 7 kW | £460 |
| Commando socket | 7 kW | £15-£85 |
Additional Costs
There are a number of additional costs you may encounter when having an EV charging port installed in your home, or additional improvements you may wish to consider undertaking at a similar time to having your charging station installed.
New Driveway
A new driveway could ease access to your freshly installed charging station for you EV vehicle, and may be necessary if you do not already have 'off-road' parking – this is because trailing a charging cable from your home to a public parking space could cause liability issue, particularly if overlapping a public pathway.
Typically, you can expect a cost in the region of £2,000 for a medium-sized driveway to be tarmacked.
Security Light
It might be worth considering having security lighting fitted to your home, particularly if having an external charging point fitted; this will help you see what you're doing during the darker hours. Security light fitting starts at around £100, including installation.
Driveway Gate
Installing a new driveway gate might also be of benefit, as it will help secure your property and, therefore, charging station. As an estimate, a pair of wooden driveway gates will cost roughly £750, with an additional £750 if you want to make them automated.
Fuse Box
Depending on whether you opt for a level 1 or level 2 charger, you may need to have your fuse box amended or changed completely to accommodate for the additional power usage, with the cost starting at around £350.
Cable
For on-the-road rapid charging, you may be required to purchase either a CHAdeMO cable or a European CCS cable, particularly if you have a tethered connection at home. Charging cables can cost anything from £150 to £500 depending on the required length.
Cost Breakdown Calculator
The average EV charger installation cost at home is: £1,000
Labour Costs and Time Frames
The average electric car charging points take roughly 2-4 hours to install, though this may vary according to site accessibility and model specifications, as well as if any additional work needs to be undertaken before installation of the charging station can be completed.
The average cost of installing EV charger is around £1,000. Though this can be reduced by up to £500 with the help of OLEV funding for eligible vehicles and charging stations, and an additional £300 if you live in Scotland, courtesy of the Energy Saving Trust.
What Does Installing an EV Car Charging Station at Home Entail?
There are two 'levels' of charge available for residential use currently in the UK; level 1 is considered 'slow', and level 2 is considered 'fast'.
For slow charging, your EV will have come with Electric Vehicle Supply Equipment which can be plugged into any standard power socket (operating at 120 volts) within a house and does not require any additional work.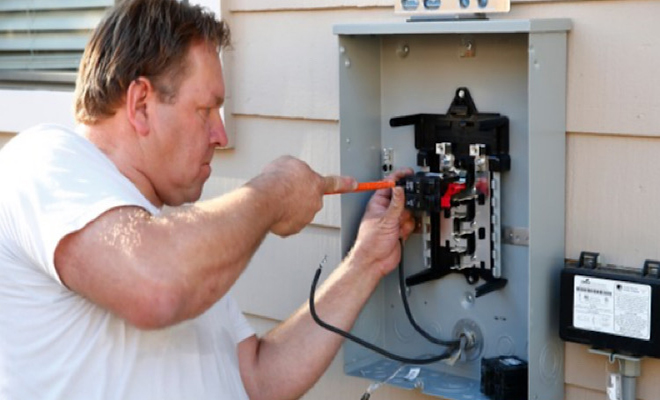 For faster charging, you will require a 240-volt power supply, similar to a washing machine or oven, and the installation process is similar in practice.
Assuming your consumer unit has the connections available, two 120-volt buses will need to be attached to a 'double pole' circuit breaker.
If your consumer unit does not have the necessary space, you may need to replace it to accommodate for it or have a new isolated circuit added to your home – though this will come at an additional cost as it is not part of standard installation.
Your newly connected cable can now be run from the fuse box to the required charging location. The wire will need to be properly insulated to prevent damage to the cables and is particularly important if the charging station will be located outside, as opposed to inside a garage.
Once the cable has been run to the desired location, the charging unit can be attached to the wall and connected to the power.
Cost Affecting Factors of Installing an EV Car Charging Station at Home
In addition to the initial installation costs, there are a number of factors that can affect the overall costing of a home electric vehicle charging station.
Charging Output
Depending on the output capability of your charging pint, you can see a significant difference between purchasing prices, with models capable of a maximum of 3 kW being significantly cheaper than their 22 kW counterparts.
Charging Lead Length
Whether you have opted for a tethered or untethered charging unit, if you require more than the standard length of cable to ensure your car can reach the charge point, it will come at an additional cost estimated at £10 p/m of additional cable over the standard length.
Location of Charging Port
Whilst most charging ports are installed externally; they can also be placed, in many cases, inside of garages. Depending on the materials of your external walls and how far from the consumer unit your desired charging location is, you may see an additional fee incurred to cover the additional materials and labour required to install the charger.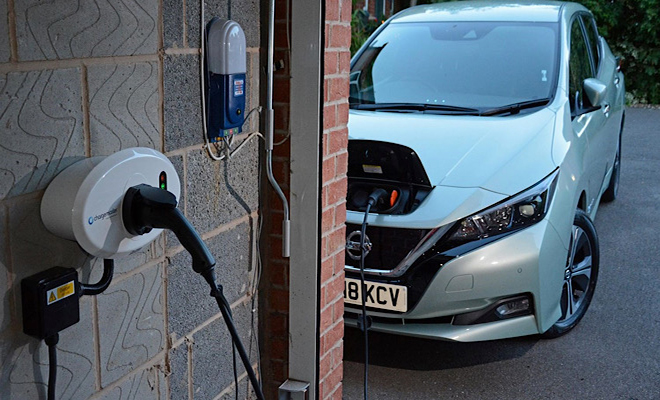 High-gain Antenna
Used in conjunction with smart features on a charging station, (which are now a requirement for OLEV EVHS funding) allowing more control via smartphone apps and wireless connectivity to the internet, high-gain antennas cost in the region of £40-£150 depending on the model.
Mini Circuit Breaker and Consumer Unit Replacement
If you home is not already electrically equipped for the additional power supply for an electric vehicle charging station, you will likely need to have an additional circuit added to your consumer unit, including a mini circuit breaker, or possibly have the consumer unit replaced as a whole.
The purpose of a circuit breaker is to protect your home against abnormal electric surges, which may result in fires or damage to the wiring. Typically, to replace a consumer unit with 6 circuit breakers will cost in the region of £350 including parts and labour.
Mechanical Protection
Also known as 'damage limitation', mechanical protection refers to a casing, sleeve or other means of protecting cables from easy penetration, abrasion and contact under IET BS 7671. Casings and sleeves can start from as little as £2 p/m.
Alternative Earthing System
In some cases it may be necessary to have your external charging point grounded, to ensure than any fault with the electricals will do not result in a shock in addition to your RCD in your home. Installing grounding rods can take around 30 minutes and may be included in your installation cost, if not though, you can expect to pay an additional £200 where necessary.
DIY EV Car Charging Station Installation
Whilst it may be possible to purchase an EV charging station and install it yourself, it is generally not recommended.
If you are competent and experienced in dealing with electrics, you may wish to go ahead with a DIY installation of the EV charge station, but you must comply to IET wiring regulations 18th edition, part P, and your work will need to be inspected and signed off by a professional once complete.
Because you will have to pay for this inspection, it is probably worth having the installation completed by a professional who is both able to ensure that it was correctly installed in the first place, and sign off on the work rather than doing the work yourself and later finding (at both a financial and timely cost) that the work is insufficient or unsuitable and will need amending.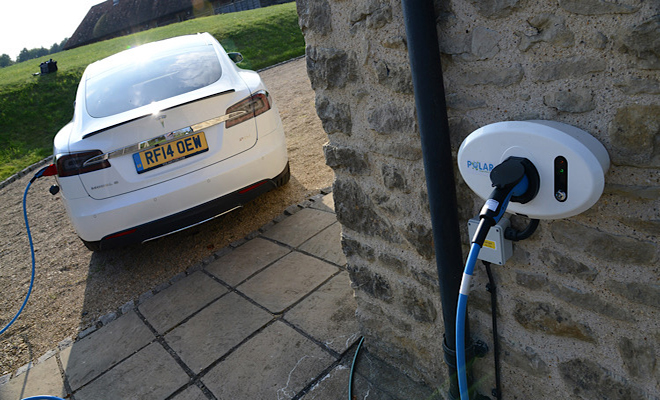 In cases where a government grant has been applied for the installation will need to be completed by an OLEV-approved electrician, as part of the terms and conditions of the funding. The list of all applicable electricians can be found here.
As with any attempt at amending your home electrics, it comes at great risk to your personal health and safety, as well as the safety of your home. Incorrectly installed electrics can pose a risk of shock, fire and even death.
Benefits of Installing an EV Car Charging Station at Home
If you have purchased, or are considering purchasing, an electric car then there are numerous benefits of having a domestic charging station installed at your property:
Convenience
Installing a charging port at home gives you the convenience of being able to top up your cars' power whenever you are home, without having to rely on prolonged stays at public charging stations.
Dedicated home chargers are also more convenient and generally faster than using a 3 pin plug, which experts recommend only using in cases of emergency due to health and safety factors such as trailing wires and waterproofing issues.
Less reliant on public charging stations
A personal charging station is particularly useful if you live in a rural area or area that has not yet installed public charging stations. Depending on the size of your battery, you may be able to travel longer distances between top-up charges which will enable you to spend less time researching public charging stations.
Cheaper than public charging
Public charging stations charge at a premium rate compared to home charging. To use a public rapid charge (capable of delivering 50kW p/h) costs, on average, 30p p/kW of energy – compared to an average of 14p p/kW on a domestic tariff.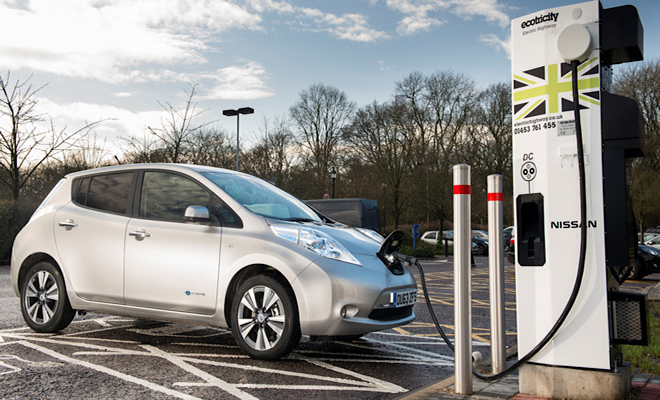 To put this into perspective, assuming your car battery capacity is 40kW and you use a 50kW connection to charge from 10% to 100%:
A public charge would cost roughly £11.
A home EV charger cost is an estimated £5.
Can be faster than public charging
Not all public EV charging points are capable of fast or rapid charging and are limited to a slow output (between 3-6kW p/h), which in turn means slower charging times. Charging through compatible lampposts is an example of this. The most common domestic outlet is a type 2, capable of delivering between 7-22 kW per hour.
Impact on battery life
The lithium-ion batteries within EVs are susceptible to extremes of temperature, and research suggests that continual rapid-charging can harm the batteries' longevity due to the excessive heat that is created compared to fast and slow charging, which generates less heat.
A charging station at home will enable you to charge the battery when needed to the requires, or desired, level frequently and may lessen the likelihood that you will need to use rapid charging stations to recharge a diminishing battery quickly.
EV Charger Types
If you need your electric car charging at home, there are multiple types of charging stations available to purchase for domestic use, so it's important to have an understanding of each type and its capability, as well as compatibility.
It should be noted that most domestic homes have a maximum charging rate of 7.4kW due to home wiring, so whilst faster home-ports are available, they may not be able to draw as much power as advertised at present and will always be limited by the battery capacity.
But it does mean that the station is 'future-proofed' in the sense that when home power supplies are increased, the charging port is equipped to allow the additional power.
Electric cars will have either a type 1 or type 2 connector for slow and fast charging and be compatible with either charge de move (CHAdeMO) or combined charging system (CCS) for rapid charging. The exception is Tesla charging, which has its own specialised charging port connection in addition to type 2 universal charging points.
UK 3 pin plug
A domestic power source, the 3 pin plug can be put into any accessible domestic socket and will charge the EV at a slow rate of up to 3kW, due to the power restrictions on the socket. This can be done via the electric vehicle supply equipment (EVSE) supplied with your car, but is not recommended for long-term or extended use.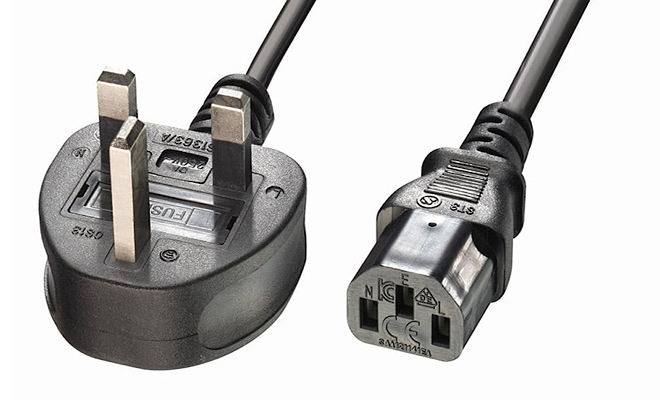 This type of charging is known as level 1, or slow. They cost between £200-£400 each.
Type 1 – American
Sometimes known as a j plug or sae j1772, and allowing up to 7kW of charging in most domestic settings, type 1 is the North American standard and favoured by Asian car manufacturers for EV charging.
This type of charging is considered fast and is known as level 2. Installation costs average at £1,000 for a type 1 charger.
Type 2 – European
The most common connection type within the UK, type 2 charging allows a charging range of between 3kW-7kW domestically, depending on the charging station compatibility.
Type 2 charging can allow 22kW of charging, but it is rare in domestic settings, requiring a three-phase power supply that many homes are not equipped to deal with. Chargers capable of this kind of output are likely to be located at larger homes, places of work or public areas such as car parks.
This is also considered fast, or level 2 charging. Installation costs are around £1,000 for a type 2 charger.
Tesla
Whilst compatible with type 2 universal charging points, tesla offer specialised charging points for their cars. Capable of drawing up to 22kW in residential properties, supply permitting, tesla charging connections are exclusive to tesla cars.
Domestically, this is considered a level 2, or fast, charging connection. Tesla home charger cost between £430-£480.
Other charging connection types
Typically used at non-domestic locations such as industrial estates and service stations, the following connection types are considered rapid charging types, sometimes known as level 3, rapid or dc fast.
European combined charge system – compatible with type 1, type 2 and tesla charging.
CHAdeMO, also known as Japanese JEVS – compatible with type 2 and tesla charging.
Tesla superchargers – only suitable for Tesla charging due to plug incompatibility with other cars.
It should be noted that not all electric vehicles are compatible with rapid charging; for further advice on this, you should check your vehicle user manual.
What Charger Do I Need for My Car?
With over 40 different electric cars available to purchase, it's worth familiarising yourself with the different charging types to better understand how your car may affect the charging experience.
The type of charger you will need will depend on your car make and model, as specified in your car manual. Whilst you can purchase conversion cables from type 1 to type 2 and vice versa to enable charge point compatibility (costing around £125-£160), as a general rule the most common EVs use the following charge point types:
Type 1 Charger
Audi A3 e-tron
Citroen
Ford
Mitsubishi
KIA
Nissan Leaf (2012-2017)
Peugeot
Renault Zoe
Toyota Prius
Vauxhall
Type 2 Charger
Audi
BMW
Hyundai
Jaguar
KIA
Ranger Rover
Renault
Mercedes Benz
Mini
Nissan Leaf 2018
Porsche
Smart
Tesla
Toyota
Volkswagen
Volvo
When purchased the EV should come with electric vehicle supply equipment meaning they can be charged using a standard household plug socket, or adapted commando socket, though this is generally not an adequate long-term solution to your charging needs and a dedicated power supply, through a charging station, should be installed.
CHAdeMO chargers are compatible for high-speed charging of most type 2 and tesla vehicles, costing around £400-£500 and European CCS chargers are meant for types 1 and 2, as well as tesla, models depending, costing in the region of £180-£260.
How Fast Will my Car Charge from Home?
There are a few factors that will influence how quickly your EV battery will charge at home, such as the battery capacity, the power of the charger, and how much the battery is depleted.
The following table indicates the expected time to charge a battery based on different home charge power outputs, assuming the battery is at 20% and is to be charged to 100% capacity:
| Battery | Power | Charge time | Mph on charge |
| --- | --- | --- | --- |
| 32 kW | 3 kW | 8.7 hours | 12 miles |
| | 7kW | 3.7 hours | 29 miles |
| 40 kW | 3 kW | 10.7 hours | 10 miles |
| | 7kW | 4.4 hours | 25 miles |
| 60 kW | 3 kW | 17.1 hours | 6 miles |
| | 7kW | 7.3 hours | 15 miles |
| 100 kW | 3 kW | 26.7 hours | 4 miles |
| | 7kW | 11.4 hours | 10 miles |
| | 22kW | 4.5 hours | 24 miles |
How Often Should I Charge my Electric Car at Home?
Chances are the majority of your charging needs will be met at home, with cheaper energy tariffs in residential properties than roadside charging stations, which are, on average used mainly to quickly charge cars for expended journeys.
Most EV owners will charge their cars in the evening when they are not expecting to leave the house. This allows for adequate charging time and in cases where the homeowner has cheaper night-time energy tariffs, allows for cheaper vehicle charging costs.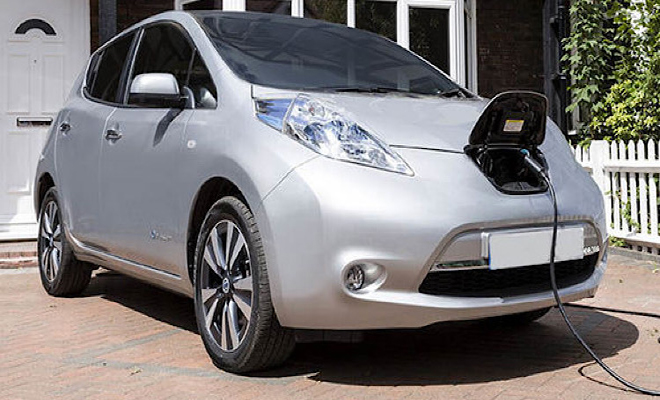 Some EV owners opt to charge every night to ensure their batteries are full, where others opt to charge a few times a week to meet their needs – the actual number of times you will need to charge your car will depend entirely on how often and how far you intend to drive in a given day, as well as your battery capacity.
There is some debate as to whether charging an EV battery to 100% frequently damages the battery. The general consensus is that leaving an EV on charge at 100% may cause faster battery degradation, so many EV owners aim to charge to around 80% capacity.
Infrequently charging your battery to 100% for longer journeys should not have an adverse effect on battery health and longevity.
How Much Will It Cost to Charge my Car from Home?
The following table indicates the expected cost to charge an EV battery based on different home tariffs, assuming the battery is at 20% and is to be charged to 100% capacity:
| Battery | Tariff (pkWh) | Full charge cost | Cost per mile |
| --- | --- | --- | --- |
| 32 kW | 8p | £2.09 | 1.9p |
| | 14p | £3.65 | 3.3p |
| 40 kW | 8p | £2.42 | 2.2p |
| | 14p | £4.29 | 3.9p |
| 60 kW | 8p | £4.10 | 3.7p |
| | 14p | £7.17 | 6.5p |
| 100 kW | 8p | £6.40 | 5.8p |
| | 14p | £11.20 | 10.2p |
Tariff costings are based on the UK average (14p/kWh) and economy average (8p/kWh) specifically designed for EV users. Actual costs may vary depending on your energy supplier, battery efficiency and home tariff.
Public Charger vs Home Charger
The main differences between public and private charging are the costs and charging time-frames involved.
Many public chargers have the advantage of being able to supply up to 120kWh of power, making them considerably faster-charging options than residential chargers – but the increased charging speed tends to come with an increased price tag.
Public charging stations charge at a premium rate compared to home charging. To use a public rapid charge (capable of delivering 50kW p/h) costs, on average, 30p p/kW of energy – compared to an average of 14p p/kW on a domestic tariff. In addition to this, some commercial charging stations also charge a connection fee, ranging up to £3.50.
How long it will take to charge your car will depend on factors such as the battery size, current charge level and the charging power of the station.
To put this into perspective, assuming your car battery capacity is 40kW and you use a 50kW rapid connection to charge from 10% to 100%:
A public charge would cost roughly £11, taking roughly 45 minutes.
A domestic charge would cost an estimated £5, taking roughly 5 hours due to residential power limits.
If relying on public chargers, you will need to plan your travel routes accordingly, as not all public charging stations are compatible with will all electric cars. For this reason, many EV owners recommend purchasing a type 1 to type 2 charging cable adapter, offering more flexibility in your charging station options.
EV Car Charger Grant
The UK government, in conjunction with the office for low emission vehicles (OLEV), are currently offering grants to EV owners to help towards the cost of installing smart EV home charging stations in an effort to reduce the UK's carbon footprint.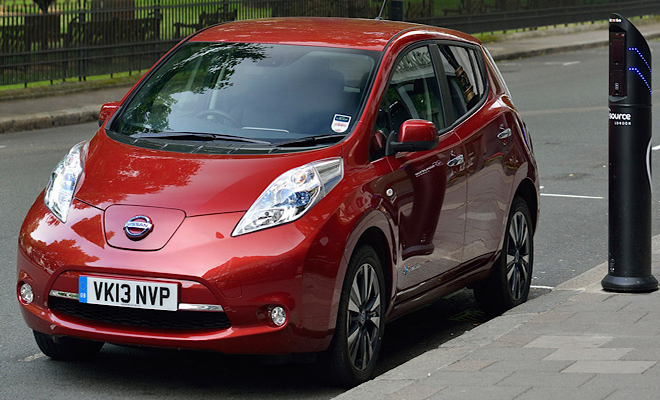 An OLEV grant, specifically known as electric vehicle home charge scheme (EVHS) of up to £500 is available if you meet the following criteria:
You EV or plug-in hybrid must have been purchased on or after October 2016, or the car must be leased for at least six months if not purchased. The list of eligible vehicles can be found here.
The installation must be completed by an OLEV-approved installer; a list of which can be found here.
The charge point must be on the OLEV-approved list, which is here.
The EV or hybrid must conform to the minimum specifications, which are outlined here.
You must have off-street parking.
If you are eligible for the OLEV EVHS grant, it will be applied for directly by your installer on your behalf. OLEV grant eligibility dictates that only one charger per home per car is eligible for funding, meaning an upgrade in equipment at a later date would not be covered by the funding; so, consider your current charging needs and any potential future needs when choosing your charger.
Additionally, residents of Scotland may be eligible for a further £300 reduction on the cost of installing an EV charge station at home through the energy saving trust (EST) grant, in the form of reimbursement.
You can apply for the grant here.
You will be responsible for the remaining costs towards your home EV charging station after deductions for the OLEV grant and/or EST grant, where applicable.
Cost of Removing an EV Car Charging Station
In the event of needing to remove an EV charger, either because you are moving home, you no longer require it or upgrading your equipment there are a few things to be aware of.
First and foremost, if you have already applied for OLEV funding for your charging port, you will not be eligible for further funding in replacing or upgrading your existing model, either at your existing address or a new address if you move.
Some EV owners, therefore, opt to have their charging stations removed and relocated by a local, competent and trusted electrician, usually at the cost of around £220-£350 a day in labour charges. Others simply purchase a new charging station for their new address.
Similarly, if you change your EV model, it may no longer be compatible with your existing charge point and will likely need to be replaced, but at your own expense.
Currently, the resale market of home EV charging stations is slim, as most EV owners purchase according to their needs and many opt to 'future proof' their purchase by either buying universal home charging stations or upgrading their EVs to a compatible model.
FAQs
How to Find & Hire EV Car Charger Installers
If you're looking to have an EV charging station installed at your property, it's important to choose the right installer for you, your needs and your budget.
Depending on whether you are eligible for a grant towards your charging station installation, you may be required to use an OLEV-approved installation company; but you will still have a choice as to which one you use. It's recommended that you get at least three quotes from trusted, experienced installation experts who will, ideally, have a portfolio of their work available to view.
If you choose not to have your EV charging station installed by an OLEV-approved company, you should still get at least three quotes from experienced tradespeople in your area. You can ask for a quote here.
It's also a good idea to ask your neighbours, friends and family that have had similar work done whether they would recommend their installation company to complete the work, as they are likely to give you reliable insight and references.
Sources
https://www.gov.uk/government/collections/government-grants-for-low-emission-vehicles
https://pod-point.com/guides/driver/olev-grant
https://electrical.theiet.org/bs-7671/18th-edition-resources/18th-edition-changes/
https://www.planningportal.co.uk/info/200130/common_projects/16/electrics/2