How Much Does a Stairlift Cost?
Across the UK more and more homes are being adapted to fit the lifestyles of those who would otherwise struggle to live in their properties. In many cases, making adaptations is a much more cost-effective way of solving mobility issues than finding alternative solutions, such as moving home. Stairlifts are bespoke, made to measure pieces of equipment for your home; because of this their prices vary dependant on the style and additional extras you may choose with your model. There are two types of stairlift on the market. Straight stairlifts generally range from £1,600 to £2,580 in price, averaging around £1,750, whereas curved stairlifts can cost anything between £3,170 to around £4,350 on average, but can increase to upwards of £10,000 largely dependent on the size, shape and style of stairlift, as well as the depth of your staircase – You may find if you have a narrow staircase that your stairlift options become more costly in order to accommodate for space.
Stairlift Installation Prices
The cost of installing a stairlift is dependent on a few factors, mainly whether you are installing a straight stairlift or curved to fit your staircase, and whether any additional work needs to take place before the installation. Most stairlift supplier will offer a free consultation prior to purchase to ensure you're getting the right product for you and your home. Below is a table outlining the estimated costs of installing a home stairlift.
| STYLE | AVG. Cost | LABOUR COST |
| --- | --- | --- |
| Straight | £1,750 | £350 |
| Curved | £3,750 | £950 |
| Outdoor | £1,900 | £350 |
Cost Breakdown Calculator
Individual costs for a straight stairlift - Total Cost: £2,100
Labour Costs and Time Frames
Generally speaking, the installation of a straight stairlift is quicker and easier to install than a curved stairlift, usually only requires one worker and can be installed within a few hours. Curved stairlifts can take up to a day when installed by professionals, and usually require two workers to complete the job as it is tricky to properly align the railings due to the more obscure angles involved in installing the railings. When asking for a quote, make sure to ask whether this includes labour costs to avoid any unexpected charges.
| STYLE | DURATION |
| --- | --- |
| Straight | 3-4 hours |
| Curved | 1 day |
| Outdoor | 3-4 hours |
What Does Installing a Stairlift Entail?
Due to the bespoke nature of the equipment before installing a stairlift, accurate measurements need to be taken of the space, including any angles involved and the depth of the staircase as this can limit your stairlift choices. Incorrect measurements can cause delays in installation as the stairlift may need to be adjusted.
Most stairlift suppliers offer free at-home consultations which will include measuring your space and will talk through your options with you. Many stairlifts offer a variety of platform options; you may need to consider which option is best for you and your needs. Chairlifts are seated platforms, but you may find that a perched (partially sat, partially standing) option is best if you have health limitations such as arthritis where changing from standing to sitting positions is difficult, or even a standing option.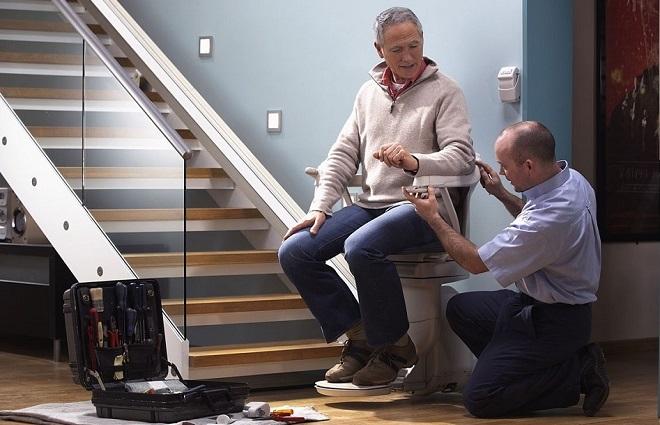 You may also be required to have your handrails repositioned to allow for the installation, though this is not always necessary. A track will need to be installed using brackets to your staircase threads to ensure that your stairlift is kept elevated and does not touch your staircase during operation, and can be done through the carpet and should not require existing carpets to be lifted or refitted – whilst this will cause small holes, they will be barely noticeable if you choose to uninstall your stairlift later.
Who Are Stairlifts For?
A stairlifts main functions is to act as a mobility aid to move safely between floors in your home with minimal physical exertion to the user. They are marketed towards those with mobility or health ailments such as arthritis, Parkinson's disease or heart conditions, or the elderly or the infirm who would otherwise struggle to navigate staircases by themselves or may be at risk of injury if they do so.
Can I Install a Stairlift Myself?
Installing a stairlift yourself can be done and many DIY-savvy individuals are capable of doing so, however it is not necessarily recommended. Whilst a straight stairlift may be relatively straightforward to install yourself, it does not mean it will be an easy task. Curved stairlifts are trickier still and even professionals will not attempt to install one by themselves as it requires manoeuvring large items at potentially awkward angles which can result in accidents or damage if not handled properly.
Consider whether it is worth the time and effort to install yourself, whilst you may save some money on installation costs compared to hiring a professional fitter it may be more economically viable to hire a company to do it for you instead, as the installation will then come with a warranty and optional service package which may save you time and money in the future if you experience any issues with the device.
Will a Stairlift Fit On My Stairs?
No matter the size and shape of your stairs, there is an option available to you. Stairlifts have come a long way since their invention in the 1920s, with more options available now than ever before.
Homes built since 2010 are required to have a minimum width of 900mm unobstructed, which can easily accommodate modern stairlifts. Generally speaking, a straight stairlift requires a minimum distance of 750mm to be installed, which accommodates for the width of the raising platform, the depth of the railing, clearance space between the wall and knees if positioned in a seating position and allow adequate passage space for non-stairlift users in the property. Curved stairlifts typically require a larger clearance of around 850mm to allow for narrower passages whilst still maintaining adequate clearance for the stairlift user.
In addition to this, the average stair rail which will accommodate your stairlift requires an overhang of around 20cm at the top of the stairs and 36cm at the bottom to allow the user to get onto and off of their stairlift safely. You may find that other work may need to be carried out in order to accommodate for this, such as moving an existing radiator to another location or assessing which side of the staircase is best suited to the installation.
The type of bannisters and rail in your property should not affect the installation as the stairlift rail will be attached to supporting brackets utilising the stair threads. In very, very rare circumstances the stairlift rail may need to be attached to a supporting wall, however, your consultant will be able to advise if this is the case and you may be required to give notice to your neighbours if it is going to be attached to a party wall. Again though, it is extremely rare that this is necessary.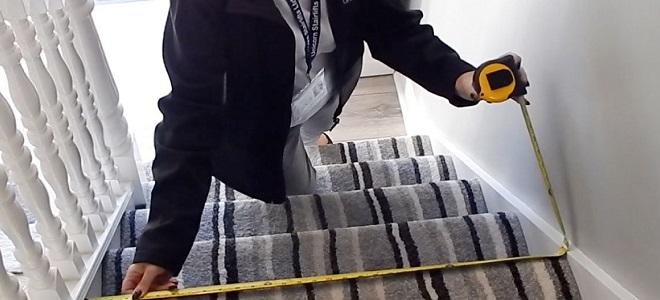 If you have slimmer staircase there are still options available, such as having a collapsible rail installed instead of a static one, or opting for a rotating platform that can turn with the contours of your stairs and allow a larger clearance gap between the platform and the opposite side of your staircase. Alternatively, you may find that a perched or standing platform is a better option, particularly if transitioning between positions is difficult for the stairlift user or if it is the more logical solution for space requirements. Keep in mind though that the options you choose to fit your staircase and lifestyle will have an impact on the overall price of your unit.
Battery-powered vs Electrically Wired Stairlift
In the modern market, most stairlifts are battery powered but require a power outlet to be plugged in either at the top or the bottom of the stairs so that the batteries are continually charging; but this isn't to say that mains powered stairlifts are out of the question, and the running cost of either is negligible, so it's best to consider your options and choose what's right for you and your needs.
Battery Operated
The main benefit of having a battery-operated stairlift is the peace of mind that should you experience a power-cut in your home; your stairlift will remain operational – This is especially important for individuals living alone as it will enable them to access their different living areas without being stranded on a single level of their home. The drawback of a purely battery-operated stairlift would be replacing the batteries and the continual upkeep cost of doing so; you may notice a decrease in performance efficiency when the batteries are running low on power so ideally, they should be replaced before they deplete to avoid losing the use of your stairlift.
Electrically Wired
Having your stairlift directly connected to your mains electricity means that as long as you have power in your home, you are able to utilise your stairlift with consistent performance. Nowadays, stairlifts generally come with a back-up battery so should you encounter a power cut your lift will still be functional for several uses. Having an electrically wired stairlift will require maintenance checks on wires to ensure they remain in good working condition, but other than that, mains-powered stairlifts are relatively low maintenance and with a reliable energy source that shouldn't require intervention to ensure continued operation.
Stairlift Running Costs
You might think that having to power a piece of machinery capable of moving a person across different levels of your home, probably multiple times a day, would be costly to operate – but you'd be surprised. Most stairlifts are surprisingly cheap to run, costing an estimated £7.50 a year in electricity, which averages at a mere £0.15 a week! A price most people would happily pay in running costs for the peace of mind gained that they've got a safe and reliable transportation method between floors in their home.
Stairlift Maintenance Costs
As with most machinery and appliances, it's important to ensure that your stairlift is well maintained and operating correctly, and also commonplace with equipment is the need to replace certain components if they are not up to standard or fail to work. Below is a list of some costs you may encounter.
Yearly Servicing
It is recommended to have your stairlift serviced every 12 months, costing on average £100 if you choose not to take a maintenance service package, to ensure it is in good working order and to identify any issues that may either be present or at risk of occurring.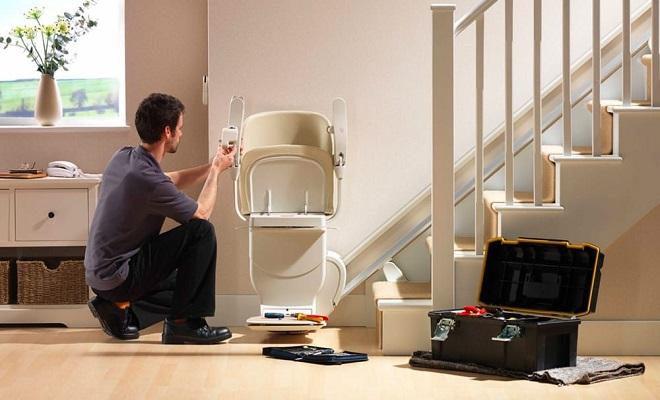 Replacement Batteries
If your stairlift batteries are failing to charge they will need replacing. Replacement batteries average at £40 but should be installed during a service check by a professional to ensure that they are a suitable working replacement. A lift charging circuit check should be made at the same time to identify if there are any underlying issues causing the batteries to fail.
Replacement Motor
Similar to replacement batteries, it may be necessary to replace an existing motor in your stairlift. If bought yourself the average cost of a replacement motor is £100, but due to the electrics involved should be installed by a professional and a service check may be required to ensure there are no issues that could be causing motor malfunction.
It's important to note that if you purchase a new or reconditioned stairlift from a trusted supplier you can expect a warranty for 1 to 2 years to be included, with most suppliers offering an extended warranty covering up to 5 years. The warranty usually covers call out fees and repairs, but depending on the supplier may not cover the cost of any parts that need replacing. Make sure to check what your warranty covers and consider taking a maintenance package from your supplier, costing on average £250 a year but decrease significantly if bought to cover a longer period, to help cover any unexpected costs of repair you might encounter.
Help Funding a Stairlift
If you are planning on installing a stairlift for medical reasons, then you may be entitled to help with funding. You can apply for a 'Disabled Facilities Grant' through your local council if you are a homeowner that is chronically ill or registered as disabled, which will help towards installation costs and adaptations that may need to be made to your home. The amount available is dependent on your location in the country but as a rough guide, information is outlined below.
In England, a maximum 'Disabled Facilities Grant' can be awarded to the amount of £30,000 to cover the cost of any required home adjustments or amendments that will improve the home-occupants quality of life and accessibility needs, inclusive of stairlifts, ramp installation or wet-room adaptations, to list a few, providing that they have been assessed by an occupational therapist who has agreed that the adaptations will improve quality of life for the tenant.
If you privately rent, or own your own home in Wales you may be eligible for a 'Disabled Facilities Grant' with a maximum allowance of £36,000, dependant on your circumstances. If you rent your home from a housing association it is worth contacting them if you require a stairlift; in most cases they will arrange for the work to be done on your behalf without incurring the costs yourself, and housing associations in Wales can apply for grants separate to the Disabled Facilities Grant that cover the cost of home adaptations where appropriate.
Residents of Northern Ireland may find themselves eligible for 'Disabled Facilities Grants' up to a value of £25,000 through the Northern Ireland Housing Executive, applicable to owner-occupiers, landlords or private tenants subject to referral from an Occupational Therapist (unless agreed otherwise by the local health board). Please note that all 'Disabled Facilities Grants' are means-tested and subject to approved cost of work prior to installation; grants will not be given to cover the cost of work that has already taken place.
Unfortunately, 'Disabled Facilities Grants' are not available in Scotland, however, those in need of adaptations to their home may to eligible to apply for equipment and adaptations help through their local authorities and the Scottish NHS Boards.
In many cases in the UK, if you live in a council-owned property then the council will arrange the necessary adaptations without the assistance of a grant if they deem you are eligible.
In addition to government-run schemes, there are numerous charities across the UK which may also be able to help with funding costs or help to provide alternative solutions to your needs, including:
Age UK
Disabled Living Foundation
SSAFA
If you are unable to gain financial support for your stairlift there is some good news; Because stairlifts are considered a mobility product when installed in residential properties, VAT is not applicable as outlined in VAT Notice 701/7, 'Reliefs from VAT for disabled and older people' on the UK government website. If, however, you are installing a stairlift in a commercial property or business, such as a residential home, then VAT is still applicable.
Renting a Stairlift
Buying a stairlift is not a cheap investment so it's important to consider whether you will receive value for money compared to its use. If you are envisioning your stairlift as a short-term investment, then renting might be the cheapest solution. Typically, the initial cost of renting a straight stairlift is around £350 which will include the installation cost and future removal cost, with an additional cost of roughly £40 per month thereafter rental fee. Curved stairlift rentals have an initial cost of around £950, and a monthly rental fee of around £60.
Below is a table comparing the estimated monthly cost of a purchased stairlift (averaging £2,100 including installation) compared to a rental. Please note the figures used for this comparison are for straight stairlift and that a curved stairlift will cost considerably more both for purchase and rental.
| NUMBER OF MONTHS IN USE | MONTHLY COST (£2,100 over months use) |
| --- | --- |
| 12 months | £175 |
| 24 months | £87.50 |
| 36 months | £58.34 |
| 48 months | £43.75 |
Below is a table comparing the estimated total cost of renting a stairlift per year for comparison, assuming £350 for the installation cost and an additional cost of £40 per month thereafter for a rented straight stairlift.
| NUMBER OF MONTHS IN USE | MONTHLY COST (£350 installation plus £40 per month) |
| --- | --- |
| 12 months | £830 |
| 24 months | £1,310 |
| 36 months | £1,790 |
| 48 months | £2,270 |
As you can see, if you think you will only require a stairlift for three years or less, then renting may be the cheaper option for your needs. However, if you foresee using it longer then purchasing one may be better for you.
Outdoor Stairlifts
You may find that an outdoor stairlift is a good addition to your home, particularly if you have steps leading to your front door that are difficult to navigate, or if your garden is otherwise hard to access for you. By adding a stairlift you can benefit from access to your whole home which may otherwise be inaccessible, helping to maintain your independence and freedom. Outdoor lifts are very similar to those that you would use inside, with the addition of using weatherproof parts to ensure they can withstand the seasons. Typically, they come with similar additional extras as you might expect with an indoor stairlift and also with a protective cover to ensure your product remains clean, dry and comfortable during the wetter weather.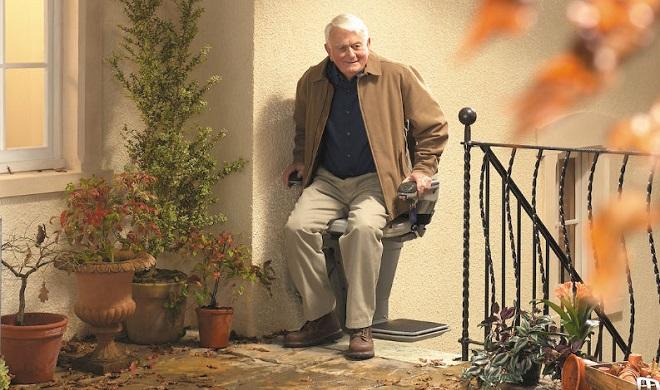 Alternatives to Stairlifts
If you don't think a stairlift is the right choice for you, there are multiple alternatives available on the market that may be better suited to your needs and budget.
Vertical 'Through The Floor' Lifts and Wheelchair Lifts
Also known as platform lifts, vertical lifts entail creating an aperture through which a platform, secured at both sides, will travel between floors in your home and are usually secured with half, or full-length doors for security during passage, although more modern models may come with the option of glass panelling which will help the left blend into its surrounding environment and not appear as imposing. The ceiling of the lift should be strong enough to be walked on when it is stationary downstairs.
A standard vertical lift starts at around £8,000, with most suppliers including the cost of materials, installation and pre-installation preparation work that needs to be carried out for the job in their quote. Similar to 'through the floor' lifts, wheelchair lifts are equipped to handle heavier loads, such as the additional weight of a wheelchair plus passengers in comparison to standard 'through the floor' lifts, and are designed to safely transport passengers from one floor of their home to another and come in a variety of styles to suit your home, such as slim-line models or with wider platform depending on your needs.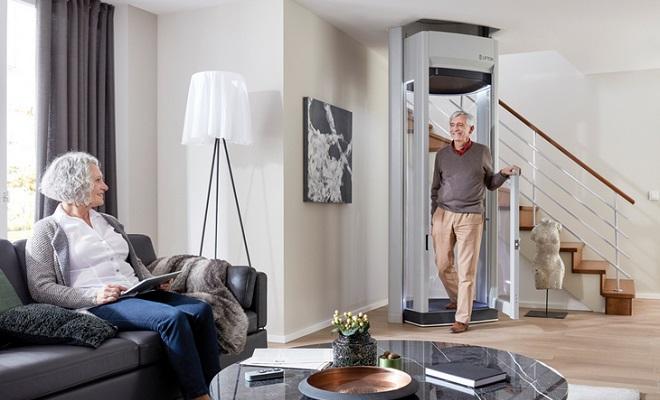 Domestic House Lift
A typical domestic lift is not a cheap investment, starting from around £14,000 to upwards of £40,000 depending on the make and model, as well as supplier chosen and any additional work that may need to be carried out in order to prepare your home.
Generally speaking, domestic lifts are fully-enclosed spaces requiring, on average, a minimum floor space of 800mm by 1150mm, for a compact lift.
Stair Climbers
Stair-climbers are a battery-powered alternative to stairlifts, offering secure traversal of staircases and ideal for respite needs where a large investment would not be viable. Stair climbers come with either a seat or wheelchair platform for the user to rest on while another individual guides the climber to its desired location.
One of the main benefits of stair-climbers is that they are mobile and can be placed on almost any staircase, making them potentially the most versatile alternative to a stairlift – and are particularly useful if you have more than one staircase within your home. It's important to note that whilst they are a powered form of transport that some physical effort is required from the person guiding the climber, so they may not be suitable to all situations, particularly if you live alone.
Stair-climbers can cost between £3,420 to £4,640 to invest in, though some models can be upwards of £10,000 depending on their features, such as wheelchair platforms and maximum weight load, so it's recommended that you shop around before committing.
Removing a Stairlift
If you are ready to remove your stairlift, there are a few things that you need to be aware of before you begin.
Firstly, removing any large-scale item from your home is not an easy task and it is not recommended to uninstall yourself. Safety precautions should be put into place to ensure minimal damage to yourself, your family and your home. Accidents and mistakes caused when removing a stairlift yourself may result in having to pay a lot of money to rectify damages.
Unfortunately, due to the bespoke nature of your stairlift it is unlikely to hold its value – meaning the chances of selling your stairlift on to someone else for a similar price as you paid is incredibly unlikely. Your stairlift was built for your home to your specifications, and no two peoples' needs are the same. So whilst you may wish to try and sell it on, be aware that it may not be an easy task, especially as many people may hold reservations about second-hand items, particularly if they are missing or near the end of their warranty, or have been dismantled by a homeowner who may not have handled the job correctly.
Depending on the age and specification of your stairlift you may be able to use a buy-back scheme from your supplier, particularly if you are operating a newer model. Whilst this won't cover the cost of the stairlift, it will help towards recovery costs and generally includes free removal (again, to ensure that the item has been correctly dismantled).
Alternatively, if a buy-back option is not available to you, you will still be able to hire someone to remove your stairlift for you – keep in mind that the cost of the removal may depend on your stairlift; a single engineer may be able to remove a straight stairlift for roughly £300, but it is likely that two engineers will be required to dismantle a curved stairlift, which would be reflected in the removal price.
Once your stairlift has been removed you may notice small holes within your carpet or staircase where the railing for your lift was attached to the supporting brackets. The holes should be easily disguisable if in carpet once the area has been vacuumed (effectively ruffling the surrounding carpet area to make the holes less prominent) or by careful application of a wood-filler and appropriate stain for wooden staircases.
FAQ's
Sources
http://www.stairliftexperts.co.uk/
http://www.ageukmobility.co.uk
http://www.gov.uk/disabled-facilities-grants
https://www.livingmadeeasy.org.uk/scenario.php?csid=112