How Much to Paint Outside Of House?
The average price to paint exterior of house with a tradesman, can vary quite a bit depending on the size of your house and the type of finish your walls have.
The average cost to paint a garden wall is around £200 to £300 for both supply and labour. For a terrace house, you should expect to pay anywhere from £400 for brick walls up to £1,000 for pebbledash which takes twice as long to paint in comparison to other materials.
While the cost to paint a semi-detached home can range from £700 to £1,000 for brick or render and up to £1,700 for pebbledash. If you live in a large detached home that requires all walls to be painted, you should expect to pay around £800 to £1,000 to render and up to £2,000 to paint pebbledash.
The paint used will also determine the cost, with smooth masonry paint costing around £3 to £8 per litre, which is used for wall and brick, while textured masonry paint costs around £2 to £6 per litre, although more paint is required for materials such as pebble-dash which also take twice as long to paint.
House Painting Prices
Here are a few average costs for hiring someone to paint your external walls:
| Description | Avg. Cost |
| --- | --- |
| Garden wall | £200-£300 |
| Brick Terraced Home | £500-£700 |
| Rendered Terraced Home | £600-£800 |
| Pebbledashed Terraced Home | £800-£1,000 |
| Brick Semi-detached Home | £700-£900 |
| Rendered Semi-detached Home | £800-£1,000 |
| Pebbledashed Semi-detached Home | £1,000-£1,700 |
| Brick Detached Home | £800-£1,000 |
| Rendered Detached Home | £1,000-£1,200 |
| Pebbledashed Detached Home | £1,300-£2,000 |
Supply Costs
If painting a wall yourself, you will need to consider the following supply costs for outdoor wall paint:
| Wall Material | Avg. Cost |
| --- | --- |
| Sand | £2 to £12 per bag |
| Cement | £5 to £12 per pot |
| Brushes | £2 to £30 per brush |
| Stabiliser | £20 to £30 per bottle |
| Smooth masonry paint | £3 to £8 per litre |
| Textured masonry paint | £2 to £6 per litre |
Additional Costs
There are various other exterior painting costs you need to consider, including:
| Description | Avg. Cost |
| --- | --- |
| Damp proofing | £70 to £90 per metre |
| Cleaning gutters | £5 to £10 per metre |
| Replacing gutters | £30 to £80 per metre |
| Scaffolding hire | £350 to £500 |
Cost Breakdown Calculator
Individual cost to paint exterior wall of a 3-bed semi-detached house with a pebbledash exterior - Total Cost: £1,700
Labour Costs and Time frames
Painters and decorators usually charge around £150 per day in labour, and for a terraced home with brick walls, the job should take around 3 to 4 days, while a detached home with pebbledash walls could take around 8 to 9 days to complete. If you just need one wall painting or a garden wall, then this should only take around 1 to 2 days to complete.
What Does Painting Exterior Walls Entail?
To help you understand the process of having your exterior walls painted, here is a breakdown of the different steps:
Choosing paint
Before painting, you need to make sure that the exterior wall paint you choose works well with your current property aesthetic. For instance, a traditional terraced house with brick exterior walls will require mineral paint that enables it to breathe. You should also try and stick with a colour that works well with the rest of the exterior.
Masonry paint should be used for pebbledash and rendered exterior walls, although it will require a silicone primer first before it is applied.
Preparation and cleaning
A lot of the work involved with exterior painting is preparing the surfaces for painting. Any loose paint will need to be scraped/brushed off along with any dust and cobwebs. The walls will then need to be washed, and a mould/algae killer applied if required. Then any minor cement repairs to rendering/pointing will need to be taken care of.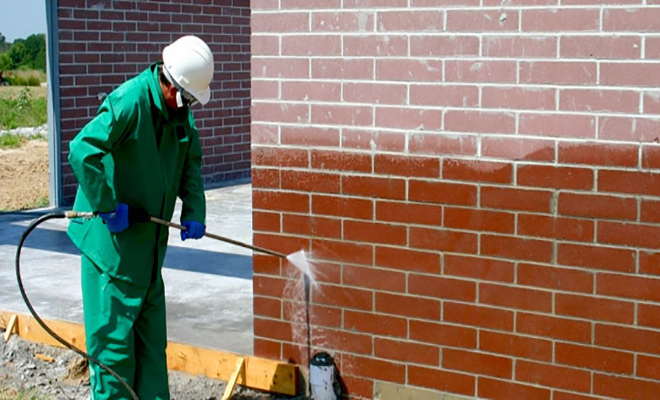 Priming and painting
Next stabilizer needs to be applied to the bare surfaces before applying the paint. Two to three coats of masonry paint may be required depending on the surface. If possible, have the painting done in the spring, summer or autumn, during dry and warm weather. Any external painting done in winter will take much longer just for the coats of paint to dry properly.
Decorative painting
If you are having the exterior walls of your home painted to improve the appearance, then don't forget any exterior timber such as windows, doors, fascia, soffit and barge boards.
Also, check the condition of the exterior render, if it is crumbling or patchy, you may need to have it repaired or even completely replaced. If the exterior is plain bricks, check the pointing before painting and have it re-pointed as necessary.
Cost Affecting Factors of Painting Exterior Walls
There are various factors that affect the cost of painting exterior walls, the first being the type of walls you have, for instance, brick walls tend to be cheaper with prices starting from £500 for a terraced home, while a detached home with brick walls tends to cost around.
You should expect similar prices, with a semi-detached home with rendered walls with costs starting from £750 up to £1,000 while pebbledash can cost up to £1,700 to paint.
The reason for the difference in price is because smooth surface required a smooth masonry paint which is easy to apply, while pebbledash walls are harder to paint with a textured masonry paint that takes twice as long to apply.
You will also need to factor in the cost of scaffolding hire, which tends to add around £350 to £500 to the final price.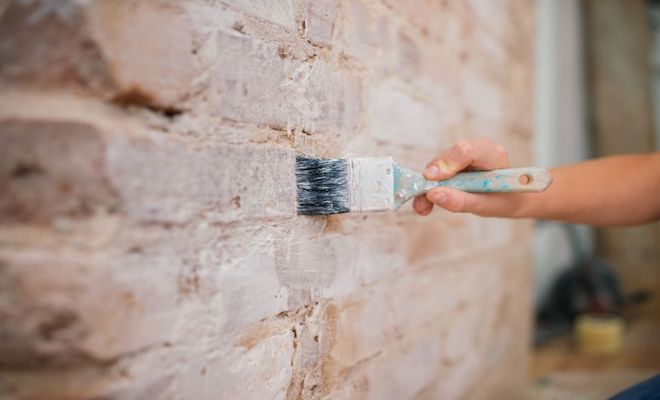 Prices may increase depending on the state of your existing walls, for example, if you have any damp issues, you may have to call in a professional to install a damp-proofing which costs around £70 to £90 per metre. You may also want to check your gutters, as they may need replacing, which can cost around £30 to £80 per metre.
The location will affect the price too, as the cost of living varies around the country, and this is reflected in the quotations supplied by tradesmen. For example, in London, the cost to paint a three-bedroom semi-detached home can start at £1,100 for sole traders, while a large business can charge up to £1,200. In the north, you can expect to pay £600 for small businesses up to £750 for large companies.
DIY Painting Exterior Walls
If you have a small budget in mind, then you could consider painting your exterior walls yourself. While this can cut installation costs, it is a time-consuming task which requires a significant amount of concentration and skill.
It can also be quite dangerous if you have to use a ladder to paint walls that are out of your reach. You should only consider painting your exterior walls yourself if you have previous experience of redecorating.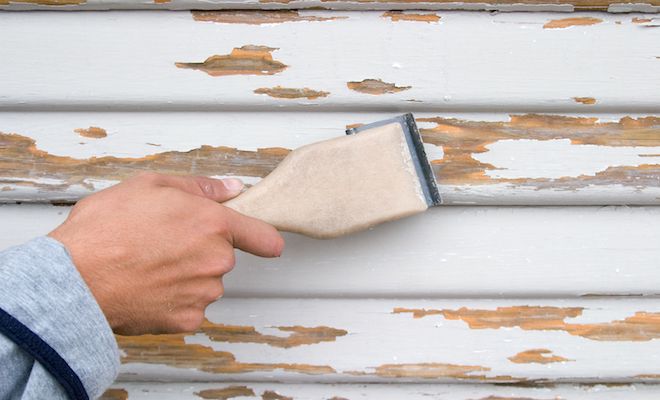 When painting exteriors wall yourself, you will need the following tools:
| Description | Avg. Cost |
| --- | --- |
| Ladder | £90 to £300 |
| Scaffolding tower hire | £15 to £20 per metre |
| Roller | £2 to £6 |
| Wide brush | £4 to £10 |
| Wire brush | £2 to £9 |
| Long extension handle | £10 to £30 |
| Abrasive paper | £1 to £30 |
| Safety mask | £1 to £10 |
If you notice any cracks or your walls feel damp, then you should avoid painting over them, and instead call in a professional to fix these problems before priming and painting the area.
Building Regulations and Planning Permission
Planning permission is not normally required when painting exterior walls, as long as the new materials will be similar to the original construction. The only exception to this rule is if your property is a listed building or located in a designated area, as you must apply for consent before making any changes, which will cost around £206.
In regard to building regulations, you will not to apply for consent if you are just painting your exterior walls; however, you may have to make an application if more than 25 per cent of your exterior wall needs to be re-rendered, re-plastered, or re-clad. This is because you will need to also upgrade your thermal insulated, which must meet the current standards.
What Exterior Wall Paint Do I Need?
There are various types of exterior paint to choose from, including:
Masonry paint
Masonry paint is an acrylic-based option which can be used to cover a variety of exterior surfaces due to its durability and weatherproofing qualities. They are ideal for both smooth surfaces such as render and coarse surfaces like pebbledash, which can be quite difficult to paint over. It also comes in a variety of colours, including white, black, green, brown and grey, so it is perfect for any home.
The average cost of render paint is around £2 to £8 per litre, which may seem expensive; however, it is worth the cost especially if you plan to paint the walls yourself, as it creates a professional and sleek finish. It will also protect your property from moisture build-up and damp, especially in poorly insulated homes.
Satinwood paint
This type of paint is ideal for outdoor use, especially for wood and metal sheds, doors, and other exterior fixtures. This is because it is durable and weatherproof and does not discolour, unlike other varnishes.
The cost of satinwood paint is around £10 to £18 per litre, which can take around 8 hours to dry, while quick-dry satinwood can cost up to £20 per litre. They both come in a variety of colours including white, brown, grey, silver, green and black.
How Much Exterior Wall Paint Do I Need?
Before you go ahead and paint your exterior walls, you first need to determine how much paint you will need. This will, of course, depend on the size of your home, for instance, the recommended amount for a 3-bedroom semi-detached home is around 30 to 40 litres of paint, although you may need an additional 4 litres if your painting your gutters.
To get an accurate measurement for your home, you will need to measure the width and height of the walls or have a professional do it for you. You should then multiply this together to calculate the size in square metres.
You will then need to subtract the size of your windows and doors. You can then multiply the adjusted total by the number of coats you need, which is normally two to three layers. You can then divide this by m²/litre ratio, which should be printed on your chosen paint, which will provide you with the total amount of litres you require.
When calculating the amount of paint you need, you may also need to factor in your wall type, as some materials such as render may soak up more paint, so you may need to purchase an extra litre or two.
Exterior Wall Repair Costs
Before your walls can be painted, you or a professional should check the walls for any damage, which will need to be fixed before painting can begin. There are various types of wall damage that can be repaired, including:
Wall Crack Repair Costs
If your property is fairly old, the wall material may have expanded or contract over time, which can cause cracks to appear. There are two main types of crack, including vertical cracks which are caused by the lack of structural support below the property while stepped cracks are normally found on the corner of buildings and are caused by wall movement.
One way to fix a crack in your wall is through crack stitching, which is an inexpensive option, as crack stitching kits cost around £70 to £80. These usually include spiral bars, anchor grout, a mixing paddle, nozzles, mortar gun and a trowel.
To fix the crack, you simply need to embed the stainless-steel bars into the horizontal mortar bed joints, which will improve the structure immediately.
Pointing Costs
If your bricks appear damaged, damp or you notice a white salt-like substance, then this could mean that the pointing between the bricks has failed. To fix this, you may need to hire a professional who will charge around £25 to £50 per square metre.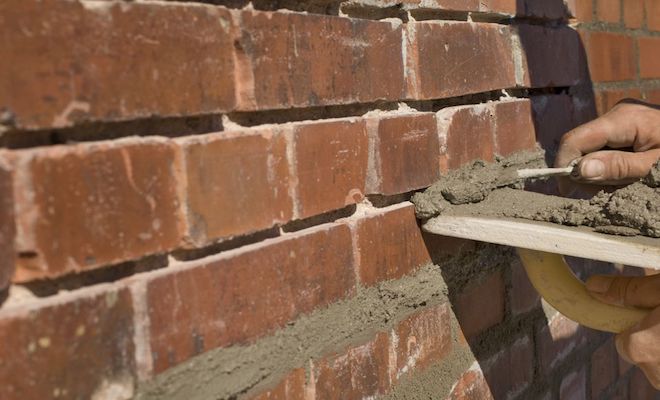 You could also consider repointing the brickwork yourself, which will involve removing the old mortar with a hammer (£3 to £50) and chisel (£2 to £30). The area will then need to be brushed and cleaned before the new mortar can be added, which normally costs around £0.40 to £2.32 per kg. This is then added to all mortar joints, a wire brush (£2 to £9) is used to wipe off the excess mortar.
Rising Damp Repair Costs
If you notice any wet patches on your exterior walls or salt deposits start to appear inside and outside your home, then you may have a rising damp problem.
Rising damp can be complicated to fix, as it involves injecting a damp-proof course into the walls and may also involve re-rendering and plastering.
For a professional to damp-proof your walls, it can cost around £70 to £90 per metre. There is also a DIY option with damp-proofing kits available which cost around £100. They include damp-roof cream, a damp-proof gun, and drill bits.
Exterior Paint vs Exterior Coating
Exterior paint tends to have a lifespan of around 5 years, although it can last up to 10 years if it is prepped properly. The main function of masonry paint is that there are a variety of options to choose from including smooth and textured finishes along with a multitude of colours which can enhance the aesthetic of your property.
They are also cheap to buy with exterior paint cost ranging from £2 to £8 per litre. While it is aesthetically pleasing, it is not as durable as exterior coatings, and also requires a lot more maintenance.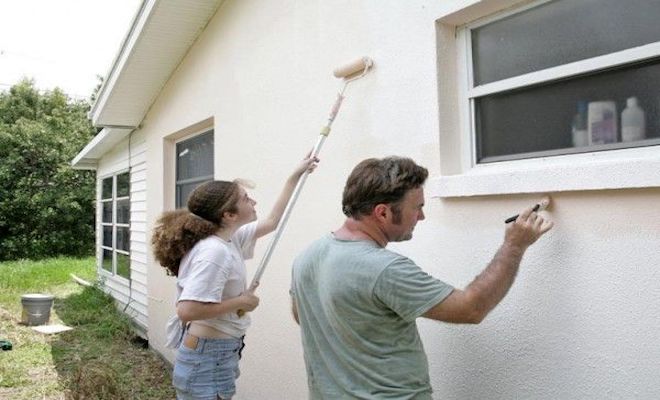 The main difference between exterior paint and exterior coating is that that the latter has a thickness of 40 times more than normal paint. This results in it having a longer lifespan of around 20 years or more and is normally used to replace regular house paint, which does not last as long.
Exterior wall coating offers the same aesthetic as masonry paint with the added bonus of protection, and are also very low-maintenance although it is a lot more expensive with costs ranging from £25 to £70 per tub.
How Often Do I Need to Paint Exterior Walls?
Once painted, you will need to get the walls repainted every 10 years to keep them looking good whereas the bricks will last centuries with little weathering.
If the painting is not strictly necessary, then you may be better off leaving your brickwork as is. That being said, if your bricks have already been painted or you are rendered/pebbledashed, then they will need painting every 10 years to avoid looking grimy and shabby.
If you paint a brick wall that has not been painted before, it is a permanent finish and you can't easily remove it once it has been applied - once you start there is no going back!
You may instead consider a clear weatherproof wall coating which will stabilise the surface and restore the bricks without changing the appearance. Painted exterior brick tends to polarize opinions too; some love it, others will hate it - this is something to consider when it comes to selling your property in the future.
What Time of the Year is Best for Painting Exterior Walls?
Before painting your walls, you should consider whether the weather is right for painting, as the recommended time of year for painting exterior walls is between April and October, or when the temperature is above 10 degrees.
By painting in warmer temperatures, your walls will dry and cure quicker, although the average time is usually around 4 hours, so you may want to check the weather during this time period, as you want to avoid rainfall during the drying process.
Exterior Wall Maintenance and Cleaning Costs
When painting your walls, it is important that you consider ways to maintain your exterior walls. Here is a breakdown of the different maintenance and cleaning methods for different wall types.
Wood Cleaning and Maintenance Costs
If your garden shed has wooden walls, then you need to try and clean it regularly to avoid rot and debris build-up. To keep on top of it, you should remove surface dirt with a dry cloth, then wet your walls with a sponge, a mild detergent and warm water.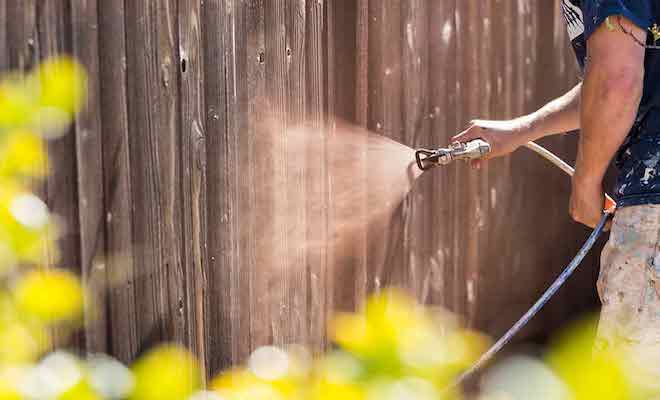 To prolong the lifespan of your wood walls, you should use a wood treatment, which costs around £20 to £35 per bottle. You should try to treat the wood every 3 to 6 months, which will enable it to last longer.
Brick Cleaning and Maintenance Costs
Brick is relatively low maintenance; however, you may want to assess your external walls regularly and check for any mould, mildew, and vegetation as this can produce moisture which leads to damp. To prevent damp damage, you should clean your brick walls with water and bleach and use a scrub brush to remove any stubborn stains.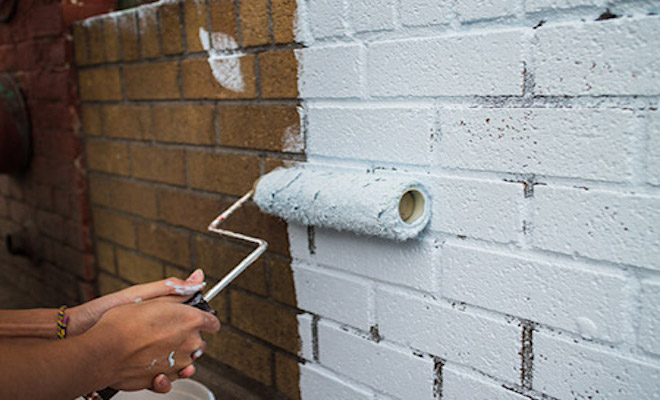 To prevent moisture from building up on your brick wall, you should also consider adding a waterproof brick sealant, which cost around £20 to £25 per tub. This will not only protect your brick from water damage but should also make it more durable.
Render Cleaning and Maintenance Costs
If you notice any stains on your render, you can pay for a professional jet wash which can cost around £150 to £200 per day. A tradesman will ensure that they use the right detergent and nozzle to avoid any damage to the render.
To preserve your rendered walls, you may want to add a coat of fungicidal wash, which costs around £16 to £25 per bottle. This should be used on your walls around once a year, as this will prevent algae and moss build up.
Metal Cleaning and Maintenance Costs
If you have metal cladding, then you will not have to clean it or maintain as often as other wall types. For general cleaning, all you need is a soft bristle brush to remove any dirt or debris. For tougher marks, you should add water and avoid any harsh chemicals as this can damage the metal.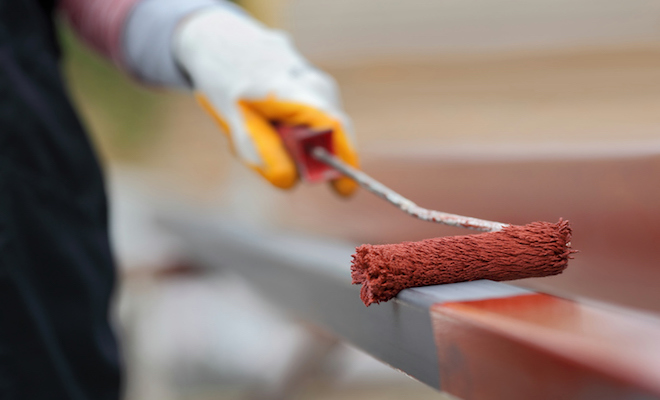 To avoid moss build-up and staining, you should consider hiring a gardener to prune your trees regularly, which costs an average of £60 to £80 per hour.
Pebbledash Cleaning and Maintenance Costs
Painting pebble dash walls can be susceptible to staining and dirt-build up when it's exposed to the elements. Therefore, it is important to clean it regularly with a hose. You should also conduct a thorough clean with hot water and a mild detergent to remove any tough stains.
You can also add a waterproof repellent on top of your pebbledash walls, which will prevent any water seeping in and causing cracks. On average, painting pebbledash cost is around £20 to £45 per bottle of paint.
Cost of Removing Exterior Wall Paint
If you want to change the colour of your property's exterior, then you may need to strip the paint. If you plan to do this yourself, you will need a chemical paint stripper which costs around £5 to £20 per bottle. You will also need some protective gloves which are typically priced at £2 to £50.
Before applying the stripper, you should attempt to scrape off any flaking paint, which can easily be removed with a putty knife, which cost around £3 to £12. A cleaning solution of bleach and water should then be used to wash the walls and remove any algae or fungus that has grown on the outside of your property.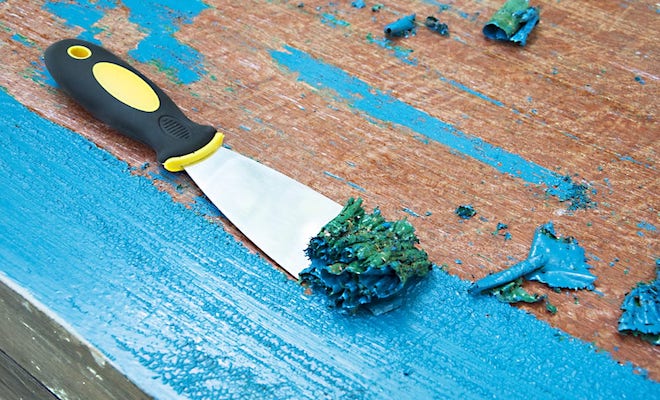 Once the wall is clean, you can then apply the chemical solution with an old brush. This should be left on for around 2 days before rinsing it. After this period, you should then use a pressure hose and hot water to rinse the wall and remove the paint. If there is anything leftover, you should use peeling strips which can cost up to £40 per roll.
These should be applied to the wall; then you should wait the specified time listed on the manufacturer's instructions before removing them. You should then rinse the wall to ensure both the strips and paint is completely removed.
If you would prefer to hire a professional for the job, you should expect to pay around £150 per day, so the final cost will depend on the size of your home or how many walls need to be stripped.
FAQs
How to Find & Hire an Exterior Wall Painter
If you need your exterior walls painting, you should consider hiring a professional who will typically charge around £150 per day. When choosing someone for the job, you should inquire about their experience, as ideally, you should hire someone who has at least 5 years' experience painting exterior walls.
It is also important to check their insurance credentials, as public liability insurance will protect both you and them in the event of an incident or damage.
Sources
https://www.planningportal.co.uk/info/200130/common_projects/18/external_walls/2
https://www.bhg.com/decorating/home-accessories/wall-art/how-to-paint-wood-paneling/