How Much is Roof Cleaning?
On average, assuming easy access and no tiles need replacing, the roof on a typical UK 3-bedroom semi-detached house can be cleaned manually for around £300-£500.
This is usually cheaper than pressure washing, which can cost up to £750 for a typical house. Manually removing moss from a large home with attached garage and conservatory/porch etc. would typically cost around £700-£1000, depending on the location and the size of the roofing company.
How much will the labour cost?
Roof cleaners tend to charge around £200 per day and depending on how badly the moss has built up it can take anywhere from 2-8 hours to remove the moss and treat the roof with chemicals to prevent further build-up. If further equipment is needed to safely complete the task, like scaffolding, further costs will be added to the overall price.
Roof Cleaning Prices
| House Type | Roof Type | Avg. Cost | Duration |
| --- | --- | --- | --- |
| Terraced | N/A | £400 | 4-6 Hours |
| Semi-detached | Gable Roof | £400 | 4-6 Hours |
| Detached | Gable Roof | £500 | 5-7 Hours |
| Semi-Detached | Hip Roof | £550 | 5-7 Hours |
| Detached | Hip Roof | £800 | 7-9 Hours |
Additional Costs
There may be a few different additional costs for manual moss removal, depending on the circumstances of your home. The most common additional cost is the need for scaffolding, especially if you have a tall or uniquely shaped home. Scaffolding allows contractors the ability to work more efficiently at height, and of course, more safely. You can check out scaffolding and the costs incurred by reading our article here.
Another additional cost can occur when roof tiles are discovered to be broken underneath the moss that had covered it. Broken or loose tiles can cause much bigger problems further down the line if they're ignored after being discovered. This can be in the form of leaks or even falling tiles. Take a look at these articles on recementing ridge tiles and roof tile replacement!.
When the survey is initially done on the job, the contractor will give you an accurate quote for the job, but often the hidden problems can't be located until the moss starts to be removed, revealing underlying issues with the roof tiles beneath.
Of course, you can have the moss removal work completed first, and later consider your options for any other problem that has been revealed, unless this a matter of emergency, or prevents the contractors from completing the moss removal.
Cost Breakdown Calculator
Individual costs for hiring a tradesman to remove the moss from a gable roof of a 2-storey semi-detached house with easy access - Total Cost: £400
Labour Costs and Time Frames
The labour costs account for around 50% of the overall cost, which is a fairly standard mark up across the trade industry, with equipment and materials accounting for the rest of the cost. The initial survey shouldn't take too long, but it just gives the tradesmen and opportunity to review your home and decide what they will need for the job, therefore giving the customer a more accurate price for the job.
The entire job should take no longer than around 6 hours, start to finish, for a semi-detached house with a gabled roof. Of course, this time can be extended if any additional issues are discovered, or if the contractors need to erect scaffolding to work efficiently and safely.
The labour costs are decided depending on how many contractors are needed to work on the job, which can differ depending on the shape, size and type of roof. They may also need extra hands if the location is tricky to work with, like with terraced houses, or blocks of flats. In this case, scaffolding will almost definitely need to be used to ensure the job can be carried out.
Cost Affecting Factors of Removing Roof Moss
A few circumstances can affect the cost of removing moss on a roof manually.
Size of Roof
If you have a large roof, contractors may charge you slightly more as it can take more time to remove moss from your roof.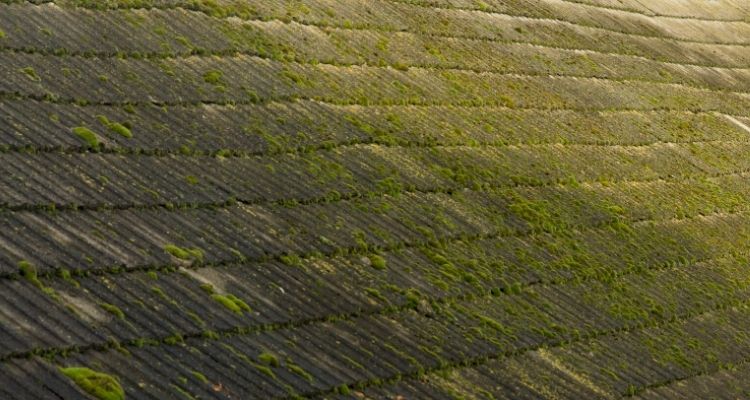 Location of Property
If your property is located in London, it's more likely that you'' end up paying more to remove moss from your roof than if you've lived in the North of the country.
Extent of Moss
If you have your roof regularly cleaner, there won't be as much moss to remove and it won't add anything on to the overall cost. However, if you have never had your roof cleaned, and you have a large moss build up, you may have additional charges added.
Scaffolding Hire
If you live in a two or three-storey house, scaffolding hire may be required to complete the job safely, and this will affect the overall cost.
What Does Removing Roof Moss Manually Entail?
If you are you thinking about having your roof tiles jet washed to remove moss, then it may be worth considering manually removing the moss as pressure washers have been shown to damage some tiles roofs and there is also the potential risk of flooding to the loft space.
In many cases, any excess moss can be removed by manual scraping and then applying the correct chemicals to the tiles to prevent future growth. This approach doesn't involve gallons of water, so it is less messy, and it won't cause a lot of damage to the roof tiles.
If any individual tiles are damaged during this process, they can usually be replaced cheaply in any case if all the scaffolding and roof ladders etc. are already in place.
When removing moss or lichen from roof tiles and all the equipment needed to safely access the roof is already in place, it makes sense to take care of any other roofing maintenance at the same time. So if any other roof related items need repairing or replacing, such as roof or ridge tiles, fascia or soffit boards, guttering or lead flashing - get it all done at the same time.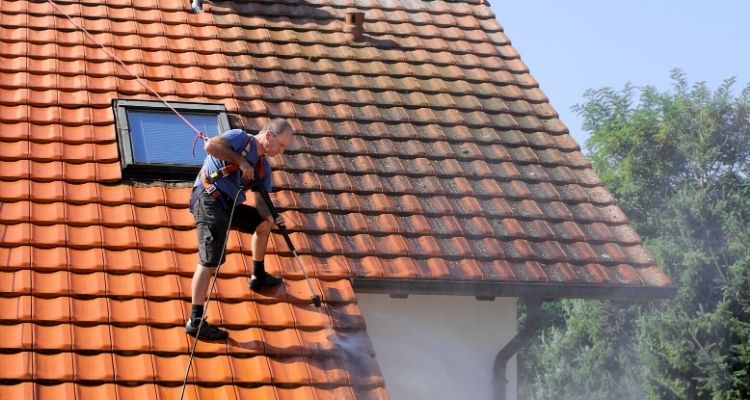 No approvals from the local authority are required to manually clean the moss from roof tile, so this can be done as a DIY project, but you do need to ensure all the necessary safety equipment is in place to prevent injury. For the DIY guy, this would normally involve the hiring of safety roof ladders and/or scaffolding, which means there will often be little if any, savings compared to hiring a professional roofing contractor.
So even though this can be done on a DIY basis, this and other jobs involving working at height are best left to the professionals, as even the hiring of all the necessary safety equipment, is no real substitute for the good judgement and common sense that comes from years of experience working on roofs.
With any jobs that involve disturbing roof tiles, expect that you will break some of them, no matter how careful you are, these things happen! If you do not have spare matching tiles to hand, this will involve rushing around DIY stores and builders merchants at the last minute, avoid the hassle by having some spare tiles ready (including ridge tiles) before you begin.
You should also note that the new building regulations require all tiles to be nailed or otherwise mechanically fixed to the roof, but this only changed in 2015, roofs prior to that would typically only have every third row mechanically fixed. The cost of replacement tiles depends on the type/specification, but standard roof tiles are pretty cheap, so buying a few extra is no big deal and can save you time.
DIY Removing Roof Moss Manually
The amount of resources, tutorials and advice available online has contributed to the number of people that now attempt to complete jobs around their homes without paying for contractors. However, some jobs are simply too unsafe for those to attempt without proper training and equipment.
Any job that requires working at height is one that the layman shouldn't attempt unless they have prior experience in that line of work. However, if you were to ignore this advice, you would need to ensure that you could work on your roof safely, ideally with erected scaffolding to provide a solid footing to work.
You'll also need specialist moss scrapers, that are shaped especially for roof tiles and a pressure washer to clean the remaining debris left by the moss.
You should be able to purchase or rent all the tools required from your local hardware store, and you'll need to double-check with your local housing authority to ensure that you don't need any licenses or permits to work at height on your home.
FAQs
How to Find & Hire a Roof Moss Remover
In our opinion, it's preferable to hire a contractor to complete manual moss removal work for you, due to the safety issues that are apparent for the work.
Roof tiles are also extremely easy to dislodge or damage in the process if you're not used to working in such environments. To find a contractor to complete this work, search online for experts in your area.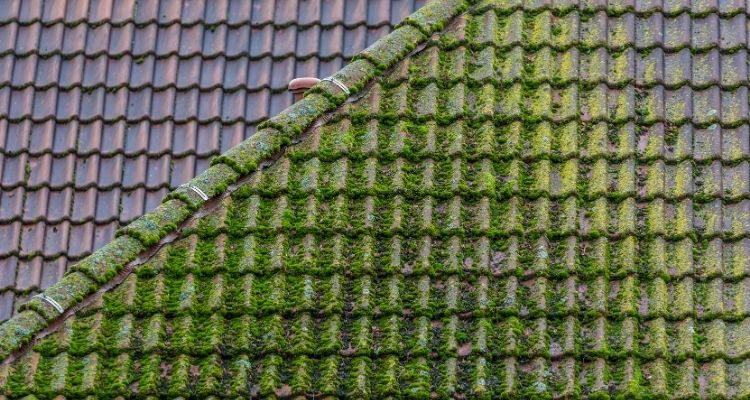 They should be able to demonstrate their experience and knowledge through qualifications, accreditations and reviews from people who have used their services in the past.
You can also ask for quotes from several companies to ensure that you're paying a fair amount for the work. Another important thing to check is whether the contractor you have chosen is fully insured to work on your home and at height. You can check a contractor out before hiring them on the Homeowners Alliance webpage.
Sources
https://www.roof-info.co.uk/roof-moss-removal
https://hoa.org.uk/services/members-check-your-tradesmen/
https://www.nationwide.com/lc/resources/home/articles/types-of-roofing