How Much Does Installing Electric Gates Cost?
Installing an electric gate is a perfect way to spruce up any household. In terms of costs, the key factors are the size of the gate, the type of material and the overall quality.
Replacing a gate will obviously be cheaper than having to build new brick/steel pillars and hanging a gate for the first-time.
However, if there is a need to change the existing pillars for a new gate (of a considerably different size/type), this would incur the additional cost of removing existing pillars and replacing them.
Typically, the highest cost will be for the gate itself, which can cost between £700-£2000 depending on the type/size of gate.
For additional features, this can increase the cost considerably too; an automation mechanism can cost as little as £300 or as much as £1800, varying on the specifications (in some cases, some gates would require a minimum specification for any automation), intercom systems can cost between £250-£1200 (likely to vary in terms of quality and functionality).
Electric Gate Prices
Below are some estimated costs of installing electric gates with a range of different material and style options.
| JOB DESCRIPTION | AVG. COST | DURATION |
| --- | --- | --- |
| Electric Double Gate Plus Intercom Supplied and Fitted | £5,000 | 1-4 days |
| Custom Made Swing Metal Gates Automated 24V | £7,000 | 1-4 days |
| Hardwood Timber Swing Metal Gates Fully Automated | £8,000 | 1-4 days |
| Aluminium Double Swing Gates Supplied and Fitted | £4,000 | 1-4 days |
| Aluminium Double Sliding Gates Supplied and Fitted | £4,500 | 1-4 days |
| Aluminium Double Bifold Gates Supplied and Fitted | £6,000 | 2-5 days |
Supply Costs
If you're looking to install electric gates as a DIY job, you'll have to buy all of the materials and supplies separately.
This would make the overall costs of the job cheaper but would add a ton more work and time onto the installation; it's probably best to hire a tradesman instead. Below are estimated prices of the supply costs for an electric gate installation.
| SUPPLY | AVG. COST |
| --- | --- |
| Aluminium 3m swing gates | £1,000-£1,500 |
| Aluminium 3m sliding gates | £1,500-£2,000 |
| Aluminium 3m folding gates | £2,500-£3,000 |
| Gate motors | £200-£300 |
| Posts | £50-£200 |
| Concrete | £50-£200 |
| Opener kit with motor and arm | £600-£1,000 |
| Remotes, sensors, intercoms and keypads | £50-£500 |
Additional Costs
Installing electric gates for your driveway opens up opportunities for other work to be completed in your front garden/driveway area, meaning you can work within your budget for the cost of electric gates.
It's the perfect chance to spruce up your entryway by cleaning and sealing your driveway for up to £300.
Other added jobs which would be perfect for the driveway include installing a security light priced around £150 or even completing the gates by building a garden wall which can cost up to £1,000 depending on size, height and length.
If you're looking for a full front garden renovation, you can also apply block paving to your driveway for around £3,000, resin driveway for around £2,500, or tarmac driveway for a cheaper price of near £2,000.
This will complete your driveway look and ensure the front of your house is fresh, safe, and looking it's absolute best.
Cost Breakdown Calculator
Individual costs of installing electric gates (custom-made, automated metal gates, supplied and fitted) - Total Cost: £5550
Labour Costs and Time Frames
For a tradesperson, the installation of an electric gate system will be around 1 week's work, depending on the installation.
Due to the specialism of electric gate installation, some tradespeople may charge a higher daily rate for their labour.
Their rate could be as little as £250, but for more specialist work, this could increase considerably.
It would be advised to know the tradesperson's daily rate in advance to have an idea of the overall cost of their labour and, if possible, the quality of their work.
What are Electric Gates?
Electric gates are a form of driveway gates which are powered by an electric mechanism which opens and closes them.
They were originated in 1881 by Fred Watson in Canada as a design for railway systems.
When they were built for commercial use, they were hydraulic and produced for dependability and usability.
This meant that when other corporations got a whiff of this, cheaper electromechanical alternatives were in competition.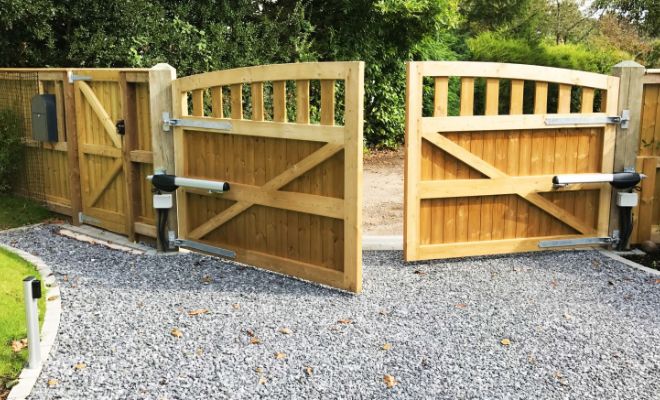 There are a variety of types of electric gates, with the most popular three being sliding, swing and folding.
Swing gates are the most popular for houses as the electrics draw the gate open and closed via the hinges.
Sliding gates retract through the fence/wall via wheels or bearing.
Folding gates work the same as bi-folding doors and are popular in luxury neighbourhoods as they take up lots of space.
Cost Affecting Factors of Installing Electric Gates
Although we have provided a rough price for electric gates installation, there are plenty of factors which can alter the installation and labour costs ranging from size, material, type of gate and running costs.
Below is a general idea of how these different details can affect your budget.
Size
The size of your electric gates will depend on the amount of space you have and the overall size of your driveway.
Both the length and height of the gate can increase your costs significantly, so it's important to measure correctly and decide on which size you want.
Garden gates come in a range of sizes starting at around 12ft, going up to 18ft, increasing its price the taller you go.
Smaller sizes can start off at around £500, with taller gates increasing to £1,500 for supply only.
Type of Gate
The type of gate you choose can also alter your overall prices by a fair amount.
Swing gates are extremely common and are often the cheapest choice at £1,000-£1,500; you can also choose between single and double gates.
Sliding gates are slightly more expensive and can cost between £1,500-£2,000.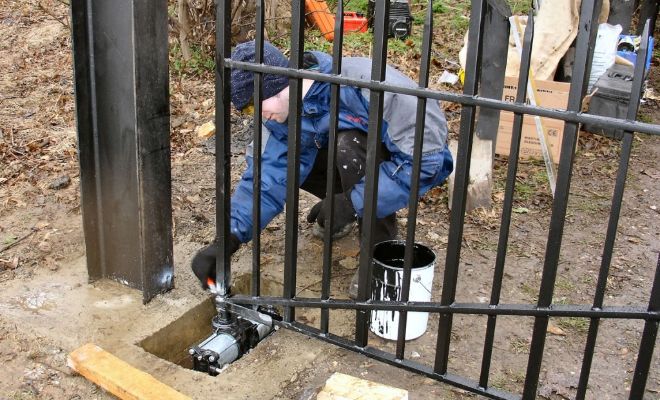 The most expensive choice would be folding gates as these are used in a lot of luxury and spacious areas, they can cost anywhere between £2,500-£3,000.
Running Costs
The cost of running electrics isn't too expensive.
When they're in standby mode, they use around 100W per day, whereas when they're in operating mode, they can use up to 800W.
The average cost of running per year is £15, going off if electricity costs around £0.15p per kWh.
Material
There are a variety of materials you can choose from for electric gates, including wooden electric gates, as well as steel, aluminium, iron, and vinyl.
Vinyl is typically the cheapest option with aluminium as the highest.
Below is a table with the average cost and pros and cons of each material.
| MATERIAL | AVG. COST SUPPLY ONLY | PROS & CONS |
| --- | --- | --- |
| Vinyl | £400-£800 | Cheap but fragile |
| Wood | £500-£900 | Attractive but high maintenance |
| Metal | £600-£1,000 | Durable but weighty |
| Iron | £1,000-£2,000 | Aesthetically pleasing but hard installation process |
| Aluminium | £1,500-£2,500 | Low maintenance but prone to dents |
What Does Installing Electric Gates Entail?
Prior to installation, you should check if you need planning permission to install a gate or not.
If your gate is set to be higher than two metres or close to a highway or footpath, then planning permission is most likely required.
If you're feeling unsure, Planning Portal is a great website to look into with lots of resources.
Groundworks
Groundworks are key to a successful gate installation as contractors will have to make sure the foundation around your driveway is solid and drained.
This is also a perfect time for a professional to install a remote power solution so that a certified electricity supply can run to the gates.
Pillar Installation
Once the electricity has been safely installed and checked, it's time to install the pillars on either side of where the gate panels will be.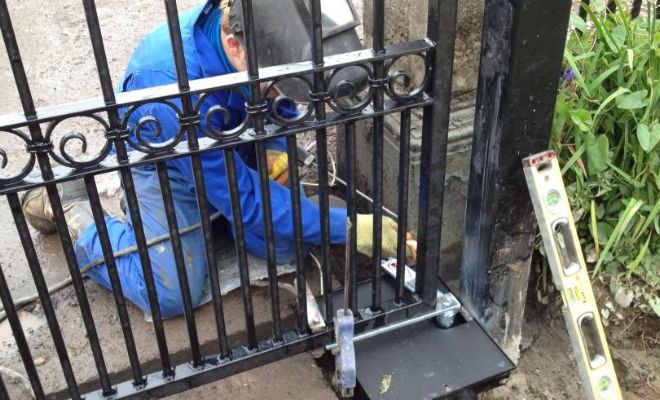 They should be placed into a deep foundation of concrete so that the electric gate will be supported properly.
Gate Installation
Finally, it's time for the gate itself to be installed. Your contractor will install the automation mechanism to be able to attach the gate panels and pillars together.
Once attached, the gate will be tested several times for electrical faults and to make sure it opens and closes with ease.
DIY Installing Electric Gates
It's not recommended to DIY install your electric gate. Automating gate installation is a highly skilled job and some of the critical tasks such as the geometry of the automation, the wiring and the programming; are skills that only certain specialists have.
If you are an accomplished civil, mechanical and electrical engineer, then you may have the skills required.
There are DIY kits available on the internet, but many have had difficulty getting them to work and often end up engaging a professional installer anyway.
Homeowners are rarely able to complete their own electric gate installation with a DIY kit, but if you're feeling confident and looking for lower costs with a smaller budget, a DIY kit can cost between £400-£600.
To reduce any potential risks with this job, you should look out for any sloping issues and underground motors.
You should always thoroughly measure out and calculate the correct length and height of your gates before ordering any materials.
Remember, this is not a simple job, and you should weigh up the pros and cons of how much you'll save in contrast with the actual extent and length of the job.
Only do this job if you feel 100% with your DIY and handiness skills and know what you're doing.
Choosing Electric Gates
When considering having a gate installed, you should think carefully about which type of gate would best suit your property and your needs.
For example, do you intend to walk through the gates much more than driving through them?
If so, then it would probably be better to have a separate pedestrian access gate rather than opening the main gates every time you walk through to avoid excessive wear and tear on the control mechanism.
Electric gate installations are rarely completely trouble-free, so it is recommended that you buy a better-quality motor and professional installation to make it less likely that something will go wrong and to save money in the long run on engineer call-outs.
Cheap motors and poor-quality installation may cost less initially but will usually result in multiple return visits to fix things.
Swing Electric Gates Cost
There are a number of different types of gate automation available which depend on the way the gates open.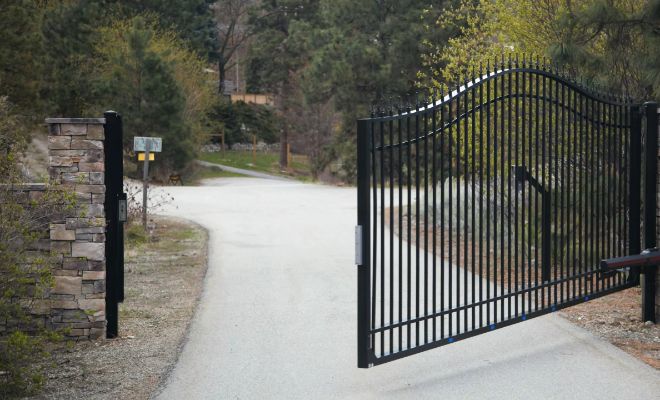 You can choose from swing gates where both gates swing-out. These are the most common and the cheapest, working well on a flat road surface.
When purchasing swing gates, you should expect to pay up to £1500.
Pros
✔ Cheaper option
✔ High performance gate
✔ Smooth and quiet
Cons
✖ Demand a large installation space
✖ Need to be installed with concrete pillars
✖ Time consuming installation
Sliding Electric Gates Cost
Sliding gates look great but can only be used if you have enough space to the side.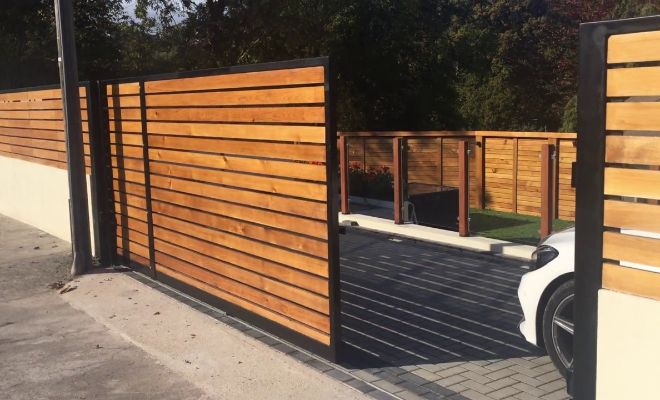 If there is not enough space for one sliding gate to either side, then you can have two sliding gates sliding in opposite directions, but that will mean two complete opening kits and greater expense.
You should expect to pay around £2000 when purchasing a sliding gate.
Pros
✔ Increased security
✔ Withstands strong winds
✔ Elegant appearance
Cons
✖ Noisier operation
✖ Costly installation
✖ Track maintenance is required
Folding Electric Gates Cost
You can also have ram and swing arm openers which push open or close the gate (imagine a big robot arm working the gate for you).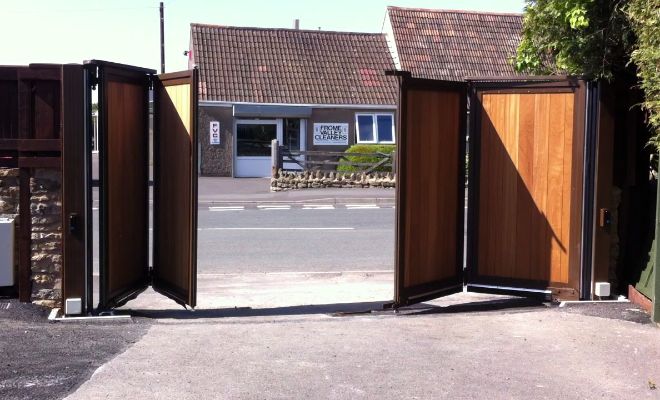 Underground systems are the most discreet type of automation, but also the most expensive.
Folding or bifold gates tend to cost around £3000 in supply.
Pros
✔ Space saving option
✔ Easy to open
✔ Ideal for areas with heavy snowfall
Cons
✖ Collects more dust
✖ Requires regular cleaning
✖ Needs to be lubricated for proper use
Benefits of Electric Gates
Electric gates are a great way to add value to your household and offer a whole range of benefits to your lifestyle.
Homeowners install electric gates for reasons of convenience, comfort, security, prestige and resale value.
Below is a more in-depth look into the benefits of installing electric gates.
Security
Security is a big concern in the UK with more and more homeowners looking to increase security to deter or defeat criminals and vandals.
Electrically controlled security gates, often in conjunction with video or audio intercom, can help to establish a cost-effective and secure perimeter.
Convenience
Convenience also plays a major part in the decision to install electric gates.
There are thousands of properties in the UK that already have sturdy wooden or iron gates installed, but they are left open much of the time, as it's too much bother to go out and close them at night once you have settled down in front of the TV or to keep getting in and out of the car every time you go through them.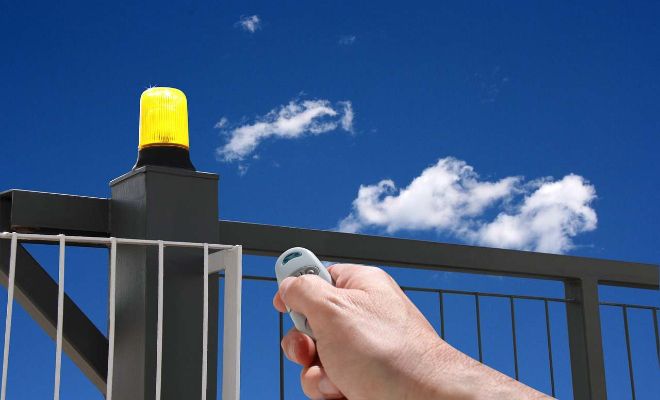 Privacy
Safety and comfort are another reason why electric gates are becoming so popular.
With increasing road traffic, homeowners are concerned about the safety of their children and pets and electric gates can help to stop them wandering out onto busy roads.
Automatic electric driveway gates will often increase the resale value too, or at least increase kerbside appeal.
Ease of Use
Electric gates are perfect for winter months as they're easy to use and mean you don't have to leave the comfort of your car.
They're also a great option for anyone struggling with a disability as a simple press of a button is all you need to do, allowing easy access into your property.
Electric Gate Maintenance
When taking care of your electric gate, you want to make sure that it has a lasting lifespan and you get your money's worth out of it.
Regular maintenance is an essential part of ensuring the gate stays safe, reliable, and working; this will help you avoid any accidents or daily disruptions when entering and exiting your home.
Depending on how often the gate gets used, electric gates should on average be serviced by a professional at least once every six months.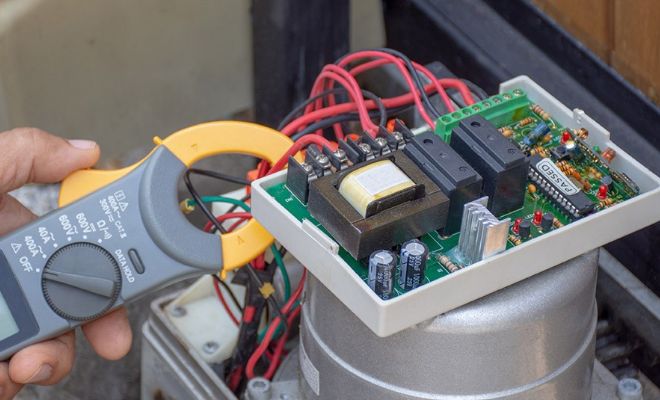 However, the number of times you get your gate serviced can change depending on how many cycles (how often the gate opens and closes) go through on a daily or weekly basis.
Residential driveway gates are typically used at a lower rate for an average family household and can get away with being serviced once or twice a year.
An apartment block building which hosts several cars could do with being serviced three times a year, whereas commercial electric gates which are typically used in an industry setting and cycle frequently should get serviced a minimum of four times a year.
Cost of Removing Electric Gates
You should always consult a professional electrician before removing anything as there will be a lot of electrical wiring which can be dangerous if dealt with incorrectly.
The cost of removing electric gates will mainly depend on labour and waste removal.
When hiring a professional, their rate could start at £300 for a day's work and skip hire, but for more specialist work, this could get higher.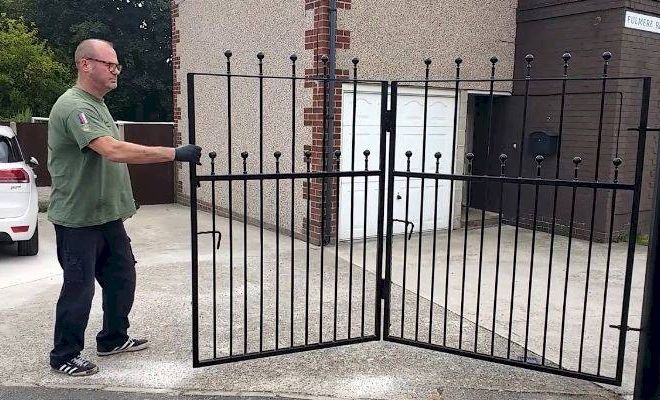 This job should take no longer than two days, depending on the size of the gates.
It is definitely recommended to ask about the tradesperson's daily rate in prior to hiring anyone; this is so you can have an idea of the overall cost of their labour and, if possible, the quality of their work.
FAQs
How to Find & Hire an Electric Gate Installer
Landscape gardeners usually hang driveway or garden gates and can even do brickwork and install fence panels.
But for expensive and specialised equipment it would probably be best to get a specialist to hang the electric gates and install the necessary wiring.
It can often be an intimidating process, and you may not know exactly where to start.
Below is a guide to what you need to look out for before hiring tradesmen and questions you should most definitely ask.
Qualifications
You'll need to make sure that you hire a qualified electrician who is registered under the competent person scheme and member of NICEIC, ELECSA, Stroma or another government-approved electrical organisation.
This could cost anywhere between £50 to £80 per hour or a daily rate of £150 to £250.
You should also ask if they have a Level 3 NVQ Diploma in electrical maintenance.
Experience
Experience is an important factor for any electrical work, and it's very important to check-in and ask about their previous experience with installing electric gates, as well as general electrical work.
This can be a dangerous job with a lot of wiring, so you want to make sure that accidents are avoided.
References
Always enquire about their prior experience and clients by asking for proof of pictures and references of their previous jobs.
This will give you a clear idea of how your installation will turn out and their reliability.
However, if they refuse to show you or don't have any, it may be best to look elsewhere.
Compare Quotes
This is a great way to play the field and ensure you're getting the best bang for your buck when discussing electric driveway gates cost.
By comparing quotes with various tradesmen, you can sift out the cowboys who are trying to con you out of money and ensure you get the best deal possible.
Payment Plan
Then, you should be ready to discuss a payment plan. We recommend that you should always set up a payment plan before any work goes underway to avoid any future disputes, and always ask for a receipt/proof of payment plan agreement.
Sources
https://www.electric-gates.com/costs/
https://www.gateautomationsupplies.co.uk/how-much-do-electric-gates-and-motors-cost
https://theukelectricgatecompany.co.uk/costs/
https://www.rollingcenter.co.uk/news/diy-electric-gate-installation
https://www.planningportal.co.uk/info/200125/do_you_need_permission