How Much Does It Cost to Install Solar Panels?
Most people fit solar power mainly for the reduction in energy costs, but many are also attracted to the smaller carbon footprint and powering their home using renewable energy. Solar technology has advanced just in the last few years with many new products available, including solar tiles and thin-film solar panels. The costs have greatly reduced recently too, though still far from cheap!
To provide accurate pricing information, we have contacted local, and national companies, plus have used various online quotation tools. The figures provided should give a good rough idea of the solar panel prices involved if you are considering having solar panels installed on your roof. Still, of course, you will need to gather detailed quotes from tradespeople to get an exact price for your requirements.
The average cost of PV panels is around £4,000 to £6,000 for a standard-sized home which requires a 4kW solar panel system which covers 21 square metres of the roof. This price may vary depending on the type of solar panels you choose, with the most popular options including: monocrystalline solar cells and polycrystalline solar cells.
In terms of roof coverage, you should expect to pay around £250 to £315 per square metre which tend to have a system size between 1kW to 5kW.
Remember that solar panels can only be fitted to a roof that is in good condition and can support them. Older roofs may need to be replaced, or extra support may be required, so you may need to get in touch with a roofer too.
Solar Panel Prices
Below are some estimated costs of hiring a specialist to install solar panels:
Monocrystalline Solar Cells
| Roof Size | System Size | Avg. Cost | Duration |
| --- | --- | --- | --- |
| 8 sq. m | 1kW | £2,500-£3,500 | 2-3 days |
| 14 sq. m | 2kW | £3,000-£4,500 | 2-3 days |
| 20 sq. m | 3kW | £5,000-£6,500 | 2-4 days |
| 28 sq. m | 4kW | £6,000-£7,500 | 2-4 days |
Polycrystalline Solar Cells
| Roof Size | System Size | Avg. Cost | Duration |
| --- | --- | --- | --- |
| 8 sq. m | 1kW | £2,000-£2,500 | 2-3 days |
| 14 sq. m | 2kW | £3,500-£4,400 | 2-3 days |
| 20 sq. m | 3kW | £5,000-£6,300 | 2-4 days |
| 28 sq. m | 4kW | £7,000-£8,800 | 2-4 days |
Supply Only Costs
The average material cost of solar panels will depend on the system size and approximate roof space required. Over the last few years, 4 kW solar panels prices have been dropping considerably, around 2010 solar panels average cost was around £15,000, whereas now in late 2017 the average cost is £6,000 to £7,000. These costs vary depending on the type of solar panels with monocrystalline solar cells are priced at around £300 to £450. In contrast, polycrystalline solar cells cost slightly less at around £250 to £300 per square metre.
Cost Breakdown Calculator
Individual Costs To Install a 2 kW, 14 sq.m Solar Panel System - Total Cost: £3,000
Labour Costs and Time Frames
The average solar panel specialist will usually charge around £150-£200 per day in labour. Typically, the job will not take more than 3 days, although it may take slightly longer if there is any damage to your roof or if access to the roof is a problem. For a pitched roof, it can take around 1 to 2 days for 12 to 15 panels to be fitted, which will cost an average of £500 to £600 for professional installation.
What Does Installing Solar Panels Entail?
If you hire a specialist to install solar panels on a typical 3-bed semi-detached home in the UK, then the first step would normally be to erect the scaffold for safe work access (check this is included in any quotes).
The next step is to screw the roof anchors into place, then attaching a mounting frame. The panels are then clamped to the frame by row or by column. The panels are already wired by the manufacturer so the installer will then connect them by attaching the cables to the rails and running the DC wiring from the panels into your home, hiding as much of the wiring as possible by using the loft space under the panels as much as possible.
The inverter will then be set up inside the home in a pre-agreed location which is connected to the mains electricity supply.
A small modern consumer unit and generation meter will also be installed. Usually, this will be next to your existing fuse box/consumer unit. Mains power only needs to be switched off for around an hour or so.
Once all the wiring's complete, the system is powered up and checked, then your MCS certificate will be issued.
Cost Affecting Factors of Installing Solar Panels
The type of solar panels you choose will determine the price, as monocrystalline solar panels cost slightly more than polycrystalline solar panels, as they offer more energy efficiency, which can result in more savings on your energy bills.
Another determining factor is the number of panels you choose, which for a standard house is usually around 12 (3kW) to 16 panels (4kw), which costs around £4,100 to £5,500 for the material only.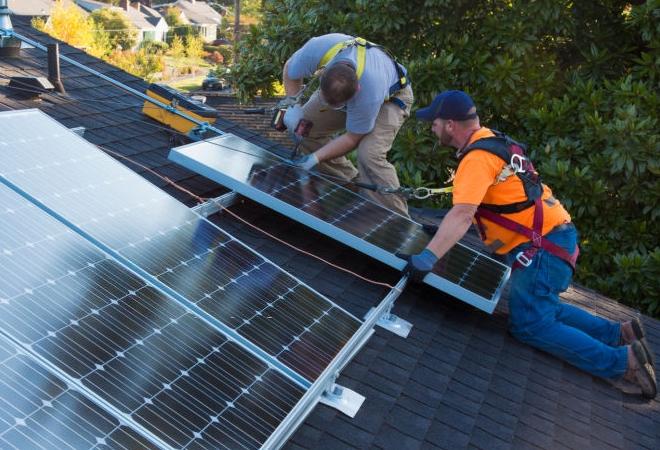 The cost will also depend on the type of roof you have, for example, a flat roof solar panel system installation will cost less due to being easily accessible, while a pitched roof would typically be priced higher. However, the most important aspect in the direction of your roof, as south-facing roofs have the most exposure to the sun.
The height of your roof may affect the cost of solar panel installation, as professional installers may cost more for higher roofs due to the level of difficulty involved when installing solar panels at a significant height. This may result in installers charging the top of the end of their hourly rate, which would total around £200 per day.
If you have an electric-only system, then you can benefit significantly from installing solar panels, as more than likely you will receive money back from your local utility company at the end of the year, as solar panels will help you reduce your usage and as a result decrease costs. However, you may not benefit from savings as much if you still have a gas system, as solar panels do not cover gas-related energy. Therefore, you will still have to pay gas bills.
Additional Costs
Here is a breakdown of the additional costs you need to consider when installing solar panels:
| Additional Costs | Average Costs |
| --- | --- |
| Solar battery storage system | £1,200 to £6,000 |
| Solar panel cleaning | £3 to £10 per panel |
| Special water tank | £2,000 to £4,000 |
| Solar power inverter | £1,000 to £15,000 |
| Repairs and maintenance | £140 to £400 per panel |
| Roof repair | £120 to £900 |
| Scaffolding | £10 to £30 a day |
Can I Install Solar Panels Myself?
It is possible to install solar panels on a DIY basis; however, you will need assistance from a professional to ensure you meet building regulations. Remember that you should only attempt a DIY solar panel installation if you have experience with electrics or roof fittings, as it can be a complicated process, although you can partake in the following steps:
Measure your roof and designate the area where you want your solar panels to be installed, making sure to base the decision on your specific energy needs.
You should then purchase your solar panel system kit, making sure to conduct thorough research before deciding on the right application for you. You should also look at costs as solar panel kits can vary from £400 to £6,000.
Once you have chosen the right system for your home, you should then consider hiring a professional electrician to help you connect all electrical installations including optimizers, wires and inverters. They usually charge around £40 per hour, which may seem expensive, but it is definitely worthwhile for proper installation. If assisting them, you need to make sure that you are wearing electric-resistant gloves which cost around £30.
What Solar Panels Do I Need?
The 2 most common options for solar panels are Monocrystalline and Polycrystalline. Both options do the same job but have there own pros and cons as discussed below:
Monocrystalline Solar Panels
Pros
✔ The most energy-efficient option as they are made from one type of high-quality silicone.
✔ Tend to have a better aesthetic due to the black coloured used to blend in with your roof.
✔ They are small panels which require less space.
✔ Tend to last longer than 25 years.
Cons
✖ The most expensive type of solar panel system.
✖ Performance levels can be affected as temperature rises.
✖ A significant amount of waste is generated during production.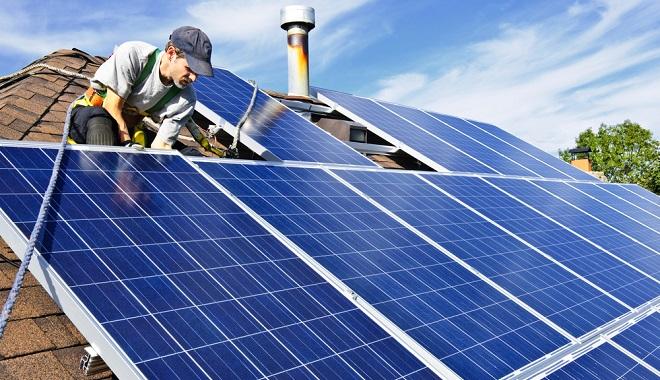 Polycrystalline Solar Panels
Pros
✔ More affordable than monocrystalline solar panels.
✔ An eco-friendlier option due to the lack of waste during production.
✔ More efficient in warm weather due to its level of heat-tolerance.
Cons
✖ Slightly less efficient as they are made up of multiple silicone materials.
✖ Tends to have a low tolerance for heat.
✖ These panel types only have a 14% to 16% efficiency rate.
✖ Requires more space to accommodate panels unlike solar roof tiles which are extremely efficient.
Do I Need Planning Permission for Solar Panels?
Since 2008, the installation of solar panels has been deemed to be part of the permitted development rights and therefore planning permission is not required, unless the building is listed, or in a conservation area. But being in a conservation area does not in itself stop you from having a solar panel installation, it just means that you will need to notify your local council and the conservation team of plans and get permission.
You also need to make sure that your panels are not installed above the highest part of the roof and should not extend more than 200mm from the wall's surface or slope of the roof.
Most building works you wish to have done to your house are subject to a building regulations application, except where you use a contractor that is a member of an approved competent persons scheme. Competent persons can simply self-certify their work, whereas other tradesmen will need to have the work inspected and approved. There are now competent person schemes eligible for Microgeneration technologies such as solar panels so you should ensure your installer is a member of one of the listed schemes: CORGI, HETAS, NAPIT, NICEIC, APHC, BESCA, BSI, ELECSA, OFTEC, or STROMA.
How Much Roof Space Do I Need for Solar Panels?
The minimal amount of roof space required is typically around 8 square metres which can accommodate 4 panels measuring 2 square metres with a thickness of 3.5cm with 1kW system. However, a typical UK home can hold a 3kW system with 12 panels across 24 square metres with a 3kW while some larger roofs featuring 4kW solar panels have 16 panels within 32 square metres.
Do I Need a South-Facing Roof?
General recommendations for solar panel installation suggest that south-facing roofs offer the best application. This is because it provides the optimal condition for solar panels to generate power, as this direction is the best for sunlight exposure. However, having a south-facing roof is not an exact requirement for solar panel installation, as there are many homeowners with east or west-facing roofs that have benefitted from a solar panel system.
If your roof is not south-facing, then your panels may be titled by 15 to 30 degrees to help increase the amount of electricity that is produced to power your home more efficiently.
Benefits of Solar Panels
One of the biggest advantages of having solar panels installed is the money-saving element, as solar panel system can help you save a significant amount on your energy bills, as you will be using less electricity from the grid. This also enables you to reduce your carbon footprint, as your house will be powered by solar energy which is a clean and renewable power that is generated from the sun which has a positive impact on the environment.
You can also save money in terms of maintenance, as solar panels require very little or no maintenance at all, and often can be cleaned by simply washing the panels with a hose and soap once or twice a year.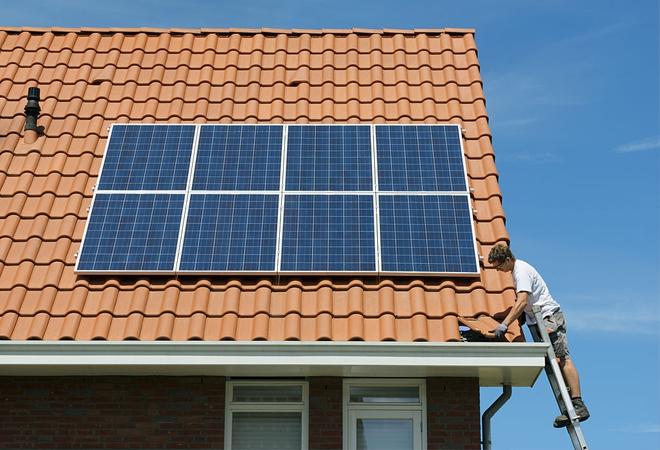 Solar panels are a low-risk investment that offers initial cost returns after 8 to 10 years, while also adding an average of 14% onto house value. Solar panel systems also tend to come with a warranty of 25 years, although some can exceed this amount of time and often last up to 30 years with maintenance.
How Much Money Will Solar Panels Save Me?
Installing solar panels can help you save anywhere between £85 to £220 per year for a 4kW system, although those with larger systems have saved even more. Savings are also especially high for those with a south-facing roof, with the average saving of £194 due to the optimal direction this type of roof offers on a daily basis.
Many homeowners in the UK, including those with north-facing roofs, have saved a significant amount by installing solar panels, with the majority saving over 50% a month on their energy bills. Some have even upgraded their solar panels to monocrystalline solar panels, as they are far more efficient and which offer massive savings in the long term despite the high initial cost.
Will Solar Panels Add Value to My Home?
Having solar panels installed in your home can add value to your home due to its energy-saving abilities which not only help homeowners to save money in the long run but also make their homes more environmentally-friendly. More than anything having solar panels on your roof will make it more appealing to potential buyers.
Are There Grants for Solar Panels?
Unfortunately, there is no longer any solar panel funding available since the shutdown of the government's Green Deal scheme and the Feed-in Tariff scheme. However, you can still receive payment for installing solar thermal panels through the Renewable Heat Incentive, although this does not include solar PV panels.
How Long Will It Take to Make My Money Back?
Solar panels can offer a great return on investment, with the national average of 9.5 years, which is the estimated time it takes to get your initial payment back. Typically, the larger the system is the more returns you will receive, so although you are paying more initially, you will benefit from receiving 10% or more in future returns.
Solar Panel Maintenance
The great thing about solar panels is that they require very little maintenance, and usually only need to be cleaned once or twice a year unless they feature self-cleaning glass which offers automated maintenance. You can clean solar panels yourself with a hose and some soap. While once or twice a year will usually suffice, you could also consider checking your panels now and then for dust and debris or using a monitoring system which will alert you when solar panels require cleaning or maintenance.
For solar panel maintenance, it may be best to call in professionals who can assess your solar panels and make any repairs or changes. This may cost around £100 to £300 depending on the condition of your solar panels, as well as their size. Common maintenance issues for solar panels usually involve the electrical components such as the inverters which may not be producing the right output. You can, of course, check this yourself, making sure that the inverters are located in a dry area that is not prone to damp, as this can reduce its lifespan.
Cost of Removing Solar Panels
If you've had your solar panels for nearly 25 years, you may need them replacing, or it might need to be removed because your roof is damaged and requires repairs. Therefore, the panels must be removed to address the problem.
You might also decide to remove them, as you may have had free panels installed as part of the Feed-in Tariff, however, you are selling your house, and the buyer has requested the removal of the solar panels.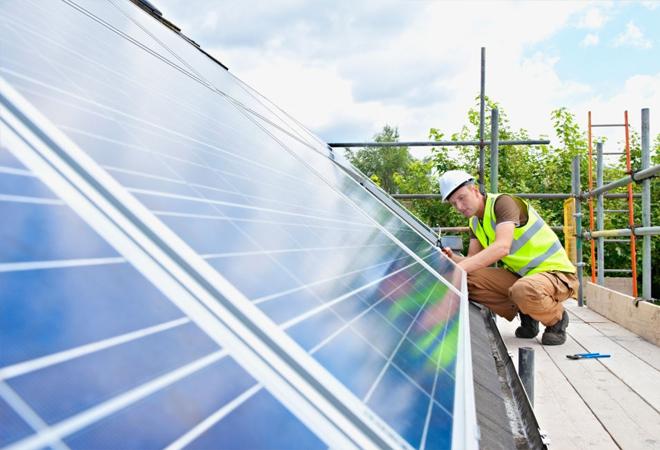 The average cost to remove your solar panels is around £300 to £500 if you own the panels yourself, plus another £100 to disconnect them from your electric system. For a job like this, you can expect to pay labourers around £50 to £100 per hour which may also include waste disposal, although you may have to pay a fee of about £200 to move it from the site and either dispose or recycle it in the proper manner.
Professional removal can be expensive, so you may want to consider removing your solar panels yourself, although only do this if you're somewhat of a DIY enthusiast who has previous roofing or electrical experience. To remove the panels, you will need to disconnect the system from your breaker as well as any grid connections. All panels should then be disconnected from the inverters and removed from the rooftop and lowered to the ground, followed by the mounting hardware, as well as any electrical cables and wires.
To ensure the DIY removal meets building regulations, you will need to bring in a qualified electrician to assist with any electrical jobs. This may cost around £40 to £60 per hour. To save costs, you can also dispose of the panels yourself, although make sure that you take them the right place. You may not have to pay to dispose of them if you have under 20 solar panels. If you have a battery system, you can sell your solar panels back to your supplier as long as they are in good condition. This not only provides you with extra capital but also helps you to reduce your carbon footprint by recycling your used solar panels.
FAQs
How to Find & Hire a Solar Panel Specialist
The average cost to hire a solar panel specialist is around £150 to £200 per day. Before any work can begin, you should make sure that the tradesmen you hire is NABCEP-certified and has at least one year in the industry, although you should aim for someone with 3 or more years under their belt just to be safe. As long as you use a reputable installer that is a member of a competent person's scheme, then there is very little that can go wrong with solar panel installations. However, using a local unqualified trades-person could end up costing a lot more in the long run. We have heard all sorts of horror stories including badly damaged roofs, blown diodes in solar panels and even fires due to faulty wiring!
To find the right solar panel expert for you, click the "Get a Quote" button in the top right corner to get up to 3 free quotes from qualified local tradespeople.
Sources
https://www.thegreenage.co.uk/can-remove-free-solar-panels-roof/
https://www.solarguide.co.uk/roof-suitable-for-solar-panels#/
https://www.pv-magazine.com/2018/10/18/prices-for-monocrystalline-solar-modules-are-picking-up/
https://www.solarreviews.com/blog/pros-and-cons-of-monocrystalline-vs-polycrystalline-solar-panels
https://rgsenergy.com/solar-panels/advantages-polycrystalline-panels/
https://greenzu.com/solar-pv-inverter