How Much Does An RSJ Cost?
The cost of installing a rolled steel joist (RSJ) will vary depending on your location in the UK, the size of the beam, access to your property and whether any utilities need to be relocated. Typically, a rolled steel joist installation will cost somewhere between £1,600- £2,500 including the fee for the structural engineer, application for building control approval, skip hire, plastering, labour and materials for the installation.
The type of RSJ installation you are doing will be dependent on the reason for the installation. This could be replacing a small window with bi-fold doors, removing an internal wall to open up the space in a room or it could be for an extension to your home. Steel beam prices will reflect the type and size required for your project.
There are RSJs available for each type of project with universal beams being the most common. They cost on average £35-£115 per metre depending on the dimensions of the beam.
Universal columns are commonly used to support structures however, due to their equal depth to width ratio they can also be used in residential projects where height is limited. Universal columns cost from £40-£300 per metre depending on size and specification.
Tapered flange channels and parallel flange channels, sometimes called C sections are also used for structural support and cost between £25-£95 per metre on average.
A T beam or T section is another type of beam used in construction mostly used together with universal beams and columns. T section RSJ prices range from £10-£30 per metre.
Lintels are used across an opening such as a window or door to support the structure above and protect the opening below. Rolled steel lintels cost approximately £70-£150 per metre and can be made bespoke for specific sizes and situations.
The installation of a rolled steel joist will require the experience and knowledge of a reputable builder. You may be quoted a price for the entire job but on average a tradesperson will charge between £150-£200 per day. There will be at least two people required for the work with a labourer adding another £80-£100 per day to the overall cost.
Expect to pay between £50-£90 an hour for the services of a structural engineer with the higher price most likely to be applicable in London and the south east.
Building control applications will vary from one local authority to another but you should allow between £200-£400 for this fee.
Skip hire costs will be regional but on average will cost approximately £200-£300 per week.
For plastering costs, a daily rate of around £150-£200 should be allowed in your budget.
RSJ Prices
These are the average installation costs for an RSJ of either three or six metres. The prices include labour for one to two days.
| Type | Size* | Cost pm | Labour | Cost 3m | Cost 6m |
| --- | --- | --- | --- | --- | --- |
| Universal Beam | 152 x 89 | £35-£55 | £250-£300 | £355-£465 | £460-£630 |
| Universal Beam | 254 x 146 | £45-£60 | £250-£300 | £385-£480 | £520-£660 |
| Universal Beam | 356 x 171 | £75-£115 | £250-£300 | £475-£645 | £700-£990 |
| Universal Column | 152 x 152 | £40-£60 | £250-£300 | £370-£480 | £490-£660 |
| Universal Column | 254 x 254 | £125-£285 | £250-£300 | £625-£1155 | £1000-£2010 |
| Universal Column | 356 x 368 | £225-£300 | £250-£300 | £925-£1200 | £1600-£2100 |
| Channel | 50 x 25 | £15 -£30 | £250-£300 | £295-£390 | £340-£480 |
| Channel | 76 x 38 | £20-£50 | £250-£300 | £310-£450 | £370-£600 |
| Channel | 100 x 50 | £25-£45 | £250-£300 | £325-£435 | £400-£570 |
| Parallel Flange Channel | 150 x75 | £30-£35 | £250-£300 | £340-£405 | £430-£510 |
| Parallel Flange Channel | 180 x 90 | £50-£55 | £250-£300 | £400-£465 | £550-£630 |
| Parallel Flange Channel | 300 x 100 | £85-£95 | £250-£300 | £500-£585 | £760-£870 |
| Lintel | 178 x 102 | £75-£85 | £250-£300 | £475-£550 | £700-£810 |
| Lintel | 152 x 152 | £90-£110 | £250-£300 | £520-£630 | £790-£960 |
| Lintel | 203 x 203 | £130-£150 | £250-£300 | £640-£750 | £1030-£1200 |
| T Beam | 30 x 30 | £10-£15 | £250-£300 | £280-£345 | £310-£390 |
| T Beam | 40 x 40 | £15-£20 | £250-£300 | £295-£360 | £340-£420 |
| T Beam | 50 x 50 | £20-£30 | £250-£300 | £310-£390 | £370-£480 |
*The size is in mm and is referring to width x depth.
Supply Costs
Below are the average costs of several types of rolled steel joists per metre.
| Type of RSJ | Price pm |
| --- | --- |
| Uni Beam | £35-£115 |
| Uni Column | £40-£300 |
| Channel | £10-£45 |
| Parallel Flange Channel | £30-£95 |
| T Beam | £10-£30 |
| Lintel | £70-£150 |
Additional Costs
Removing a load bearing wall prior to installing an RSJ will require a builder and labourer for at least a day which will cost approximately £250-£300 and a skip will be required for the resulting rubble. Skip hire costs between £200-£300 per week.
You will also need to hire steel props (acrows) to hold up the ceiling joists and upper structure. These are tubular steel, telescopic supports available in a variety of lengths and cost on average £10 each per week.
Before removing any wall in your property, you must consult a structural engineer. Fees for a structural engineer will be approximately £250-£500 for calculations and drawings, if required. An hourly rate of £50-£90 dependant on location within the UK are common with London and the south east at the higher end of the scale.
A party wall is one that is shared with an adjoining property and any work that affects this wall must be agreed with your neighbour. If the installation of the RSJ is going into a party wall, then this needs to be brought to your neighbours' attention at least two months before any work is begun.
This usually happens through the issuing of a party wall notice which should detail the work to be carried out and when. Your neighbours need to respond to the notice within two weeks, either to agree to or dispute the works. The notice if signed and returned serves as agreement to the work. No response should not be taken as consent and any agreement should be in writing to avoid misunderstanding.
Although your neighbours cannot prevent you from carrying out the work they can affect how and when the work is done. Without agreement through the party wall notice a party wall surveyor may be necessary to resolve the dispute.
As the person carrying out the work it is your responsibility to pay for the party wall surveyor who will issue a party wall award. The work must then be carried out according to this award as it is legally binding. A party wall surveyors fee can vary from around £450-£1000.
Once the RSJ has been installed it will be necessary to make good the surrounding area. This usually involves plaster boarding and skimming and should cost between £150-£200.
Following plastering you will want to re-decorate the area; this will normally involve painting the newly completed work. If you hire someone to do this for you it will cost around £150-£200 per day. Doing it yourself will only cost you the price of your chosen paint and the time to do it.
What is Included in The Cost?
Normally, the quotations you get will be for more than the RSJ beam cost and will typically involve removing a wall or other building work. You will sometimes need a quote for the RSJ installation itself if your builder is not confident about carrying out this part of the job.
One RSJ can cost as little as £200, however higher quality joists may cost more and depending on the number required for a project, the cost can increase proportionally. There will also be a requirement for additional components to ensure that the joist is correctly supporting the load - this can also vary depending on the circumstances of the wall removal/replacement in question.
Cost Breakdown Calculator
Individual costs of installing an average 3m Rolled Steel Joist (RSJ) - Total Cost: £2,500
Labour Costs and Timeframes
Labour costs will include the removal of a load bearing wall and the installation of the rolled steel joist. As a daily rate you can expect to pay between £250-£300 per day for a team of two to carry out the work. An average hourly rate for a tradesman is around £20-£25 per hour with the addition of £10-£15 an hour for a labourer.
The removal of an internal wall can be done yourself to reduce the labour cost however it should never be attempted alone or without the prior advice and guidance of a structural engineer. The actual removal process, if done systematically and with care is straightforward but safety should always be paramount and proper preparation essential to avoid damage or injury.
Consultation with a structural engineer should be done in person with the engineer visiting site to assess the structure and give appropriate calculations and recommendations. This part of the process is vital, and you should allow a day for this and to consider the information given.
Depending on the size of the property, removing a load bearing wall may be completed in a day with a team of two or three people. The format of removal should follow a safe and common sense pattern with rubble removed as it is created from the dismantled wall. This reduces the amount of waste to work around and provides a safer and more visible work area.
Installation of the RSJ beam should take an hour or two to complete as long as there are enough people on hand to do it safely and carefully. Padstones are placed in the cavities that will take the RSJ to support it and raise it to the correct height to take the weight of the ceiling joists.
Proper preparation for the installation of the rolled steel joist should ensure that the process goes smoothly and without incident. With one person safely demolishing the wall another should be removing the rubble to ensure a clear and safe work area and the keep the pace of work going.
Once the debris has been cleared away and with the steel props in place to support the overhead structure a team of two to four people should be employed to guide the RSJ steel into place. It is important to put the beam as close to its final location as possible before you insert the steel prop supports underneath the ceiling as once they are in place they will impede access to the installation site.
The last thing you want is to be attempting to manoeuvre a large, heavy steel RSJ around the supports to get it into position. This would be time consuming, dangerous and costly in terms of labour time. Think and plan ahead step by step and this should ensure that you have foreseen every potential problem before it costs you time and money.
The above issue may be an expensive mistake in terms of labour cost but also in time. By making sure that everyone involved knows the method to be used for installing the RSJ and talking things through before lifting anything will help to complete the work in a timely, efficient and safe manner.
If there are wires or pipes in the wall that is being removed there will need to be an electrician or plumber on hand to decommission and make them safe. This can delay the installation if the presence of any live services was previously undetected and no provision made for the appropriate tradesperson to be on site to deal with it. You may then be faced with a wait for an available plumber or electrician.
What is an RSJ?
RSJ stands for rolled steel joist and is often mistakenly referred to as a reinforced steel joist. Rolled steel is either hot or cold rolled with hot rolled steel products used for construction and railroad track among other things. Cold rolled steel goes through further finishing work to produce more defined shapes and precision.
To make an RSJ the steel is heated to around 1,700˚F and roll pressed by both horizontal and vertical rollers under enormous weight to form the required shape. It is then cooled and cut to length. Hot rolled steel has a scaly finish as it cools so is used in situations where strength rather than looks is important.
However, it is possible for a smoother surface to be achieved through sand blasting, acid bathing or grinding. This makes it easier to paint and is suitable if your RSJ is going to be left exposed for an industrial look rather than boxed in.
Rolled steel joists come in various forms such as universal beams and columns, channels, T beams and lintels. They are all structural steel beams of varying profiles and cross-sections depending on their intended use. RSJ cost varies according to which type, section or profile is used.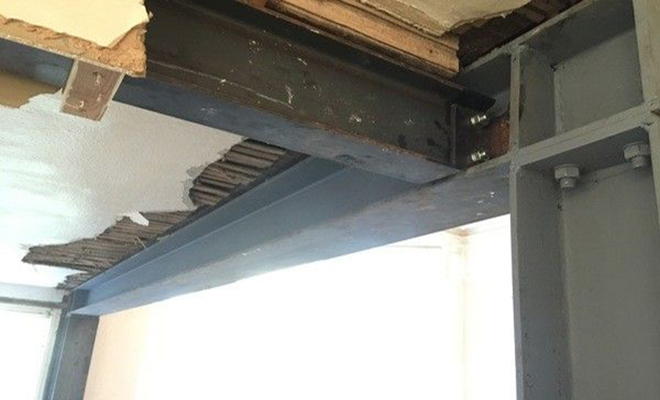 Universal columns are slightly different to universal beams as their depth is equal to their width whereas a universal column's depth is greater than its width. However, both are equally effective for structural support and are widely used in construction.
Channels have a load bearing profile making them ideal for floor joist support. They are also used as columns and can be used back to back as an alternative to a universal column or beam.
T beams are not as widely used as they lack a second flange (horizontal area) but they can be used in an inverted form to support flooring slabs. They are also utilised as a connective between columns and beams.
Lintels are known to most people even outside of the construction industry as they are common in most people's homes giving support above windows and doors. Any opening in a wall provides a potential for weakness and therefore a lintel is particularly important in structural integrity. An RSJ beam is a strong durable and cost effective lintel to provide vital support.
Cost Affecting Factors of Installing an RSJ?
Depending on what the job is there will be a suitable rolled steel joist to provide the solution. The RSJ cost per metre will be the largest contributor to the price that you pay for the project, so it is important that you get the right steel beam for the job.
If you are removing an internal load bearing wall you will probably use a universal beam to the specification calculated by your structural engineer. For properties where height is an issue such as very old properties then a universal column can be used as a horizontal support beam.
This is because a universal column is roughly as deep as it is wide making it more versatile in confined spaces. However, in terms of RSJ cost they are similar.
A parallel or tapered flange channel can double as a column for overhead structures where needed and can also be used as support for ceiling joists. They cost slightly less than universal beams or columns and in a domestic environment can potentially be used instead of them.
Lintels are used to provide support for a span such as a window opening, doorway or arch. The size of the aperture will dictate how long the lintel needs to be and your structural engineer will calculate the load requirements. While steel lintels are more expensive than their concrete alternative their strength to weight ratio is greater.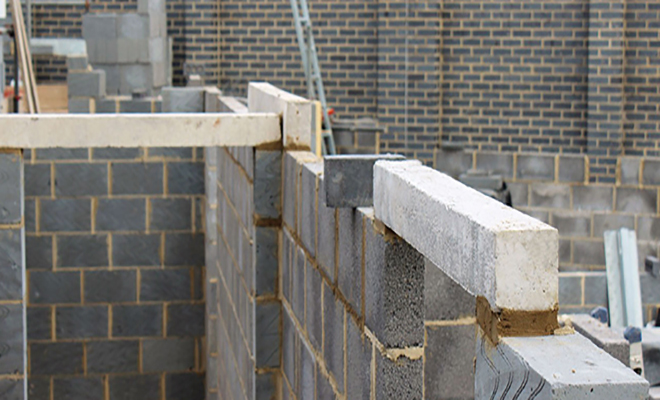 T beams or T sections have a variety of functions but do not have the integral strength of a universal beam, column or a lintel. They are generally suitable for more lightweight use due to the small range of sizes commonly produced and their load bearing capacity is only around 4-6kg per metre. It is therefore of limited use in a renovation or home improvement project.
The size of RSJ needed will be dependent on the calculations provided by your structural engineer. Not surprisingly the larger and stronger the beam the more expensive it will be. There are many different specifications available in respect of weight per metre and load bearing capabilities and this too will impact the average cost.
Ease of access to your work site may influence the cost of your RSJ installation. Limited access for delivery vehicles, restricted parking for tradesmen's vehicles and awkward skip delivery can all add to the budget.
If the rolled steel joist that you require for your project is very large it may be necessary to hire a crane to lift it into place. If your steel supplier has a lorry mounted crane or HIAB, then this should not be necessary although their reach may be limited as most are restricted to 20-25 metres. Contact a specialist crane hire company for a price if you think you will need one.
What Does Fitting an RSJ Entail?
Installing a rolled steel joist (RSJ) is usually done when constructing a property or during structural alterations, most commonly the removal of a load-bearing wall and is not usually a standalone job with a single cost.
The most common reason to install an RSJ is the removal of an internal wall often to make two rooms into one such as a kitchen/diner. This type of project usually costs between £1500-£3000 depending on size, design and specification.
Getting Professional Advice
Installing an RSJ should not be attempted without first consulting a structural engineer. It will be necessary for them to do the calculations to determine the correct size and specification of the steel beam required.
The involvement of a structural engineer is a requirement to obtain Building Regulation approval and you should look for one who has experience of residential work.
In addition, the installation of the RSJ beam should only be done by an experienced builder as it requires knowledge and skill. Mistakes could compromise the structural integrity of the property and may require expensive reparation. Incorrect installation could also cause potential safety issues.
Some building contractors may have structural engineers in-house, along with electricians and plumbers so they can handle the complete job from start to finish.
Preparation
The composition of the wall should be ascertained prior to any demolition work taking place. This is something the structural engineer will do as it is essential to his calculations for the RSJ installation.
It is also necessary to know what the structure is made from so that adequate preparation can be made, this means having the right tools to hand, knowing what materials will need to be disposed of and how that will be done.
Also essential is to check if there are any services within the wall that are live. These will need to be decommissioned and removed by a professional tradesperson such as a plumber and/or electrician.
Pipes that are cut and capped off in the ceiling joists can be worked around. Gas pipes need to be dealt with by someone who is gas safe registered.
To protect the property internal doors should be sealed off with plastic sheeting fixed with strong tape around the door frame as the demolition of the wall will create substantial amounts of dust which is very fine and invasive.
Sheet timber such as ply or OSB should be put on the floor to protect it from falling bricks or masonry. Naturally all furniture and fittings should have been removed and stored elsewhere.
Demolition of Load Bearing Wall
If the project involves the removal of a load bearing wall, then the process is as follows:
Once all the preparation has been done, move the RSJ as close as possible to its installation location so the steel supports don't block its insertion following demolition of the wall.
To access the wall structure the ceiling plasterboard closest to the top of the wall should be removed to about a 45/60cm distance. This exposes the joists in the ceiling which the steel supports will be holding up. This will need to be done on both sides of the wall.
The steel supports can then be put in place. First a piece of strong timber that is roughly the length of the room should be fixed onto the ceiling joists by woodscrews. The supports are then raised up to meet this timber and brace against it. It is advisable to fix the top of the support to the timber with a couple of screws for additional safety.
There should be one support at each end and depending on the width of the room, one or two in the middle taking the weight of the ceiling off the supporting wall. The steel supports should be put on both sides of the wall.
With the ceiling supported it is possible to remove any door frames by cutting into them with a handsaw and levering them out of position with a nail bar or similar.
Starting at the top the wall can now be carefully demolished. The plaster is removed with a bolster and chisel or power tool.
If there is a door frame within the wall the lintel will need to be removed. This may be a concrete lintel and will require two people to safely disengage it as it will be heavy.
The rest of the structure can be removed, and the rubble disposed of as it is created to prevent a large amount around the work area.
RSJ Installation
Once the load bearing wall has been completely removed to floor level the process of installing the rolled steel joist can begin.
A cavity or recess will need to be created in the walls for both ends of the RSJ to sit in. Both ends of the beam should be at least 150mm into the supporting walls.
Padstones are inserted for the beam to rest on. Padstones evenly distribute the weight of the rolled steel joist so that all the weight is not concentrated in a single point at the ends of the beam.
Lifting the RSJ into place will require several people and one person should be directing the process throughout. Ensure that the method is discussed prior to picking up the beam and everyone is clear about what needs to be done.
To allow enough space to insert the end of the steel joist the padstone is initially laid horizontally. When the RSJ is put in the padstone is lifted to a vertical position bracing the beam against the ceiling joists to take the weight of the structure above. If necessary, a timber can be placed on top of the padstone to close any gap.
Measurements should now be taken from each end of the rolled steel joist to the wall parallel to it to make sure that it is perpendicular and checking that it is level too.
Steel supports should then be placed underneath the joist and raised to ensure a tight fit between the beam and the ceiling joists. There may be some gaps between the steel joist and the ceiling joists, and these can be infilled with wedges to maintain full contact between the upper structure and the RSJ.
Finally, the joist ends can be bricked into place and the cavities repaired.
The steel props should be left supporting the joist until the mortar around the ends of the beam has fully cured.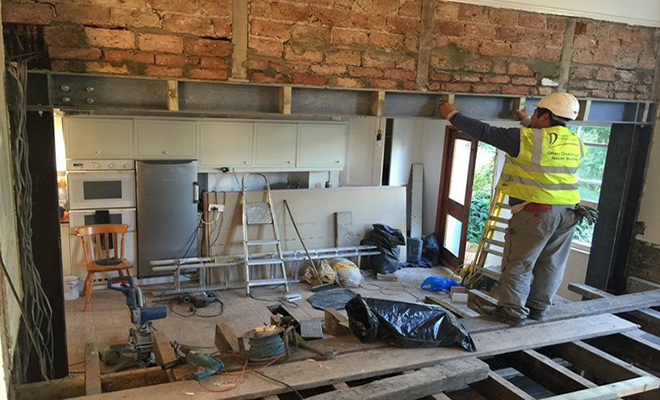 Most rolled steel joists will follow a similar installation process as in a residential setting the most likely purpose of an RSJ is to provide support for the structure and to bear loads.
Making Good After Installation of an RSJ
Any work that requires the installation of a rolled steel joist is likely to involve major upheaval and mess in a property. Re-plastering and re-decorating once the beam has been installed will be necessary.
The cost for plastering will depend on the amount of making good that needs to be done but typically a plasterer will charge between £150-£200 per day. For fire safety the steel beam needs to be covered with a double layer of plasterboard or Fireline board.
Decorating work can be done as a DIY project or you can hire a professional decorator. The problem with re-decorating a small area is that it is almost impossible to make it blend in with the rest of the room.
Fresh paint will always stand out from its surroundings and even basic white paint can be difficult as not only will brands and shades vary but the existing paint will have acquired pollutants from the air which will cause colour variations.
Often you will need to re-paint the whole room. Wallpapering small areas for repair is potentially less problematic if the replacement wallpaper is from the same batch to avoid colour variations. A professional decorator will cost around £150-£200 per day.
The RSJ can be put in the floor space above a removed wall if space allows, for example the loft space in a single storey dwelling where retaining head height is important. The rolled steel joist can also be left exposed but will need to be painted with a fire retardant paint for safety reasons and to comply with Building Regulations.
More commonly the beam is boxed in and accepted as a necessary compromise for the increased space. Where space and budget allow a suspended ceiling can be constructed to give a level, unimpeded finish.
Making good uneven floors may be necessary following the removal of an internal wall as the floor levels on either side of the wall may be different. Similarly, any footing remains from the demolished wall will need to be removed and the floor levelled for safety.
Disruption During Work
This type of work creates a great deal of noise, dust and disruption over several days. So, you may want to consider finding alternative accommodation while the work is being carried out.
Of course, this will depend on the extent and length of the project and on your budget. It is possible to minimise the amount of dust getting into the living areas of the house while the installation takes place by sealing up internal doors with plastic sheeting and tape.
If there are children in the house, then try to schedule the work for when they are at school or they could stay with friends or relatives for the duration of the work.
Noisy building work is regulated by the local authority with specific allocated hours for this. This is normally between 8am-6pm during the week, 8am-1pm on Saturdays and no noisy construction work allowed on Sundays or bank holidays.
DIY RSJ Installation
Installing a rolled steel joist is not just technically difficult but dangerous as well and should only be carried out by a professional builder with the input of a structural engineer.
However, there are DIY renovation and restoration projects where putting in an RSJ is just part of the process and many people do it themselves.
A small beam can be handled and manipulated by two people and if proper research and knowledge is applied then it can be done successfully. Safety should always be a priority and appropriate safety gear worn to minimise the risk of injury.
The tools needed to install an RSJ are:
| Type of Tool | Price |
| --- | --- |
| Lump hammer | £5-£40 |
| Bolster chisel | £5-£15 |
| Kango breaker | £40-£50 per day hire |
| Shovel | £15-£25 |
| Broom | £5-£12 |
| Wheelbarrow | £35-£60 |
| Rubble buckets | £10-£15 |
| Spirit level | £10-£20 |
| Tape measure | £5-£30 |
| Handsaw | £5-£20 |
| Nail bar | £5-£30 |
| Electric drill | £25-£200 |
| Steel props | £7-£10 each per week |
| Timber lengths | £2-£4 per metre |
| Plastic sheeting | £3-£5 |
| Duct tape | £3-£10 |
You will also need personal protection equipment (PPE):
| Type of PPE | Price |
| --- | --- |
| Steel toe capped boots (safety boots) | £17-£120 |
| Goggles | £2-£15 |
| Dust mask | £1-£5 each |
| Gripper gloves | £2-£5 |
To protect the area around the installation site you should:
Remove all free standing furniture.
Cover anything that cannot be removed with dust sheets.
Seal internal doors with plastic sheeting and strong tape.
Lay sheet material such as ply on the floor to protect it against damage from falling masonry.
Safety Issues
As mentioned, there is potential for injury and damage from falling bricks or masonry if you are demolishing a wall. Safety boots with steel capped toes should always be worn. It is advisable to work from a stable ladder or work platform at the same level of the wall that you are removing to avoid being underneath falling rubble.
There is also the danger of hidden cables or pipework within the wall which could cause injury or death if severed. A qualified plumber, electrician or gas engineer should be called in where appropriate to deal with shutting off services and removing pipework and wiring.
Without prior experience or knowledge of construction work it is inadvisable for a DIY enthusiast to attempt to remove a load bearing wall. This is one of the reasons why it is essential that you consult a structural engineer before removing any part of a building that could structurally compromise it.
You will also be breaching Building Regulations if you fail to engage the services of a structural engineer to advise and provide calculations and specifications for the installation of a rolled steel joist.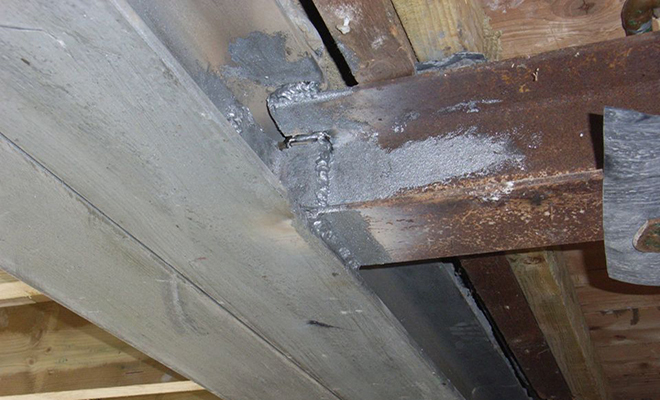 An RSJ is by its nature very heavy and should not be lifted by one person as it could cause back strain or a crush injury if dropped. Two or more people should be available to help with lifting the beam into place and manoeuvring it into position.
For all the above reasons and more it is advisable to leave the installation of a rolled steel joist to a professional contractor. An experienced, reputable builder will have the right manpower and equipment to do the job properly and safely.
Where the structural integrity of your home is concerned it is best to leave this to people who are qualified to deal with issues that would be difficult for a homeowner to address. There is no substitute for experience and where the safety of your household is involved taking a cheap route is dangerous.
Reducing the Costs
RSJ installation cost is dependant on the price of the beam that you use and the cost of your structural engineer and builder. You could reduce the overall cost by preparing the site for the installation yourself.
If you are inserting the beam to replace a load bearing wall, then you could remove the wall yourself. In this way you retain the input of a structural engineer to provide calculations and specifications and the knowledge of an experienced builder. You could also do the making good following installation which would save you money on plastering and decorating.
Be advised though that plastering is a real skill and if you are not confident about getting a good finish then this should be left to a professional. Making good the making good is going to be doubly expensive!
Building Regulations
Installing an RSJ usually follows altering the structure of a building and this falls within Building Regulations. Therefore, before any work is done you will need to contact building control at your local authority and get approval, this will require the calculations and recommendations from your structural engineer.
If you are using a professional contractor, they may do this for you, but it is the homeowner's responsibility to ensure building control is informed of any change to the structure of the property and failing to do so will be costly.
An inspection by a building control officer will be done following installation of the rolled steel joist and it will be signed off if it complies with Building Regulations.
Types of RSJ
There are a few types of RSJ to choose from depended on what you need it for. Here's a list of different types of RSJ:
Universal Beam Cost
These are the most used rolled steel joists in construction and as their name suggests they are used for a variety of applications and in a range of situations. They are known by several different names, RSJ, I beam, H beam and double beam.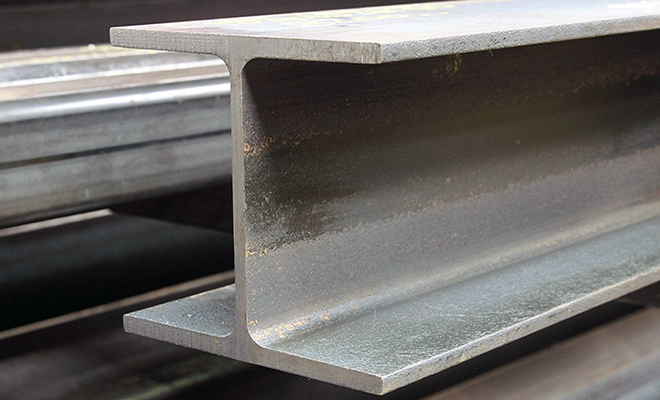 Universal beams come is an assortment of sizes which are measured by their depth, width and their weight per metre. They are hardwearing and strong hence their widespread use in construction for structural support.
The advantages of a universal beam are:
✔ They are extremely versatile.
✔ Very strong with resistance to twist and shear.
✔ High durability hence used for major construction projects.
The disadvantages of a universal beam are:
✖ Not suitable for precision engineering due to slight imperfections which are inherent due to the manufacturing process.
✖ They have a scaly finish and would need to be sand blasted, grinded or acid washed to provide a surface finish.
✖ Very heavy and require several people or lifting equipment to move and manoeuvre.
Average cost for universal beams is between £35-£115 per metre.
Universal Column Cost
Universal columns are similar to universal beams and are manufactured in the same way. The main difference between them is that the universal column is equal in its depth as it is in its width whereas the universal beam comes in an assortment of dimensions and sizes.
Universal columns can be used as structural support in construction, renovation and refurbishment projects.
The advantages of a universal column are:
✔ It is versatile and can be used vertically as a column or horizontally as a support beam.
✔ Strong and hardwearing.
✔ Useful as support where height is restricted due to its equal depth and width.
Disadvantages of a universal column:
✖ Scaly finish makes it unsuitable for exposed situations unless ground, acid bathed, or sand blasted.
✖ Limited range of sizes and dimensions.
✖ Their strength comes from being used to withstand compression therefore their resistance to twisting forces are less than that of a universal beam.
Average cost of a universal column is between £40-£300 per metre.
Tapered Flange Channel Cost
Tapered flange channels are manufactured in much the same way as universal beams and columns but are formed differently during the process to produce their unique profile. They are used particularly for ceiling joists but can also be used as columns.
Advantages of tapered flange channel:
✔ They have a strong profile.
✔ Good load bearing capability.
✔ Versatile being used as columns as well as floor joist support.
Disadvantages of tapered flange channel:
✖ More useful as a complementary element than a standalone product being used mostly in conjunction with universal beams and columns.
✖ Performs best with uniform distributed load rather than points of load.
✖ Not suitable over long spans.
The average cost of a tapered flange channel is £30-£95 per metre.
Parallel Flange Channel Cost
A parallel flange channel is similar to a tapered flange channel but has a slightly different profile. The flanges on this channel are of a uniform size from top to bottom with no tapering at the ends.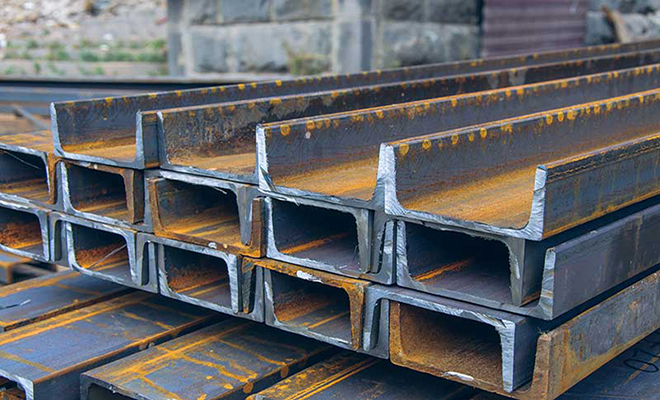 They are used alongside universal beams and columns in construction and in manufacturing.
The advantages of a parallel flange channel are:
✔ Manufacturing uses half the steel of a universal beam or column.
✔ Can be placed back to back to create H beam section.
✔ Compatible as a connection to other steel sections and to concrete.
The disadvantages of a parallel flange channel are:
✖ More prone to flexing than a universal column or beam.
✖ Better suited as a standalone product in light weight applications such as studs for wall and roof joists.
✖ Not suitable for very heavy loads.
The average cost of a parallel flange channel is £30-£95 per metre.
Lintel Cost
Rolled steel joists in the form of lintels provide structural horizontal support over a span between two vertical supports, such as doorways, windows and archways. Lintels are used to support masonry loads, floor loads and point loads. Special lintels such as arch, apex, bow, bay and corner shapes can be produced in rolled steel.
The advantages of a rolled steel lintel are:
✔ They are lighter than their concrete alternative making them easier to handle.
✔ Can be constructed in various shapes for bespoke projects.
✔ Thermal bridging to reduce heat loss can be incorporated into a steel lintel.
The disadvantages of a rolled steel lintel are:
✖ More expensive than concrete lintels.
✖ Prone to corrosion and rust if not properly coated and protected from water ingress.
✖ Not as thermally efficient as newer galvanised steel and composite lintels.
The average cost of a rolled steel lintel is £70-£150 per metre.
T Beam Cost
A T beam is a rolled steel joist which has the profile of a capital letter T. it is used in construction as a support for floor joists and in combination with universal beams and columns.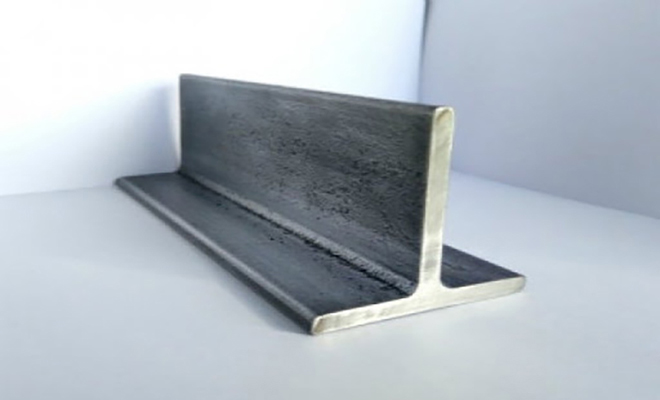 The advantages of a T beam are:
✔ Can be used instead of a universal beam where space is limited, and risk of bending is low.
✔ Useful as a span to support concrete slab or steel decking floors.
✔ Less expensive than universal beams and columns.
The disadvantages of a T beam are:
✖ Limited applications as a standalone section due to the asymmetry of the profile.
✖ Small range of sizes and dimensions available.
✖ Doesn't have the strength of a universal beam or column.
The average cost of a T beam is £10-£30 per metre.
Benefits of an RSJ
There is a range of benefits of installing an RSJ, mainly structural safety, but here's a list of some benefits of installing an RSJ:
Versatility
The availability of rolled steel joists for domestic and residential application has opened up a range of home improvement possibilities which would not have been previously possible.
Building design and layout was often dictated by the limited application of timber, brick and concrete. Thanks to the strength, relative cost effectiveness and durability of rolled steel joists there are a multitude of projects which can improve a property, add to its value and make maximum use of available space.
From a full rear extension to removing a chimney breast there is an RSJ for practically every home improvement. They come in a variety of profiles and sections making them versatile and have a robust strength to weight ratio meaning they can support heavy loads without adding to the static weight of a building.
Reliability
Steel is one of the most reliable materials in construction. The inherent strength of an RSJ means that it can withstand compression, twisting and shear forces in its many profiles and dimensions.
This is why rolled steel joists form the framework and skeleton of most large construction projects. The durability of RSJs is another reason it is employed in building works and this is as applicable to a residential application as it is to a commercial one.
The cost of RSJ installation in your home with the associated time and effort invested would not be worthwhile if you could not rely on the material.
Resistance
Compared to timber beams rolled steel joists are resistant to pests such as termites and woodworm which would eat through a wooden support. An RSJ is also resistant to rot and mould although it is subject to corrosion and rust in the long term if not appropriately coated and protected.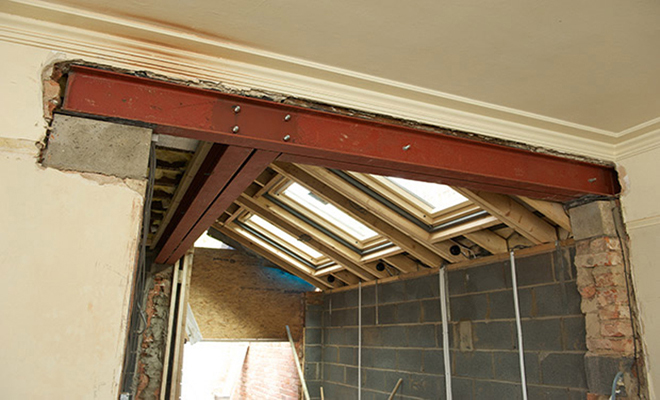 When painted with an intumescent paint an RSJ will be fire resistant for up to thirty minutes giving value time for escape from a fire in a building. Exposed beams within a building must be fire retardant painted under Building Regulations, those that are enclosed must be done so with fire check plasterboard or similar.
Structural Strength
Rolled steel joists are manufactured from iron ore and other elements and there are few materials which offer similar structural strength and adaptability. Bridges, railway tracks and high rise buildings are evidence of the intrinsic strength of an RSJ and with the option to weld, rivet or bolt several types of steel beams together the applications are varied and many.
Utilising a rolled steel joist within a home improvement project to provide support and load bearing offers reassurance that the structural integrity of the building is not compromised.
Prevention of Costly Failures
Ensuring the structural integrity of your property by using an RSJ is prudent in terms of safety but also cost. Cutting corners to save money can often have the opposite effect in the longer term. Shortcomings in structural integrity will not remain hidden for long and once they manifest it may be extremely expensive to rectify.
The average price of RSJ installation of £1600-£2500 is not an inconsiderable amount but when weighed against the potential for structural failure or collapse then its merits are obvious.
Failing to employ a structural engineer and applying for building control approval can result in fines and the building work being re-done in order to comply to Building Regulations which will probably cost more than following the correct procedures from the start.
Building Regulations for Installing an RSJ
You must inform the building control department of your local authority of any work that structurally alters your property and installation of an RSJ falls within this requirement. Approval must be given, and inspections done by a building control officer following installation to ensure compliance to Building Regulations.
A rolled steel joist must be capable of taking the load that the original wall was taking if you have removed one or that a future wall will take if you are building an extension or similar.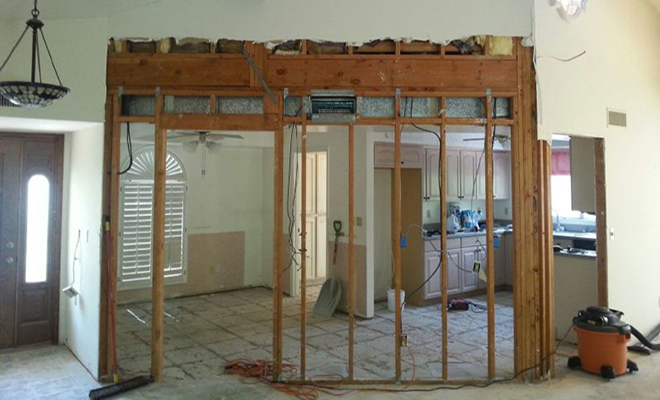 Specifications and calculations from a structural engineer should be sent to your local authority's building control department to be checked before the work is begun.
Fire safety regulations regarding a thirty minute resistance to fire must be followed. Steel can melt and fail at high temperatures and the RSJ should be enclosed in a double layer of plasterboard or similar to meet fire safety standards.
For work involving a party wall, in accordance with the Party Wall Act 1996 you must inform your neighbour at least two months before work commences and receive agreement from them. If they do not agree a party wall surveyor will be required to draw up a party wall agreement to dictate the terms of the work.
Guidelines to Be Followed
For any removal of load bearing walls or installation of an RSJ for other structural purposes a structural engineer is required. His calculations, recommendations and specifications should be passed to the building control department of your local authority and need to be approved before you proceed.
Following installation, a building control officer will come to check that the work has been carried out in accordance with Building Regulations and will sign off the work.
Exposed steel beams need to be painted with a fire retardant or intumescent paint while boxed in or hidden RSJs should be enclosed in a double layer of plasterboard or fire check board.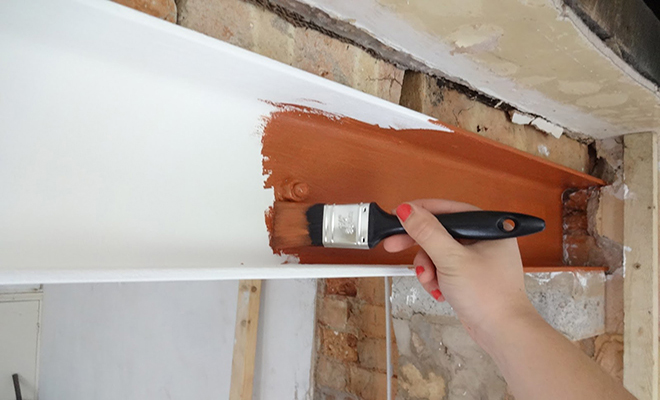 The guidelines involving party walls need to be followed if work involves a shared wall.
Application to Building Control
You can apply for Building Regulations approval either through the building control department of your local authority or through private building control companies. These private companies do the work for you and have regular contact with local authorities so are well placed to deal with an application.
They will negotiate a fee with you. The amount payable to them or to the local authority will depend on the type of building work being done, the number of dwellings in a building or on the total floor area of the project.
Ignoring the Guidelines
Failure to follow Building Regulations can result in fines and prosecution for the person carrying out the work. Faulty or non compliant work may need to be rectified or removed entirely. Not adhering to the proper regulations can also affect your ability to sell your home in the future as you will not have the appropriate compliance certificates.
If work is done without approval and it is then necessary to obtain a compliance certificate retrospectively extensive 'opening up' of the completed work to establish that it is structurally sound and compliant is required. The cost of making good will then need to be covered by you.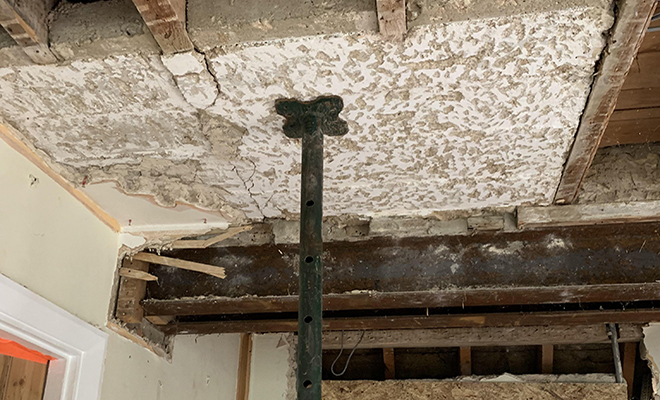 Necessary guidelines can be found on the government website, the planning portal or through your local council.
Planning Permission for an RSJ
Planning permission is not required to install a rolled steel joist unless you live in a listed building. Removal of a load bearing wall falls within your permitted development rights but does need to follow Building Regulations. However, if you are installing an RSJ as part of an extension then that will require planning permission which should be sought well in advance of any construction work.
Do I Need an RSJ?
It is not advisable to decide for yourself whether you need a rolled steel joist as part of your project and the expertise of a structural engineer should be sought to clarify. As a rule, anything that structurally affects or alters your property will most likely fall within the remit of a structural engineer. The average fee for a structural engineer will be in the region of £50-£90 per hour.
The following are all reasons why you would need to install an RSJ of one type or another:
Removing a Load Bearing Wall
The most likely reason for installing a rolled steel joist in a residential property is the removal of a load bearing wall. This is usually done to open up space within a property often knocking two rooms into one.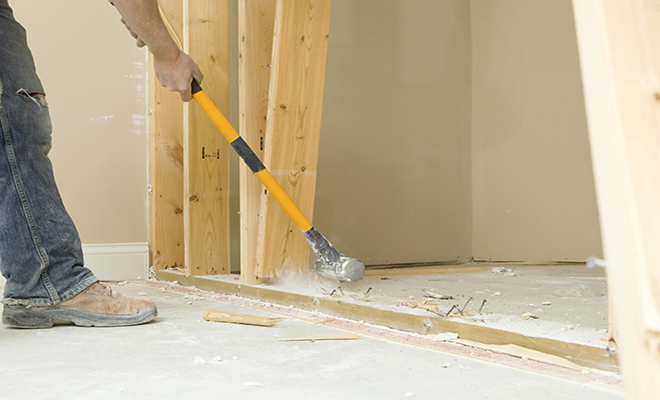 Allowing more natural light into the home is another reason for removing an internal wall. Whatever the reason for removal the load bearing wall will need to be replaced with something that can carry the load.
Extending Your Home
Adding living space to a house can be done through a ground floor extension or a loft conversion. Both will require a steel beam although the exact type may differ depending on their position and load bearing requirements.
A ground floor extension will normally involve removal of an external wall to link the existing property to the newly added space. External walls are always load bearing and a rolled steel joist will be required to support the structure following its removal. Larger openings may need a steel frame, and this may entail installing a ground beam also.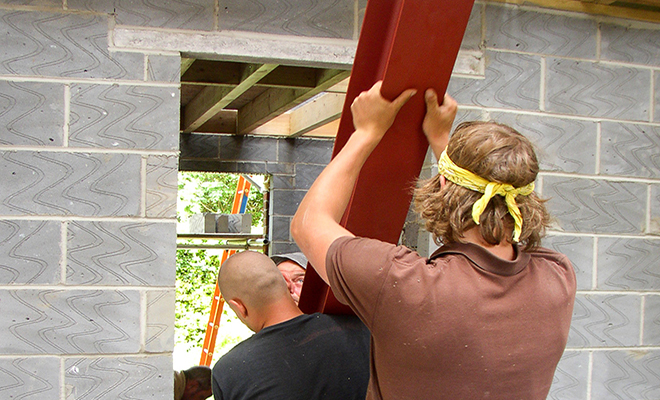 For a loft conversion steel beams are necessary as internal walls will not be able to bear the load of a whole new floor of living space. A loft conversion specialist will often have an in house structural engineer and architect and will be able to offer a precise calculation for the type of beam required.
Installing Bi-fold Doors
The popularity of opening up living spaces and connecting the interior of a home to the outside space has made bifold doors extremely popular in recent times.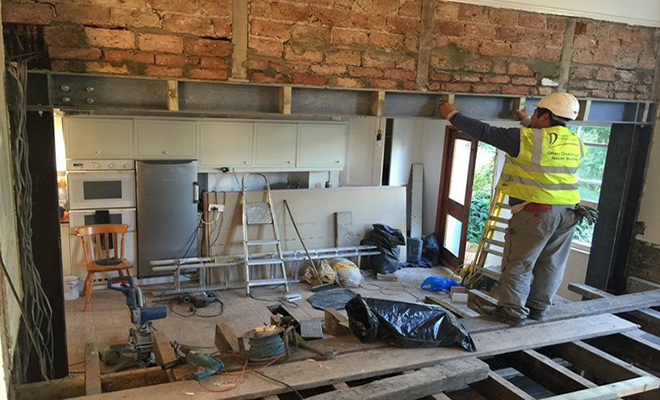 Quite often a large expanse of the rear of a property is given over to these doors and of course they require adequate support and load bearing capacity. The exact type of rolled steel joist and specification will be determined by your structural engineer.
Removing a Chimney Breast
Removing a redundant chimney breast at ground floor or first floor level should be done with caution and with the advice of a professional builder and structural engineer. A steel beam will be needed to take the weight of the chimney stack if that is being left in situ.
Gallow brackets are a poor alternative especially on a party wall and not accepted by some local authorities. Care should always be taken if there is a shared flue with next door and it should be established if your neighbours' side of the flue is still in use for safety reasons.
Any work which alters the structure of a property will need to comply with Building Regulations and if you are in any doubt about what is or is not notifiable to your local authority you should contact their building control department and check.
What Size RSJ Do I Need?
The size of the beam that will be needed for your project should be determined by a structural engineer. They will be able to calculate the load bearing capacity, span length, required dimensions and the type of rolled steel joist that would best serve your need.
The length of the beam will be roughly the span of the opening plus 150mm either end to sit in the supporting walls. Exact and precise measurements are essential however to ensure that the RSJ is capable of bearing the load. There are elements to consider that may not be obvious to a DIYer such as the variable and permanent loads that the beam will need to support, therefore having a structural engineer do this for you is essential.
Most steel beams are described by their depth, width and weight per metre. The thickness of profile of each type of rolled steel joist will be different according to the purpose for which it is best suited. A lot will depend on the type of load that the RSJ will be supporting.
There are evenly distributed loads where the load is evenly distributed across the entire length of the beam, partially evenly distributed loads where the load is evenly distributed across part of the beam. Point loading is where there are localised loads at certain points of the beam.
Point load is evident at either end of a rolled steel joists where it rests on supporting walls. This is the reason that padstones are used, to distribute the load more evenly.
Cost of Removing an RSJ
An RSJ may be removed as part of a renovation, remodelling or demolition. The most important thing to remember is that the beam is there for a reason and that is to support something. Therefore, simply removing it is not an option. Just as you wouldn't knock down a load bearing wall without replacing it with something to provide structural support so you shouldn't just remove an RSJ.
It is advisable to contact a professional contractor to carry out the work for you and the average cost will be around £200-£300 per day for a team of two people.
If you are removing an RSJ as part of a demolition, then it won't need to be replaced but you should utilise steel supports while it is being removed to reduce the risk of collapse. As part of a remodelling the removal of a rolled steel beam should be done with professional guidance and an appropriate substitute support put in its place.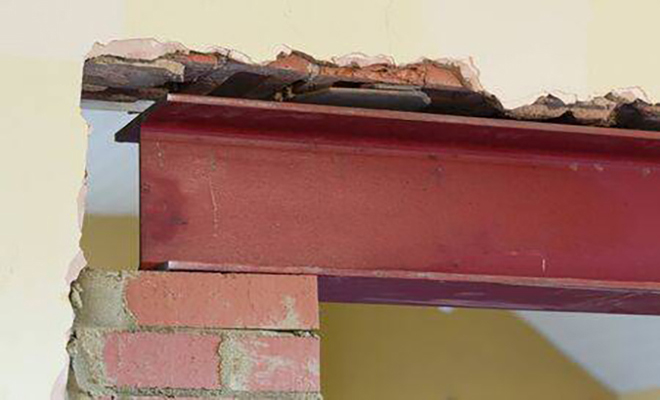 The same precautions in respect of stability, structural integrity and safety should be taken as in removal of a load bearing wall.
To dispose of an old rolled steel joist you can contact a metal recycling company to take it away or you could ask your builder to dispose of it although they may charge extra to do this. You should be confident this will be done safely and legally.
Local recycling centres only accept household metals and a rolled steel joist does not fall into this category. If you have hired a skip for your building work, then the beam can be added to the rest of the waste. A skip costs on average £200-£300 per week.
FAQs
How to Find and Hire an RSJ Installer
Installing an RSJ is not a job for a DIY enthusiast, and it is recommended that a reputable and experienced builder is hired to do the work. Unless you know a builder, it can be difficult to determine how to find a qualified contractor.
Personal recommendation is always a good route especially if you can view any work done by the recommended contractor.
Searching online for reputable builders is often successful and you may be able to read reviews or see the rating of a particular contractor.
Check the membership of associations such as the Federation of Master Builders, or the Guild of Builders and Contractors.
Average costs for a builder to install your rolled steel joist is around £200-£300 per day for a team of two people, the minimum needed for this type of project.
The things that you should be looking for when hiring someone to do a project in your home are cost, reliability, references, timekeeping and insurance. If hiring based on recommendation, then some of these criteria can be checked prior to committing to a contractor.
Ask questions about whether the previous client was happy about the quality of the work, the timescale, pricing and how their home was treated while the builders were in situ.
Qualifications can be checked as well as any trade association accreditations and you should always ask for proof of insurance. There are several types of insurance that building contractors can take out such as public liability insurance or all risk cover and you should be sure that your property and people on site will be adequately covered.
Sources
https://www.steelo.co.uk/sections/uc/
https://www.gov.uk/party-walls-building-works