How Much Does a Walk-in Wardrobe Cost?
The cost of installing a walk-in wardrobe will depend on a number of factors, such as how much space you are planning on converting, the amount of work needed to be carried out on the space, which tradesmen are most suited to the conversion task and the quality of the materials you choose for the job. For a lower budget, expect an estimated cost of £5,600. If you choose a higher-end finish to your walk-In wardrobe price will increase accordingly and could total around £11,600 or possibly more.
Walk-in Wardrobe Installation Prices
The installation price will vary depending on the size of your converted space and the materials used. Below is a table outlining the expected costs of installing a walk-in wardrobe.
| Size of Space | Desired Finish | Cost |
| --- | --- | --- |
| Small (1.5m X 2.5m) | Budget | £5,500 |
| Medium (2m X 2.5m) | Mid-range | £8,000 |
| Large (over 2m X 2.5m) | High-end | £11,500 |
Prices listed are as a guide; your project costs may vary – It's best to shop around for the best price on fixtures and fittings, as well as materials and tradesmen for the job.
Cost Breakdown Calculator
Individual cost for a small walk in wardrobe – Total Cost: £5,500
Labour Cost and Timescales
On average in the UK a carpenter will charge £150-£200 per day in labour, with larger jobs requiring more time and thus costing more.
| Size of Space | Duration |
| --- | --- |
| Small (1.5m X 2.5m) | 1-2 days |
| Medium (2m X 2.5m) | 2-3 days |
| Large (over 2m X 2.5m) | 2-4 days |
The amount of time the installation will take will vary depending on the size and shape of the job, and may take considerably longer to install yourself, particularly if you are doing it in your spare time.
What Does Building a Walk-in Wardrobe Entail?
Building a walk-in wardrobe can be a great storage solution if done correctly and the customisation options are endless, but whether you choose to hire a tradesman to complete the work or decide to make your walk-in wardrobe a DIY project, there are a few things to consider before the work can begin:
Measure your space: Knowing how much space you have to work with allows you to plan your design accordingly.
The shape of the space: Is there a sloped roof or alcove that could be optimised, or, that might cause issue with your design.
Electrical needs: Does the space you'll be using have a pre-existing light source or will you require an electrician to install some new lights, and maybe a power socket or two?
Once you've got the answers to these questions you can go online or visit a design specialist that will be able to help you chose the right items for you and your needs.
Job Breakdown
If the area you're converting is carpeted then it will need to be removed, along with any underlay and floor tacks, before installation can begin. Keep it to one side if you're planning on reusing it once you've finished with the installation. You may require a stud wall to be installed in the area. The cost of installing stud walls varies depending on where they are going and the amount of disruption the installation requires.
If you require new lighting in the space, its best to get the electrician in now to avoid any potential damage to the completed room, because it's likely you'll need to redecorate after they've finished the job. Your carpenter will use a stud finder to determine where best to secure your new fixtures into the wall for stability, or you may be required to add new cladding and plasterboards; they'll be able to advise you on this before construction starts.
When best to redecorate is up to you, though if exposed walls are going to be visible through your storage systems it's probably best to decorate the walls before the new units are installed, or alternatively, you may wish to wait and do this afterwards, but keep in mind that you will have to decorate around structures at this point. Once this is complete you can expect the installation of your new storage units to begin.
Other Trades You May Need
If creating your walk-in wardrobe is going to require a partition wall to be put up, then you are going to need to consider any wall skimming or plastering that is needed and the redecorating costs. Similarly, if you're planning on adding or moving lighting or electrical sockets within the walk-in area you'll most likely need the help of a trained electrician to ensure the work is carried out safely and is up to standard, otherwise you may find your home insurance invalidated.
Best Flooring For a Walk-in Wardrobe
There are no right or wrong answers here, it comes down to personal tastes. Carpets work well for a cosy and warm feel, whereas quality laminate, or even wooden floors offer a more contemporary impression.
Carpet prices can vary from £10-£25 per square metre (with underlay ranging from £3-£8 per square metre) and has the benefit of helping to insulate the room, but can be difficult to keep clean, particularly in awkwardly shaped rooms.
Laminate flooring offers versatility in terms of look and typically costing around £20 per square metre. Whilst it doesn't possess the insulating properties of carpet, you may want to install some underfloor heating in your walk-in wardrobe to compensate for this.
Wooden flooring is the most expensive option, but also the most diverse. Wooden floors look chic and stylish, retain insulation and compliment a variety of design styles. You can expect engineered wood flooring to cost from £20 - £100 per square metre. Whichever flooring option you choose you'll have the option to install them yourself or hire a floor fitter for the job. Consider the aesthetic you want to achieve and what kind of flooring you think would best compliment your space. For more information about flooring costs, you can see price guides here.
What Should My Walk-in Wardrobe Be Built Out of?
The choice of materials used in your walk-in wardrobe are up to you but will need to be reflected in your budget plan for the project. If you're opting to have multiple closed units with doors it's possible to alleviate some of the structural costs on the storage units because they won't be seen. If your design entails a lot of open spaces it might be worth considering a finer-finish.
MDF and Melamine faced boards are relatively similar in price, costing around £9 per 18mm x 230mm x 1200mm board, so a deep shelf with a depth of 460mm would cost an average of £18.
Comparatively, Oak and other hardwoods offer a bespoke finish but can be costly, averaging £25 per board measuring 18mm x 300mm x 1200mm, though you may find this price reduces if the wood is bought in bulk depending on your supplier, so you may need to shop around to get the best value for money.
Security For Your Walk-in Wardrobe
Walk-in wardrobes offer plenty of storage space and make use of clever concealment methods for your items. Consider securing your walk-in wardrobe with a locking door if you're planning on keeping valuable items in there; coded door locks start from as little as £50, with traditional key locks averaging £25.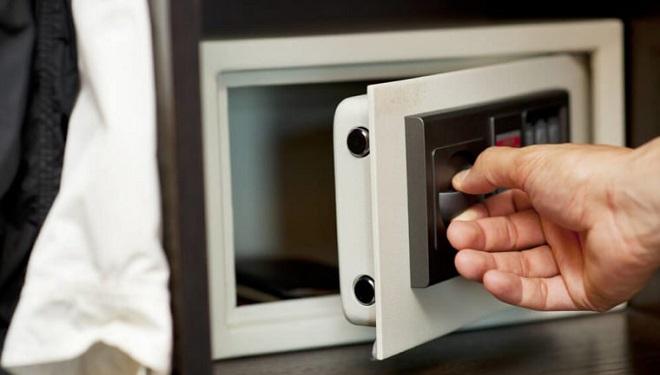 In addition, you may want to consider installing a small safe for jewellery and important documents in the room to keep your valuables out of sight, which could be obscured from view by one of your fittings. Home safes can cost between £25 - £300 depending on the size and locking method.
Space Requirements for a Walk-in Wardrobe
How much space you allocate for your walk-in wardrobe is completely up to you, but the size of the space will dictate what can be realistically achieved. The recommended minimum space is 2.5 metres by 1.5 metres with doors that open wide and allow access to the middle (though there is always the option of installing a sliding door to save on space). Whilst most walk-in closets are designed with storage on both the left and right sides of the room, that doesn't mean yours has to be as well, but it is worth considering how this will impact the final product at the end. If space is tight it might be best to opt for more hanging space in your walk in and optimising other storage options elsewhere to account for this.
How Do I Design My Walk-in Wardrobe?
The important thing to consider in your design is how the space is going to work best for you and your lifestyle. Some people opt to use apps or design services to help them visualise their goals If you are building a walk-in wardrobe that require a lot of hanging space for shirts or dresses, consider the length of the garments and try to plan your space accordingly. Also consider what kind of shelving you want to use and the aesthetic you are planning on achieving; would you rather an open-plan room or do you require doors to be fitted on your storage spaces? These factors can affect your budget and will need to be planned accordingly.
Tension rods and railings can be used to store hung items, and are particularly useful if you own long garments as they help to prevent creasing by giving adequate space for your items to hang – it's a good idea to measure your clothing and make an adequate space for these items to hang. It's recommended generally that you allow an extra 4 inches of hanging space below your item so that it doesn't trail on the surfaces below. Alternatively. You could install two rods parallel to one another to effectively double your hanging space without having to compromise your floorplan.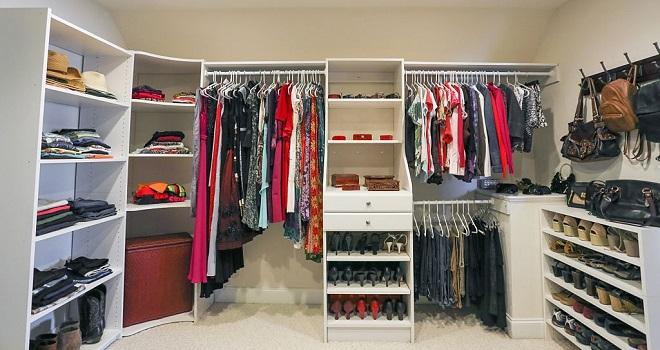 Shelving offers a storage solution that eliminates certain materials from developing marks from hangers, such as knitted items, and also showcases what items you have available. As well, shelving offers a place to store items such as boxes or baskets to help keep things organised. You may also wish to store your shoes or boots on shelving.
Drawers are great spaces to hide items that you wouldn't necessarily want on display; such as underwear, swimwear and socks. If you optimise the rest of your wardrobe, you may find that you only need a small set of drawers to fulfil your storage needs. If you are unable to accommodate a vanity area you may also find drawers useful to store accessories and beauty products so that the space remains decluttered whilst keeping your items readily available.
How to Save Space in Your Walk-in Wardrobe
Depending on your preferences, there are multiple ways to organise your wardrobe so that it works for you, although it goes without saying that a key component of organising your walk-in is ensuring that the items in it are best suited for the space. By utilising other spaces wisely in your home, you can help maintain a de-cluttered walk-in whilst making effective use of other locations in your home.
Reach-in Closet
Typically speaking, the reach-in style closets are shallow in depth and are suited for narrow or tight spaces, offering plenty of shelving, drawers and compartments arranged to optimise the space available without looking overcrowded. Where a walk-in wardrobe is not an option, it may be possible to create a reach-in wardrobe instead by utilising an alcove or nook. Because of the space limitations, the storage is usually placed against a single wall, so it's important to carefully consider your design layout to maximise the space.
Hall or Entry Closet
As the name suggests, a hall or entry closet is generally located near an entrance door to a property – but don't dismiss this space. Whilst you wouldn't necessarily use this space to store all your clothes, it's still a good idea to optimise the storage areas that you have available to you and consider what would be best suited for the space. Storing Bulky winter coats or your go-to shoes near a door can help to optimise your routine and frees up more space within your wardrobe.
Linen Closets
Generally speaking, linen closets are located either near a utility room or by bedrooms and, as the name suggests, are best used for your linen items and towels that would otherwise take up space within your wardrobe or other storage areas in the house. If you already have a linen closet in your home it might be beneficial to consider redesigning the storage to get the most out of the space by utilising shelves and dividers, and you might be surprised how much extra room you can achieve.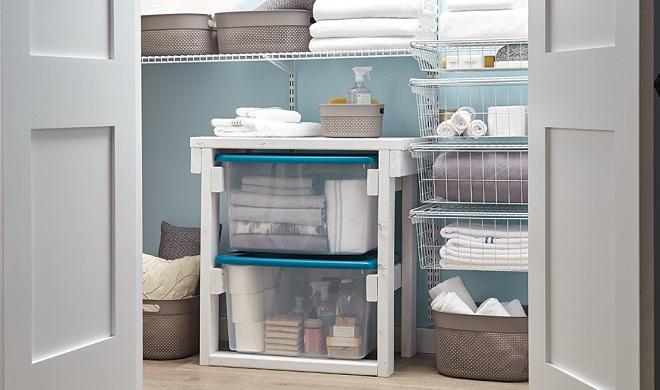 Benefits of a Walk-in Wardrobe
A walk-in wardrobe offers a multitude of benefits depending on how you utilise it.
Privacy
There are times when a little extra privacy or space is needed, for example, if couples are operating on different sleep patterns. Having another room to prepare in in the mornings is a great solution to this problem without interrupting one another
Storage Space
Chances are you're considering a walk-in wardrobe as part of a storage solution for your home. If done correctly the average walk-in wardrobe offers ample space for your needs, particularly with use of clever vertical storage and space optimisation.
Organisation
It's much easier to organise a larger space than a smaller one, offering room to manoeuvre and relocate your belongings with ease. If changes need to be made to your layout, it is also much easier to visualise the adjustments without feeling overwhelmed in an overcrowded space.
Maintenance
General maintenance of your clothing is easier when you know exactly where it needs to go and that it'll fit in that space without having to rejig your existing items to accommodate for it. Because walk-in wardrobes are inherently roomier than a stand-alone wardrobe, you'll find that your clothes air out easier and should not develop a musty smell over time that can occur when damn clothing is left in a tight-space with inadequate circulation.
Will a Walk-in Wardrobe Add Value to My Home?
If done correctly, adding a walk-in wardrobe can add value to your home. Having built-in storage is desirable and can help create a neater, tidier living space which is desirable to potential buyers as it offers practical storage solutions and alleviates potential visual clutter, creating the illusion of more space.
Doubling Up a Walk-in Wardrobe and Dressing Room
If the space allows it, you can double your walk-in wardrobe as a dressing room by adding a seating area, mirror and a dressing table, converting the storage space into a multifunction room and condensing your morning routine into one space.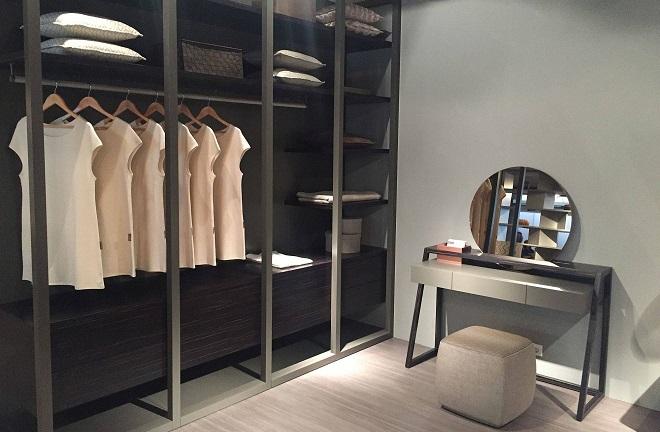 This saves you having to go from room to room to complete your routine and increasing time efficiency whilst getting ready. It may also free up room in your bedrrom and utilise your space for efficiently.
Converting an En-suite to a Walk-in Wardrobe
Converting an en-suite bathroom into a walk-in wardrobe might be a viable solution to your needs, particularly if the existing number of bathrooms in your home outweighs demand. Removing the old suite and any tiles in the room will cost an estimated £200 in labour if you're hiring someone for the job and take around 1 day depending on the size of the room. The rest of the time will depend how you want to decorate and finish the room, all of which will add to the cost and the timeframes.
Alternatively, if you're comfortable doing so, you can undertake this task yourself. Once the plumbing has been sealed you can treat the room like any other, ensuring any holes left by pipework have been sealed and redecorate and install your wardrobe units. Depending on the size of the room, you may want to consider hiring a skip to dispose of your bathroom suite.
Converting a Box Room to a Walk-in Wardrobe
If it isn't practical to convert an existing space in your bedroom into a walk-in wardrobe it might be worth converting a box-room instead. As it is already a pre-existing room in your home. You may want to consider any existing radiators in the room, if they hinder space optimisation you may benefit from replacing the radiators. The room itself should be structurally sound so there would be no need to insert additional walls or cladding. Your chosen storage solutions can be installed directly without much additional work needing to be carried out beforehand.
Depending on the location of the room you may wish to add a door connecting the wardrobe to an adjoining bedroom and possibly blocking off access from the corridor or landing, though this may not be of benefit in the long run if you're planning on selling your house in the future. It may deter potential buyers as you will have removed what could be an additional bedroom or alternative room such as a study or office.
Other Wardrobes
Fitted
Fitted wardrobes are a great choice for optimising unused space in your bedroom without the additional costs of creating a separate room altogether, making them cheap in comparison to a walk-in wardrobe. Fitted wardrobes come in a variety of flat-pack designs and styles, or you may wish to hire a joiner to completely customise your wardrobe, but once they're installed, they cannot be easily moved or relocated, so forethought is essential to ensure you make the most of the space. The average cost can range from £500-£800 depending on the size and shape.
Bespoke
Bespoke wardrobes are fitted to maximise space, usually spanning the entire width and height of the attached wall, and are usually 'made to order', unlike fitted wardrobes. Depending on the materials and supplier used, you may find that bespoke wardrobes seem costly, however, they are completely customised to your needs and are able to utilise spaces that other wardrobe designs may not be equipped to, making them particularly useful in awkwardly spaced rooms. You can expect a bespoke wardrobe to cost between £2,000-£3,000 subject to fixtures and fittings.
Built-in Wardrobes
Built-in wardrobes, similar to bespoke wardrobes, offer use of otherwise 'dead' space in your room, but are not as spacious as walk-in wardrobes. They're generally designed to sit flush against an alcove, creating a less obscure floorspace for your furniture. An estimated cost would be between £1,500-£3,000, but would depend largely on the space being used and the finished product. You design specialist will be able to advise you further.
Armoires
An armoire is similar to a freestanding wardrobe, often made of wood and are usually ornate or decorated. They typically consist of a combination of drawers, shelves and hanging space and unlike the other options already listed in this section are freestanding, meaning that they can be moved freely around the room and can be taken with you should you move house. As an estimate, Armoires can cost between £500 for a budget Armoire and up to £5,000 depending on the style you choose.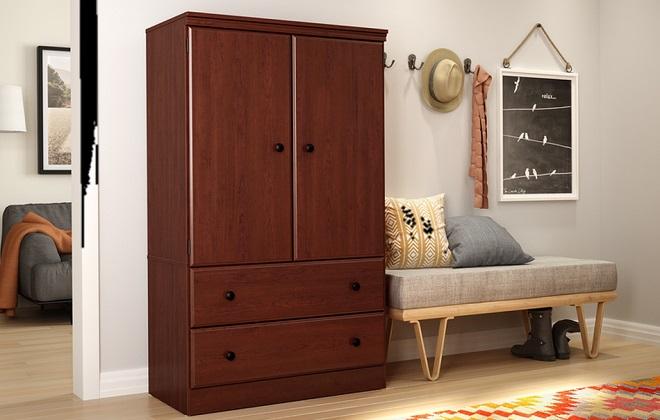 Other Walk-ins
Walk-ins are becoming more and more popular in the home as they showcase your items, making things easier to find and spaces easier to navigate. Below are some examples of other walk-in areas you might be interested in in your home.
Pantry / Larder
Many homes enjoy the benefit of a walk-in pantry or larder to store their food items. A pantry allows people to easily see what foodstuffs they have available which can make meal preparation and planning easier, as well as being able to quickly identify which foods are running low without having to remove things from the cupboards. It also frees up other space in the kitchen which means more storage for items that you may not want to have cluttering your worktops such as appliances that are not used daily.
Utility Closet
A utility closet is a good space to store items that you do not need to use day-to-day whilst keeping them organised. Some people choose to keep their excess items in their utility rooms, such as extra toilet rolls or cleaning supplies, as well as items such as ironing boards and vacuum cleaners which are not desirable to keep on display within the rest of the house.
Shower and bath
Walk-in showers and baths are becoming increasingly popular as they offer easy access to use and are particularly useful for people with mobility issues who may otherwise struggle with lifting themselves in and out of spaces. If you're considering installing a walk-in facility you may be eligible for a Disabled Facilities Grant from your local council, so it may be worth checking the criteria before you invest your own money. Wet rooms are also becoming increasingly popular as they are designed so that all floor surfaces and drains are flush, giving the room a contemporary, spacious feel.
Removing a Walk-in Wardrobe
Sometimes it's necessary to remove a walk-in wardrobe as it no longer suits your needs. To do so you will need to detach and dismantle any frames, careful not to damage the walls to which they are attached to. Make sure to take adequate safety precautions such as eyewear and protective gloves, as breakages to the unit may cause accidents. Removing this kind of fixture can damage the attached walls, so it may be worth hiring a professional to do the work for you for around £200 a day if you're unhappy to undertake the project yourself, and remember to budget for any repair or redecorating costs that you'll incur. Alternatively, you may wish to consider rejuvenating the space with fresh fixtures, a change in wall colour or different flooring, or altering your layout where appropriate to accommodate your needs differently.
FAQ's
Sources
https://www.refreshrenovations.co.uk/project-estimates/how-much-does-a-mid-range-walk-in-wardrobe-cost/
https://www.idealhome.co.uk/bedroom/bedroom-advice/9-ways-to-a-walk-in-wardrobe-25437
https://www.organisemyhome.com/mywalkinb.html
https://www.screwfixwardrobes.com/here-to-help/walk-in-wardrobe-designs