How Much Does Boxing in a Boiler Cost?
Boxing in a boiler is a relatively cheap job to complete, costing between an average of £100 - £500 depending on the location and size of the boiler, as well as how you choose to have it covered.
So are there other factor to consider?
There are some factors that will play a role in this costing, however, such as accessibility to the boiler unit itself, space available at the site, your geographical location and the desired finish you hope to achieve.
Research has shown that having an exposed boiler can put off potential property buyers and may impact their purchase offer on a new home.
So if you're thinking of selling your property, it is a worthwhile job to consider to help increase your properties appeal.
Boxing in a Boiler Prices
Below is a table to help illustrate estimate costings to box in a boiler
| SIZE | METHOD | COST |
| --- | --- | --- |
| 600mm x 375mm x 280mm | Modified kitchen cabinet | £100 - £200 |
| 710mm x 400mm x 330mm | Custom-built unit | £150 - £300 |
| 965mm x 400mm x 295mm | Create a utility space | £350 - £500 |
Additional Costs
Whilst boxing in a radiator is a relatively straight forward and quick job to complete; there are several other jobs that may be worth considering pursuing at the same time to ensure the box in remains fit for purpose once installed.
New Kitchen Cabinet Doors
The most common method of boxing in a boiler, particularly one located in a kitchen, is to utilize kitchen cabinets to create the boiler space.
Depending on your current kitchen design, you may find it difficult to find a matching cabinet and door for your boiler, and it can make the box look out of place.
By replacing your existing kitchen cabinet doors, you can integrate your boiler cupboard into the rest of your design seamlessly.
Cost: £350 - £1,000
New Boiler
If your current boiler is old or ineffective, it may be worth considering upgrading your boiler before you go ahead and box in the existing unit.
Your new boiler may be a different size and may require different measurements to ensure it sits correctly in the unit.
Upgrading a boiler after it has been boxed in is not unheard of, but you may find that require additional work once it has been placed and may need to replace the box altogether to accommodate it.
Cost: £2,000 - £3,000
Redecorate
If you decide to box in your boiler to increase your home aesthetic, then it may well be worth considering redecorating your living space at the same time for a fresh new look.
Painters and decorators charge an average daily rate of £150 - £200, often requiring two visits to apply two layers of good quality paint.
Tiles can also be removed and replaced at a cost of around £600 if completed by a professional, or considerably cheaper if completing the work yourself.
Cost: Varies According to Need
Cost Breakdown Calculator
The average cost to box in a boiler including materials and labour: £250
Labour Costs and Time Frames
The time taken to box in your boiler will vary according to the size of the boiler and the desired finish. The most popular option for boxing in a boiler located in a kitchen is to utilize a kitchen cupboard as the housing compartment.
Some adjustments will likely need to be made to the cupboard itself to accommodate for the boiler and connecting pipework, but on average, this sort of task takes between 3 – 6 hours to complete.
A custom-built cupboard or cabinet will take longer to complete, usually between 6 – 8 hours, and partitioning part of a room off to create a utility space will take longer still – closer to several days.
The average carpenter or handyman will charge between £150 - £200 a day in labour charges, so a charge of around £100 for a straight forward installation can be expected.
Keep in mind though that the more complex your enclosure idea, the more time will be taken to complete the project, and the more tradespeople involved will increase this price considerably – for example, creating a dedicated utility space will likely require a plumber and electrician in addition to a carpenter and handyman.
What is Boxing in a Boiler?
Boxing in a boiler is the process of concealing your boiler unit in a cupboard or structure so that it is not readily visible in your home. You might hear a boxed-in boiler space being referred to as a boiler cupboard or appliance compartment.
A boiler in a box still allows access to the boiler for servicing and maintenance.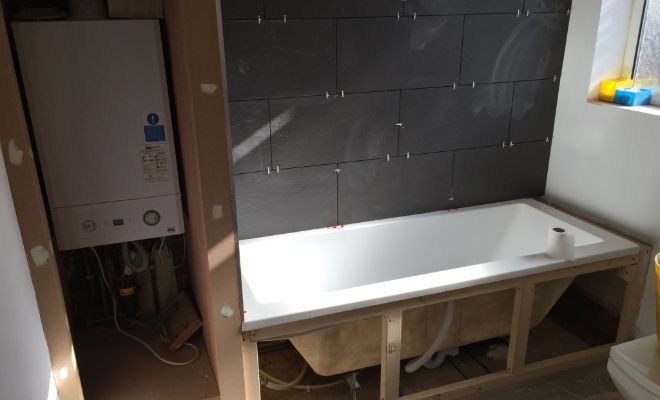 Boxed in boilers are gaining popularity as they achieve subtle covering for an otherwise potentially garish appliance, and they are particularly sought-after in homes where other appliances have been integrated to maintain a sleek line of sight.
A study from Npower shows that potential home buyers would reduce their offer on a home by an estimated £5,000 due to an exposed boiler.
Wherever it is situated, boxing your boiler is a relatively cheap task, especially when you consider the potential loss of value for potential property values if it remains exposed.
What Does Boxing in a Boiler Entail?
Boxing in a boiler is usually a straight forward process, with the most common methods of doing so involving using a kitchen cabinet or creating a cupboard yourself.
There are numerous boiler cupboard ideas online if you're unsure of what would best suit your home and boiler positioning. Outlined below is each method that your installer may use depending on your budget and specific demands.
Using a Ready-Made Kitchen Cabinet
The most common method of boxing in a boiler involves utilizing a cabinet, especially when the boiler is situated in the kitchen.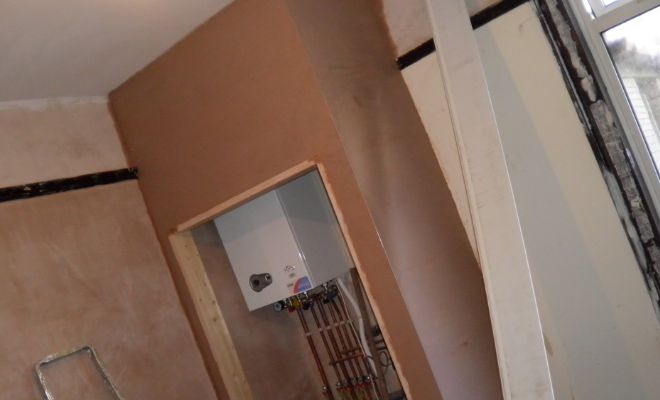 By using a ready-made cabinet, you can integrate your boiler into the rest of the room for a seamless finish.
Creating a Cupboard
Depending on the location or size of your boiler, utilizing a kitchen cabinet to make the housing may not be appropriate, in which case, you should consider creating a cupboard for the boiler unit.
Cost Affecting Factors of Boxing in a Boiler
As with any home improvement work, there are numerous factors that can affect the overall costing of the work that needs to be considered.
Type of Boiler
The type of boiler you are planning on boxing in can affect the overall cost of the work required. In addition to boxing in the boiler, you will also likely need to box in any connecting pipework that is visible, and some boilers may require additional space to allow adequate ventilation and air supply.
You may also need your water cylinder boxing in, if appropriate, which will cost additional materials and labour.
Size of Boiler
It goes without saying that the larger the boiler, the more materials are going to be needed to box it in.
You will need to follow your boiler manufacturers guidance regarding access and spacing around the boiler to allow for adequate air supply; don't assume that one manufacturer's recommendation is relevant to all boilers – find the information that is relevant to you and your boiler before you begin boxing-in.
Boiler Location
The location of the boiler in relation to the house can dictate the most appropriate cover sort, and thus the relevant costings associated with it. Covering a kitchen boiler in a matching cabinet makes sense, but might not be the best solution for a boiler located in a bathroom or bedroom space.
These will likely need a custom cabinet making or an appropriate unit sourcing to match the room aesthetics.
Geographical Location
The cost of labour to have your boiler boxed in is going to vary depending on who you choose to hire for the work and where you are situated. Generally, work in London, and the surrounding boroughs costs considerably more than other areas of the UK so you should budget accordingly.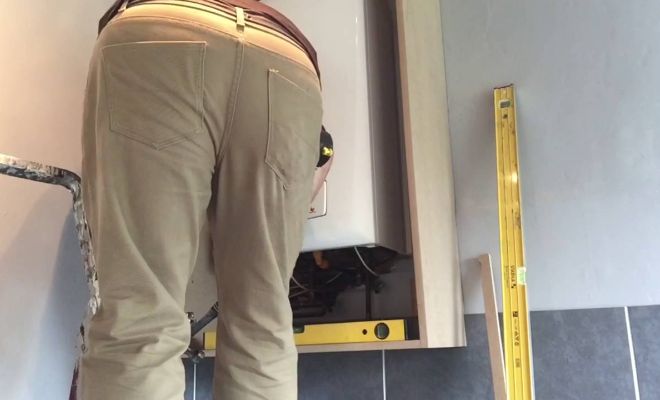 You also need to consider whether your property is within your desired installers' catchment area; if not, they may still be willing to complete the work, but you may find an additional fee for mileage and to cover the cost of extra work they may have had to postpone in their local area to accommodate you.
Additional Work
There may be several additional work items that need to be completed before you can box in your boiler; these can range from repositioning the boiler to a better-suited location or replacing your current boiler before the boxing in work can commence.
Make sure you check your budget can accommodate the additional work needed and adjust your plans accordingly.
DIY Box in a Boiler
Boxing in a boiler DIY is a common project for homeowners, providing they have the necessary skills and patience to complete the work themselves and providing they are capable of following the manufacturer's instructions concerning spatial ventilation around the boiler space.
The most common ways to box in a boiler include utilizing a kitchen cupboard or making one from scratch, depending on the location, so some level of carpentry skill is necessary.
The equipment needed includes protective goggles, a saw, tape measure, a drill, brackets, spirit level, countersunk screws and a sealant and either a cabinet kit or appropriate wood to build the box with.
If using a cabinet, follow the manufactures build instructions, omitting the back panel as the cabinet will be placed against a wall, ensuring your boiler manufacturer's spacing guidance is followed.
If creating the boiler-box yourself, measure and cut the wood down to size and construct as appropriate, adhering to your boiler manufacturers' spacing guidance.
It is vital that you allow enough room around the boiler for air to circulate and that there is enough clearance to the front of the boiler to allow for servicing and maintenance.
In the event that you need to have your boiler relocated to allow for boxing, you will need to hire a qualified professional to move the boiler for you prior to building the enclosure.
By creating your boiler box yourself you could save yourself between £100 - £250 in labour charges, but keep in mind that the project will probably take you longer to complete yourself than a professional would be able to complete the work for you.
If you have any doubt in your ability to create a boxed-in boiler, it's recommended that you leave the work to a professional.
You don't want to start the project and then have to have it amended by someone else as this is a waste of time and resources, and you may find that it costs you more overall to have the work corrected than if you had hired a professional, to begin with.
Benefits of Boxing in a Boiler
Boxing in a boiler has numerous benefits, so it's no wonder that the presence of a boxed-in boiler can sway many potential home buyers.
Matches Surroundings
Boilers are often considered unsightly and can put off potential buyers from making an offer on a home, or drastically reducing the offer they are willing to make.
By boxing in a boiler, you can effectively hide it from sight whilst maintaining accessibility. By making the boiler blend in with the rest of the environment, you can increase your home aesthetic.
No Visible Pipes
In addition to the boiler unit being unsightly, visible pipework can ruin the aesthetics and flow of a living space.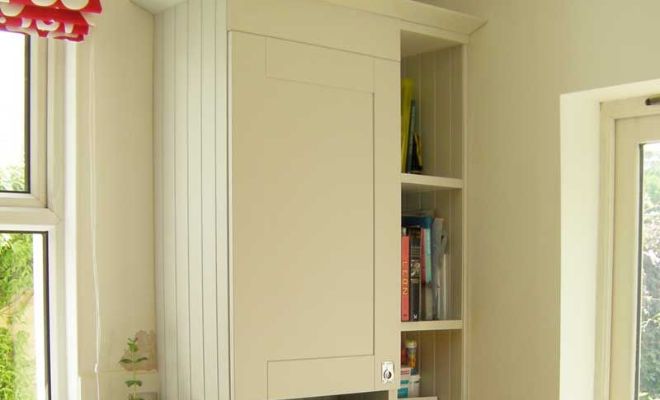 By boxing in your pipework in addition to the boiler unit, you will help to create a clear space and help the room look finished.
Noise Reduction
Depending on the age and condition, as well as type, of boiler you have there can be quite a bit of noise generated whilst it is in use; and whilst this noise is normal, you can reduce the effect it has by boxing in the boiler, effectively muffling the sound so that it is less of a distraction in your home.
Building Regulations and Planning Permission for Boxing in Boiler
Boxing in a boiler does not require planning permission and is not directly affected by building regulations.
Instead, the ability and requirements to box in a boiler will be outlined within your boiler manufacturers guide, where minimum space requirements will be outlined.
Depending on your boiler, you should ensure that there is sufficient space for ventilation and cooling according to the manufacturer's guidance. It is generally recommended that a minimum gap between the boiler and the box is adhered to:
A 50mm gap between the boiler sides and box edge.
A 300mm gap at the top of the boiler.
A minimum of 100mm along the bottom.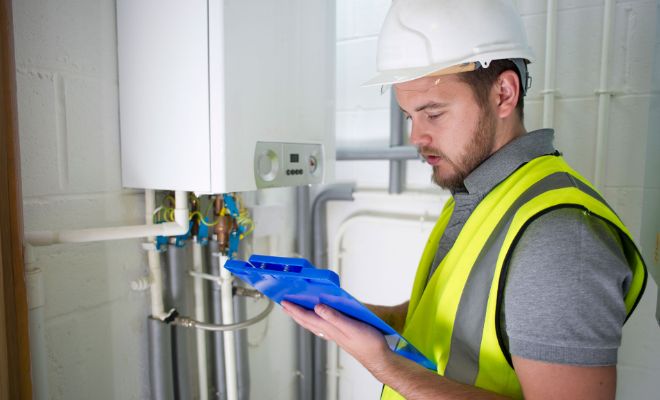 Your cabinet door can be positioned as close as 5mm when in the closed position, but must allow adequate space for servicing and maintenance once open of a minimum of 450mm.
For further information regarding your boilers' suitability to be boxed in, please check your boilers' manufacturing guidelines or contact your boiler manufacturer directly. If you live in a listed building, you must contact your local building authority prior to boxing in your boiler to ensure its suitability.
Removing Boxed in Boiler Cost
Sometimes it may become necessary to remove a boiler boxing from your property, for example, if you have decided to relocate your boiler to a new location.
In the event that this is the case, removing the boiler box is quite straight forward and is suitable to remove as a DIY job; just be careful you don't damage the boiler or connecting pipes in the process.
Start by removing any mobile pieces such as the door and any attached coving you may have added for decoration.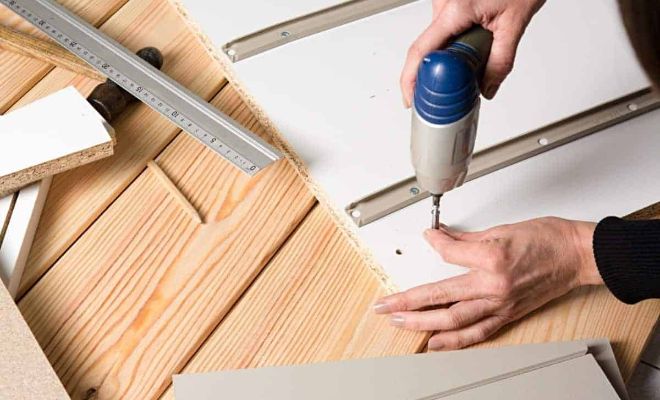 Next, unscrew the cabinet from the wall brackets and pull the unit away carefully.
You can either deconstruct the unit entirely from here or move it to a different location, depending on the suitability of it.
If you have no use for the cabinet anymore, you can take it to a local recycling centre or have it removed from your property; usually at a charge of between £10 - £40 from a waste removal company.
If you choose to have, a professional remove the box, expect a charge of between £50 - £80.
FAQs
How to Find & Hire a Box in Boiler Installer
Choosing the right carpenter or handyman for the job is important; you want to make sure you're not only getting value for money but that the end product meets your expectations.
Start by getting at least three quotes from trusted traders in your area, either through local contacts or using this free tool.
Most traders should have a portfolio of work available to view and should be willing to give suitable references when requested.
It's also a good idea to ask friends and neighbours if they have had similar work completed and whether they would recommend their trader for the job.
Ask your desired installers whether they have experience completing the necessary work and if there were any unexpected issues faced during the process; this should give you an idea of their suitability for the work and their awareness of requirements when boxing in a boiler.
You should also enquire if the installer holds liability insurance; this will protect you from unexpected costs should an accident or damage occur whilst the work is being completed.
Similarly, if your chosen installer does not hold valid insurance, think twice before you hire them because, in the event of an accident, the cost of repair will likely fall on you.
Sources
https://assets.publishing.service.gov.uk/government/uploads/system/uploads/attachment_data/file/468872/ADJ_LOCKED.pdf
https://www.wickes.co.uk/how-to-guides/kitchens/install-base-wall-cabinets