How Much Does Assembling Flat Pack Furniture Cost?
Hiring a professional to build your flat pack furniture could save you time and energy, but it does come at a cost – and there are lots of factors that can affect this. Typically speaking, companies tend to charge at an hourly rate in the region of £25-£60 for the first hour, with an additional cost of around £10-£20 per additional half-hour after that.
Can anything affect the overall costs?
Your location, the type of furniture you need assembling, how much furniture needs assembling and the complexity of the furniture, will all impact the overall cost of the job, so it's recommended to ask for a fixed quote when enquiring about the costs.
Flat Pack Furniture Assembly Prices
The table below outlines the estimated flat pack furniture assembly costs, based on the estimated time to assemble a given piece of furniture, minus the fee charged for the first hour (which can depend on location):
| Item | Estimated time | Average cost |
| --- | --- | --- |
| Dining table | 20-30 minutes | £10-£20 |
| Dining chair | 10-20 minutes | £5-£10 |
| Basic bed (single, double, king) | 45-80 minutes | £30-£50 |
| Ottoman bed | 60-90 minutes | £40-£55 |
| Bunk bed | 60-120 minutes | £40-£70 |
| Bedside table | 15-25 minutes | £10-£20 |
| Chest of drawers | 30-90 minutes | £20-£55 |
| Baby cot | 40-60 minutes | £30-£40 |
| Two-door wardrobe | 70-100 minutes | £45-£60 |
| Four-door wardrobe | 120-180 minutes | £70-£100 |
| Wardrobe with sliding doors | 120-240 minutes | £70-£130 |
| TV stand | 45-180 minutes | £30-£100 |
| Coffee table | 15-45 minutes | £10-£30 |
| Bookcase | 30-60 minutes | £20-£40 |
Supply Costs
In addition to assembly costs, there is the cost to purchase the furniture in the first place. Below is a table outlining the estimated cost of various furniture items from a variety of well-known flat-pack retail sellers including Ikea, The Range and Argos.
| Item | Average cost |
| --- | --- |
| Dining table | £150-£250 |
| Dining chair | £20-£50 |
| Basic bed (single, double, king) | £110-£200 |
| Ottoman bed | £300-£500 |
| Bunk bed | £150-£300 |
| Bedside table | £40-£80 |
| Chest of drawers | £50-£150 |
| Baby cot | £80-£150 |
| Two-door wardrobe | £65-£150 |
| Four-door wardrobe | £150-£250 |
| Wardrobe with sliding doors | £150-£300 |
| TV stand | £40-£200 |
| Coffee table | £20-£140 |
| Bookcase | £20-£120 |
Additional Costs
There are a number of additional costs that you may face when having your furniture assembled. Outlined below are the most common additional costs you will likely face:
Space Clearance
Clearing adequate space for the furniture to be assembled in allows for quick and efficient work progress.
Failing to do so could see an additional charge for the workmen to prepare the space, costing more time and therefore money. It's recommended that there is at least two-foot cleared either side of the preparation area, where available.
Minimum Fee
Most furniture assembly companies charge a minimum call-out fee, usually charging at the rate of their first hours' work, regardless of whether the item will take less than that time.
To get the most out of your money, therefore, it's best to have a few items assembled at the same time.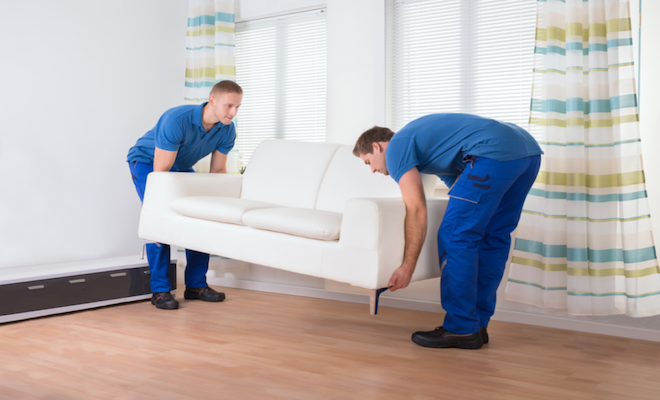 Parking Charges
If you live in a restricted parking area, you will be responsible for any parking fees incurred by the assembly company, whether it is for a local car park or a parking ticket.
You should advise your assembler where best to park to minimise this risk. If you live in London, you may have to pay a congestion charge of £11 for your tradesperson.
Dismantle Existing Furniture
Most furniture assembly companies offer furniture dismantling services, charged at a similar rate to the assembly prices. This is particularly useful with larger items that may be difficult to manage by yourself.
Additional Fittings
In some cases, your flat-pack may not come with all the necessary fittings needed to secure your furniture (screws, bolts, nails, etc.). Most assemblers will be able to supply these fittings at an additional cost.
Alternatively, you could purchase them yourself pre-emptively, which can be more cost-effective than paying the supply cost from the tradesperson.
Excess Mileage
Most furniture assemblers work within a certain radius of their office base, usually around 20 miles. Homes further afield from this are typically charged for excess mileage, usually around 80p per mile to cover the additional cost of fuel.
Cost Breakdown Calculator
The average cost to have a bedroom suite consisting of a double bed, two bedside tables, wardrobe and chest of drawers assembled by a professional tradesperson, taking 4 hours in total – Total cost £200
Labour Costs and Time Frames
There are many variables that will impact the labour costs and estimated time frame to complete your furniture assembly. As a general rule, you can expect to pay in the region of £25-£60, with the UK average flat pack assembly cost being £40, for the first hour of services, with a decreased hourly fee thereafter, usually averaging £15 per 30 minutes.
In cases where more than one assembler is required, the pricing will be offset by the increased speed the services are able to be delivered in.
The amount of time taken to assemble furniture will depend greatly on the size of the furniture, as well as the number of pieces being constructed; some individual items can take as little as 10 minutes to assemble, and larger items taking as long as 4 hours. On average, you can expect furniture assembly takes between 1-4 hours to assemble a few items.
What Does Furniture Assembly Entail?
Flat-pack furniture is generally designed in such a way that the assembly process is similar across most brands. Here are some of the more common flat pack furniture items and how they are assembled.
Dining Table Assembly
Despite various designs and styles, typically dining tables are relatively straightforward to assemble.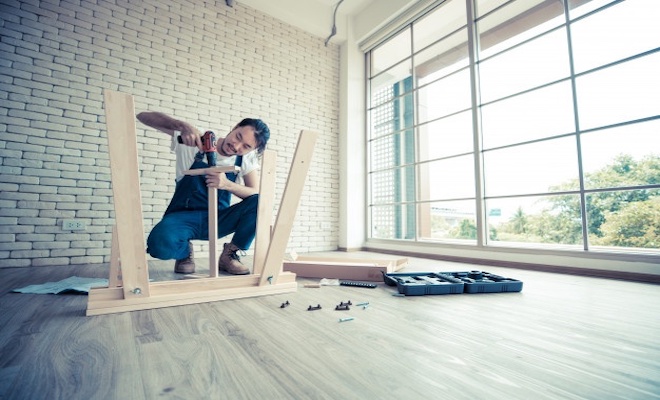 For basic designs, the tabletop is laid topside down and the legs attached to the bottom.
Additional supports are connected, if available, and any table foot caps are fitted.
The table can now be turned right-side up. If a glass-top has been supplied, it can now be fitted and secured.
Dining Chair Assembly
Available in a variety of styles and sizes, for the purpose of this explanation the assembly will be based on a basic Ikea flat pack chair
One of the frames will be laid down on a flat surface, and supports will be connected usually by inserting boards with Dowels into pre-drilled holes; Typically, the chair will have a minimum of three connections across the back and one along the front.
The other frame will be placed on top of this structure and secured into place; creating the chair structure, minus the seating platform. Screws will then be inserted for added stability.
The chair is then placed upside down and connected to the seating platform.
Chest of Drawers Assembly
Commonly used in bedrooms or living rooms, chests of drawers offer well-concealed storage and come in a variety of sizes.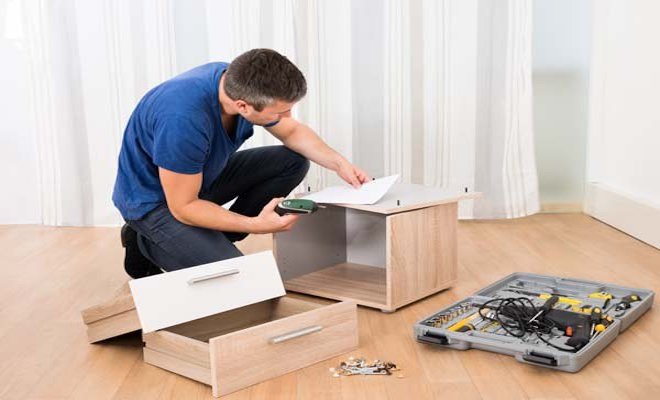 First, the frame is constructed, attaching the top, bottom and sides in a face-side down position for stability and ease. Runners are typically attached to the inside of the structure for the drawers to glide on, though sometimes, runners are not needed as the unit consists of shelving apartments for the drawers to sit in. Once runners have been fitted, the back can be attached and the unit positioned upright.
Drawers are assembled by attaching the side panels to the drawer front. The drawer base is then slid into place along pre-existing grooves, and the back is attached to secure into place.
Once built, drawers can be slid into position within the structure.
Bedside Cabinet Assembly
Similar to a chest of drawers in terms of assembly, with variation between drawers or hinged doors.
The shell of the unit is assembled by attaching the base, sides and top, usually laying on its front for stability.
If a drawer is present in the kit, this will be assembled by attaching the sides of the drawer to the front panel, the bottom slid into place and secured with the drawer back panel. Tracks can be secured inside the bedside cabinet for the drawer to rest on.
The back of the cabinet can be attached, using either nails or screws, depending on the design and assembly instructions.
If a door is present in the kit, this can now be attached to the cabinet with the supplied hinges.
Bed Frame Assembly
Most bedframes follow the same construction method as each other, regardless of size – The main difference being that larger beds, may require additional support in the middle of the structure. Because bedframes are large items, it will likely require two assemblers.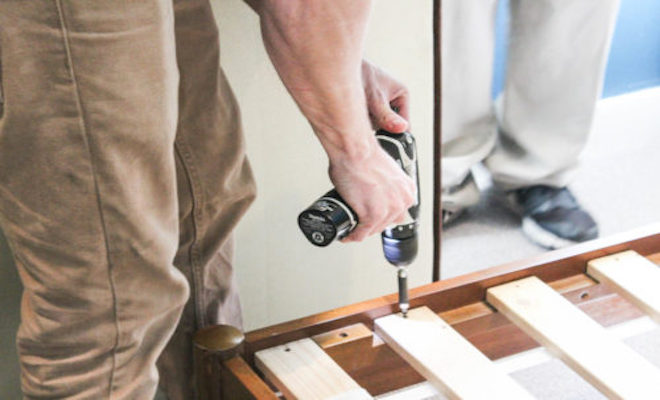 The headboard is assembled and connected to the side panels, which are then connected to the footboard or end-piece, and a support rod is fitted down the length of the bed for added stability.
Slats, or boarding, are then laid inside the bed frame to support the mattress. They can either be attached or will sit against an inner-lip of the frame, depending on the model.
The bed can now be positioned within the room, and the mattress placed on top.
Bunkbeds are constructed in a similar fashion. The top part of the bed is assembled first, then attached and secured to the lower structure, and the access ladder attached last.
Wardrobe Assembly
Regardless of style and size, typically wardrobe assembly is similar to a chest of drawers or cabinet assembly.
The outer shell is assembled, connecting the side panels to both the top panel, whilst the shell is face-down on the floor for easier access and stability.
Similar to the chest of drawers, the back panels can be inserted and secured into place by attaching the bottom panel.
The wardrobe can then be stood up, and the clothing rail can be attached, along with any drawer storage that may be included.
Finally, doors can be attached to the wardrobe either via hinges if swinging doors, or along a runner track if sliding.
Nursery Cot Assembly
Purposefully designed to be adjustable in height to suit the growth of your baby, nursery cots are a common and easy to assemble flat pack item.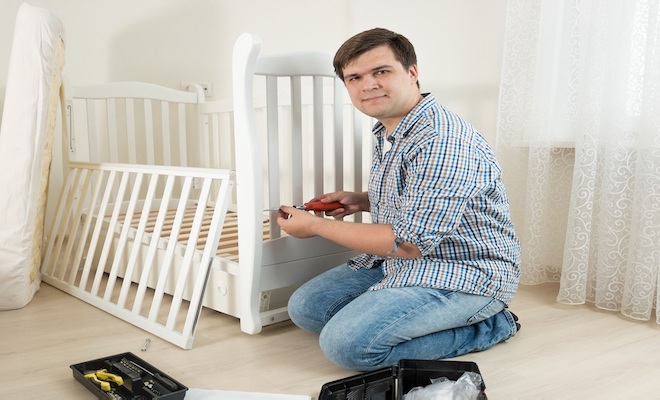 One side of the cot is attached to the head and foot panels.
The base of the cot that the mattress will rest on is placed in position according to the required height and secured into place with Dowels and braces.
The final side of the cot can now be attached. In some models this side may be mobile to allow for easier access; in which case, your assembler will line-up the pre-attached rails and connect them. Screws will be tightened.
Finally, the mattress can be placed on top of the baseboard.
Bookcase Assembly
Frequently purchased in flat pack form, bookcases are one of the most straightforward items to assemble.
One of the side panels is laid on the floor, and the top and bottom panels are connected, usually using a peg-and-hole system.
The internal shelves are positioned along the side panel and secured using the same method.
The other side panel can now be placed on top.
The top and bottom of the bookcase are then secured to the sides with screws for stability. The bookcase can now be positioned upright.
TV Stand Assembly
Very similar assembly to a chest of drawers or bedside cabinet, though sometimes available with the addition of a tempered glass top which is affixed using clear adhesive pads or suction cups. As TV stands can be quite large items, and because of the glass, it will likely require two tradespersons.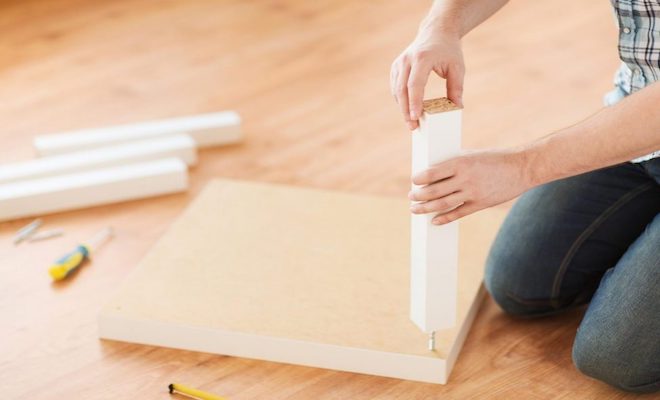 Coffee Table
Assembly is similar to a dining table, though some coffee tables come with the addition of shelving. Typically, coffee table shelving is attached in a similar manner to bookcase shelving, using pegs inserted into pre-drilled holes.
Cost Affecting Factors of Furniture Assembly
There are numerous factors that can have an effect on the overall cost of furniture assembly:
Location within the UK
If you live in London or the surrounding boroughs it may not surprise you that the cost of hiring a tradesperson to assemble your flat pack furniture is above the national average. Similarly, if you live in a rural area that is difficult to access, you may also find yourself subject to a greater charge for services.
Who is Assembling the Furniture?
A local handyman may charge less than a dedicated flatpack assembly company, costing on average £30 per hour, or the equivalent of around £150 a day for their time, but they may not have the same level of expertise as a dedicated installer, and may not be able to complete the work as quickly.
Cheaper still is to assemble your furniture yourself, though this may not be a viable option depending on the size of the furniture, your physical abilities and your confidence in completing the work yourself. Some furniture supply companies, such as IKEA, even offer their own assembly service at a fraction of the cost of some independent companies. Furniture assembly services cost can be a big cost factor.
Accessibility within a Room
If inadequate space is available to assemble your furniture prior to the tradespersons' arrival, you may incur a charge for their time to clear the area. Typically, this is charged at half of the initial hourly rate.
To minimise this risk, it's best to clear a large enough space for the workmen to assemble your furniture before their arrival if you are able to do so. As a standard rule, most assemblers will require a two-foot clearance either side of the object so that they can work quickly and efficiently.
Number and Type of Objects
The number of objects, and the complexity of their builds will have an impact on the overall cost of hiring an assembler. Due to the initial costing of their first hour in most cases, it makes good financial sense to have a few items assembled during the one visit to maximise the value for money.
Many companies are able to estimate the assembly time for basic household furniture, and thusly the pricing per object, providing an adequate description has been given – and some companies will offer a fixed-price for larger item assembly rather than a pay-per-hour rate.
Preparation Before Furniture Assembly
Before assembly can begin, you should prepare your home for the tradespersons' arrival, which will maximise your value for money when being charged per hour.
Ideally, you want to clear enough room so that the flat pack can be assembled near its end destination, allowing around 2-foot of clearance around the edge of the assembly space for manoeuvrability and access. You will also want to ensure that the space where the furniture will go when assembled is also clear.
It is your responsibility to clear away, and valuables near the assembly site as most companies will not take responsibility for damages caused by inadequate clearance.
To ensure assembly can be completed as quickly and efficiently as possible, it is recommended to keep children and pets away from the site, to avoid distractions, delays or possible accidents.
Outdoor Furniture Assembly Cost
As well as indoor furniture assembly, there are a variety of furniture and structures that come in a flat pack intended for outdoor use that many companies will also assemble, usually at the same rate as internal furniture, assuming a pay-per-hour method and not a fixed price.
In most cases the weather will need to be reasonable in order for the outdoor assembly to be completed; harsh rains and heavy winds can cause issues when trying to secure furniture, as well as be unpleasant to work in. It's recommended that you have your self-assembled furniture constructed between late spring to early fall to minimise the risk of poor weather affecting the work being carried out.
A swing set, on average, can take around 2 hours to assemble, costing roughly £70 in assembly charges.


A trampoline can take up to 3 hours to completely assemble, so expect the cost to be in the region of £100 depending on its size and complexity, such as a safety net assembly.


Climbing frames, or play systems, on average take between 4 – 8 hours to assemble, with an average installation cost ranging from £130-£250, assuming two people are constructing the item.


An average-sized BBQ will take in the region of 1-2 hours to assemble, depending on its complexity – with larger BBQs taking more time. Assembly costs for BBQs are therefor in the region of £70 or more in most cases.


You can expect an outdoor table and chairs to take roughly the same amount of time to construct as indoor tables and chairs, allowing around 15 minutes per chair and 30 minutes for the table, costing in the region of £60 for a table and four chairs.


An outdoor sofa set will take roughly 2 hours to assemble, with a costing of around £70 for assembly


Wendy houses are popular flat-packed garden items, which can cost as little as £30 to have professionally assembled, to upwards of £110 depending on its size. Small Wendy houses can be constructed in 30 minutes, whereas larger builds can take as long as 4 hours.


Depending on the size and materials, garden sheds can take between 4 – 10 hours to assemble from start to finish, with an estimated cost of between £130-£400 if paid per hour. Alternately, you may wish to hire a professional to build a garden shed for you, including foundations and electrical wiring.


Summer houses are also popular flatpack additions to the home. For an 8x10 foot summer house, you can expect a team of two people to construct it in around 8 hours, similar to a shed or climbing frame, and costing roughly £250 in the price for labour.
It should be noted that whilst price estimates are given as a pay-per-hour fee, many companies will offer a fixed price based on the scale of a project.
for example, whilst a large garden shed may take 10 hours and has been priced at £400, some companies may offer a reduced fixed-price for the work so it is always best to enquire the pricing scheme and see if it is possible to save some money by shopping around for the best quote.
Exercise Equipment Assembly Cost
Many items of exercise equipment can be purchased in self-build kits, and assemblers will often be able to construct these for you as well.
The average treadmill can take as little as 30 minutes to assemble, costing in the region of £20 for assembly costs.


Cross-trainers, exercise bikes, inversion tables and rowing machines can take between 30 – 60 minutes to assemble each, with costs estimated at £20-£40 per item.


Multi-gyms are the most complex self-assembly gym equipment due to their nature and take an average of 5 hours to construct, assuming done by a team of 2 assemblers, costing around £160.
DIY Furniture Assembly
The very nature of self-assembly furniture kits means it is perfectly okay to do DIY as they are designed with ease and convenience in mind, though in cases of heavy or difficult to manoeuvre furniture it is best to enlist a friend or family member who is physically fit and able to help to speed up the construction process and help to eliminate safety issues.
Most DIY assembly kits come with clear instructions, often in illustration format, which will tell you what tools are needed for the job, (for the most part, most self-assembly kits require a screwdriver, Allen/hex keys (usually included in the kits) a hammer and a drill) how large the assembled item will be and, in many cases, an estimated construction time.
Before any assembly can begin, it is best to clear a space near the desired location of the furniture, moving both bulky items and delicate items out of the way to avoid any accidental damages and maximising space. As with professional assembly, children and pets should also be kept out of the area so as not to cause distractions or pose a safety risk to themselves and others.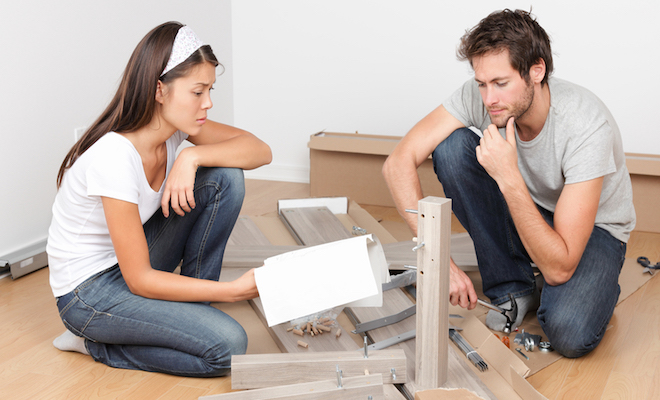 No matter how proficient your assembly knowledge, you should always follow instructions carefully to avoid misusing parts, which could damage the structural integrity of your furniture and cause delays in construction whilst mistakes are being rectified.
You should also make sure you have allowed enough time for the furniture to be assembled properly. Otherwise, you may encounter structural issues, and the end-finish may not be as desirable as you had planned.
If in doubt of your abilities, it is better to hire a professional to complete for assembly from start to finish, rather than having a go at construction and realising part-way that you are not equipped to deal with the workload. Rectifying mistakes will add to the overall costing of a professional as they will have to spend time disassembling materials before re-assembling – which may also damage the product.
Benefits of Professional Furniture Assembly
Whilst DIY furniture assembly is an option for many people, hiring a professional to complete the work for you can have numerous benefits
Professionals will have the skills, experience and knowledge to put together flat pack furniture quickly and efficiently, and will generally be able to complete the work quicker than the average person
Professional assembly should result in a professional finish, and if any issues occur during the assembly, it is generally the tradespersons' responsibility to rectify them – assuming the issue is with the construction method and not the kit itself.
Professional assemblers will be aware of any safety risks that may occur during construction and will take steps to minimise these for themselves, yourself and their surroundings.
Most furniture assembly companies will be responsible for any clean-up necessary following assembly construction, such as removing packaging from the premises and clearing debris caused during the assembly process.
How to Keep Furniture Assembly Costs Down
There are a few ways that you can help to keep your furniture assembly costs down:
Do It Yourself, Where Possible
The most obvious way to keep assembly costs down is to complete the work yourself where possible, such as assembling easy items like tables and chairs yourself, and leaving more complicated items to the professionals. DIY is not recommended if you do not think you are able to complete the work yourself.
Have Multiple Pieces Assembled
Many furniture assembly companies will charge for the first hour of work, regardless whether the item takes less time, so it makes financial sense to have a few items assembled during the visit where possible so that you don't end up paying over-the-odds.
Ask for a Fixed Quote
Where possible you should aim to get a fixed quote for the items being assembled; this should stop any unseen costs from accumulating, particularly if the work takes longer than predicted for whatever reason. Where possible, give an accurate description of the work needed, with possible web-links to the product itself, so that an accurate quote can be given.
Dispose of Your Old Furniture Yourself
The additional cost of having your furniture assembler remove existing furniture from your property can quickly add up, especially if multiple items need to be removed. You should consider disposing of items yourself to help keep costs down, either by taking them to your local recycling centre or giving the items to friends, family or even local charities that have served their purpose in your home.
The Cost of Dismantling Flat Pack Furniture
Whether you're moving house or just fancy a change in furniture, many furniture assembly companies also offer a dismantling.
Professional furniture dismantling comes at the same cost as assembly per hour, but is generally quicker to complete, meaning the overall costing should be less than the assembly charge would be. As a general rule, furniture is dismantled in the reverse order it would have been assembled in.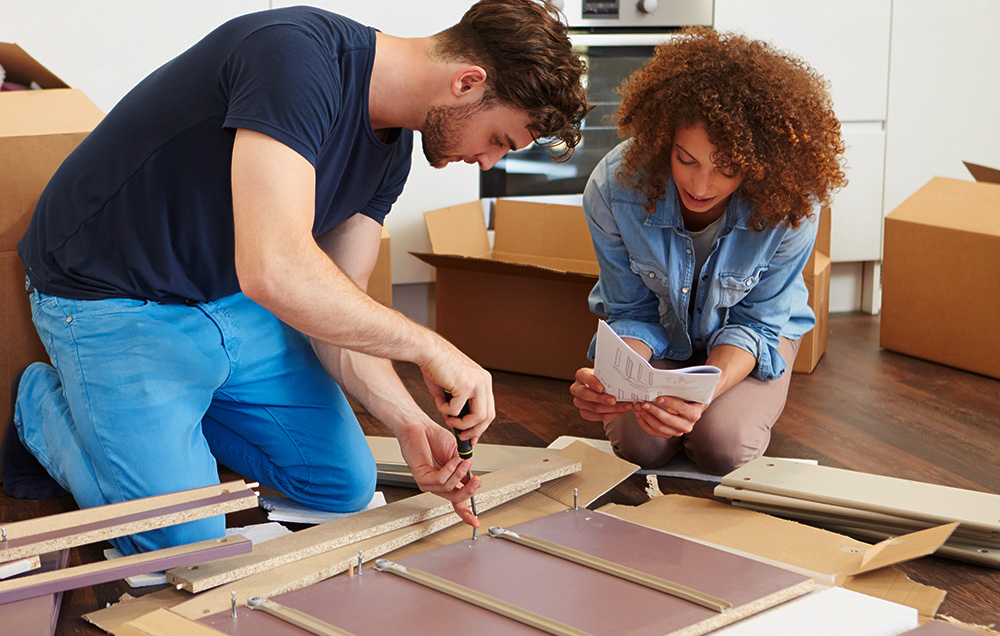 In some cases where furniture has been disassembled carefully, it may be possible to pass them on for second-hand use, though this will generally depend on the quality of the furniture and whether damages were caused during the initial assembly and the following dismantlement.
In addition to dismantling services, some assembly companies offer a disposal service - typically, you can expect a fee of around £20 for larger items such as beds, mattresses and sofas, and a fee of roughly £10 for smaller items to be disposed of.
FAQs
How to Find & Hire a Furniture Assembler
When searching for furniture assembly companies, there are a few things you should look for.
A reputable company will have a portfolio of their work available which will demonstrate their knowledge and experience, as well as references.
Assembly companies should have liability insurance in case of accidental damages to persons or property.
Where applicable, you should ask friends and family who have had similar work done whether they would recommend the company that they used; they will give you honest insight and may be able to help answer questions you have regarding the process.
It's recommended that you seek quotes from multiple sources for their work and get an outline of what is included with their pricings, including VAT and any additional extras they may charge for. You can use this tool to get three free quotes from local tradespeople in your area.
Sources
https://www.goodhousekeeping.com/uk/house-and-home/household-advice/a682243/how-to-make-flat-pack-furniture-stress-free/