How Much Does Cavity Wall Insulation Cost
The cost will vary depending on the property size, access and location. The larger the property the longer the job will take to complete and so the more expensive it will be, however the price per square metre should drop.
If you're home has many external walls, more than the usual 2-4, then expect to pay a bit more than average. Similarly, if scaffolding is required, this will be an additional cost.
Cavity Wall Insulation Prices
Here are a few average prices for hiring a specialist company to insulate your cavity walls:
| House Type | Scaffolding? | Avg. Cost | Duration |
| --- | --- | --- | --- |
| Terraced | No | £400 | 1-2 hours |
| Semi-detached | No | £500 | 2-3 hours |
| Detached | No | £600 | 3-4 hours |
| Terraced | Yes | £500 | 2-3 hours |
| Semi-detached | Yes | £600 | 3-4 hours |
| Detached | Yes | £700 | 4-5 hours |
Cost Breakdown Calculator for CWI
Individual costs to install cavity wall insulation into a 2-storey semi-detached house with easy access - Total Price: £500
Materials & Equipment
£300
Labour Costs & Time Frames
Cavity insulation specialists don't tend to charge by the day, normally just by the size of the job (the size of the property). Depending on the number of external walls, the job should take around 2-4 hours.
What Does a Cavity Wall Insulation (CWI) Job Entail?
A typical cavity wall insulation job would entail a full property inspection to see if there is already cavity wall insulation or to check if the building construction type is suitable for this type of work. To inject the insulation, 20mm holes are drilled every metre horizontally around the wall, then the insulation material is blown into the cavity and a pressure gauge is used to check that enough insulation has been inserted. Finally, all the holes that were drilled will be filled with cement and the area will be tidied up (though the cement repairs are not normally painted). Finally, a certificate of completion or letter confirming the work has been carried out will be left.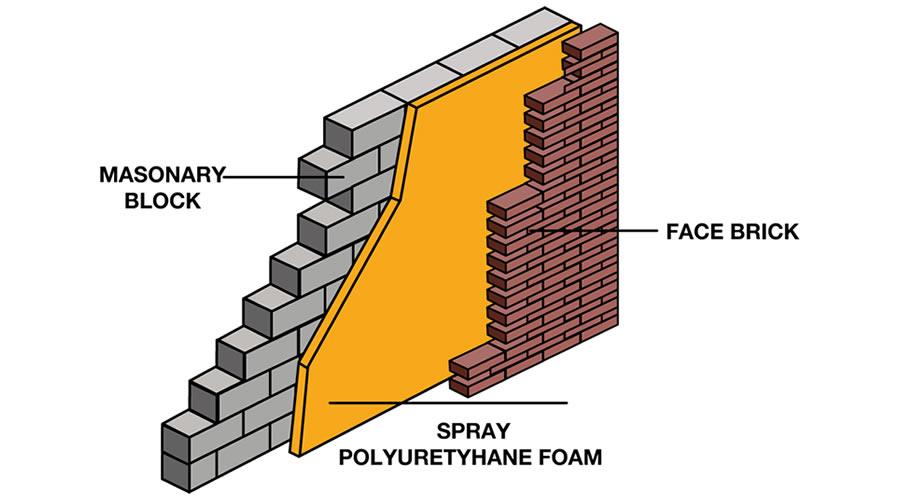 Other Jobs Which May Need Doing at the Same Time
Once the cavity insulation job is complete, the holes will still be obvious even after they have been plugged with cement, so they will usually need to be painted to match the exterior. This would be a good time to hire an external painter, but rather than just touching up after the cavity insulation you could get them to freshen up the exterior of your home. If any other repair work was highlighted during the inspection, such as re-pointing the brickwork, it will make sense to have that taken care as well before any exterior painting.
Is my House Suitable for CWI?
Most modern houses are suitable for cavity wall insulation, but of course they will need a cavity between walls in order to add the insulation. Houses which don't have any cavity at all, solid wall structures, cannot have insulation injected so are not suitable!
If your property was built after 1920 but prior to the 1980s, then it almost certainly has a suitable wall cavity for insulation, however if built prior to this then it is likely a solid wall, so the only alternative to reduce heat loss through exterior walls is to consider a wall coating applied to the external walls of the property. If built during the 1980s onwards, you likely already will have insulation in the form of rigid foam boards installed during the build.
Concrete Gutters
If you have concrete gutters then leaks may result in the cavity wall insulation becoming soaked which can lead to damp patches internally and externally. So houses with concrete gutters will need to be lined to prevent rainwater leaking into the cavity wall.
Exposed Properties
Properties in an extremely exposed location may not be suitable because wind-driven rain may seep into the cavity, again leading to damp. Walls which suffer from driving rain need to be protected with roughcast or pebbledash to prevent the insulation from getting damp.
Non-Brick Walls
Timber or metal framed homes should not have cavity wall insulation injected, you need brick or masonry walls with a clear cavity of at least 50mm.
Damp Problems
If there is any suspicion of damp problems injecting cavity wall insulation will just worsen the issue and be a complete waste of money!
Masonry Condition
The brickwork or masonry of your property has to be in pretty good condition, otherwise the injection of insulation material could cause damage. Your house should also not be in an area which is at risk from flooding.
Steel or Timber Framed Properties and CWI
Steel or timber-framed houses should never have cavity wall insulation injected. With these types of construction, good air circulation is required to prevent rot or corrosion. Air bricks will usually be strategically laid at damp proof course height to allow air to circulate, filling the cavity with insulation increases the risk of condensation and could lead to wood rot with timber framing, or corrosion with steel frames.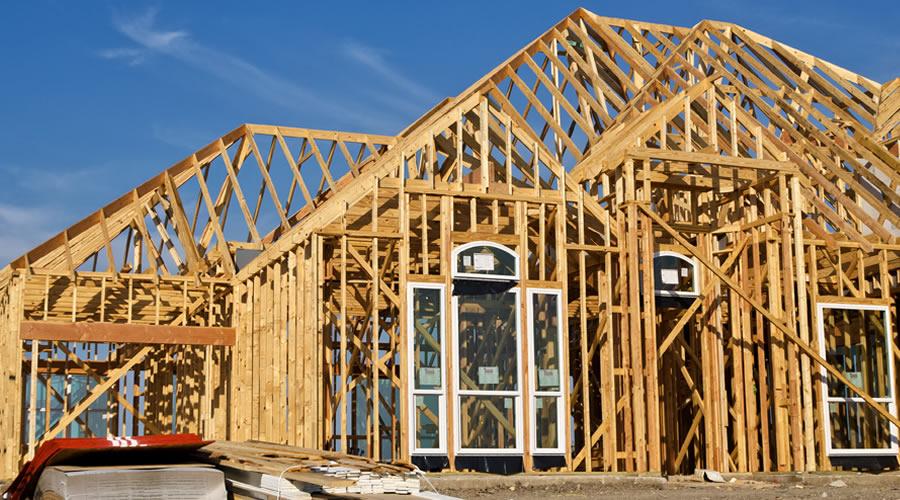 Luckily, there are other ways to insulate timber or steel framed homes, such as external wall insulation applied to the exterior as an insulating coating. Unfortunately, some steel or timber-framed homes will already have had cavity wall insulation installed in error, which will need to be removed. Otherwise, over time this could lead to structural damage. The lack of air circulation could even be damaging to your health.
Cavity Wall Insulation Grants
Local councils and power companies often have promotions which will pay for some or all of the cavity wall insulation costs, so always check your local council's website along with your energy suppliers for any offers. If your home is less than 10 years old it is almost certain that you will have cavity wall insulation already installed.
Under the Energy Company Obligations scheme, energy suppliers will offer free grants for people who get tax credits and have an income of £16,010 or less, or those who are receiving certain other benefits. The Energy Company Obligations (ECO) scheme legally requires energy suppliers to install energy-efficient technologies to domestic households in the UK. If they fall short of their obligations they can receive hefty fines, so in the right circumstances, they are often keen to spend money!
Other Insulation Grants
Your energy company could pay for loft insulation and cavity wall insulation up to around £700 combined! Even if you do not think you will qualify for financial help, it is worth double-checking as some suppliers give free insulation away to all suitable homes in their regions regardless of income or benefit status (this is actually becoming more common as energy companies struggle to meet targets and are reduce the eligibility criteria accordingly so that more household qualify).
Does CWI Need Renewing?
Once you have established that you do indeed have a cavity and not solid walls, you need to determine the size of the cavity and whether it has previously been filled with insulation. A registered installer will need to come and carry out a boroscope inspection (drilling a small test hole and using a camera to check if the cavity is empty and over 50mm).
If the cavity is unfilled, then you will almost certainly benefit from cavity wall insulation, assuming there are no damp problems. If the cavity already has insulation then it generally does not need renewing. There is no reason for the insulation to break down over time unless it gets damp.
However, if building alterations have been carried out in the past or the job was done poorly, then the insulation may need to be topped up. Any damp insulation will need to be completely removed.
Does CWI Help with Soundproofing?
Soundproofing and insulation often go together and often overlap even though they are done for completely different reasons. Applying any sort of insulation will essentially help you to reduce external noise by default, but it will not reduce noise as much as a dedicated soundproofing solution. Empty cavity walls do make a house noisier, however, so having cavity wall insulation injected is perhaps the most sensible way to reduce noise through external walls, in addition to all the benefits of reduced heat loss of course.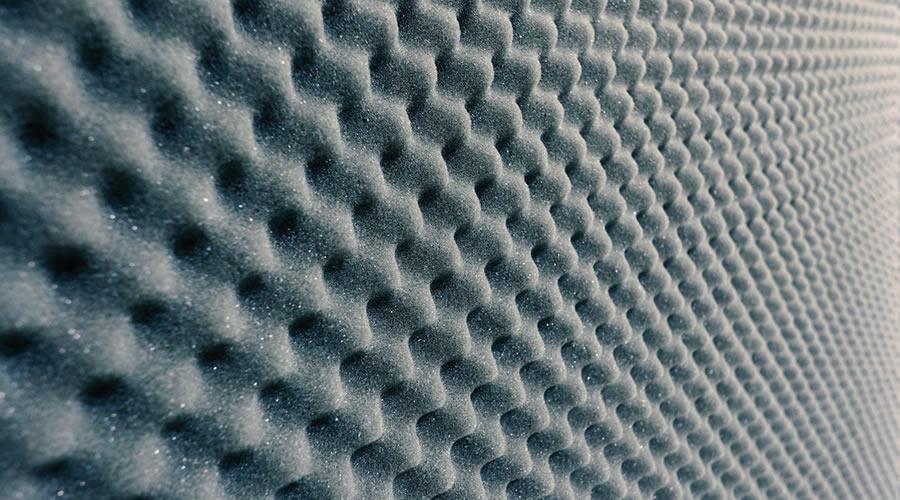 Health Problems
Generally speaking, cavity wall insulation is perfectly harmless, but in certain situations with older properties, depending on the type of insulation material used and how professionally the work was done, it can be potentially hazardous to health.
Modern cavity wall insulation materials and methods pose no threat to safety at all but if your walls were insulated decades ago, it might be worth checking what insulation material was used. Also, if your cavity walls were wrongly insulated by untrained cowboy contractors, this could cause problems.
Urea-Formaldehyde
The main problem material used in the 1970s and '80s was Urea-formaldehyde foam insulation. This material was sprayed into cavity walls all over the UK but many years later people began reporting issues it caused.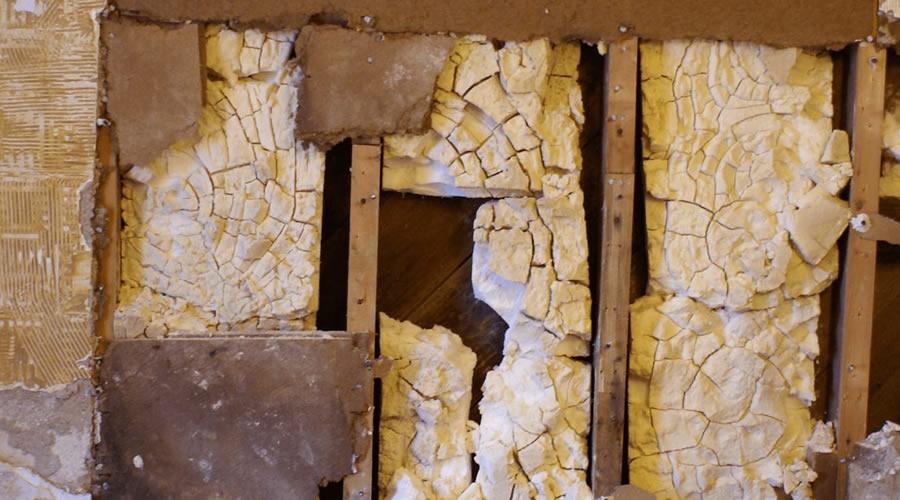 When urea-formaldehyde insulation decomposes over time chemical fumes are released which can potentially lead to respiratory problems and other health issues.
If you're worried about this, it's best to get a professional in to double-check which kind of insulation material you have. If you don't have the original paperwork, they can check with a boroscope and if applicable can even measure the levels of formaldehyde in the air. If the levels are potentially dangerous you should, of course, have the insulation removed and replaced with modern, safe material.
Do I Need Planning Permission for CWI?
According to the Building Regulations, the installation of cavity wall insulation is defined as notifiable building work. This means that for all buildings it will be necessary to submit a notice to building control stating that cavity wall insulation work will be carried out. However, there are buildings which are exempted from these regulations so you should always check with your local authority.
Most local authorities will not levy a charge in respect of building notices for cavity wall work and if you use a reputable installer they will in most cases submit the building notice on your behalf. But you should always check that a building notice has been submitted as this remains your responsibility. Building Regulations also require that the insulation material is of a suitable type for the wall construction and if foam is used, an assessment of the risk of the dangerous gas emissions will likely be a requirement.
Cavity Wall Insulation or External Insulation?
External wall insulation or EWI is insulation applied to the outside of a home, so is a good choice where cavity walls are not present. So for properties of solid wall construction, or steel or timber frame houses, EWI is the only effective option.
However, external wall insulation will change the external appearance of a property which may put some people off. On the other hand, it is available in many different finishing options which many will prefer, including render coat, timber cladding or tiles. All types of insulation will reduce your heating bill but cavity wall insulation will pay for itself much quicker than external insulation.
If you have non-traditional walls then EWI is the only option, but for masonry or brick cavity walls, assuming no damp issues, then cavity wall insulation is the better option, it's much cheaper and has a much faster payback period. But external insulation may still be an option worth considering if you have a home that is very exposed to harsh weather or if you want to update the external appearance of your home anyway.
Additional Information
Asbestos Problems
Most homeowners today should be aware of the dangers of disturbing and breathing asbestos fibres. Newer homes (built from around 1990 onward) will not have any asbestos at all, but older homes often used asbestos for insulation.
The general recommendation with asbestos is to leave it in place and not disturb it if it's within a solid material like tiles or boards. But asbestos was also used as loose-fill wall insulation, which needs to be removed as soon as possible as this is extremely dangerous. Anything asbestos-related should always be left to the professionals, never attempt to remove asbestos yourself.
New Build Houses
Building Regulations have required all new homes to be built with cavity wall insulation since the 1980s. If you are buying a new build home from a reputable builder then the insulation will already be installed in wall cavities and the loft. One of the many advantages of buying a new-build house is the fact that you know everything complies with the latest building regulations in terms of safety and energy efficiency.
Stone Walls
Cavity wall insulation is a little bit more tricky with stone walls though so you will need a more thorough examination to ensure the right type of insulation material is used. Stone walls are generally pretty rough internally unlike smooth brick walls and certain types of insulation will not fill the cavity completely, leaving cold spots.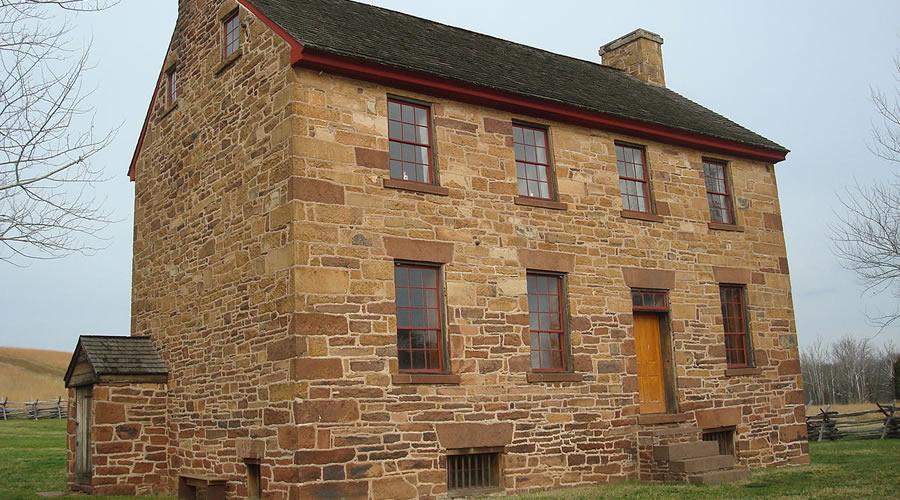 Blown Fibre Insulation
For example, blown fibre insulation would not be a good choice for rough stone walls even though its great for brick, but bonded bead cavity wall insulation can be a good solution.
Polystyrene Beads or Polyurethane Foam
For random stone walls, bonded polystyrene beads or polyurethane foam works best. Beads are cheaper but polyurethane foam can increase the structural stability of an older wall.
Damp Issues
The other main issue with stone walls is damp, older stone properties can be susceptible to dampness and any issues will need to be fully addressed before insulation can be installed.
Council Tenants and Housing Association Tenants
You should find that most, if not all, council and association housing stock has already been insulated up to current building regulation standards. If you are unsure, contact your local office and double-check, if for some reason the work has not already been done, they can advise you of their plans and give a timescale of future works.
Free Cavity Wall Insulation for People on Benefits
There are many schemes available to discount cavity wall insulation work up to 100% throughout the UK. Some of these will be completely free to everyone in a certain catchment area, but sometimes they will depend on your circumstances.
If you are in receipt of benefits such as Income support, Jobseekers allowance, Carers allowance, Personal independence allowance, Working tax credits, Disability living allowance or similar - then you will almost certainly qualify for 100% funding for insulation grants. But even if you are not in receipt of benefits, you are still likely to benefit from Government funding or grants through your local energy supplier.
Having Problems with Cavity Wall Insulation
Most insulated cavity walls are trouble-free and will likely remain so for the lifetime of the building. However, some do experience issues, the most common being damp and/or mould.
What to do if you experience problems
If you experience any problems, the first thing you should do is contact the company that carried out the installation. This is why it's always important to use reputable contractors that are members of professional organisations with guarantees in place!
Reputable installers will assess the issue and if the installation is causing the problem they will either try and fix it or remove the insulation.
CIGA
If you used some cowboy outfit for the installation and they are not willing to help, or if they've disappeared and can't be contacted or have gone bust, then you should try contacting the CIGA (Cavity Insulation Guarantee Agency) to see if you have a guarantee with them as many installers provide this.
Insurance Guarantee
If you aren't covered by a CIGA guarantee check any paperwork you have from the original job and see if the work was backed by an insurance guarantee which may offer a similar level of cover. Be aware that any guarantee you have will only cover problems caused directly by the cavity wall insulation, it's unlikely you'll be covered for any repair works otherwise.
If you are not able to claim on any guarantee and cannot get the original installer to help, then you should contact a local company that can carry out the repairs, but this time ensure they are accredited by NIA, (National Insulation Association) CIGA, or BBA (British Board of Agrément) for peace of mind in case of any future issues.
Cavity Wall Insulation Removal
There are over 6 million homes in the UK with cavity wall insulation installed and in most cases it is trouble-free. But the generally damp climate and high winds can take its toll on brickwork which can lead to water getting into the cavity itself.
The problem with this is that once insulation becomes wet, it is virtually impossible to dry out inside the cavity and no longer provides insulation. Instead of keeping your home warm, wet insulation draws dampness and cold through the cavity and inside your home!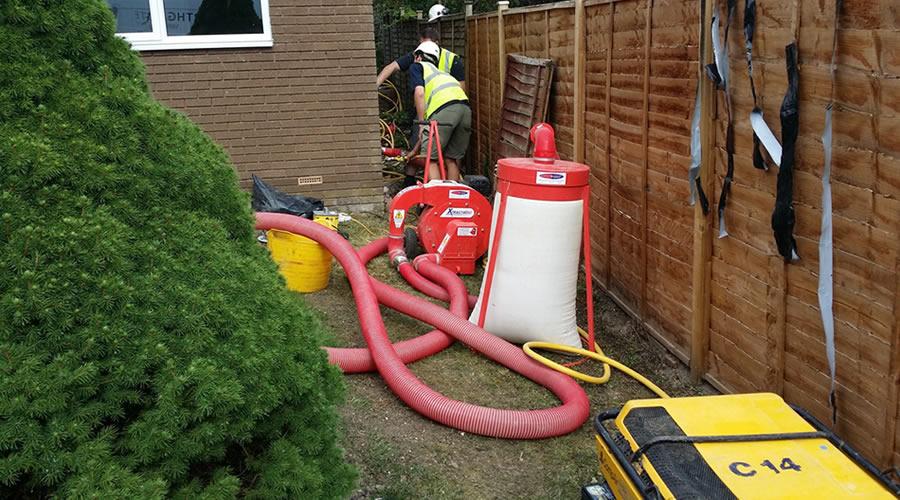 How do I know it needs removing?
The initial symptoms of this are cold spots on the walls and otherwise unexplained damp patches. This not only makes your home less comfortable, but it can also eventually cause structural problems in a number of ways, the most common initial problem being rusty wall ties which can lead to the inner and outer walls separating.
Damp cavity wall insulation, like other damp problems, cannot be ignored, the problems will not go away without taking action and they will get worse and more expensive to fix the longer you leave them. If you suspect your home may have damp problems, you should call the cavity wall installer initially to check, failing that, get in touch with a local damp specialist as soon as possible.
FAQ's