Average Roofer Cost
The average cost of a roofer will depend on your location within the UK. Roofer prices in London will be substantially higher than other regions due to the capital's costlier overheads.
However, as a countrywide average expect to pay between £250-£300 for a team of two roofers. A roofer will rarely if ever work alone. Due to the nature of the job, he will need to have someone on-site to carry materials up to the roof, so he does not spend all day up and down ladders and scaffolding.
From a safety point of view, a roofer shouldn't work alone due to the risks involved.
Roofer Jobs
The type of roof work will have an impact on the roofer price per hour or per day. There are many roofing jobs, but we will look at the following: new roof, replacing broken roof tiles, replacing, or repairing a flat roof, re-cementing roof ridge tiles, repairing or replacing a roof valley and replacing leadwork around a chimney.
The timeframe, skill and labour involved in each of these tasks will significantly affect the roofer costs.
Replacing Broken Roof Tiles
When replacing broken roof tiles, one of the first things is to source the same type of tile and match the colour with the existing roof tile as closely as possible.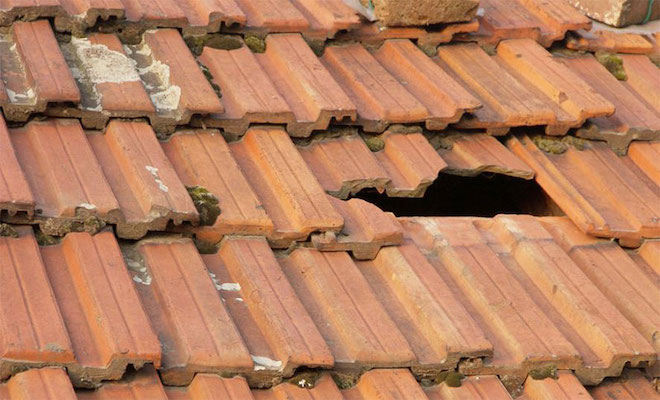 Most commonly used tiles can be found as reclaimed specimens, and depending on the amount you need, you should be able to find them at a roofing supplier. Many of these outlets stock old and discontinued roof tiles, and there are specific reclamation yards that you can visit too.
Depending on the number of broken roof tiles to be replaced the work should take between 2-4 hours with an average cost of £100-£300 for a roofer.
Re-cementing Roof Ridge Tiles
Ridge tiles are an essential part of the roof's weatherproofing as they are at the highest point of the roof, which can be an access point for rainwater. Therefore, the ridge tiles must be adequately bedded in and secured.
Ridge tiles are typically curved or triangular tiles that sit on the apex of a roof. They often bear the brunt of bad weather and may over time become loose as the cement they are bedded into deteriorates. When this happens, the ridge tiles will need to be removed and re-cemented into place. A competent roofer will take up the ridge tiles, remove all the old cement, and re-bed the new cement tiles.
Since changes to Building Regulations in 2015 ridge tiles also have to be mechanically fixed regardless of whether they are bedded in mortar. This requirement should also be followed when re-cementing roof ridge tiles as a repair job.
Roofer prices to carry out this work will be determined by location in the UK, access to the roof, and how many tiles need to be re-cemented. On average the roofer cost per day should be around £150-£350 and the work should be done in a day depending on the weather.
Replacing/Repairing a Flat Roof
The first point to address with replacing or repairing a flat roof is the type of material that the roof is covered with. This could be felt, rubber or glass reinforced plastic (GRP). Not all roofers will be familiar with all of these different roofing products so you will need to search for a roofer who works with the specific material on your roof.
This specialisation may affect the roofer price per hour or day and the length of time that the repair or replacement takes. Regardless of roofing material, a repair for most of them should only take a couple of hours although the repair and access size may extend this timeframe.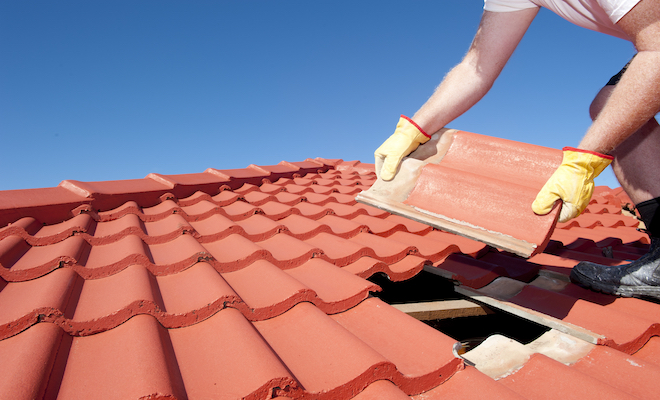 A flat roof replacement should be completed within a day to protect the roof against the weather, and the roof should not be left exposed overnight if at all avoidable. The roofer cost per hour to repair a flat roof will be between £20-£25.
A full replacement of a flat roof will cost around £250-£300 depending on size and materials involved. The cost of emergency roof repairs for a flat roof will depend on the extent of the work, the type of roof covering, and the roofer's availability.
Repairing/Replacing a Roof Valley
The roof valley is the channel that is formed where two sloping planes of a roof meet and feeds rainfall into the gutter. These valleys can be constructed from concrete tiles, lead or fibreglass, but they may break down and need repair or complete replacing over time.
The tiles around the valley will need to be lifted, and it is a labour-intensive job. If the valley itself is in good repair, it may be the cement that it is bedded into that needs to be repaired. Once done, the valley can then be replaced.
The roofer costs to repair or replace a roof valley will be between £175-£300 with a repair typically taking 4-6 hours and a replacement 6-8 hours.
New Roof
A new roof cost will depend largely on the type of material used as well as the surface area. The extent to which a new roof is required will also affect the price.
Replacing the tiles or slates on a roof may take a week or so, but if it is necessary to replace the battens, membrane or even the rafters, the job becomes a lot bigger and will take much longer.
Location will also affect the price and of course the labour cost with roofers charging more in and around London compared to other parts of the UK.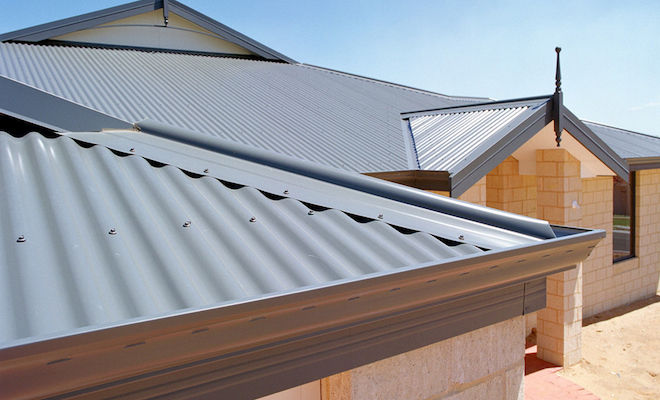 Just replacing tiles or slates will take around a week and the roofer costs will be approximately £1,250-£1,500.
To replace the whole roof, including the timber structure and membrane will take at least two weeks and cost in the region of £2,500-£3,000 in roofer costs. These prices are just for labour and do not include any material costs.
Replacing Leadwork Around a Chimney
To replace lead around a chimney requires skill and done correctly, leadwork will outlast the roof itself. Problems with lead and the need to replace it are rarely due to degradation of the lead and more commonly a problem with how it was fitted.
Fitting lead around a chimney is done in three ways for different areas of the chimney. A lead apron on the front of the chimney is a large piece of lead which serves to make a waterproof joint between the chimney and the roof. Step flashings need to be cut to fit into the roof's slope and create a neat finish on the side of the chimney.
Finally, a lead back gutter or back box is fitted to the rear of the chimney. These steps require experience and knowledge of how to replace the leadwork to maintain a waterproof seal around the chimney and do a neat job. The roofer cost per day to replace leadwork around a chimney will be around £150-£250 and the work should take no more than one day, weather permitting.
Emergency Roofer Prices
The most common emergency roof repairs are storm damage, impact damage, fire damage, criminal damage, and accidental damage. Pitched and flat roofs are both at risk from all these types of damage, but the emergency roof repairs to fix them will differ. Attempting to do DIY emergency roof repairs is not advisable.
Cost of Emergency Roofing
As with any trade that offers an emergency call-out service, the price for this should be clearly stated at the time of booking, and it should also be apparent what the call-out charge entails. The job may be to attend at short notice or include a temporary repair until a permanent solution is put in place. Full repairs will generally be an additional and separate cost.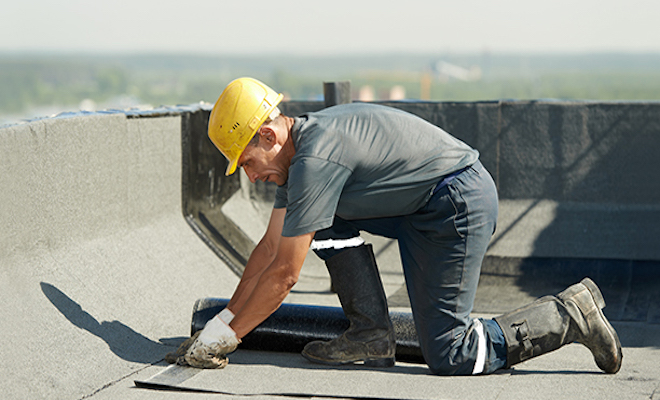 Safety in Emergency Roofing
For any type of roof repair, a roofer's safety is of primary importance. Bearing this in mind if an emergency roof repair is needed in the middle of a storm or during the night, a temporary solution will be required in the interim.
A tarpaulin may be put in place or containers to catch water ingress until either the storm has passed or there is sufficient daylight for the roofer to work safely. Attempting to do a DIY repair on your roof at night or during a storm is not advisable, and it is much more prudent to wait for an emergency roofer.
Timeframes for Emergency Roofing
Depending on the type of damage and the roofing material, the cost and timeframes for different emergency repairs will vary. Roofer prices will vary according to the area they work in, their experience or speciality and the type of repair they need to carry out. Some will charge a set price for repairs, and others will charge by the hour or day depending on the damage.
Small repairs such as missing or damaged tiles should only take2-4 hours to fix and usually cost no more than £100-£300. More extensive damage may take a few days to put right, and the cost can run to hundreds or even thousands of pounds. An emergency repair in London could cost more than £130 per hour if it involves out of hours work.
Roofer Rate
Roofer cost per hour will depend on the area that the roofer works in, the level of experience, and any specialisation that they offer. Ease of access to the roof will also contribute to the amount that a roofer will charge.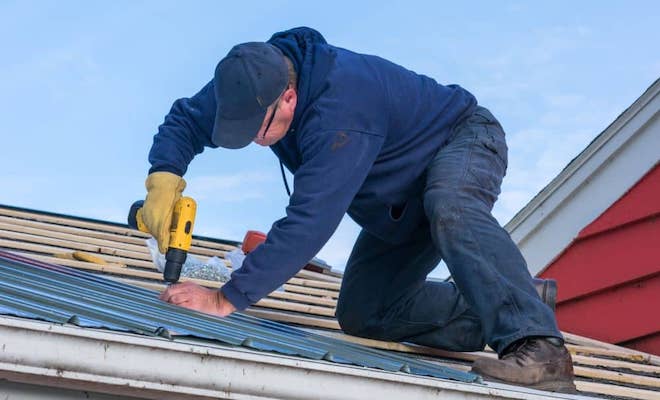 Overhead costs will affect most trades, and these are normally highest in London and the southeast of the UK. This will be reflected in the higher hourly rates that roofers in the capital and surrounding areas will charge.
Average Hourly Rate
The average roofer price per hour is £18-£25. For roofers in areas such as Birmingham and Manchester, the average cost is £9-£12 per hour. In London, the roofer cost per hour can rise to £30 or more depending on the specific area.
The nature of the work can also increase the hourly rate as more skilled tasks such as working with zinc or other metal roofing demand higher prices. Zinc roofing typically involve standing seams, and this skill is not something every roofer will possess and will come at a premium.
Neat lead work is also a sought-after skill, especially on heritage buildings and will command higher hourly rates than tiling a roof.
Roofers will typically work a 7-8-hour day; however, their schedule can be disrupted by the weather, unlike some indoor trades. High winds, icy conditions and heavy rain can impact a workday, and most roofers will be unable to work in these situations.
Roofer Daily Rate
A roofer cost per day will also depend on the area they work in, whether they have any particular specialisations and ease of access to the roof. The average roofer price per day is between £150-£250 according to location and expertise. Knowledge of working with materials such as thatch, zinc or lead will command higher daily rates, particularly if working on listed buildings or in conservation areas.
The roofer price per day will depend on the type of work being done. If it is stripping a roof to replace the tiles or slates, the cost will be around £125-£150 per day. To replace the roof covering and the timber sub-structure, this will be approximately £150-£250 per day.
In London, the average cost to hire a roofer will be at the upper end of the scale and depending on the type of work that you need to have done the daily price can be as high as £250-£350 per day. For other parts of the UK such as Birmingham or Manchester, the roofer price per day may be around £120-£150.
Roofer Qualifications
Formal qualifications to train as a roofer only extend as far as having an NVQ Level 2 in Roofing Occupations. Most learning will be done on the job as an apprentice and learning from an experienced roofer. As with other trades, an apprentice will take some years to become qualified to work alone and be a competent roofer.
There are specialisations that roofers can pursue once they have finished their apprenticeship or training. Working with zinc or copper materials requires bespoke training and an NVQ Level 3 in Traditional Metal Roofing results in a qualification in this niche craft.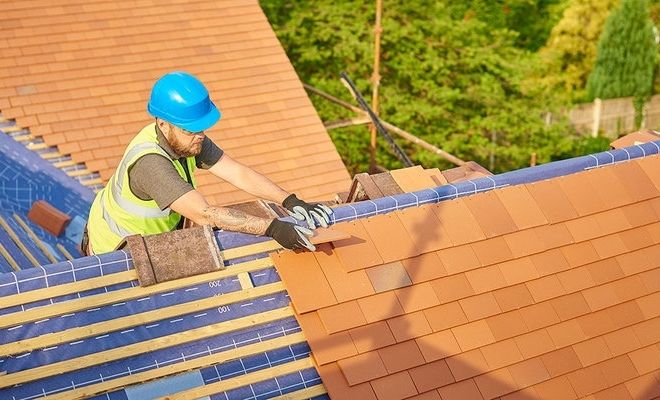 Others may wish to follow the path of heritage workers and specialise in thatch roofing or lead work on churches or historical buildings.
The Lead Sheet Training Academy runs training courses and provides qualifications for those wishing to become lead workers. The National Heritage Training Group offers thatch roofing courses, and many apprentices still learn their craft from a traditional thatcher.
All of the different roofing specialists can register with the National Federation of Roofing Contractors (NFRC), the largest roofing trade association in the UK.
Roofer Insurance
All tradespeople should have adequate, and appropriate insurance and roofers are no different. In fact, as roofing is one of the most dangerous trades in construction, it is even more important that a roofer has the right insurance in place.
Most contractors will have public liability insurance which gives them cover against claims for injury and damage by a member of the public as a result of any work that they carry out.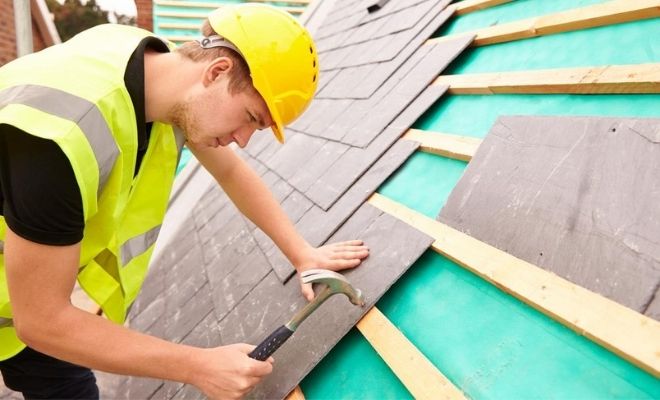 For example, a tile may slip off a roof and damage someone's vehicle or hit someone and cause injury. Public liability insurance will pay for legal fees or compensation in the event of a claim.
Employers liability insurance is mandatory for those employing people other than family members. This insurance will provide cover in the event of an employee falling ill or being injured as a result of their work.
Failure to have this insurance will result in a fine of £2,500 for every day that the insurance was not in place. If an inspector asks for a certificate of employer's liability insurance and it cannot be produced an additional fine of £1,100 can be imposed.
FAQs
How to Find and Hire a Roofer You Can Trust
If you need to have work done on your roof, you will want to find a reputable and competent roofer. Personal recommendations from family, friends or neighbours is an excellent way to find a trustworthy contractor, or you could try a relevant trade association.
An online search of 'roofer near me' will produce lots of results, but you will need to filter through them to find a reliable roofer.
Qualifications
A roofer will not normally have formal qualifications although most will have done NVQ Level 2 training as an apprentice and, for specialisations, Level 3. The qualifications of a good roofer are the results of his work gained through years of experience and acquired knowledge and skill.
Accreditations
Membership of the National Federation of Roofing Contractors is a good indication of a skilled, competent roofer and should instil confidence in their ability, and reputation. Joining this Federation means undergoing vetting and being subject to checks every three years.
Not only do members of the NFRC have to adhere to the Federation's code of practice but must also hold employer's liability insurance and public liability insurance and following Health and Safety guidelines.
Insurance
Any roofer working on your roof should have appropriate insurance, including public liability insurance and employer's liability insurance if they have employees. It would be best if you asked for details of insurance before letting anyone work on your roof.
Reviews
If you have received a personal recommendation for a roofer, you may be able to look at the finished work and ask previous clients about quality, cost, timeframe, and safe work practices. Looking at reviews from online platforms should be done with a certain amount of caution. Anyone can write a review, and there is no way for you to know if it is genuine or not.
Previous Experience
An established and reputable roofer will have a lot of previous experience, giving confidence to any prospective client. You can ask about other work that they have carried out in the area that may be familiar to you perhaps for a neighbour.
Previous experience should also be apparent in their knowledge of the work, Building Regulations and local planning laws.
Experience of Specific Work
Ask about work they have done before, which may be relevant to your roofing job. While roofers will have a general shared work experience, there are specialisations that do not apply to all. For example, not all roofers will work on flat roofs or do things like torch-on felt work.
Similarly working with metal roofing or GRP may not fall into the remit of the roofing contractor you are considering. So, it is worth checking in advance that they have prior knowledge and experience of the specific work that you want to be carried out on your roof.
Quotations
The principle of obtaining at least three quotes from tradespeople for work that you want doing also applies to roofers. Even if you have been given a recommendation, it is still advisable to compare the prices and services offered locally.
An important distinction also needs to be made regarding quotations and estimates. A quotation is an agreed fixed price that a contractor will do work for based on their assessment of the job. An estimate is an approximate price that may change.
Technically a roofer will give an estimate as it will be almost impossible for them to fully assess the work to be done until the roof coverings have been removed.